By Lambert Strether of Corrente.
Bird Song of the Day
I mentioned Robert J. Lurtsema the other day, and how he started out Morning Pro Musica with birdsong. It occurred to me that starting Water Cooler with the latest news on the plague might be a bit of a downer, and so I thought I might emulate Lurtsema. As it turns out, the Cornell Lab of Ornithology's McCauley Library has an enormous archive of birdsongs. So herewith:
Let me know if you find this feature enjoyable. (These birdsongs are also recorded by amateurs, so they are an example of citizen science, of which I heartily approve.)
#COVID19
At reader request, I've added this daily chart from 91-DIVOC. The data is the Johns Hopkins CSSE data. Here is the site.
Here are the United States regions: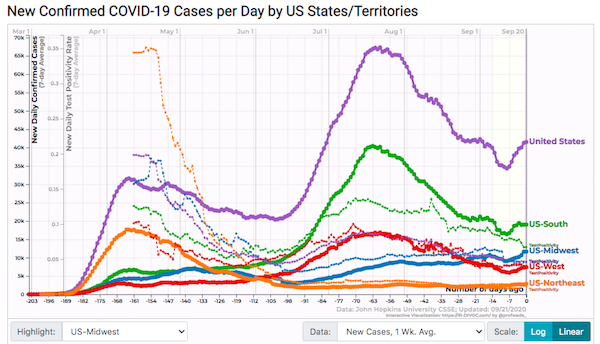 Ugh, here we go. The slope of the United States curve is the stame as the previous stairstep. If current trends continue, we could be where we were August 1 in 30 days — the election now being 42 days out.
Here are the Swing States as I conceive them (see below):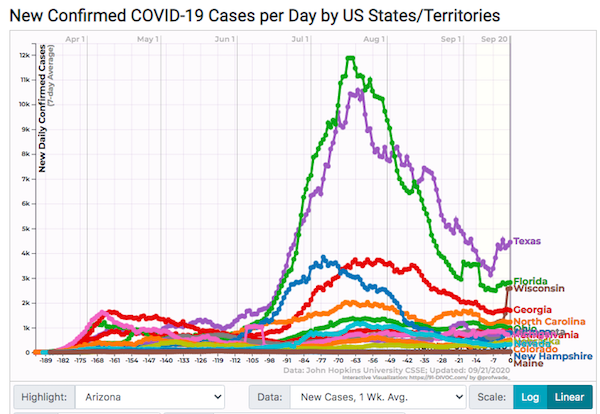 Sorry for all the states jammed together at the bottom of the chart, but if one of those states is yours, that's good news, right? (I tried the log version, but it just doesn't convey the spikiness visually, and the spikiness is the point. I also did not include a separate positivity chart, because it was unreadable.)
I confess I don't have a theory on how Covid numbers will affect the electorate; data welcome. New York and California were hard hit, but they were never winnable for Trump in the first place. Texas and Florida are hard hit now, but how many votes that were Trump's (rugged individualists, and so forth) are lost to him? Texas and Florida are also rising now, but is the general voter perception that the crisis is past?
But do cases have the same political effect as deaths? I don't know. I have also focused on cases, because they seem to be the most reliable number; determining the causes of death is an art, varies by jurisdiction, and susceptibile to official manipulation. (It may be that one reason New York's numbers are so good now is that the thousands of deaths under Cuomo really threw a scare into New Yorkers, and so they continued to accept masking and social distancing.) Here, although I still think it's bad data, are the swing state death rates, with New York and California added: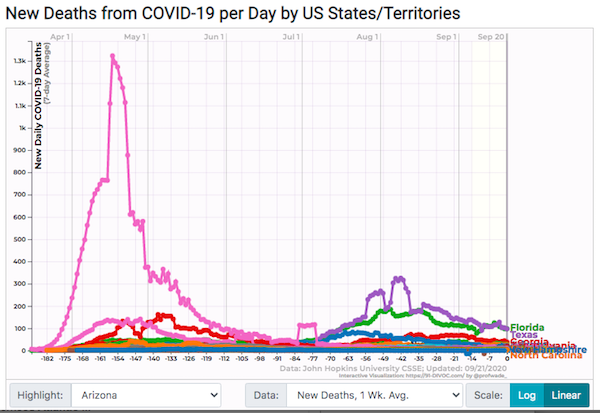 At this point we recall that New York is a media and financial center. (Just for the record, I'm not saying that deaths don't, er, matter; I'm saying that how they matter depends on where they take place, locally and nationally. For example, deaths of despair and the opioid crisis don't register nationally at all; but they matter to the states and localities in which they occur.)
Politics
"But what is government itself, but the greatest of all reflections on human nature?" –James Madison, Federalist 51
"They had one weapon left and both knew it: treachery." –Frank Herbert, Dune
"They had learned nothing, and forgotten nothing." –Charles Maurice de Talleyrand-Périgord
The electoral map. July 17: Georgia, Ohio, ME-2 move from Leans Republican to Toss-up. Continued yikes. On July 7, the tossup were 86. Only July 17, they were 56. Now they are 91. This puts Biden at 278, i.e. over 270. August 18: Still no changes. August 31: Indiana moves from Likely to Safe Republican. September 9: No changes. September 14: No changes. . For all the sturm and drang, and the polls, the consensus on the electoral college remains remarkably static: Biden ahead, Trump within striking distance. Of course, if Trump is still in striking distance on Election Day, that will count as a loss. Maybe.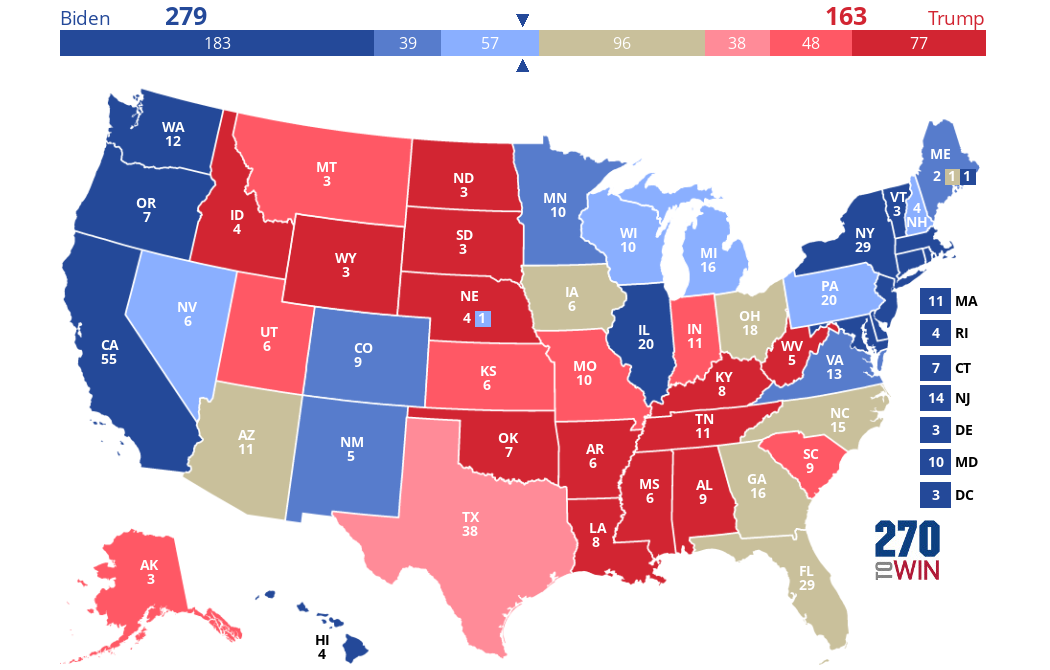 Click the map to create your own at
270toWin.com
"New Survey Results From KFF/Cook Political Report Survey in AZ, Fl, and NC. AZ Moves to Lean Dem" [Cook Political Report]. "There are two key geographic battlegrounds for the Electoral College this year. One is the Midwest that until 2016, had been reliably Democratic. The other is the fast-growing Sun Belt section of the country that has traditionally voted Republican…. This week, we are releasing the most recent poll that featured 3,479 interviews with voters in Arizona, Florida, and North Carolina. While Trump carried all three states in 2020, he is not leading in any of these states today. Trump and Biden are essentially tied in Florida (Trump 42%, Biden's 43%) and NC (Trump 43%, Biden 45%). However, in Arizona, Biden has opened up a more substantial lead (Biden 45%, Trump 40%). A Biden win in Arizona would mean that he could afford to lose Michigan or Wisconsin (two of "Blue Wall" consortium) and still eke out an Electoral College win (assuming that he wins all the states Hillary Clinton carried in 2016). Biden could even afford to lose Pennsylvania and still win the Electoral College with a combination of Arizona and Nebraska's 2nd CD."
The election countdown:
Here is an early voting calendar. Maybe we'll have a whole series of October surprises, since election day is gradually being devalued as an event.
And here are mail-in voting ruies, which naturally differ state by state.
* * *
2020
Patient readers, I'm going to change the format of the 2020 section from here on in, because following the reporting, opinion-having, and polling is a hall of mirrors that's giving me a headache. That's because this year, because of what Thomas Frank calls the elite "airtight consensus" that Trump must be defeated, there is very little genuine reporting, opinion-having, and polling going on; nearly everything has become entirely instrumentalized.

As is well known, United States Presidential elections are — normally — decided in the electoral college, and by "swing state" votes within the college. So to get some sort of vaguely accurate reading of what's going on outside the Acela Corridor, it's necessary to look beyond those who live and work there. Of course, which states are swing states is an open question, so I looked at 270toWin, FiveThirtyEight, Frontloading HQ, Marie Claire, the New York Times, RealClear Politics, and the Washington Post, and consolidated their lists. (Note that all these sources don't accept same concept of swing states, either; and WaPo considers swing demographics in an interactive, but uselessly, since their numbers are all national.) Here is my list of Swing States, with votes in the Electoral College in parentheticals):

Arizona (11)
Colorado (9)
Florida (29)
Georgia (16)
Iowa (6)
Maine-02 (1)
Michigan (16)
Minnesota (10)
Nebraska-02 (2)
Nevada (6)
New Hampshire (4)
North Carolina (15)
Ohio (18)
Pennsylvania (20)
Texas (38)
Wisconsin (10)

So for the rest of the election, I will try to focus on those states, and not on national moral panics, etc. (You may also help me by sending in links and tips, since this is a big change of direction, and nobody else seems to be doing it. For my email address, see under the Plant.) In keeping–

AZ: Representative?

Here in retirement community Sun City West, the shift has been dramatic. With so many angry vets, his "suckers and losers" remarks really hit a nerve. While Trump signs still prevail here in Caucasiazona, the quantity of Biden signs is significant. pic.twitter.com/yMwskgN4DG

— Bob Davidson (@oybay) September 17, 2020

* * *

Biden (D)(1): "Biden's $466 Million Bankroll Tops Trump by $141 Million" [Bloomberg]. "Democratic presidential nominee Joe Biden started September with a $466 million mountain of cash to take on President Donald Trump and the Republicans, completely reversing the GOP's financial advantage in just four months. In April, Biden, the Democratic nominee, had about $98 million in the bank compared to $255 million for the incumbent. Yet Democratic donor enthusiasm, driven by opposition to Trump and further energized by the selection of Senator Kamala Harris as Biden's running mate, has given the former vice president an unprecedented financial edge for a challenger." • The donor party…. More: "And the cash keeps rolling in for Democrats. Since the death of Supreme Court Justice Ruth Bader Ginsburg Friday, Democrats have seen a record-setting deluge of donations through ActBlue, the party's online platform for donating to candidates and causes. Between the announcement of her death on Friday night and 10 p.m. Sunday, grassroots donors gave more than $126 million." • Of course, money doesn't translate into votes in a linear way, as we learned in 2016. For example, example, although McGrath — who is twelve points down — raised an eye-popping $46 million so far, and millions more after Ginsberg's death, the only certainty is that a lot Democratic strategists are going to send their kids to college on the commission from it. On the bright side for Democrats, the fundraising could be a proxy for high turnout.

Trump (R)(1): "Are There "Shy Trump" Voters In 2020?" [Morning Consult]. "Building on our 2015 and 2016 research, Morning Consult recently conducted a study of more than 2,400 likely voters to determine if the 'shy Trump"'voter phenomenon is affecting polling in the 2020 election. The study also examined whether is at play on a range of topics that have been particularly prevalent this year… There was clear evidence that voters are hesitant to express their opinions on discrimination, protests and personal finances during a live telephone interview. And while there is no indication that 'shy voters' are affecting the overall national popular vote to a statistically significant degree, nuances in the data leave open the possibility that there could be effects at the margins for both Trump and Biden."

Trump (R)(2): In the Swing States material above, I listed this interactive from the New York Times. Sadly, they do not have the same scenario logic tree that they had in 2016. They do have a "build your own" coalition interactive that you can play around with. I did, and here is a screen shot of the initial state of play, helpfully annotated:

If you give Trump the Lean Republicans (Ohio, Texas, Iowa; not implausible), and give him the tossups (North Carolina, Georgia, Florida, Maine-02; not implausible) we arrive at Biden 212, Trump 248. Give Trump Pennsylvania (not implausible) and Michigan (not implausible), and he wins. I think Trump has a hard row to hoe, and the Democrats could run the table, even with Biden as their candidate. But it would be extremely foolish to count Trump out. Note that all the States just mentioned are on my watch list.

* * *

"Ginsburg's death just blew up the 2020 campaign" [Politico]. "Neither party could say with confidence late Friday night how Supreme Court Justice Ruth Bader Ginsburg's death would alter the presidential campaign. The only certainties are these: an all-out battle over filling her vacancy before Jan. 20, and already motivated electorates in both parties further riled by the fight…. With Trump promising a high court nominee within days, and Senate Majority Leader Mitch McConnell vowing to hold a vote before the January inauguration, Republicans were betting a Supreme Court fight would veer the narrative back to the kind of social issues they believe will animate their base and draw Trump-wary Republicans back into the fold. Democrats, though, pointed to now-Supreme Court Justice Brett Kavanaugh's confirmation hearings in the fall of 2018, and predictions at the time that they would motivate Republicans to turn out in droves in the midterm elections. Instead, Democrats swamped the GOP across the board." • I don't think the 2020 midterms were about Kavanaugh at all; I think they were about sheer hatred of Trump, which Democrats leveraged very effectively. If Covid is indeed a winning issue for Democrats, then it makes no sense to take the focus off that, and put it on Ginsberg. Nevertheless, if this is how your base feels….

I'm sitting here struggling for words and my friend nailed it: "She was our Princess Leia" #RBG pic.twitter.com/K23CDxb6VQ

— Esther Choo, MD MPH (@choo_ek) September 18, 2020
Realignment and Legitimacy
You can make it anywhere:

What does this mean for alternate side parking?

— Slade (@Slade) September 21, 2020
Stats Watch
At reader request, I added some business stats back in. Please give Econintersect click-throughs; they're a good, old-school blog that covers more than stats. If anybody knows of other aggregators, please contact me at the email address below.
Consumer Expectations: "August 2020 Consumers' Expectations Improve Slightly But Remain Weak" [Econintersect]. "The Federal Reserve Bank of New York's Center for Microeconomic Data released the August 2020 Survey of Consumer Expectations, which shows a continued decline in pessimism about households' financial situation. In particular, home price growth expectations returned to levels close to a year ago, while delinquency expectations remain low."
National Activity Index: "August 2020 CFNAI Super Index Moving Average Index Suggests A Marginal Slowing Of The Economic Rate Of Growth" [Econintersect]. "The economy's rate of growth marginally slowed based on the Chicago Fed National Activity Index (CFNAI) 3 month moving (3MA) average – but the economy remains above the historical trend rate of growth. This index is likely the best coincident indicator of the U.S. economy. A coincident indicator shows the current state of the economy. This month, there was a general slowing across the board for the economy. The economy has slowed from its rate of growth in 2018 but now has moved above territory associated with recessions."
Housing: "Home Equity Rises Despite The Pandemic With Homeowners Gaining Over $620 Billion In Equity In 2Q2020" [Econintersect]. "The Home Equity Report for the second quarter of 2020 shows U.S. homeowners with mortgages (which account for roughly 63% of all properties) have seen their equity increase by 6.6% year over year. This represents a collective equity gain of $620 billion, and an average gain of $9,800 per homeowner, since the second quarter of 2019."
* * *
Banking: "Sweden Heavily Redacts BlackRock Report on Credit Market Woes" [Bloomberg]. "Earlier this year, Sweden's credit market cheered as the world's oldest central bank brought in consultants from BlackRock to help it move ahead with a controversial corporate bond purchase program. Now, the cheering has turned to disbelief as it becomes clear Sweden's Riksbank won't share any of the findings BlackRock made with the very market the program is intended to help. In response to a request by Bloomberg News for details of BlackRock's research, the Riksbank sent a heavily redacted document consisting of 19 pages. "The Swedish corporate bond market exhibits a number of singularities when compared to other Anglo-Saxon markets," the document showed. Almost everything else was blacked out." • What with all those "suspicious activity reports" that Buzzfeed found, and now this, I'm starting to think that the reputation of European banks for probity may be undeserved…
Commodities: "Maine blueberry industry reels from drought, frost, virus" [ABC]. "A late spring frost, a devastating drought and labor troubles wrought by the coronavirus pandemic conspired to make 2020 a difficult year for the wild blueberry producers who harvest the fruit in the nation's northeastern corner…. The five-year average for the size of the crop is nearly 84 million pounds, but signs point to a crop that could be half of expectations this year, according to the Wild Blueberry Commission of Maine. However, demand for the fruit has increased recently, and the industry has the ability to bounce back from the tough year, said Eric Venturini, the executive director of the blueberry commission."
Commodities: "Jet Fuel Is Now So Cheap It's Being Blended for Use by Ships" [Bloomberg]. "The fuel that powers passenger planes is normally among the most expensive oil products, but in a sign of the times the coronavirus has turned it into a blending component for typically cheaper shipping fuel. Straight-run kerosene, usually processed into jet fuel, is now being used to make very low-sulfur fuel oil for the maritime industry amid a plunge in consumption by airlines. Higher than normal amounts of diesel and vacuum gasoil are also finding their way into shipping fuel. The shift, almost unthinkable just a year ago, reflects the obliteration of demand the aviation industry has suffered in the wake of the Covid-19 pandemic." • Good news for the climate (though not so good as leaving it in the ground).
Tech:
any guesses? pic.twitter.com/9aIZY4rSCX

— Colin Madland (@colinmadland) September 19, 2020
Twitter selects which part of an image to include algorithmically. It has now become a meme on twitter to show how Twitter always picks the White face, not the Black one.
Manufacturing: "Boeing gearing up for 787 move to South Carolina: sources" [Reuters]. "Boeing Co is nearing a decision to shift more 787 Dreamliner production to South Carolina, industry sources said, a cost-cutting strategy accelerated by the COVID-19 pandemic that would deplete its iconic factory north of Seattle…. Barring a last-minute U-turn, Boeing is "all but certain" to move the rest of 787 production away from its traditional base to South Carolina, two people briefed on its thinking said." • See NC here for Boeing's manufacturing woes, and quality control issues in South Carolina. So I guess Qatar Airways won't be able to insist on 787s built only in Everett any more. It's union-busting all the way down….
Mr. Market: "Dow slides over 800 points while S&P 500 veers close to correction territory" [MarketWatch]. "U.S. stocks fell sharply on Monday amid concerns about the COVID-19 trajectory in Europe, as news reports allege major global banks continued doing business with customers suspected of wrongdoing, and a lack of progress toward another round of fiscal stimulus out of Washington… Investors continued to watch for signs of the much-discussed rotation from high-growth shares to more beaten-down stocks in industries like retail and energy. Tech-related stocks, which had led the market's rally back from the March pandemic lows, have flagged in recent weeks, leading the market back down from all-time highs. But Monday's selloff was led by more growth-sensitive sectors, reflecting the fickle swings in market expectations around an uncertain U.S. economic recovery."
The Fed: "Fed's Kaplan says he's worried new forward guidance will spark risky trading" [MarketWatch]. "The new Federal Reserve forward guidance could create 'fragilities' and 'excesses' in financial markets, said Dallas Fed President Rob Kaplan on Monday." • "'I don't know if you happen to know what the word excesses means, but those are what Pongo's Uncle Fred, when in London, invariably commits.' The young man's face, as he sipped his cocktail, was a little drawn and anxious." –P.G. Wodehouse, Uncle Fred In The Springtime. More: "There is growing worry that the fight over the new vacancy on the Supreme Court sinks the slim chances of another fiscal package until next year." • Oh, good.
* * *
Today's Fear & Greed Index: 51 Neutral (previous close: 52 Neutral) [CNN]. One week ago: 59 (Greed). (0 is Extreme Fear; 100 is Extreme Greed). Last updated Sep 21 at 12:08pm. Mr. Market is having a sad.
Rapture Index: Closes down one on Israel. "The Jewish state has signed peace deals with several Arab neighbors." [Rapture Ready]. Record High, October 10, 2016: 189. Current: 182. (Remember that bringing on the rapture is a good thing.)
The Biosphere
"Natural gas is a much 'dirtier' energy source than we thought" [National Geographic]. "However, the climate cost of natural gas has relied on a basic assumption: There are less total carbon emissions from natural gas than from other sources. But in recent years a flotilla of scientific studies have brought that assumption into question, primarily by looking at how much gas is lost during the production process. If there are very few leaks or losses along the way—less than a few percent of the total amount of gas recovered—the math breaks even or comes out ahead. But if that "leakage rate" climbs over more than about 1 percent of the total gas recovered, the budget gets fuzzy, says Robert Howarth, a climate scientist at Cornell. One recent study found that the widely used 'leakage rate' of gas in the U.S. natural gas production process could be over 2 percent. Others, looking at specific 'super emitters' in major drilling regions of the US, have found even more leakage."
"These Scientists Are Studying Why California Keeps Burning" [Bloomberg]. "[Jon Keeley, a U.S. Geological Survey research scientist] explains the rise of large 21st century California wildfires by comparing those that are driven by wind with those that are "fuel"-driven. This framework suggests that while it's brought up frequently in public discussions, the build-up of forest fuel is only one factor in northern fires; others include land-use and development trends and past timber-harvesting practices. That said, a resumption in the forestry practice of managed burning in higher and northern areas would help. To the south, autumn winds turn human actions—power-line failures and arson—into conflagrations, and fuel is less of a factor. Whatever can burn will."
"Record-breaking hurricane season runs out of traditional names, moves on to Greek alphabet" [CBS]. • Not The Onion!
Class Warfare
"American Gentry" [Patrick Wyman (CH)]. Wyman is a historian and podcaster. I highly recommend this piece. "Ownership of the real, core assets is where the region's wealth comes from, and it doesn't extend down the social hierarchy… This class of people exists all over the United States, not just in Yakima. So do mid-sized metropolitan areas, the places where huge numbers of Americans live but which don't figure prominently in the country's popular imagination or its political narratives: San Luis Obispo, California; Odessa, Texas; Bloomington, Illinois; Medford, Oregon; Hilo, Dothan, Alabama; Green Bay, Wisconsin. … This kind of elite's wealth derives not from their salary – this is what separates them from even extremely prosperous members of the professional-managerial class, like doctors and lawyers – but from their ownership of assets. Those assets vary depending on where in the country we're talking about; they could be a bunch of McDonald's franchises in Jackson, Mississippi, a beef-processing plant in Lubbock, Texas, a construction company in Billings, Montana, commercial properties in Portland, Maine, or a car dealership in western North Carolina. Even the less prosperous parts of the United States generate enough surplus to produce a class of wealthy people. Depending on the political culture and institutions of a locality or region, this elite class might wield more or less political power. In some places, they have an effective stranglehold over what gets done; in others, they're important but not all-powerful. Wherever they live, their wealth and connections make them influential forces within local society. In the aggregate, through their political donations and positions within their localities and regions, they wield a great deal of political influence. They're the local gentry of the United States." • A must-read.
News of the Wired
"Vinyl record sales surpass CDs for the first time since the 1980s" [CNN]. "The days of vinyl records being a nostalgic relic of the past are long gone. This year, vinyl sales have outpaced CD sales in the United States for the first time since the 1980s. Vinyl records accounted for $232.1 million of music sales in the first half of the year, compared to CDs, which brought in only $129.9 million, according to a report from the Recording Industry Association of America…. Streaming, which includes the revenue of paid streaming, ad-supported streaming and streaming radio, grew 12% to $4.8 billion during the first six months of 2020, RIAA found."
Now that's a bass guitar that makes a statement:
The creators of "This is Spinal Tap" and Vivendi's Studiocanal have reached an agreement in their long-running dispute over allegedly unpaid profits from the 1984 cult classic https://t.co/OxIAdETwll

— Bloomberg (@business) September 20, 2020
* * *
Readers, feel free to contact me at lambert [UNDERSCORE] strether [DOT] corrente [AT] yahoo [DOT] com, with (a) links, and even better (b) sources I should curate regularly, (c) how to send me a check if you are allergic to PayPal, and (d) to find out how to send me images of plants. Vegetables are fine! Fungi and coral are deemed to be honorary plants! If you want your handle to appear as a credit, please place it at the start of your mail in parentheses: (thus). Otherwise, I will anonymize by using your initials. See the previous Water Cooler (with plant) here. Today's plant (TH):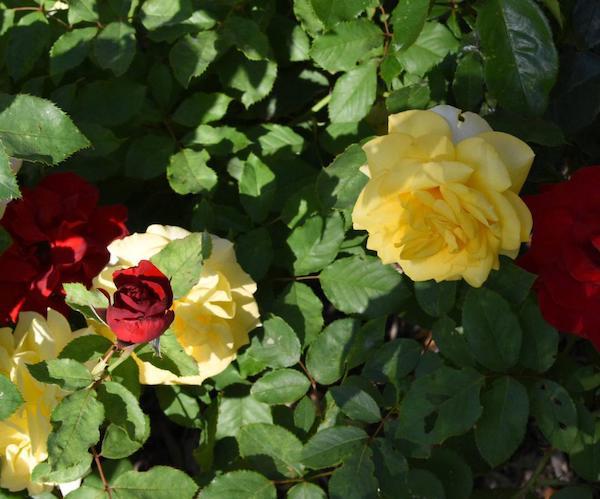 TH writes: "Here's a shot of some fairly healthy looking roses in a patch of someone's front garden from our stroll a few days ago."
* * *
Readers: Water Cooler is a standalone entity not covered by the annual NC fundraiser. So if you see a link you especially like, or an item you wouldn't see anywhere else, please do not hesitate to express your appreciation in tangible form. Remember, a tip jar is for tipping! Regular positive feedback both makes me feel good and lets me know I'm on the right track with coverage. When I get no donations for five or ten days I get worried. More tangibly, a constant trickle of donations helps me with expenses, and I factor in that trickle when setting fundraising goals:
Here is the screen that will appear, which I have helpfully annotated.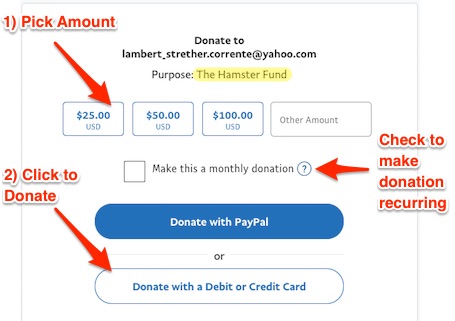 If you hate PayPal, you can email me at lambert [UNDERSCORE] strether [DOT] corrente [AT] yahoo [DOT] com, and I will give you directions on how to send a check. Thank you!