By Lambert Strether of Corrente.
#COVID19
At reader request, I've added this daily chart from 91-DIVOC. The data is the Johns Hopkins CSSE data. Here is the site.
Here are the United States regions: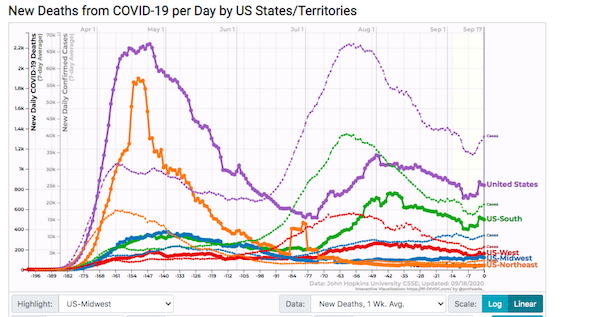 Ugh, here we go….
Here's the global leaderboard, plus a separate curve for the US: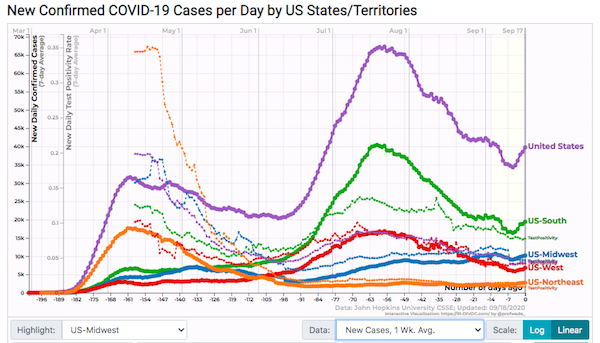 As you can see, the United States, at this point in time, has achieved mediocrity. (India is driving Southeast Asia. The Western Pacific includes China, Japan, and Australia.)
Politics
"But what is government itself, but the greatest of all reflections on human nature?" –James Madison, Federalist 51
"They had one weapon left and both knew it: treachery." –Frank Herbert, Dune
"They had learned nothing, and forgotten nothing." –Charles Maurice de Talleyrand-Périgord
The electoral map. July 17: Georgia, Ohio, ME-2 move from Leans Republican to Toss-up. Continued yikes. On July 7, the tossup were 86. Only July 17, they were 56. Now they are 91. This puts Biden at 278, i.e. over 270. August 18: Still no changes. August 31: Indiana moves from Likely to Safe Republican. September 9: No changes. September 14: No changes. Despite the sturm and drang, and the polls, the consensus on the electoral college remains the same: Biden ahead, Trump within striking distance.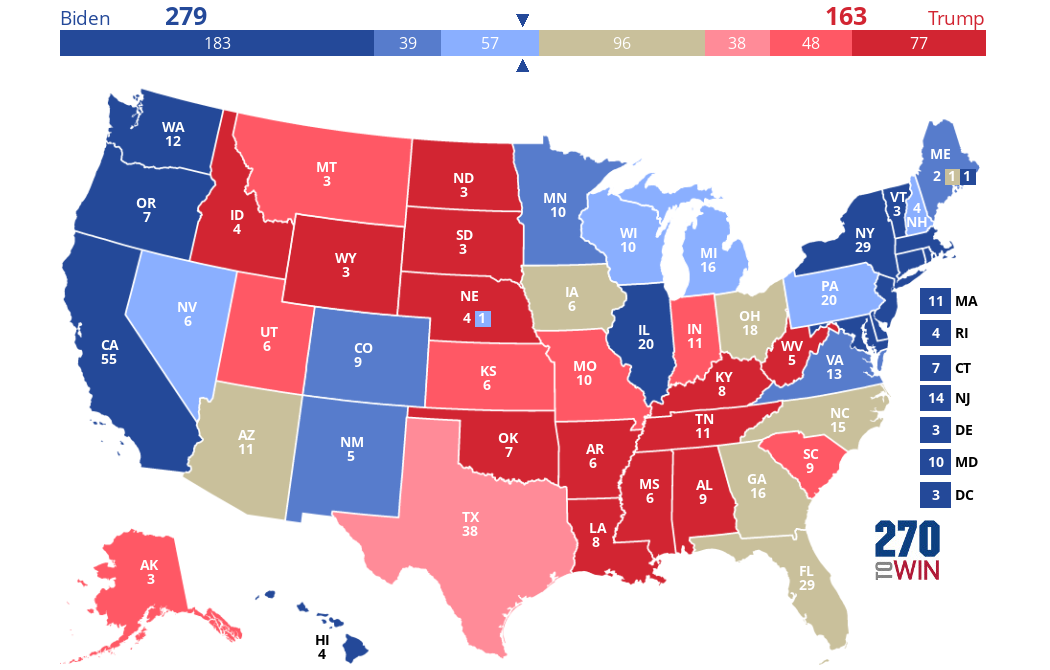 Click the map to create your own at
270toWin.com
"New Survey Results From KFF/Cook Political Report Survey in AZ, Fl, and NC. AZ Moves to Lean Dem" [Cook Political Report]. "There are two key geographic battlegrounds for the Electoral College this year. One is the Midwest that until 2016, had been reliably Democratic. The other is the fast-growing Sun Belt section of the country that has traditionally voted Republican…. This week, we are releasing the most recent poll that featured 3,479 interviews with voters in Arizona, Florida, and North Carolina. While Trump carried all three states in 2020, he is not leading in any of these states today. Trump and Biden are essentially tied in Florida (Trump 42%, Biden's 43%) and NC (Trump 43%, Biden 45%). However, in Arizona, Biden has opened up a more substantial lead (Biden 45%, Trump 40%). A Biden win in Arizona would mean that he could afford to lose Michigan or Wisconsin (two of "Blue Wall" consortium) and still eke out an Electoral College win (assuming that he wins all the states Hillary Clinton carried in 2016). Biden could even afford to lose Pennsylvania and still win the Electoral College with a combination of Arizona and Nebraska's 2nd CD."
Time to restore the election countdown:
Here, however, is an early voting calendar. Maybe we'll have a whole series of October surprises, since election day is gradually being devalued as an event.
And here are mail-in voting ruies, which naturally differ state by state.
* * *
2020
* * *

Biden (D)(1): "The welcome lack of enthusiasm for Joe Biden" [Financial Times]. "The problem, in other words, is not Mr Biden's failure to kindle passion in people. It is our psychic need for such a person in the first place. His election might reacquaint the US with politics as it should be and has been: a machine for the arbitration of conflicting claims, and not as the basis of one's whole identity. It is hard to convey the coolness — in truth, the resentment — with which Mr Biden's candidacy was met by many Democrats upon its launch 18 months ago. After their long tryst with Mr Obama, there was something bathetic about the man from Wilmington. The urge to worship a leader is often framed as rightwing, and the Trump base is unsurpassed in its intensity. But the itch is ultimately cross-partisan. It was not conservatives who made West Wing, the syrupy television drama about a near saint of a Democratic president. It was not conservatives who built the now faltering cult of the Kennedys. Mr Biden is the corrective to an unhealthy trend in his party and country. Nothing commends him to national leadership as much as the mild feelings that he arouses. Whatever enthusiasm has achieved this past decade or so, it is not an America at peace with itself."

Biden (D)(2): "Ed Markey's Win Shows Biden a Path to the Election, If He'd Take It" [The Sport Desk]. "Sen. Markey's remarkable come-from-behind victory highlighted a shift that's occurring in US politics. Voters are gravitating towards policy-driven campaigns and political outsiders. Economic conditions have finally deteriorated enough to motivate Americans to reject standard, old-school politicians. At the same time, they've demonstrated a willingness to accept veteran elected officials that show a willingness to adapt to the times." • Narrator: "He didn't take it." Alert reader christofay: "Harris/Biden has noticed Markey. That's why Harris is wearing the shoes shown prominently in her public appearances, the Keds, the Timberlands." So:

Spot the difference. pic.twitter.com/EolF7GZMHn

— L ? (@SomeBitchIKnow) September 17, 2020

Biden (D)(3): "Former Sanders aides release pro-Biden ad aimed at Latino voters" [The Hill]. "Nuestro PAC, the largest Latino super PAC, is putting a six-figure investment on the roughly three-minute ad, titled 'If I Were President.' 'This ad highlights every aspect of our community in a culturally competent way and brings Biden's own plans to life in ways Latinos will respond to,' said Nuestro PAC's founder Chuck Rocha. 'The Latino vote may well decide this election and we will not stop until we reach every Latino voter in every battleground state to cast their vote for Joe Biden and defeat Donald Trump.'"

UPDATE (D)(4): "Where Is Biden's Ground Game?" [Walker Bragman, Too Much Information]. "The Biden volunteer slack had roughly 62,000 in the general intake channel, 16,000 in the text channel, and 23,000 in the call channel on Tuesday. The numbers represent a substantial increase from early this month, when there were 37,000 volunteers in the Biden general intake channel — but still well short of the Sanders slack, which still had about 71,000 volunteers, even though the progressive senator officially dropped out of the presidential race in April…. Polls have consistently shown Biden ahead of President Donald Trump both nationally and at the state level as well as in terms of favorability. But below the surface, the numbers are less secure — the races in most key swing states are still close." And then there's this:

"Question: is the training script similar to the actual live script?" a volunteer asked in one screenshot. 'Reason I'm asking is that the training script doesn't give a lot of information about Biden/Harris's policy points, agenda details, POV.'

'The undecided voter [script] shows the basics that you need to know. Refer people to JoeBiden.com for detail,' a moderator responded.

'The campaign doesn't really want us to talk about policy, because that would open the door to a conflict,' another volunteer pointed out in a separate screenshot. 'They want us to stick to Joe.' The moderator agreed, adding that 'we are here to refer to them to the campaign.'*

A copy of the referenced phone banking script reveals vague talking points across a range of hot-button issues including the economy and jobs, health care, immigration, racial justice, the pandemic, and climate change. The talking points focus on Trump.

I'm still on the fence about whether the Biden campaign is being run by morons or genius. Theory of the case for GENIUS: The Biden campaign is the first post-post-modern campaign, and if it succeeds, a lot of features that were previously considered essential to campaigns will be dropped: These include physical contact with voters, campaign appearances by the candidate, and policy positions. In this stripped down virtual campaign, all that is necessary is: Control of the commanding heights of the media, party loyalty, hatred of the other, all fueled by regular moral panics driven by fear. NOTE * Exactly what the 20008 Obama campaign did: "Check the website."

Trump (R)(1): "An Experiment in Wisconsin Changed Voters' Minds About Trump" [The Atlantic]. "Changing voters' minds is famously difficult. Recent national campaigns have spent more effort on increasing turnout—getting sympathetic voters to go to the polls—than on winning over new supporters…. But the Wisconsin effort, notable for both its approach and its scale, seems to have found some success. From February to May, the advocacy group Opportunity Wisconsin, with help from a progressive advocacy organization based in Washington, D.C., called the Hub Project*, managed to do remarkable damage to Trump's standing with a group of persuadable voters. The effort sought to identify voters who took a favorable view of Trump's record on the economy but who might still be receptive to alternative perspectives, then spent weeks targeting them with messages arguing that the economy was actually not working for Wisconsin, and that Trump's policies weren't helping." • The Hub Project is run by Arkadi Gerney, late of the Center for American Progress, and previously OfBloomberg.

Trump (R)(2):

Americans' satisfaction with the state of the nation is at 14% and still ranks among the lowest Gallup has measured. https://t.co/EsaiYtWm1i pic.twitter.com/YsLiyfQ8XP

— GallupNews (@GallupNews) September 17, 2020

Trump was on a roll, as much as he ever is, until the virus hit.

UPDATE Trump R)(3):

When people worried about Trump "abusing the power of office for re-election," it was actually this normal power of office stuff that Dems couldn't criticize that would have done the trick

— tyson brody (@tysonbrody) September 18, 2020

Trump finally has seemed to discover this "power of the office" stuff, as with $300 on unemployment and using the CDC on evictions, albeit very late in the game. (All partial, to be sure, but more than the Democrats were doing when they were on vacation.) If some clever staffer had managed to make Trump see that actions like this were the Presidential equivalent of fine marble flooring, the history of his administration might have been very different.#MedicareForAll would be another example (assuming funding could be solved). Another example is next–

UPDATE Trump (R)(4): "Republicans Killed the Obamacare Mandate. New Data Shows It Didn't Really Matter." [New York Times]. • When Trump killed the mandate, he saved me $1200. That's not nothing. That's also more than today's Democrats ever did for me. If Trump could get out of his own way, he'd be hammering on things like that.

* * *

UPDATE "Pennsylvania Supreme Court removes Green Party presidential candidate from ballot" [The Hill]. • Vote! No, not that way!

UPDATE Perhaps QAnon really is a Beltway-centric moral panic, noxious though it seems:

Of all '20 House races, #CO03 might feature the most cognitive dissonance between DC & a district.

DC Dems/media routinely label Boebert a "QAnon candidate." But in #CO03, Dems are attacking her for…wanting to repeal the ACA.

Why? The average voter has no clue what QAnon is.

— Dave Wasserman (@Redistrict) September 18, 2020
Realignment and Legitimacy
"Billionaire investor Ray Dalio on capitalism's crisis: The world is going to change 'in shocking ways' in the next five years" (interview) [MarketWatch]. " I look at it mechanically, like a doctor looking at a disease. If asked what is the issue here, I would say that it is a certain type of disease that has certain patterns which are timeless and universal, and the United States is broadly following that progression. There are three problems that are coming together, so it's important to understand them individually and how they collectively make a bigger problem. There is a money and credit cycle problem, a wealth and values gap problem, and an emerging great power challenging the existing dominant power problem. What's going on is an economic downturn together with a large wealth gap and the rising power of China challenging the existing power of the United States." • Doctors don't look at diseases mechanically (unless they're specialists, I suppose).

"Chris Rock criticizes Pelosi and Democrats on pandemic, compares Trump to 5-year-old" [The Hill]. "Rock compared Trump to the main character in 'The Last Emperor,' a child who becomes the ruler of China. 'Did you ever see that movie 'The Last Emperor,' where like a 5-year-old is the emperor of China? There's a kid and he's the king. So I'm like, it's all the Democrats' fault. Because you knew that the emperor was 5 years old,' Rock said. 'And when the emperor's 5 years old, they only lead in theory. There's usually an adult who's like, 'OK, this is what we're really going to do." . You let the pandemic come in. Yes, we can blame Trump, but he's really the 5-year-old,' Rock told The New York Times in an interview published Thursday." • Not, however, exactly helpful to Trump!
Stats Watch
At reader request, I added some business stats back in. Please give Econintersect click-throughs; they're a good, old-school blog that covers more than stats. If anybody knows of other aggregators, please contact me at the email address below.
Leading Indicators: "August 2020 Leading Economic Index Somewhat Improves – Growth Will Likely Be Weak Leading Into 2021" [Econintersect]. "The Conference Board Leading Economic Index (LEI) for the U.S. increased 1.2 percent in August to 106.5 (2016 = 100), following a 2.0 percent increase in July and a 3.1 percent increase in June – and the authors say "the slowing pace of improvement suggests that this summer's economic rebound may be losing steam heading into the final stretch of 2020″…. Because of the significant backward revisions, the current values of this index cannot be trusted. This index's value is the lowest since the Great Recession. My opinion is that the economy entered a recession in March but likely left the depression in June when the economy began to improve."
Rail: "Rail Week Ending 12 September 2020 – Still In Contraction But Remains On An Improving Trendline" [Econintersect]. "Week 37 of 2020 shows same week total rail traffic (from same week one year ago) declined according to the Association of American Railroads (AAR) traffic data. Total rail traffic has been mostly in contraction for over one year – and now is recovering from a coronavirus pandemic…. This week again intermodal continued in expansion year-over-year and continues on a strengthening trendline. However, carloads remain deep in contraction. But overall, rail is on an improving trendline."
* * *
The Fed: "Fed's Kashkari says warnings of runaway inflation are just 'ghost stories'" [MarketWatch]. "Warnings that U.S. inflation is about to surge aren't supported by any evidence, and are tantamount to 'ghost stories,' said Minneapolis Federal Reserve President Neel Kashkari on Friday… Kashkari dissented from the Fed's new forward guidance at its policy meeting on Wednesday. He proposed simpler language that the FOMC 'expects to maintain the target range until core inflation has reached 2% on a sustained basis' and he defined 'sustained basis' in this environment as lasting roughly a year. Kashkari said his alternative forward guidance was stronger than the statement adopted."
* * *
Today's Fear & Greed Index: 51 Neutral (previous close: 53 Neutral) [CNN]. One week ago: 58 (Greed). (0 is Extreme Fear; 100 is Extreme Greed). Last updated Sep 18 at 1:14pm.
The Biosphere
"Noam Chomsky: There's Reason for Hope" (interview) [Noam Chomsky, JSTOR Daily].
[CHOMSKY:] There's many reasons to hope. Take a look at the streets of the country, the United States. The Black Lives Matter movement is the biggest social movement in American history with support beyond anything that's ever been registered in the past. It's not alone. It's a sign of substantial changes in popular consciousness, popular understanding.

In September, there'll be the first international meeting of the Progressive International Organization, founded by the Bernie Sanders movement in the United States. Yanis Varoufakis is bringing in participants from the Global South. It's meeting in Iceland, where the prime minister is a member. These are forces, many more can be mentioned, that are countering the drive towards destruction. And it's a major class war, you could say, on an enormous scale, and it will be played out in the next decade or two. And that'll determine the fate of the world. So yes, there's hope—but not if people give up.
Health Care
"New GAO Report On Deceptive Coverage Marketing, Extended GA Waiver Comment Period" [Health Affairs]. "On September 16, 2020, the U.S. Government Accountability Office (GAO) publicly released a new report revealing troubling marketing practices by sales representatives selling products that do not have to comply with the Affordable Care Act's (ACA's) consumer protections. These ACA-exempt arrangements include short-term limited duration insurance, limited benefit plans, health care sharing ministries, and association health plans… Through 31 undercover phone calls by investigators posing as an individual with diabetes or heart disease in need of health insurance, GAO agents found that 26 percent of calls (8 calls) with sales representatives included potentially deceptive practices; the GAO intends to refer those instances to the Federal Trade Commission and state insurance regulators. Another 6 percent of calls (2 calls) were not deceptive but provided unclear or inconsistent information. In the remaining 68 percent of calls (21 calls), GAO agents were referred to an ACA-compliant plan and offered appropriate and accurate information about ACA options." • Of course, the solution #MedicareForAll, and abolition of the entire sorry industry. But no doubt another Rube Goldberg device will be bolted on to the existing congeries of Rube Goldberg devices, with new regulations, new training programs, new journalistic write-ups, etc. I'm honestly thinking that a design criterion for programs is a level of simplicity such that the level of professional attention is absolutely minimized, and directed where it really counts.
Water
"Protecting the sewershed" [Science]. "As planned potable water reuse systems [i.e., purified sewage] become more common, water management must undergo a paradigm shift. This is not the first time the water industry has faced this type of challenge. In the late 20th century, water managers and regulators in the United States recognized that preventing pollution of water supplies from diffuse sources, such as farm runoff and pastures, was often more effective and cheaper than finding ways to purify contaminated drinking water. The push for watershed protection in the 1990s changed the way that water utilities managed drinking water and provides lessons for protecting drinking water in the era of potable water reuse. Watershed protection regulations such as the 1996 amendment to the Safe Drinking Water Act prevented pollution throughout the hydrologic basin from which cities obtained drinking water (6). In the United States, federal funds were allocated to help water managers meet new watershed protection requirements (6). These policies changed the status quo: Many water utilities restructured their organizations to acquire and manage land, to develop expertise in rangeland conservation and forestry, and to work closely with stakeholders throughout the watershed."
Games
"Apple accuses Epic of 'starting a fire and pouring gasoline on it' in new Fortnite filing" [The Verge]. "Apple has responded to Epic's demands that the iPhone-maker restore Fortnite to the App Store in new legal filings, arguing that the company's injuries are 'entirely self-inflicted' and that Fortnite can return to iOS at any time — just as soon as Epic removes the custom in-app payment system that triggered the game's removal in the first place. 'Epic started a fire, and poured gasoline on it, and now asks this Court for emergency assistance in putting it out,' writes Apple in the 37-page opposition brief. '[E]ven though Epic can do so itself in an instant by simply adhering to the contractual terms that have profitably governed its relationship with Apple for years.'" • I don't know if this is Epic's theory of the case, but this sounds like an unconscionable contract enforced by a monopolist to me.
The 420
"Weed Killers: Bowing to Blue Dogs, Democratic Leadership Delays 'Enormously Popular' Marijuana Legalization Bill Until After Election" [Common Dreams]. • The Blue Dogs the Democrat leadership installed.
Our Famously Free Press
"I have indeed, not read it all. But when I take up the end of a web, and find it packthread, I do not expect, by looking further, to find embroidery." —Dr. Samuel Johnson
You folks at the Times social media team seem to be losing your sense of shame; instead of scurrying to delete the evidence of your illiteracy when I point it out, increasingly you're leaving it up. https://t.co/QOGUleONNk

— Typos of the New York Times (@nyttypos) September 15, 2020
Following Johnson: If the Times's copy edting is bad, we can expect its reporting to be bad, and we can expect its editorial judgment to be bad. And all of these things are true. Also too fact-checking:
Delete: Edgar Allan Poe didn't write a pandemic novel. He wrote a pandemic short story. It's about 40 pages long. pic.twitter.com/ZzLRMmo1fh

— Typos of the New York Times (@nyttypos) September 7, 2020
This is just bad, bad, bad, bad, bad, bad.
"Journalism's Gates keepers" [Columbia Journalism Review]. From August, still germane: "As philanthropists increasingly fill in the funding gaps at news organizations—a role that is almost certain to expand in the media downturn following the coronavirus pandemic—an underexamined worry is how this will affect the ways newsrooms report on their benefactors. Nowhere does this concern loom larger than with the Gates Foundation, a leading donor to newsrooms and a frequent subject of favorable news coverage. I recently examined nearly twenty thousand charitable grants the Gates Foundation had made through the end of June and found more than $250 million going toward journalism… The foundation even helped fund a 2016 report from the American Press Institute that was used to develop guidelines on how newsrooms can maintain editorial independence from philanthropic funders. A top-level finding: "There is little evidence that funders insist on or have any editorial review." Notably, the study's underlying survey data showed that nearly a third of funders reported having seen at least some content they funded before publication." • MRDA.
Sports Desk
"Happy Hundredth, Roger Angell" [Columbia Journalism Review]. "Finally, there's the one you already knew he'd pick, the one you may have already revisited recently: 'This Old Man.' (The Andy this time is his dog, a smooth fox terrier.) Describing life in his nineties, Roger imagines what people are thinking when they see him: 'Holy shit—he's still vertical!' He then proceeds to tell us more of what's going on inside. 'Getting old is the second-biggest surprise of my life,' he writes, 'but the first, by a mile, is our unceasing need for deep attachment and intimate love.'"
Class Warfare
"Private and Charter Schools Received Six Times as Much COVID Funding As Public Schools" [Diane Ravitch]. "A new study of the federal CARES act funding found that private and charter schools received SIX TIMES the amount of funding as public schools from the federal coronavirus program. This may actually, as the report states, be an underestimate." • 
"Anti-anti-communism" [Aeon]. "For those wishing to paint 20th-century communism as an unmitigated evil, ongoing ethnographic and survey research in eastern Europe contradicts any simple narrative. Even as early as 1992, the Croatian journalist Slavenka Drakulić 'worried about what would happen to all the good things that we did have under communism – the medical care, the year's paid maternity leave, free abortion'. As governments dismantled social safety nets and poverty spread throughout the region, ordinary citizens grew increasingly less critical of their state socialist pasts. A 2009 poll in eight east European countries asked if the economic situation for ordinary people was 'better, worse or about the same as it was under communism'. The results stunned observers: 72 per cent of Hungarians, and 62 per cent of both Ukrainians and Bulgarians believed that most people were worse off after 1989. In no country did more than 47 per cent of those surveyed agree that their lives improved after the advent of free markets. Subsequent polls and qualitative research across Russia and eastern Europe confirm the persistence of these sentiments as popular discontent with the failed promises of free-market prosperity has grown, especially among older people." • Sounds like a public relations problem…
News of the Wired
On Reddit, AITA = Am I The A*****e. Read all the way to the end:
AITA for forbidding my roomate from taking my books? (removed) pic.twitter.com/3m7FXbrXSk

— Am I the Asshole? (@AITA_reddit) September 17, 2020
"The Steel Meadow" [Simon Stålenhag]. Updated website with more art: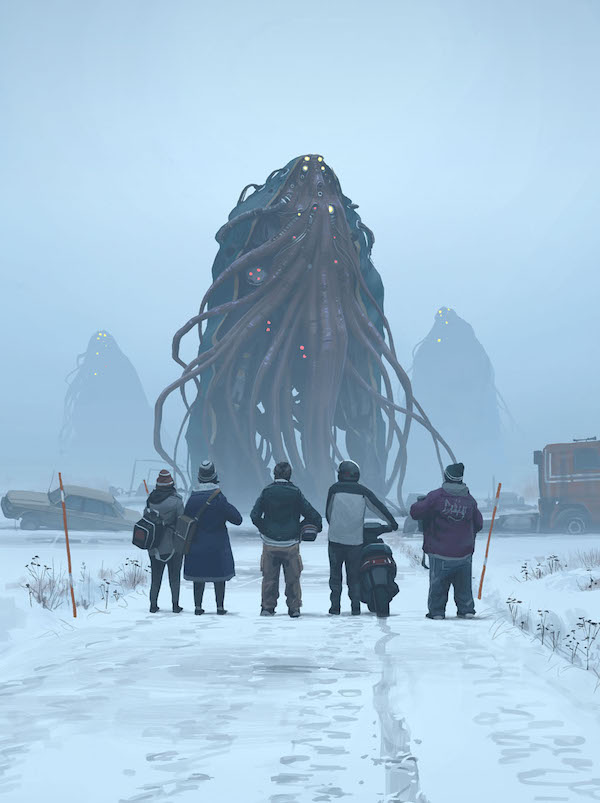 Look! The Almighty Signifier!
* * *
Readers, feel free to contact me at lambert [UNDERSCORE] strether [DOT] corrente [AT] yahoo [DOT] com, with (a) links, and even better (b) sources I should curate regularly, (c) how to send me a check if you are allergic to PayPal, and (d) to find out how to send me images of plants. Vegetables are fine! Fungi and coral are deemed to be honorary plants! If you want your handle to appear as a credit, please place it at the start of your mail in parentheses: (thus). Otherwise, I will anonymize by using your initials. See the previous Water Cooler (with plant) here. Today's plant (IM):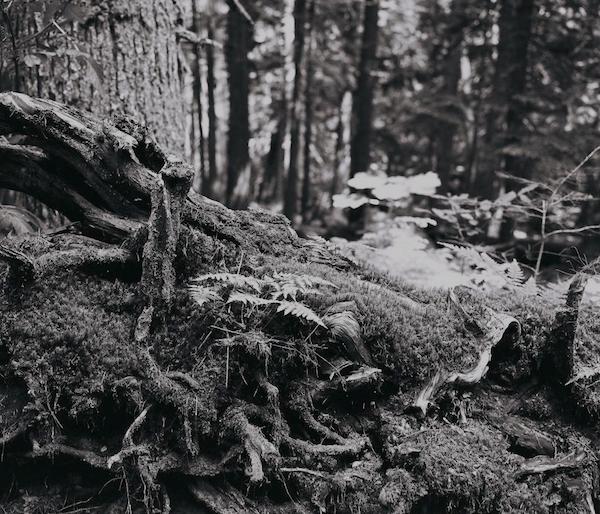 IM writes: "Black and white shot from a rare stand of red cedars in the interior of BC." Readers will recall my affection for stumps, and the black and white shows the textures of decay really well.
* * *
Readers: Water Cooler is a standalone entity not covered by the annual NC fundraiser. So if you see a link you especially like, or an item you wouldn't see anywhere else, please do not hesitate to express your appreciation in tangible form. Remember, a tip jar is for tipping! Regular positive feedback both makes me feel good and lets me know I'm on the right track with coverage. When I get no donations for five or ten days I get worried. More tangibly, a constant trickle of donations helps me with expenses, and I factor in that trickle when setting fundraising goals:
Here is the screen that will appear, which I have helpfully annotated.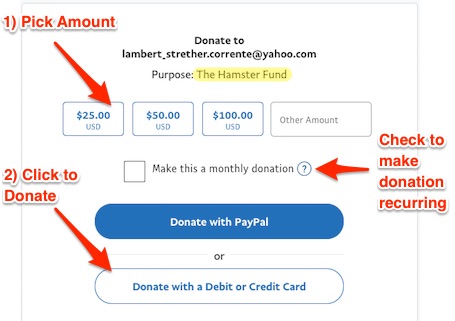 If you hate PayPal, you can email me at lambert [UNDERSCORE] strether [DOT] corrente [AT] yahoo [DOT] com, and I will give you directions on how to send a check. Thank you!