By Lambert Strether of Corrente
Most of you will be familiar with the concept of "crew change"; that's what happens, for example, when your flight gets delayed because the pilots or cabin attendants have worked more hours than the FAA allows them to, and the airline needs to swap in a new crew. This happens rarely, but imagine crew change failures happened simultaneously for many, many aircraft across the entire network: You'd have the airline equivalent of a traffic jam, or even gridlock, and no flights would move. A similar process is happening in real life, now, but for ships, not aircraft. Because the Covid pandemic has made crew changes very difficult, many ships and crew (about 300,000) are stuck in port, stranded, unable to move. The New York Times headline, "Trapped by Pandemic, Ships' Crews Fight Exhaustion and Despair," captures the humanitarian issues very well; the body cuts to the economic chase: supply chain risk.
But the Covid-19 pandemic led countries to start closing borders and refusing to let sailors come ashore. For cargo ships around the world, the process known as crew change…

"This floating population, many of which have been at sea for over a year, are reaching the end of their tether," Guy Platten, secretary general of the International Chamber of Shipping, which represents shipowners, said on Friday. "If governments do not act quickly and decisively to facilitate the transfer of crews and ease restrictions around air travel, we face the very real situation of a slowdown in global trade."
But crew change is not as easy as it might seem. Again from the Times:
Leaving a ship, and getting home, requires more than just disembarking. It usually involves multiple border crossings, flights with at least one connection, and a slew of certificates, specialized visas and immigration stamps. A crew member's replacement has to go through the same steps.

Every step in that procedure is "broken" because of the pandemic, with flights limited, border controls tightened and many consulates closed, according to [Frederick Kenney, director of legal and external affairs at the International Maritime Organization, a U.N. agency that oversees global shipping]. While some countries have found ways around the problem, "the rate of progress is not keeping up with the growing backlog of seafarers," he said last week.
In this post, I'll look first at the supply chain risk. Then I'll look at the institutional issues that have hitherto prevented this risk from being addressed, and the crew changes from being made. (These issues, besides the pandemic itself, involved government, but even more the complex business structure of international shipping. Finally, I'll look at proposed solutions, which must be international and intergovernmental in nature, and must also — quelle horreur — involve the owners of the assets, the ships. (I'm going to skip the humanitarian aspects, but imagine a powerless worker from Sri Lanka or the Phillipines, trapped on board the same hulking metal ship for many months with nothing to do, with an expired contract, money owing, perhaps in debt, with no access to anything onshore including health care, and a family at home. Seafaring has always been a brutal trade, but the workers' situation during the pandemic is really beyond the pale.[1])
Supply Chain Risks
Shipping investors, led by Fidelity, have cleared their throats and let it be known that the crew change situation must be addressed. From the Financial Times, "Fidelity warns of supply chain risks due to stranded seafarers":
Fidelity International, the $566bn asset manager, has called on companies and governments to urgently address an unfolding crisis in global supply chains as hundreds of thousands of ship workers remain stranded at sea because of the pandemic.

Jenn-Hui Tan, global head of stewardship and sustainable investing at Fidelity, said an estimated 90 per cent of world trade relies on shipping, providing a vital service for businesses and consumers. He said seafarers should be classified as essential workers and allowed to disembark.
Matters are not so simple as Tan suggests, but the scope of the problem is real. Bloomberg, in a deeply reported article, "Worst Shipping Crisis in Decades Puts Lives and Trade at Risk"[2], concurs:
The crisis has begun to reach shipping investors including global asset manager Fidelity International Ltd., American insurance giant Massachusetts Mutual Life Insurance Co., asset manager Oaktree Capital Group LLC and finance titan JPMorgan Chase & Co. If it isn't resolved soon, analysts say, it threatens to ripple up the supply chain, affecting commodities companies like Cargill Inc. and Glencore Plc. and retailers like Dick's Sporting Goods Inc., just in time for the holiday shopping season.
Note, however, that Fidelity et al. have not actually proposed doing anything themselves. What will it take for force action? From an interview this month with Bjørn Højgaard, Chief Executive Officer of Anglo-Eastern Univan Group in Hong Kong, in BIMCO's house organ, "Governments will act when supermarket shelves are empty":
[HØJGAARD:] . If sentiments swing, which I fear is starting to happen, and the seafarers start saying no to signing yet another extension, it only takes a few days, maybe a couple of weeks before you have large parts of the world fleet unable to move… I can see the dominos starting to fall and the global supply chain being severely affected, the seafarers are not striking; they are simply at a breaking point. Suddenly, the ships are not going anywhere. They are taking up places at berths, preventing other ships from arriving to discharge and load, and, in a very short period of time, I can see the dominos starting to fall and the global supply chain being severely affected. But we must understand that the seafarers are not striking; they are simply at a breaking point because their legal entitlements to leave are being denied them.
Parenthetically, here again we see the enormous power that, er, "essential workers" in the supply chain have.) As we shall see, a few seafarers are striking. And it's not all up to government, or at least shouldn't be. With that, let's turn to institutional issues.
Institutional Issues
Issues seem to fall into three buckets: national governments, the business structure of international shipping, and unions. (There are also international agencies involved, as we shall see in the "Proposed Solutions" section, but they seem to be driven by the previous three institutions, and are not the drivers.) Let's look at each in turn.
National governments.
Requirements imposed by national governments — to be fair, for the perceived safety of their own citizens — have made crew change extremely difficult. From Bloomberg:
Of the commercial ports in 123 countries and territories, 45 have stopped allowing crew changes, according to Wilhelmsen Ships Service AS, part of the border closings and quarantine requirements that have come to define coronavirus containment policy. Seventy-six allow seafarer swaps with restrictions and two permit the changes with appropriate documentation. Until the world's ports reopen, shipping companies say, it will be hard to relieve large numbers of workers.
Even if all the ports were to reopen tomorrow, crew change would be difficult, because the regulations are insanely complex, and differ from country to country. There are various sites that purport to aggregate all the rules; here is one, and here is another. Here is what requirements for a crew change look like for Albania (first one the list):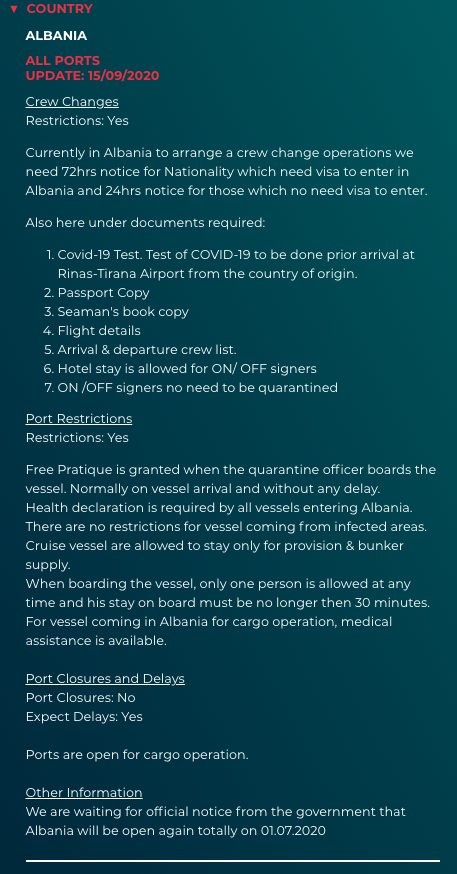 Yikes. (The insane complexity of the rules has also led to an insanely complex network of brokers and service providers, as we shall shortly see.[3]) But there are further obstacles. In a pandemic, rule changes can be arbitary and verbal. From Seatrade Maritime News, "Crew change crisis: a global perspective":
"The regulations are changing by the day. As there's limited written information, the predominantly verbal communications present a challenge for us in guiding customers," commented Johan Thuresson, GAC Dubai's General Manager – Shipping Services.
Nor is it necessarily possible to get seafarers on their way, even if the paperwork is complete, due to governments having imposed international flight restrictions:
In some areas, crew changes had become almost impossible in practical terms due to the closure of many airports, including those in Jordan, Lebanon, Guyana and Panama, for varying periods. Throughout the pandemic, the chaos that followed widespread international flight restrictions has been widely discussed.

"The limiting factor is the amount of flights available for seafarers to get home in a timely manner… and visa expiration for non-EU crew," said Tom Hanoy, Operational Manager at GAC Norway. In Hanoy's experience, Filipino seafarers been particularly badly affected.
And then, of course, there is corruption. Again from Seatrade Maritime News, "Crew changes at India's Vizhinjam port stalled by local agent":
Crew changes on ships at Vizhinjam port, on the southernmost tip of the Indian peninsula, have been stalled by the muscle power displayed by a local steamer agent, which has set up its own association to carve out a monopoly on the activity.
(Of course, corruption might well be made to work in favor of crew changes, but that would require money from the asset owners.)
Business structure of international shipping
Bloomberg describes the nature of the industry:
Modernity has made shipping safer, but seafarers are still at the mercy of an industry that is opaque, deeply fragmented and bound by a patchwork of national and maritime laws. Every ship is connected with a handful of separate entities. Typically, there's the ship's owner, its operator, a staffing agency which recruits seafarers, and the charterer—the company that hires the boat to get its goods from point A to point B.

There are a few dominant players in the shipping industry, but much of the trade is made up of middle men upon middle men, connecting companies that have goods to ship with a vast network of owners, operators, staffing agencies and so on. Those layers make it hard to hold anyone accountable for on-board working conditions, says Richard Meade, managing editor of U.K. shipping researcher firm Lloyd's List, or to solve problems when they arise.

At the furthest remove, investors and money managers have built lucrative portfolios out of shipping assets they almost never have to touch.
They provide a handy diagram: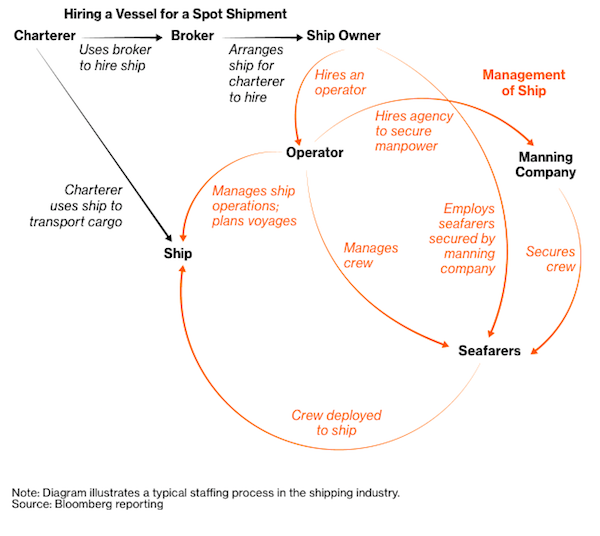 So to whom, exactly, does the seafarer go to seek redress for their crew change issues? One would think, it hope, that it would be their union, so let's turn to them.
Seafarers' unions
As Bloomberg shows, there is in fact a body of law meant to protect seafarers:
Ratified by more than 80 countries, the Maritime Labour Convention isn't mere guidance—the agreement sets minimum working conditions for seafarers that underpin the insurance policies and global contracts that govern the transport of basically everything. But the ongoing pandemic has shattered the norms of this highly fragmented industry, and with countries wary of relaxing port and border restrictions, violations of worker protections have become common. Nearly 20% of the world's 1.6 million seafarers are stranded at sea and…at the mercy of employers and shifting quarantine requirements to get them home.
The fragmentation of the business makes it very hard for unions to take advantage of the legal rights their workers have. Here is what it wook for one staffer of the International Transport Workers' Federation to free seven workers from Myanmar.From the International Transport Workers' Federation, "Companies must take crew change opportunities in the UK and elsewhere" (I've helpfully underlined the institutional players):
The repatriation of seven Myanmar crew members from a Korean-owned vessel via the United Kingdom shows that crew change is still possible during the crew change crisis, but it requires the determination of the seafarers' employers, says Liverpool-based Inspector Tommy Molloy. In addition to working with the and , securing repatriation for seafarers often involves contacting government agencies in (where the ship is docking) [the UK's Maritime and Coastguard Authority] and in (where the ship is registered) [Marshall Islands]…. In addition, [Molloy] contacted in London, to flag the plight of the seafarers…. Molloy went on, "The Embassy advised that whilst there were no commercial flights into Myanmar, there were with limited seat availability… It took a lot of communication between the various parties to finally get the seats confirmed. I was able to call contacts in – with whom I have been able to develop an excellent working relationship – and the crew members were given clearance to remain in the UK until they could board their flight."
Again, for seven seafarers. Do the math for 300,000. With the best will in the world, I don't see how the unions can help very much[4]. Now let us turn to solutions, which involve two institutions not yet mentioned: International agencies, and the asset owners.
Proposed Solutions
Once again, what's the hangup? Returning to Bjørn Højgaard:
Hjgaard believes the only reason this scenario has not played out yet is that, despite the seafarers being overdue for crew change, shipping has continued to deliver. With 90% of global trade transported by ships, however, the situation is fragile. We still have energy and food being delivered, and because there are no consequences for us all, it is easier for politicians to prevent crew change from happening in their country, in their ports. They dont think it matters. But at one point, it matters.
There seem to be at least two organizations acting in advance of the crisis. The first is a combination of union, employer, and trade groups. From Splash 24/7, "First global tripartite initiative to support countries for crew change gathers momentum":
The International Transport Workers' Federation (ITF) and the International Maritime Employers' Council (IMEC) have jointly contributed $500,000 to the Singapore Shipping Tripartite Alliance Resilience (SG-STAR) Fund to support countries that adopt best practices for crew change. This adds to the S$1m ($737,000) SG-STAR Fund established by the Maritime and Port Authority of Singapore (MPA), Singapore Shipping Association (SSA), Singapore Maritime Officers' Union (SMOU), and Singapore Organisation of Seamen (SOS).
First I've seen Covid testing addressed, so I assume it's the elephant in the room. More:
Besides ITF and IMEC, the International Chamber of Shipping (ICS) will also lend support to the SG-STAR Fund including technical expertise in shipping.

With the contribution and support by ITF, IMEC and ICS, the SG-STAR Fund is the first global tripartite initiative bringing together like-minded international partners from the industry, unions and government to facilitate safe crew changes. The fund, based in Singapore, will be disbursed for use upstream in countries where seafarers come from. Like-minded partners are being sought to join this new global alliance.

Since its founding three weeks ago, the SG-STAR Fund has been working with seafarer supplying countries such as the Philippines and India on key initiatives, which include the accreditation of quarantine and isolation facilities, Covid-19 PCR testing certification, white-listing of clinics for PCR testing, digital solutions for tracking crew change, and interactive training sessions for crew to help them understand crew change procedures and guidelines.
All very well, but $1,237,000 doesn't seem like very much money, does it?
Next, there is the International Maritime Organization. Their "Joint Statement on the contribution of international trade and supply chains to a sustainable socio-economic recovery in COVID-19 times" should get the attention of asset owners:
[T]he delivery and availability of essential products such as food or medicines became a common challenge undermining countries' capacity to respond to COVID-19 and begin to sustainably recover. Preliminary data and forecasts indicate severe impacts on economies worldwide, for example:

Inland transport volumes may fall by up to 40 per cent in 2020 in the panEuropean region,
Freight transport volumes may reduce by up to a half by the end of 2020 in most parts of Asia,
Value of regional exports and import is expected to contract respectively by 23 and 25 per cent in Latin America and the Caribbean,
Total losses in the revenues of airline companies from the Arab region are estimated in 2020 at about US dollars 38 billion (some 53 per cent of 2019 revenues),
African airlines may lose over US dollars 6 billion of revenue and the contribution of the industry to the GDP of countries on the continent may drop by US dollars 28 billion. Moreover, 3.1 million jobs linked to the industry are at risk on the continent.

In view of the preliminary data and the lessons learned from the pandemic so far and in order to drive socio-economic recovery and to become more resilient and sustainable, supply chains require a more effective coordination, cooperation between the transport modes, and across borders.
I'll say. And they propose the following:
The Joint Statement outlines a series of 15 different and related measures that Governments must take, including:

designating seafarers as ʺkey workersʺ providing an essential service, to facilitate safe and unhindered embarkation and disembarkation from their ships;
undertaking national consultations involving all relevant ministries, agencies and departments, to identify obstacles to crew changes, and establish and implement measurable, time-bound plans to increase the rate of such crew changes;
Implementing protocols for crew changes, drawing upon the latest version of the Recommended framework of protocols for ensuring safe ship crew changes and travel during the coronavirus (COVID-19) pandemic;
refraining from authorising any new extension of seafarers' employment agreements beyond the maximum period of 11 months, in accordance with the MLC, 2006; and
facilitating the diversion of ships from their normal trading routes to ports where crew changes are permitted.

So, er, governments may "facilitate" the "diversion of ships," and "travel" may be "ensured," and new contracts signed (since the old ones may no longer be extended), but who will pay for all that? Why, that would be the asset owners:

"The people who own the assets and make money off the assets need to come together to come up with a solution," [Andrew Kinsey, a New York-based senior marine risk consultant at Allianz Global Corporate & Specialty] said. "They have to use their assets to get the crew off. Each party needs to assume responsibility instead of passing it to the next party."

Of course, passing the parcel of responsibility from one party to the next seems to be what the business structure of international shipping is designed to do; see again Bloomberg's diagram.

Conclusion

So, will the asset owners stump up? Well, Fidelity didn't say anything about that….

NOTES

[1] Crew stress and exhaustion also has deletorious effects. From Bloomberg: "'This is the most dire situation with vessels and crew that I've seen in many decades,' said Andrew Kinsey, a New York-based senior marine risk consultant at Allianz Global Corporate & Specialty. At best, he says, expect more detentions and delays. At worst, there will be disastrous mistakes—Allianz estimates that human error contributes to at least three-quarters of shipping industry accidents—and fatalities."

[2] Tellingly, the URL differs from the headline: 2020-pandemic-shipping-labor-violations. So that's how the reporters see the issue, no matter what the editor said when they wrote the headline.

[3] Rather like ObamaCare.

[4] Absent a general strike.