Man Draws Cartoon Faces On His Expressionless Cats Animal Rescue (David L). Better than the headline.
Humans' construction 'footprint' on ocean quantified for first time PhysOrg (Kevin W)
Fossil Fuels Are Here To Stay OilPrice. Resilc: "People who think we'll all drive Teslas soon haven't been to Guatemala or Liberia."
Interactive map lets you track the location of your hometown on the Earth as the planet changes over 750 million years Daily Mail
#COVID-19
Coronavirus live news: India adds nearly 2m cases in August, France cases rise 50% in one month Guardian
Science/Medicine

Thailand Covid-19 vaccine proved successful in trials on monkeys Pattaya News (furzy)

Obese Patients at High Risk of Severe Covid Illness, Study Finds Bloomberg

US

How Trump Sowed Covid Supply Chaos Wall Street Journal. Important and I think not paywalled.

New York City teachers union holds strike authorization vote amidst mass opposition to school reopening WSWS

6 Million Stricken with Covid-19: Trump has turned the US into a Sh*thole Country Juan Cole (resilc)

The Real Reason Contact Tracing Is Doomed in the US: Spam Calls Vice (resilc). No, this is a second-order problem at this juncture. The infection is too prevalent for 1. contact tracing to have much impact and 2. To even be certain that a subsequent infection resulted from the contact chain, as opposed to an independent source. If we get the infection rate down, then contact tracing could be very productive…..in conjunction with testing.

China

Sink or swim: China's 'zero Covid' strategy The Spectator

Political Responses
Japan's Shinzō Abe Was an Uninspiring Leader Who Prospered by Default Jacobin. PlutoniumKun: "A very good take on Abe's ultimate political failures (although it's pretty bad on economics)"
France's Macron calls on Lebanon to form new government BBC
New Cold War
Nord Stream 2 Troubles: An Uncertain Future for the German-Russian Pipeline Der Spiegel (resilc)
Big Brother is Watching You Watch
Andrew Yang Takes Lead Role In California Data Privacy Campaign Politico

FBI Worried Ring and Other Doorbell Cameras Could Tip Owners Off To Police Searches The Verge
Trump Transition
French justice minister supports prisoners rights group urging Trump to drop charges against Assange Lucy Komisar: "A French prisoners' rights groups supporting Assange, may not be surprising, but the interesting part is that the French Justice Minister supports this."

House Oversight Head Maloney Prepares to Issue Subpoena to Postmaster General DeJoy Wall Street Journal

The Uprising Decomplexified & the Madness of William Barr notesfromdisgraceland
2020
The Biden campaign is instructing volunteers NOT to talk about policy. pic.twitter.com/Cwlv2Z7UOM

— Prof Zenkus (@anthonyzenkus) August 31, 2020

That's because this is what happens when they do talk about policy:

Biden doing everything he can to lose the election. In this part of the speech Biden confirms he's pro-fracking even though it hurts him in the place where he thinks it helps him. That's because, like Trump, lobbyists are in his ear instead of the actual voters. https://t.co/YjzZ5xzk8X pic.twitter.com/brwFydlo6q

— David Doel (@daviddoel) August 31, 2020

A Word Not Uttered by Republican Officials at the Convention: Obamacare New York Times (furzy)

Marko Kolanovic: Investors Should Position For Rising Odds Of Trump Victory Heisenberg Report (resilc)

Exclusive: Dem group warns of apparent Trump Election Day landslide Axios (David L)

The six political states of Florida Washington Post. Here I thought there were only four: retired Jews, DisneyWorld, drug dealers, and alligators. And please don't get prissy. Any Borscht Belt comic could do a much better riff on this theme.

Kennedy-Markey race takes nasty turn in Massachusetts The Hill

This Massachusetts primary is everything wrong with the Democratic Party The Week (UserFriendly)

Trump at the RNC: Echoes of Saddam CounterPunch. Resilc: "I'm ready to tear down Trump statues with my John Deere tractor."
Innocent Florida inmate released after 37 years Orlando Sentinel (UserFriendly)
Mob 'justice': How one feminist's simple Tweet enraged transgender activists and saw her sacked from her dream job RT (MW)
America Divided
He was re-elected w/55% of the vote months later. He's been sheriff for 18 yrs. A hideous would-be genocidaire leads law enforcement for Kenosha County. This moment is critical b/c it lays bare the truth abt the danger Black ppl face in this country. Now choose where you stand. https://t.co/ueVFJb8dkq

— Sherrilyn Ifill (@Sifill_LDF) August 31, 2020

It's almost as if cash bail is intended as punishment of poor people who have been just accused, not convicted, and interfering with that punishment impairs what these people see as the function of the system. https://t.co/wBntTF0zgH

— HatsAreNotBullets (@Popehat) August 31, 2020
As a former health insurance exec, I know how rich corporations rake in billions by blocking life-saving procedures, hiking premiums & now exploiting a public health emergency. I often get asked what folks can do to help expose, shame & stop these swindlers. Here's what: (1/4)

— Wendell Potter (@wendellpotter) August 31, 2020
What Apple's landmark court win against the EU means for Ireland CNBC. UserFriendly: :-(
Facebook and Google Serve As Vectors For Misinformation While Hobbling Local Journalism and Collecting Taxpayer Subsidies, Group Says Axios
Facebook is threatening to block Australians from sharing news on its platforms if planned government regulation goes ahead Business Insider (Kevin W)
CalPERS board member calls for no new private equity investments until CIO probe over Axios
Hotel Industry Remains On Brink of Collapse AHLA. Read the boldfaced headers. Grim.
Tesla's nickel quest highlights metal's environmental burden Financial Times
Mission Creep at the Federal Reserve? Or Mission Focus? Nathan Tankus
Class Warfare
The Social Fabric of the U.S. Is Fraying Severely, if Not Unravelling Glenn Greenwald, Intercept (resilc)

The Loan Company That Sued Thousands of Low-Income Latinos During the Pandemic — ProPublica (UserFriendly)
Antidote du jour. Furzy: "My sister's new llama, Harvey, on left, 10 months old":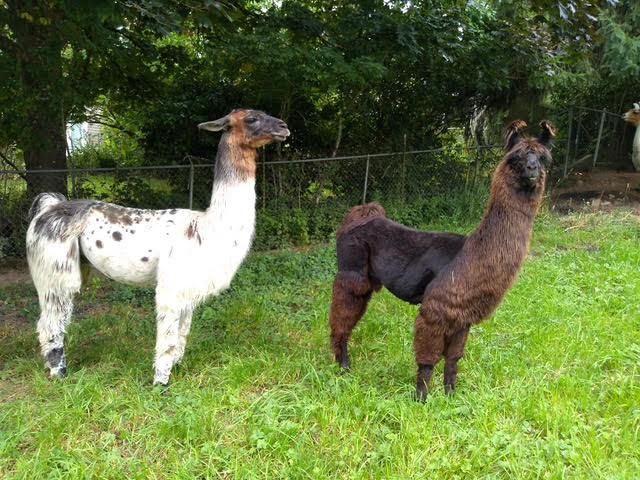 And a bonus (Samuel C). As a kid, I always liked raking leaves. But this sort of thing would motivate just about anyone:
See yesterday's Links and Antidote du Jour here.