Yves here. I have a soft spot for stories that debunk conventional narratives, and we already have quite a few on Covid-19. UserFriendly sent one from Curbed a few days back that we ran in Links: No, the Pandemic Is Not Emptying Out America's Cities. This story from The City is a variant on that theme: even one of the cities that Curbed singled out as having Covid-19 exodus, New York City, isn't seeing much in rent relief. Of course, that may be "yet" given the eviction freeze plus how long the process normally takes.
The article does concede that some neighborhoods are seeing higher vacancies, but they are the more affluent ones in Manhattan….which are the places members of the press frequent.
By Rachel Holliday Smith. Originally published at THE CITY on September 10, 2020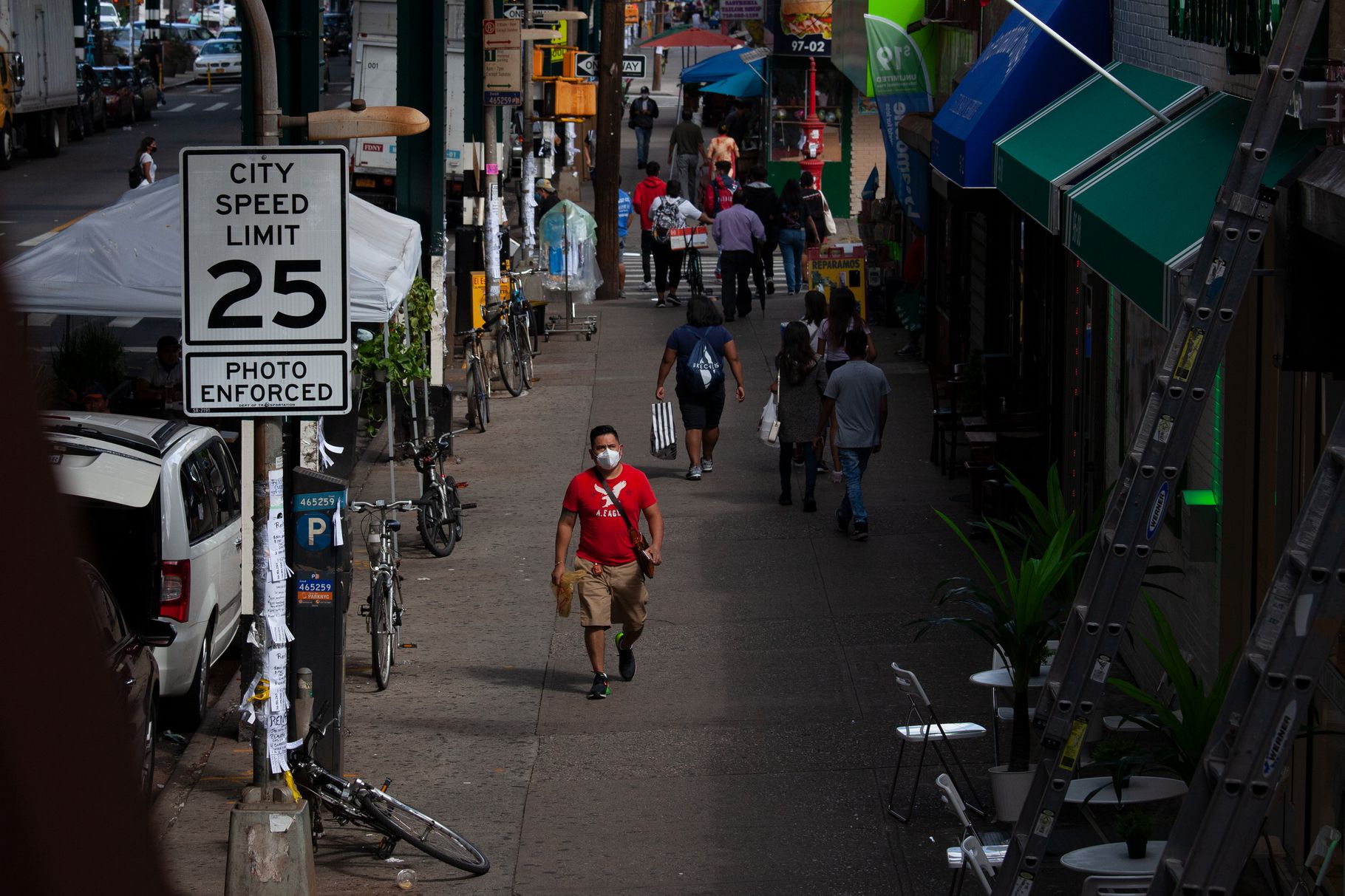 People in Corona, Queens, walk along Roosevelt Avenue, Sept. 1, 2020. Ben Fractenberg/THE CITY
In some parts of the city, rents have dropped since the COVID-19 crisis began. But for neighborhoods that felt the effects of the coronavirus most, listed prices have risen slightly, according to a new analysis.
The annual rental report by the apartment-listings site StreetEasy paints a very different price picture between the neighborhoods with the lowest coronavirus infection rates — primarily wealthier neighborhoods in Manhattan and Brooklyn — and the hardest-hit areas, mostly in Queens and The Bronx.
Between February and July of this year, rents fell by 1.9% in the zip codes with the lowest COVID-19 rates in the city, like Battery Park City, Greenwich Village and Tribeca, according to the report, comprised of market-rate listing data.
However, in the neighborhoods with the highest rates of COVID-19, per city health department data — East Elmhurst, Corona and Jackson Heights topped the list — advertised rents have climbed a bit in the same time period, rising 0.3%.
Listed rents have dropped more in NYC ZIP codes with low COVID-19 infection rates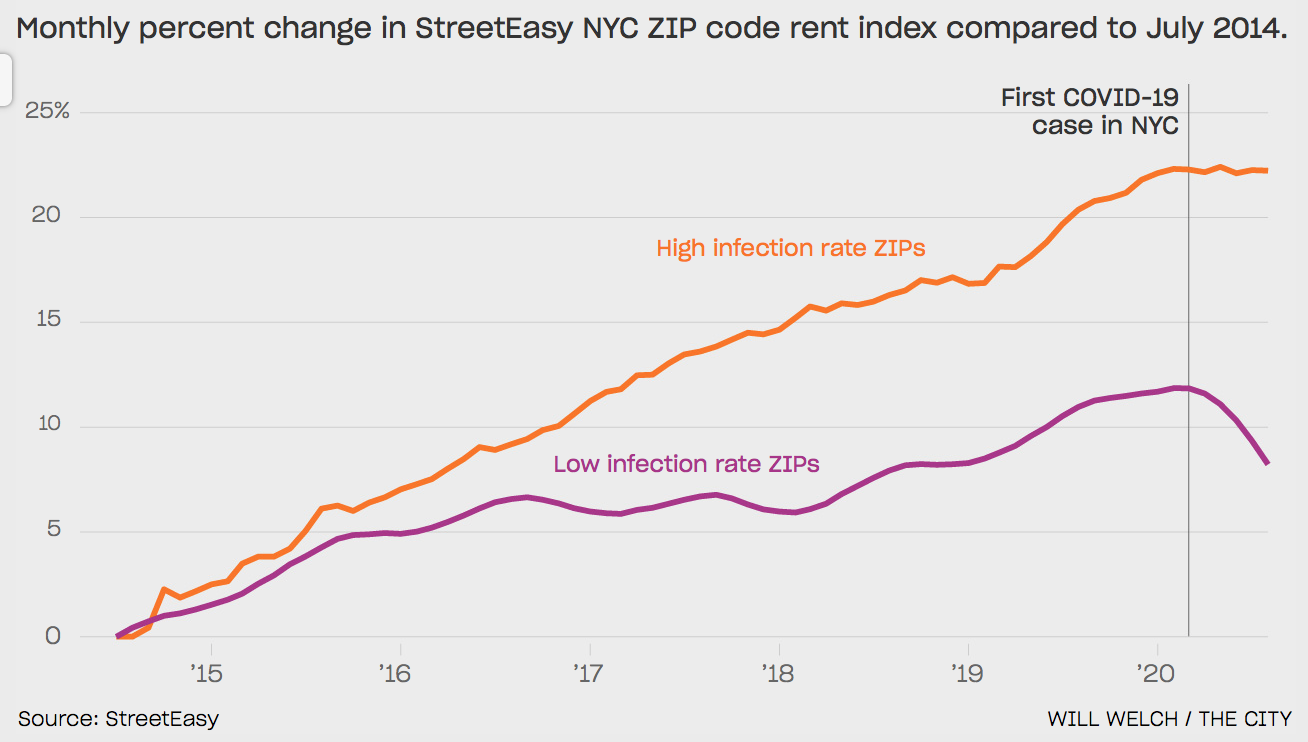 The findings contradict the claim that there's an "exodus out of the city," said Nancy Wu, an economist at StreetEasy.
"That's specific to Manhattan, and a lot of these Manhattan-esque neighborhoods," she said. Elsewhere in the city, "it's a very different picture."
Eviction Fears Loom Large
The StreetEast report released Thursday analyzed six years of rental data in the five boroughs through July of 2020, comparing ZIP codes with the highest tested rates of COVID-19 per 100,000 people since the start of the pandemic with those with the lowest.
Each pool of least- and most-affected neighborhoods was defined by StreetEasy by adding up top and bottom ZIP codes with the highest and lowest infection rates until they had 1 million people in each category.
Over that period, listed rents in the most virus-affected neighborhood rose by 22.1% while the least-affected areas saw advertised prices rise only 10% over the same period.
Some of the trend is attributable to the fact that, generally, areas with lower median rents tend to see price growth at rates faster than higher-priced neighborhoods, Wu noted — because "there's more demand for affordable properties as other places get more expensive."
But it also points to a confluence of factors and "housing stressors" that overlap in the communities that have experienced high COVID-19 rates, said Barika Williams, executive director at the Association for Neighborhood & Housing Development, a consortium of nonprofit development groups.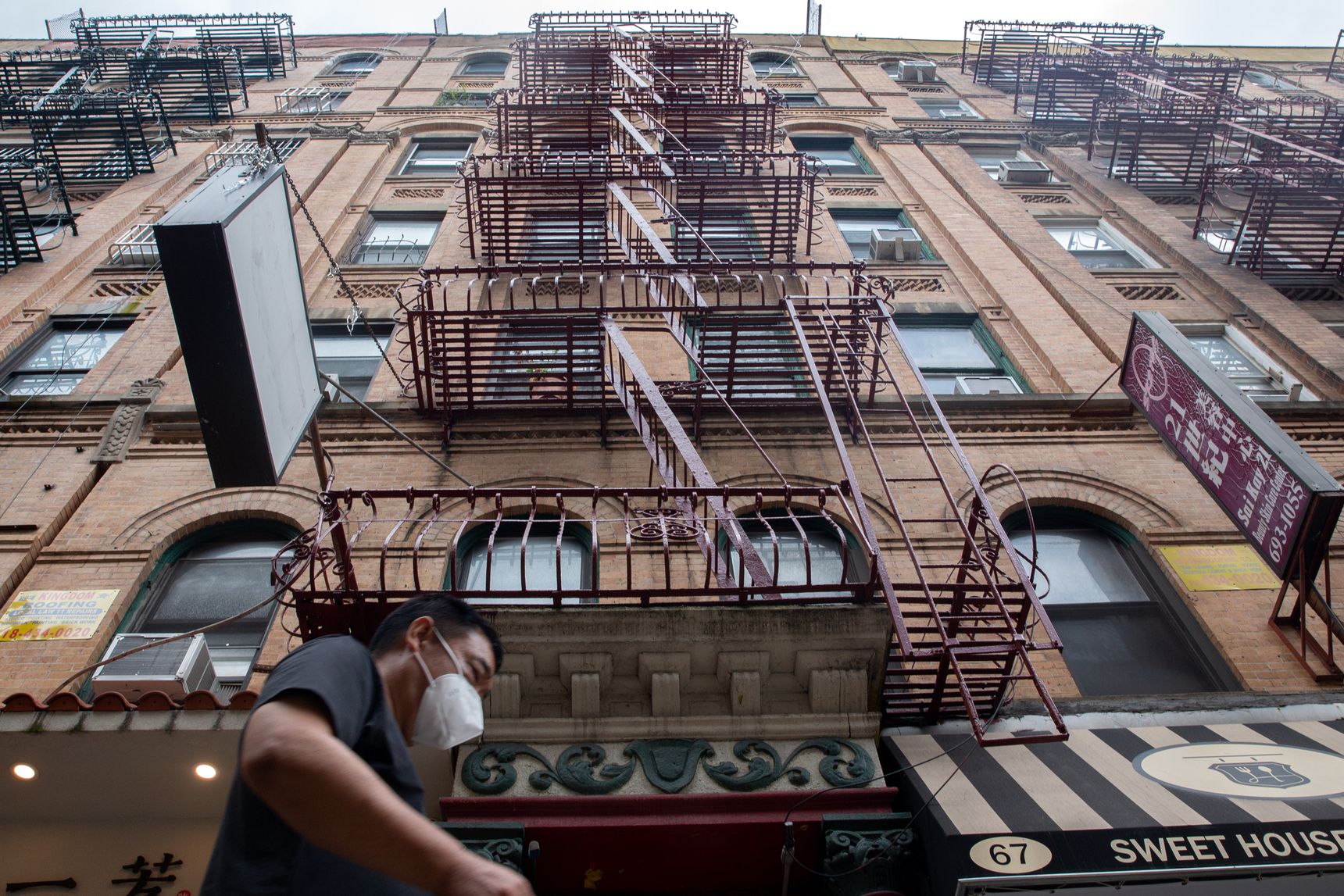 An apartment building in Manhattan's Chinatown, Sept. 2, 2020. Ben Fractenberg/THE CTY
Among the factors: overcrowding, a high share of families paying a large share of income on rent, and a concentration of essential workers.
"What we're seeing in the lower-income households and families — especially our immigrant communities, especially our Black and brown community — is that people are really staying put, trying to ride it out [and] having this month-to-month anxiety of, will I or won't I be evicted?" Williams said.
The NYU Furman Center, which collaborated with StreetEasy on the report, also found the areas hardest-hit by the coronavirus are home to more immigrants and Black and Hispanic New Yorkers, and amass more evictions filings, than other parts of the city.
Oksana Mironova, a policy analyst at the anti-poverty research and advocacy group Community Service Society, noted that the StreetEasy data is limited.
That's because it's based on market-rate listings and does not include many types of housing such as illegally subdivided apartments, any unit rented by word of mouth, and subsidized apartments, including public housing.
But the report does confirm what Mironova said she has suspected for some time: Those who had few housing options before the pandemic are under even more pressure now.
"If you have a bad living situation, if you have an abusive landlord … you end up having to put up with negative living conditions. And I think all of that is probably getting amplified under COVID," she said.
At the same time, higher-income people have more choice within the market, including "the option to leave," she added.
'Incredibly Frustrating'
In the wealthier parts of the city, residents seem to be exercising that option.
New data from real estate giant Douglas Elliman found the Manhattan vacancy rate had climbed to over 5% as of August, a first in the real estate company's report. The median rental price in the borough dropped 3.9% since August 2019.
Williams of ANHD, however, warned against using Manhattan trends as a stand-in for the housing story in the rest of the city. To do so ensures people elsewhere are "rendered invisible," she said.
"When you see this narrative of everybody is leaving the city, and rents are dropping … and you live in a community where people aren't leaving, people are trying to figure out how to make things work day to day, where there's very little affordable housing and you don't have a whole lot of options to go anywhere else if you wanted to — it's incredibly frustrating," she said.
"What we're perpetuating is this narrative of what is happening in predominantly white, wealthy neighborhoods is the story of New York," she added. "And that's just not true."


This story was originally published by THE CITY, an independent, nonprofit news organization dedicated to hard-hitting reporting that serves the people of New York.