By Lambert Strether of Corrente
Bird Song of the Day
Good morning!
#COVID19
At reader request, I've added this daily chart from 91-DIVOC. The data is the Johns Hopkins CSSE data. Here is the site.
Here are the United States regions: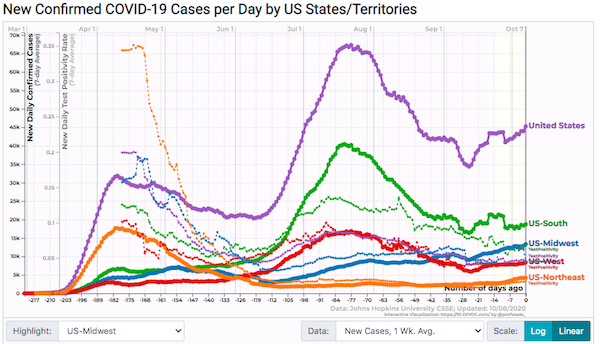 Unmistakable rise in all regions now. Ugh.
Here are the Swing States as I conceive them (see below):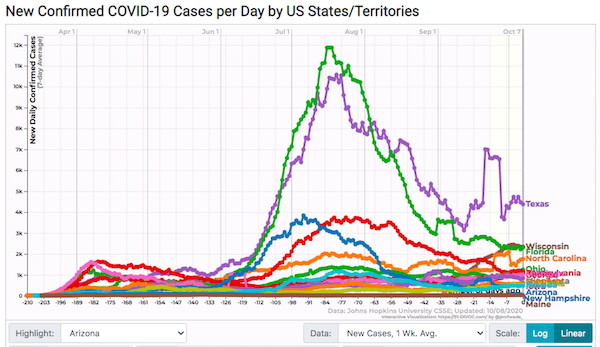 Looks like Texas has its data under control, Wisconsin continues steady rise…
Here is South Asia and Southeast Asia, with the United States for comparison: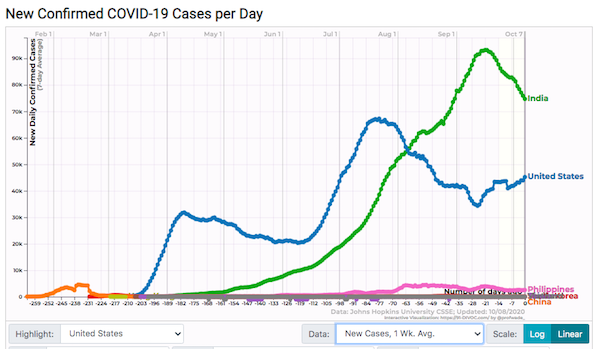 That little blip at the left is China…
Politics
"But what is government itself, but the greatest of all reflections on human nature?" –James Madison, Federalist 51
"They had one weapon left and both knew it: treachery." –Frank Herbert, Dune
"They had learned nothing, and forgotten nothing." –Charles Maurice de Talleyrand-Périgord
The electoral map. July 17: Georgia, Ohio, ME-2 move from Leans Republican to Toss-up. Continued yikes. On July 7, the tossup were 86. Only July 17, they were 56. Now they are 91. This puts Biden at 278, i.e. over 270. August 18: Still no changes. August 31: Indiana moves from Likely to Safe Republican. September 9: No changes. September 14: No changes. September 21: No changes. September 22: Ohio moves from Toss-up to Leans Republican. September 25: Ohio moves from Leans Republican to Toss-up. September 30: Iowa moves from Leans Republican to Toss-up. October 3: Indiana moves from Safe to Likely Republican; Iowa moves from Toss-up to Leans Republican. October 6: Arizona moves from Toss-up to Leans Democratic; Iowa from Leans Republican to Toss-up; Indiana from Likely to Safe Republican; New Mexico from Likely to Safe Democratic. . I would say the election is no longer static.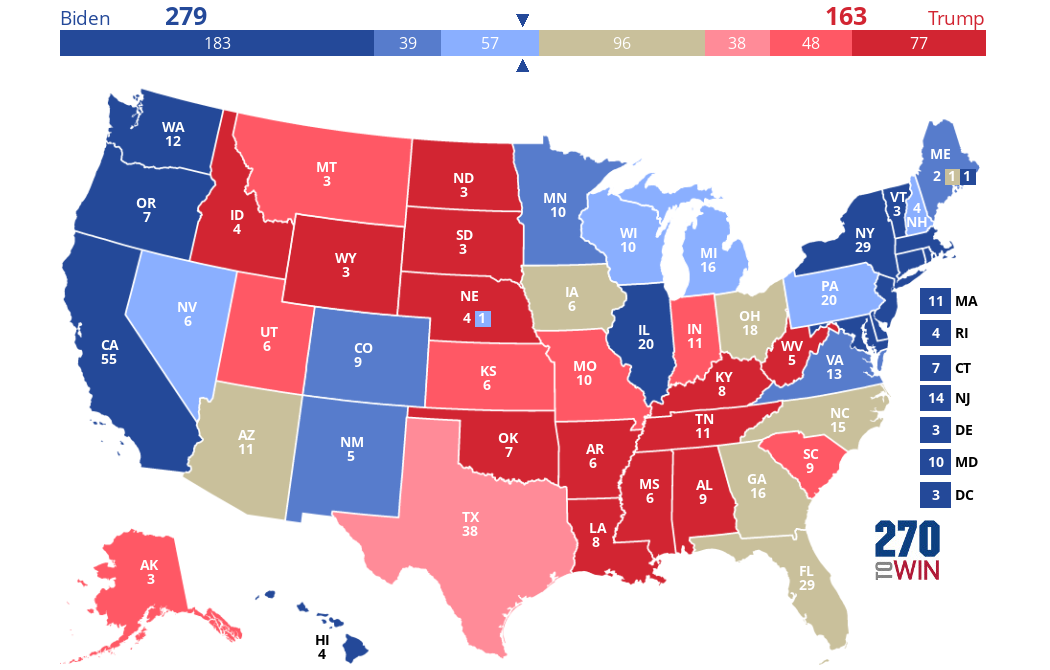 Click the map to create your own at
270toWin.com
The election countdown:
Here is an early voting calendar. Maybe we'll have a whole series of October surprises, since election day is gradually being devalued as an event.
And here are mail-in voting ruies, which naturally differ state by state.
NEW "2020 General Election Early Vote Statistics" [U.S. Elections Project (SlayTheSmaugs)].
"How to Vote in 2020: Everything You Need to Know" [Bloomberg]. "Casting a ballot in the U.S. isn't always easy, with a complex web of varying state rules governing how and when you can vote. The Covid-19 pandemic has introduced even more complexity in 2020, as many states have made significant changes to allow for more early voting or voting by mail. More changes could come as lawsuits in several states wind their way through the courts. That's why Bloomberg News is answering these critical questions so you'll know what you need to do to make sure your vote is counted in the 2020 election."
Here are is an enormous spreadsheet on voting equipment, so you can check your own jurisdiction (hat tip, UserFriendly. I should really aggregate these onto a map…).
UPDATE https://twitter.com/rmd1023/status/1312710174583533570?s=11
* * *
2020
The Debates

"GOP pollster: Pence beat Harris in debate not for what he said but how he said it" [CNBC]. "GOP pollster Frank Luntz told CNBC on Thursday that his 15-person focus group of undecided voters felt Vice President Mike Pence performed better than Democratic Sen. Kamala Harris in the vice presidential debate…. 'What they're doing is watching to see whether or not they can trust that individual, and Mike Pence did extraordinarily well in that. He never got agitated. He never got flustered,' said Luntz. 'This is a complete difference from the first debate that our focus group thought Joe Biden won because they thought, frankly, that Donald Trump wasn't acting presidential.'… There were times during Wednesday's debate when Pence tried interrupting Harris and speaking over the moderator, Susan Page. At one point, the California Democrat and first Black woman to appear on a major party ticket rebutted and said, 'I'm speaking.' sThe moment resonated with some, reminiscent of times women have been interrupted by men. However, Luntz said his focus group said Harris' presentation on the line came across as too rehearsed. 'She was very well prepped in terms of the language she used. Very effective,' he said. But, he stressed, 'for undecided voters, authenticity matters so much and they did not find her authentic.'" • Of course it was rehearsed, and so it ought to have been. The point is to make the rehearsed sound unrehearsed.

"Mr. Vice President, she's speaking: How Kamala Harris beat the stereotypes during her historic VP debate" [CNN]. "But the momentousness of the night didn't obscure the tightrope that Harris nimbly walked whenever Vice President Mike Pence attempted to talk over or interrupt her or downplay her expertise. She held her ground, was firm without falling into any of the traps that could tack her to labels — emotional, angry, nasty — reserved for women, especially Black women…. It was an unenviable position that Harris nonetheless nailed. She was, to borrow part of Shirley Chisholm's widely known campaign slogan, 'unbossed' in a country that always finds ways to punish powerful women." • Chisholm must be rolling in her grave.

"Six Takeaways From the Vice-Presidential Debate" [New York Times]. "It was telling that a fly that landed on Mr. Pence's head partway through the debate was among the biggest buzz generators of the night. (So much so that the Biden camp sought to monetize it with the sale of 'Truth over flies' fly swatters*.) For all the high Democratic expectations around Ms. Harris and her past debate performances, she did not eviscerate Mr. Pence. As for Mr. Pence, he turned in an effective, dutiful, conservative case for Mr. Trump, the likes of which the president rarely articulates himself." • And speaking of that fly, I'm so old I remember when Stephen Colbert was funny–

Stephen Colbert mocks Mike Pence's debate hair fly: "I want to point out that I have a black friend…by which I mean this fly on my head." https://t.co/BA0O1Wgz99

— The Daily Beast (@thedailybeast) October 8, 2020

Going to town on this–

When I criticized this journalist in the past, she & many of her followers have responded with "how dare you impugn her integrity, she has won Pulitzers."

Here's some Pulitzer-winning journalistic integrity in the form of a terrible racist joke. https://t.co/upRCuDU7KB

— Dr. Angela Rasmussen (@angie_rasmussen) October 8, 2020

As it turns out, Black people aren't all that enthusiastic about being compared to flies. NOTE * Always an excellent of a return to comity, framing your opponents as vermin.

The Trillbillies:

Fly incident makes clear that under a biden presidency things will reach levels of epic heretofore unseen and I'm simply not sure how much more the republic can take

— Tarence Ray (@tarenceray) October 8, 2020

"Debate Civility Won't Survive Trump's Return" [Bloomberg]. "Mike Pence came off as reasonable and reassuring during last night's vice presidential debate — a potentially brief moment of comity ahead of Donald Trump's planned return to the campaign trail as soon as Monday." • Because as we all know, lack of comity is the root cause of all our country's problems….

"Donald Trump says he will not participate in virtual debate" [Financial Times]. '"I'm not gonna waste my time on a virtual debate,' Mr Trump said. 'That's not what debating is all about.'" • Sheesh, postpone it.

Trump's Case of Covid

"President Trump's Covid-19 Diagnosis: Implications for Transmission, Treatment, and Prognosis" (video) [UCSF School of Medicine]. • I forget which reader flagged this regular seriess of presentations, but take a bow, whoever you are!

This is well worth listening to over coffee in its entirety. The lack of hysteria is very welcome.

Swing States

Here is my list of Swing States, with votes in the Electoral College and selected ballot initiatives in parentheticals):

Arizona (11) (marijuana; taxes(=)
Colorado (9) (taxes, lottery, abortion, paid medical leave)
Florida (29) (minimum wage)
Georgia (16) (declaratory relief)
Iowa (6) (Constitional convention)
Maine-02 (1) (vax)
Michigan (16) (privacy)
Minnesota (10)
Nebraska-02 (1) (payday lending; gambling)
Nevada (6) (marriage)
New Hampshire (4)
North Carolina (15)
Ohio (18)
Pennsylvania (20)
Texas (38)
Wisconsin (10)

Inspired by the thread starting with Arizona Slim's comment here, I went to Ballotpedia and added selected, hopefully hot button, ballot initiatives, because sometimes they affect turnout. If you live in a swing state, please comment if I got the hot buttons wrong!

"Donald Trump Is Canceling TV Ads In Midwest States That Made Him President" [Buzzfeed]. "He's been off the local airwaves completely in Iowa and Ohio. The campaign also has given up at least $2 million worth of reservations in both Michigan and Wisconsin since early September. And in Minnesota, a state Trump almost won four years ago and has expressed confidence in flipping, his team already has chopped about $5 million from its projected fall TV budget. The numbers, confirmed by the media firm Advertising Analytics, reflect a race where Democrat Joe Biden has gained a fundraising advantage over Trump and where polling suggests these states are competitive toss-ups or tipping toward Biden. The Trump campaign, meanwhile, according to data shared by Democratic ad trackers, has in recent weeks boosted its TV presence in the Sun Belt battlegrounds — Arizona, Florida, and Georgia — and Nevada, a state Trump lost in 2016. As Trump's retreat in Iowa and Ohio became more pronounced this week, his advisers dismissed it as a sign of strength, despite polls that show him essentially tied with Biden in both states. And Biden's campaign has accelerated its advertising in Ohio, which at the beginning of the 2020 cycle many Democrats did not believe would be a top-tier swing state." • "A sign of strength"….

We shall see, but:

Joe Biden is widening his lead against Donald Trump in a slew of crucial battleground states, according to new polls https://t.co/I2lTbq2RcG pic.twitter.com/PAnkjNgmwB

— Bloomberg (@business) October 8, 2020

* * *

OH: Early voting:

This is DAY 2 of Early Voting in Columbus…. and this is only half the line. @FrankLaRose why is there only one early vote location and one drop box per county? pic.twitter.com/WwY797ge3A

— Anna Brichacek had voted? (@AnnaBrichacek) October 7, 2020

And the lines get a lot longer with social distancing….

OH: "Portsmouth, Ohio, was a struggling city in 2016, with high unemployment and a massive opioid addiction problem" [New York Times]. "Things are improving in Portsmouth, not because of Mr. Trump's actions, but because local citizens were determined to revitalize their city…. His supporters no longer describe a strong connection between his candidacy and their hopes for Portsmouth. Many will still vote for him… Three years ago, . They created a winter festival and logged local residents into the "Guinness World Records" book for wholesome group activities like singing and potting plants. Portsmouth was named a Hometown Christmas Town by the Hallmark Channel last year and an All-America City in August. Partisan politics are put aside." • Well….

WI: "A warning from Wisconsin" [Reveal News]. "[A]n analysis of voter data from the April primary in the swing state of Wisconsin shows that mail-in voting may pose the opposite risk – rejected ballots. Slightly more than 23,000 ballots were thrown out in the primary, according to an analysis by APM Reports, mostly because those voters or their witnesses missed at least one line on a form. That figure is nearly equivalent to Trump's 2016 margin of victory in Wisconsin of 22,748 votes. And with Wisconsin voter turnout expected to double from April to more than 3 million in November, a proportionate volume of ballot rejections could be the difference in who wins the swing state and possibly the presidency. The analysis shows the difficulty some voters had casting a ballot through the mail, also commonly known as absentee voting. It also reveals how voters weighed the risk of voting in person during a pandemic with navigating the rules of absentee voting, often for the first time. For an absentee ballot to count in Wisconsin, a voter and a witness must sign the ballot envelope and include the address of the witness. Those safeguards – put in place to eliminate mail-in ballot fraud – in fact contributed to the rejection of 13,834 ballots, according to the analysis. 'You're asking folks to do something new,' said Michael McDonald, who studies voter data as a political science professor at the University of Florida. 'And whenever you try to do something new in the midst of unprecedented demand, you're going to have problems.'" • Not that I'm paranoid or cynical, but Democrat attempts to retroactively change mail-in ballot rules aren't out of the question.

UPDATE WI: "Biden makes class-focused pitch to White voters in Wisconsin" [CNN]. "Biden in recent days has woven into his stump speech a contrast between his family's working-class roots in Scranton, Pennsylvania, and lack of an Ivy League degree, and Trump's gilded New York life — arguing that his policies would benefit the middle class while Trump's tax cuts and other economic policies have mainly aided the wealthy.
"I've dealt with guys like Trump my whole life," he said Monday. "Guys who think they're better than you. Guys who inherit everything they've ever gotten in their life and squander it. Guys who stretch and squeeze and stiff electricians and plumbers and contractors working on their hotels and casinos and golf courses to put more bucks in their pocket…. Another key group Biden is targeting: disaffected White working-class voters — the people with whom Trump needs to rack up an enormous margin of victory to win the election, and where Biden just needs to chip into Trump's advantage.
Those voters are crucial in the industrial Midwest." • Five years of yammering that these voters are irredeemable racists, but come back! All is forgiven!

* * *

"Republicans Are Slowing Down Mailed-In Vote Counts in Key Swing States" [Washington Monthly]. "The Bipartisan Policy Center recommends that states permit at least seven days of processing before Election Day. That merely means opening the outer envelope, sorting the ballots into the correct precinct, verifying the signatures, and preparing them to go through a vote-counting machine. That way, on Election Day, all you need do is put the ballots through the machine to know the results…. The bad news is that Republican officials in three swing states, Pennsylvania, Michigan, and Wisconsin, are blocking legislation that could allow for the early processing of absentee ballots—purposefully making it take longer to get the election results. In other words, they are engineering the absentee vote counting delays that Trump is already planning to complain about and sue over." • Not that Im paranoid, but I'd like to know if simply sorting the ballots by precinct is enough data for a bad actor to know whether to take, well, compensatory measures. I bet it is. There's a lot to be said for counting all the ballots at the same time (by hand, naturally).

Trump (R)(1): "Trump's vaccine czar says the first vaccine should be submitted for emergency authorization around Thanksgiving" [MarketWatch]. "Moncef Slaoui, an immunologist by training and a longtime pharmaceutical executive, is running the Trump administration's Operation Warp Speed program to spur development of vaccines on the fastest ever timetable. While none of the four vaccine candidates to enter Phase 3 trials have publicly reported data from the mid-stage studies, Slaoui is hopeful that drug makers will file for emergency authorization with the Food and Drug Administration by late November, immunization in high-risk populations could begin this year, and that the vaccines may be more effective in clinical trials than previously assumed. 'My expectation is really something between 80% and 90% efficacy,' he said…. Operation Warp Speed has been both lauded and criticized for its aggressive timeline. The project aims to bring to market a set of vaccines and treatments with a target of delivering 300 million doses of a vaccine starting in January. Like many scientists, however, Slaoui seems to prefer to focus on the data, and not the politics, even in the highly politicized environment surrounding vaccine development." • Of course, if we lived in a fascist regime (as the term is commonly understood, Slaoui

* * *

"'A big victory would be 5%': Green party's Howie Hawkins eyes progress" [Guardian]. "'What would really be a big victory would be if we got 5% of the vote,' [Green candidate for President] Hawkins said. 'That qualifies us for a public campaign financing grant for the general election in 2024 for president. If we got to 5% there'd be about $20m at least waiting for our presidential ticket in 2024, which would be a jump up. So 5% is benchmark.' It might not sound like a lot, but given the Green party's previous best performance was the 2.7% won by Ralph Nader in 2000, it's an ambitious goal. 'That would be quite a leap for us,' Hawkins said. 'But with Trump collapsing, and Biden not being very progressive, maybe it is within our reach.'"

This seems like a good idea:

This may be a game changer! https://t.co/OFg7qbPfkq is an interactive map that lets the PUBLIC track long lines, voting machine breakdowns, & other voting problems. It is mind-blowingly obvious that we needed this all along. Check it out & let me know ur thoughts.TY! @TheDemLabs pic.twitter.com/iRzRQDjadi

— Jennifer Cohn ✍? (@jennycohn1) October 8, 2020

Not sure how these reports are authenticated, however.
RussiaGate
Sure is odd we've got a major trove of captured document from the intelligence community, and there's no story in itL

I know few people care — least of all those who spent the last 4 years hyping these conspiracy theories — but there is a tidal wave of new evidence over the last few months, and this week, showing serious wrongdoing by FBI/CIA in 2016/17 in the Russiagate investigation. Anyway. https://t.co/Rp2FpZBkVe

— Glenn Greenwald (@ggreenwald) October 7, 2020

\
Realignment and Legitimacy
Lawrence O'Donnell, 2006:

AOC gives a shout-out to the Panthers:

Today in my IG story:

How the Black Panthers' People's Free Food Program led to Free & Reduced School meal policies nationwide (and inspired #TeamAOC's COVID food relief operation in 2020) ? pic.twitter.com/tfjNq3kiZ8

— Alexandria Ocasio-Cortez (@AOC) October 7, 2020

Tankies a bit cranky about this but I think if it gets kidz reading the history and the literature, that's a good thing.
Stats Watch
At reader request, I added some business stats back in. Please give Econintersect click-throughs; they're a good, old-school blog that covers more than stats. If anybody knows of other aggregators, please contact me at the email address below.
Employment Situation: "03 October 2020 Initial Unemployment Claims Declining Very Slowly" [Econintersect]. "Note from the BLS concerning California: 'In response to recommendations resulting from an internal review of state operations, the state of California has announced a two week pause in its processing of initial claims for unemployment insurance benefits. The state will use this time to reduce its claims processing backlog and implement fraud prevention technology. Recognizing that the pause will likely result in significant week to week swings in initial claims for California and the nation unrelated to any changes in economic conditions, California's initial claims published in the UI Claims News Release will reflect the level reported during the last week prior to the pause.'"
* * *
Mr. Market: "Stocks are rallying because fears of a contested election are fading" [MarketWatch]. "The protracted fight in Washington over the next stimulus package has been a focus for Wall Street, but the bigger catalyst likely driving stocks higher this week is polls that point to a more decisive election outcome in November. That's the growing consensus from investors who say the recent rally in Wall Street isn't about the ups and downs of fiscal stimulus negotiations, which they view as unlikely to result in something concrete this year, but instead reflect the dwindling odds of a contested election outcome. 'The most convincing explanation in our view isn't so much the likely outcome of the election itself, but rather speculation as to the increasing clarity of the result,' said analysts at Rabobank. Before polls were showing a significant lead by Democratic candidate Joe Biden, investors worried that the large amount of mail-in voting could mean an election result that remains known until days after Nov. 3. The ensuing political uncertainty could keep markets on edge for days. But a larger margin of victory, if Biden is elected, likely would mean a result will be an announced on the day of the election, a boost to risk assets that were pricing in elevated volatility in the days and weeks after the election."
The Fed: "Targeting Black Unemployment Would Keep Fed Rate Near Zero to 2025" [Bloomberg]. "Targeting reductions in the U.S.'s Black unemployment rate would lead the Federal Open Market Committee to keep interest rates near zero for at least five years, a new Bloomberg Economics analysis found. 'As racial disparities figure more explicitly in the FOMC's deliberations, that timeline could be even longer,' economist Andrew Husby wrote. Black joblessness has been much higher than overall U.S. unemployment since at least 1972, when the U.S. Bureau of Labor Statistics began compiling the data.mThe Federal Reserve in late August approved a new framework for monetary policy calling for 'broad-based and inclusive' gains in the jobs market. Presidential candidate Joe Biden has called for an amendment to the Federal Reserve Act that would require the Fed to report on racial economic gaps and what policies the Fed is implementing to close these gaps."
* * *
.
Today's Fear & Greed Index: 55 Neutral (previous close: 50 Neutral) [CNN]. One week ago: 41 (Fear). (0 is Extreme Fear; 100 is Extreme Greed). Last updated Oct 8 at 12:06pm.
The Biosphere
"We couldn't have figs without wasps. Here's how mutualism works." [National Geographic]. "It's well known that pollinators give us our favorite foods, from strawberries to sunflower seeds. But less familiar is what drives pollination: Mutualism. It's an interaction between two individuals of the same or different species that benefits both. Mutualism is a form of symbiosis, which is a close and persistent relationship between two organisms of different species, but not necessarily one in which they help each other. Other types of symbiosis include parasitism, commensalism, and amensalism…. In the case of figs and fig wasps, however, each needs the other to complete its life cycle. This is obligate mutualism. There are about 750 species of figs, each of which has a particular fig wasp as its pollinator. The life cycle begins when a female wasp bores into a fig, which isn't a fruit but a cluster of tiny, inverted flowers encased by a hard skin. The wasp lays her eggs inside the fig and dies. When the larvae hatch, the wingless male larvae fertilize the females. The female wasps mature and visit other figs, delivering pollen from the previous ones with them to fulfill the life cycle."
Health Care
"Health Care Claims Data May Be Useful For COVID-19 Research Despite Significant Limitations" [Health Affairs]. "Although health care billing claims data have been widely used to study health care use, spending, and policy changes, their use in the study of infectious disease has been limited. Other data sources, including from the Centers for Disease Control and Prevention (CDC), have provided timelier reporting to outbreak experts. However, given the scope of SARS-CoV-2—the causative agent responsible for the novel coronavirus disease 2019 (COVID-19) pandemic—and the multidimensional impact of the crisis on the health care system, analyses relying on health care claims data have begun to appear. Claims-based COVID-19 studies have a role, but it is critical to understand the limitations of these data. We are concerned that many weaknesses are not recognized by those familiar with other forms of patient-level data." • Just to translate, we have optimized all our data systems for profit, and not for health, let alone public health.
"Getting Health Care Was Already Tough In Rural Areas. The Pandemic Has Made It Worse" [NPR]. "Even before the pandemic, the health care systems that serve rural Americans were in decline: rural hospitals were closing their doors, and the medical workforce was shrinking. This year, as the coronavirus outbreak has made its way from major cities to rural America, threats to the rural health care infrastructure have only increased." • "Made its way from major cities…." Note lack of agency….
News of the Wired
I guess this is a bonus plant:
This is a single mosaic image of the world's second biggest tree, a sequoia called 'The President'. Comprised of 126 Frames, 2 Billion Leaves, and at 75.3 m tall, the sight is quite impressive [read more: https://t.co/LB1GzqDXGv] pic.twitter.com/Hd8xKvk9bL

— Massimo (@Rainmaker1973) October 8, 2020
I bet we have readers who have seen this tree….
* * *
Readers, feel free to contact me at lambert [UNDERSCORE] strether [DOT] corrente [AT] yahoo [DOT] com, with (a) links, and even better (b) sources I should curate regularly, (c) how to send me a check if you are allergic to PayPal, and (d) to find out how to send me images of plants. Vegetables are fine! Fungi and coral are deemed to be honorary plants! If you want your handle to appear as a credit, please place it at the start of your mail in parentheses: (thus). Otherwise, I will anonymize by using your initials. See the previous Water Cooler (with plant)
here
. Today's plant (AM):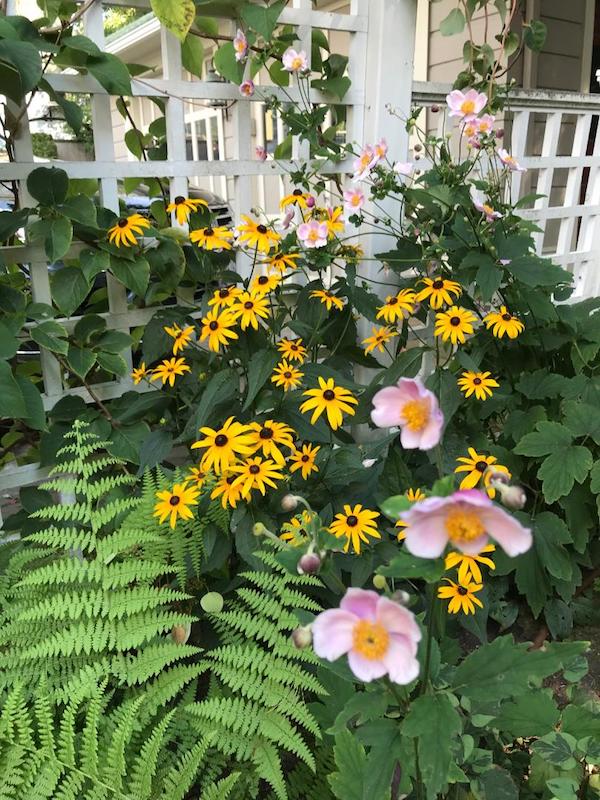 AM writes: "Black eyed Susans and something else, with delicate pink petals, in the backyard."
* * *
Readers: Water Cooler is a standalone entity not covered by the recently concluded and — thank you! — successful annual NC fundraiser. So if you see a link you especially like, or an item you wouldn't see anywhere else, please do not hesitate to express your appreciation in tangible form. Remember, a tip jar is for tipping! Regular positive feedback both makes me feel good and lets me know I'm on the right track with coverage. When I get no donations for five or ten days I get worried. More tangibly, a constant trickle of donations helps me with expenses, and I factor in that trickle when setting fundraising goals:
Here is the screen that will appear, which I have helpfully annotated.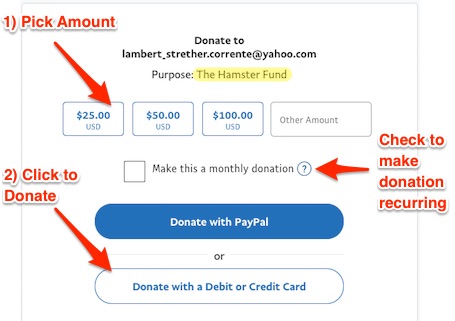 If you hate PayPal, you can email me at lambert [UNDERSCORE] strether [DOT] corrente [AT] yahoo [DOT] com, and I will give you directions on how to send a check. Thank you!