By Lambert Strether of Corrente.
Bird Song of the Day
Reader response to the introduction of this feature was mostly positive, so I'll keep on with it. A nightingale is possibly more musical than a loon…
#COVID19
At reader request, I've added this daily chart from 91-DIVOC. The data is the Johns Hopkins CSSE data. Here is the site.
Here are the United States regions: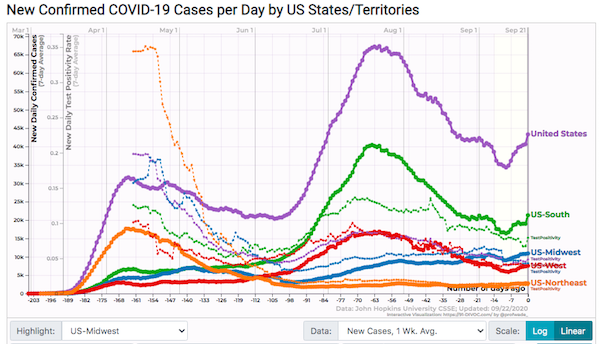 =
If current trends continue, we could be where we were August 1 in 30 days — the election now being 42 days out.
Here are the Swing States as I conceive them (see below):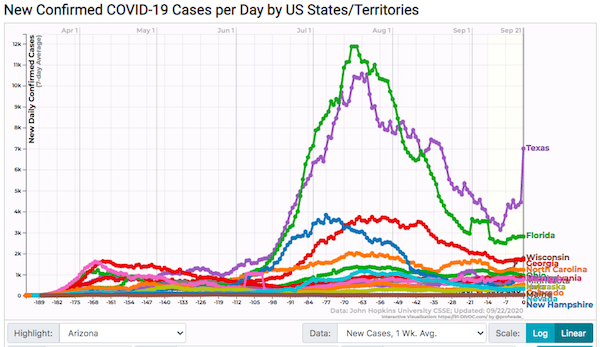 Sorry for all the states jammed together at the bottom of the chart, but if one of those states is yours, that's good news, right? (I tried the log version, but it just doesn't convey the spikiness visually, and the spikiness is the point. I also did not include a separate positivity chart, because it was unreadable.)
Politics
"But what is government itself, but the greatest of all reflections on human nature?" –James Madison, Federalist 51
"They had one weapon left and both knew it: treachery." –Frank Herbert, Dune
"They had learned nothing, and forgotten nothing." –Charles Maurice de Talleyrand-Périgord
The electoral map. July 17: Georgia, Ohio, ME-2 move from Leans Republican to Toss-up. Continued yikes. On July 7, the tossup were 86. Only July 17, they were 56. Now they are 91. This puts Biden at 278, i.e. over 270. August 18: Still no changes. August 31: Indiana moves from Likely to Safe Republican. September 9: No changes. September 14: No changes. September 21: No changes. Biden still at 278, Trump increases to 187, 73 are tossups. 187 + 73 = 260, so…. MI, WI, MN looking pretty tempting! For all the sturm and drang, and the polls, the consensus on the electoral college remains remarkably static: Biden ahead, Trump within striking distance. Of course, if Trump is still in striking distance on Election Day, that will count as a loss. Maybe.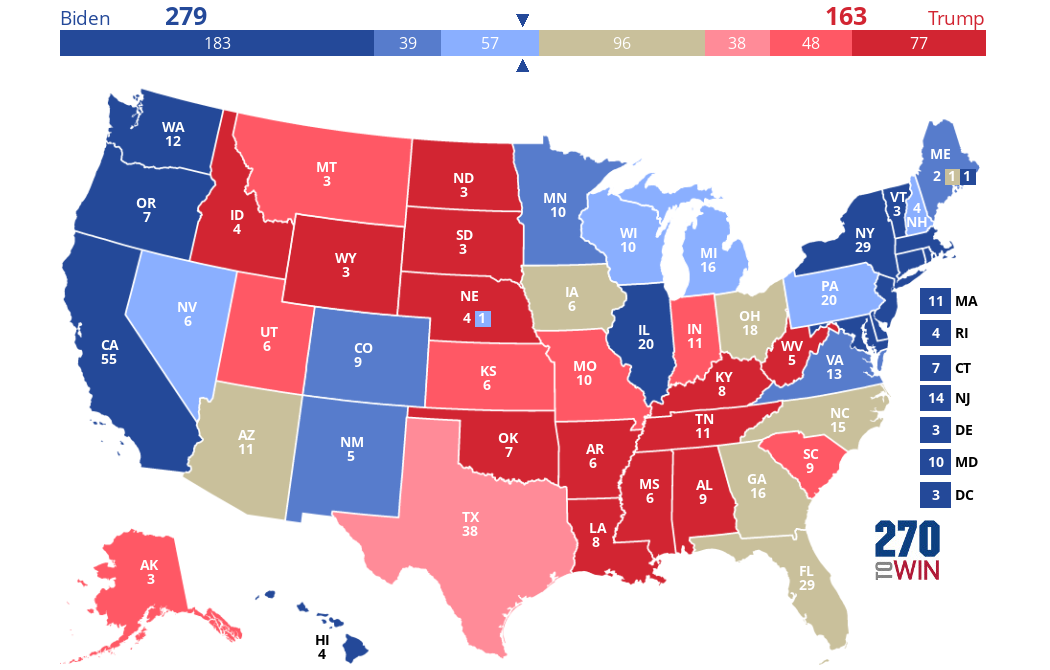 Click the map to create your own at
270toWin.com
The election countdown:
Here is an early voting calendar. Maybe we'll have a whole series of October surprises, since election day is gradually being devalued as an event.
And here are mail-in voting ruies, which naturally differ state by state.
UPDATE Here are is an enormous spreadsheet on voting equipment, so you can check your own jurisdiction (hat tip, UserFriendly. I should really aggregate these onto a map…).
* * *
2020
Here is my list of Swing States, with votes in the Electoral College in parentheticals):

Arizona (11)
Colorado (9)
Florida (29)
Georgia (16)
Iowa (6)
Maine-02 (1)
Michigan (16)
Minnesota (19)
Nebraska-02 (1)
Nevada (6)
New Hampshire (4)
North Carolina (15)
Ohio (18)
Pennsylvania (20)
Texas (38)
Wisconsin (10)

So for the rest of the election, I will try to focus on those states, and not on national moral panics, etc. (You may also help me by sending in links and tips, since this is a big change of direction, and nobody else seems to be doing it.) In keeping–

AZ: "Trump sets eyes on Arizona, now a crucial battleground state for 2020 election" [FOX10]. "Four years later, Arizona is no longer an ironclad GOP stalwart but a central battleground in the fight for the presidency. A fast-growing Latino population — politically activated over the past decade by anti-immigrant legislation and politicians like Sheriff Joe Arpaio — and explosive growth among Trump-skeptical suburbanites has lulled Republicans from complacency and energized Democrats. Trump's re-election campaign pulled out all the stops this week in hopes of keeping Arizona's 11 electoral votes. Nearly every day, someone with the last name Trump or Pence stumped for votes in Arizona beginning with Donald Trump himself on Sept. 14 and finishing with Vice President Mike Pence on Sept. 18. The president's daughter, Ivanka Trump, and the vice president's wife, Karen Pence, also made appearances, and presidential son Donald Trump Jr., is expected in Chandler on Tuesday."

UPDATE FL: "Bloomberg raises $16.1M to help Florida felons regain voting rights" [Axios]. "Billionaire Michael Bloomberg has raised over $16 million to help felons pay outstanding fines and fees to regain their voting rights in Florida… A 2018 state constitutional amendment in Florida allows for felons who have completed their sentences to regain their right to vote — so long as they've also paid back any outstanding fines, fees or restitution. Bloomberg's fundraising, in addition to $5 million from the Florida Rights Restoration Coalition, has now paid off monetary obligations for 32,000 felons in Florida just before Election Day."

NC: "North Carolina National Guard cyber team on election duty" [National Guard]. From March, still germane: "The militia at the founding of the republic was ready in a minute to defend their homeland, but for this modern, hand-picked team of North Carolina National Guard (NCNG) cyber experts, that reaction time is way too slow. Eighteen NCNG cyber specialists reported for state active duty in Raleigh to defend the integrity of the North Carolina electoral system from cyberattack before and during "Super Tuesday" elections March 3. This critical mission is just one of the threats the NCNG is prepared to respond to with its Cyber Security Response Force (CSRF), a team of 10 full-time cyber professionals with a bench of over 400 drilling Army and Air Guard cyber specialists."

OH: Ohio, by consensus of nine pundits aggregated at 270toWin, moves from Toss-up to Lean Republican; see the map above.

TX: Whole Paycheck:

In case you're wondering, the 11 "Whole Foods counties" are:

Bexar
Collin
Dallas
Denton
El Paso
Fort Bend
Harris
Montgomery
Tarrant
Travis
Williamson

— Dave Wasserman (@Redistrict) September 22, 2020

WI: "Judge extends Wisconsin absentee cutoff 6 days post election" [Associated Press]. "A federal judge ruled Monday that absentee ballots in battleground Wisconsin can be counted up to six days after the Nov. 3 presidential election as long as they are postmarked by Election Day. The highly anticipated ruling, unless overturned, means that the outcome of the presidential race in Wisconsin might not be known for days after polls close. Under current law, the deadline for returning an absentee ballot to have it counted is 8 p.m. on Election Day. Democrats and their allies sued to extend the deadline in the key swing state after the April presidential primary saw long lines, fewer polling places, a shortage of workers and thousands of ballots mailed days after the election. U.S. District Judge William Conley granted a large portion of their requests, issuing a preliminary injunction that was expected to be appealed all the way to the U.S. Supreme Court."

* * *

UPDATE Sanders (D)(1):

I am so tired of this blame game. We all, especially Faiz, Jeff & Bernie, did our best. Let's concentrate on defeating this dangerous administration. People's lives & what's left of our democracy depends on it. Then, we'll continue to fight, hopefully, together. #BidenHarris2020

— Jane O'Meara Sanders (@janeosanders) September 21, 2020

I'm willing to cut Sanders some slack 'til we see how electoralism plays out in terms of tangible outcomes. But this is really unfortunate framing by Jane Sanders. The issue is not who "did their best." The issue is that the Sanders campaign, uniquely among 2020 campaigns, and in fact among every election I can think of, took $200 million in working class money (Walmat workers and nurses, not lawyers). Was the best use made of it? It's fine with me if squillionaire bucks are p*ssed away on sending Democrat strategist kids to college. Walmart worker bucks? Not so much.

Trump (R)(1): "Richard Nixon" on Lagoa v. Barrett as Supreme Court nominee:

Lagoa, at best, mutes the energy on the left. She boxes the Senate in, as they just confirmed her. Most important the story becomes this nice young woman from Florida, and that's that. But given the choice between the big thing and the smart one, you know what he'll take.

— Richard M. Nixon (@dick_nixon) September 22, 2020

We'll see! (This is a great account that somehow manages to capture the timbre of Nixon's voice perfectly.)

* * *

Liberal Democrats just l-o-o-o-o-v-e them thei complexity, don't they?

Be like @HillaryClinton, @MayaRudolph, and Amy Poehler: make your plan to vote today. Visit https://t.co/MykJL0FtRT to register or confirm your registration. Then, your work isn't over: remind your friends, family, coworkers, neighbors—everyone—to make a plan, too. pic.twitter.com/TEVijNjYXO

— Kamala Harris (@KamalaHarris) September 17, 2020

A plan to vote… I mean, who doesn't love plans?! Elizabeth Warren loves plans! The difficulty, as Mike the Mad Biologist points out:

"If you've taught – from preschool to grad school – you know that no matter how many times or how clearly you give instructions, some students won't follow them…. One of the issues – not problems, but an issue to be aware of – with mail-in ballots is that the instructions create opportunities to reject ballots. To use the example of the recent Kentucky primary, ballots were rejected for failure to sign, failure to sign in the correct place, failure to enclose the ballot in an inner envelope before putting it in the outer envelope…on and on. Petty stuff, but stuff that is going to get your ballot tossed if you don't read and follow directions correctly…. In an election in which a lot of ballots are going to be cast by mail and it is patently obvious that Trump will use every possible mechanism to try to question the legitimacy of the ballots cast, I worry about the potential for these minor, insignificant instructions will toss otherwise valid votes."

Of course, with hand-marked paper ballots, hand-counted in public — with the ability to scale out locations for social distancing as needed, which systems dependend on machines cannot do — you don't have these issues, especially if Election Day were to become a national holiday. You shouldn't have to plan to vote — that's another way of putting barriers in the way of the working class!

UPDATE Oh, and make sure your "plan" includes a sample ballot, in jurisdictions that use ballot marking devices:

Many early voting locations use touchscreen voting machines, but I recommend asking to mark your ballot with a pen by hand. If you must use a touchscreen, compare the printout (if any) to your completed sample ballot to verify the machine didn't delete or flip ur choices. TY. 1/ pic.twitter.com/bGno1CBceA

— Jennifer Cohn ✍? (@jennycohn1) September 21, 2020

AOC's chirpy "What's your voting plan?" really frosts me. You shouldn't need to have a plan to vote! (And the decisions that brought us to this pass were thoroughly bipartisan, so don't @ me.)

"Poorly Protected Postal Workers Are Catching COVID-19 by the Thousands. It's One More Threat to Voting by Mail." [Pro Publica]. "The total number of postal workers testing positive has more than tripled from about 3,100 cases in June to 9,600 in September, and at least 83 postal workers have died from complications of COVID-19, according to USPS. Moreover, internal USPS data shows that about 52,700 of the agency's 630,000 employees, or more than 8%, have taken time off at some point during the pandemic because they were sick, or had to quarantine or care for family members. High rates of absence could slow ballot delivery in key states, especially if there's a second wave of the coronavirus, as some epidemiologists predict. Twenty-eight states, including , require mail-in ballots to arrive by Election Day to be counted."
2016 Post Mortem
From Hillary Rodham Clinton: Some Girls Are Born to Lead, by Michelle Markel:

I love how "dangerous blocks" is filled with people who appear to be black and/ Latino. https://t.co/qPC92M684A pic.twitter.com/uvtL3TCa2b

— Esha (@eshaLegal) September 21, 2020

I remembered the union-busting page, but not this one.
Realignment and Legitimacy
"The Onion's Guide To QAnon" [The Onion]. "Q: What is QAnon? A: A conspiracy theory that posits world leaders are secretly evil rather than openly so."
Stats Watch
At reader request, I added some business stats back in. Please give Econintersect click-throughs; they're a good, old-school blog that covers more than stats. If anybody knows of other aggregators, please contact me at the email address below.
There are no statistics of note today.
* * *
Regulation: "Exclusive: U.S. regulator to relax proposed whistleblower caps, tighter tip deadlines – sources" [Reuters]. "The Securities and Exchange Commission (SEC) on Wednesday will finalize changes to its whistleblower program, but will water down these proposed measures after whistleblower advocates, lawyers and lawmakers said the changes could deter insiders from flagging corporate fraud and misconduct." • Hmm.
Mr. Market: "Short Sellers Are Rushing Back Into Stocks as Volatility Returns" [Bloomberg]. "The spike of short sales coincided with an equity rout that, at Monday's worst point, took the S&P 500 to within points of entering a 10% correction. While contrarians may view the rise of skepticism as something healthy in a market that until now had defied any bad news — from plunging corporate profits to a lack of fiscal stimulus — JPMorgan strategists led by Nikolaos Panigirtzoglou warned it may mark the start of an ominous trend for equities. 'The recent rise in the short base at individual stock levels is a worrying development, especially for U.S. stocks where the short base still stands at rather low levels,' [JPMorgan strategist Nikolaos Panigirtzoglou] wrote in a note to clients."
The Fed: "Fed's Evans sees risks of 'recessionary dynamics' without more fiscal stimulus" [MarketWatch]. ""Every week and every month we go without renewing additional fiscal support…we risk a longer period of slower growth if not recessionary dynamics," [Chicago Fed President Charles Evans] said during a discussion sponsored by OMFIF, an international forum for economic policy. Evans said he was surprised to see how strong the economy has rebounded from the lockdown in April and May. The economy is back about 90% even though the toll of deaths has been 'horrific,' Evans said. Manufacturing has 'come way back' led by the auto sector, he said. Evans said he expects the unemployment rate to end the year in a range of 7%-7.5%, and to improve to a 5.5% rate by the end of 2021. The jobless rate was 8.4% in August. The labor market 'has really come back a lot better,' he said. The Chicago Fed president, who has been in his post since 2007, said his forecast assumes more fiscal stimulus and a vaccine becoming available sometime in the middle of next year. 'If those things don't happen, it is going to be an obstacle,' he said." • So if Democrats are sure they're gonna have another Blue Wave in November, why not do any kind of deal now, and then expand it when they take power? They have Hitler a whole new space force, so why not a decent stimulus package?
* * *
Today's Fear & Greed Index: 50 Neutral (previous close: 51 Neutral) [CNN]. One week ago: 59 (Greed). (0 is Extreme Fear; 100 is Extreme Greed). Last updated Sep 22 at 12:13pm. Mr. Market is having a lie-down.
The Biosphere
"An objective Bayesian analysis of life's early start and our late arrival" [Proceedings of the National Academy of Sciences]. "For intelligence evolution, it is found that a rare-intelligence scenario is slightly favored at 3:2 betting odds. [I]f we reran Earth's clock, one should statistically favor life to frequently reemerge, but intelligence may not be as inevitable." • Yeah, so which scenario are we in now?
Health Care
"Vaccines — lessons from three centuries of protest" [Nature]. "The need to control outbreaks and pandemics has long created tensions between liberty and interdependence, similar to those playing out worldwide today. Anti-vaxxers is a book that reminds us of the historical precedents to the odd alliances — anti-vaccine, anti-mask, anti-5G, for instance — that are getting in the way of public health right now. Vaccination has always been a lightning rod for storms brewing over other problems, as physiologist and science writer Jonathan Berman shows. The people who protested against mandatory smallpox vaccination in nineteenth-century England had previously led opposition to the 1834 Poor Law Amendment Act, which proposed that unemployed people must labour in workhouses for food, often under conditions of exploitation, child labour and family separation. The protesters saw mandatory vaccination as a similar assault on poor people's autonomy."
Lessons learned from the 200,000-death milestone ("We're #1! We're #1!"). Thread:
We're about to pass the deeply tragic milestone of 200,000 deaths from COVID in the US. What have we learned about COVID and our response to it over the last 7 months? So much. Here is a start: 1/x

— Tom Inglesby (@T_Inglesby) September 19, 2020
Especially:
No more reliance on international supply chains. No more laissez faire approach to 'letting market handle it" because it won't 5/x

— Tom Inglesby (@T_Inglesby) September 19, 2020
Single payer #MedicareForAll would be useful in that regard; the largest possible market under autarchy.
This thread on FDA Emergency Use Authorizations (EUA) will probably be useful to somebody who understands vaccine testing better than I do:
We have the protocols. Now we know how there will very likely be an Emergency Use Approval (EUA) for a vaccine prior to November 3. The company and political motivations are fully aligned.
1. The criteria for an EUA is that it "may be effective"https://t.co/Q7LXeRzInZ pic.twitter.com/FhLbb79M7s

— Eric Topol (@EricTopol) September 19, 2020
"'Hygiene theater': Disinfecting sprays and sanitizing robots alone won't keep you safe from COVID-19" [ABC News]. "[Dr. John Brownstein, an epidemiologist at Boston Children's Hospital] said that one of his biggest concerns with hygiene theater is that 'it's just not sustainable.' 'We're asking the population and industry to do a lot and at some point there is going to be pandemic fatigue,' he added. He noted that the more experts attempt to enforce these sorts of efforts around a theoretical risk, 'the more chance people are just going to, basically, not want to implement them.' 'We know that things like mask-wearing is so critical, let's focus on the handful of issues that we know are driving those transmissions,' he added." • Speaking as a narrative constructor, and not from science — I've seen no studies on this — my view is that the aerosols ultimately have to land somewhere; for example, in the first hospital study (too lazy to find the link) that showed transmission of functioning viral material through the air, some of the virus ended up on the hospital windowsill. So if I put my hand on that windowsill… I don't think fomites are the primary mode of transmission — except perhaps when children, themselves fomites, are involved — but I think it's too soon to count them out entirely. So, I'm still washing my hands, taking a shower when I come back from the store, cleaning my computer, etc.
"Coronavirus: constantly surprising virus found to be heat tolerant, self-healing and very resilient in lab tests" [South China Morning Post]. "[The Hungarian team's] experimental data suggested Sars-Cov-2 could be the most physically elastic virus ever known to humans so far, and repeated deformation did not seem to affect the overall structure and the content inside the virus, either…. How it managed to survive environmental disturbances remained unclear."
* * *
"'I Only Need To Stick Around 4 Or 5 More Years': Doctor Shows How Horrific The US Healthcare System Is" [Bored Panda]. • The entire post is worth reading, but here's where the headline comes from: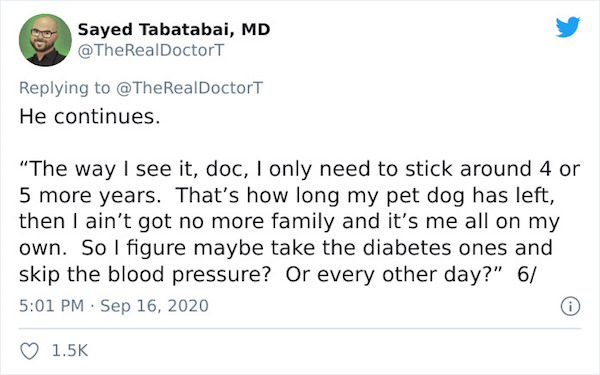 Because the medication is too expensive. We're governed by Harkonnens.
Sports Desk
"Eagles QB booed during home game by fake crowd noise in Philadelphia" [The Hill]. • There'll always be a Philly…
Our Famously Free Press
"NYT First Reinforces, Then Silently Debunks Its False Claims About Russia's Covid-19 Vaccine" [Moon of Alabama]. "The Times author reinforces his own lie that Russia had declared its vaccine ready for population wide application. It had never done that. The official registration of the vaccine by the relevant authorities was only a necessary precondition to start the large scale phase-3 testing of the vaccine. There never was a Russian intent to distribute the vaccine to a large population without phase-3 testing." • The moral I draw, which is different from the moral MoA drew, is that the Times is rooting for the Russian vaccine to fail. Will they have the same rooting interest for the vaccines being produced under Project Warp Speed?
Groves of Academe
"Ig Nobel Prizes reward research on helium-huffing alligators and knives made of feces" [Science]. "Winners received a fake $10 trillion Zimbabwean bill, and were emailed a six-page PDF to print and assemble into a cube-shaped trophy."
Class Warfare
UPDATE "U.S. Household Net Worth Soars to Surpass Pre-Pandemic Peak" [Bloomberg]. "Household net worth increased by $7.6 trillion, or 6.8%, to $119 trillion, while the level of federal government borrowing soared as lawmakers responded with massive fiscal relief, according to a Federal Reserve report out Monday. The gain was the largest in quarterly records back to 1952. The value of equities advanced $5.7 trillion from the prior quarter while real estate increased about $458 billion." • The future is already here — it's just not very evenly distributed.
"U.S. Is Falling Further Behind Rivals in Meat-Worker Safety" [Bloomberg]. "In Germany, the government is ready to upend a labor contracting system that left poorly paid immigrant workers vulnerable. Australia's second-most populous state, Victoria, slashed slaughterhouse staffing capacity to enforce strict spacing requirements. In Brazil, the federal government has set safety rules, though unions have said they're not strong enough. Meanwhile, the U.S. has yet to impose any mandatory safety measures on meatpackers to contain infections, issuing just voluntary guidelines. And the only federal citations against major meat processors resulted in fines of less than $16,000, decried as paltry by worker advocates. At the same time, an executive order from Donald Trump has kept plants running at full tilt since late April."
"We Need a Radically Different Approach to the Pandemic and Our Economy as a Whole" [Jacobin]. "[Katherine Yih] Locking down society is a blunt instrument whose goal has been to keep the overall numbers down at all costs. Lockdowns have been vastly unfair in their impact and have exacerbated disparities in wealth and power. Millions of working-class people have lost their jobs and find it impossible to find new ones in the current shuttered economy. (It is remarkable that the media pay so little attention to the extreme economic hardship being endured by millions of people who were already struggling to make ends meet before the pandemic.) Millions of others must continue working in high-risk jobs. Many white-collar workers, on the other hand, have been able to work safely from home. Thus, workers on the front lines, like health care workers, mass transit drivers, grocery workers, meatpackers, and many, many other occupational groups, are contributing disproportionately to the herd immunity that will ultimately protect everyone." [Martin Kulldorff] Yes, I think the lockdown is the worst assault on the working class in half a century, and especially on the urban working class. In effect, we are protecting low-risk college students and young professionals who can work from home at the expense of older, high-risk, working-class people that have no choice but to work, leading to more deaths overall. There have been studies, for example in Toronto, that show that lockdowns have primarily protected high-income, low-minority neighborhoods, but not low-income or high-minority neighborhoods." • Worth reading, agree or disagree.
News of the Wired
Winter is coming:
— Federico Italiano (@FedeItaliano76) September 21, 2020
Gorgeous, gorgeous photos. I work from the position that beautiful photographs can be taken anywhere — i.e., are not site-dependent — but Vasilyev certainly makes a powerful counter-argument.
"You Can Now Explore 103 'Lost' Hokusai Drawings Online" [Smithsonian]. :Hokusai was an incredibly prolific artist, producing an estimated 30,000 images over his 70-year career. With the addition of these 103 drawings, the British Museum now houses a collection of more than 1,000 of his works. As [Frank Feltens, an assistant curator at the Smithsonian's National Museum of Asian Art] told Smithsonian magazine's Roger Catlin last year, Hokusai was most prolific in the last decade of his life. In the artist's own words, it was only at age 73 that he finally 'understood the structure of animals, birds, insects and fishes, and the life of grasses and plants.'" • So even old codgers like me have more than a few years to go!
"New emojis are coming in 2021, including a heart on fire, a woman with a beard and over 200 mixed-skin-tone options for couples" [CNN]. "The Unicode Consortium, a non-profit that oversees emoji standards and is responsible for new releases, announced the release of more than 200 emojis that will hit cell phones throughout next year in a limited 'Emoji 13.1' release — which means even more ways to convey the pain of this year."
* * *
Readers, feel free to contact me at lambert [UNDERSCORE] strether [DOT] corrente [AT] yahoo [DOT] com, with (a) links, and even better (b) sources I should curate regularly, (c) how to send me a check if you are allergic to PayPal, and (d) to find out how to send me images of plants. Vegetables are fine! Fungi and coral are deemed to be honorary plants! If you want your handle to appear as a credit, please place it at the start of your mail in parentheses: (thus). Otherwise, I will anonymize by using your initials. See the previous Water Cooler (with plant) here. Today's plant (WB):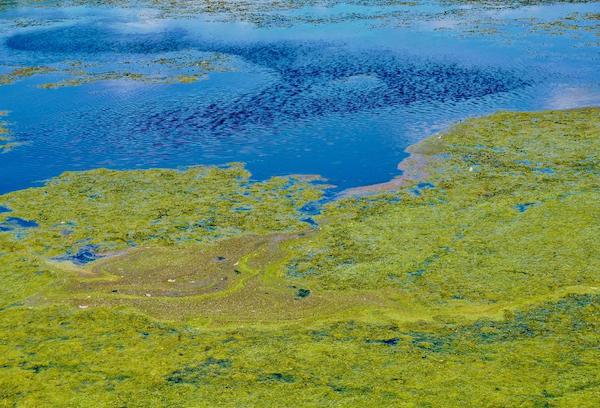 WB writes: "Not sure what plant classification covers pond scum, but this is a colorful example." Colorful it is. I should wander through the biosphere to pond and their scums one of these days. As if following the election wasn't enough.
* * *
Readers: Water Cooler is a standalone entity not covered by the annual NC fundraiser. So if you see a link you especially like, or an item you wouldn't see anywhere else, please do not hesitate to express your appreciation in tangible form. Remember, a tip jar is for tipping! Regular positive feedback both makes me feel good and lets me know I'm on the right track with coverage. When I get no donations for five or ten days I get worried. More tangibly, a constant trickle of donations helps me with expenses, and I factor in that trickle when setting fundraising goals:
Here is the screen that will appear, which I have helpfully annotated.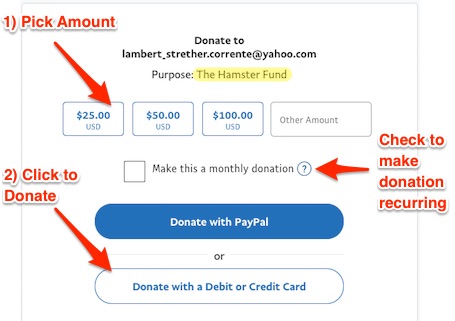 If you hate PayPal, you can email me at lambert [UNDERSCORE] strether [DOT] corrente [AT] yahoo [DOT] com, and I will give you directions on how to send a check. Thank you!