New York's Commercial Rents Are 'Too Damn High' NYT
How a suicide in Calcutta in 1800s sparked a debate on applying English laws in India Scroll
Apple's T2 security chip has an unfixable flaw Ars Technica. Yet another reason to be wary of Apple devices.
When Black Lives Matter, Athletes Say "No More Games" Capital & Main
Shorebirds More Likely to Divorce After Successful Mating Treehugger
Nobel Prize in Economic Sciences Is Awarded to U.S. Academics WSJ
Philosophy in the Shadow of Nazism New Yorker
Peru opens Machu Picchu for single tourist stranded by Covid BBC
#COVID-19
We've been saying this since March. No one should be surprised by this https://t.co/TWodZrFURL

— david chang (@davidchang) October 10, 2020

Science/Medicine
West Coast Wildfires
Is wildfire preparedness reporting a waste of time? Columbia Journalism Review
Police State Watch
The City Where Someone Was Bitten by a Police Dog Every 5 Days Marshall Project A childhood dog bite – thankfully, a minor  one – has left me still somewhat leery of strange dogs. This tendency has been exacerbated by spending lots of time in countries that have endemic rabies. If one gets bitten, it's obvious one should do rabies shots. But what if one just gets licked? Rabies IIRC can enter broken skin, and once one starts displaying symptoms, there is no cure. Hence I get quite annoyed when clueless tourists feed or otherwise encourage the local Fidos to come close.
Big Brother IS Watching You Watch
COMSEC Lessons From The Underworld American Conservative

Five Eyes group demands 'backdoor' access to WhatsApp and other encrypted apps SCMP
Class Warfare
Everything I Know About Elite America I Learned From 'Fresh Prince' and 'West Wing' NYT

The Working-Class Cinematic Legacy of Film Noir  Jacobin

Regulators Reportedly Mull Forced Google Chrome Sale Adweek. Incredible if true.
2020
India
China?
Nagorno-Karabakh
Russia seeks Nagorno-Karabakh truce return as deaths rise: Live Al Jazeera
Our Famously Free Press
Not News But A Juicy Collection Of Narratives – How The New York Times Failed Its Readers Moon of Alabama

LEE CAMP: Two Massive New Leaks Show Dirty Underbelly of Empire Consortim News
The Caliphate hoax only scratches the surface of a much wider scandal that will never be probed:

NY Times Syria coverage relied heavily on shady opposition sources and their US/UK/Turkish/Qatari sponsors, spinning out a pre-packaged regime change narrative full of deceptions. https://t.co/OQxJ2dy3Fq

— Max Blumenthal (@MaxBlumenthal) October 12, 2020
I think people would be surprised to know how many journalists come from rich families, went to private prep schools, etc., because for all the talk about the need for "diversity" in media, class background is rarely mentioned, for good reason: because there's so little of it. https://t.co/EHnIAPjPn5

— Glenn Greenwald (@ggreenwald) October 12, 2020

Julian Assange
Julian Assange faces the 'trial of the century': 10 reasons why it threatens freedom of speech Grayzone
Trump Transition
Amy Coney Barrett papers over rift between Trump and GOP Politico

Supreme Court nominee Amy Coney Barrett has seven kids. And don't you dare forget it. WaPo. As the eldest of five, I've long resented the use of the size of one's family as a messaging device. Or as an excuse for someone to act on pre-conceived, inaccurate assumptions. I can't tell you how often we showed up to find our hotel reservations cancelled when it became clear we were a family of seven. Even though we were an extremely well-behaved brood. I think that was one reason my parents started camping.

Barrett vows fair approach as justice, Democrats skeptical AP

Two Parties Offer Dueling Views of Barrett as Confirmation Fight Begins NYT
We've been reporting on Amy Barrett's rulings that have helped corporations crush workers: https://t.co/6bOx9VHTaW@DavidSirota was on @peacockTV tonight to discuss that reporting – and how dark money groups want another corporate crony on the Supreme Court. pic.twitter.com/HlBQdKVBt4

— The Daily Poster (@dailyposter) October 13, 2020
Millions of dollars are boosting Barrett's nomination – that money is flooding in because she has consistently been a corporate rubber stamp. The GOP doesnt want anyone talking about this record, because it shows that Barrett's nomination is a betrayal of America's working class. https://t.co/jcOcDvqCwR

— David Sirota (@davidsirota) October 13, 2020
Lots of excitement by conservatives to own the liberals by confirming Barrett. You guys should recognize ACB will likely make it much harder for Trump to address big tech's monopoly power. https://t.co/3lAuM7dtRJ

— Matt Stoller (@matthewstoller) October 12, 2020
Antidote du Jour (via). One of my favorites, which I wrote about recently in my post about the still-raging Pantanal wildfires: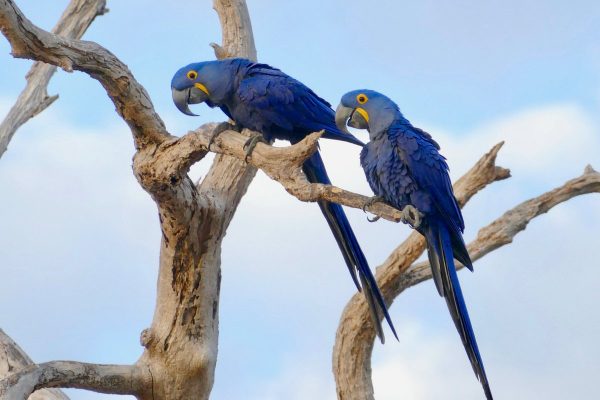 See yesterdays Links and Antidote du Jour here