This is Naked Capitalism fundraising week. 1750 donors have already invested in our efforts to combat corruption and predatory conduct, particularly in the financial realm. Please join us and participate via our donation page, which shows how to give via check, credit card, debit card, or PayPal. Read about why we're doing this fundraiser,what we've accomplished in the last year, and our current goal, more original reporting.
Tactics without strategy is the noise before defeat. Sun Tsu
I've never been a fan of trying to assess, either strategically or from a mental health standpoint, Trump's propensity to take extreme positions. Sometimes he lashes out even when he is losing, like with his row during his 2016 campaign with the Muslim parents of a slain "Gold Star" soldier or with cutting funding to the WHO. Sometimes he won't retreat even though he's not getting what he wanted, like with his wall or his tariff row with China. Sometimes he does a 180, as he did with first saying only he could lead the charge against Covid-19, then saying the matter was in the hands of governors.
But even by the standards of Trump's signature erraticness, yesterday was a standout, if nothing for the stakes. Trump decided to own the failure of deadlocked stimulus talks, when these were Congressional negotiations where each party was set up to point fingers at the other guy:
So Trump resurrects "Just the Flu" and kills an economic stimulus package on the very same day

Literally goes all in on his two most unpopular positions with less than a month go to before the election pic.twitter.com/nMcDdEnXFm

— Saagar Enjeti (@esaagar) October 6, 2020
Now admittedly, the Administration had inserted itself by having Treasury Secretary Mnuchin act as chief Republican negotiator against the Dems' Pelosi. And the talks looked to have been stuck at the empty theatrics stage for a while. The Republicans have been divided, with Congressmen in close races generally more amendable to a bigger stimulus package. But the hard-core conservatives have been opposed to a bigger package, and the Administration is particularly hostile to providing funds to state and local governments. The House had passed a $2.2 trillion bill, while Mnuchin's offer was $1.6 trillion.
According to the Wall Street Journal, the trigger for Trump's rupture was a Tuesday evening update from McConnell, Mnuchin, and House Minority Leader Kevin McCarthy. McConnell said that even if Mnuchin and Pelosi came to an agreement, it wasn't likely to have the votes in the Senate.
As Lambert has regularly pointed out is that the Dems are willing to throw the working class under the bus rather than pass the Republicans' inadequate relief bill. It's more important for them to deny Trump any talking points.
It didn't help Trump's optics to have Fed chairman Jay Powell issue his most forceful call for more spending to date. From the Financial Times:
Speaking to the National Association for Business Economics, Mr Powell said the economic recovery from the damage inflicted by the coronavirus was "far from complete" and the "risks of policy intervention are still asymmetric".

"Too little support would lead to a weak recovery, creating unnecessary hardship for households and businesses," he said.

"By contrast, the risks of overdoing it seem, for now, to be smaller. Even if policy actions ultimately prove to be greater than needed, they will not go to waste," he added.
Needless to say, Trump's recovery from coronavirus is more credible than the idea that the economy is anything more than a technical recovery, aka a dead cat bounce. Even thought the earlier stimulus packages unduly benefitted the rich, the income supplements, particularly the $600 a week extra in unemployment benefits, preserved spending. The PPP also bolstered incomes and kept many small businesses going.
However, the economy is bleeding out from an artery, which means stopping transfusions is a very bad idea. From the Wall Street Journal at the start of the month:
A drop in household income and persistently high layoffs are threatening to further slow the U.S. economic recovery, which already appears to be losing momentum as the pandemic continues.

Personal income—what households received from salaries, investments and government aid—fell 2.7% in August as enhanced unemployment checks shrank, the Commerce Department said Thursday. Meanwhile, another 837,000 workers filed for unemployment compensation last week after being recently laid off, the Labor Department said. In total, nearly 12 million workers are receiving unemployment compensation through regular state programs.

The level of weekly jobless claims shows layoffs remain persistent in some industries, and more companies announced cuts this week. American Airlines Group Inc. and United Airlines Holdings Inc. told employees they will go forward with more than 32,000 job cuts Thursday, after lawmakers were unable to agree on a broad coronavirus-relief package. Insurer Allstate Corp. on Wednesday said it planned to lay off 3,800 employees. Walt Disney Co. on Wednesday announced permanent layoffs for 28,000 theme-park workers who were previously on temporary furlough.
And despite the support of the PPP and other programs, small business are failing at a rate higher than during the financial crisis. Wolf Richter points out that the PPP helped many very small business owners simply shutter their enterprises, giving them enough to settle with landlords and other creditors, rather than declare bankruptcy. From his post yesterday:
From March through mid-July, over 420,00 small businesses – or 7.1% of all small businesses – permanently and quietly closed their doors, more than typically in an entire year, according to a study by Brookings, released in September.

The analysis found that "many small businesses are financially fragile and not equipped to weather a prolonged period of substantially reduced revenues":

47% rely on personal funds of the owner to fill a two-month revenue drop.
88% rely on the personal credit score of the owner (such as working capital funded by personal credit cards).
Only 44% have had a bank loan over the past five years.

Small businesses account for about 99% of all businesses in the US and about 47% of jobs in businesses. If these 420,000 businesses are representative of national employment, "this means we have lost at least 4 million jobs that will only return with the creation of new businesses," the report said.
After Mr. Market had a hissy, Trump tried reversing gears and shifting blame to Team Dem:
The House & Senate should IMMEDIATELY Approve 25 Billion Dollars for Airline Payroll Support, & 135 Billion Dollars for Paycheck Protection Program for Small Business. Both of these will be fully paid for with unused funds from the Cares Act. Have this money. I will sign now!

— Donald J. Trump (@realDonaldTrump) October 7, 2020
If I am sent a Stand Alone Bill for Stimulus Checks ($1,200), they will go out to our great people IMMEDIATELY. I am ready to sign right now. Are you listening Nancy? @MarkMeadows @senatemajldr @kevinomccarthy @SpeakerPelosi @SenSchumer

— Donald J. Trump (@realDonaldTrump) October 7, 2020
Mind you, Nate Silver points out that based on the economic index he uses, Trump would likely be polling ~3 points worse than he is due to the earlier stimulus, and that even if a stimulus deal came together, it would be happening too late to make much difference:
That's certainly not to imply that the collapse of further stimulus spending will cause a further 3-point or 8-point shift in the polls away from Trump. The news comes pretty close to the election (in our model, only 11 percent of the forecast is now based on the economy and incumbency, and this will fall to 0 percent by Election Day), the stimulus wasn't necessarily likely to pass anyway, and the failure of further stimulus funding doesn't entirely erase the fact that people and businesses did get some help in the spring.
However, one of the reasons quite a few Republicans spoke favorably of Trump was due to how the stock market has performed under his tenure. So if the "no stimulus" market sad continues, that could do some damage.
Regardless, the stimulus deal tweets looks like yet another episode of Trump needing to be the center of attention no matter what the cost. And it's not like Trump has much going for him of late.
His Executive Order barring many foreclosures though year end should reduce homelessness for a while, but isn't a lasting solution. As widely predicted, his promise of a vaccine October surprise isn't working out, and two of the front-runners had setbacks. From Motley Fool:
Three patients taking part in clinical trials for Moderna's coronavirus vaccine candidate and two taking part in Pfizer's study have experienced intense side effects, according to a report published by CNBC. Those effects included high fever, pounding headaches, intense chills, and exhaustion…

On a more positive note, all three Moderna trial participants and one in the Pfizer trial reported that their side effects, while intense, melted away after at most one day. All five, meanwhile, expressed the belief that the discomfort they experienced will be worth it for the value of the research being undertaken.
Trump's law 'n' order routine doesn't seem to be getting much traction despite support for Black Lives Matter weakening. And not only did Trump's debate performance work against him, but he doesn't appear to have gotten much of a sympathy bounce for having been hospitalized. From MarketWatch:
Biden's lead in the CNN poll was 57% to 41%, in a survey taken after the first presidential debate and mostly after Trump's COVID-19 infection was made public. Taken together with other polls, including an NBC News/Wall Street Journal poll showing a 14-percentage-point Biden lead after the debate but before Trump's diagnosis was known, Biden's lead is a smaller — though still significant — 9.2 percentage points in the latest RealClearPolitics average. In an average of top battleground states, Biden's lead is just over 4 points
As you can see, even the relatively cheery The Real Clear Politics poll averages show recent decay for Trump: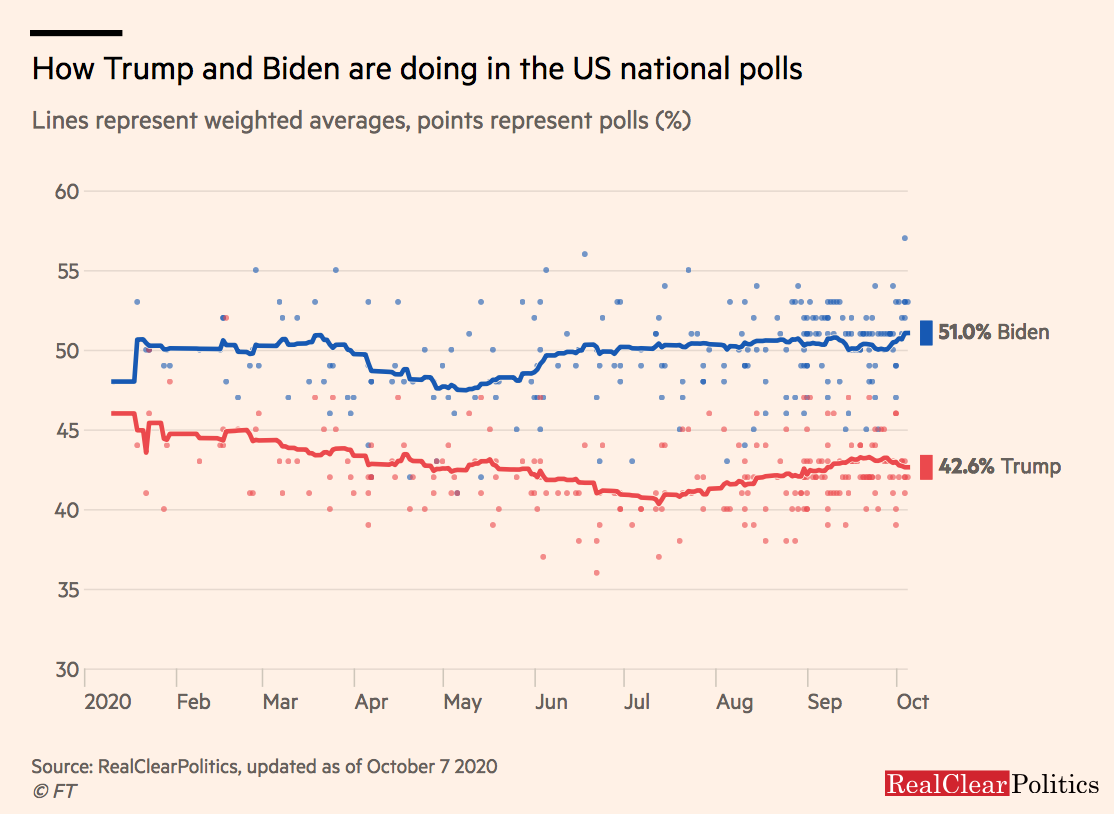 And Chris Cillizza explains why the CNN result is even worse than it looks (emphasis original):
With less than a month before the November election, President Donald Trump has hit a new low: He now trails former Vice President Joe Biden by his largest margin (16 points) of any CNN poll conducted in this entire election.

Which, if you are the President or his supporters, is bad! Like, really bad! But it's actually not the worst news in the latest CNN/SSRS poll.

That honor goes to this: 9 in 10 likely voters (90%) in the CNN poll say that their minds are made up when it comes to which candidate they will be voting for this fall. A meager 8% of those likely voters said they might change their mind while 1% (who are these people???) said they had no preference between the candidates as of yet.
I never understood how Trump managed to be so successful despite his regular self-destructive antics. I had attributed it to luck. It looks like his luck has finally run out.