By Lambert Strether of Corrente.
Patient readers, I got wrapped around the axle with a technical issue. More from the Augean stables soon. –lambert UPDATE All done1
Bird Song of the Day
#COVID19
At reader request, I've added this daily chart from 91-DIVOC. The data is the Johns Hopkins CSSE data. Here is the site.
Case count by United States region: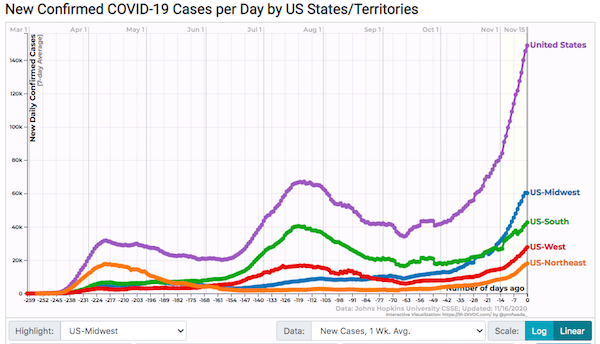 Test positivity by region: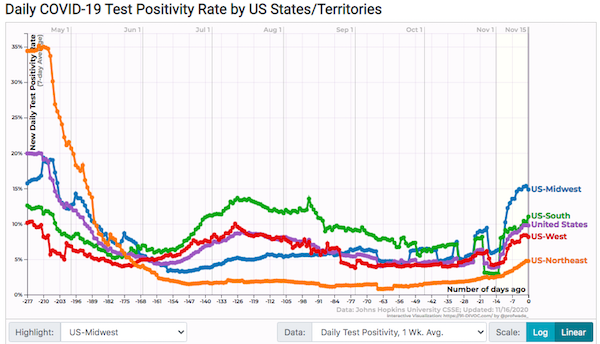 Case fatality rate by region: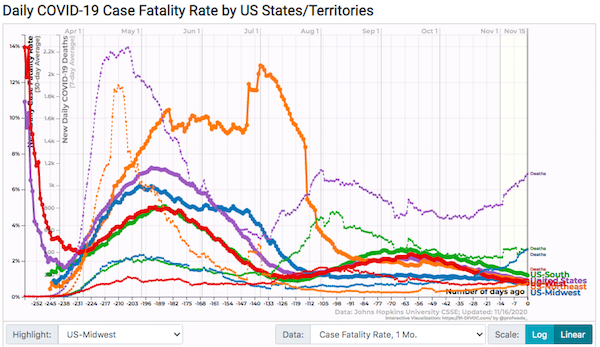 We'll need to watch this to see if it changes with the increased case count. I added the death counts, and yes, deaths are rising with the case count.
Hospitalization by region: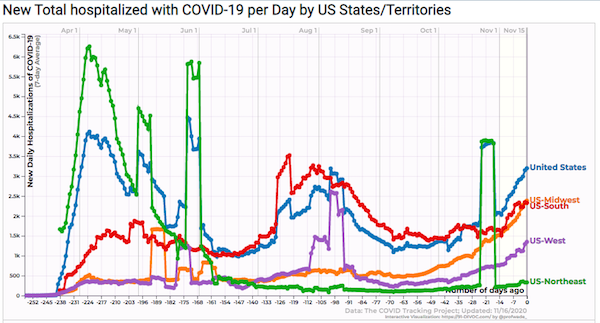 Politics
"But what is government itself, but the greatest of all reflections on human nature?" –James Madison, Federalist 51
"They had one weapon left and both knew it: treachery." –Frank Herbert, Dune
"They had learned nothing, and forgotten nothing." –Charles Maurice de Talleyrand-Périgord
Election Legitimacy
2020 Democrats in Disarray
Governing? What's that?

If there had been a single blue area where Democrats governed well around Covid, they might have pointed to that and said 'we'll do that nationally.' There wasn't. Voters know that Dems and Rs can't run the government, because that's what they experienced. Governing matters!

— Matt Stoller (@matthewstoller) November 14, 2020
Biden Transition
UDPATE "Former Facebook leaders are now transition insiders" [Politico]. "But people with close ties to Facebook and CEO Mark Zuckerberg have already become inside players in the Biden transition, suggesting that the president-elect is not slamming the door on the company. Former Facebook board member Jeff Zients is co-chairing Biden's transition team. Another former board member is an adviser. Two others — one who was a Facebook director and another who was a company lobbyist — have taken leadership roles. And Biden himself has a friendly relationship with a top Facebook executive, former U.K. Deputy Prime Minister Nick Clegg…. One senior Democratic strategist close to the campaign put it more plainly. 'We basically think they're an immoral company,' said the strategist, speaking anonymously to discuss the thinking inside the party. 'There are thousands and thousands of people in their 20s and 30s and 40s who will be incensed to find themselves working for Secretary of Commerce Sheryl Sandberg, or taking a soft touch to Facebook because Nick Clegg and Joe Biden go way back.'"

UPDATE "Could Elizabeth Warren Be the Next Treasury Secretary?" [The Nation]. • No.

UPDATE Identity politics watch:

White progressives training their fire on women and women of color who are under consideration to lead the nat sec departments makes me deeply uncomfortable about their allyship for those communities.

Especially when the nat sec community is dominated by white men.

— Mieke Eoyang (@MiekeEoyang) November 13, 2020

if you think you're uncomfortable, think of the faraway brown children, women, and men you'll be blowing ot pink mist with drone strikes!
2020
Biden (D)(1): "Biden advisers to meet vaccine firms as Trump stalls handoff" [ABC]. "Joe Biden's scientific advisers will meet with vaccine makers in coming days as the presidential transition remains stalled because of President Donald Trump's refusal to acknowledge that he lost the election. That delayed handoff is especially problematic during a public health crisis, the government's top infectious disease expert said…. [Biden's chief of staff Ron Klain] said Biden's experts also need a detailed understanding of distribution plans being finalized by the Department of Health and Human Services and the Pentagon. In some ways, that's the more critical issue, he said." • I'm a little frustrated by the focus on "the transition period" as a barrier to Biden explaining what his plans are. In a Parliamentary system, there would be a Shadow HHS Secretary (although nothing but, I suppose, norms prevented the Biden campaign from innovating that role. If the Democrats are worried about there being "two Presidents," why not add a layer of indirection? Blue-skying here: Put together an enormous non-partisan conference, with tracks for all the subject matter experts. Make Biden the key-note speaker and have him give the policy speech. If the Covid is the crisis they say it is, why no? Too late for Thanksgiving, sadly, but Christmas is coming. At the very least, couldn't Biden be addressing the nation or something? All we're getting right now is whinging about Republican non-cooperation. That's true, but you have to step up and lead anyhow!

Biden (D)(2): "Tax filings reveal Biden cancer charity spent millions on salaries, zero on research" [New York Post]. "The Biden Cancer Initiative was founded in 2017 by the former vice president and his wife, Jill Biden, to 'develop and drive implementation of solutions to accelerate progress in cancer prevention, detection, diagnosis, research and care and to reduce disparities in cancer outcomes,' according to its IRS mission statement. But it gave out no grants in its first two years, and spent millions on the salaries of former Washington, DC, aides it hired. The charity took in $4,809,619 in contributions in fiscal years 2017 and 2018, and spent $3,070,301 on payroll in those two years. The group's president, Gregory Simon, raked in $429,850 in fiscal 2018 (July 1, 2018, to June 30, 2019), according to the charity's most recent federal tax filings. Simon, a former Pfizer executive and longtime health care lobbyist who headed up the White House's cancer task force in President Barack Obama's administration, saw his salary nearly double from the $224,539 he made in fiscal 2017, tax filings show." Oh. Pfizer. And did the 2020 Trump campaign have any oppo capability at all? Why are we reading this only now?

Harris (D)(1): "Kamala Harris' husband Doug Emhoff breaks gender stereotypes by putting her career ahead of his as second gentleman" [USA Today]. "During a recent fundraiser, Emhoff said many of the issues he would want to focus on as second gentleman are justice related, particularly '.'" • Oh.

* * *

OH:

Coal towns all across the Ohio river valley shifted towards Republicans compared to 2016. The valley is ground zero of a massive energy transition. Oil giants are banking on fracked gas to drive a new plastics and petrochemicals boom there. @yayitsrob https://t.co/mxLSlji1QC https://t.co/AAhLdMLeNr pic.twitter.com/hiB4du31HK

— Albert Pinto (@70sBachchan) November 10, 2020

* * *

UPDATE "Democrats' 2024 Problem Is Already Clear" [The Atlantic]. "The election's outcome heralds a decade of grueling trench warfare between the two parties for control of the nation's direction. While it also demonstrated clear problems for the GOP, the results already have Democratic strategists privately asking frank questions about whether any of the next generation of Democratic leaders, starting with Vice President–elect Kamala Harris, can sustain enough of the coalition that elected Biden to the White House without him on the ballot. Biden may be the last Democrat who can reliably hold those Rust Belt states as the party waits for demographic change and shifting suburban attitudes to bring the Sun Belt states more securely within their reach." • So, we've yoked the new "shifting suburban attitudes" theory to the old "demographic change" theory. Fine. Oh, and that's President–elect Kamala Harris, right?

UPDATE "Biden coalition built on broad but unstable foundation" [Politico]. "In what amounted to a referendum on Trump, Biden's supporters were primarily motivated by a desire to defeat the Republican president. There is no guarantee that the disparate groups will remain together in the absence of a galvanizing opponent like Trump on the ballot."

UPDATE "Liberals Envisioned a Multiracial Coalition. Voters of Color Had Other Ideas." [New York Times]. "The proposition seemed tailor-made for one of the nation's most diverse and liberal states. California officials asked voters to overturn a 24-year-old ban on affirmative action in education, employment and contracting. The state political and cultural establishment worked as one to pass this ballot measure. The governor, a senator, members of Congress, university presidents and civil rights leaders called it a righting of old wrongs…. Yet on Election Day, the proposition failed by a wide margin, 57 percent to 43 percent, and Latino and Asian-American voters played a key role in defeating it. The outcome captured the gap between the vision laid out by the liberal establishment in California, which has long imagined the creation of a multiracial, multiethnic coalition that would embrace progressive causes, and the sentiments of many Black, Latino, Asian and Arab voters…. The results suggest that Democrats may need to adjust their strategy as the complexities of class, generation and experience, and the competing desires of these demographic groups become clear." • "Become clear"?! Liberal Democrats have been pushing identity politics for decades. And only now the "complexities" become clear? What were they paying all the strategists for, anyhow?
RussiaGate
"REPORT: John Durham Dropping His Investigations into Spygate, "Worried About Blowback From Joe Biden'" [Gateway Pundit]. I hate the quote these guys, but their one of the few venues covering it…
Obama Legacy
UPDATE That's a hell of an act. What do you call it?

I don't want to have sex with Barack Obama I just want him to hold me

— Sarah Cooper (@sarahcpr) November 15, 2020

The Democrats!
Realignment and Legitimacy
"Rethinking the future of American capitalism" [McKinsey & Company]. "Capitalism's effectiveness in directing capital formation toward the most promising investments has implications for market structure and concentration of economic power." • Why do we assume this? Uber? Unicorns? There's so much stupid money sloshing around we don't know where to invest it, and at the same time we can't build a new Amtrak tunnel under the Hudson when we know the existing tunnel is doomed. Or take a look at years of underinvestment in public health. Why do we we assume capital formation isn't in crisis, along with everything else? And isn't "promising" doing a lot of work, there?

UPDATE "Dynamite German film charts the banality of always looking for meaning in Hitler" [Times of Israel]. "The film draws parallels from the 1940s to today, in ways that are not really up for debate. A section on what Hitler's use of cutting-edge microphones did for him juxtaposed with Trump's versatility on Twitter is just plain interesting, and even folks who voted for the guy would have to agree…. Keep in mind that all footage of Hitler was produced by Hitler himself. He made it to propagate his ideology and to preserve it for generations to come. So when we make documentaries based on this material, we are, in a way, propagating the propaganda… The Soviet representation of Hitler was fascinating. Stalin had this whole thing, which we include in the film, about how he didn't shoot himself, he poisoned himself "like a bitch." Really saying he wasn't a real man, a whole machismo angle. Of course, so much of our understanding about Hitler is from wartime propaganda — ideas like his alleged Jewish roots, or a drug addict, or he only had one testicle. In many cases, these are also fabrications." • The whole interview is well worth a read. Interesting true fact about Hitler's microphones.

UPDATE "'The Meaning of Hitler' Review: Terrifying Proof That Fascism Can Happen Anywhere" [Yahoo Entertainment]. "The movie's ultimate thesis — that Nazis were normal people who did awful things — doesn't exactly unearth new insights into the nature of the Third Reich, but it lingers on the humanity of Hitler just enough to bolster its disturbing raison d'être. Whether that comes from closeups of the shoddy watercolors from his failed first career as a street artist (for which an art historian offers a blunt assessment) or roaming the mountainous regions where he forged his ethereal man-of-the-Aryan-people brand, 'The Meaning of Hitler' excels at assembling an exploratory nonfiction biopic."

UPDATE I support the tropes:

After the Ilhan Omar "all about the benjamins" mega-scandal I farsightedly called for a federal Trope Police, which I now think should be supplemented by a corps of well-funded, heavily armed Slogan Cops#PoliceReform

— Savvy & Realistic Democrat (@RealisticDemoc1) November 14, 2020

Well, we should certainly include them in the training sets of AI moderators on social media.
Stats Watch
At reader request, I added some business stats back in. Please give Econintersect click-throughs; they're a good, old-school blog that covers more than stats. If anybody knows of other aggregators, please contact me at the email address below.
Manufacturing: "November 2020 Empire State Manufacturing Index Declined" [Econintersect]. "The Empire State Manufacturing Survey index declined but remained in expansion… The Empire State Manufacturing Survey index declined but remained in expansion."
* * *
.
Tech: "HP: That print-free-for-life deal we promised you? Well, now it's pay-per-month to continue using your printer ink" [The Register]. "For users who don't need to print much, and to lure folks into the subscription system, HP marketed a print-free-for-life tier that cost nothing, though it was limited to 15 pages a month, and $1 per 10 additional pages. The idea being: you buy a printer, you sign up for the Instant Ink free tier, and get enough supplies gratis to print a few things a month during the device's lifetime. Well, not anymore: the free tier is being scrapped, and now folks have to pay. Below is a typical email sent to customers at the end of last month. One print-free-for-life reader told us he has to start paying HP a monthly fee from December 26, or his printer will stop working unless he buys his own fresh cartridges. The fees start from $0.99 a month for 15 pages, just like the free tier albeit with the ability to rollover up to 45 unused pages."
* * *
.
Today's Fear & Greed Index: 67 Greed (previous close: 59 Greed) [CNN]. One week ago: 52 (Neutral). (0 is Extreme Fear; 100 is Extreme Greed). Last updated Nov 16 at 1:40pm.
Rapture Index: Closes up one on leadership. "The potential win by the Democrats has upgraded this category" [Rapture Ready]. Record High, October 10, 2016: 189. Current: 181. (Remember that bringing on the rapture is a good thing, so high is better.) I would have expected "Beast Government" to be popping with Biden's election. "Leadership" seens a little anodyne.
The Biosphere
"How To Spot Wildlife In The City: Tips From An Urban Naturalist" [Euronews]. "With British towns teeming with wildlife, I started to realise that becoming an urban naturalist has never been easier – and anyone can do it. Mental health experts have shown that spending time in nature can be extremely positive for our wellbeing and it gets us away from the daily stress and pressures of city lifestyle. Crucially, the more of us take an interest in the wildlife in our cities, the more local government will have to plan with animals in mind. We'll demand cleaner waterways, more trees and larger green spaces. Bricks can be modified into homes for migratory swifts and insects can benefit too. For instance, tree bumblebees that have moved through Europe into the UK, are currently nesting in a bird box in my garden. Fascinating, charismatic species can be found right next to where you live. By taking an interest in our local ecosystems, learning about the species that surround us, and preserving our most biodiverse regions, we can ensure a sustainable future for all city-dwellers. The first step is to get outside and look." • I'm sure this is true everywhere, not just the UK!
UPDATE "Salty rivers, failed durian trees and waves consuming the shore: Climate change realities hit Gulf of Thailand" [Channel News Asia]. "Thailand is a low lying country, which is extremely vulnerable to sea level rise driven by climate change. Combined with coastal erosion and long periods of drought, the lack of fresh water, especially in provinces close to the sea, is becoming problematic. 'It's natural that the amount of saltwater mass intrusion depends on the fresh water that comes from the mountains. If the freshwater mass is big, it will push the salt water out,' said Assistant Professor Payom Rattanamanee, a riverine and coastal engineer at Prince of Songkla University. 'But in drought season, when the fresh water doesn't have power, the salt water which has more density will push itself into canals and rivers more,' he said. As a result, underground water resources have been contaminated, important river systems face serious saltwater intrusion and farmers are seeing their crops fail. Critically, some drinking water resources, including in the capital city, are turning saline."
UPDATE "Satellite observations reveal extreme methane leakage from a natural gas well blowout" [PNAS]. "Emissions from the fossil fuel industry are one of the major sources of atmospheric methane. Gas leakages due to accidents in the oil and gas sector can release large amounts of methane within short periods of time. Although these emissions are very challenging to monitor, satellite measurement platforms offer a promising approach by regularly scanning the entire globe. This study demonstrates this capability of satellite measurements by reporting atmospheric measurements of methane emission from a natural gas well blowout in Ohio in 2018. Assuming a constant emission rate during the whole event, we find the total methane emission from the 20-d blowout to be equivalent to a substantial fraction of the annual total anthropogenic emission of several European countries." • Here's video footage. Yes, it's fracking. Of course.
UPDATE "How a Human Cousin Adapted to a Changing Climate" [New York Times]. "The change [in chewing muscles] would have been the result of microevolution, or an evolutionary change occurring within a species. Such a morphological change, the scientists said, was likely the result of P. robustus adapting to that changing climate, with members of the species who were able to get enough nutrition from a change in their food supply surviving, and passing their traits to offspring." • So there's hope, then!
Health Care
"Moderna says its coronavirus vaccine is 94.5% effective against COVID-19, a crucial victory in the fight against the pandemic" [Business Insider]. "The upstart biotech Moderna announced the success Monday morning in a press release, saying its vaccine was 94.5% effective at preventing COVID-19, the disease caused by the novel coronavirus. An independent group of experts found clear signs of effectiveness after reviewing preliminary data from an ongoing 30,000-person study, Moderna said…. Moderna's analysis was based on 95 COVID-19 cases, while Pfizer's review included 94 cases. Neither company's data has been published in a scientific journal, and both are still collecting more information on how safe their shots are." • So not time to declare victory yet.
"2nd virus vaccine shows overwhelming success in U.S. tests" [Associated Press]. "Pfizer's [vaccine] must be kept at ultra-cold temperatures — around minus 94 degrees Fahrenheit. Moderna's vaccine also starts off frozen, but the company said Monday it can be thawed and kept in a regular refrigerator for 30 days, easing that concern."
"An mRNA Vaccine against SARS-CoV-2 — Preliminary Report" [Nature]. The article is dated November 12, 2020. Weirdly, there's also an Editor's Note: "This article was published on July 14, 2020, at NEJM.org." "We conducted a phase 1, dose-escalation, open-label trial including 45 healthy adults, 18 to 55 years of age, who received two vaccinations, 28 days apart, with mRNA-1273 in a dose of 25 μg, 100 μg, or 250 μg. There were 15 participants in each dose group…. The mRNA-1273 vaccine induced anti–SARS-CoV-2 immune responses in all participants, and no trial-limiting safety concerns were identified. These findings support further development of this vaccine." • This the Moderna vaccine
"How to Avoid a Surprise Bill for Your Coronavirus Test" [New York Times]. "Congress wrote rules in March that aimed to make coronavirus testing free for all Americans. Patients, with or without insurance, have found holes in those new coverage programs. They've faced bills that range from a few dollars to over $1,000. I've spent much of the past four months collecting patients' bills related to coronavirus. As part of that project, I've read through more than 100 patient stories about coronavirus tests. Many patients are happy to report no charge at all, while others have been billed large unexpected fees or denied claims related to coronavirus tests. The surprise bills have hit uninsured Americans as well as those with robust coverage. These are some simple steps you can take to lower your chances of becoming one of them." Step one: "If you can, get tested at a public site." • Whaddya know.
"Surging virus cases get a shrug in many Midwestern towns" [Associated Press]. "'We have an 18-year-old and a 16-year-old, and we certainly believe this is an important time of life to maybe shine a little bit,' [Jay Stibbe] said. "We're trying to create as much normalcy as we can. We try not to live in fear. We've traveled. We go out to dinner." In Plattsmouth, Nebraska, Karen Prohaska, 76, said she generally doesn't wear a mask in her downtown purse and jewelry shop but will put one on at the request of a customer. When customers come into the store with a face covering, she asks if they'd like her to don one as well. Most say no and ask if it's OK for them to remove theirs. 'I hope that I don't get the virus, but I've never really been a germophobe,' Prohaska said. The pandemic hasn't stopped Mary Gerteisen, of Eagle, Nebraska, from visiting her 96-year-old father on weekends to watch football. Gerteisen said she understands the risks, given her father's age and vulnerability, but she also weighed the fact that he's in the early stages of dementia and often believes family members have abandoned him. 'There are times when I think that I do need to take the pandemic more seriously,' she said. 'But I want to see my dad, and I don't know much longer I have with him. I would love for him to live to 100-some years old, but if he comes down with (the virus), he's lived a good, long life." • "Maybe shine a little bit" is so, so sad…
Heh heh:
First, do no harm, eh?
The replication crisis:
There have been serious replication issues w/ #AI but now it has become prominent for #COVID19 applications. A recent mortality predictive model w/ 3 biomarkers (LDH, CRP, lymphocyte count) was shown to be irreproducible by 3 groups @NatMachIntell pic.twitter.com/wlgorUFekS

— Eric Topol (@EricTopol) November 15, 2020
It would be nice if we were planning to avoid this:
In which South Park was ahead of the curve on vaccines https://t.co/YfNVAjnHcH

— Izabella Kaminska (@izakaminska) November 16, 2020
Our Famously Free Press
"This tool could act as an early warning system for harmful conspiracy theories" [Fast Company]. "But how can you tell if an emerging narrative on social media is an unfounded conspiracy theory? It turns out that it's possible to distinguish between conspiracy theories and true conspiracies by using machine learning tools to graph the elements and connections of a narrative. These tools could form the basis of an early warning system to alert authorities to online narratives that pose a threat in the real world. The culture analytics group at the University of California, which I and Vwani Roychowdhury lead, has developed an automated approach to determining when conversations on social media reflect the telltale signs of conspiracy theorizing. We have applied these methods successfully to the study of Pizzagate, the COVID-19 pandemic, and anti-vaccination movements. We're currently using these methods to study QAnon." • Not RussiaGate?
Zeitgeist Watch
"How Economists Can Enhance Their Scientific Creativity, Engagement and Impact" [Confessions of a Supply-Side Liberal]. " I am offering a six-week program (on Zoom) to enhance your personal scientific creativity, engagement and impact in economics." • Mainstream economists need coaching now?
Guillotine Watch
Do all 1%-ers have terrible taste?
8 E 62nd St, New York, NY 10065
Priced at: $65,000,000
6 beds / 8 baths / 14,825 sqft

thread – exterior & foyer (1/3) pic.twitter.com/pufuWrZoRE

— Guillotine-Worthy Zillow Listings (@Zillotine) November 15, 2020
"Wells Fargo offers Native American designs on credit cards" [Indian Country]. "Wells Fargo said the campaign stems from its commitment to future generations…." • Oh.
Class Warfare
"Rule by Data: The End of Markets?" (PDF) [Katharina Pistor, Law and Contemporary Problems]. "This Article explores data as a source and, in their processed variant, as a means of governance that will likely replace both markets and the law. Discussing data not as an object of transactions or an object of governance, but as a tool for governing others on a scale that rivals that of nation states with their law, seems a fitting topic for a special issue that is devoted to the legal construction of markets. Here, I argue that while it may well be the case that law constitutes markets, markets are not the only way in which economic relations may be organized, and law is not the only feasible mode of governing these relations. Central planning under socialism posed an alternative, which proved ultimately non-viable. The rise of big tech companies (Big Tech) and their accumulation of vast amounts of data offers yet another possibility: the rule by data." • The first paragraph. Throws down the gauntlet, doesn't it?
UPDATE Mutual aid:
You're right. Federal Gov – failed us. States Gov – trying to balance business and people. Citizen – making judgments for their self-interest.

We have to look after ourselves and loved ones. And give mutual aid to other when we can. Mutual aid is the only thing working now.

— Bill Auchter ⛏️?️?is Anti-Facist?#BLM (@archaeothoughts) November 15, 2020
News of the Wired
Oone thing about Gritty: He does not have zozobra:
I heard French people watching our elections were confused about who Gritty is, so I made this explainer for them. Bon appétit! pic.twitter.com/d9vJmrIKgq

— Pjörk? (@NicoleConlan) November 12, 2020
* * *
Readers, feel free to contact me at lambert [UNDERSCORE] strether [DOT] corrente [AT] yahoo [DOT] com, with (a) links, and even better (b) sources I should curate regularly, (c) how to send me a check if you are allergic to PayPal, and (d) to find out how to send me images of plants. Vegetables are fine! Fungi and coral are deemed to be honorary plants! If you want your handle to appear as a credit, please place it at the start of your mail in parentheses: (thus). Otherwise, I will anonymize by using your initials. See the previous Water Cooler (with plant) here. Today's plant (RM)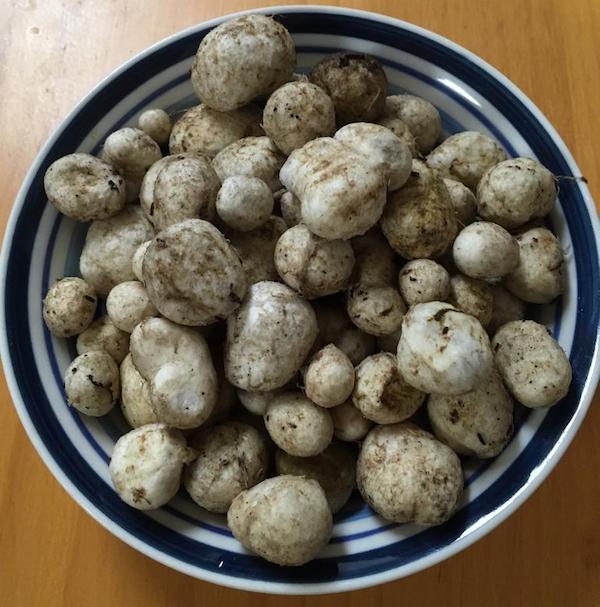 RM write: "I collected these Oregon White Truffles in Pacific City, Oregon. Additional treasure include a nice haul of King Boletes and a small bag of magic. It was a good morning. Oregon has a medical psilocybin measure on the ballot. Getting that passed would be a good first step." It passed!
* * *
Readers: Water Cooler is a standalone entity not covered by the recently concluded and — thank you! — successful annual NC fundraiser. So if you see a link you especially like, or an item you wouldn't see anywhere else, please do not hesitate to express your appreciation in tangible form. Remember, a tip jar is for tipping! Regular positive feedback both makes me feel good and lets me know I'm on the right track with coverage. When I get no donations for five or ten days I get worried. More tangibly, a constant trickle of donations helps me with expenses, and I factor in that trickle when setting fundraising goals:
Here is the screen that will appear, which I have helpfully annotated.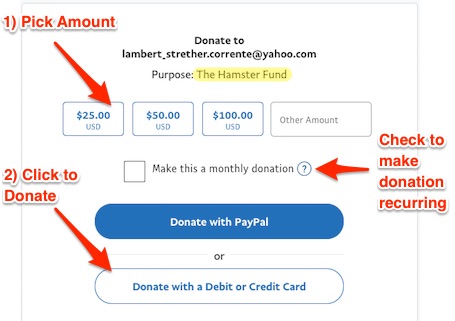 If you hate PayPal, you can email me at lambert [UNDERSCORE] strether [DOT] corrente [AT] yahoo [DOT] com, and I will give you directions on how to send a check. Thank you!