By Lambert Strether of Corrente.
Friday the 13th, hoo boy! A bit more from the Augean stables coming shortly… –lambert
Bird Song of the Day
Owls seem to be really hard to record, for some reason.
#COVID19
At reader request, I've added this daily chart from 91-DIVOC. The data is the Johns Hopkins CSSE data. Here is the site.
Case count by United States region: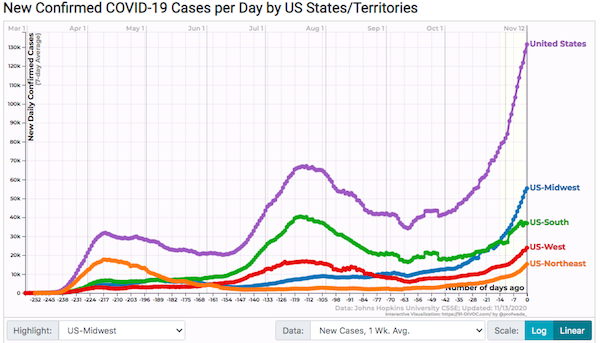 Test positivity by region: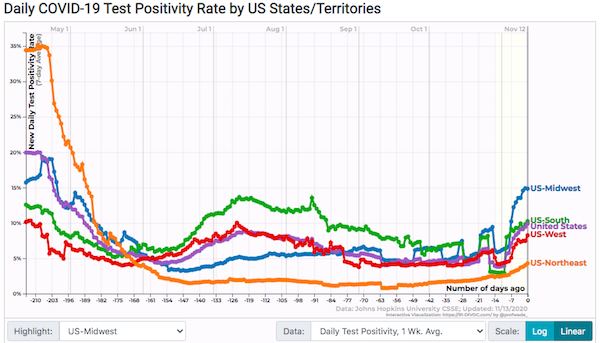 Case fatality rate by region: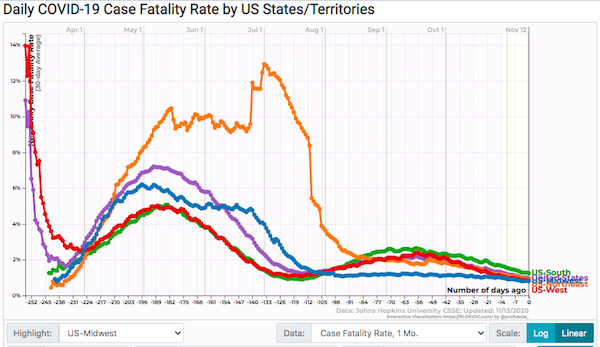 We'll need to watch this to see if it changes with the increased case count.
Hospitalization by region: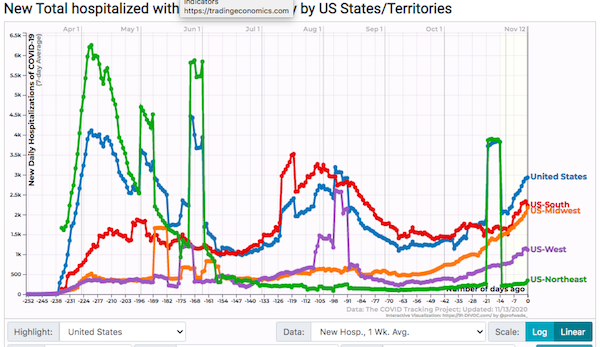 Politics
"But what is government itself, but the greatest of all reflections on human nature?" –James Madison, Federalist 51
"They had one weapon left and both knew it: treachery." –Frank Herbert, Dune
"They had learned nothing, and forgotten nothing." –Charles Maurice de Talleyrand-Périgord
Election Legitimacy
"Karl Rove: Trump lawsuits won't change election's outcome" [The HIll]. "Election analysts have said Biden's margins are too large to make a material difference in several of the states in which Trump is mounting challenges. 'There is no evidence of that so far,' Rove wrote. 'Unless some emerges quickly, the President's chances in court will decline precipitously when states start certifying results.' Rove, who served in former President George W. Bush's administration and appears regularly as a political analyst on Fox News, said Trump and his team have a right to ensure every vote in the election was legally cast. [Rove called for] Trump to concede the election once all of his legal options have been exhausted." • And Rove should know…

PA: "Pennsylvania Court Tosses Some Mail-In Ballots With ID Fixes" [Bloomberg]. "Pennsylvania mail-in voters who took advantage of a deadline extension to provide missing proof of identification won't have their ballots counted in the final tally. Commonwealth Court Judge Mary Hannah Leavitt ruled Thursday that Pennsylvania Secretary of State Kathy Boockvar lacked the authority to extend the original Nov. 9 deadline for proof of ID by 3 days. The ruling means the battleground state that's already been declared for President-elect Joe Biden can't count ballots from voters who submitted missing identification between Nov. 10 and Nov. 12. Ballots with "cured" ID issues received before that aren't being challenged…. It's not clear how many ballots fit that bill, though state officials have said suits over defective ballots can't change the outcome of the race, in which Biden had a lead on Thursday of 55,978 votes."

"No, Dominion voting machines did not delete Trump votes." [New York Times]. • if one of the outcomes of the 2020 election is legitimating (private equity-made, unauditable) ballot marking devices, I'm gonna cut the soles of my shoes, sit up in a tree, and learn to play the flute.

"REPORT: Dominion Voting Systems Didn't Cause Voter Fraud In Michigan Or Georgia" [Daily Caller]. "
2020 Democrats in Disarray
That's why they pay consultants the big bucks (1):

Tensions inside the Democratic party are boiling over and spilling out into public view https://t.co/WRevVz5eMO pic.twitter.com/ArpbxmFX9k

— POLITICO (@politico) November 12, 2020

That's why they pay consultants the big bucks (2):

a good place to start if Democrats want to win elections would be to run on a message the candidate actually believes is true! pic.twitter.com/S95MFeQqma

— Josh Miller-Lewis (@jmillerlewis) November 12, 2020

Stop saying "stop saying":

Stop saying "gay marriage."

Poll after poll after poll is clear. The public supports civil unions, but they DON'T support gay marriage. https://t.co/CqZUsWsymp

— Eoin Higgins (@EoinHiggins_) November 11, 2020

UPDATE And people ask me why I think "Democratic" Party is a misnomer:

MassDems meeting adjourns, then ends on a tense note. Some committee members were frustrated the party didn't do more to address "the elephant in the room" after briefly touching on the independent investigation released last week re: Alex Morse's campaign pic.twitter.com/6GzAp5uoVQ

— Stephanie Murray (@stephanie_murr) November 13, 2020

"Elissa Slotkin Braces for a Democratic Civil War" [Politico]. Slotkin should know; she's a CIA Democrat. "She fears that Democrats have created a barrier to entry, largely along cultural lines, that makes the party fundamentally unwelcoming to anyone with supposedly retrograde views of the world around them. This is not merely about race and racism. The schisms go far deeper, to matters of faith and conscience, economic freedom and individual liberty. Indeed, for the heavy losses Trump sustained among affluent college-educated whites, he nearly won a second term because of his gains with Black and brown voters. That these Americans were willing to support Trump, often in spite of his rhetoric, reveals an uncomfortable truth for the left." • I can't think of another publication that more relentlessly confuses liberals and left than Politico. And I'm noticing CIA Democrats all over my Twitter feed lately. Odd.

"Joe Biden's Likely Pick to Lead His Party" [The Atlantic]. Wait, let me guess. A loser. Yep: "there's only one name on leading Democrats' list for Democratic National Committee chair: Jaime Harrison, who lost a race for U.S. Senate in South Carolina last week…. Harrison became nationally known this year during his run against Senator Lindsey Graham, as he set fundraising records and became a cause for Democrats far beyond his state. Graham ultimately won by a much-wider-than-expected 10-point margin… Harrison has the support of James Clyburn…." • And he's not just a loser, he's worked for the Podesta Group: "His clients at the Podesta Group included banks, such as Bank of America and Wells Fargo, Berkshire Hathaway, pharmaceutical companies, casinos, the American Coalition for Clean Coal Electricity, and Walmart." He's perfect!
Biden Transition
"One Third of Biden's Pentagon Transition Team Hails From Organizations Financed by the Weapons Industry" [In These Times]. "Of the 23 peo­ple who com­prise the Depart­ment of Defense agency review team, eight of them — or just over a third — list their ​"most recent employ­ment" as orga­ni­za­tions, think tanks or com­pa­nies that either direct­ly receive mon­ey from the weapons indus­try, or are part of this indus­try." • Shocker!

UPDATE "Biden chooses a White House chief who 'matches this moment'" [The Hill]. "Though Klain has advised many of the Democratic Party's senior leaders, he has always been close to Biden, beginning in 1988 when he worked as a speechwriter on Biden's first presidential campaign… He has served as a chief of staff to former Vice President Al Gore, then as the chief counsel leading Gore's legal strategy during the 2000 recount…. As the economy cratered during the transition between administrations, Obama delegated the implementation of the recovery package to his vice president and to Klain." • Wait. Wait. The 1988 Biden campaign was the one where Biden plagiarized a speech, and Gore's legal strategy in the Florida 2000 recount was a debacle, as was Obama's recovery program. So hold onto your hats. To be fair, this:

[Klain rejoined the administration] manage the American response to the worst outbreak of the Ebola virus in modern history in three impoverished West African countries.

Klain had no experience managing a public health crisis or with the Ebola virus. But he was an expert in the machinations of a leviathan government, and how to work its levers to speed implementation of White House decisions that needed to be executed immediately.

For six months, Klain and his small team worked out of a prime office suite in the Eisenhower Executive Office Building overlooking the White House. He managed sometimes warring factions of America's crisis management infrastructure, from the U.S. Agency for International Development and the Centers for Disease Control and Prevention (CDC), to help bring the virus under control overseas and to prepare the nation's hospitals for a domestic outbreak that never materialized.

I had thought Klain had some public health expertise, but no; he's a fixer. (This is also the liberal Democrat concept of "leadership": working the levels. "Fundamentally, nothing will change.") I'm not sure if experience managing Ebola translates to experience managing Covid; perhaps some of epidemiologists can comment.
2020
Trump (R)(1): "Why Trump's Suburban Strategy Failed" [Bloomberg]. "While the majority of White women voted for Trump in 2020, even more so than in 2016, pre-election polling suggested that suburban women were likely to be among his largest defectors. There are likely a number of a reasons for this, but one of them is that Trump's strategy fundamentally misunderstood the suburbanites he was talking to. Many White suburbanites already had Black and brown neighbors that Trump told them to fear, shared similar concerns around the lives lost to Covid-19, and had protests over anti-Black police violence happening right outside their doorsteps. Many were unconvinced that low-income housing would result in crime or falling property values and supported racially integrated neighborhoods. In the battleground suburbs of Minneapolis and Wisconsin, polls showed that White women were not particularly concerned about affordable housing in their backyards. In the Philadelphia suburbs, Trump's rhetoric on race galvanized White suburban women to organize against him. In Portland, White suburban moms and dads came out with leaf blowers to keep police from attacking Black and brown protesters."

* * *

"Why pollsters missed the election results so badly" [The National Journal]. "Of all the embarrassing polling misses in the 2020 election, the biggest disconnect between polling and reality came from the House-race landscape. The consensus among the top electoral handicappers was that Republicans would lose 10-15 House seats, with all the late movement benefiting Democrats. Instead, Republicans are on track to net at least seven House seats, and may end up winning as many as 13 Democratic-held seats when all the votes are counted. It's likely that not a single House Republican will lose reelection. That's a whopping error that can't be dismissed lightly…. While polling from partisans can certainly be cherry-picked to push a favorable narrative, there was a remarkable degree of consensus between what Republican and Democratic congressional campaign operatives were seeing this year. Their major takeaway: Republicans were going to get wiped out in the suburbs, particularly in affluent, conservative-leaning Southern and Midwestern districts that had long been Republican strongholds…. the House results give credence to an alternative view, outlined in a compelling article by political science professor Eric Kaufmann, arguing that "political correctness has left a cadre of white college graduates unwilling to reveal their voting intentions." In the piece, he offers evidence that there is a shy Trump vote coming not from white working-class MAGA supporters but rather from affluent Republican-leaning voters in the suburbs afraid to share their views on politics and hot-button cultural issues in public." • Predatory precarity!

UPDATE "How Did Trump Do in Counties That Backed Him in 2016?" [New York Times]. One of those horrid interactive things the Times does more and more, but still useful: "But a vast majority of the counties that swung hard for Mr. Trump in 2016 continued to firmly support him this year, or shifted even further to the right."

UPDATE "Democrats Can't Blame the Left for Their Lackluster Election Results" [Jacobin]. "Had Democrats delivered the landslide many were promising right up until election day, it's not difficult to imagine the conclusions that would have ensued. Having defeated Bernie Sanders's insurgent campaign for the Democratic nomination and run the pathologically centrist Biden in his place, centrists would have viewed the result as ultimate proof of the Left's irrelevance. We all know, of course, that the election yielded nothing of the kind…. As both Bernie Sanders and Alexandria Ocasio-Cortez have argued, no fewer than a hundred twelve House cosponsors of Medicare for All stood for election and not a single one lost (at least eight Democratic House members who ran against Medicare for All, meanwhile, were defeated). Of the Green New Deal's ninety-three cosponsors, ninety-two will be returning to Congress in January. As Ben Burgis points out, left-wing organizing work in states like Michigan also played a significant role in ensuring Biden's victory at the top of the ballot."

UPDATE "LatinX-plaining the election" [The Pull Request]. "One day, it suddenly seemed like every upper-middle-class LatAm family had a bank account and a condo in Miami, and was sending their kids to FIU (the local state university, highest foreign enrollment in the US). Miami had gone from a provincial city of refuge to a cross between Vancouver and Singapore, but for Latin America instead of China… Which is why I was unsurprised with the election news about how Miami Cubans had broken ever harder right than usual, helping secure Florida for Trump. It's exactly what I would have expected… The other 'Latino' shock of the election was the Texas border counties that flipped or otherwise showed huge GOP gains, sometimes more than 30%(!), in counties that are heavily (meaning close to 90%) Hispanic…. Firstly, concerns about the energy economy in the area drove much voting: Biden's comments about eventually shuttering the oil industry in the debate did not go over well. And after that, the usual laundry list of typical political concerns, little distinguishable from other GOP voters: jobs, gun rights, jobs, abortion, jobs, religion, and once again, jobs. What most stuck out due to its absence in all these "why'd these counties go red?" pieces is the overarching issue that supposedly obsesses the Hispanic voter: immigration…. Only from the all-look-same perspective of the Anglo mainstream would American Hispanics, many of whom have been here for generations, somehow reflexively consider themselves in the same boat as undocumented migrants coming across the border." • The whole piece is worth a read.

* * *

AK: "Sullivan wins re-election in Alaska, taking U.S. Senate battle down to Georgia" [Reuters]. "U.S. Republican Senator Dan Sullivan of Alaska won re-election, Edison Research and television networks projected on Wednesday, leaving control of the Senate to be determined in January by two runoff elections in Georgia."

UPDATE AL "In the Weeds w/ Tommy Tuberville, Alabama's next senator" [Alabama Daily News]. Tuberville: "[M]y dad fought 76 years ago in Europe to free Europe of Socialism." • The whole interview is worth a read. Tuberville is being pilloried as an idiot, but his comments on staffing decisions are interesting. "[L]earn the fundamentals!" Here's Tuberbville's coaching record. "He is the only coach in Auburn football history to beat in-state rival Alabama six consecutive times." So he's got that going for him.

UPDATE CA: "And the winner is … real estate: Cali's industry cleaned up on Election Day" [The Real Deal]. "After a year struggling to collect rent, show homes and get loans, the California real estate industry won big on Election Day. Voters defeated a ballot initiative that would have let cities and counties impose residential rent control. The margin of victory, 60 percent to 40 percent with nearly three-quarters of ballots counted as of noon Thursday, was decisive. Another measure, which sought to raise commercial property taxes, seemed headed for defeat with 'no' votes leading 'yes' 51.7 percent to 48.3 percent. And a ballot question financed by the California Association of Realtors to encourage home sales looks likely to pass. The current tally on Proposition 19 is 51.5 percent 'yes' and 48.5 percent 'no.'"

UPDATE KY: "Hal Rogers's Kentucky Kingdom" [Tarance Ray, Dissent]. "[A]s a former Chairman of the House Appropriations Committee, the elite "College of Cardinals" that manages the government's budget, and the ranking member of the House Appropriations Subcommittee on State and Foreign Operations, [Rogers is] one of the most powerful men in Washington…. Most people, when they think of powerful politicians from Kentucky, think of Senate Majority Leader Mitch McConnell, who over the last decade or so has singlehandedly reshaped how Congress functions, and has all but ensured the prioritization of corporate interests within the federal judiciary. So you're telling me there's another powerful congressman from Kentucky who has control over virtually every aspect of my life? That is indeed what I'm telling you, my friend, and it's no coincidence that both of these men come from the mostly rural state of Kentucky…. As the nation's rural regions experienced deindustrialization, out-migration, drug-assisted suicide, or a combination of all the above over the last three or four decades, rural elites had to figure out a way to maintain control over their constituents. Many of them turned to Rogers's example." • This is must read; I can't really excerpt it properly, it's so dense.
RussiaGate
"What is John Brennan So Worried About?" [Ray McGovern, Consortium News]. "Brennan appeared this week on both CNN and MSNBC to spread alarm about what Trump might do as he continues to contest the election results and appoints new people at Defense, NSA (and possibly CIA) who may do his bidding. Brennan warned on CNN that it was 'very, very worrisome' that Trump 'is just very unpredictable now … like a cornered cat — tiger. And he's going to lash out.' Brennan told MSNBC he was worried that Trump has called for the 'wholesale declassification of intelligence in order to further his own political interests.'" • You say "wholesale declassification of intelligence" like that's a bad thing.
Realignment and Legitimacy
UPDATE "Young Democratic Socialist, progressive candidates sweep into office across Peninsula" [Mercury News]. "All across the Bay, socialist and progressive young people like Lopez led insurgent campaigns for local elected positions and won, including several against sitting council members and established community leaders that led to upsets. From Redwood City to Oakland to South San Francisco, grassroots campaigns brought together tenant activist groups, unions and local community movements and elected firmly left-wing candidates who promised to bring socialist and progressive ideas to city councils that have fallen out of favor with many low-income people facing difficult material realities in increasingly more gentrified communities…. The local South Bay [DSA] chapter …. — which boasts nearly 100,000 members — endorsed six candidates, with just two losing out."

"Culture and Belonging in the USA" [Political Research Associates]. "Coming onto the scene in 2016, Patriot Prayer and the Proud Boys are part of a trend of Far Right organizing that departs from their explicitly White nationalist contemporaries, and often fuses antiracist language into otherwise nationalist, misogynistic, libertarian, and xenophobic platforms. With people of color in positions of leadership and representing 10 percent9 of their August rally, the groups represent something substantively different from old-style White supremacism in terms of both ideology and organizing: what scholars and journalists refer to as the Multiracial Far Right. The emergence of this new bloc raises several questions. First, why are people of multiracial backgrounds gravitating to Far Right groups? Further, is this a new phenomenon or is there historical precedent for this sort of unlikely partnership? Finally, if racial exclusion isn't the ultimate glue that binds this sector of Far Right groups together, how are these groups "transcending" race, and what issues continue to be fault lines within their movement?"

UPDATE "The Next Decade Could Be Even Worse" [The Atlantic]. "The year 2020 has been kind to Turchin, for many of the same reasons it has been hell for the rest of us. Cities on fire, elected leaders endorsing violence, homicides surging—­­to a normal American, these are apocalyptic signs. To Turchin, they indicate that his models, which incorporate thousands of years of data about human history, are working. ("Not all of human history," he corrected me once. "Just the last 10,000 years.") He has been warning for a decade that a few key social and political trends portend an "age of discord," civil unrest and carnage worse than most Americans have experienced. In 2010, he predicted that the unrest would get serious around 2020, and that it wouldn't let up until those social and political trends reversed. Havoc at the level of the late 1960s and early '70s is the best-case scenario; all-out civil war is the worst. The fundamental problems, he says, are a dark triad of social maladies: a bloated elite class, with too few elite jobs to go around; declining living standards among the general population; and a government that can't cover its financial positions." • Interesting read. I'm not sure how good Turchin's data really is; in fact, the whole concept of representing history as fielded data strikes me as odd. Mike Duncan comments:

We are probably at the nadir of "General Laws of History" being anything any historian believes, pursues, or advocates. So I don't mind Turchin's attempt. If only to voice something that nobody wants to voice anymore.

— Mike Duncan (@mikeduncan) November 13, 2020
Stats Watch
At reader request, I added some business stats back in. Please give Econintersect click-throughs; they're a good, old-school blog that covers more than stats. If anybody knows of other aggregators, please contact me at the email address below.
Consumer Sentiment: "Preliminary November 2020 Michigan Consumer Sentiment Significantly Declines Due To Republican Consumers" [Econintersect]. "Surveys of Consumers chief economist, Richard Curtin, makes the following comments: 'Consumer sentiment fell in early November as consumers judged future economic prospects less favorably, while their assessments of current economic conditions remained largely unchanged. The outcome of the presidential election as well as the resurgence in covid infections and deaths were responsible for the early November decline. Interviews conducted following the election recorded a substantial negative shift in the Expectations Index among Republicans, but recorded no gain among Democrats. It is likely that Democrats' fears about the covid resurgence offset gains in economic expectations: 59% of Democrats reported that their normal life had changed to a great extent due to the coronavirus compared with just 34% among Republicans. The gap in expectations closed somewhat due to the coronavirus and the partisan shift in expectations that began well before the election. Note that Republicans now voice the least favorable economic expectations since Trump took office, and Democrats have voiced more positive expectations….
Inflation: "October 2020 Producer Price Final Demand Continues To Show Little Year-over-Year Growth" [Econintersect]. "Year-over-year inflation pressures remain soft as this index is barely in expansion."
* * *
.
Shipping
Dry Bulk Market Receives Boost From US Election Outcome Hellenic Shipping News
Tech: "macOS Big Sur launch appears to cause temporary slowdown in even non-Big Sur Macs" [Ars Technica]. "Mac users today began experiencing unexpected issues that included apps taking minutes to launch, stuttering and non-responsiveness throughout macOS, and other problems. The issues seemed to begin close to the time when Apple began rolling out the new version of macOS, Big Sur—but it affected users of other versions of macOS, like Catalina and Mojave… It didn't take long for some Mac users to note that trustd—a macOS process responsible for checking with Apple's servers to confirm that an app is notarized—was attempting to contact a host named ocsp.apple.com but failing repeatedly. This resulted in systemwide slowdowns as apps attempted to launch, among other things." • Reflections on trusting trustd–
Tech: "Your Computer Isn't Yours" [Jeffrey Paul]. "On modern versions of macOS, you simply can't power on your computer, launch a text editor or eBook reader, and write or read, without a log of your activity being transmitted and stored…. It turns out that in the current version of the macOS, the OS sends to Apple a hash (unique identifier) of each and every program you run, when you run it. Lots of people didn't realize this, because it's silent and invisible and it fails instantly and gracefully when you're offline, but today the server got really slow and it didn't hit the fail-fast code path, and everyone's apps failed to open if they were connected to the internet…. The day that Stallman and Doctorow have been warning us about has arrived this week. It's been a slow and gradual process, but we are finally here." • Not really news, but clearly and forcefully put.=
Tech
https://www.theregister.com/2020/11/12/hp_free_printing/
Tech
macOS 11 Big Sur now available, here's what's new for your Mac
Mr. Market: "Pfizer vaccine news sparks $44.5 billion flood into the stock market—its biggest weekly inflow ever, says BofA" [MarketWatch]. " How seismic was the stock-market move that kicked off the week following news of effective coronavirus vaccine candidate? It was the best week ever for inflows, according to BofA Global Research, in a report dated Thursday but released broadly on Friday. The investment management firm reported some $44.5 billion in flows into equity funds for the week, exceeding a flood of funds that poured into stocks back near the spring of 2018. About $38.7 billion of investor funds were pumped into exchange-traded funds, while $5.7 billion flowed into mutual funds. Investors also reduced their cash holdings by $17.8 billion, according to the report led by Michael Hartnett, chief investment strategist. Meanwhile, the analysts noted that flows into government bonds yielding less than 0% surged to around $17 trillion, approaching the highest since late 2019." • $17 trillion! That's real money!
Mr. Market
These stocks have the most to gain from a vaccine, according to UBS analysis CNBC
* * *
.
Today's Fear & Greed Index: 55 Neutral (previous close: 56 Greed) [CNN]. One week ago: 40 (Fear). (0 is Extreme Fear; 100 is Extreme Greed). Last updated Nov 13 at 12:38pm.
The Biosphere
"Using Wolves as First Responders Against a Deadly Brain Disease" [New York Times]. • Will it work in the Beltway?
Health Care
"'Breakthrough Finding' Reveals Why Certain COVID Patients Die" [Kaiser Health News]. "In an international study in Science, . Only four of 1,227 healthy individuals had the autoantibodies. The study, published on Oct. 23, was led by the COVID Human Genetic Effort, which includes 200 research centers in 40 countries. Significantly, patients didn't make autoantibodies in response to the virus. Instead, , said Paul Bastard, the antibody study's lead author, also a researcher at Rockefeller University. For reasons that researchers don't understand, the autoantibodies never caused a problem until patients were infected with COVID-19, Bastard said. Somehow, the novel coronavirus, or the immune response it triggered, appears to have set them in motion. 'Before COVID, their condition was silent,' Bastard said. "Most of them hadn't gotten sick before."
"Fewer people say they would take a COVID-19 vaccine now than 3 months ago" [World Economic Forum]. "But this latest World Economic Forum-Ipsos survey shows that confidence in taking a COVID-19 vaccine has dropped since August, with fewer people globally saying they'd get one. The survey shows that on average, across 15 countries, 73% of adults strongly or somewhat agree with the statement "if a vaccine for COVID-19 were available, I would get it". 3 months ago, that figure was 77%. At the time, the shortfall in vaccine confidence was significant enough to be seen to compromise the effectiveness of seeing an end to the pandemic. Confidence is now down by 4 points compared to three months ago. Vaccination intent has declined in 10 of the 15 countries, most of all China, Australia, Spain, and Brazil. More than four in five in India, mainland China, South Korea, and Brazil, however, say they would get a vaccine if available – compared to just over half in France and about two in three in the US, Spain, Italy, South Africa, Japan, and Germany."
"Poorer nations face vaccine wait as West locks down supply" [Agence France Presse]. "Hailed this week as a pandemic game-changer, the new Covid-19 vaccine offered countries that had pre-ordered doses a potential escape from a cycle of lockdowns and new waves of sickness and death. But while richer nations plan their vaccination programmes through the end of 2021, experts warn that poorer and developing countries face hurdles that could deny billions the first proven protection against the coronavirus. Vaccine developers Pfizer and BioNTech plan to roll out the first doses within weeks, once they receive emergency use permissions from drug agencies. They expect to have 1.3 billion doses ready next year. The results of phase 3 clinical trials showed their mRNA vaccine was 90 percent effective in preventing Covid-19 symptoms and did not produce adverse side effects among thousands of volunteers." • They didn't effing "show it." A press release asserted it. We haven't seen any data.
"Pathfinder: Alabama health officer Dr. Scott Harris on a mission to guide state through COVID crisis" [Montgomery Advertiser]. "[W]ith new COVID-19 cases surging nationwide, [Dr. Scott Harris] would stand in his usual spot beside the governor as she announces that Alabama is extending its statewide mask order into December. It would remain the only state among its southeastern neighbors with such a mandate, a fact that has been widely shared with disdain and anger by anti-maskers. Ivey would also announce that the state is relaxing occupancy restrictions on businesses where masks, distancing and other sanitation rules can be maintained. More than 1,000 comments would flood the livestream of the announcement on Ivey's official Facebook page — rage, insults, debunked misinformation, even warnings of violence. Death threats throughout the pandemic have forced Harris, a grandfather from Talladega who grew up admiring his small-town family doctor, to wear a bulletproof vest at some public appearances."
"Stanford vs. Harvard: Two Famous Biz Schools' Opposing Tactics on COVID" [Kaiser Health News]. "But the guts of [Harvard's] instructions were similar to those at Stanford. Both Harvard and Stanford severely restricted who could be on campus at any given time, limiting access to students, staff members and preapproved visitors. Both required that anyone living on campus report their health daily through an online portal, checking for any symptoms that could be caused by COVID-19. Both required face coverings when outside on campus — even, a Harvard missive said, in situations 'when physical distancing from others can be maintained.'" • Not sure how representative the Harvard and Stanford business school student bodies are, however…
But not a single behavioral expert on Biden's Covid19 task force…..a bunch of scientists working on something doesn't mean that the approach is scientific.

Public health is the issue. Not Covid19 per se. Public health is entirely about social learning and group behaviors. https://t.co/zDUaaj9fu6

— Kristian 1000s & 1000s in my living room on oxygen (@kltblom) November 13, 2020
"Effect of exercise training for five years on all cause mortality in older adults—the Generation 100 study: randomised controlled trial" ['British Medical Journal]. Shorter: "It's never too late for older adults to start exercising."
Imperial Collapse Watch
"Is America in Decline?" [J. Bradford DeLong and Om Malik, pairagraph]. DeLong: "As one of my friends from a not-rich part of East Asia says: 'Students from my country come to the U.S. these days. They see dirty cities, lousy infrastructure, and the political clown show on TV, and an insular people clinging to their guns and their gods who boast about how they are the greatest people in the world without knowing anything about what is going on outside. They come back and tell me: 'We have nothing to learn from those people! Why did you send me there?'" Malik: "There is no shame in admitting that we are in need of self-improvement. We must begin by addressing the horror of this year, which has exposed a range of problems. I am confident that long-term and even permanent solutions to many of these problems exist. We can and will be better. Maybe it is my day job, or perhaps it is the delusion of an immigrant's mind, but I believe the tradition of dreaming up something from nothing is still alive in this country. And that is what keeps me betting on America."
Zeitgeist Watch
Creepy:
World's first transparent 'Sky Pool' above London nears completion https://t.co/y1SE4jwbr4

— Daily Mail U.K. (@DailyMailUK) November 13, 2020
And a little too on-the-nose as a metaphor for the our elites….
News of the Wired
Gratitude changes your attitude:
Is there a better speaker in the entire field of biology than @big_data_kane?

This is a phenomenal 10 minutes. Phenomenal.https://t.co/HkKbhIy4Ga

— Carl T. Bergstrom (@CT_Bergstrom) November 12, 2020
* * *
Readers, feel free to contact me at lambert [UNDERSCORE] strether [DOT] corrente [AT] yahoo [DOT] com, with (a) links, and even better (b) sources I should curate regularly, (c) how to send me a check if you are allergic to PayPal, and (d) to find out how to send me images of plants. Vegetables are fine! Fungi and coral are deemed to be honorary plants! If you want your handle to appear as a credit, please place it at the start of your mail in parentheses: (thus). Otherwise, I will anonymize by using your initials. See the previous Water Cooler (with plant) here. Today's plant (LR):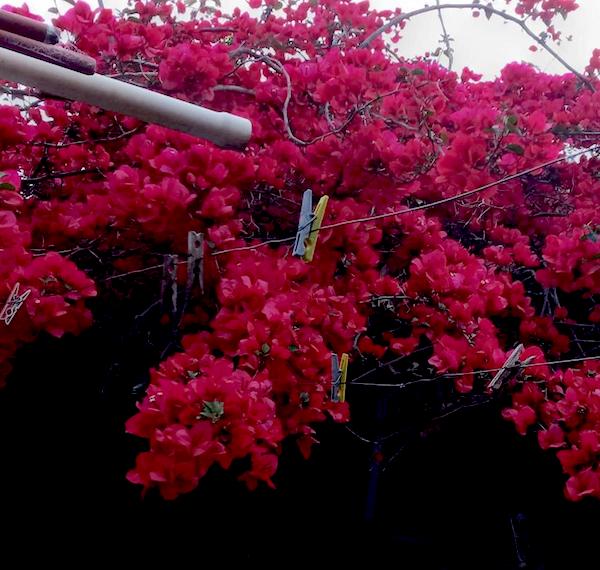 LR My boyfriend took this picture, but I love the composition and especially how the focus is on the clothespins. Boganvilla Santa Rita (double flowered) in a backyard in Montevideo Uruguay."
* * *
Readers: Water Cooler is a standalone entity not covered by the recently concluded and — thank you! — successful annual NC fundraiser. So if you see a link you especially like, or an item you wouldn't see anywhere else, please do not hesitate to express your appreciation in tangible form. Remember, a tip jar is for tipping! Regular positive feedback both makes me feel good and lets me know I'm on the right track with coverage. When I get no donations for five or ten days I get worried. More tangibly, a constant trickle of donations helps me with expenses, and I factor in that trickle when setting fundraising goals:
Here is the screen that will appear, which I have helpfully annotated.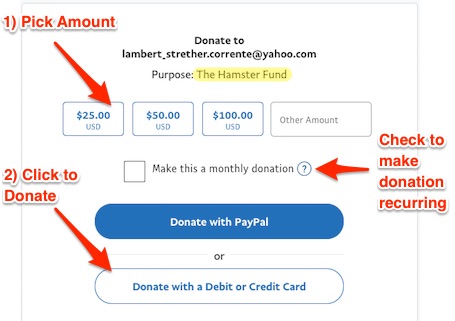 If you hate PayPal, you can email me at lambert [UNDERSCORE] strether [DOT] corrente [AT] yahoo [DOT] com, and I will give you directions on how to send a check. Thank you!