By Lambert Strether of Corrente.
Patient readers, trying to work on queued comments right now brings the site down (although fortunately only for us, not for you). So we apologize to any readers whose comments have not been released. We are working on the problem, and hope to report success in the near future. Wish us luck! –lambert
Bird Song of the Day
#COVID19
At reader request, I've added this daily chart from 91-DIVOC. The data is the Johns Hopkins CSSE data. Here is the site.
Case count by United States region: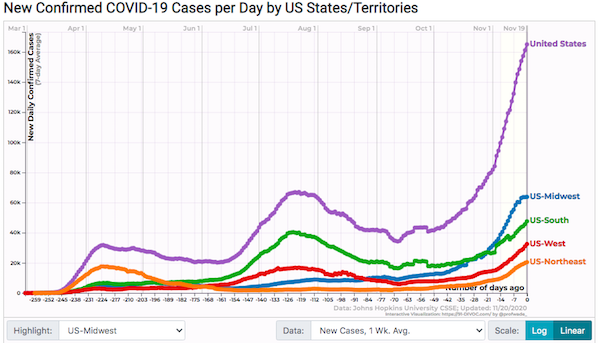 Test positivity by region: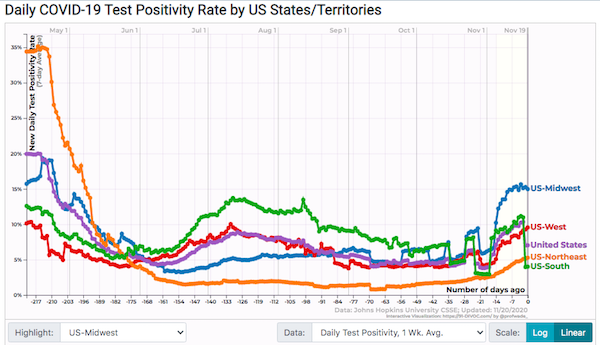 Positivity (blue) seems to have plateaued in the Midwest. Still the giant drop in the South (green).
Hospitalization by region: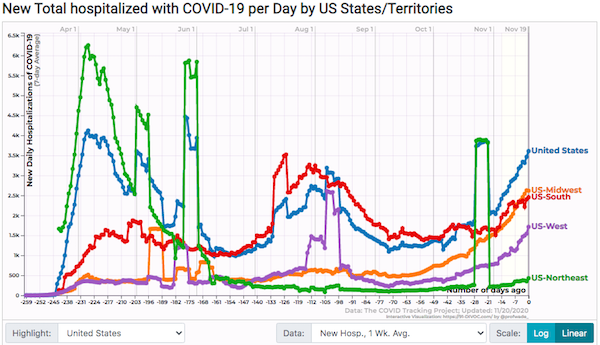 Hospitalization seems to have plateaued in the South.
Case fatality rate by region: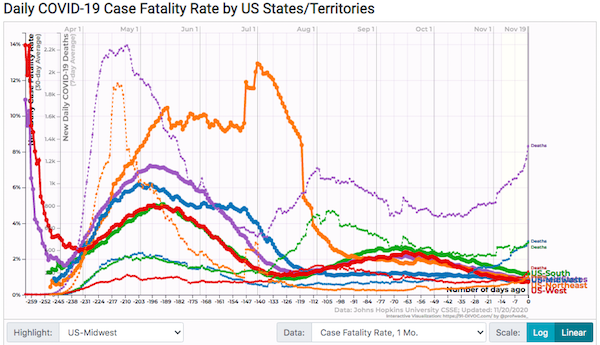 Deaths (purple dotted) heading toward vertical.
Politics
"But what is government itself, but the greatest of all reflections on human nature?" –James Madison, Federalist 51
"They had one weapon left and both knew it: treachery." –Frank Herbert, Dune
"They had learned nothing, and forgotten nothing." –Charles Maurice de Talleyrand-Périgord
Election Legitimacy
Despite Doucette being a #NeverTrump conservative, I've enjoyed his Tweets on Trump's quote "coup" unquote:

"I Lived Through A Stupid Coup. America Is Having One Now" [Medium]. "The coup was a farce at the time but how soon it turned to tragedy. They called it a constitutional crisis, but how soon it became a real one. Right now, the same thing is happening to you. I'm trying to warn you America. It seems stupid now, but the consequences are not…. This is the point. You have taken an orderly system balancing a whole lot of chaos and fucked with it. I don't know how it's going to explode, but I can promise you this. It's going to explode. This is precisely why we have elections, and why both sides accept the results. To keep the chaos at bay. The whole point is that you have a regular, ritual fight rather than fighting all the time. Once one side breaks ritual then you're on the way to civil war. Once you break the rules then chaos ensues. What exactly happens? I don't know. It's chaos."

"The Real Reason Hillary Asked for a Recount" [Ed Klein, Townhall (RH)]. November 30, 2016: "Why did Hillary Clinton join Jill Stein, the Green Party's oddball presidential nominee, in asking for a recount of the votes in Wisconsin, Michigan and Pennsylvania when everyone knows that such a recount won't change the outcome of the 2016 election?…. President Obama convinced Hillary that it was in the best interest of the Democratic Party if the Clinton legal team got involved with the recount and didn't leave it to Jill Stein. 'The president felt that the progressives were acting stunned and helpless and had to rise out of their stupor and show that they weren't going to take their defeat lying down,' said the source. 'Contesting the results of the election was the best and fastest way to stir the morale and fighting spirit of the demoralized party.' 'Obama felt that a recount would plant a seed with the base that the election was somehow dishonest,' the source continued. 'He wanted to raise serious questions about the legitimacy of the Trump presidency.'" Well, the sourcing is better than the link above, I'll say that. (Klein is or was a real journalist, but his 2003 book was publishd by St. Martins, and his books 2012 and onward by Regnery….)

"Trump told ally he's trying to get back at Democrats for questioning legitimacy of his own election" [CNN]. "President Donald Trump told an ally that he knows he lost, but that he is delaying the transition process and is aggressively trying to sow doubt about the election results in order to get back at Democrats for questioning the legitimacy of his own election in 2016, especially with the Russia investigation, a source familiar with the President's thinking told CNN on Thursday." I think "told an ally" and "a source familiar with the President's thinking" is two levels of indirection; it's too bad we couldn't get an anonymous intelligence official quoted.

"Hill-Harris Poll: Sixty-One Percent Of Voters Now Support A Trump Concession Speech" [Jonathan Turley]. "There were plausible objections raised about over voting, conditional ballots, and other issues. However, those legal claims were repeatedly cut off by sweeping descriptions of a Communist conspiracy tied to Venezuela and Cuba [What, not Putin? What are they thinking?]. Absent hard evidence, more voters will be calling for concession. The rhetoric bordered on a rave at points and overwhelmed the specific challenges being planned in various states. It undermined the credibility of these lawsuits. Last night, Giuliani continued with that rhetorical onslaught and claimed not only a national conspiracy but one directed by Biden. He also claimed evidence that a 'large truck' was seen pulling up at 4:30 am into a Detroit voting center loaded with Biden ballots in trash cans and shopping bags. Such a violation would likely be caught on videotape and the conspiracy would involve a large number of criminal co-conspirators. It is time to see that evidence."

"Security establishment braced for final onslaught from Trump" [Financial Times]. "Others point out the military has become adept at 'slow-rolling' Mr Trump and that any troop withdrawals will probably be done in a way that is reversible once Mr Biden takes office." • Well, that's a weight off my mind.

"The Disastrous Idea That Won't Go Away" [The Atlantic]. If Trump struck Iran: "Trump would become an international pariah, shunned at Davos…." • Not only do these people see that as important, they think Trump does, too!
2020 Democrats in Disarray
Et tu, Chelsea?

Speaker quote
Chelsea Clinton
Vice Chair, Clinton Foundation@ChelseaClinton @ClintonFdn#STATSummit #vaccines #NewYork pic.twitter.com/5WpFw5j6HP

— STAT (@statnews) November 19, 2020
Biden Transition
"If Biden Wants to Be Like F.D.R., He Needs the Left" [Jamelle Bouie, New York Times]. "On Feb. 10, 1931, four years before Senator Robert Wagner of New York and Representative David Lewis of Maryland introduced President Roosevelt's social security legislation to Congress, tens of thousands of Americans nationwide took to the streets at the height of the Great Depression to march for unemployment assistance and food aid. Organized by a then-burgeoning Communist Party, demonstrations ranged from peaceful protests to tense confrontations with law enforcement. In Boston, noted The New York Times in a contemporaneous report, "Two hundred Communists and sympathizers and about as many police staged a series of fights and scuffles along the Boston Common." In St. Paul, Minn., "Communist-led demonstrators jammed their way into the House chamber of the Minnesota Legislature and held possession for more than two hours while they demanded relief for the unemployed." In New York City, similarly, "nearly 4,000 men, women and children heard half a dozen speakers call upon the government to grant unemployment insurance, stop evictions and to furnish free food, heat and light to the unemployed.These demonstrations weren't just for the idea of unemployment insurance. The Communists had a particular bill in mind: the Workers' Unemployment Insurance Bill, which the party had drafted the previous year. The Workers' Bill, as it was called, promised generous assistance for the unemployed, for the sick and the old, and for new mothers, all financed by taxes on corporate income and inheritances. With ongoing activism and agitation came greater support; rank-and-file pressure from within the American Federation of Labor, for example, led to the creation of the A.F.L. Trade Union Committee for Unemployment Insurance and Relief, headed by Louis Weinstock of the New York Painters' Union, himself a communist. The committee endorsed the bill, which was later introduced to Congress by the Minnesota Farmer-Labor congressman Ernest Lundeen on the urging of Herbert Benjamin of C.P.U.S.A., who led the party's effort to organize the unemployed."

"Joe Biden's Four-Year Plan" [Jeff Spross, The American Prospect]. "Drawing on history, political science has a pretty good idea what specific characteristics policies should have to create that feedback of voter goodwill leading to large, durable majorities. Social Security and Medicare are the gold standard: benefits that are generous, that go to large swaths of the population, and that are designed and delivered in a straightforward way, so that voters can clearly see they've received the benefit, and from whom." • As I have been saying for years, "universal concrete material benefits, especially for the working class." More: "Unfortunately, even when they've held total power, Democrats have spent the last several decades deliberately avoiding policy designs that do this." • Well, I'm sure an alliance of Liberal Democrats and Bush Republicans will belly up to the bar….
2020
"New Scientist-Candidates for U.S. Congress Fared Worse Than Expected in 2020" [Scientific American]. "This year 27 candidates—incumbents as well as new challengers—were endorsed by the science advocacy group 314 Action. The group recruits people with backgrounds in science, technology, engineering or medicine to run for office, endorses candidates and has a political action committee that contributes to their campaigns. In the House of Representatives, just two endorsed challengers out of eight won, though one race remains too close to call because mailed ballots are still being counted." • The CIA Democrats did better….
Obama Legacy
Obama's auto-cancellation continues apace:

This is, as Ryan points out, crackpot history. https://t.co/XwvO8m2Was

— Matt Stoller (@matthewstoller) November 19, 2020

There's always a tweet:

President Obama: "By 2014, the war in Afghanistan will be over."

— Barack Obama (@BarackObama) May 5, 2012

"Can I get some water?"

You can save yourself the money on Obama's memoir by watching this clip. It's all you need to know.https://t.co/0dEUV8bM1h

— Mark Ames (@MarkAmesExiled) November 20, 2020

This is the video:

I'm not sure I agree with Ames; I think with not very much wading, I could find plenty of worse stuff, especially because NC covered the Crash and the foreclosure crisis so deeply.

"Obama had to quit coaching Sasha's basketball team because other parents complained: book" [The Hill]. "Obama and his aide Reggie Love, who previously played on Duke University's men's basketball team, began coaching and running practices for Sasha Obama's team [at Sidwell Friends], which was named the Vipers. 'After observing an adorable, but chaotic, first couple of games, Reggie and I took it upon ourselves to draw up some plays and volunteered to conduct a few informal Sunday afternoon practice sessions with the team. We worked on the basics: dribbling, passing, making sure your shoelaces were tied before you ran onto the court,' Obama writes." • "The vipers" is a little too on-the-nose for a private school in D.C….
Realignment and Legitimacy
Steve Mnuchin's body has been seized by the undead spirit of Vladimir Ilyich Ulyanov:

Mnuchin adds: "The people who really need this support right now are not the rich corporations — it's the small businesses; the people that are unemployed. Those are the people we need to help the next few months" https://t.co/5FRKoOPOXA

— Jeff Stein (@JStein_WaPo) November 20, 2020

Vampires? Or ghouls?

what's magnificent and grotesque about today's Red-Blue culture war is that it empowers vampires like Newsom and Cuomo to believe, at the deepest core of their being, that they truly are on the side of virtue, responsibility, and justicehttps://t.co/LBJwdgxaJN

— Matt Karp ???? (@karpmj) November 19, 2020
Stats Watch
At reader request, I added some business stats back in. Please give Econintersect click-throughs; they're a good, old-school blog that covers more than stats. If anybody knows of other aggregators, please contact me at the email address below.
Leading Indicators: "13 November 2020 ECRI's WLI Continues To Improve" [Econintersect]. "ECRI's WLI Growth Index which forecasts economic growth six months forward marginally improved and remains in expansion. ECRI also released their coincident and lagging indices."
Rail: "Rail Week Ending 14 November 2020 – Rolling Averages Continue To Improve" [Econintersect]. "Total rail traffic has two components – carloads and intermodal (containers or trailers on rail cars). Container exports from China are now recovering, container exports from the U.S. remain deep in contraction. This week again intermodal continued in expansion year-over-year and continues on a strengthening trendline. Carloads are no longer in contraction. But overall because of the strength of intermodal, rail is on an improving trendline."
* * *
Shipping: "COVID lockdown sequel threatens shipping demand" [American Shipper]. "It is an increasingly jarring juxtaposition: record container numbers at the ports and record COVID numbers at the hospitals. Ports and hospitals are simultaneously nearing maximum capacity…. The risk for container shipping is that U.S. goods consumption will drop off due to non-service business restrictions and/or declining consumer confidence. An enormous number of box cargoes are already en route. The Port of Los Angeles' preliminary estimate is for 835,000 TEUs in December, up 12% year-on-year, after which it expects a pre-Chinese New Year bounce in January. This raises the question: What if COVID slashes consumer demand in the middle of the ordering cycle and importers wind up with too much inventory in 2021?"
Shipping: "FedEx Freight hit with big jury verdict after dismissing driver with bad knee" [Freight Waves]. "FedEx Freight has lost a battle in court over a dismissed driver who had a rebuilt knee with possibly limited motion, with a jury awarding the plaintiff a little more than $6.85 million. The large award against the LTL division of FedEx comes after a lawsuit that started over a seemingly innocuous event: the decision by the plaintiff in the case, David Goldstine, to not shut a damaged trailer door because of concerns over his knee, which had undergone knee replacement surgery a few years earlier. "
The Bezzle: "How We Unmasked the Hollywood Con Queen Suspect" [Vanity Fair]. "The perpetrator allegedly lured hundreds of Hollywood gig workers—makeup artists, photographers, trainers, actors, stuntmen—to Indonesia to shoot big blockbuster movies with fake names like The Master and Gotham City Sirens. Using their own money, victims flew across the world while the catfishing Pascal or another woman kept in constant contact, sending them elaborate sides of dialogue, asking them to make inspirational mood boards for shoots at Hindu temples, and, sometimes, even asking them to 'audition' on the phone with dirty sex scenes. She'd tell them they were just a minute away from meeting the director and producer on set, but every day she'd come up with excuses of why the shoot had been delayed. And in the end there was no job. For a while we thought a criminal cabal was behind this weird con, but we have identified a lone Indonesian man living in the U.K. as a likely suspect. Hargobind Punjabi Tahilramani, often known as 'Gobind,' was born in Jakarta to a privileged background on—of all days—Halloween, October 31, 1979. In the U.K. he is known as a foodfluencer Instagramming under the handle Pure Bytes and ISpintheTales. In social media videos, Tahilramani, who has not responded to multiple requests for comment, has a round face and a warm, welcoming smile. His captions carry the superficial, insipid tone of many influencers, whether he's talking about vegetarian roti, brat, or taking a 'satisfying journey with a coruscating kaleidoscope of colours' at brunch." • Ah, brunch.
Infrastructure: "Investment in highways, bridges and ports may be on the table in Washington in 2021. Lawmakers are eyeing infrastructure as a possible area of bipartisan compromise under the Biden administration… as Democrats and Republicans face the possibility of another two years of divided government" [Wall Street Journal]. "Efforts to craft a multiyear bill repeatedly fell apart during the Trump administration, and disagreements on the scope of the legislation and how to pay for it will persist under the new president. But Congress faces a potential impetus with the expiration of the existing spending plan known as the highway bill next Sept. 30, and a new measure could become a vehicle for President-elect Joe Biden's proposed $2 trillion plan for transportation and other infrastructure. Lawmakers see the desire for economic stimulus as the country recovers from the coronavirus pandemic as potentially spurring passage of a major infrastructure bill."
* * *
.
Today's Fear & Greed Index: 65 Greed (previous close: 64 Greed) [CNN]. One week ago: 59 (Greed). (0 is Extreme Fear; 100 is Extreme Greed). Last updated Nov 20 at 11:58am.
The Biosphere
"Chinese scientist 'in shock' after finding herpes virus can survive in oil wells" [South China Morning Post]. "A scientist was "shocked" to discover the herpes virus in samples taken from an oil well hundreds metres under the ground in northeast China. Zhang Ying, a professor from the Institute of Applied Ecology at the Chinese Academy of Sciences in Shenyang, found large quantities of the virus in samples taken from around a dozen wells. Scientists already knew that bacteria could survive in oil, but the discovery that viruses were also present is a very recent one and no one realised the variety and quantity of viral life forms that could be found there until Zhang started her research."
"Scientists Uncover the Universal Geometry of Geology" [Quanta]. This is Quanta, so I will almost be able to understand it, but won't be able to excerpt it. Let me try…. " [pause]. OK, "Zooming out, the team argues, you could classify most real fractured-rock mosaics using just Platonic rectangles, 2D Voronoi patterns, and then — overwhelmingly — Platonic cubes in three dimensions. Each of these patterns could tell a geological story. And yes, with the appropriate caveats, you really could say . 'They did their due diligence in vetting their modeled forms against reality,' said Martha-Cary Eppes, an earth scientist at the University of North Carolina, Charlotte. 'My initial skepticism was allayed.' 'The math is telling us that when we begin to fracture rocks, however we do it, whether we do it randomly or deterministically, there is only a certain set of possibilities,' said [ Vanderbilt geophysicist David Furbish]. 'How clever is that?'" • This really very, very neat. A beautiful result. Lots of good examples, too, for geology stans.
"In Phytoremediation, Plants Extract Toxins from Soils" [JSTOR Daily]. "A good example of this was the case of Cabin Creek, in West Virginia. Two sites of the former Pure Oil Refinery held several storage tanks that contaminated both soil and groundwater. The refinery discontinued its operations in 1954, but more than 40 years later, in 1996, researchers still found high levels of petroleum compounds in samples of soil and water from the sites…. More than 15,000 poplar trees were planted that year at the sites, covering 54,000 square meters (14 acres)…. Once the poplars were viable, researchers collected samples of soil and groundwater periodically to measure levels of petroleum derivative compounds, such as gasoline, toluene, and benzene. By 2006, seven years after starting the experiment, levels of gasoline had dropped by 82% in the soil and 59% in groundwater. Levels of toluene dropped 90% and 84% in soil and water, respectively, showing that the poplar trees were successful in cleaning both land and water. The experiment was also very cheap, costing roughly $80,000 for installation and another $20,000 for yearly maintenance. For comparison, other means of remediation, such as incineration and soil venting, would have required the installation of heavy machinery, the excavation of the soil, and would have a high energy demand, estimated to cost at least $65 million in total." • That's amazing!
"These Four-Foot Lizards Will Eat Anything—and They're Invading the Southeastern U.S." [Smithsonian]. • Will they eat feral hogs? That would solve some problems.
Health Care
"Together Again: Physical Distancing on the Decline" [International Monetary Fund]. "[A}s COVID-19 outbreaks began to ebb and lockdowns eased over the summer, measures tracking mobility, such as Google Community Mobility Reports, showed that adherence to keeping our distance from others began to relax. Our ongoing research finds that these increases in mobility were indeed matched by a significant decline in self-reported compliance for a range of recommended COVID-19 behaviors across many advanced and emerging economies…. Looking at data through September, this gradual decline in compliance with recommended COVID-19 behaviors appears to have followed on the heels of governments relaxing restrictive lockdowns earlier in the summer, including allowing shops, restaurants, and other businesses in the service sector to re-open. Lower compliance may have also reflected a mix of fatigue and complacency with COVID-19 restrictions, especially since a disproportionate share of the decline was reported among younger people and other lower-risk groups… Trust in the government response appears to have declined in several countries, especially in those that had more severe COVID-19 outbreaks. This combination of eroding trust and lower compliance is likely to create challenges in the months ahead, as many countries face the possibility—and in some cases already the reality—of new COVID-19 outbreaks."
"Advancing new tools for infectious diseases" [Science]. "A robust product pipeline and abridged development time frame for COVID-19 has primarily been enabled by three factors: scientific advances, operational efficiencies, and large-scale at-risk financing. A clear, well-financed path from research through product procurement now exists for COVID-19, shortening timelines while increasing output. This could underpin an approach for global infectious diseases."
The 420
"Pot Legalization Hits an Unlikely Snag: 'Magic' Mushrooms" [New York Times]. "On Monday, the [New Jersey] Senate voted to amend a decriminalization bill to include psilocybin, the hallucinogenic compound in so-called magic mushrooms, or "shrooms," snarling the time-sensitive negotiations over a separate legalization bill. That bill creates a framework for the constitutional amendment legalizing marijuana, which takes effect Jan. 1. The mushroom amendment was tacked on just as social justice advocates were spotlighting what they saw as an overarching flaw in the legalization bill: a lack of guaranteed benefit to Black and Latino communities that have suffered most from criminal enforcement of marijuana laws. …. The legalization bill was pulled back for an overhaul. On Thursday, after lengthy Assembly and Senate committee hearings, two bills emerged that differed meaningfully, and a final vote on the legislation, originally scheduled for Monday, was postponed." • Nice work…..
Class Warfare
"Despite now offering $15 minimum wage, Amazon still a top employer of SNAP recipients in many states" [The Counter]. "A new report from a federal watchdog agency found that Amazon was among the top 25 employers with workers enrolled in the Supplemental Nutrition Assistance Program (SNAP, formerly food stamps) in six out of nine states studied. The company—which reported $5.2 billion in profit in the second quarter of this year—notably raised its minimum wage to $15 per hour in 2018. Yet the wage boost doesn't appear to have lifted its employees out of poverty: In Indiana, for instance, Amazon lags behind only Walmart and McDonald's among employers whose workers rely on the safety net for emergency food assistance."
News of the Wired
"#DisneyMustPay Alan Dean Foster" [Science Fiction Writers of America]. "Last year, a member came to SFWA's Grievance Committee with a problem, which on the surface sounds simple and resolvable. He had written novels and was not being paid the royalties that were specified in his contract. The Grievance Committee is designed to resolve contract disputes like this. As part of our negotiating toolbox, we guarantee anonymity for both the writer and the publisher if the grievance is resolved. When it is working, as president, I never hear from them. When talks break down, the president of SFWA is asked to step in. We do this for any member. In this case, the member is Alan Dean Foster. The publisher is Disney…. Disney's argument is that they have purchased the rights but not the obligations of the contract. In other words, they believe they have the right to publish work, but are not obligated to pay the writer no matter what the contract says. If we let this stand, it could set precedent to fundamentally alter the way copyright and contracts operate in the United States. All a publisher would have to do to break a contract would be to sell it to a sibling company."• #DearMickey #DisneyMustPay
* * *
Readers, feel free to contact me at lambert [UNDERSCORE] strether [DOT] corrente [AT] yahoo [DOT] com, with (a) links, and even better (b) sources I should curate regularly, (c) how to send me a check if you are allergic to PayPal, and (d) to find out how to send me images of plants. Vegetables are fine! Fungi and coral are deemed to be honorary plants! If you want your handle to appear as a credit, please place it at the start of your mail in parentheses: (thus). Otherwise, I will anonymize by using your initials. See the previous Water Cooler (with plant) here. Today's plant (AMM):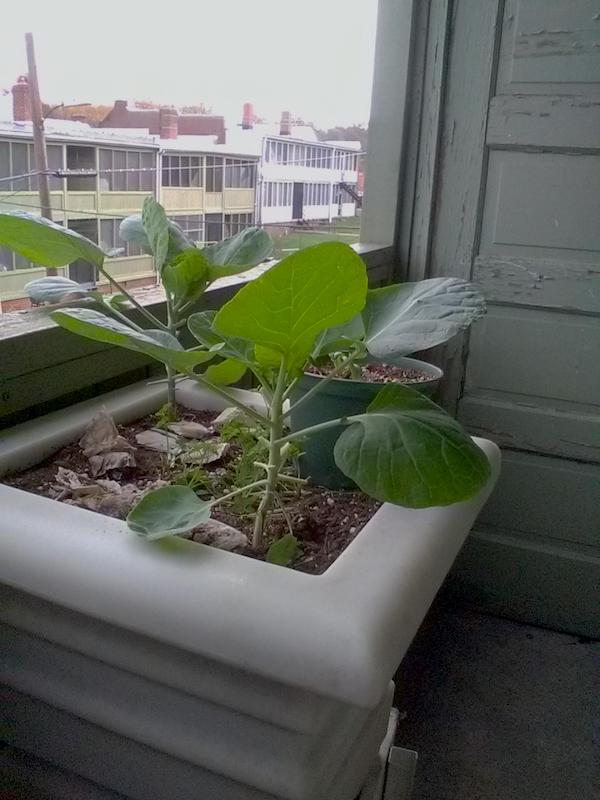 Brussels sprouts on the porch!
* * *
Readers: Water Cooler is a standalone entity not covered by the recently concluded and — thank you! — successful annual NC fundraiser. So if you see a link you especially like, or an item you wouldn't see anywhere else, please do not hesitate to express your appreciation in tangible form. Remember, a tip jar is for tipping! Regular positive feedback both makes me feel good and lets me know I'm on the right track with coverage. When I get no donations for five or ten days I get worried. More tangibly, a constant trickle of donations helps me with expenses, and I factor in that trickle when setting fundraising goals:
Here is the screen that will appear, which I have helpfully annotated.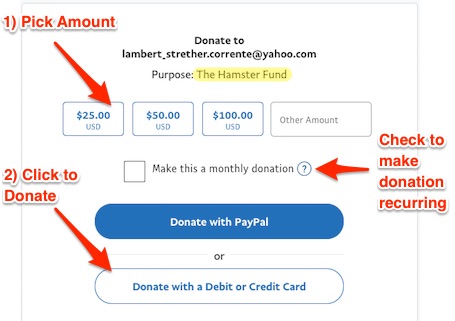 If you hate PayPal, you can email me at lambert [UNDERSCORE] strether [DOT] corrente [AT] yahoo [DOT] com, and I will give you directions on how to send a check. Thank you!