By Lambert Strether of Corrente.
More hot takes soon! –lambert UPDATE All done!
Bird Song of the Day
I feel like singing now that Election Day is past….
#COVID19
At reader request, I've added this daily chart from 91-DIVOC. The data is the Johns Hopkins CSSE data. Here is the site.
Case count by United States region: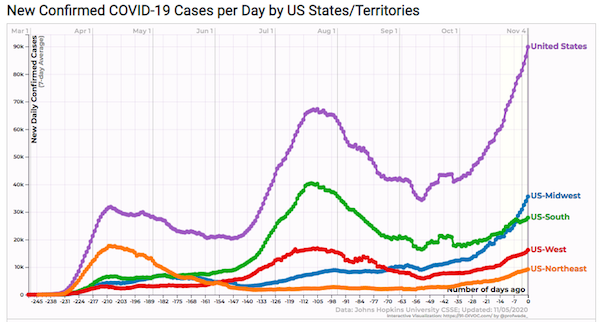 Up, up, up!
Test positivity by region: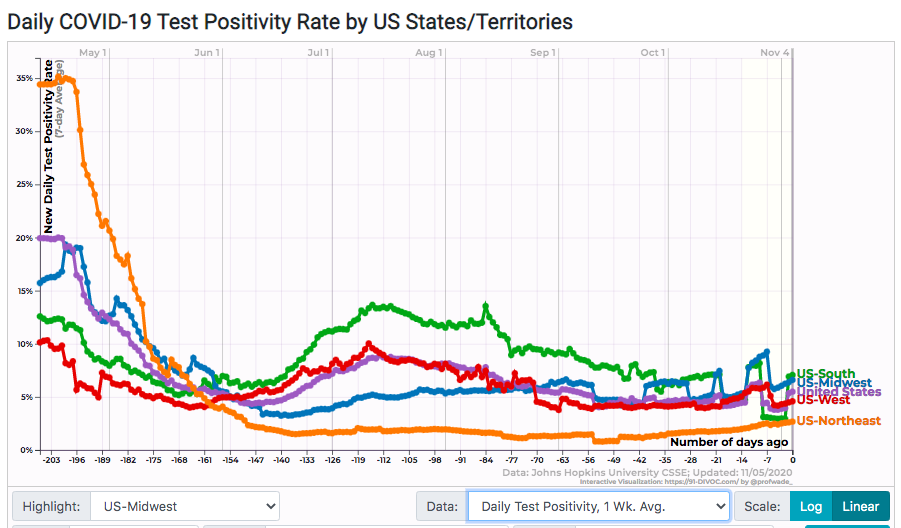 Case fatality rate by region: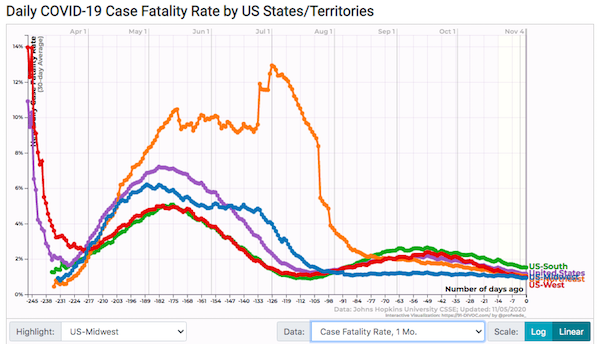 Diminishing returns?
Politics
"But what is government itself, but the greatest of all reflections on human nature?" –James Madison, Federalist 51
"They had one weapon left and both knew it: treachery." –Frank Herbert, Dune
"They had learned nothing, and forgotten nothing." –Charles Maurice de Talleyrand-Périgord
2020 Hot Takes
No, the ALL CAPS is wrong:

Dems refuse to admit Obamacare is terrible and get angry at the question. It's like if someone hired a plumber to fix the sink and he didn't and you ask why the sink is still broken and the response is SHUT UP YOU MONSTER THE SINK IS SO MUCH BETTER THAN IT WOULD HAVE BEEN.

— Matt Stoller (@matthewstoller) November 4, 2020

It's "The ? Sink ? is ? So ? Much ? Better."

Sellout's remorse:

To my new Dem pals, I'm begging you, be happy. Please. @JoeBiden is racking up more votes than any candidate in history. You flipped Az, Mi, Wi, NE2. You're going to flip Pa. & probably Ga. You beat an incumbent president. You elected first Black woman VP. Savor it. You won.

— stuart stevens (@stuartpstevens) November 4, 2020
2020 Democrats in Disarray
"The 2020 Election Result Completely Discredits The Democratic Leadership" [Current Affairs]. This is quite a takedown. Here is a choice nugget: "Let's be very clear: the Democratic Party screwed this election up massively. Trump actually did better than he did in 2016 in areas with high COVID-19 deaths. Union members in Ohio appear to have gone for Trump, and most of the people who saw the economy as the top issue voted for Trump, even though this should theoretically be the issue on which the Democratic Party is strongest. "

UPDATE The bill of particulars:

The Blue Wave became:

– Razor-thin margins in key presidential states

– Lost House seats despite initial projections of big gains

– Survival of the GOP Senate majority

– State-level losses that may give GOP a 4-to-1 redistricting advantage

How many more of these cycles?

— Walker Bragman (@WalkerBragman) November 5, 2020

UPDATE More on redistricting:

Last night was an utter catastrophe for stopping GOP gerrymandering next year. GOP is poised to draw 4-5 times as many congressional districts as Dems, likely closer to the latter number. That's similar to the GOP's 5:1 advantage after 2010. AZ, MI, PA legislatures still uncalled https://t.co/zoyjP2IogZ pic.twitter.com/xij2w0IAqd

— Stephen Wolf (@PoliticsWolf) November 4, 2020

UPDATE Same as it ever was (see Nomiki Konst after 2016 here):

The Blue Wave became:

– Razor-thin margins in key presidential states

– Lost House seats despite initial projections of big gains

– Survival of the GOP Senate majority

– State-level losses that may give GOP a 4-to-1 redistricting advantage

How many more of these cycles?

— Walker Bragman (@WalkerBragman) November 5, 2020

BWA-HA-HA-HA-HA:

The Democratic Super PAC in charge of House races is going to face serious questions about how it lost seats when projected to pick them up.

House Majority PAC's president is Robby Mook.

— Ryan Grim (@ryangrim) November 5, 2020

UPDATE This doesn't seem to be getting the same traction RussiaRussiaRussia and racism did, oh well:

This is very correct https://t.co/NqtgQ86N8J

— Dr. Angela Rasmussen (@angie_rasmussen) November 4, 2020

UPDATE So much for the "Obama Coalition":

1/Regardless of the election outcome, Trump's inroads with Hispanic voters kills the idea that the Democrats are the Inevitable Party of the Demographic Future. https://t.co/O7THC0wKgr

— Noah Smith ? (@Noahpinion) November 4, 2020

FL: "'Old white men are dying,' so Trump looked elsewhere for votes in Florida" [Politico]. "Along with frequent campaign and surrogate trips, including at least four from the president himself in the final weeks, Team Trump's winning formula included a heavy dose of messaging that sought to brand Democrats as socialists and anti-police, a focus on opening the economy despite the coronavirus pandemic, generous spending on a traditional ground game, and the buildout of a coalition that Trump in the past had paid little attention to, according to nearly a dozen Florida Republicans and campaign officials. That new coalition will be central to continued Republican success in the state. As one Republican put it, 'you've got to kind of recognize that old white men are dying.' For Trump, that meant adding to his support of conservative-leaning Cuban Americans and older white voters. The campaign wooed non-Cuban Hispanics and put a greater emphasis on conservative South Florida Jewish voters. The campaign also sought the support of Black voters with messaging focused on school choice and the Trump administration's funding for Historically Black Colleges and Universities, something that it hadn't done in 2016. Ryan Tyson, a Tallahassee-based Republican pollster and consultant who tracked Trump's performance across the state, said the president's ability to pull support from traditionally Democratic demographics played a huge role in his win."

MA: Gonna be interesting to see Warren trying to get these voters back:

For those outside of MA, Lawrence is 80% Latino. Biggest shift toward Trump of any city / town in Massachusetts. Comports with the shifts we've seen in other area nationwide. https://t.co/hy7H2xgsJ4

— Steve Koczela (@skoczela) November 5, 2020

TX: "Houston was a train wreck for Democrats in 2020. Here's why." [Houston Chronicle]. "Republican political consultant Derek Ryan said Democratic candidates generally over-relied on phone calls, texts, commercials and mail in an attempt to make up for their lack of in-person campaigning. Republicans gained an advantage, Ryan said, by block-walking door to door, which they did while wearing masks and standing six feet from voters' front doors. Marc Campos, a longtime Democratic strategist in Houston, agreed with that assessment. 'I think there's something to be said about not having a traditional ground game while the Republicans did,' Campos said. 'There were some people that went door to door and did (literature) drops, but we weren't as aggressive as the Republican Party was.'"
2020
Biden (D)(1): "It Isn't Over Yet, but Biden Has Ground for His Confidence" [The New Yorker]. "Speaking in Wilmington, Delaware, on Wednesday afternoon, Joe Biden said, "It's clear that we are winning enough states to reach two hundred and seventy electoral votes needed to win the Presidency. I'm not here to declare that we've won, but I am here to report when the count is finished we believe we will be the winners." The former Vice-President has ground for his confidence. Earlier in the afternoon, the Associated Press called Wisconsin for him. CNN also called Michigan for him. Nevada also seems to be heading in his direction. That effectively means that Biden needs to pick up only Arizona or Georgia or Pennsylvania—all states where there are still a lot of uncounted ballots—to get to two hundred and seventy Electoral College votes."

Biden (D)(2): "The Daily 202: Biden patched up the Blue Wall, but he failed to rebuild Obama's coalition" [WaPo]. "The urban-rural divide actually grew deeper this year. In 2016, Trump won 23 [Wisconsin] counties that Obama had won. Biden took back just two of them: Door and Sauk. 'Biden instead exceeded previous Democratic win margins in Wisconsin's two biggest cities, Milwaukee and Madison. That pattern extended to Michigan and other battleground states,' Philip Rucker and Robert Costa report. 'That leaves the nation potentially heading toward a period of entrenched partisan warfare, even as it is battered by crises. 'This is a democracy at full work, but clearly very divided,' said Jim Doyle, a former Democratic governor of Wisconsin. 'We are clearly very, very divided by cities and rural, we're very divided by race.'" • C'mon Jim, you can say it. C-… Cl-….

Trump (R)(1): This is a good ad:

If you don't understand how people could still vote for Trump then you never watched this ad, which was by far the most devastating of the cycle. https://t.co/mfOOzvwr7E

— Matt Stoller (@matthewstoller) November 4, 2020

UPDATE Trump (R)(2): Since anecdotes are all we have at this point:

been seeing a lot of "in all honesty, why would anyone vote for trump? what are they thinking?" posts. for my family, all of whom are MAGA/KAGA, they think:

1) liberals look down on them and trump makes liberals crazy
2) he's kept his promises re: courts
3) good 4 markets/CARES

— Elizabeth Bruenig (@ebruenig) November 4, 2020

TPP; no Iraq, Aghanistan, or Libya. Or Russia.

* * *

"What's really going on with the mail-in ballots the US Postal Service can't trace" [Recode]. Vice had this same story yesterday. "Several news outlets reported on Election Day that the United States Postal Service did not have records of delivery scans for 300,000 mail-in ballots across a dozen states, stoking fears [note lack of agency] that changes to the Postal Service implemented earlier this year by new Postmaster General Louis DeJoy, a top Trump donor, had potentially disenfranchised hundreds of thousands of voters. But the president of the largest postal worker union corroborated in an interview with Recode on Wednesday morning what the Postal Service has repeatedly said about the data in court filings in recent days: There are numerous reasons why ballots in the days leading up to the election would not receive a delivery scan and that it's highly unlikely that the number of undelivered ballots totaled anywhere near 300,000. 'Just because something didn't have [a delivery scan] does not translate at all into 'it was not delivered," Mark Dimondstein, president of the American Postal Workers Union, told Recode on Wednesday…. 'What we had in place … is in the days leading up to Election Day." • The ballots didn't get scanned because that would have delayed. So, leaving aside the hysteria and the yammering and the usual Twitter virality, because honestly, who cares anymore, the whole episode is an example of the deformation professionelle of the liberal Democrat hive mind. (1) They instantly blamed Trump, in the sort of conspiratorial reflex action they decry in others; (2) they did not know, or seek to learn, the material circumstances of the discrepancy, and in particular (3) ignored union leadership and the workers themselves, to whom they could have gone for clarification; and (4) they mistook the map (scanned data representing the ballots) for the territory (the ballots themselves), which is exactly the sort of mistake that PMC symbol manipulators would make. They also (5) undercut the credibility and reputation of the Post Office and those who work there*. I await the heartfelt mea culpas on this one [snicker]. NOTE * Who are [snicker] disproportionately minorities, good job, liberal Democrats.

"Contested Election: The 2020 Election Has Proven A Target Rich Environment For Challenges" [Jonathan Turley]. "It is inevitable with tens of millions of voters across thousands of polls that isolated or systemic problems arise. But this election is different by a high order of magnitude. Mail voting is always a magnet for challenges. In past elections, some mail ballots were not even counted since they would not affect the outcome. Now officials have to process tens of millions of mail ballots in areas that have not dealt with such numbers before. Watch the developments in three basic categories as the election unfolds…. The first category of challenges is deadlines. This will constitute the most extensive form of challenges. The 'clocking' of ballots is an effective basis for challenges as the deadlines are set by state law…. Another category of challenges is conditions. This rises significantly in the election and includes allegations of voter suppression due to long lines or malfunctioned equipment…. The most worrisome category of challenges is certification. This comes when the votes must be certified by the states for eventual submission to Congress. Many states do not start counting votes until after polls close. That could leave the outcome hanging by both tabulation and litigation, which could be serious in Pennsylvania. Michigan is also of concern due to its 1,600 districts with different systems. Wisconsin and Nevada will process record numbers of mail ballots with untested systems. Nevada has rejected demands for added standards to count ballots that could spark challenges over potential voter fraud. Such challenges can force recounts, the process that slowed states like Florida in 2000. The problem is that the states must send certified results to Congress in five weeks. There is a chance that challenges could delay submissions, or that states could send two sets of electors as a result of disputed results. Congress would have to select between those conflicting sets or perhaps disregard submissions." • It is still shocking to me that I have to go to a conservative lawyer to find a simple, high-level explanation of the legal issues at stake. I do try to keep track, but all that's crossed by Twitter feed from Democrats is yammering that Trump is trying to steal the election (which, if there are genuine legal issues at stake, is untrue by definition).

"OSCE slams Trump's 'baseless allegations' of US electoral fraud" [Deutsche Welle]. "An international election observer mission to the US has concluded there was no evidence of election fraud and Tuesday's presidential vote was 'competitive and well managed,' despite 'logistical challenges' as a result of the COVID-19 pandemic. The Organization for Security and Co-operation in Europe (OSCE) noted statements made by President Donald Trump about deficiencies within the country's electoral system were baseless and eroded trust in democracy." From the OSCE report (PDF):

Election observation is regulated by state law, but some states leave it to the discretion of election officials. The elections were extensively observed by partisan and non-partisan observers which increased the transparency of the process, however, a number of states and counties do not allow citizen non-partisan and international observers inside polling premises. Concerns of intimidation by persons outside of polling stations acting as poll watchers incited to do so by accusations that there would be widespread voter fraud, were raised in the run up to the elections. Due to the COVID-19 pandemic, election officials in several jurisdictions limited the number of observers permitted. Legal restrictions on presence of international observers are in place in at least eighteen states, which is not in line with OSCE commitments. While the presence of IEOM observers was welcomed in the majority of states where observers were deployed, state election officials in three out of 30 states visited declined to meet with them or share their views.

And:

A national, nonpartisan Election Protection coalition comprised of more than 300 local, state and national partners maintains a permanent hotline operated by some 43,000 volunteers in multiple languages to answer voters' concerns and questions.104 It also provided immediate legal support nationwide in case of disputes during the polls and conducted election observation. According to its representatives, it deployed 45,000 observers for these elections.

So, as usual, a patchwork. That said, anybody who watched the 2016 and 2020 Democrat primaries knows that liberal Democrats have both the operational capability, the desire, and the will to steal elections. All those are operating in this year's general, especially given perceived existential threats. But that they could doesn't mean they did. I have not seen a colorable claim of election theft by Democrats (although I distinguish this from court cases brought to challenge resutls, which Republican rhetoric does not).

UPDATE "Biden Had No Election Coattails" [Karl Rove]. "There are suspicious partisans across the spectrum who believe widespread election fraud is possible. Some hanky-panky always goes on, and there are already reports of poll watchers in Philadelphia not being allowed to do their jobs. But stealing hundreds of thousands of votes would require a conspiracy on the scale of a James Bond movie. That isn't going to happen." • And Rove should know! And speaking of international observers:

#BREAKING Emergency meeting of AU foreign ministers urges Americans to remain calm as vote counting continues in the troubled nation's chaotic presidential election, says ethnic violence threatens the reputation of a country regarded as one of the most promising in the Americas.

— gathara (@gathara) November 5, 2020

UPDATE Astonishing:

Because we learned our lesson after 2000 and changed our laws. https://t.co/Gz8hptf3fr

— Jeb Bush (@JebBush) November 5, 2020

Either Jebbie has the memory of a goldfish, or he thinks we all do. (Jebbie, as Florida governor, pioneered Kobach's approach of purging voter rolls in the 2000 election.)

* * *

"Democrats frustrated, GOP jubilant in Senate fight" [The Hill]. "One of the most eye-opening statistics of the election was that two Senate Democratic challengers, Amy McGrath and Jaime Harrison, raised $199 million for their respective campaigns against Senate Majority Leader Mitch McConnell (R-Ky.) and Senate Judiciary Committee Chairman Lindsey Graham (R-S.C.) and wound up losing by about 21 points and 14 points, respectively." • To be fair, that money sent a lot of Democrat strategist kids to college. So the next generation is in good shape. More: "Now that Sen. Gary Peters (D) has retained his seat in Michigan, Democrats will control at least 48 Senate seats next year — two short of the 50 they need to control the agenda. This means they have to win a Jan. 5 runoff for Sen. Kelly Loeffler's (R-Ga.) seat, and also force Sen. David Perdue (R-Ga.) into the runoff by keeping him below 50 percent of the vote, and then defeat him in a Jan. 5 runoff as well."

"Senate Dems Spent A Billion Dollars And Need A Miracle" [Andrew Perez and Julia Rock, Daily Poster]. "Incumbent Sen. Doug Jones of Alabama and challengers like Jaime Harrison in South Carolina, Amy McGrath in Kentucky, and MJ Hegar in Texas combined to raise $250 million this cycle — and they all appear to have lost by double digits. Well-funded challengers like Sara Gideon in Maine and outgoing Democratic Gov. Steve Bullock in Montana took in nearly $110 million and lost, too. The Democratic Senatorial Campaign Committee, the national party committee that elects Democratic Senate candidates, and the Senate Majority PAC, the DSCC's allied super PAC, together raised more than $450 million this cycle…. Only two Democratic challengers, former Gov. John Hickenlooper in Colorado and Mark Kelly in Arizona, won their races on Tuesday. Democrats also lost one seat in Alabama, so they currently hold 48 seats."

"Puerto Rico Voters Declare They Want U.S. Statehood. Now What?" [Bloomberg]. "On an election night in Puerto Rico full of cliffhangers and razor thin margins, one vote seemed a bit more clear: a majority in the U.S. territory wants the island to be a full-fledged state. A non-binding referendum on the sidelines of the governor's race found that 52% of voters want statehood versus 48% who are against it. Some 590,000 people voted in favor of statehood — more votes than any gubernatorial candidate received including pro-statehood front-runner Pedro Pierluisi."

* * *

"The Polling Crisis Is a Catastrophe for American Democracy" [The Atlantic]. "Surveys badly missed the results, predicting an easy win for former Vice President Joe Biden, a Democratic pickup in the Senate, and gains for the party in the House. Instead, the presidential election is still too close to call, Republicans seem poised to hold the Senate, and the Democratic edge in the House is likely to shrink. This is a disaster for the polling industry and for media outlets and analysts that package and interpret the polls for public consumption, such as FiveThirtyEight, The New York Times' Upshot, and The Economist's election unit. They now face serious existential questions. But the greatest problem posed by the polling crisis is not in the presidential election, where the snapshots provided by polling are ultimately measured against an actual tally of votes: As the political cliché goes, the only poll that matters is on Election Day. The real catastrophe is that the failure of the polls leaves Americans with no reliable way to understand what we as a people think outside of elections—which in turn threatens our ability to make choices, or to cohere as a nation."

UPDATE Nobody knows anything (1):

Man, Democrats' anxiety levels is off the charts. Which, of course. But it's a good night to have a glass of wine or whatever and chill out about the polls. It's pretty unlikely that the overall polling outlook is going to look much different on Tuesday morning than it does now.

— Nate Silver (@NateSilver538) November 1, 2020

That aged well.

Nobody knows anything (2):

Folks, the exit polls are garbage this year. They just can't not be. They'll try to fix this by weighting (as they tried in 2016; most of the numbers that got publicized that we remember were NOT the final numbers) but we can't weight our way out of this degree of non-randomness. https://t.co/RjxwESfe6Q

— zeynep tufekci (@zeynep) November 5, 2020

Nobody knew anything before the election, and nobody knows anything after it, either. Swell.
Stats Watch
At reader request, I added some business stats back in. Please give Econintersect click-throughs; they're a good, old-school blog that covers more than stats. If anybody knows of other aggregators, please contact me at the email address below.
Employment Situtation: "31 October 2020 Initial Unemployment Claims Marginally Improve" [Econintersect]. "Market expectations for weekly initial unemployment claims (from Econoday) were 730 K to 815 K (consensus 745 K), and the Department of Labor reported 751,000 new claims. The more important (because of the volatility in the weekly reported claims and seasonality errors in adjusting the data) 4 week moving average moved from 791,000 (reported last week as 787,750) to 787,000."
Employment Situation: "October 2020 Job Cuts: Year-to-Date Cuts Fall" [Econintersect]. "October marked the lowest number of layoffs in seven months, as U.S.-based employers announced plans to cut 80,666 jobs from their payrolls…. October's total is 32% lower than the 118,804 cuts announced in September. It is 60% higher than the 50,275 cuts in the same month last year. October's total is the lowest since February, when 56,605 cuts were announced."
Productivity: "3Q2020 Preliminary Headline Productivity Improved" [Econintersect]. "A simple summary of the headlines for this release is that labor costs are growing slower than productivity on a quarter-over-quarter and year-over-year basis. The overall view this quarter is that nonfarm productivity is up 4.1 % from the same quarter one year ago while unit costs are up 2.5 %. Please note my productivity analysis at the end of this post which is at odds with the headline view. Doing a productivity analysis during a major recession or recovery period is a waste of time as productivity is obscured by government interventions."
* * *
Marketing: "Moral foundations theory can help rehabilitate pharma's image" [STAT]. "I came to realize that most people are unfamiliar with the care the pharmaceutical industry takes in discovering and developing drugs. Few outside the industry know how hard and expensive it is, in both time and money. Fewer understand the failure rate for drugs in development, or the concern the industry must have for product safety. Learning to reframe my conversations about the pharmaceutical industry using arguments based on recently formulated ideas about the basis of conflicts called moral foundations theory has abated the criticism of my career choice among my liberal-leaning friends and family. Although this theory, formulated by Jesse Graham and Jonathan Haidt, was created to explain why religion and politics have become so divisive, it also provides insight into consumer attitudes about other areas…. Liberals particularly abhor monetary trade-offs that result in people getting hurt, especially people who are disadvantaged." • Lol, #MedicareForAll….
Tech: "BBC makes switch to AWS, serverless for new website architecture, observers grumble about the HTML" [The Register]. "Another comment from John Leach, who runs a headline aggregation site called News Sniffer, said that the generated HTML is not easy to analyze. 'I run the News Sniffer project which has to parse BBC News pages and I knew about this rollout a few weeks ago when the HTML all changed format completely and my parsers broke. As a side note, the new HTML is way more complicated and much harder to parse than before – , but I was still saddened to see how it's ended up.'" • Well, that should be an aim.
Tech: "Volkswagen's chief battles to keep electric dream alive" [Financial Times]. "The danger is that electric cars, which contain far fewer parts than combustion engine models, will be commoditised. It is a scenario Mr Diess hopes to combat by owning the valuable customer data generated by vehicles that are ever more automated and connected to the web. Modern vehicles contain more lines of code than a smartphone, but Volkswagen relies on suppliers for 90 per cent of its models' software. Unlike rivals such as Daimler, which has partnered with tech giant Nvidia, VW is ploughing €7bn into building a subsidiary with 5,000 staff, tasked with increasing the amount of proprietary software in VW cars six-fold."
Manufacturing: "U.S. health care providers are facing new strains on supplies of critical protective gear as Covid-19 cases surge across the country. The inventories of N95 masks have improved since a severe shortage early in the pandemic, but … many facilities are still rationing and reusing the high-grade masks and some state health departments expect supplies to tighten further" [Wall Street Journal]. "The dilemma at hospitals and other sites suggests that earlier shortages of masks, gloves and other gear weren't entirely solved but merely tamped down as Covid cases fell back during the summer months. Top U.S. producer 3M is on track to produce nearly 100 million N95 masks a month domestically this year, quadrupling its pre-pandemic production, and other companies are adding capacity. But with new Covid cases and deaths spiking sharply higher, 3M says it has 'more demand than we can supply.'"
Manufacturing: "Semiconductor supply chains are looking far less American than they used to. The U.S. and Europe together produce less than a quarter of world's chips… a decline from the more than three-quarters of share they held in 1990 that highlights how the epicenter of a sector critical to the electronics industry has shifted" [Wall Street Journal]. "Today, Asian countries dominate semiconductor manufacturing and China is on pace to become the world's largest chip producer by 2030. The upheaval has come as governments outside the U.S. have offered incentives to build up domestic industries. Chip companies also have been attracted by growing networks of suppliers outside of the U.S., and an expanding workforce of skilled engineers. Some of that production is for U.S. companies but the trend is a growing concern in Washington, and China's capacity in the high-value supply chains is only growing stronger.
* * *
.
Today's Fear & Greed Index: 39 Fear (previous close: 34 Fear) [CNN]. One week ago: 32 (Fear). (0 is Extreme Fear; 100 is Extreme Greed). Last updated Nov 5 at 11:37am. • Greed and Fear on. NOTE For those who wonder if we should keep running it, readers asked for it back after I took it away. Also, I like having a quick insight, however shallow, into Mr. Market's psyche.
The Biosphere
"The Overfitted Brain: Dreams evolved to assist generalization" [Erik Hoel, arXiv]. "Understanding of the evolved biological function of sleep has advanced considerably in the past decade. However, no equivalent understanding of dreams has emerged. Contemporary neuroscientific theories generally view dreams as epiphenomena, and the few proposals for their biological function are contradicted by the phenomenology of dreams themselves. Now, the recent advent of deep neural networks (DNNs) has finally provided the novel conceptual framework within which to understand the evolved function of dreams. Notably, all DNNs face the issue of overfitting as they learn, which is when performance on one data set increases but the network's performance fails to generalize (often measured by the divergence of performance on training vs. testing data sets). This ubiquitous problem in DNNs is often solved by modelers via 'noise injections' in the form of noisy or corrupted inputs. The goal of this paper is to argue that the brain faces a similar challenge of overfitting, and that nightly dreams evolved to combat the brain's overfitting during its daily learning. That is, dreams are a biological mechanism for increasing generalizability via the creation of corrupted sensory inputs from stochastic activity across the hierarchy of neural structures. Sleep loss, specifically dream loss, leads to an overfitted brain that can still memorize and learn but fails to generalize appropriately. Herein this 'overfitted brain hypothesis" is explicitly developed and then compared and contrasted with existing contemporary neuroscientific theories of dreams. Existing evidence for the hypothesis is surveyed within both neuroscience and deep learning, and a set of testable predictions are put forward that can be pursued both in vivo and in silico." • Being extremely wary of treating the brain as doing anything like what we understand as computation, "the novel conceptual framework" should be, IMNSHO, "a novel conceptual framework." Nevertheless, interesting!
"Identifying gut microbes that affect human health" [Nature]. "Vujkovic-Cvijin et al. report that gender, age, bowel-movement quality (categorized as stools that are solid, normal or loose), body mass index and level of alcohol consumption are among the strongest potential confounders that could hinder efforts to identify true associations between disease and gut-microbiota composition. This is because these characteristics are strongly associated both with microbiota composition and with disease status. When examining the differences between individuals with a condition such as type 2 diabetes and people who do not have this condition (but who might have other diseases), there seem to be many statistically significant associations between disease status and the abundances of different gut bacteria. By contrast, if individuals who have or do not have the disease are matched using some of the confounder criteria mentioned, many of these associations cease to be statistically significant. This implies that some gut-microbiota changes previously attributed to certain diseases might instead stem from other underlying causes related to these confounders. For example, alcohol consumption causes gut-microbiota changes, and individuals who have certain diseases consume less alcohol than average (perhaps because of the drugs that they take). Therefore, failing to match individuals on their level of alcohol consumption could result in a misleading conclusion that microbiota changes associated with the disease are attributable to the disease itself, rather than to a below-average alcohol intake."
Health Care
"Even if Biden wins, divided Congress stifles chance for more progressive health policies" [Health Care Dive]. "With the 2020 election results still in flux, even if former Vice President Joe Biden squeaks out a win, the chances of him achieving his more ambitious health policy objectives are slim given a Congress even more fractured than before." • The so-called "public option" being in the "most ambitious" part of "more ambitious," no doubt. Idea: Democrats should stop listening to pollsters on this, and indeed on all other, issues?
Class Warfare
"Lyft plans next gig-work move: making peace with unions that opposed Proposition 22" [San Francisco Chronicle]. "Now the companies hope their victory will set a model to revamp the nation's labor landscape, creating a third category of worker, neither employee nor freelancer — an independent contractor with some trappings of an employee. 'We're looking ahead and across the country, ready to ,' DoorDash CEO and co-founder Tony Xu, said in a blog post. 'California's new law is a groundbreaking step toward the creation of a 'third way' that recognizes independent workers in the U.S.,' Lyft wrote in a press release." • How about #MedicareForAll, you ghouls?
"Uber and Lyft eye other states after California ballot victory" [CNBC]. "Companies that supported Prop 22 want similar measures elsewhere…. Berenzweig believes that one reason Prop 22 garnered widespread support was because 'people like to be independent. They don't like the government shoving an answer down their throat.' More important, he said, the companies were savvy in defining a middle ground. The new base hourly compensation under Prop 22 is around $16.80, which is higher than the minimum pay under fair labor standards, provisions and regulations. That pay rate helped with the companies' pitch."
UPDATE "Passed California Ballot Measure Allows Uber, Lyft To Categorize Workers As Car Parts" [The Onion]. • Certainly "flexible"!
News of the Wired
Somebody had to:
Scientists 3D print microscopic Star Trek spaceship that can move by itself https://t.co/12q2OJe44Y

— The Independent (@Independent) November 4, 2020
"Programmable Filament Gives Even Simple 3D Printers Multi-Material Capabilities" [IEEE Spectrum]. "At the ACM UIST Conference last week, researchers presented a paper that offers a way of giving even the simplest 3D printer the ability to print in as many materials as you need (or have the patience for) through a sort of printception—by first printing a filament out of different materials and then using that filament to print the multi-material object that you want…. It might seem like using a multi-material filament to create a multi-material print doesn't actually solve anything, since that multi-material filament has to be created by something that can print multiple materials, right? Right! And a simple 3D printer can totally do that, as long as you're willing to change out filaments by hand. That's really the trick here: you use a regular 3D printer to 3D print a complex multi-material filament that you then feed back into the printer to print your object." • Whoa, how very meta!
Also meta: Google including its search results in its search results: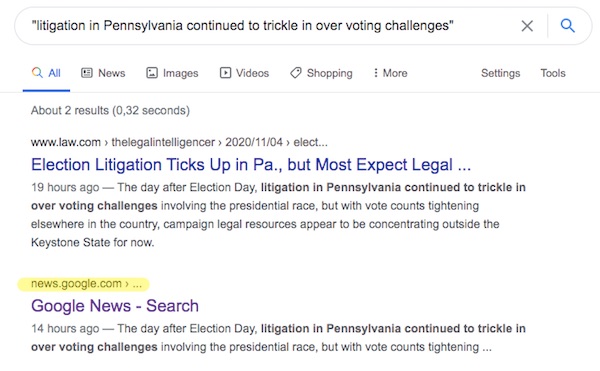 * * *
Readers, feel free to contact me at lambert [UNDERSCORE] strether [DOT] corrente [AT] yahoo [DOT] com, with (a) links, and even better (b) sources I should curate regularly, (c) how to send me a check if you are allergic to PayPal, and (d) to find out how to send me images of plants. Vegetables are fine! Fungi and coral are deemed to be honorary plants! If you want your handle to appear as a credit, please place it at the start of your mail in parentheses: (thus). Otherwise, I will anonymize by using your initials. See the previous Water Cooler (with plant) here. Today's plant (CR):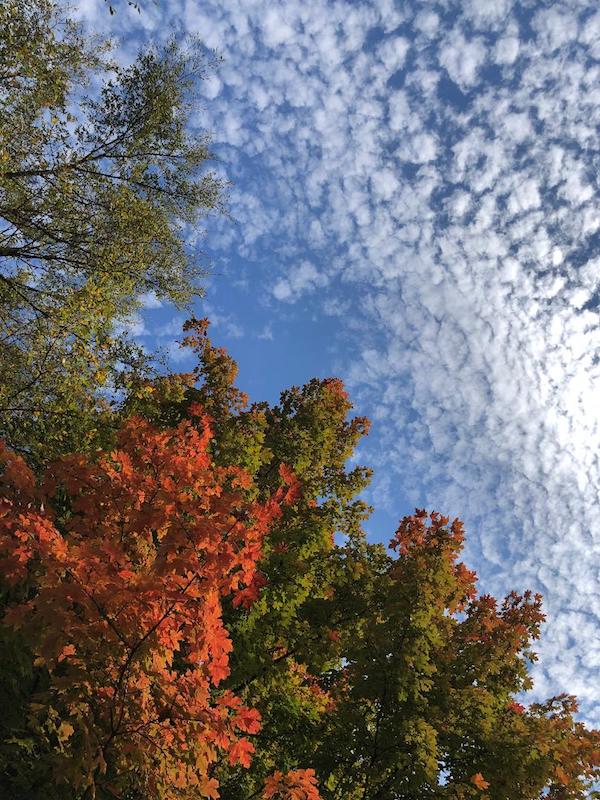 CR writes: "Red maple blue sky white clouds aka fractal world." Appropriate colors for the day after Election Day indeed. Also, I've noticed that we've had a run of photos taken while people are out on their walks. I encourage walks, partly for the photos, which I do need, but also because as winter approaches, flanked by its companions darkness and (for some) depression, it's good to get out in the light and get moving, and also good to look up at the trees and the sky, and not down at the ground and one's shoes.
* * *
Readers: Water Cooler is a standalone entity not covered by the recently concluded and — thank you! — successful annual NC fundraiser. So if you see a link you especially like, or an item you wouldn't see anywhere else, please do not hesitate to express your appreciation in tangible form. Remember, a tip jar is for tipping! Regular positive feedback both makes me feel good and lets me know I'm on the right track with coverage. When I get no donations for five or ten days I get worried. More tangibly, a constant trickle of donations helps me with expenses, and I factor in that trickle when setting fundraising goals:
Here is the screen that will appear, which I have helpfully annotated.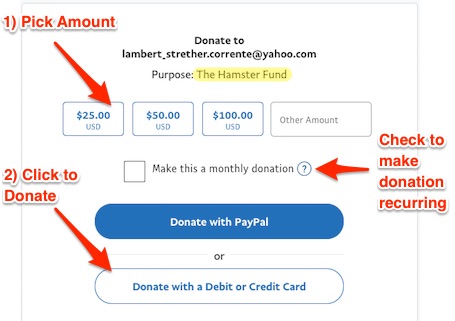 If you hate PayPal, you can email me at lambert [UNDERSCORE] strether [DOT] corrente [AT] yahoo [DOT] com, and I will give you directions on how to send a check. Thank you!