By Lambert Strether of Corrente.
Patient readers, as usual I have collected far too much material over the weekend to sort properly, so expect more in a bit. However, this should be enough to get you started. –lambert UPDATE All done!
Bird Song of the Day
#COVID19
At reader request, I've added this daily chart from 91-DIVOC. The data is the Johns Hopkins CSSE data. Here is the site.
Here are the United States regions: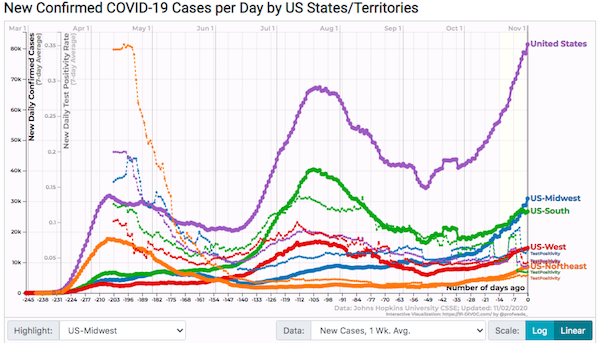 If anything, acceleration (which is what the log view shows, even if it is incomprehensible otherwise).
Here are the Swing States as I conceive them (see below):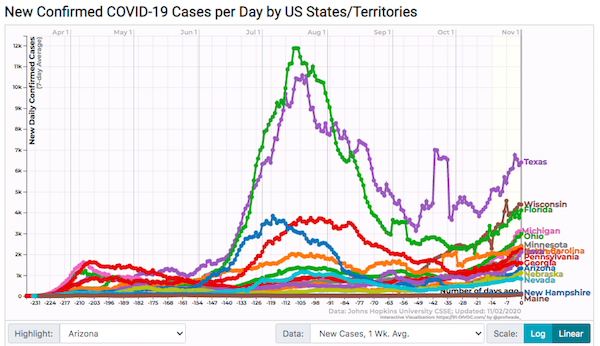 No relief here…
And here is the US vs. the EU: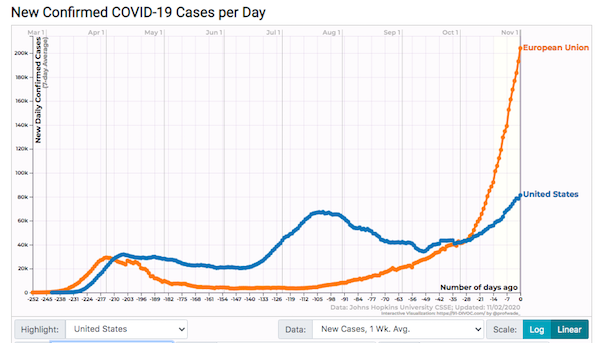 Another enormous natural experiment. It seems clear to me that the EU is doing worse than the Trump administration. Nobody seems to be asking how that can possibly be, or what a Biden administration would do that is different, not only from what the Trump administration is doing, but from what the (presumably more congenial) EU is doing (although this from The Week at least gestures at the question).
ME:
2/They include measures to (1) lower the indoor gathering limit, (2) postpone the re-opening of bars and similar establishments, (3) remove the test/quarantine exemption that travelers from NY, NJ, and CT had, and (4) extend the Keep Maine Healthy program. #COVID19

— Nirav D. Shah (@nirav_mainecdc) November 1, 2020
Dang.
Politics
"But what is government itself, but the greatest of all reflections on human nature?" –James Madison, Federalist 51
"They had one weapon left and both knew it: treachery." –Frank Herbert, Dune
"They had learned nothing, and forgotten nothing." –Charles Maurice de Talleyrand-Périgord
The electoral map. July 17: Georgia, Ohio, ME-2 move from Leans Republican to Toss-up. Continued yikes. On July 7, the tossup were 86. Only July 17, they were 56. Now they are 91. This puts Biden at 278, i.e. over 270. August 18: Still no changes. August 31: Indiana moves from Likely to Safe Republican. September 9: No changes. September 14: No changes. September 21: No changes. September 22: Ohio moves from Toss-up to Leans Republican. September 25: Ohio moves from Leans Republican to Toss-up. September 30: Iowa moves from Leans Republican to Toss-up. October 3: Indiana moves from Safe to Likely Republican; Iowa moves from Toss-up to Leans Republican. October 6: Arizona moves from Toss-up to Leans Democratic; Iowa from Leans Republican to Toss-up; Indiana from Likely to Safe Republican; New Mexico from Likely to Safe Democratic. October 8: NE-2 moves from Toss-up to Leans Democratic. October 13: Indiana moves from Likely to Safe Republican. October 16: Indiana moves from Safe to Likely Republican. October 19: No changes. October 21: NE-1 moves from Likely to Safe Republican. October 24: Indiana moves from Likely to Safe Republican. Big move on Minnesota!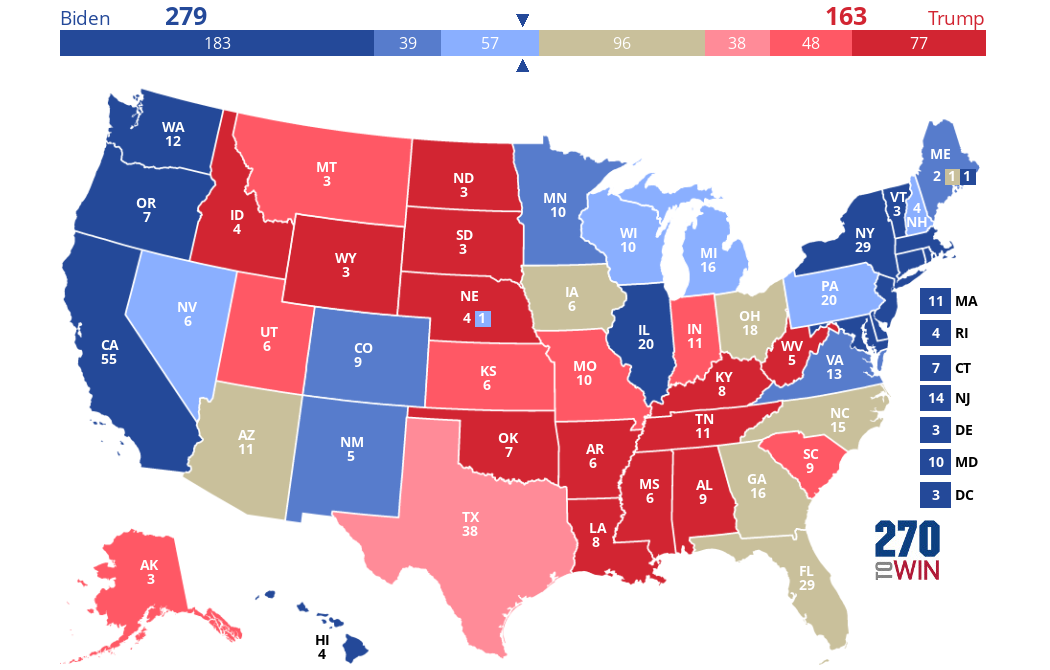 Click the map to create your own at
270toWin.com
The election countdown:
Here is an early voting calendar. Maybe we'll have a whole series of October surprises, since election day is gradually being devalued as an event.
And here are mail-in voting ruies, which naturally differ state by state.
"2020 General Election Early Vote Statistics" [U.S. Elections Project (SlayTheSmaugs)].
"How to Vote in 2020: Everything You Need to Know" [Bloomberg]. "Casting a ballot in the U.S. isn't always easy, with a complex web of varying state rules governing how and when you can vote. The Covid-19 pandemic has introduced even more complexity in 2020, as many states have made significant changes to allow for more early voting or voting by mail. More changes could come as lawsuits in several states wind their way through the courts. That's why Bloomberg News is answering these critical questions so you'll know what you need to do to make sure your vote is counted in the 2020 election."
Here are is an enormous spreadsheet on voting equipment, so you can check your own jurisdiction (hat tip, UserFriendly. I should really aggregate these onto a map…).
"2020 General Election Early Vote Statistics" [U.S. Election Project].
"California Ballots Mailed and Returned Tracker" [Political Data]. • California only, sadly.
"Where's My Ballot?" [Alex Padilla]. "Tracking your vote-by-mail ballot—when it is mailed, received, and counted—has never been easier. The California Secretary of State is now offering Where's My Ballot?—a new way for voters to track and receive notifications on the status of their vote-by-mail ballot. Powered by BallotTrax, Where's My Ballot? lets voters know where their ballot is, and its status, every step of the way." • Ballottrax. Shoulda gone long….
"State Fact Sheets" [Georgetown Universitty]. "[F]act sheets for all 50 states explaining the laws barring unauthorized private militia groups and what to do if groups of armed individuals are near a polling place or voter registration drive."
All the deadlines, rules, and voting hours to know when casting your ballot in the 2020 presidential election" [Business Insider]. "Here are 12 interactive graphics, charts, and maps Insider created to answer your most common questions about voting in 2020."
2020
Swing States

Here is my list of Swing States, with votes in the Electoral College and selected ballot initiatives in parentheticals):

Arizona (11) (marijuana; taxes(=)
Colorado (9) (taxes, lottery, abortion, paid medical leave)
Florida (29) (minimum wage)
Georgia (16) (declaratory relief)
Iowa (6) (Constitional convention)
Maine-02 (1) (vax)
Michigan (16) (oil and gas royalties; privacy)
Minnesota (10)
Nebraska-02 (1) (payday lending; gambling)
Nevada (6) (marriage)
New Hampshire (4)
North Carolina (15)
Ohio (18)
Pennsylvania (20)
Texas (38)
Wisconsin (10)

Inspired by the thread starting with Arizona Slim's comment here, I went to Ballotpedia and added selected, hopefully hot button, ballot initiatives, because sometimes they affect turnout. If you live in a swing state, please comment if I got the hot buttons wrong!

This is totally not a prediction. Here's another war game, where Trump wins:

This war game totally ignores all polling. Here is the method: Start with the conventional wisdom of the 270toWin consensus (Biden 290, Trump 163). Turn all the leaning and likely states solid Blue or Red respectively. Leave ME and NE split. Allocate remaining states in the following buckets according to reputation and anecdote: WI: D (like MN, Covid). IA R (Des Moines Register "gold standard poll"). OH: R (like IA, Trump didn't deliver, but it doesn't seem to matter). MI R* (fervent Rs). PA R* (fervent Rs, lower Black turnout). NC, GA R (feral R state machine). FL R (feral R state machine, feckless D machine). * Against consensus. Of course, if FL and TX go D on election night, that's the ballgame. And it could happen!

* * *

"If it's not an Electoral College legal fight, it's a blow-out — here are the counties to watch" [The Hill]. Very interesting:

One key indicator will be what happens in the 206 counties across America that voted for Barack Obama in 2008 and 2012 but then flipped to Trump in 2016. These include:

The Keystone collection of Pennsylvania counties: in the northeastern part of the state, near Biden's birthplace of Scranton, and all the way in the upper Northwest. If Biden wins Erie and Northampton and cuts sharply into Trump's Luzerne margin, he wins.

, Fla., in the St. Petersburg area, has one of the largest senior citizens population in the country. Trump narrowly carried Pinellas after Obama won by a little larger margin. This will be a good test whether senior citizens are flipping to Biden.

, Mich., home of the "Reagan Democrats," working class voters who soured on their parents' Democratic party, further analyzed by pollster/scholar Stan Greenberg. Although the county has become more diverse, it went decisively for Trump in 2016. Democratic Gov. Gretchen Whitmer, however, sees Biden as more appealing for these voters than was Hillary Clinton, and more likely to carry Macomb. It merits close attention.

, Wis.: Trump won the state by running up margins in the less populous southwestern counties. Sauk has mirrored state polls, which — with a raging COVID-19 crisis — are leaning blue.

, Maine. Why Maine? It's the one state that split its electoral votes, as Trump — while losing the state — carried the more rural, working class second district, including Penobscot. There is an improbable, though not completely far-fetched, scenario where one candidate has 269 electoral votes with all eyes on Maine. It'd make a good movie script.

, Iowa. This is Middle America in a state with 34 counties switching to Trump, enabling him to win by more than 9 points in 2016. These included Clinton County, which went heavily for Obama… then Trump. To have any chance in the state, the Democrats have to carry this Mississippi River county.

, Ohio. Stark is a quadrennial favorite, as it has closely mirrored the state and national outcomes in nine of the last ten presidential contests. Trump garnered over 56 percent of the vote in 2016 — a lot to make up, though Democrats are encouraged by heavy early voting.

Readers, do any of you live in these counties? Besides Penobscot…

UPDATE GA: Another close-of-rally debacle. Wretched advance work!

Also there were people melting down left and right due to the logistical shitshow of leaving the event. Screaming matches between people over who gets to board returning busses, etc. I heard variations of "this is the biggest nightmare…" shouted in frustration several times

— Michael Tracey (@mtracey) November 2, 2020

PA: "Seven Pennsylvania counties will wait until after Election Day to process mail-in ballots" [NBC]. "Pennsylvania allows for counties to begin processing mail-in ballots the morning of Election Day, but officials in Beaver, Cumberland, Franklin, Greene, Juniata, Mercer and Montour — all counties which voted for Donald Trump in 2016 — said that concerns over staffing and resources led them to delay when they will count mail ballots. It is unclear what impact this could have on the timing of the results. The counties range in population size, but roughly a combined 150,000 voters in these areas have requested mail-in ballots according to state data."

UPDATE PA: "A guide to Pennsylvania's political hot spots" [Politico]. • Erie, Luzerne and Lackawanna counties (Northeast), Philly, the Philly burbs (Montgomery, Chester, Delaware and Bucks), Johnstown (Southwest), Lancaster county, Pittsburgh.

* * *

A choice, not an [yechhhhhhhh….]….

Biden (D)(1): "Biden Influencers" [Baron Public Affairs]. "Baron applied Influencer Analytics to provide a snapshot of the most significant policy experts and other leaders likely to be influential on economic issues should Democrats capture the White House in November. Baron also previously conducted Influencer Analytics on the Trump Administration… Baron's process has been tested and refined, with recent projects for clients including Fortune 50 companies, business coalitions, and large privately-held firms. These projects involved gathering more than 100,000 reference citations by policy makers and other opinion leaders." • 

According to Influencer Analytics, the following policy experts have the most influence on Biden advisors:

Michael Linden – Groundwork Collaborative
Jason Furman – Harvard Kennedy School
Jared Bernstein – Center on Budget and Policy Priorities
Heather Boushey – Washington Center for Equitable Growth
Heidi Shierholz – Economic Policy Institute
Gene Sperling – Sperling Economic Strategies
Ernie Tedeschi – Evercore ISI
Justin Wolfers – University of Michigan
Martha Gimbel – Schmidt Futures
– American Economic Liberties Project

I've seen this list elsewhere, but Baron seems to be the originator. The methodology is akin to citation analysis, so not bad in itself.

Biden (D)(2): lol no:

If Joe Biden is running against fascism, does he have a de-Nazification plan? ?

— Chris Richards ??️ #UnitedLeft (@EclecticRadical) October 31, 2020

I think Biden will look forward and not back.

UPDATE Biden (D)(3): "Biden's still locked in a bitter fight. But the jockeying is already underway for jobs in his would-be administration." [WaPo]. "The Biden team is also expecting to include Republicans in the administration if he's elected. 'I know for a fact, just because I'm on the transition team, they said they are considering all — not just Democrats, but Republicans and all people as part of the administration,' said Cindy McCain, the widow of Sen. John McCain (R-Ariz.)." • I wonder who the Labor Secretary will be. Kasich? (Meanwhile, the plan seems to be to bury Mayo Pete at the United Nations. Good.)

UPDATE Biden (D)(4): "Yates, Flournoy Raise Biden at Least $100,000: Campaign Update" [Bloomberg]. "Michele Flournoy and Sally Yates, former U.S. officials rumored to be under consideration for spots in a Joe Biden Cabinet, raised at least $100,000 for his campaign." • That's nice.

UPDATE Biden (D)(5): "Fundamentally, nothing will change:

— Matt Taibbi (@mtaibbi) November 2, 2020

(Hat tip, Flora.)

Sanders (D)(1): "Bernie Sanders slams the Democratic Party for becoming the 'party of rich, coastal elites' and ignoring working-class people for many years in message to Joe Biden" [Daily Mail]. • Well, so much for Labor Secretary.

UPDATE Sanders (D)(2): Subtweeting Obama:

He didn't have a 3-point line, but he did go 5-5 in about 11 seconds, one night in Nevada back in 2019. #NotMeUs https://t.co/KBpOcKa4ap

— Warren Gunnels (@GunnelsWarren) November 1, 2020

Trump (R)(1): "The Memo: Trump retains narrow path to victory" [The Hill]. "Trump's simplest and easiest route to victory this year is to hold onto Florida and Pennsylvania, both of which he won in 2016. Florida is, as usual, a tight race — Biden led there by 1.2 percentage points in the RealClearPolitics average on Friday afternoon…. If Trump won Florida and Pennsylvania, he could afford to lose two key states, Michigan and Wisconsin, so long as he held onto the other states that he won in 2016 — including Arizona, where he is under significant pressure…. This scenario gives Republicans hope, despite all the polls in which the president is trailing. Some in the GOP also take a measure of encouragement from Biden's travel schedule, which included a stop in Minnesota on Friday. Clinton carried Minnesota four years ago and the Trump campaign has targeted it as a rare pick-up opportunity this year…. "Pollsters don't want to admit a simple fucking fact: there is some percentage of silent Trump voters," said the Democratic strategist who requested anonymity. "There are people who are not going to tell you that they are going to vote for Trump. We can pretend it's not a fact. But it is." • I don't think it's a matter of "not going to tell." I think it's a matter of outright lying. If I were a Trump voter, and viewed the pollsters as enemies — and why wouldn't I? — lying would be the best form of sabotage. Yglesias comments on shy voters:

Noteworthy things about these polls is @Nate_Cohn says the samples in each case lead R in terms of voter registration and recalled 2016 vote — really big effort to ensure there isn't a secret pool of missing Trump fans.https://t.co/2G0PDRiVRp pic.twitter.com/tSivWLQixR

— Matthew Yglesias (@mattyglesias) November 1, 2020

But what if the "secret pool of Trump fans" all told the pollsters they were voting for Biden? Not that they were silent, or undecided, or didn't pick up the phone, but picked up the phone and lied?

UPDATE Williamson (D)(1):

I will be VERY happy if Biden wins, but it won't be a healing; it will be a reprieve. It will give us one last chance to alter patterns of economic & criminal injustice that too often guide our public policies. The work won't be over if he's elected; it will have only just begun.

— Marianne Williamson (@marwilliamson) November 2, 2020

Correct on the last point.

* * *

MA: "Watchdog group alleges campaign finance violations in 1st Congressional District race" [Daily Hampshire Gazette]. "A local company is one of two that have been accused of illegal campaign contributions to a political action committee, or PAC, that spent $1 million on ads attacking Holyoke Mayor Alex Morse ahead of the Democratic primary in the 1st Congressional District. On Tuesday, the watchdog group Campaign Legal Center filed complaints with the Federal Election Commission, or FEC, against two companies — Excel Dryer of East Longmeadow and DTE Energy Co. of Detroit — that in August gave a total of $25,000 to the American Working Families PAC. The PAC backed Morse's opponent, longtime incumbent U.S. Rep. Richard Neal, during the primary. The two companies are federal contractors, which are barred from making such campaign contributions." • Liberal Democrats, in chorus: "It's OK if our guy does it. Vote Blue No Matter Who!"

UPDATE "Why You Can't Rely on Election Forecasts" [Zeynep Tufekci, New York Times]. "This is where weather and electoral forecasts start to differ. For weather, we have fundamentals — advanced science on how atmospheric dynamics work — and years of detailed, day-by-day, even hour-by-hour data from a vast number of observation stations. For elections, we simply do not have anything near that kind of knowledge or data. While we have some theories on what influences voters, we have no fine-grained understanding of why people vote the way they do, and what polling data we have is relatively sparse…. Since many models use polls from the beginning of the modern primary era in 1972, there are a mere 12 examples of past presidential elections with dependable polling data. That means there are only 12 chances to test assumptions and outcomes, though it's unclear what in practice that would involve. A thornier problem is that unlike weather events, presidential elections are not genuine "repeat" events. Facebook didn't play a major role in elections until probably 2012. Twitter, without which Mr. Trump thinks he might not have won, wasn't even founded until 2006. How much does an election in 1972, conducted when a few broadcast channels dominated the public sphere, tell us about what might happen in 2020?" • One less thing to doomscroll, what a mercy…

UPDATE "Violence After The Election Will Only Benefit The Powerful: Notes From The Edge Of The Narrative Matrix" [Caitlin Johnstone]. "Russiagate is the largest clickbait operation in history. It's a clickbait operation conducted by the entire western political/media class upon the whole world. Only difference is instead of just making money it was designed to reignite the cold war and make money." • Post is a collection of short statements like this.
Realignment and Legitimacy
"Public Thinker: Thomas Frank on How Populism Can Save America" (interview) [Public Books]. Frank's intellectual history. This caught my eye: "There were other inspirations that were more recent. Spy Magazine, for example, which we thought was absolutely hysterical in the 1980s. The whole idea of Spy Magazine was to constantly assault celebrity culture, to ridicule celebrities. They would follow them around like a Hollywood magazine or a fan magazine, and do just the opposite: mock and deride everything these people did. So, invert the mission of a fan magazine: here are these people whom everyone loves, and we hate them so much. The first time I saw a copy of Spy I was just blown away. I was at the University of Virginia when I was an undergrad. Friends would go up to New York for the weekend and they would come back with copies. I was just in love with it. Incidentally, one of Spy's favorite targets was Donald Trump. They just loved to go after the guy. They would prank him. It was as though, if they had to fill space in an issue, they would just come up with something mean to say about Donald Trump." • I loved Spy Magazine. Everything about it was brilliant. I used to buy it at Out of Town News, when there was an Out of Town News….

UPDATE "I'm Still Reeling From 2016. Am I Now Allowed to Hope Again?" [Molly Jong-Fast, Vogue]. The URL: /i-have-had-election-night-ptsd-since-2016-will-it-end-on-november-third. Narrator: "She did not have PTSD." • I'n so sad that Molly Jong-Fast is feeling stress. It's a damn shame.

UPDATE "Beware a Return to Normalcy" [Bracing Views]. "Normalcy came from the (successful) presidential campaign of Warren G. Harding in 1920. After World War I's devastation and Woodrow Wilson's attempt at internationalism, what Americans wanted most of all, according to Harding, was a "return to normalcy." Harding, running against Wilson's record though not Wilson himself, won the presidency…. Another word associated with Harding's campaign a century ago was "bloviate," which basically means BS. A quick Google search confirms that bloviation is "a style of empty, pompous, political speech which originated in Ohio and was used by US President Warren G. Harding."… I mention these two words, normalcy and bloviate, because in many ways they sum up Joe Biden's strategy in 2020. He's promised a return to normalcy, i.e. a return to the Obama/Biden years, and this does hold some appeal to Americans who are sick and tired of Trump's lies and incompetence. But Biden himself has told us little about what he hopes to achieve, preferring to bloviate, which suggests he won't be doing much to improve the lives of ordinary working Americans, assuming he wins…. Biden/Harris in 2020 is a little like Harding/Coolidge in 1920. Biden is the normalcy guy who bloviates; Harris is the VP who may well have to step in as president, but who as a "top cop" in California was no friend of labor but very much pro-business. Naturally, judging by our history, whether in 1920 or 2020, you can forget about any progressive policies unless and until we experience a cosmic crunch like the Great Depression of 1929. Even then, FDR and the New Deal didn't come along until 1933."
Stats Watch
At reader request, I added some business stats back in. Please give Econintersect click-throughs; they're a good, old-school blog that covers more than stats. If anybody knows of other aggregators, please contact me at the email address below.
There are no official statistics today.
* * *
Debt: "The average FICO credit score hit new record highs during the pandemic—here's why" [CNBC]. "Beyond the typical lag that's expected in the scoring data, the relief actions federal lawmakers and lenders took early in the pandemic may have also helped mitigate or delay lower credit scores, [Ethan Dornhelm, who leads the research and analytic development of FICO scores globally] says. 'The degree of coordinated government intervention and stimulus spending is different this time around relative to prior crises,' Dornhelm says, adding that the stimulus payments in the CARES Act, the forbearance programs and the enhanced unemployment benefits have helped borrowers stay financially afloat." • Once again, the Trump-era CARES Act was superior to Obama's miserably inadequate stimulus package. Strange but true!
Cash: "NYC wants national plan to require all businesses to accept cash" [New York Daily News]. "Erica Ford, CEO of Life Camp Inc., is calling on the city's congressional delegation to push through a law requiring that cashless businesses accept paper money…. In January, the City Council passed a law similar to what Ford is calling for on the national level. It prohibits stores, restaurants and other retailers from refusing paper money or coin. The law was backed by Councilman Ritchie Torres, who is expected to join the Congressional delegation next year. It goes into effect next month." • Good. Well done.
Shipping: "Some drone-delivery companies believe they can swoop in to solve challenges in delivering Covid-19 vaccines. Several startups have struck recent medical-delivery partnerships with drug companies and retailers… and the programs could give them a role in the high-profile logistics effort to distribute Covid-19 vaccines" [Wall Street Journal]. "Some have discussed with governments around the world their ability to use unmanned aerial drones to transport vaccine doses, mainly to remote areas. The efforts are part of the preparations underway behind the scenes across much of the world for what would be a sprawling and complicated undertaking with high stakes for logistics operators. Medical deliveries have been a key business for drone companies, and delivering vaccines would give the startups a world stage to demonstrate to investors and potential customers their ability to streamline distribution operations."
Supply Chain: "Bottlenecks in capacity-strained supply chains are becoming more evident in the earnings reports of U.S. retailers. Some clothing companies are telling investment analysts that the delays caused by a crush of imports heading into U.S. seaports have pinched their restocking efforts… creating a drag on inventories just as they are trying to get goods lined up for a critical selling season" [Wall Street Journal]. "Chief Executive Ed Rosenfeld of footwear seller Steve Madden says his company has faced slowdowns in getting goods onto vessels in Asia and delays at U.S. ports and in warehouses operations. The supply-chain gridlock follows a big snapback in U.S. container imports as retailers look to replenish inventories and set up for fourth-quarter sales. Transport equipment and containers remain out of position because of earlier disruptions, however, and goods landing at Southern California's big gateways are waiting several days to move inland."
Mr. Market: "Dow leads stock-market advance with 400-point climb ahead of presidential election" [MarketWatch]. "U.S. stock-market benchmarks were solidly higher at noon Monday, bouncing back after an ugly finish to October, with support tied to upbeat global economic data on the eve of Election Day, as markets continue to monitor rising COVID-19 cases and a stream of corporate earnings results."
* * *
.
Today's Fear & Greed Index: Blank again [CNN]. • This is getting spooky, honestly.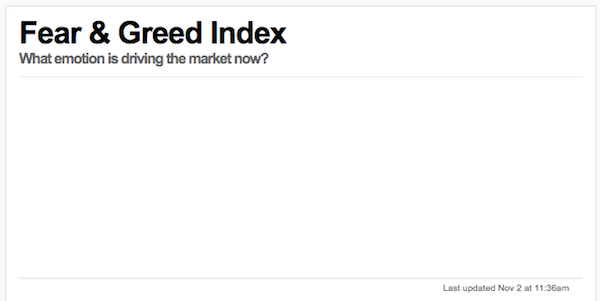 Rapture Index: Closes down one on Persia (Iran). "Iran has been less active on the world stage" [Rapture Ready]. Record High, October 10, 2016: 189. Current: 180. (Remember that bringing on the rapture is a good thing, so high is better.) This Index doesn't seem to be reflecting the election at all. I'd expect "Beast Government" to be popping, but no! Maybe the indexers think Trump's victory is a foregone conclusion?
The Biosphere
"Newfound brain structure explains why some birds are so smart—and maybe even self-aware" [Science]. "Never before has 'bird brain' been such a compliment: In recent years, birds have been found to make tools, understand abstract concepts, and even recognize paintings by Monet and Picasso. But their lack of a neocortex—the area of the mammalian brain where working memory, planning, and problem solving happen—has long puzzled scientists. Now, researchers have found a previously unknown arrangement of microcircuits in the avian brain that may be analogous to the mammalian neocortex. And in a separate study, other researchers have linked this same region to conscious thought…. The scientists compared the images of the birds' pallia with those of rat, monkey, and human cortices. Their analysis revealed the fibers in the birds' pallia are organized in a manner strikingly similar to those of fibers in mammal cortexes…. But do birds have conscious experiences? Are they aware of what they see and do? To find out, Andreas Nieder, a neurophysiologist at the University of Tübingen, observed the brains of carrion crows (Corvus corrone) as they responded to cues. Known as "feathered apes" for their intelligence, these crows and their cousins have even been shown to reason causally. But inferring consciousness from such experiments is challenging, Nieder says. So, he and colleagues used a test similar to one that probes primates for signs of consciousness—a state of mind thought to arise with the sudden activation of certain neurons. They trained two lab-raised, 1-year-old carrion crows to move or stay still in response to a faint cue displayed on a monitor. When correct, the birds were rewarded. The scientists then implanted electrodes in the crows' brains to record their neuronal signals as they responded. When the crows reacted, their neurons fired, suggesting they had consciously perceived the cue; but when they didn't, their neurons were silent. The neurons that fired in agreement with the crows' action were located in the pallia, the researchers report today, also in Science. Nieder calls this 'an empirical marker of sensory consciousness in birds' brains,' similar to that seen in primates." • Just give them opposable thumbs…
Health Care
"Inside Operation Warp Speed's $18 Billion Sprint for a Vaccine" [Bloomberg]. "The president's single tangible, constructive contribution to the pandemic response has been to bless the establishment of [Operation Warp Speed]…. It appears to be a conspicuous exception to the otherwise disastrous management of the pandemic. 'The only part of the pandemic Trump responded to was things he could get companies to manufacture,' says Peter Hotez, dean for the National School of Tropical Medicine at Baylor College of Medicine in Houston. 'There was never an understanding that the hard part is giving adequate time to make sure the vaccines work. It was always reframed as a manufacturing problem. It was Trump bringing in his personal relationship with CEOs to get them to make stuff.'…. By betting on several horses, OWS in theory increased the chances that one or more would cross the finish line, hopefully at a warplike speed. Slaoui steered investments not just to different companies but also to different ways of making vaccines…. Some observers have questioned how a victory for Joe Biden might affect the course of the program. According to Mango, the point is largely moot. The U.S. is on track to produce more than 100 million doses of coronavirus vaccines, manufactured by multiple companies, by the end of the year, he says, and by Inauguration Day, 'the vast, vast majority of the heavy lifting will be behind us.' The Biden campaign says it will back scientists involved with Warp Speed. 'Joe Biden and Kamala Harris will provide the leadership that has been lacking under Trump to empower scientific professionals throughout our government—including those involved in Warp Speed—to ensure that a safe and effective vaccine is distributed equitably, efficiently, and free to all Americans,' spokesman Andrew Bates said.'" • See NC on Operation Warp Speed here. Biden campaign statements aside, it's not clear how OWS scientists — who work for Phama — have been disempowered, especially since the campaign implies that a Biden administration will be distributing an already developed vaccine. Of course, vaccine success is not a given, as Yves points out here. Nor is uptake, as I point out here. Also, although OWS does fund treatment, most funding is allocated to vaccines. We may pay a price for that, if no vaccines pan out.
"In a second big setback for Covid-19 antibody treatment hopes, Regeneron halts enrollment for more severe patient" [Endpoints News]. "The New York biotech said today that an independent monitoring committee recommended halting enrollment of patients who need high-flow oxygen or mechanical ventilation in one of the trials on their antibody cocktail, after finding "a potential safety signal" and "an unfavorable risk/benefit profile." The news comes a week after the NIH scrapped a trial of Eli Lilly's Covid-19 antibody after finding it was having little effect on an initial cohort of hospitalized patients. Regeneron said that enrollment will continue for patients hospitalized with Covid-19 who either don't require oxygen or require low-flow oxygen."
"Sewage testing shows a country flush with coronavirus cases" [CNN]. "Across the country, cities and universities are testing sewage to monitor the virus. Studies suggest it's a useful way to augment standard person-by-person coronavirus testing and while a sewage sample cannot point to an infected individual, it can give an indication that infections are circulating in an area, a neighborhood or even in an individual building.
Early on in the pandemic, it became clear that Covid-19 virus makes its way into the digestive system and could be found in human feces. From there, it's just a quick flush into the sewers."
"Booze, weed, gambling, porn, candy, sloth: Will our pandemic-acquired vices hang around after COVID-19 wanes?" [Philadelphia Inquirer]. • Go long vice, then.
UPDATE Once again, "trust the science" is at best vacuous, at worst dangerous, absent critical thinking:
It's true! Epistemic trespassing can be terribly dangerous—especially paired with overconfidence or ideology. But the expert community should realize what's opening the floodgates is partly their failure. We *want to* trust the experts Fix that, instead of circling the wagons. ?

— zeynep tufekci (@zeynep) October 31, 2020
Guillotine Watch
"NYC Executives Commuting to Work by Air From Vacation Homes" [Bloomberg]. "Sometime around August, [Rob] Wiesenthal, co-founder of a private helicopter and seaplane business, noticed an unusual travel pattern among clients, many with second homes in the Hamptons and the Hudson Valley, where they'd been living since pandemic-related lockdowns began in March…. Executives were suddenly filling planes into Manhattan on Friday mornings, an unusual choice for clientele that stays out of the city on weekends. They also booked quick midweek jaunts, arriving early morning, with no luggage, and staying only a day, maybe two…. What he soon realized was this: well-heeled New Yorkers who fled the city aren't committed to staying away. But they're not ready to move back either. … Among Blade's flight clients — largely senior-level executives — 80% already had a place outside the city prior to the pandemic, Wiesenthal said. The rest found one recently, including more junior employees who gave up leases in Manhattan but still occasionally commute in…. 'We know people who were paying $3,500 a month for a studio apartment, now paying $1,200 sharing a house with two people in the Hudson Valley,' Wiesenthal said. 'They're renting things that are less expensive and that's enabling them to fly.'"
A frisson of horror, but not for the reason she thinks:
It's Halloween here at the legend household. Made my nurse be a medieval plague doctor (I have a nurse for a bit yes lol) pic.twitter.com/mYaNbtEU0L

— chrissy teigen (@chrissyteigen) October 30, 2020
"Made my"…
UPDATE I love how "economic anxiety" became a term of mockery (hat tip, Brian Beutler):
Listen it's just economic anxiety! https://t.co/IoeSGeTAbi

— Soledad O'Brien (@soledadobrien) November 1, 2020
I doubt that Soledad (Harvard) or Molly (Erica's daughter) have had a day of economic anxiety in their lives.
Class Warfare
"Why has Antitrust Law Failed Workers?" (PDF) [Cornell Law School]. "In the last several years, economists have learned about an antitrust problem of vast scope. Far from approximating the conditions of perfect competition as long assumed, most labor markets are characterized by monopsony—meaning that employers pay workers less than their productivity because workers lack a credible threat to quit and find a higherpaying job in the same market. Yet while antitrust law regulates labor monopsony in the same way as it regulates monopoly on the product market side, antitrust litigation against employers is rare. We document both the magnitude of labor monopsony and the paucity of cases and argue that this "litigation gap" exists because antitrust case law, which has developed through product-side litigation, is poorly tailored to labor-side problems." • And the proposals:
We make four proposals. First, employees should be permitted to bring section 1 ["Parallelism"] claims against employers based on parallelism. Second, employees should be given more latitude to bring section 2 ["anticompetitive means"] claims against labor monopsonists. Third, the FTC and Justice Department should incorporate labormarket analysis into their review of mergers, and private claims by employees against merging firms should also be strengthened. Fourth, employers should not be permitted to foreclose antitrust class actions by including arbitration clauses in employment contracts.
Will be interesting to see if any of this is thrown into the mix of coming anti-trust battles.
News of the Wired
There is a Jack Chick art bot, I am sure you will be happy to know:
— No Context Chick Tracts (@No_Context_JTC) October 29, 2020
* * *
Readers, feel free to contact me at lambert [UNDERSCORE] strether [DOT] corrente [AT] yahoo [DOT] com, with (a) links, and even better (b) sources I should curate regularly, (c) how to send me a check if you are allergic to PayPal, and (d) to find out how to send me images of plants. Vegetables are fine! Fungi and coral are deemed to be honorary plants! If you want your handle to appear as a credit, please place it at the start of your mail in parentheses: (thus). Otherwise, I will anonymize by using your initials. See the previous Water Cooler (with plant) here. Today's plant (AM):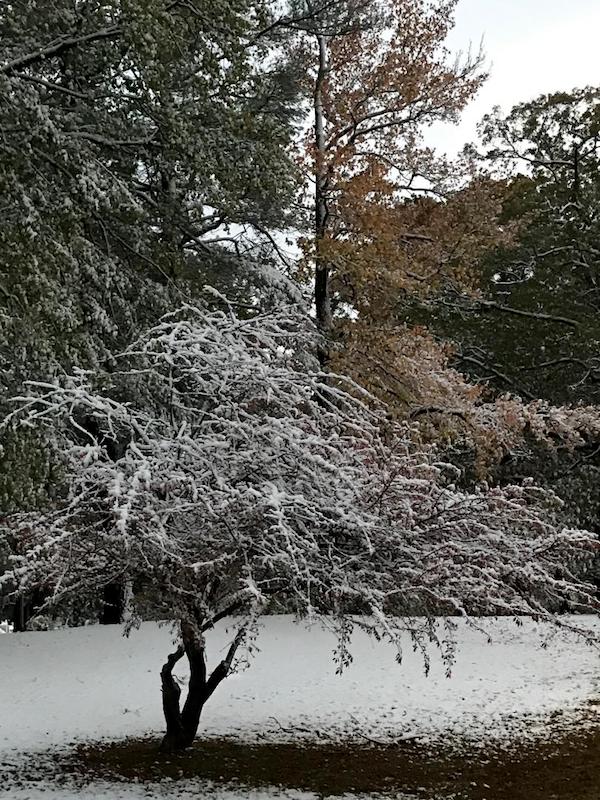 AM writes: "Snowy trees in Roger Williams Park (RI) on Halloween Eve 2020. Leaves still on, so lucky it wasn't windy like the last Halloween snow storm. Can't remember if it was last year or the year before." Winter is coming.
* * *
Readers: Water Cooler is a standalone entity not covered by the recently concluded and — thank you! — successful annual NC fundraiser. So if you see a link you especially like, or an item you wouldn't see anywhere else, please do not hesitate to express your appreciation in tangible form. Remember, a tip jar is for tipping! Regular positive feedback both makes me feel good and lets me know I'm on the right track with coverage. When I get no donations for five or ten days I get worried. More tangibly, a constant trickle of donations helps me with expenses, and I factor in that trickle when setting fundraising goals:
Here is the screen that will appear, which I have helpfully annotated.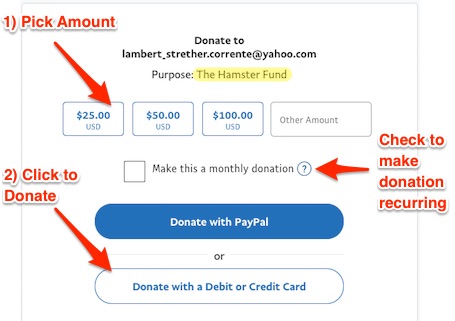 If you hate PayPal, you can email me at lambert [UNDERSCORE] strether [DOT] corrente [AT] yahoo [DOT] com, and I will give you directions on how to send a check. Thank you!