By Lambert Strether of Corrente.
More hot takes soon! As usual, there's far too much to process! –lambert UPDATE All done!
Bird Song of the Day
#COVID19
At reader request, I've added this daily chart from 91-DIVOC. The data is the Johns Hopkins CSSE data. Here is the site.
Case count by United States region: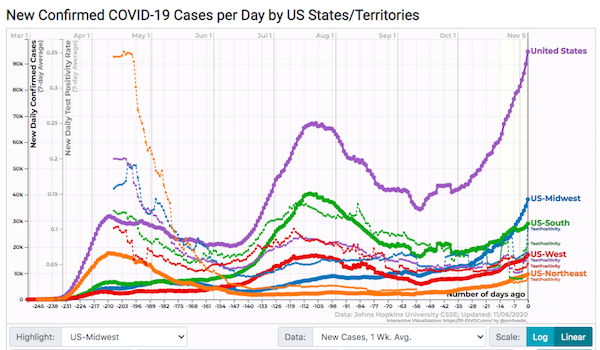 Waiting for the line to go vertical…
Test positivity by region: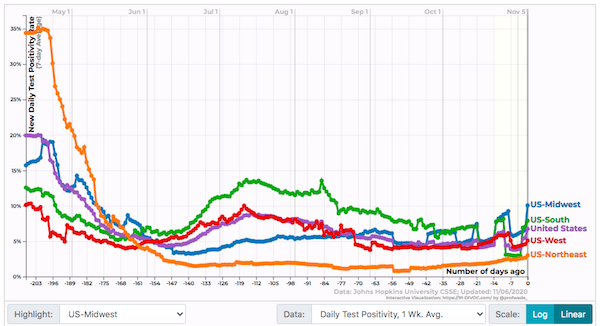 Case fatality rate by region: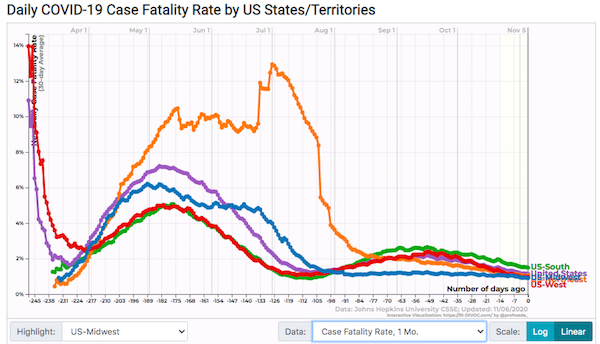 Here again the Northeast (orange) really stands out.
Politics
"But what is government itself, but the greatest of all reflections on human nature?" –James Madison, Federalist 51
"They had one weapon left and both knew it: treachery." –Frank Herbert, Dune
"They had learned nothing, and forgotten nothing." –Charles Maurice de Talleyrand-Périgord
2020 Hot Takes
Good question (1):

what if… US institutions aren't weak at all, but in fact quite robust, against both the whims of lazy TV strongmen and also the will of the democratic majority

— Matt Karp ???? (@karpmj) November 6, 2020

Good question (2):

I want to know how the Biden voters will feel when he allows the tidalwave of evictions and foreclosure to move forward, just like they did the last time.

— AppleKuchenVotingNobody2020 (@KuchenApple) November 6, 2020

Biden and the Obama Alumni Association do have form.

Today's game is 'Who goes to jail and who gets to be visiting faculty at the Harvard Kennedy School of Government'

— Hari Kunzru (@harikunzru) November 6, 2020

Now they can stand down:

BREAKING: The F15s are sharing the runway with the members of the Ford owners club as HMS Runwayboat helps thousands of Americans flee the US during the National Election Crisis #RAFLuton #AvGeek #USElection2020 pic.twitter.com/dJh7DLt60s

— RAF_Luton (@RAF_Luton) November 6, 2020
2020 Democrats in Disarray
Money money money money, money [Repeat: x 6] (1):

Want to know how badly the Democrats fucked up 2020? Consider this:

The party helped Amy McGrath raise more than $88 million for her dud campaign.

$88 million is also the total amount the party raised to win back state legislative chambers ahead of 2021's redistricting.

— Walker Bragman (@WalkerBragman) November 6, 2020

Money money money money, money [Repeat: x 6] (2):

NEW: @ProjectLincoln raised $67 million from MSNBC-addicted libs by making them feel smug

Thats more cash than was given to Dems' national campaign to win legislatures ahead of redistricting – as data suggest Lincoln Project ads failed to persuade voters https://t.co/kFjEc3y9SD

— The Daily Poster (@dailyposter) November 6, 2020

Grifters gotta grift.

Excellent thread from AOC worth reading in full:

Underinvestment across the board. Some campaigns spent $0 on digital the week before the election. Others who spent did so in very poor ways.

If I spent only $12k on TV the week before an election & then blamed others after, you'd ask questions. That's how it looks seeing this.

— Alexandria Ocasio-Cortez (@AOC) November 6, 2020

One thing I like about AOC is that she does her homework.

This video includes Stoller's superb rant on ObamaCare ("It's like if someone hired a plumber to fix the sink and he didn't…."):

"Obama screwed up everything, and we can't even admit it."

Obama Lost Us Two Generations of Down Ballot Races: https://t.co/raEwg9iDap pic.twitter.com/XlN8cnjWLK

— The Nomiki Show (@TheNomikiShow) November 5, 2020

I'm sort of amazed Stoller went on Nomiki Konst's show; this Nomiki Konst.

UPDATE Something to look forward to (1):

We are mere months away from white liberals telling us it is good that Joe Biden is sending in troops to quell the uprisings of Black people.

— Laura Palmer Raids (@Marxicology) November 6, 2020

UPDATE Something to look forward to (2):

I can't wait to watch Jill Biden and Donald Trump share peppermint patties during Dick Cheney's funeral

— MC Das Kapital (@Sandernista412) November 6, 2020

UPDATE Peak idpol?

How it started: How it IS: pic.twitter.com/HwlE5K0j5r

— Stephen (@hillzmyprez) November 6, 2020

The terrible thing: I don't believe this is cynical.
2020
The call everyone was waiting for:

Decision Desk HQ projects that @JoeBiden has won Pennsylvania and its 20 electoral college votes for a total of 273.

Joe Biden has been elected the 46th President of the United States of America.

Race called at 11-06 08:50 AM EST

All Results: https://t.co/BgcQsEyt3j

— Decision Desk HQ (@DecisionDeskHQ) November 6, 2020

"Biden campaign tells staffers to 'enjoy this moment'" [NBC]. "A top Biden aide said not to expect to hear from Joe Biden until Friday in prime time, assuming the race is called by then…. The Biden campaign held its usual communications staff call earlier Friday, led by Communications Director Kate Bedingfield. One person on it says that where she's been reserved these last few days, the vibe Friday morning was 'we did it.' Staffers had previously been told, 'don't watch the news, keep your head down, do the work.' But Friday morning, they were told: 'This is the moment when you should be watching the news. They did the work, now enjoy this moment.' For a campaign staff that has tried to be reserved these last 48+ hours, this feels like a breaking of the emotional dam." • Break out the Victory Gin!

"In Torrent of Falsehoods, Trump Claims Election Is Being Stolen" [New York Times]. "Most television networks cut away from the statement President Trump gave Thursday night from the White House briefing room on the grounds that what he was saying was not true." • Well, I'm glad that precedent's been set. More: "Others believe that he will concede if it is clear he has lost, but that he will most likely never publicly accept the result." • The focus on whether Trump will concede or not strikes me as bizarre. There's no Constitutional requirement for it, unless the Norms Fairy added a clause when I wasn't looking.

Why not the basement?

It's only now occurring to me that there isn't going to be a traditional inauguration. It'll likely be something small and distanced with virtual performances. There will be a million think pieces on Trump breaking tradition by refusing to attend via Zoom. https://t.co/uwnaWc1h2N

— Susan Hennessey (@Susan_Hennessey) November 6, 2020

"Pelosi formally seeks another 2 years as speaker" [Politico]. "Speaker Nancy Pelosi wants another two-year term running the House, cementing her role — for now — as the most powerful woman in Washington…. Pelosi has served as the Democratic leader since 2002, and the vast majority of her colleagues have never known anyone else running their caucus… House Democrats will formally begin choosing their leaders on Nov. 18. No challenger to Pelosi is expected to emerge, and none could defeat her, although a small number of disgruntled House Democrats want a change atop her caucus."

"A post-election message from government contractors to America" [FCW]. "The day after the election, Wednesday, I attended virtually a long-planned board meeting for a government contractor for whom I'm a board member. Some of the other board members are ex-military or Defense Department officials, while others are purely private sector. During one of our first breaks, a board colleague, a prominent centrist Democrat, noted that he had a good friend who was personally very close to Joe Biden. His friend told him that he was planning to contact Biden to urge him at the beginning of his administration establish what the friend called an Office of Civic Renewal to promote civility, public engagement and common purpose in our country." • Oy.

"Hispanic Voters Deliver a Texas Win for Trump" [New York Times]. "Demographic changes and a suburban backlash did not stop President Trump from taking the Lone Star State, though he did so with a smaller margin than in 2016. Even as urban and suburban areas moved in large numbers toward Democrats, many Hispanic voters in the south abruptly exited the Democratic coalition." • Pretty remarkable turnaround for the candidate who came down that golden escalator and accused Mexico of sending us their "rapists."

* * *

GA: "Georgia Presidential Race Likely Headed For Recount, Secretary Of State Says" [NPR]. "Georgia Secretary of State Brad Raffensperger told reporters that the state will conduct a recount given the razor-thin margin between former Vice President Joe Biden and President Trump. 'The focus for our office and for the county elections officials for now remains on making sure that every legal vote is counted and recorded accurately,' Raffensperger said. 'As we are closing in on a final count, we can begin to look toward our next steps. With a margin that small, there will be a recount in Georgia,' he predicted."

UPDATE GA: "How Stacey Abrams Is Turning the Tide in Georgia" [Vogue]. "Building on the efforts of New Georgia Project and others, Abrams and Fair Fight registered a staggering estimated 800,000 new voters since 2018 and helped squash suppressive policies like 'exact match,' which had required registrations to precisely match voters' licenses down to the hyphen, or else risk being tossed out. Abrams told NPR on November 2: '45% of those new voters are under the age of 30. 49% are people of color. And all 800,000 came on the rolls after November '18, which means these are voters who weren't eligible to vote for me but are eligible to participate in this upcoming election.'" • OK, I'm impressed!

NV: "Nevada Republican Party sends criminal referral to DOJ alleging thousands of cases of voter fraud" [The Hill]. "The Washington Post reported that the party's lawyers sent Barr a list of voters identified by cross-checking voter registration names and addresses with the National Change of Address database. Nevada law allows residents to cast ballots after moving out of state if they are serving in the military, a spouse of someone in the military or attending school. The American Civil Liberties Union (ACLU) of Nevada pointed out in a tweet Thursday following the criminal referral announcement that voters in the state do not lose their eligibility to vote when they leave the state temporarily…. [Joe Gloria, Clark County's registrar of voters] also said Thursday that the bulk of ballots in Clark County would likely be counted by the weekend, adding that the processing of ballots will not be complete until Nov. 12."

NV: "What Happens In Vegas May Not Stay In Vegas: Why The Nevada Challenge Could Be Important To The Presidential Election" [Jonathan Turley]. "the Nevada Republican Party has sent a criminal referral to the Justice Department alleging at least 3,062 instances of voter fraud in the battleground state. The referral is substantially less than the "10,000" referenced earlier but the underlying allegation is still important. The early concern for many of us was that the system established in Clark County would be difficult to review for violations due to how the tabulation was handled and the record preserved.The allegations over ineligible voting were raised before Election Day. Many states like Nevada are relying on notoriously outdated voter lists and applying fairly lax standards for confirming the identity of voters for mail-in ballots. In Nevada, this is a particular concern because many workers moved out of the state due to the pandemic's impact on the casino industry. You cannot vote if you moved out of the state over 30 days prior to the balloting. The problem is the accuracy of state voting and residency records in showing such changes shortly before an election. Absent a system of authentication of residency and identification, it would be a system based on the honor system – an approach that no casino would allow even at the nickel slots section…. I have repeatedly stated that we must not make assumptions on either side. My concern is that it is not clear how a court could review these ballots in Clark County if it agrees that there appears to be systemic problems. If the court believes that thousands votes illegally, that lack of a record could prove the undoing of the state officials. At some point, the burden can shift and courts demand proof that a problem was not systemic. If they cannot, the question will be raised whether the same vulnerability existed in other states like Pennsylvania, Michigan, or Georgia. A court could be presented with a decision of when the unknowable becomes the unacceptable."

UPDATE PA "Pennsylvania lawmakers have no role to play in deciding the presidential election" [Centre Daily Times]. "We have said it many times and we will happily say it again: The Pennsylvania General Assembly does not have and will not have a hand in choosing the state's presidential electors or in deciding the outcome of the presidential election. To insinuate otherwise is to inappropriately set fear into the Pennsylvania electorate with an imaginary scenario not provided for anywhere in law — or in fact. Pennsylvania law plainly says that the state's electors are chosen only by the popular vote of the commonwealth's voters." • So much for that theory that State legislatures have a "plenary" role. Both the authors are Republicans.

PA Problems at the printers. Thread:

Here I am going to try to address some confusion about why Allegheny County is not going to begin counting 30,000+ ballots until tomorrow. People are going bonkers about this, or castigating hard-working employees on no sleep, and it is wrong. (thread)

— Chris Potter (@CPotterPgh) November 5, 2020

UPDATE WI "Rural Wisconsin Counties Doubled Down on Trump in 2020" [Up North News]. "A review of Tuesday's county voting totals in Wisconsin shows of the 60 counties that supported Trump in the 2016 election, only two—Sauk and Door counties—voted for Democratic presidential candidate Joe Biden on Tuesday. Thirty-three of the 60, including Dunn County, supported Trump by a bigger margin than in the presidential election four years ago. When he was elected president in 2016, Trump prompted significant voter gains in Wisconsin's rural locations, with 30 counties recording Republican voting gains of 20% or more. He maintained those margins in Tuesday's election and improved his margin in all but three counties, although most of those increases were relatively small."

* * *

UPDATE "In plain words: Making sense of election results and news coverage" [Scalawag]. • An excellent glossary, which defines such terms as "ballot curing," "provisional ballot," "risk-limiting audit," and so forth. See also ballot adjudication.
Realignment and Legitimacy
UPDATE "America's divisiveness will 'make it a lot harder on the working class': Ian Bremmer" [Yahoo Finance]. "Speaking to Yahoo Finance Live, Eurasia Group founder and President Ian Bremmer said a divided electorate coupled with a divided Congress will make the passage of additional fiscal relief an uphill battle. 'I think it's going to make it a lot harder for the working class for those who have been furloughed and those furloughs are being made permanent, because the amount of stimulus that will be on offer, will be so much less,' he said. 'There's the ability to start to bring red and blue together, but that's not what we just saw.'… The lack of fiscal relief threatens to push millions of Americans into poverty. Still, the U.S. electorate remains fundamentally divided on how to pursue financial and economic reforms and tackle the public health crisis. Exit polls from Tuesday showed the opinions differed right along political fault lines, with 51% of the voters, saying it was more important to contain the coronavirus now, even if it hurts the economy, according to Edison Research for the National Election Pool. Forty-two percent of voters said rebuilding the economy should be a priority, even if it hurts efforts to contain the virus." • Caution on the exit polls, though! On fiscal relief:

Imagine how angry @realDonaldTrump is going to be when he realizes that he might have actually won if@senatemajldr and Senate GOP hadn't refused to pass another COVID bill and he had been able to sent voters another $1,200 Trumpy bucks a month before the election.

— Jon Walker (@JonWalkerDC) November 6, 2020

So Pelosi and McConnell mutually rid themselves of an irritant…

UPDATE "Liberalism & Fascism: The Good Cop & Bad Cop of Capitalism" [Black Agenda Report]. "It is often presumed that each individual state has a particular form of government—be it liberal, fascist or authoritarian—which constitutes the primary mode of rule throughout the entire country. We thus often hear expressions like 'the liberal democracies of the West' or 'the former dictatorships of Latin America.' This geography of governments is linked to a political chronology, which tells us that a government can shift from one form to another, hence the prevalence of sayings like 'the return of democracy' or the 'resurgence of fascism.' The dominant paradigm for understanding the relationship between states and government can thus be summed up in terms of one overarching principle: each state, if it is not in an open civil war, only has one form of government at one point in time, which rules over its entire territory and population. The one-state-one-government paradigm dissimulates the complex ways in which populations are governed. Its naïve either-or logic provides cover for less savory forms of governance if the state is declared, for instance, a liberal democracy. It also produces a geography and chronology of faraway fascism, by which liberal states seek to convince their citizenry that fascism is something that occurred in the past, that might emerge in the future if liberal institutions aren't preserved, or that only infests distant lands recalcitrant to democracy. Whatever the case may be, we can rest assured that fascism is not an issue right here, right now…. " • This is a must-read, a necessary antidote to binary thinking on this topic.

UPDATE "Don't Fool Yourself: Your Biden Vote Was Not A 'Vote Against Fascism'" [Caitlin Johnstone]. "But let's be clear here: there is no legitimate basis upon which to claim that your vote for Biden was a "vote against fascism". You can claim it was a vote against what you perceived as a more dangerous iteration of fascism, but you cannot claim with any validity that your vote for a lifelong murderous authoritarian was a vote against fascism. This is a very important distinction for everyone to get clear on, because repeating the mantra that you "voted against fascism" by voting for Biden can lead people to the very mistaken perspective that the US president is no longer advancing fascistic policies that need to be fought tooth and claw. By telling yourself you voted out fascism, you are lying yourself into a state of future complacency."

UPDATE "A Possible Majority" [Jedediah Britton-Purdy, Dissent]. "[I]t is essential to orient radical politics toward a possible majority, and that if we are not doing that, in this country, we are doing something other than politics." • This is an extremely wordy essay, worth reading with that single sentence in mind.
Stats Watch
At reader request, I added some business stats back in. Please give Econintersect click-throughs; they're a good, old-school blog that covers more than stats. If anybody knows of other aggregators, please contact me at the email address below.
Employment Situation: "October 2020 BLS Jobs Situation – Employment Grew 638,000 But Still Down 8,394,000 Year-to-Date" [Econintersect]. "The headline seasonally adjusted BLS job growth continues to show a very good job gain and was near expectations, with the unemployment rate improving from 7.9 % to 6.9 %…. The economically intuitive sectors were positive for economic growth. The rate of further recovery will be dependant on the coronavirus effects."
Rail: "Rail Week Ending 31 October 2020 – October Up 2.0%" [Econintersect]. "Total rail traffic has two components – carloads and intermodal (containers or trailers on rail cars). Container exports from China are now recovering, container exports from the U.S. remains deep in contraction. This week again intermodal continued in expansion year-over-year and continues on a strengthening trendline. However, carloads remain in contraction. But overall, rail is on an improving trendline."
* * *
The Bezzle: "Uber reports 18% revenue decline but says ride-hailing business is picking back up" [CNBC]. "Uber's third-quarter earnings are out, and the company reported losses of 62 cents per share and revenue of $3.13 billion. Bookings from deliveries outpaced bookings for rides and mobility again for Uber, as the Covid-19 pandemic continued to impact travel and commuting during the third quarter. Shares of Uber rallied mid-week after California voters approved Proposition 22, which allows ride-hail and delivery businesses to classify drivers as independent contractors not employees."
The Bezzle: "Uber, Lyft paid $85K to firm of NAACP leader who backs their ballot measure" [CNET]. Missed this at the time. "The Yes on Proposition 22 campaign even secured an endorsement from Alice Huffman, a notable Black leader and president of the state's chapter of the National Association for the Advancement of Colored People…. A little digging through campaign finance records, however, raises questions about the independence of Huffman's support. In February, the Yes on Proposition 22 campaign began making $10,000 and $15,000 payments to AC Public Affairs, the small Sacramento-based consulting firm that Huffman runs with her sister. As of Sept. 30, the firm had brought in $85,000 from the campaign." • I wonder if Kamala Harris — whose brother-in-law, Tony West, is Uber's Chief Legal Officer, and whose sister, Maya, has worked in Uber's policy department — will find Huffman a place in the incoming Democrat administration. I think she'd fit right in.
The Bezzle: "Airbnb to make IPO filing public next week despite COVID-19 surge: sources" [Reuters]. "The U.S. home rental company's planned debut on the Nasdaq is set to be one of the largest stock market listings of 2020, amid a pandemic that has seen demand for house rentals surge as vacationers snub hotels to practice social distancing. Airbnb's initial public offering filing will give outsiders their first detailed look into Airbnb's business, shedding light on the company's reinvention after the coronavirus outbreak pushed it to shift focus from city apartments to holiday homes. Airbnb plans to set an IPO price range and kick off an investor roadshow in December, the sources said, cautioning that the timing is subject to market conditions."
* * *
.
Today's Fear & Greed Index: 39 Fear (previous close: 38 Fear) [CNN]. One week ago: 30 (Fear). (0 is Extreme Fear; 100 is Extreme Greed). Last updated Nov 6 at 2:41pm • Greed and Fear on. NOTE For those who wonder if we should keep running it, readers asked for it back after I took it away. Also, I like having a quick insight, however shallow, into Mr. Market's psyche.
The Biosphere
"No Pattern Separation in the Human Hippocampus" [Trends in the Cognitive Sciences]. "Relatively recent evidence from human single-neuron recordings shows that, contrary to pattern separation, episodic memories are coded by context-independent and invariant engrams in the human hippocampus. Associations constitute the skeleton of episodic memories and are coded with partially overlapping assemblies, which prompts us to reconsider the view of episodic memory as mental time travel, and the distinction between episodic and semantic memory. A lack of pattern separation may explain human cognitive abilities, such as our unique powers of generalization and of creative and abstract thinking.
Pattern separation is a basic principle of neuronal coding that precludes memory interference in the hippocampus. Its existence is supported by numerous theoretical, computational, and experimental findings in different species. However, I argue that recent evidence from single-neuron recordings suggests that pattern separation may not be present in the human hippocampus and that memories are instead coded by the coactivation of invariant and context-independent engrams. This alternative model prompts a reassessment of the definition of episodic memory and its distinction from semantic memory. Furthermore, I propose that a lack of pattern separation in memory coding may have profound implications that could explain cognitive abilities that are uniquely developed in humans, such as our power of generalization and of creative and abstract thinking." • Obviously, we should legalize psychedelics immediately!
"Wealthy countries edge towards global climate finance goal" [Reuters]. "Wealthy countries have ramped up financing to help developing countries cut carbon emissions and cope with the impact of climate change, although it is unclear if they will meet their goal of $100 billion this year." • A hundred lousy billion?!
"Female hunters of the early Americas" [Science]. The abstract: "Sexual division of labor with females as gatherers and males as hunters is a major empirical regularity of hunter-gatherer ethnography, suggesting an ancestral behavioral pattern. We present an archeological discovery and meta-analysis that challenge the man-the-hunter hypothesis. Excavations at the Andean highland site of Wilamaya Patjxa reveal a 9000-year-old human burial (WMP6) associated with a hunting toolkit of stone projectile points and animal processing tools. Osteological, proteomic, and isotopic analyses indicate that this early hunter was a young adult female who subsisted on terrestrial plants and animals. Analysis of Late Pleistocene and Early Holocene burial practices throughout the Americas situate WMP6 as the earliest and most secure hunter burial in a sample that includes 10 other females in statistical parity with early male hunter burials. The findings are consistent with nongendered labor practices in which early hunter-gatherer females were big-game hunters."
"Horse mastery helped mysterious Mongolian warriors build a multiethnic empire" [Nature]. "To learn more about human migration across Central Asia, a team led by Choongwon Jeong of Seoul National University and Harvard University's Christina Warinner sampled and sequenced DNA from human remains found in Mongolia… DNA from 60 human skeletons from the Xiongnu's 300-year-run shows how the region was transformed into a multiethnic empire. After more than 1000 years in which three distinct, stable human populations lived side by side on the Mongolian steppe, genetic diversity rose sharply around 200 B.C.E. Populations from western and eastern Mongolia mixed with each other and with people carrying genes from as far away as present-day Iran and Central Asia. Such wide-ranging mixing has 'never been seen before at that scale,' Jeong says. 'You can see the entire Eurasian genetic profile in the Xiongnu people.' The results suggest mastery of the horse made possible stunning long-distance voyages on Central Asia's sea of grass. Archaeological finds in the graves of Xiongnu elites, such as Roman glass, Persian textiles, and Greek silver, had suggested distant connections. But the genetic evidence suggests something more than trade. Eleven Xiongnu-period skeletons showed genetic signatures similar to those of the Sarmatians, nomad warriors who dominated the region north of the Black Sea, 2000 kilometers across the open steppe from Mongolia."
Health Care
"What COVID-19 Exposed In Long-Term Care" [Health Affairs]. "We might have assumed as well a vigorous policy response to the problems that make senior facilities so vulnerable: the chronic underfinancing, inadequate clinical services, and fragile staffing that are all endemic to skilled nursing facilities. But, similarly, that response is yet to come. We've seen these underlying factors contribute significantly to the COVID-19 death toll in these facilities. The consequences of this: nearly 40 percent of US COVID-19 deaths were among seniors in all long-term care facilities. In late September 2020, the federal government had an opportunity for powerful intervention. The Coronavirus Commission for Safety and Quality in Nursing Homes, established by the Centers for Medicare and Medicaid Services (CMS), released a report detailing its response to COVID-19 in nursing homes. However, the report, issued six months after our nation was aware of the death toll in nursing homes, failed to present a bold new vision for skilled nursing care. Although this cautious response is a disappointment, it comes as no surprise. The federal government followed a standard process: assemble academics, researchers, and thought leaders in a commission; charge them with determining consensus recommendations; publish a report; and hope that something will happen as a result. This is not what the circumstances demand."
"Coronavirus: Oxford vaccine trial issues warning after participants share swabs with family and friends" [The Independent]. "Volunteers in the Oxford University coronavirus vaccine trial – on which hopes of ending the global pandemic may rest – have been sharing swabs with people not involved in the study, The Independent can reveal. A message to participants of the clinical trial, sent today from the Covid research team based at Guys and St Thomas' Hospitals Trust in London and seen by The Independent, confirmed some positive infections identified by the trial had been tracked to people who were not participating in the study. Oxford University today confirmed the problem but said it was a small number of participants whose results could be easily identified and would not affect the final results…. But the actions of some participants drew criticism from one doctor in London, who is also a part of the trial. Speaking to The Independent, they said: 'As both a doctor and a trial participant I am aware that the swabs I send in weekly are incredibly important to track the efficacy of this new vaccine. I am scared and angered in equal measure that some participants are jeopardising this critical study through submitting false data…. We cannot afford an increase in vaccine scepticism and behaviour like this risks giving ammunition to that cause. A good vaccine is our way out of this crisis and undermining the data quality of an essential study will add genuinely credible evidence to a cause usually based on disproportionate scaremongering and misinformation.'" •  E.M. Forster: "If I had to choose between betraying my country and betraying my friend, I hope I should have the guts to betray my country." And the guts to accept the subsequent shaming and scolding. I don't think what the sharers have done is right; but a good doctor would, I think, make some effort to understand (and not center their own feelings of fear and anger. I don't know if we've done a mass testing program where the test subjects, if randomly chosen, were more likely to be in desperate straits).
"Study Showing Masks Aren't Harmful May Do More Harm Than Good" [MedScape]. For the study in question, n=25, and oxygen saturation was, oddly, the proxy for pulmonary well-being. "Since the authors of the paper, and the editors of JAMA are physicians, they well know that people who hold irrational beliefs are not persuaded by a study of 25 participants…. The editors knew the study proved nothing, but they still published it. In one day, the paper had more than 13,000 page views and an Altmetric score of 536. This paper will be cited often. The business model of medical journals is attention—page views, citations, and media coverage. That a top-tier medical journal publishes the equivalent of a high-school science project tempts me to believe that attention trumps scientific merit. Think about the next time JAMA publishes a really important finding—say, a study on vaccines. People turned cynical by the publishing of flawed attention-grabbing studies could reasonably think the journal editors are not fair judges of good science. When the important paper comes, scientists will now have to say, yes, yes, we know medical journals publish flawed studies for attention, but this really important paper is different…. In addition to attention, the findings of this study will surely be held up as a cudgel to persuade people to wear masks, the enforcement of which is a policy issue. When medical journals take sides in political debates, they lose the perception of impartiality. That is a problem because dealing with a pandemic requires people to cooperate. This requires trust. And trust is hard-won but easily lost." • Amen.
Water
UPDATE "Revealed: How a breach of a vast remote 'landslide dam' in one of the world's most earthquake-prone regions could cause 'the worst natural disaster in human history'" [Daily Mail]. "Breathtaking Lake Sarez in Tajikistan's Pamir Mountains is one of the great natural wonders of Asia, but it is also a ticking time bomb, hemmed in by a landslide dam that if breached could cause, according to the UN, 'the worst natural disaster in human history'. The cause for concern emanates from the way the lake was formed – as a result of an earthquake that measured 7.0 on the Richter Scale. It struck in 1911 and caused a huge landslide containing 2.2million cubic metres (78million cubic feet) of earth and rock that formed the biggest natural dam in the world, 3.1 miles (five kilometres) long, two miles (3.2 kilometres) wide and up to 1,860ft (567m) tall. This blocked the Murghab River and allowed rainwater and meltwater to fill a valley and form the shimmering Lake Sarez, which is over 40 miles (64km) long and up to 1,657ft deep. But the area it's in is one of the most earthquake-prone in the world."
The 420
"As Advocates Celebrate a 'Renaissance,' Could Psychedelics Become the Next Cannabis?" [Adweek]. "With new national attention comes a logical question: Are hallucinogens queuing up to be the new cannabis? Advocates acknowledge the short mental hop between both drug categories. But on a deeper level, they hasten to add that there are few direct parallels between the fast-growing legal cannabis industry, which added five states to the market on Tuesday, and the nascent psilocybin movement. For instance, shrooms will not be sold at the neighborhood dispensary, at least not in the foreseeable future. Still, the results in Oregon may be a harbinger of things to come. Americans increasingly indicate that they're open to formerly verboten drugs as remedies. And as this recent election cycle proves, they're voting in significant numbers for decriminalization." • I would love to see both corporations and advertisers/marketers forbidden to enter the marijuana or hallucinogen market, and everything given to small growers. Utopian, I know.
Our Famously Free Press
It's hard to come up with a lead-in for perfection:
Is my butler a racist? My latest for the New York Times.

— Shant Mesrobian (@ShantMM) November 5, 2020
Class Warfare
Interesting anecdote:
There is a big uptick of stealth camper van videos on YouTube with a lot of views. A customer stealth camper van builder said he has a backlog because he can't get the Vans from Mercedes. People are preparing to live on the road for a reason.

— JR (@JoySFDeveloper) November 6, 2020
Interesting method, too. Readers, can you confirm?
News of the Wired
"How to Ace Coding Interviews – Advice from a Former Amazon Dev" [Hackernoon]. • "Learn to code."
"DNA might replace barcodes to tag art, voter ballots: study" [Agence France Presse]. "Easy-to-remove barcodes and QR codes used to tag everything from T-shirts to car engines may soon be replaced by a tagging system based on DNA and invisible to the naked eye, scientists said Thursday. The DNA-based system could help anti-forgery efforts, according to researchers who said thieves struggle to find or tamper with a transparent splash of DNA on valuable or vulnerable items, such as election ballots, works of art, or secret documents…. [R]esearchers at the University of Washington and Microsoft said that the molecular tagging system, called Porcupine, is — unlike most alternatives — cost-effective…. Unlike existing systems to tag objects, , senior author Jeff Nivala said in a press release from Washington University." • Sounds like the surveillance industry could get a boost from this as well, though oddly the article doesn't mention that….
Seasonal artbots:
Sparse foliage, 1934 #paulklee #klee pic.twitter.com/YM37eU9knk

— Paul Klee (@artistklee) November 6, 2020
* * *
Readers, feel free to contact me at lambert [UNDERSCORE] strether [DOT] corrente [AT] yahoo [DOT] com, with (a) links, and even better (b) sources I should curate regularly, (c) how to send me a check if you are allergic to PayPal, and (d) to find out how to send me images of plants. Vegetables are fine! Fungi and coral are deemed to be honorary plants! If you want your handle to appear as a credit, please place it at the start of your mail in parentheses: (thus). Otherwise, I will anonymize by using your initials. See the previous Water Cooler (with plant) here. Today's plant (WB):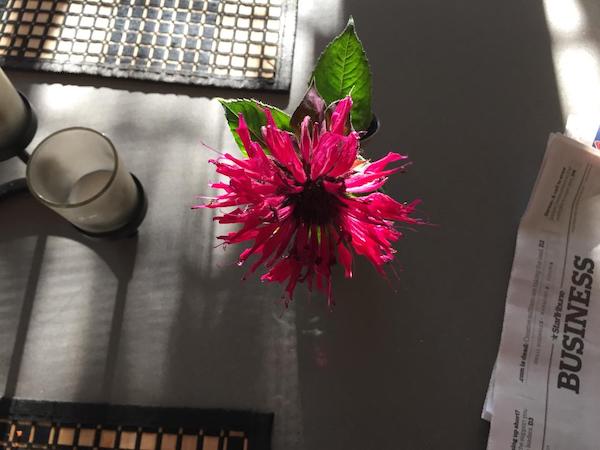 WB writes: "Solo Bee Balm blooms make nice table flowers."
* * *
Readers: Water Cooler is a standalone entity not covered by the recently concluded and — thank you! — successful annual NC fundraiser. So if you see a link you especially like, or an item you wouldn't see anywhere else, please do not hesitate to express your appreciation in tangible form. Remember, a tip jar is for tipping! Regular positive feedback both makes me feel good and lets me know I'm on the right track with coverage. When I get no donations for five or ten days I get worried. More tangibly, a constant trickle of donations helps me with expenses, and I factor in that trickle when setting fundraising goals:
Here is the screen that will appear, which I have helpfully annotated.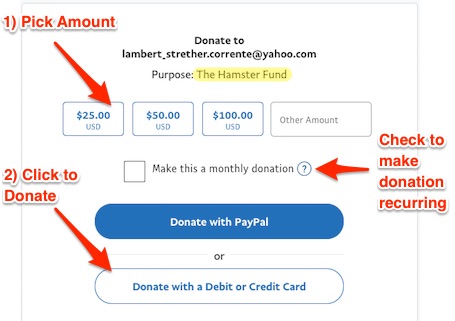 If you hate PayPal, you can email me at lambert [UNDERSCORE] strether [DOT] corrente [AT] yahoo [DOT] com, and I will give you directions on how to send a check. Thank you!