By Lambert Strether of Corrente.
Two days into the week and I've got to do a pantry clear-out on Politics! –lambert UPDATE All done!
Bird Song of the Day
Nightingale duet (the Macaulay Library's classification system is really obsessive and excellent).
#COVID19
At reader request, I've added this daily chart from 91-DIVOC. The data is the Johns Hopkins CSSE data. Here is the site.
Case count by United States region: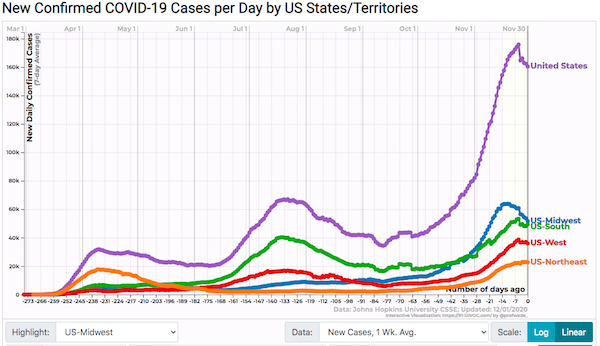 Thanksgiving data.
The Midwest in detail (with New York, California, and Texas for comparison):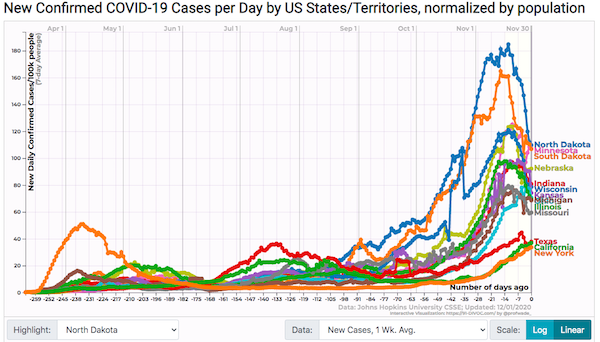 Note that the fall in the Midwest began around 11 days ago. That's a little early for Thanksgiving travel. So, some of the drop is real. But Thanksgiving data is an issue, too.
Test positivity by region: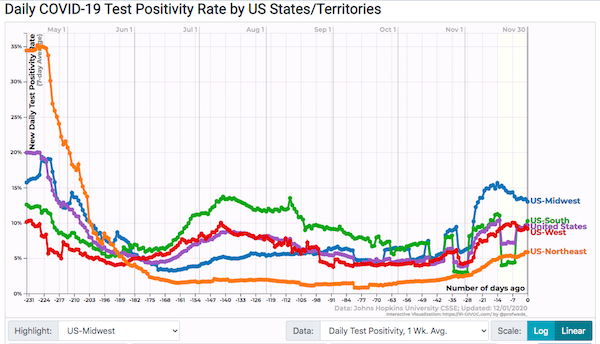 Hospitalization by region: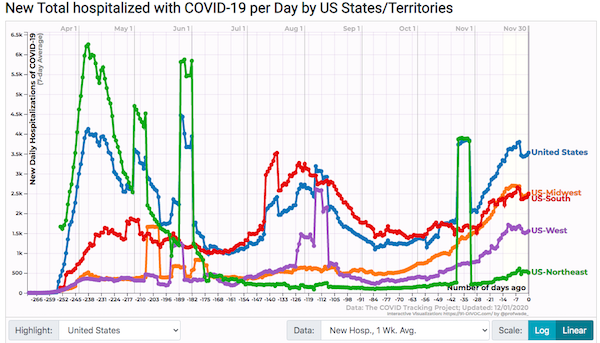 Hospitalization bounces right back up. We should also take into account that hospitalization is also discretionary; they may also be reducing their admissions rate — relative to cases we cannot see in this data! — to preserve future capacity. See this thread:
There is something funny happening with COVID hospitalizations

Proportion of COVID pts getting hospitalized falling

A lot

Just recently

My theory?

As hospitals fill up, bar for admission rising

A patient who might have been admitted 4 weeks ago may get sent home now

Thread

— Ashish K. Jha, MD, MPH (@ashishkjha) December 1, 2020
Case fatality rate by region: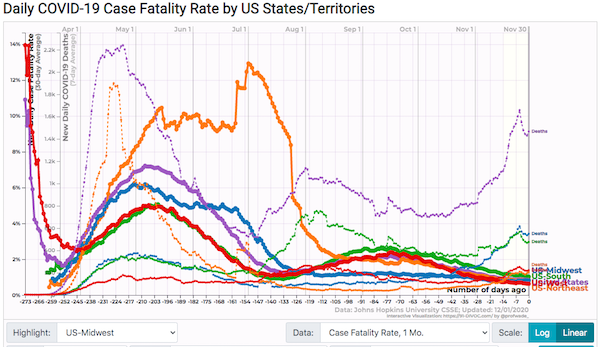 Deaths (purple line) dropping starting on Thanksgiving Day sure looks like a reporting issue to me.
Politics
"But what is government itself, but the greatest of all reflections on human nature?" –James Madison, Federalist 51
"They had one weapon left and both knew it: treachery." –Frank Herbert, Dune
"They had learned nothing, and forgotten nothing." –Charles Maurice de Talleyrand-Périgord
2020 Democrats in Disarray
No contradictions here:

seattle_liberalism.jpg pic.twitter.com/egsV7qCF3D

— normal scrutiny (@monteurhulot) November 28, 2020
Transition to Biden
"With Tanden Choice, Democrats Stick it to Sanders Voters" [Matt Taibbi, TK News]. "Tanden is famous for two things: having a puddle of DNC talking points in place of a cerebrum, and despising Bernie Sanders. She was #Resistance's most visible anti-Sanders foil, spending awe-inspiring amounts of time on Twitter bludgeoning Sanders and his supporters as a deviant mob of Russian tools and covert 'horseshoe theory' Trump-lovers. She has, to put it gently, an ardent social media following. Every prominent media figure with even a vague connection to Sanders learned in recent years to expect mud-drenched pushback from waves of 'Neera trolls; after any public comment crossing DNC narratives. No name in blue politics is more associated with seething opposition to Sanders than Tanden. Biden is making this person Director of the Office of Management and Budget. Sanders is the ranking member (and, perhaps, future chair) of the Senate Budget Committee. Every time Bernie even thinks about doing Committee business, he'll be looking up at Neera Tanden. For a party whose normal idea of humor is ten thousand consecutive jokes about Trump being gay with Putin, that's quite a creative 'f*ck you.'" • Something to this, although it is "very online." That said, Tracey is on to something too:

I enjoy ragging on Neera as much as anyone, and she richly deserves it. But it also has to be admitted that her uber-cynical post-2016 branding strategy actually *worked.* Which is one of the most painfully depressing things you'll ever hear https://t.co/vP9AqvhVGx

— Michael Tracey (@mtracey) December 1, 2020

I'm not privy to the machinations that produced "#Resistance," so I don't know if Neera drove the process. She was, however, very, very early — which is how I knew it was a scam — and used her clout to propagate the hash tag, and set her enforcers on people she considered oppositional or deviant. I also don't know who masterminded its hideous mating with RussiaGate. But Neera was successful — which is why Trump has copied her strategy.

Then again, Stoller's theory (from yesterday) has support, too:

Just interviewed the head of a major progressive group who said that the Biden transition team reached out after the Tanden nomination to say "aren't you happy, we met your demands, we brought in a movement leader"

— Eoin Higgins (@EoinHiggins_) December 1, 2020

Of course, the Biden team could be both devious and stupid. Bush's "Mayberry Machiavellis" were, after all.

More dunking on Neera, in no particular order: Here, here, here, here, here, here, and here. And fortunately there's the Wayback Machine:

It appears that Neera Tanden has deleted about 1100 tweets between November 16 and tonight. The screenshot on the left is from Nov. 16 on Wayback.

It was reported earlier today that Biden will name her as the director of OMBhttps://t.co/8WPKVcpKzO pic.twitter.com/WADGBDoDOe

— Cameron Cawthorne (@Cam_Cawthorne) November 30, 2020

And lots and lots of people who took screenshots just before she blocked them.
2020
Stats Watch

At reader request, I added some business stats back in. Please give Econintersect click-throughs; they're a good, old-school blog that covers more than stats. If anybody knows of other aggregators, please contact me at the email address below.

Debt: "3Q2020 Household Debt Shows Consumer Debt Back on the Rise after Second Quarter Dip" [Econintersect]. "The Federal Reserve Bank of New York's Center for Microeconomic Data today issued its Quarterly Report on Household Debt and Credit, which shows that total household debt increased by $87 billion (0.6%) to $14.35 trillion in the third quarter of 2020. The increase more than offset the decline seen in the second quarter of 2020 as total household debt has surpassed its 2020Q1 reading."

Housing: "October 2020 CoreLogic Home Prices: Home Price Appreciation The Fastest Annual Acceleration Since April 2014" [Econintersect]. "CoreLogic's Home Price Index (HPI) home prices for October 2020 increased 7.3% in October 2020, compared with October 2019, marking the fastest annual appreciation since April 2014. On a month-over-month basis, home prices increased by 1.1% compared to September 2020…. COVID has contributed to the acute shortage of inventory as the pace of new construction slowed and older prospective sellers postponed listing their homes until after the pandemic."

* * *

The Bezzle: "Five Reasons Why Bitcoin is Going Up" [The Reformed Broker]. "A few reasons for Bitcoin's return to the record highs. It's about $18,500 as of this writing, matching the previous highs from 2017's original explosion. Reason one: It's going up because it's going up. Don't scoff, this is the reason most things in the markets happen and then the explanations are called for afterwards. I'm in financial television, I have literally watched this process occur in real-time. … Reason two: Paypal and Square's Cash App, according to reports, are in a race to acquire enough Bitcoin to facilitate the next generation of their money transferring services. They both seek to allow their massive user bases to be able to seamlessly transact with merchants in Bitcoin, moving money back and forth from sovereign currencies into Bitcoin, etc. This use case has been the holy grail all along – how do you get regular people who don't know anything about cryptocurrencies to transact in cryptocurrencies? I don't know how to read the code that went into Expedia's website, but I know how to book a vacation on it. I don't know to disassemble the engine of my Chevy Tahoe, but I know how to drive my kid to school in it. Reason three: Wall Street legends are being won over. Don't underestimate the pull of FOMO, peer pressure, idol worship etc. Read this thing by Niall Ferguson. And then this article in Barron's about how institutions are afraid of missing out. Reason four: Gold and silver aren't 'working.'"

Tech: "S&P Global's $44bn deal shows data is the oil of the 21st century" [Financial Times]. "Monday's announcement by S&P Global that it has agreed to buy IHS Markit — the large London-based financial analytics company — for $44bn encapsulated how data is now to the financial industry what oil is to the industrial economy. Separately, both S&P Global and IHS Markit are major players in the business of collecting, refining and piping information that power chunks of modern finance. The former is big in the stock market index business, credit ratings and energy analysis. The latter boasts a strong position in debt market and derivatives analytics and a host of corporate research in areas like transportation, aerospace and trade. Combined, they might hope to compete with the likes of Michael Bloomberg's eponymous empire, whose pricey terminals are ubiquitous on Wall Street; Refinitiv, which is being acquired by the London Stock Exchange for $27bn; and newer challengers like Intercontinental Exchange, the acquisitive owner of the New York Stock Exchange that bought Interactive Data for $5.2bn in 2015 and Ellie Mae for $11bn earlier this year."

Tech: "AWS going AWOL last week is exactly why less is more in cloud server land" [The Register]. "On Wednesday last week, Amazon decided to take serverless at face value. Its US-EAST-1 region fell out of the cloud like a rain of frogs, leaving hundreds of services crippled or dead. Adobe Spark, Roku, Flickr, iRobot, and many more stuttered and fell. The firm passed the buck as quickly as possible, but to nobody's satisfaction. All at once, we were back to the pre-PC days where everything lived on the mainframe and you did what IBM told you to do, and if you didn't like that then good luck living outside the ecosystem. This is one of the cloud's less impressive aspects."

Tech: "Algorithmic Collusion: working mechanisms" [University of Amstersdam]. This is a conference program, not a report, but it certainly sounds interesting.

Mr. Market: "The Biggest Worry For Everyday People Is No Obstacle For 'Blissful' Financial Markets" [Heisenberg Report (Re Silc)]. "It's really quite something — tell the average voter that the US government doesn't actually need to tax or borrow to spend, and you'll be scoffed at, but tell that same voter there are no aliens at Area 51, and they'll say 'Are you sure?')." • Propaganda works…

The Fed: "Powell stresses importance of lending programs, calls economic outlook 'extraordinarily uncertain'" [CNBC]. "Federal Reserve Chairman Jerome Powell emphasized the importance of the lending programs it has deployed during the coronavirus pandemic, telling senators in testimony to be delivered Tuesday that they've been integral in keeping the economic fallout from being worse. Treasury Secretary Steven Mnuchin, who will appear twice on Capitol Hill with Powell this week, has said that the legislation that enabled the programs does not permit them to run past Dec. 31. The two officials are speaking as part of required updates on the CARES Act funding initiatives Congress passed to aid the economy through the pandemic. Many of the key programs that the central bank has used since March are expiring at the end of the year, and the Fed will be forced to return the funding that supports them."

* * *

.

Today's Fear & Greed Index: 92 Extreme Greed (previous close: 88 Extreme Greed) [CNN]. One week ago: 88 (Greed). (0 is Extreme Fear; 100 is Extreme Greed). Last updated Dec 1 at 12:53pm.

The Biosphere

"Dallas turned off lights to save birds migrating through Texas. Will Fort Worth join?" [Fort Worth Star-Telegram]. "In an effort to reduce the number of bird deaths across the state, Jones worked with the Cornell Lab of Ornithology to promote Lights Out Texas, a campaign urging Texans and building owners to turn off non-essential outdoor and indoor lights between 11 p.m. to 6 a.m., when birds are coasting on a superhighway toward the south. Light pollution can create a 'deathtrap' for migratory birds, which are drawn out of their typical elevation and into a chaotic downtown environment, Jones said. Each year, between 365 million and 988 million birds across the U.S. are killed when they collide with buildings, according to studies cited by the Cornell Lab." • Yay, Cornell Lab! (Yay also Fort Worth, of course.)

"The Search for Dark Matter Is Dramatically Expanding" [Quanta]. • With handy chart of the possible masses of dark matter, all the way from primordial black holes to ultralight dark matter.

"An 'Impossible' Discovery of 'Twisted Light' Could Rewrite Laws of Physics" [The Independent]. "Scientists have suggested that dark energy could be a cosmic 'quintessence' – a substance in itself, rather than a constant of space as was previously thought." • Like a luminiferous ether, except not luminiferous?

Water

"A Desert City Tries to Save Itself With Rain" [Bloomberg (GF)]. "In an average year, Brad Lancaster can harvest enough rain to meet 95% of his water needs. Roof runoff collected in tanks on his modest lot in Tucson, Arizona — where 100 degree days are common in the summer months — provides what he needs to bathe, cook and drink. When Lancaster gets thirsty, he sips filtered rain 'known as sweet water,' he says, having never picked up salt from soil. When he wants a hot shower, he places his outdoor shower's water tank in the sun. To irrigate his fruit trees beyond the Sonoran Desert's two rainy seasons, which bring the vast majority of Tucson's precipitation, he uses fresh rainwater or greywater — the latter being, in his case, used rainwater leftover from the shower, sink, or washing machine. 'More rain falls on the surface of Tucson in a typical year than the entire population of Tucson consumes of municipal water in a year,' says Lancaster, author of Rainwater Harvesting for Drylands and Beyond. 'So we have more water than we need most years — if we harvest it and reinvest it as opposed to draining it away.'" • I wonder if we have any readers in Tucson who know Lancaster?

Our Famously Free Press

Reinventing the blogosphere:

@FreedomBoxFndn and other initiatives are working on the former, but the absence of the latter means that companies like Substack & Patreon continue to be very attractive even as they replicate on a minor scale the same problematic centralizing platform dynamics of FB, Twtr, etc.

— Rohan Grey (@rohangrey) November 14, 2020

Substack doesn't even have a blogroll, ffs — even an internal one made up only of substack blogs. The silo is strong….

"What do I care the open web is dying?" [Insight Browser]. • Apps make you stupid.

Feral Hog Watch

The Influence of Feral Hog Power Upon History (nippersmom):

The Conservatory

"Bob Dylan: The Lost Bar Mitzvah Tapes" [Untold Dylan]. "Pastor Wendell Helgason of the Wesley United Methodist Church, in Hibbing, Minnesota discovered a rare artifact in the basement of the Church last Easter Sunday. It was an audio tape recording from the days before the Church moved in and took over the mortgage from the former owners, the Agudath Achim Synagogue which closed its doors in 1964 due to a dwindling local Jewish population. When Pastor Helgason dusted off and activated the old Sony reel to reel he was intrigued at first by the melodic chanting which he assumed to be the young men's Hebrew choir. It turned out to be the Synagogue Cantor's own recording of each boy's Bar Mitzvah rehearsal. He was about to turn off the tape when he heard a distinct voice that he immediately recognized. 'I would know that nasal sound anywhere,"Pastor Wendell said, bursting with hometown pride. "No mistaking that voice belonged to the prodigal son of Hibbing.'"

Crapification Watch

Do better, Ekumen!

Utah's monolith has visible screws and seams, Romania's looks like a sad art project with awful welding skills and some sort of texture clearly made with a sander typically seen on every apartment door in Bushwick. Aliens, please improve your buffering technique. Score ??⚪⚪⚪ pic.twitter.com/SloeLr4YQJ

— Claudia Rojas ? (@Panterita) November 30, 2020

Book Nook

I believe that Levine is correct:

As far as that generation of sci-fi goes, PKD is the only one who predicted anything relevant at all. He's the only one who tapped into something deeper than the surface level. https://t.co/gWCLBdH5hk

— Yasha Levine (@yashalevine) November 30, 2020

The thread gives counter-examples, but I think only Phillip K. Dick gives a real sense of the grittiness, the griminess, the crapification of "future poverty." That's one reason I like him; his realism.

Black Injustice Tipping Point

"Race, Risk, and the Emergence of Federal Redlining" [NBER]. The Abstract: "During the late 1930s, the Home Owners Loan Corporation (HOLC) created a series of maps designed to summarize spatial variation in the riskiness of mortgage lending in different neighborhoods. The HOLC maps, in conjunction with contemporaneous maps produced by the Federal Housing Agency (FHA), are at the center of debates regarding the long-run impacts of government-imposed redlining, particularly because black households were concentrated in the highest risk zones on these maps. This concentration, combined with the fact that these formerly redlined neighborhoods largely remain economically distressed today, suggest racial bias in the construction of the maps has had important effects over the long run. Using newly digitized data for ten major northern cities, we assess the maps for the importance of this channel in explaining the prevalence of black residents in redlined neighborhoods. We find that racial bias in the construction of the HOLC maps can explain at most a small fraction of the observed concentration of black households in redlined zones. Instead, our results suggest that the majority of black households were redlined because decades of disadvantage and discrimination had already pushed them in to the core of economically distressed neighborhoods prior to the government's direct involvement in mortgage markets. As a result, the HOLC maps are best viewed as providing clear evidence of how decades of unequal treatment effectively limited where black households lived in the 1930s rather than reflecting racial bias in the construction of the maps themselves. We argue that the systemized treatment of neighborhood risk vis-à-vis mortgage lending that was adopted by HOLC and the FHA may have played a central role in locking these patterns of inequality in place."

Guillotine Watch

"Celebs mingle without masks at birthday party for Lil Wayne's daughter" [CNN]. "A packed party was being held to celebrate Carter's 22nd birthday. It even featured music performances by her father, Lil' Wayne, and fellow hip-hop artists, Juvenile and 2 Chainz. They were all seen in posts at the party without masks and at times standing shoulder to shoulder with each other…. Other celebrities in attendance included music producer and rapper Mannie Fresh, singer-songwriter Kandi Burruss and her husband Todd Tucker. Burruss shared several images and videos on her Instagram from the party. The couple owns restaurants in Atlanta and are cast members on 'The Real Housewives of Atlanta.' A representative for Burruss and Tucker could not be reached for comment." • This keeps happening.

"McKinsey for Kids: Hungry fish, baffled farmers, and what happened next" [McKinsey (Stoller)]. "You're a kid. You've heard of McKinsey—maybe your parent even works here—yet you don't quite get what we do all day. You're not alone—many adults don't either. Basically, we help solve problems. And many of those problems affect you directly: how to improve education, or tackle climate change, or design products that you and your friends might like. Let's look at, say, fish: Have you eaten sushi lately, or fish sticks, or a fish sandwich? Here is how we helped some farmers in Latin America who might have grown that fish. Check it out." • N-o-o-o-o-o-o-o….

Class Warfare

"Abolishing the Economics Nobel Isn't Enough" [Current Affairs]. "Under this argument, the problem with the economics Nobel is not so much its origin, but its mere existence. The fact that political power is accorded to those who have won the prize—in addition to the political power they must already possess to have put their ideas into practice in the first place—is a matter of democratic contention. Economists have a habit of convincing themselves that their proposals are scientific and sidestep questions of democracy, when actually those proposals just prioritize economists' own values and approaches over those of others. Whether we're talking about RCTs, auctions, or monetary policy, much of the application of economic ideas has taken place behind closed doors and in a language inaccessible to most of us. In every case this secrecy has had clear consequences for which policies have been implemented—and subsequently which groups have benefited and which have lost out." • The philosophers have only interpreted the world, in various ways. The point, however, is not to change it.

"Let's Talk About Higher Wages" [Editorial Board, New York Times]. "This is not just a political problem for Democrats; it is an economic problem for the United States. The nation needs a better story about the drivers of economic growth, to marshal support for better public policies. The painful lessons of recent decades, along with recent economic research, point to a promising candidate: higher wages. Raising the wages of American workers ought to be the priority of economic policymakers and the measure of economic performance under the Biden administration. We'd all be better off paying less attention to quarterly updates on the growth of the nation's gross domestic product and focusing instead on the growth of workers' paychecks."

News of the Wired

"Undergraduate Math Student Pushes Frontier of Graph Theory" [Quanta]. Finally a paragraph from Quanta I can actually understand: "For example, imagine you've got six vertices, each connected to every other vertex by edges. Now color each of the 15 total edges either red or blue. No matter how you apply the colors, it's inevitable that you'll end up with three vertices that are all connected to each other by edges of the same color (known as a "clique"). The same is not true, however, if you start with five vertices (for which it's possible to do the coloring without creating a clique). As a result, mathematicians say that the Ramsey number for two colors and a clique of size 3 is 6 — meaning you need at least six vertices to guarantee the clique exists."

"Dijkstra Was Wrong About 'Radical Novelty': Metaphors in CS Education" [Communications of the ACM]. "Dijkstra's argument is that computers represent "radical novelty." There's nothing like them in human experience, and we cannot use our past experience to understand them. In particular, we shouldn't use metaphors…. We now know that this is likely impossible. The learning sciences tell us that all learning is based on connecting new experiences to previous, through a process called constructivism developed by Jean Piaget (see a nice explanation here). Trying to learn something without connection to prior experience inhibits learning. It leads to a phenomenon called inert knowledge (see Wikipedia page) where you have memorized stuff to pass the test, but you don't really understand and can't really use the knowledge."

ZOMG this is not fiction:

In the UK clowns copyright their faces by having them painted on ceramic eggs. The eggs are kept in the "Clown's Gallery" located inside a London church (closed since 2018 for safety reasons???). The eggs are terrifying and weird and great. pic.twitter.com/cCifFWudoc

— Emily Herring is extremely online (@EtheHerring) November 27, 2020

I thought Terry Pratchett invented this concept in Men at Arms…

I don't think Google Captcha is training robot cars any more with the damn crosswalks and traffic lights and bicycles. I think it's just random sadism from an algo. Others agree:

when you need to confirm you're not a robot pic.twitter.com/nueeljlewl

— Stevie Martin (@5tevieM) November 29, 2020

* * *

Readers, feel free to contact me at lambert [UNDERSCORE] strether [DOT] corrente [AT] yahoo [DOT] com, with (a) links, and even better (b) sources I should curate regularly, (c) how to send me a check if you are allergic to PayPal, and (d) to find out how to send me images of plants. Vegetables are fine! Fungi and coral are deemed to be honorary plants! If you want your handle to appear as a credit, please place it at the start of your mail in parentheses: (thus). Otherwise, I will anonymize by using your initials. See the previous Water Cooler (with plant) here. Today's plant (JU):

JU writes: "Being in a burn area not long after ignition is interesting. I've been on this trail [Ladybug Trail, Sequoia National Park] a hundred times, so got to really know the lay of the land before the Castle fire came calling, and will have the great pleasure of watching it reanimate itself over the course of the rest of my life."

* * *

Readers: Water Cooler is a standalone entity not covered by the recently concluded and — thank you! — successful annual NC fundraiser. So if you see a link you especially like, or an item you wouldn't see anywhere else, please do not hesitate to express your appreciation in tangible form. Remember, a tip jar is for tipping! Regular positive feedback both makes me feel good and lets me know I'm on the right track with coverage. When I get no donations for five or ten days I get worried. More tangibly, a constant trickle of donations helps me with expenses, and I factor in that trickle when setting fundraising goals:

Here is the screen that will appear, which I have helpfully annotated.

If you hate PayPal, you can email me at lambert [UNDERSCORE] strether [DOT] corrente [AT] yahoo [DOT] com, and I will give you directions on how to send a check. Thank you!