By Lambert Strether of Corrente.
Bird Song of the Day
#COVID19
At reader request, I've added this daily chart from 91-DIVOC. The data is the Johns Hopkins CSSE data. Here is the site.
Case count by United States region: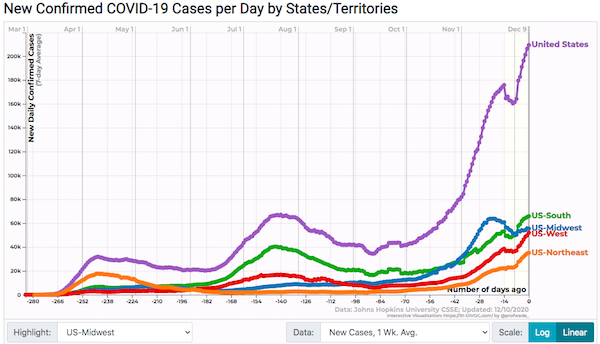 Returning to the upward trend. I feel I'm engaging in a macabre form of tape-watching, here, and I hate to see the upward rise, because I don't think the peak is coming in the next days, or even weeks.
I thought I'd look at some big states (New York, Florida, Texas, California) instead of the Midwest: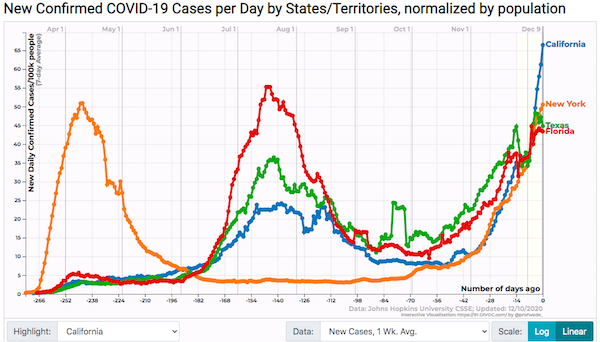 The big states all moving more-or-less in tandem now, with California sprinting ahead; perhaps spread was nationalized with colleges and universities opening and closing? The correlation seems to happen around 63 days ago (October 1).
Test positivity by region: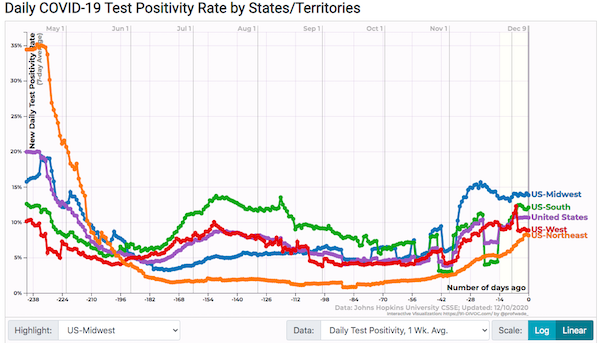 Hospitalization by region: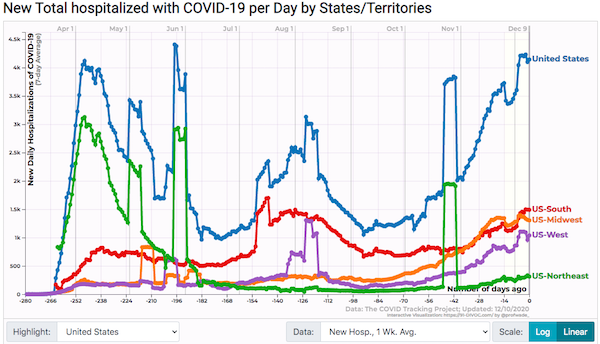 We should also take into account that hospitalization is also discretionary; they may also be reducing their admissions rate — relative to cases we cannot see in this data! — to preserve future capacity.
Case fatality rate by region: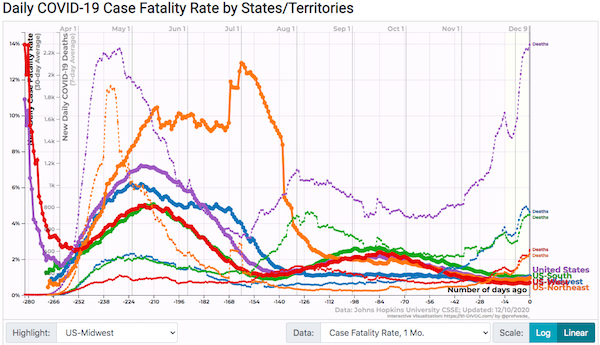 On deaths (dashed lines) the pairing of Midwest (blue) and South (green) vs. the pairing of Northeast (orange) and West (red) isn't something seen in any of the other charts. Odd.
Politics
"But what is government itself, but the greatest of all reflections on human nature?" –James Madison, Federalist 51
"They had one weapon left and both knew it: treachery." –Frank Herbert, Dune
"They had learned nothing, and forgotten nothing." –Charles Maurice de Talleyrand-Périgord
Democrats in Disarray
Mothership Strategies is at it again:

Makes Publishers Clearing House look like David Ogilvy….

"Dianne Feinstein's Missteps Raise a Painful Age Question Among Senate Democrats" [Jane Mayer, The New Yorker]. "[O]thers familiar with Feinstein's situation describe her as seriously struggling, and say it has been evident for several years. Speaking on background, and with respect for her accomplished career, they say her short-term memory has grown so poor that she often forgets she has been briefed on a topic, accusing her staff of failing to do so just after they have. They describe Feinstein as forgetting what she has said and getting upset when she can't keep up. One aide to another senator described what he called a 'Kabuki' meeting in which Feinstein's staff tried to steer her through a proposed piece of legislation that she protested was 'just words' which 'make no sense.' Feinstein's staff has said that sometimes she seems herself, and other times unreachable. 'The staff is in such a bad position,' a former Senate aide who still has business in Congress said. 'They have to defend her and make her seem normal.'… Anyone who has tried to take the car keys away from an elderly relative knows how hard it can be, [one well-informed Senate source told me], adding that, in this case, 'It wasn't just about a car. It was about the U.S. Senate.'" • Trouble in the caucus boiling over…
Transition to Biden
"How Biden Should Investigate Trump" [The Atlantic]. "Joe Biden has a set of decisions to make about the record of the Trump era. The record needs to be discovered—in part so that damage can be undone, and in part to ensure that the country faces its failures squarely and through a common lens." • The best thing the Democrats could do, for the sake of their continued functioning as a party, would be to investigate Obama. A little self-reflection would have a purgative, salutary effect….

"Union Power After the Election" [Dissent]. "Democrats received overwhelming support from the membership of what are now the flagship unions, based in the public sector, healthcare, education, and hospitality, of the postindustrial American economy and labor movement—the Service Employees International Union (SEIU), the American Federation of State, County and Municipal Employees, the American Federation of Teachers, the Communications Workers of America, UNITE HERE (the gaming and hospitality union), and National Nurses United. In recent years, the members of these unions, who are disproportionately female and non-white, have been central to some of the largest and most important labor actions of the new working class: several Chicago Teachers Union strikes beginning in 2012; the wildcat strikes and job actions of teachers across mostly red states in 2018, starting in West Virginia; the United Teachers Los Angeles strike of 2019; and aggressive organizing and strikes by healthcare workers and nurses all over the country. Their militancy is a major reason why labor may have more influence with Biden than it had with Obama. The urgency caused by the pandemic-driven collapse of the economy and the development of a significant social democratic faction within the Democratic Party has also given labor a chance to punch above its weight and promote broad policies on behalf of the working class. Yet labor's leadership looks primed to screw up its first chance to effectively throw that weight around in the tussle over the nominee for secretary of labor." • So it will be interesting to see who Biden's Secretary of Labor is…

UPDATE "President-elect Joe Biden selects Susan Rice as director of White House Domestic Policy Council" [USA Today]. • Biden wants to start his own wars, I guess….

UPDATE "After years of denial under President Trump, experts expect Joe Biden to confront domestic extremism" [USA Today]. "While Biden's blueprint for tackling domestic extremism is unclear, there are signs he will prioritize the issue. A 'Plan to End Our Gun Violence Epidemic' on the president-elect's website includes a promise to 'Establish a new Task Force on Online Harassment and Abuse to focus on the connection between mass shootings, online harassment, extremism, and violence against women.'" • Oh, a task force.

UPDATE "Biden picks leave Democrats with slimmest House majority in modern history" [The Hill]. "President-elect Joe Biden's decision to tap Reps. Cedric Richmond (D-La.) and Marcia Fudge (D-Ohio) for his new administration will mean Speaker Nancy Pelosi's (D-Calif.) fragile House majority — already decimated in the November elections — will temporarily shrink by a couple more seats next month. Democrats will easily refill those deep-blue seats in New Orleans and Cleveland, but they'll have to wait for special elections to do so. The looming vacancies mean Democrats will likely hold a precarious 220-213 majority, the slimmest in modern history, just as they kick off the 117th Congress and Biden and his Hill allies grapple with twin public health and economic crises. For Pelosi and her whip team, it means that just four defections could tank any piece of legislation that Democrats bring to the floor." • Four. Remind me how big the (so-called) Squad is?
2020
"Great Latinxpectations" [The Baffler]. "For decades, the illusion of a "Latino vote" represented the facile container for a multi-racial ethnic group that includes people whose roots in this nation predates borders or whose heritage can be traced to countries from the Patagonia to the Caribbean. Advocates, journalists and political scientists have repeated, at near mantra-levels, that Latinos are not a 'monolith.' But 'Latino vote' persisted into the 2020 election, revealing less about Latinos and more about the presumptuousness of 'Latino vote' adherents whose response to the electoral force of Latinos resembles the discovery of a new species—distant, confused, and fetishizing. The news about Republican gains among Cuban and Venezuelan voters eclipsed the reality that a diverse bloc of Latinos backed Democrats. Why? Because in the 'Latino vote' model it was seemingly inconceivable that immigrants or their children would send their votes to a president who built his political brand by demonizing immigrants. But before they were immigrants or the 'Latino vote,' many Florida Latinos, specifically Cubans and Venezuelans, belonged to the privileged class in their countries. To reach the U.S., they didn't cross a desert. They traveled business class." • Oh, wow, class trumped identity. Who knew?

TX: "What went wrong with Texas Democrats' 2020 plans? State party leaders intend to find out." [Texas Tribune]. "The head of the Texas Democratic Party has appointed a committee to take a "deep dive" on what went wrong in the November election after a group of executive committee members wrote to him demanding answers, reforms and a shakeup in senior staff…. The Tribune obtained a copy of the letter that was dated Friday. In it, the State Democratic Executive Committee members raise a host of issues related to the governing body's relationship with party staff — which appear to predate this election cycle — as well as the party's role in the November election. 'From messaging to organizing, political data to simple administration, the Texas Democratic Party has dropped the ball and it is becoming more and more apparent every day that our senior leadership is refusing to take responsibility or, more importantly, the actions necessary to resolve the many shortfalls of our party this election cycle,' the letter said. The letter makes a dozen requests, including a change in senior staff, , a 'full roster' of party employees and consultants, a '10-year strategic plan,' an 'overhaul' of the party's approved vendors list, outreach to state parties in places like Georgia and Virginia, and a task force on the party's headquarters." • This is much better than what the DNC did after 2016, with its pathetic "Unity Reform Commission."

UPDATE OK, Van Ness Creative Strategies is talking their book. Nevertheless:
Obama Legacy
UPDATE "In Conversation With Barack Obama" (interview with, you guessed it… Jonathan Chait) [New York Magazine]. Obama: "I have no regrets about at least testing the possibility that Republicans are reasonable." • After they impeached Clinton over a [family blog]. Ye Gods. At least in 2008 Clinton would have been vengeful, ffs. That might have done some good around the margins…
Realignment and Legitimacy
"Del. Lee Carter files for Virginia governor, but says he's 'keeping his options open" [Prince Williams Times]. "Del. Lee Carter of Manassas has filed a statement of organization to run for Virginia governor in 2021 but says he's still deciding whether he'll launch a gubernatorial campaign and is 'keeping his options open.' 'I'm still in the decision phase of whether or not to run for governor. But I did file some paperwork because, at this point, it is a prerequisite to keep that option open,' Carter, 33, said in an interview Wednesday. News of Carter's filing corresponded with Wednesday's announcement that former governor Terry McAuliff, 64, will also enter the race. Carter, a self-described democratic-socialist, said his decision to run will be solely based on whether he 'hears discussion from other candidates about making big, transformative change to our political system and to our economy to make sure we have an economy that works for the rest of us.'" • I'd love to see Carter take down McAuliff. That would put the cat among the pigeons!

The negative correlation between rhetorical performance on Twitter versus the real world is pretty amusing. https://t.co/BvXyelhqkr

— Matt Taibbi (@mtaibbi) December 9, 2020
Stats Watch
At reader request, I added some business stats back in. Please give Econintersect click-throughs; they're a good, old-school blog that covers more than stats. If anybody knows of other aggregators, please contact me at the email address below.
Employment Situation: "05 December 2020 Initial Unemployment Claims Significantly Worsen" [Econintersect]. "Market expectations for weekly initial unemployment claims (from Econoday) were 693 K to 735 K (consensus 707 K), and the Department of Labor reported 853,000 new claims. The more important (because of the volatility in the weekly reported claims and seasonality errors in adjusting the data) 4 week moving average moved from 740,500 (reported last week as 739,500) to 776,000."
Housing: "3Q2020 CoreLogic Homeowner Equity Report: Homeowners Gained Over $1 Trillion in Equity" [Econintersect]. "The Home Equity Report for the third quarter of 2020 shows U.S. homeowners with mortgages (which account for roughly 63% of all properties) have seen equity increase by 10.8% year over year, representing a collective equity gain of $1 trillion, and an average gain of $17,000 per homeowner, since the third quarter of 2019. This marks the largest average equity gain since the first quarter of 2014. Despite the economic impact of the pandemic, home prices soared throughout the summer and fall. Appreciation reached its highest level since 2014 in the third quarter of 2020 as prospective homebuyers continued to compete for the low supply of homes on the market, pushing home equity to record levels. Equity gains are likely to persist over the next several months as strong home-purchase demand is expected to remain high and continue pushing prices up."
Inflation: "November 2020 CPI: Year-over-Year Inflation Rate Unchanged" [Econintersect]. "According to the BLS, the Consumer Price Index (CPI-U) year-over-year inflation rate was 1.2 % year-over-year (unchanged from the reported 1.2 % last month). The year-over-year core inflation (excludes energy and food) rate was also unchanged at 1.6 %." • But hidden in the averages:
This is where all the action is at. Used cars, clothing, airfares, hotels, they're going to bounce around and be noisy. But in the end, they won't add up to much. Rent is the thing to watch to see where there real pressures are building or dissipating in the system. https://t.co/tCRKBwMOJx

— Joe Weisenthal (@TheStalwart) December 10, 2020
* * *
Design: "Why Pantone Believes Gray and Yellow Will Be 2021's Colors of the Year" [AdWeek]. "The Pantone Color Institute has selected not one but two colors for its 'Color of the Year 2021'—Ultimate Gray and Illuminating yellow—a pairing of colors that, Pantone said, come together to conjure 'deeper feelings of thoughtfulness with the optimistic promise of a sunshine filled day.' … Leatrice Eiseman, executive director of the Pantone Color Institute, said the selection of two colors also reflected a sense of union… 'The selection of two independent colors highlight how different elements come together to express a message of strength and hopefulness that is both enduring and uplifting, conveying the idea that it's not about one color or one person, it's about more than one,' she said."
Design: "Pantone's Color of the Year Is Really Weird—Just Like Everything Else Right Now" [Vogue]. "Pantone has such a great global reach, I wish it either stop trying to hitch its color trends to current events, or pick something more meaningful. Medical Mask Blue, for instance, as a reminder that we're not through this crisis yet and we still need to be masking up. Or Ultimate Gray, as a reminder that the future is always a vast unknown space, no matter how much we project our desires onto it."
* * *
.
Today's Fear & Greed Index: 78 Extreme Greed (previous close: 80 Extreme Greed) [CNN]. One week ago: 85 (Extreme Greed). (0 is Extreme Fear; 100 is Extreme Greed). Last updated Dec 10 at 12:03pm.
Health Care
"US experts convene to decide whether to OK Pfizer vaccine" [Associated Press]. "A U.S. government advisory panel convened on Thursday to decide whether to endorse mass use of Pfizer's COVID-19 vaccine to help conquer the outbreak that has killed close to 300,000 Americans. The meeting of outside advisers to the Food and Drug Administration represented the next-to-last hurdle before the expected start of the biggest vaccination campaign in U.S. history. Depending on how fast the FDA signs off on the panel's recommendation, shots could begin within days. The FDA panel functions like a science court. During the scheduled daylong session, it was expected to debate and pick apart the data — in public — on whether the vaccine is safe and effective enough to be cleared for emergency use. With unprecedented interest in the normally obscure panel, the FDA broadcast the meeting via Youtube, and thousands logged on."
Here we go:
"Safety and Efficacy of the BNT162b2 mRNA Covid-19 Vaccine" [New England Journal of Medicine]. The Results:
A total of 43,548 participants underwent randomization, of whom 43,448 received injections: 21,720 with BNT162b2 and 21,728 with placebo. There were 8 cases of Covid-19 with onset at least 7 days after the second dose among participants assigned to receive BNT162b2 and 162 cases among those assigned to placebo; BNT162b2 was 95% effective in preventing Covid-19 (95% credible interval, 90.3 to 97.6). Similar vaccine efficacy (generally 90 to 100%) was observed across subgroups defined by age, sex, race, ethnicity, baseline body-mass index, and the presence of coexisting conditions. Among 10 cases of severe Covid-19 with onset after the first dose, 9 occurred in placebo recipients and 1 in a BNT162b2 recipient. The safety profile of BNT162b2 was characterized by short-term, mild-to-moderate pain at the injection site, fatigue, and headache. The incidence of serious adverse events was low and was similar in the vaccine and placebo groups.
The methods and especially the "exclusion criteria" are are above my paygrade. Hopefully readers will dig in.
A good question:
The BioNTech/Pfizer data is out—NEJM & FDA report. I understand this wasn't in the design & the long-term protection from single dose is open question. But given this sharp drop after 14 days after one dose, can someone explain why single dose isn't very very high on the agenda? pic.twitter.com/sxqwACGulz

— zeynep tufekci (@zeynep) December 10, 2020
* * *
"Rising Coronavirus Cases Force Chicago To Set Up Temporary Bars In Hospitals" (podcast) [The Topical].
* * *
As an aerosol believer, I think we should all pay great attention to the flow and condition of air indoors, but I confess I have no concrete suggestions for winter; it's unpleasant (and costly) to open the windows when it's cold. Apparently, low humidity makes it easier for the virus to spread, so if you have radiators, be sure to put a pan of water on top of each one. If anybody has thought through a winter system for covid, I'm sure readers would love to hear it. I don't think the "six feet apart" mantra is enough; we need to think about air flow. For example, does the virus concentrate in "dead air," like dust balls?
The Biosphere
"Fracking Sites Tied to Increased Heart Failure Hospitalizations" [MedScape]. "Living near hydraulic fracturing is associated with increased risk of hospitalization in people with heart failure (HF), a new study from Pennsylvania suggests. The link was strongest among those with more severe heart failure but was found in patients with either HF phenotype, according to the investigators, led by Tara P. McAlexander, PhD, MPH, Drexel University Dornsife School of Public Health in Philadelphia. Although questions remain about specific mechanisms and how best to assess exposure, the evidence is mounting in a way that is consistent with the biologic hypotheses of how fracking would adversely affect health, McAlexander said. 'We have many studies now on adverse pregnancy and birth outcomes, and that's just the tip of the iceberg.' Fracking involves a cascade of activities that can trigger neural circuitry, sympathetic activation, and inflammation — all well-known pathways that potentiate heart failure, said Sanjay Rajagopalan, MD, who has researched the health effects of air pollution for two decades and was not involved with the study." • Waiting for that famous Biden empathy to kick in, here.
Majestic:
This is what a rocket launch looks like from space. pic.twitter.com/1yJVxU56mY

— Vala Afshar (@ValaAfshar) October 3, 2020
(The earth, I mean; not the rocket launch.)
Screening Room
"Anthology's Inaugural Film Program Reborn!" (nvl):
ANTHOLOGY'S INAUGURAL FILM PROGRAM REBORN! from Anthology Film Archives on Vimeo.
nvl writes: "Anthology has been a staple of my adult life, along with the Film Forum, and now closed Cornelia Street Cafe and St Mark's Bookshop. The later were started by collectives of artists/writers, with their demise having been New York real estate. Who cares about downtown cultural institutions? One of the St Marks managers started a used bookstore, Topos, which is a bit to far for me to be a frequent customer."
Xmas Pregame Activities
"No drama corona-Christmas has some secretly jumping for joy" [Associated Press]. "'We're happy to be saving money, spending more time together, and to just have a less stressful holiday,' said [Corritta Lewis, a] 31-year-old human resources analyst in Oceanside. 'We don't have to deal with the crowded airports, stores and overall mania that the holiday brings. We're going to lie in our pajamas and watch movies all day.'" • Sounds like a plan! Although I would miss singing carols.
MMT
"Five Things You Need to Know to Start Your Day" [Bloomberg]. "There was an interesting piece at Business Insider by Alex Yablon last weekend, talking about the growing phenomenon of Wall Streeters sounding left wing in their analysis. There are a number of facets, but basically the idea is that you hear more people in finance adopting MMT-like frameworks for their analysis of the economy. This is in contrast to the historic stereotype of Wall Street as a bastion of libertarian, free market ideology. This phenomenon may seem odd or contradictory, but it's really not. An implicit premise of many laissez-faire thinkers is that the economy is basically a barter economy: People get together in some "market", and butchers and bakers trade with each other so they both have a complete meal for dinner. And therefore the best approach to economic regulation is to be as hands-off as possible, so that everyone can trade in an optimal manner, having the best dinner possible. On the flipside, MMT and related schools of thought put money and balance sheets right at the center of their analysis. In their view, the economy isn't filled with butchers and bakers necessarily. It's filled with people who have bills to pay and cash-flow needs, who may take a job as a butcher or baker in order to meet their monetary obligations. Go read a Nathan Tankus blog post, and it's filled with accounting. Two of the most famous left-wing books ever have capital in the name. Wall Street is a business of people trading claims on future cash flows in the form of stocks, bonds and other instruments. And everyone's trying to accumulate more of those claims over time. You don't have to be a socialist to see how modes of analysis that focus on money — as opposed to just seeing money as a simple means to facilitate barter — have a natural home in the finance profession."
Class Warfare
The replies:
Trying to see something here…

If you've had your cell phone, any utilities (gas, power, water), or wifi shut off during this pandemic due to non-payment, please reply and let me know what's been shut off and tag the related companies.

Please don't quote tweet…just replies.

— Yashar Ali ? (@yashar) December 9, 2020
"Stealing to survive: More Americans are shoplifting food as aid runs out during the pandemic" [WaPo]. "Alex graduated with a master's degree in May and was immediately in a bind: no job, no money and, with much of the country still shut down, little hope that anything would change. She'd spent most of her $1,200 stimulus check on rent, and used what little she had left to buy groceries. Everything else — vitamins, moisturizer, body wash — she said she shoplifted from a Whole Foods Market a few miles from her apartment in Chicago. 'It was like, I could spend $10 and get a couple of vegetables or I could spend $10 on just a box of tampons,' said Alex, 27, who asked to be identified by her middle name to speak candidly. She has a job now, earning $15 an hour, but still struggles to make ends meet. She says she continues to shoplift — something she'd never done before the pandemic — every few weeks. She says she moves through the store mostly unnoticed. Usually, she said, she picks up a few bulky vegetables — a bunch of kale, maybe, or a few avocados — to disguise the pricier items she slips into her bag at the self checkout. 'I don't feel much guilt about it," she said. 'It's been very frustrating to be part of a of people who is losing so much right now. And then to have another who is profiting from the pandemic — well, let's just say I don't feel too bad about taking $15 or $20 of stuff from Whole Foods when Jeff Bezos is the richest man on Earth.'" • Access to food…
"How Covid Turned Cashiers into Carers" [Tribune]. "Since lockdown creates a world in which shops are one of the only environments people can be guaranteed face-to-face interactions, security guards and cashiers alike are finding themselves recast as counsellors, mental health support workers, and 'friends'. In my shop, visits from vulnerable, elderly, and lonely customers—nearly all of whom live alone, and some of whom have complex mental health conditions—have dramatically increased. These individuals often stay for over an hour. They come for a variety of reasons, but mainly to be somewhere warm and to have someone to talk to – about their worries, their YouTube channels, their medication, their boredom. This trend has been accelerated, not created, by the pandemic….. The behaviour of retail staff over the course of the pandemic has been depicted as 'heartwarming' and full of 'simple acts of kindness', as though retail staff don't work for pay, but in the hope of inspiring next year's John Lewis Christmas ad. This framing downplays the degree of physical and emotional labour involved in providing emotional support, while depoliticising the fact that it has been left to retail workers to provide it. The new relationship between customers and staff should be seen for what it is – the outsourcing of care."
"Hero to Zero" [The Baffler]. "Those of us who have survived this far know exactly to whom we owe our lives, and it's certainly not the government (imagine!), or the wealthy, or the employing class. It's the health care workers, grocery store workers, sanitation workers, delivery workers, retail workers, transit workers, education workers—the list goes on ad infinitum, but you know precisely who I mean. They are the underpaid, under-appreciated, under-protected U.S. working class, many of whom were treated to a nightly round of applause, for a spell; some of whom were thrown a few weeks of hazard pay like so many of Trump's paper towels; and many more of whom were just expected to get on with it and try not to die in the process…. Nearly a year into the pandemic and across every sector of essential work, it seems that employers have lost interest in lionizing the workers who have sacrificed so much for the sake of others, or even in pretending to care about the risks those workers must endure to earn a paltry day's wage. It was bound to happen, but it's still another black mark against the soulless ruling class of this country—and a goddamn shame to witness. All the yard signs and earnest rounds of applause in the world won't fill an empty belly or bring back a dead friend." • "In this house" yadda yadda yadda….
"The Trouble with White Women" [Duke University Press]. "There is a deeper, more structural reason why white women vote for misogynist, white supremacist candidates despite a century and a half of feminist organizing, however. Simply put: sex difference is itself a racial structure. Sexual difference, as a concept, emerged as a function of race. This is particularly salient in the nineteenth century, the era in which modern notions of race and sex difference solidified. My new book, The Biopolitics of Feeling, zeroes in on this generally overlooked phenomenon (outside of the history of evolutionary thought): that a wide variety of scientists, writers, and reformers articulated full sexual differentiation as the unique achievement of the civilized. The binary entities of man and woman were newly understood as thoroughly distinct in terms of mental, physiological, emotional, and psychological capacity. Sex difference was presented as the singular attainment of a teleological evolution moving toward ever greater specialization. The primitive races, by contrast, were cast as unsexed, as insufficiently evolved in both anatomy and character. The category of womanhood emerged in modern times as a unique quality of civilization. Its ramifications are still visible in electoral politics across the country."
News of the Wired
""A damn stupid thing to do"—the origins of C" [Ars Technica]. "But C did not emerge fully formed out of thin air as some programming monolith. The story of C begins in England, with a colleague of Alan Turing and a program that played checkers." • The author of the checkers being one Christopher Strachey, of the Bloomsbury Stracheys…
"Is the Thumbs Up Emoji Really a Coded 'F*ck You'?" [Harpers Bazaar]. "Emojis aren't just a shorthand; they afford us the ability to convey tone, emotion, even playfulness while also providing a clarity and reassurance to text that might otherwise be read as ambiguous." Except: "[E]emoji can be used insincerely—and that's really hard to be sure about." • Oh well.
"BLANC is a full-face modular mask designed for protection and privacy" [Design Boom]. "a team of entrepreneurs, product designers, and PPE specialists have unveiled a full-face modular mask called 'blanc'. conceived as a protective mask, lifestyle accessory, digital hygiene unit, tech gadget, and privacy keeper, 'blanc' covers the users' eyes, nose and mouth, while FDA-approved HEPA filters protect wearers from 99% of particles — including dust, mists, and aerosols. these filters seamlessly fit into the mask frame with a built-in visual color scale indicating when it's time to change them." • This is also a kickstarter pitch, so caveat lector. That said, it's good to see somebody looking at masks as a fashion opportunity, like sneakers, instead of disposable pieces of non-woven cloth. The look:
blanc is conceived as a protective mask, lifestyle accessory, digital hygiene unit, tech gadget, and privacy keeper https://t.co/r98mHNlHjf pic.twitter.com/4bFGCSLtXs

— designboom (@designboom) December 10, 2020
Not a look for everyone. But wait 'til the anime crowd go to work…
"Bad sex award cancelled as public exposed to 'too many bad things in 2020′" [Guardian]. "The prize was set up in 1993 by Auberon Waugh, with the intention of 'gently dissuading authors and publishers from including unconvincing, perfunctory, embarrassing or redundant passages of a sexual nature in otherwise sound literary novels.' Last year it was jointly won by Didier Decoin for The Office of Gardens and Ponds, which included the passage: 'Miyuki felt as though she was manipulating a small monkey that was curling up its paws', and John Harvey for Pax, in which the characters 'embraced as if with violent holding they could weld the two of them one'. The award's judges said they took the decision because they felt 'the public had been subjected to too many bad things this year to justify exposing it to bad sex as well'.. But the judges warned authors not to take the cancellation as a 'licence to write bad sex'. 'With lockdown regulations giving rise to all manner of novel sexual practices, the judges anticipate a rash of entries next year,' said a spokesperson. 'Authors are reminded that cybersex and other forms of home entertainment fall within the purview of this award. will not be exempt from scrutiny.'" • Good work.
* * *
Readers, feel free to contact me at lambert [UNDERSCORE] strether [DOT] corrente [AT] yahoo [DOT] com, with (a) links, and even better (b) sources I should curate regularly, (c) how to send me a check if you are allergic to PayPal, and (d) to find out how to send me images of plants. Vegetables are fine! Fungi and coral are deemed to be honorary plants! If you want your handle to appear as a credit, please place it at the start of your mail in parentheses: (thus). Otherwise, I will anonymize by using your initials. See the previous Water Cooler (with plant) here. Today's plant (jr):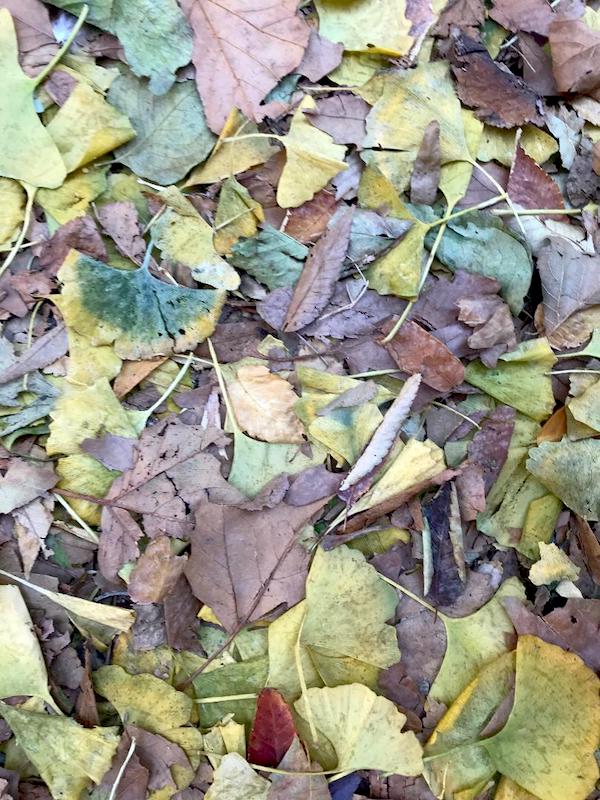 jr writes: "Fall fashion."
* * *
Readers: Water Cooler is a standalone entity not covered by the recently concluded and — thank you! — successful annual NC fundraiser. So if you see a link you especially like, or an item you wouldn't see anywhere else, please do not hesitate to express your appreciation in tangible form. Remember, a tip jar is for tipping! Regular positive feedback both makes me feel good and lets me know I'm on the right track with coverage. When I get no donations for five or ten days I get worried. More tangibly, a constant trickle of donations helps me with expenses, and I factor in that trickle when setting fundraising goals:
Here is the screen that will appear, which I have helpfully annotated.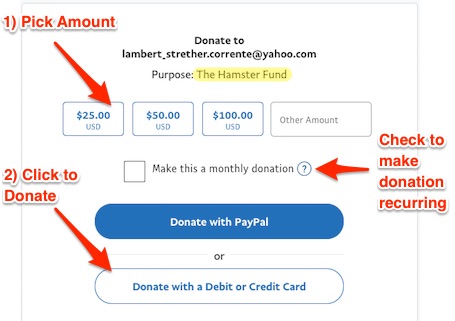 If you hate PayPal, you can email me at lambert [UNDERSCORE] strether [DOT] corrente [AT] yahoo [DOT] com, and I will give you directions on how to send a check. Thank you!