By Lambert Strether of Corrente.
Patient readers, I'm afraid brunch ran late. More soon. –lambert
Bird Song of the Day
A Scottish bird (for Morag).
#COVID19
At reader request, I've added this daily chart from 91-DIVOC. The data is the Johns Hopkins CSSE data. Here is the site.
Case count by United States region: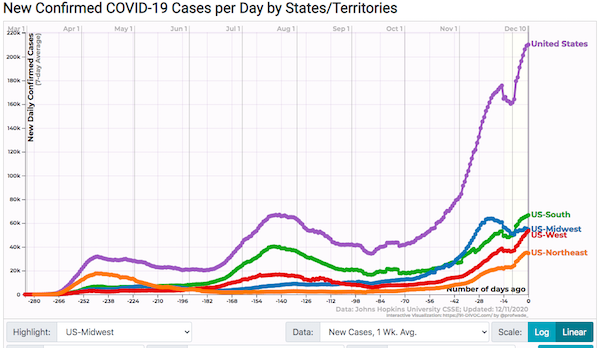 A slight decrease in slope, 15 days after Thanksgiving. I feel I'm engaging in a macabre form of tape-watching, because I don't think the peak is coming in the next days, or even weeks.
I thought I'd look at some big states (New York, Florida, Texas, California) instead of the Midwest: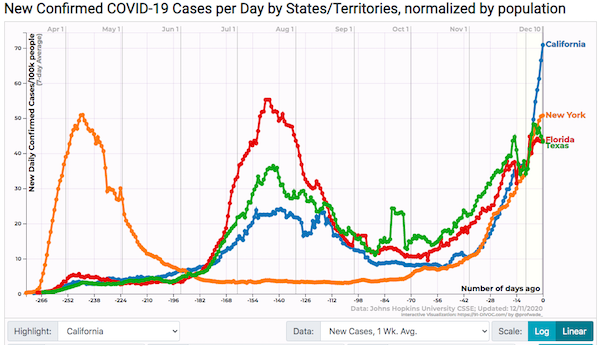 Texas and Florida diverge, but California sprints ahead.
Test positivity by region: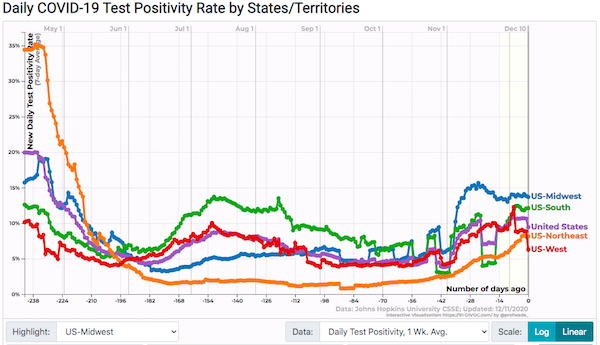 Big drop in the West.
Hospitalization by region: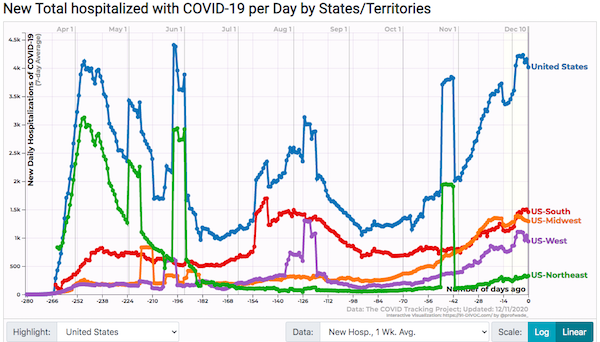 Drop driven by West and Midwest. We should also take into account that hospitalization is also discretionary; they may also be reducing their admissions rate — relative to cases we cannot see in this data! — to preserve future capacity.
Case fatality rate by region: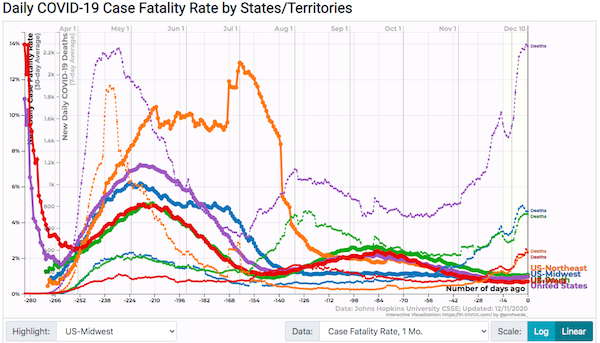 Slight decrease in slope, driven by the Midwest only. On deaths (dashed lines) the pairing of Midwest (blue) and South (green) vs. the pairing of Northeast (orange) and West (red) isn't something seen in any of the other charts. Odd.
Politics
"But what is government itself, but the greatest of all reflections on human nature?" –James Madison, Federalist 51
"They had one weapon left and both knew it: treachery." –Frank Herbert, Dune
"They had learned nothing, and forgotten nothing." –Charles Maurice de Talleyrand-Périgord
Election Legitimacy
"Biden's electors prepare to seal his victory, as Trump and coronavirus rage" [Politico]. "[T]he Biden campaign has spent the days since Election Day making sure each of the president-elect's electors is armed with precise logistical information, transportation and a backup plan, should anything interfere with their ability to arrive on time to cast the official votes to make Biden president — including the possibility that there could be last-minute protests or attempted disruptions from supporters of the president."

"Jeb Bush blasts Texas lawsuit: 'This is crazy. It will be killed on arrival'" [The Hill]. • Like all the other mainstream articles I've read on this topic, the legal arguments are omitted, completely. Not that the Trump legal team has covered itself with glory, but shouldn't we at least be told what Texas's theory of the case is?

"In Blistering Retort, 4 Battleground States Tell Texas to Butt Out of Election" [New York Times]. "In theory, the court has several options, including granting a temporary injunction barring the states' electors from voting for Mr. Biden while the case proceeds or putting the suit itself on a fast track. But by far the most likely outcome is for the court to refuse to hear the case." • This doesn't summarize Texas's theory of the case either.

"States tell justices to deny Texas request to overturn 2020 election" [SCOTUSblog]. • Summarizes (some of) the states' arguments: If the Supreme Court takes this case, it will be flooded with others; and Texas lacks standing. (From the Pennsylvania brief: The court should "not abide this seditious abuse of the judicial process." I hardly see how bringing a court case "rebels against the authority of a state.") I dunno. I've skimmed the Texas brief, and there are points in it that at least have substantive form (I can't speak to the content). Those points are not mentioned. If the Texas brief is as bad as "everyone" says that it is, then why the incomplete coverage? If indeed the Trump administration is in cahoots with the Roberts court, and installed Amy Coney Barrett with such unseemly haste to get a favorable ruling in 2020's Bush v. Gore, then surely SCOTUSblog is the forum to demolish the Texas brief in detail? Granted, the demolition may be out there — readers? — but "Texas says ____ and that's absurd because _____" doesn't seem to exist as a talking point.

UPDATE "The Galling Hypocrisy of Texas AG Ken Paxton" [Jonah Goldberg, The Dispatch]. "[P]hilosophically this lawsuit is a betrayal of everything defenders of federalism and the Electoral College claim to believe. The state of Texas has no standing to complain how those other states conduct elections or appoint their electors. If it were taken seriously, it would open a Pandora's box of asininity in which various states would use the federal government to dictate how other states operate." • Maybe national elections should be conducted according to national standards (an idea nobody seems to be pushing. Along with hand-marked paper ballots, hand-counted in public).

UPDATE Montana's brief:

Montana's governor says his state did many of the things Texas said make an election illegal but Texas didn't sue them because Trump won, "underscoring, of course, that this is less about election integrity than it is about attempting to overturn the will of the electorate." pic.twitter.com/DsIBxtRebh

— Brad Heath (@bradheath) December 11, 2020

Trump, in other words, has made the exact same error Gore made in Florida 2000: Suing to overturn the election only where he thinks he can win, which cedes any moral high ground there is to be had.

UPDATE "Trump Reaps $207.5 Million After Loss as Donors Answer His Fury" [Bloomberg]. • You've gotta respect the grift.
Democrats in Disarray
UPDATE "Report: Gavin Newsom's team 'increasingly concerned' about recall efforts" [SFGATE]. "The report also states, 'Sources close to Newsom said the governor's office has been disorganized over the past month and has not responded effectively to damaging headlines' including his French Laundry trip, controversial new stay-at-home order and delay in naming Vice President-elect Kamala Harris' replacement in the United States Senate. In addition, most of the state's public schools remain closed while they are open in other deep blue states such as New York and Massachusetts, and small business owners were particularly irate over the lack of evidence presented to support certain business closures. The Chronicle's Phil Matier talked to some of the recall leaders for his Wednesday column, and organizers agree that with more financial support, they could probably garner enough signatures to force the state's first recall election since Gray Davis was recalled in 2003."
Transition to Biden
UPDATE "Biden forms team of insiders" [The Hill]. Shocking, I know. "Lobbyists adjusted to the Trump administration and Trump aides have been no stranger to working with outside influence, but the incoming Biden administration is providing a sense of comfort to lobbyists looking to interact with people who understand policy and process, sources said…. One source said that the Biden cabinet is already full of people that Washington insiders are checking if they have their most recent cell phone number. 'If we're playing the Six Degrees of Kevin Bacon game, most people can get home in two moves. Under Trump, most people needed four or five,' the source said."

UPDATE "Biden's Cabinet picks give Kamala an edge in 2024" [Politico]. "Joe Biden hasn't picked any of the nearly two dozen Democrats who ran against him to serve in his administration — and that bodes quite well for the former rival he did elevate as his No. 2, Kamala Harris. Biden's decision to forgo a Cabinet of ambitious pols in favor of a group heavy on seasoned loyalists and technocrats contrasts with Donald Trump and Barack Obama's appointment of next-generation officials to top posts. And it could deny a springboard to potential Harris competitors in 2024 if Biden decides to retire after one term rather than running for reelection in his 80s."

UPDATE "Is Joe Biden Just Being Stubborn?" [Tne New Republic]. "As far as I can tell, the Biden administration makes appointments in two ways. One is, very obviously, to pick guys Joe Biden has known forever, such as Vilsack, Denis McDonough for Veterans Affairs, Lloyd J. Austin III at Defense, or Tony Blinken at State. The other, for positions they don't care as much about, is to pointedly ignore whichever candidates have been designated by the press as favorites of "the left," along with candidates various Democratic interest groups are pushing. Then they pick people at random, seemingly simply because they just don't want to be told what to do. It helps if they can convince themselves that their critics ought to be happy with the eventual pick, even if he or she wasn't their first choice. This theory would explain why people no one seems to have lobbied for keep getting important jobs, as Fudge did at HUD…. This entire bizarre cycle indicates that for all the "we believe science" rhetoric about responsible adults being in charge again, important decisions that will shape the government for the next four years are still being made based on petty, personal, and deeply cynical reasons. If Biden's appeal relied in large part on nostalgia, well, welcome back to having the Democrats in charge." • Does this mean we can't go to brunch?

"Joe Biden and Kamala Harris: TIME's Person of the Year 2020" [Time]. "The Democratic ticket was an unlikely partnership: forged in conflict and fused over Zoom, divided by generation, race and gender. They come from different coasts, different ideologies, different Americas. But they also have much in common, says Biden: working-class backgrounds, blended families, shared values. "We could have been raised by the same mother," he says. In an age of tribalism, the union aims to demonstrate that differences don't have to be divides." • Harris's father, Donald, is a Marxist professor emeritus of development economics at Stanford. Harris in no sense has a working class background. I wish Biden weren't so shameless a fabulist. To be fair, it hasn't caught up with him so far.

A second example of "stolen valor":

"poor farmer in India" : Murthy is the grandson of the late H C Narayana Murthy, the former director of Mysore Sugar Company, https://t.co/YKAXFztWoV

— کاشف الہدیٰ (@kaaashif) December 10, 2020

Biden and Black people (1):

Wow this fucking sucks. pic.twitter.com/5XTkvMBlvu

— Alex Lawson (@AlexLawsonOFD) December 10, 2020

Biden's thin skin is concerning. More concerning is that Biden actually seems to believe he won the election all on his own. Here, Biden is fact-checked by one of the candidates the DNC shoved aside for him:

No other progressive was talking about healing the soul of America? https://t.co/kK5c3UU0pC

— Marianne Williamson (@marwilliamson) December 11, 2020

Personally, I think "the soul of America" is a nonsense construct because it's a category error. Nation's don't have souls, any more than government is like a household.

Biden and Black people (2):

SOURCES: Atlanta Mayor Keisha Lance Bottoms was offered — and declined — the Ambassadorship to the Bahamas.

Among Joe Biden's earliest endorsers, Bottoms was on his long list for VP & shorter lists to head HUD, SBA. The Bahamas job is clearly not in same ballpark. #gapol (1/2)

— Charles Bethea (@charlesbethea) December 11, 2020

Cranking up the enthusiasm in Georgia, I see….
Our Famously Free Press
"With News of Hunter Biden's Criminal Probe, Recall the Media Outlets That Peddled the "Russian Disinformation" Lie [unlocked]" [Glenn Greenwald]. "In sum, we have the extraordinary historic disgrace of media outlets collaborating with the intelligence community in the weeks before a presidential election to manufacture and peddle a propagandistic lie to justify censorship of highly relevant materials about the presidential front-runner and his family's efforts to profit off his name — namely, that the documents were not authentic but rather "Russian disinformation." • Worth reading in full, now that Greenwald unlocked it. Of course, now that Trump is no longer President, the media and the intelligence community will certainly revert to their former arms-length relationship [snicker. Not. This toothpaste will never go back in the tube. Never].
Stats Watch
At reader request, I added some business stats back in. Please give Econintersect click-throughs; they're a good, old-school blog that covers more than stats. If anybody knows of other aggregators, please contact me at the email address below.
Rail: "Rail Week Ending 05 December 2020 – Improvement Continues" [Econintersect]. "Total rail traffic has two components – carloads and intermodal (containers or trailers on rail cars). Container exports from China are now recovering, container exports from the U.S. remain deep in contraction. This week again intermodal continued in expansion year-over-year and continues on a strengthening trendline. Carloads are still in contraction year-over-year this week – but nearing positive territory."
Inflation: "November 2020 Producer Price Final Demand Continues To Show Modest Year-over-Year Growth" [Econintersect]. "Year-over-year inflation pressures remain soft as this index is barely in expansion."
Employment Situation:
K-shaped recovery update:

Employment for the top 2/3 of wage earners is about -2 percentage points below February.

For the bottom 1/3, it's -7.3pp lower, more than 3x worse. And their employment fell by around -1pp in November alone. pic.twitter.com/5eWtr7Zgv0

— Ernie Tedeschi (@ernietedeschi) December 11, 2020
* * *
Retail: "McDonald's Happy Meals could get more expensive next year" [CNN]. "McDonald's is eliminating a two-decade-old deal with its franchisees that subsidized the price of Happy Meal toys for customers. That could mean pricier Happy Meals next year. Beginning next year, McDonald's will stop issuing a roughly $300 per month contribution to each of its 14,000 US restaurants called the 'Happy Meal Rent and Service Fee,' according to an internal message from its US leadership obtained by CNN Business. The chain told franchisees the subsidy is 'no longer fueling growth in the way it once was' and that franchisees could opt to increase the price of a Happy Meal by 20 cents next year to offset. McDonald's doesn't set the prices of its menu items, bur rather lets franchisees decide depending on location. The National Owners Association, a group of McDonald's franchisees, said in a team message that it 'does not support, nor did we endorse' the elimination of the Happy Meal subsidy…. Tensions are flaring once again between franchisees and corporate over that subsidy loss and new fees coming into place next year." • "Rent and Service Fee." Also, "team message."
UPDATE Retail: "Premium Chocolate Emerges as Winner in Pandemic" [Bloomberg]. "Chocolate has emerged as one product that consumers won't do without in trying times. The U.S. market for it expanded at unusually fast double-digit rates in June and July and it was still higher than pre-Covid growth levels in September, according to Sanford C. Bernstein, which cited Nielsen data." • Go long gold tinfoil….
UPDATE Manufacturing: "Looking for an edge in vaccines, Thermo Fisher plots major expansions across global manufacturing sites in its portfolio" [Endpoints News]. "In a big year for contract manufacturers, Massachusetts' Thermo Fisher Scientific has emerged as a leading partner for drugmakers fighting the Covid-19 pandemic, particularly in diagnostics and therapeutics. Now, buoyed by that success and looking to scale up its vaccine offerings, Thermo Fisher is plotting big expansion across its global portfolio. Thermo Fisher will expand its facilities in Greenville, NC; Ferentino and Monza, Italy; and Swindon, England, to expand its range of offerings for customers"whether it's an emerging biotech working on a vaccine for a novel virus or a high-volume pharmaceutical manufacturer delivering necessary medicines at scale," a spokesperson told Endpoints News."
UPDATE "Toyota's game-changing solid-state battery en route for 2021 debut" [Manufacturing]. "A trip of 500 km on one charge. A recharge from zero to full in 10 minutes. All with minimal safety concerns. The solid-state battery being introduced by Toyota promises to be a game changer not just for electric vehicles but for an entire industry. The technology is a potential cure-all for the drawbacks facing electric vehicles that run on conventional lithium-ion batteries, including the relatively short distance traveled on a single charge as well as charging times. Toyota plans to be the first company to sell an electric vehicle equipped with a solid-state battery in the early 2020s. The world's largest automaker will unveil a prototype next year. The electric vehicles being developed by Toyota will have a range more than twice the distance of a vehicle running on a conventional lithium-ion battery under the same conditions. All accomplished without sacrificing interior space in even the most compact vehicle."
Supply Chain: "The Future of the U.S. National Stockpile Isn't a Bigger Stockpile" [Bloomberg]. "[T]he stockpile must evolve toward embracing the modern-day logistics of supply and demand, says Robert Kadlec, HHS assistant secretary for preparedness and response. We can't predict what the next bug or disaster will be, so the U.S. needs 'a set of capabilities that give our country an advantage to be able to respond quickly,' he says. 'That's not a number of masks or boxes on a shelf. That's something that requires a little more science and art put together to develop.' For one thing, traditional stockpiling has logistical limits. If the national stockpile were to hold enough N95 masks for the 1918 influenza pandemic, adjusted for today's population, it would have 3.5 billion, which would 'fill up every warehouse in the U.S.,' says Greg Burel, who was director of the stockpile from 2007 to January 2020. The future of the stockpile, Kadlec says, is about having 'better visibility into the supply chain to know what's out there and what is available, and how do we respond in a way that is timely and effective.' He says the federal government should enter into contracts with key distributors that it would pay to share information on their supply chain, manage some of the national stockpile's supplies, and agree to assist in future emergencies." • The idea that you have to pay for visibility into the supply chain is interesting…
Mr. Market: "Investors Risk Being Shipwrecked on Shiller's Cape" [John Authers, Bloomberg]. " Very briefly, a CAPE is like a normal P/E, except that it compares prices with the inflation-adjusted average of earnings over the previous 10 years. This corrects for the tendency of P/Es to be higher when profits are cyclically depressed, and lower when they are at a top. The CAPE became famous after Robert Shiller of Yale University put it at the center of an argument in 1999 that U.S. equities had formed a bubble that was about to burst…. The CAPE also helped spot the risk of a big equity sell-off ahead of the global financial crisis. Since then, the CAPE has returned to extremes, and currently is higher even than it was on the eve of the Great Crash of 1929. Does this mean another bubble is about to pop? Last week Shiller published an article introducing the "Excess CAPE Yield," which is the inverse of the CAPE (earnings over price) minus the 10-year bond yield. This number is very high at present, and as this chart shows, that implies equities are a great bet to beat bonds in the years ahead, even though they are so expensive in absolute terms…" • I don't play the ponies, but if I did, this might be a controversy to look into.
The Fed: "A Letter From 9 Million U.S. Expats to Janet Yellen" [Bloomberg]. • Making it impossible to live here yet impractical to go seems very on-brand for the United States just now.
* * *
.
Today's Fear & Greed Index: 77 Extreme Greed (previous close: 89 Extreme Greed) [CNN]. One week ago: 85 (Extreme Greed). (0 is Extreme Fear; 100 is Extreme Greed). Last updated Dec 10 at 12:03pm.
Health Care
"US to get COVID-19 vaccines 1st because it's 'epicenter' of pandemic, biggest investor: Official" [ABC]. "But notably, the official also offered another key reason: 'The United States is the epicenter of the pandemic. We are the country that has the most cases, the highest percentage of COVID rates. It is very important for us to make sure that Americans receive this vaccine and receive it first,' the official said in an interview. Under an executive order President Donald Trump signed Tuesday, the U.S. will begin providing vaccines overseas once the domestic demand has been satisfied." • Indeed, we are exceptional.
"The Missing Piece In America's COVID-19 Isolation And Quarantine Strategy: Wraparound Services" [Health Affairs]. "An important missing piece in the US's case-based disease control strategy is the provision of wraparound services to support those who need to isolate or quarantine. Specifically, to safely comply with isolation and quarantine requests, patients may need assistance in three key areas: access to isolation and quarantine hotels for those who cannot safely physically distance themselves from household members at home; connections to health care services to ensure better clinical outcomes; and delivery of meals, pharmacy services, financial support, and other services to prevent unnecessary trips and in-person interaction. Failing to provide these services creates disincentives for patients to comply with public health isolation and quarantine requests." • For your typical working class adult, how about "wraparound services" (great jargon) for the entire family?
"The face-mask seat: a South Korean student's attempt to recycle in COVID times" [Reuters]. "othered by the waste caused by disposable face masks, many of which are made of polypropylene, the South Korean furniture design student has come up with an eco-friendly solution, melting them to make stools he calls 'Stack and Stack.' 'Plastic is recyclable, so why don't we recycle face masks, which are made of plastic?' the 23-year-old said. In June, Kim set up a mask collection box at his school, the Kaywon University of Art and Design in Uiwang city, south of Seoul. He has since gathered 10,000 used masks, and has received more than a tonne of defective ones from a factory as well. To lessen the risk of coronavirus transmission, Kim keeps them in storage for at least four days. Then, removing elastic bands and wires, he wields a heat gun over the masks in a mould, melting them down at temperatures over 300 degrees Celsius (570 degrees Fahrenheit). The result? Three-legged stools 45cm (18 inches) recycled from white, pink, blue and black masks, which Kim displayed in his graduation exhibition." • Plastic stools are ubiquitous in South and Southeast Asia, so this is a keen idea. (I still wish for filtration material that was plant-based and biodegradable, though.)
As an aerosol believer, I think we should all pay great attention to the flow and condition of air indoors, but I confess I have no concrete suggestions for winter; it's unpleasant (and costly) to open the windows when it's cold. Apparently, low humidity makes it easier for the virus to spread, so if you have radiators, be sure to put a pan of water on top of each one. If anybody has thought through a winter system for covid, I'm sure readers would love to hear it. I don't think the "six feet apart" mantra is enough; we need to think about air flow. For example, does the virus concentrate in "dead air," like dust balls?
The Biosphere
"These Trees Are Not What They Seem" [Bloomberg]. "The Nature Conservancy recruits landowners and enrolls its own well-protected properties in carbon-offset projects, which generate credits that give big companies an inexpensive way to claim large emissions reductions. In these transactions, each metric ton of reduced emissions is represented by a financial instrument known as a carbon offset. The corporations buy the offsets, with the money flowing to the landowners and the Conservancy. The corporate buyers then use those credits to subtract an equivalent amount of emissions from their own ledgers…. Now, with an increasing number of companies looking for creative ways to cut emissions, the nonprofit has accelerated its work on carbon projects. But a review of hundreds of pages of documents underpinning those projects and interviews with a half-dozen participating landowners indicate that the Conservancy is often preserving forested lands that don't need defending. 'For the credits to be real, the payment needs to induce the environmental benefit,' says Danny Cullenward, a lecturer at Stanford and policy director at CarbonPlan, a nonprofit that analyzes climate solutions. If the Conservancy is enrolling landowners who had no intention of cutting their trees, he adds, "they're engaged in the business of creating fake carbon offsets.'" • Maybe I should just file carbon offsets under The Bezzle all the time…
Water
"How the first life on Earth survived its biggest threat — water" [Nature]. "[L]ife's cornerstone molecules break down in water. This is because proteins, and nucleic acids such as DNA and RNA, are vulnerable at their joints. Proteins are made of chains of amino acids, and nucleic acids are chains of nucleotides. If the chains are placed in water, it attacks the links and eventually breaks them. In carbon chemistry, 'water is an enemy to be excluded as rigorously as possible', wrote the late biochemist Robert Shapiro in his totemic 1986 book Origins, which critiqued the primordial ocean hypothesis. This is the water paradox. Today, cells solve it by limiting the free movement of water in their interiors, says synthetic biologist Kate Adamala at the University of Minnesota in Minneapolis. For this reason, popular images of the cytoplasm — the substance inside the cell — are often wrong. 'We are taught that cytoplasm is just a bag that holds everything, and everything is swimming around,' she adds. 'That's not true, everything is incredibly scaffolded in cells, and it's scaffolded in a gel, not a water bag.' If living things keep water controlled, then the implication, say many researchers, is obvious. Life probably formed on land, where water was only intermittently present."
Games
"A New Horizon of Animal Crossing Conspiracy Theories" [Kotaku]. "Look, we already know how great, amazing, blissful, etc. life in the Animal Crossing universe can be, especially when you compare it to this mess of a simulation some say is reality…. [A}t some point, running errands for your charming squirrel neighbor ain't enough to distract you from the slight, yet noticeable, cracks in this handheld utopia. Perhaps some things are too good to be true. In this spooky sequel to Animal Crossing: Conspiracy Theories, we ask and attempt to answer a new set of questions we just can't shake. Who, or what, exactly is Jack, the self-proclaimed Czar of Halloween? Whatever happened to the original mayor in 2012's Animal Crossing: New Leaf, who peaced out and ditched you with the job? We are the only human resident in our towns, yet not once do the other villagers mention it. In fact, no one ever calls you a 'human.' So… are we?"
Department of Feline Felicity
From The Department of Papers Not In Fact Written:
pleased to be filling this huge gap in the literature pic.twitter.com/k6cSM0FTIj

— Stephanie Karol (@steph_a_karol) December 9, 2020
Bible Corner
"Why Did These Millennials Leave Church?" [The American • Holy moley. Say what you like about Rod Dreher, but he can certainly elicit reader mail. This is a must read. Perhaps not all, but at least the few at the start. The United States is a very large and very disparate country.
Book Nook
"How the Slowest Computer Programs Illuminate Math's Fundamental Limits" [Quantum]. "As Turing noted in 1936, in order to compute something, a Turing machine must eventually halt — it can't get trapped in an infinite loop…. [I]f you're only allowed one rule, and you want to ensure that the Turing machine halts, you're forced to include the halt instruction right away. The busy beaver number of a one-rule machine, or BB(1), is therefore 1. But adding just a few more rules instantly blows up the number of machines to consider. Of 6,561 possible machines with two rules, the one that runs the longest — six steps — before halting is the busy beaver. But some others simply run forever. None of these are the busy beaver, but how do you definitively rule them out? Turing proved that there's no way to automatically tell whether a machine that runs for a thousand or a million steps won't eventually terminate. That's why finding busy beavers is so hard. There's no general approach for identifying the longest-running Turing machines with an arbitrary number of instructions; you have to puzzle out the specifics of each case on its own. In other words, the busy beaver game is, in general, 'uncomputable.'" • Neat!
"Kim Stanley Robinson Imagines a Future Where We Don't All Die" [Jacobin]. "Although the notion of commandeering finance to solve the ecological crisis is perhaps the biggest single idea deployed, there is no silver bullet in The Ministry, no magic carbon sequestering technology that will save us on its own. In this tale, a combination of strategies and policies by state and nonstate actors, including mass uprisings, geoengineering, and Green New Deals weave together to create conditions by mid-century to at least give humanity a fighting chance at long-term survival." • Dang. Another book to read. I really enjoyed "KSR's" New York 2140, and a hat tip to the reader who suggested it.
Xmas Pregame Activities
"We Need To Talk About Your Christmas 'Decorations'" [Tressie McMillan Cottom]. "This is the first time I have encountered holiday decorating as subculture and identity. I am talking animated displays, layered twinkle lights and displays set to music." • With photos of the displays, which seem… odd, to me. The culture changed, and I missed it. More: "If you're going to give up, give up deliberately. Give up with STYLE! Skip the lights and the Polar Bear Express display. Buy a onesie, turn off all the porch lights and get drunk. That's called self-respect." • Not getting drunk in a onesie. Sorry, but no. The culture changed again on me.
Class Warfare
"Eviction crisis looms as millions rely on federal moratorium expiring this month" [ABC]. "Of the 44 states that implemented eviction moratoriums since March, 27 lifted them before September, resulting in an estimated 433,700 excess COVID-19 cases and 10,700 excess deaths, according to a recent study."
"Do foreign-educated nurses displace native-educated nurses?' [IZA Journal of Labor Policy]. "Taken together, the findings suggest that relying on foreign-educated nurses to fill gaps in the US health-care workforce does not harm the employment of native nurses, but rather the entry of foreign-educated nurses to the US nursing market causes an increase in native wages in the long run."
"Within a decade you may be working with an avatar or a digital twin" [CNBC]. "'I think workforces will adopt hybrid models where some people will be at the office live in-person, and others will be working remotely. Eventually we will be able to use augmented and virtual reality to improve the way we interact with one another in the workplace virtually,' [Paul Jacobs, former CEO and executive chairman of Qualcomm] said, noting it will help humanize the remote work experience." • No, it won't. These freaks think it will because they already experience reality as virtual.
News of the Wired
How the Slowest Computer Programs Illuminate Math's Fundamental Limits Quanta
pleased to be filling this huge gap in the literature pic.twitter.com/k6cSM0FTIj

— Stephanie Karol (@steph_a_karol) December 9, 2020
Update on Sid and Fern:
they are more evenly matched these days than they were a few months back, when Sid was very sick and Fern would absolutely thrash him pic.twitter.com/nEP6jt7qhq

— longer night (@bombsfall) December 8, 2020
Kill it with fire:
#Exclusive Now that's some #dog! 4 legged, futuristic, first responder is helping NYPD w the most dangerous jobs. Starting at 4, Digidog, wait until you see what it can do! @abc7ny @NYPDnews @nypd_taru @nypd_esu #abc7ny #crime #technology #protect #officers #police #k9 #nyc pic.twitter.com/ewDjjPZkfr

— Kemberly Richardson (@kemrichardson7) December 10, 2020
I put this tweet next to Sid and Fern because it occurred to me that one reason these… things elicit such lust to say (if one can kill what is dead) is that while occupying the mental space of animals, they cannot express emotions; they cannot snarl. They have no hackles to raise. I don't know whether this is Uncanny Valley or something different.
* * *
Readers, feel free to contact me at lambert [UNDERSCORE] strether [DOT] corrente [AT] yahoo [DOT] com, with (a) links, and even better (b) sources I should curate regularly, (c) how to send me a check if you are allergic to PayPal, and (d) to find out how to send me images of plants. Vegetables are fine! Fungi and coral are deemed to be honorary plants! If you want your handle to appear as a credit, please place it at the start of your mail in parentheses: (thus). Otherwise, I will anonymize by using your initials. See the previous Water Cooler (with plant) here. Today's plant (TH):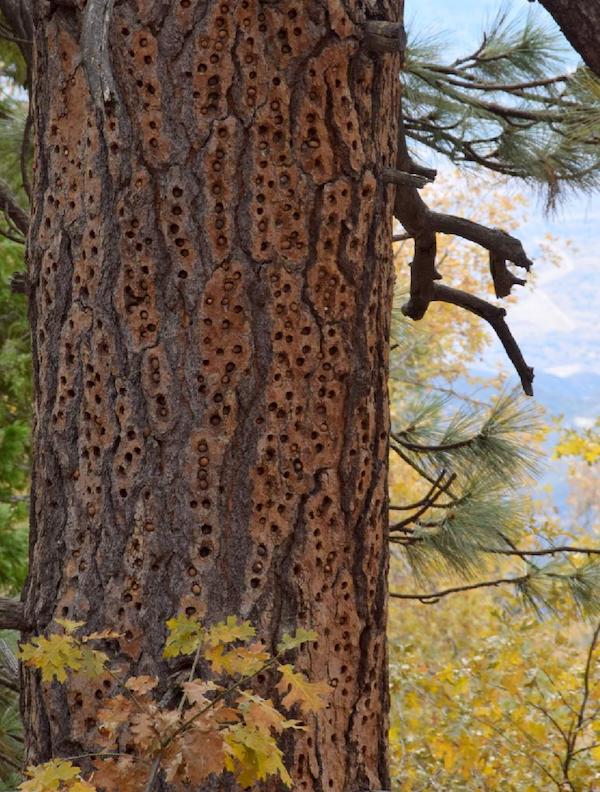 TH writes: "This tree is our neighbor in Running Springs (San Bernardino Mountains—California). The texture of the bark, and the apparent presence of acorns within it, so amazed me that I had to research it. Apparently this is known as a granary tree, where acorn woodpeckers store acorns. According to a May 2016 article by Tao Tao Holmes on an "Atlas Obscura" blog, the Acorn Woodpeckers (gee, I wonder where they got that name) use trees, posts, and wood-sided houses (we can attest to that last one) to store acorns that, stored in piles, would mold. And apparently they spend a huge amount of time moving the acorns (that shrink after they dry) to smaller holes. The woodpeckers chose the right habitat. All of the street names in this area are named after various oaks, including the large Valley Oak that shades our house and may well be the parent of these younger oaks beside this pine, and the primary source for this particular granary."
* * *
Readers: Water Cooler is a standalone entity not covered by the recently concluded and — thank you! — successful annual NC fundraiser. So if you see a link you especially like, or an item you wouldn't see anywhere else, please do not hesitate to express your appreciation in tangible form. Remember, a tip jar is for tipping! Regular positive feedback both makes me feel good and lets me know I'm on the right track with coverage. When I get no donations for five or ten days I get worried. More tangibly, a constant trickle of donations helps me with expenses, and I factor in that trickle when setting fundraising goals:
Here is the screen that will appear, which I have helpfully annotated.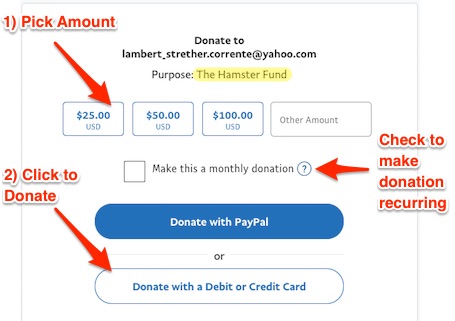 If you hate PayPal, you can email me at lambert [UNDERSCORE] strether [DOT] corrente [AT] yahoo [DOT] com, and I will give you directions on how to send a check. Thank you!