By Lambert Strether of Corrente.
Bird Song of the Day
#COVID19
At reader request, I've added this daily chart from 91-DIVOC. The data is the Johns Hopkins CSSE data. Here is the site.
Case count by United States region: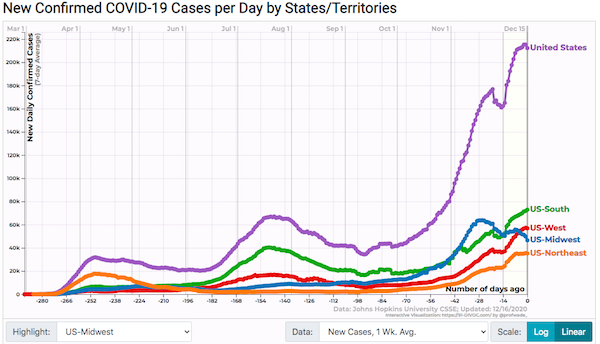 A tiny drop. Looks like the Midwest did it, from the regional data. I feel I'm engaging in a macabre form of tape-watching, because I don't think the peak is coming in the next days, or even weeks. Is the virus gathering itself for another leap?
The Midwest in detail: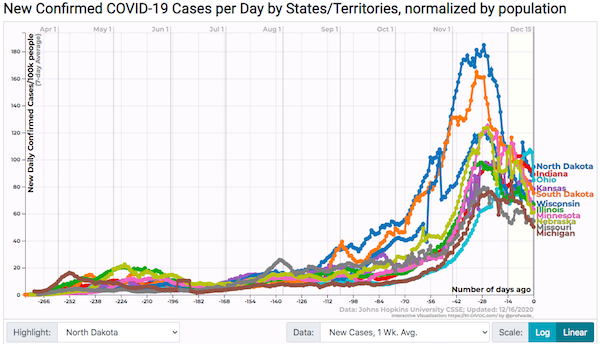 Test positivity by region: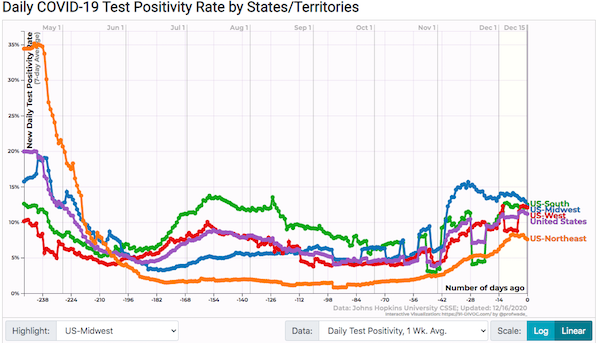 Now the west catches up. Data issues?
Hospitalization by region:
Distinct flattening. Hospitalization is also discretionary; they may also be reducing their admissions rate — relative to cases we cannot see in this data! — to preserve future capacity; or because hospitals have figured out how to send people home.
Case fatality rate by region: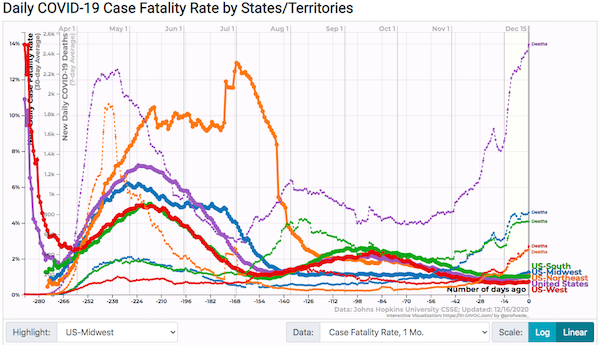 Politics
"But what is government itself, but the greatest of all reflections on human nature?" –James Madison, Federalist 51
"They had one weapon left and both knew it: treachery." –Frank Herbert, Dune
"They had learned nothing, and forgotten nothing." –Charles Maurice de Talleyrand-Périgord
Democrats in Disarray
Horrible but true:

Joe Biden better deliver something useful to working people because this is what's coming. https://t.co/12L9lVa3Sz

— Matt Stoller (@matthewstoller) December 16, 2020

"Congressional leaders close to COVID-19 relief deal that includes stimulus checks for Americans" [ABC]. "Congressional leaders on Wednesday morning were close to a nearly $900 billion COVID-19 relief deal expected to include a second round of stimulus checks for lower-income Americans, according to several Capitol Hill officials. Negotiators were finalizing an agreement that would include a new round of stimulus checks, enhanced federal unemployment benefits, and other avenues to deliver aid to states, localities, territories and Native American tribes. The agreement is not expected to include liability protection for businesses, according to a person familiar with negotiations. The source added that conversations continue on these issues and more." • Commentary:

I'm increasingly convinced that the real source of resistance to these checks is that they'll actually help people. Or rather, they'll do what they're supposed to do and raise expectations in a way a lot of elite lawmakers are determined to avoid. https://t.co/OaLsbyMJym

— Luke Savage (@LukewSavage) December 16, 2020
Transition to Biden
"Biden's Risky Peace Offering to Republicans" [Jeet Heer, The Nation]. "Speaking to supporters on a call on Monday, Biden said, 'I predict to you, and I may eat these words, I predict you as Donald Trump's shadow fades away, you're going to see an awful lot of change.' He added, 'I know I've been criticized heavily for saying from the beginning, we've got to unify the country. I think you're going to be surprised. .'" • In a good way, I hope!

"Scoop: Biden eyes last-minute Republican pick" [Axios]. "President-elect Joe Biden is considering some well-known Republicans — think Meg Whitman types — for Commerce secretary as a way to signal to red-state Americans he understands their concerns and plans to address them… While Biden and his team are working hard to satisfy all interest groups, the intensity of some of the advocacy — and a dwindling number of seats — may keep him from having room for a Republican in his Cabinet." • Like the left? Who's the nominee to satisfy the left? Neera Tanden?

"Inside Biden's Struggle to Manage Factions in the Democratic Party" [New York Times]. "Mr. Biden's aides have privately been working to salve wounds by telling them there will be turnover in the top jobs soon enough. 'I keep saying: The second wave will be earlier than you think," said one senior Biden official, who spoke on the condition of anonymity about private conversations with cabinet hopefuls. "Go deal with your city, your state for now.'"

UPDATE Klobuchar on Mayo Pete's cabinet post:

She didn't have to say "local government experience" but she did and I have to respect that undiluted show of pettiness https://t.co/oqsOXmh4jb

— andi zeisler (@andizeisler) December 15, 2020

Comment: "Minnesota nice doesn't mean what people think it means, and I say that as a Minnesotan."

UPDATE Fundamentally, nothing will change:

NEW: For $1M, corporations can be listed as a "chair" of JOE BIDEN's inauguration ($500k for individuals).

Donor packages include "virtual signed photos" with Biden, @KamalaHarris & their spouses, plus virtual briefings with inaugural & campaign leaders. https://t.co/phbxMowD6u

— Kenneth P. Vogel (@kenvogel) December 16, 2020
Transition from Trump
UPDATE "Barr's escape hatch isn't enough to shake Trump's stigma" [MSNBC]. "Barr's intentions, whatever they may have been, never involved being the sort of fierce, independent leader the Justice Department needs at all times. He never felt the gravitational pull of departmental tradition and integrity that would, we assume, have led him to avoid even the appearance of impropriety as he conducted department business. Instead, Barr charted a course toward actual impropriety. And in his resignation, Barr shamelessly defended his actions in a manner that would likely have made even President Richard Nixon's attorney general, John Mitchell, blush." • I dunno. I haven't followed Barr all that closely, but it looks to me like, for whatever reasons, Barr managed to deep-six both a DOJ investigation of Hunter Biden, and the Durham Report. You'd think MSNBC would show more gratitude to Barr for squelching two October surprises.
Election Legitimacy
"Former Houston police captain charged with attacking man falsely accused of voter fraud" [NBC News]. "According to the district attorney's office, [former Houston police captain Mark Anthony] Aguirre said he conducted 'surveillance' on a [local repairman] for four days in the belief that he had 750,000 fraudulent ballots in his truck. Authorities alleged that he ran his SUV into the back of the man's truck and forced the man to the ground at gunpoint, which was captured on an officer's body camera." • It has occurred to me that conservative Republican embubblement culminates in assaults on material objects or persons — the repairman, here, or a pizza parlor — whereas liberal Democrat embubblement consists in symbol manipulation. Now ask yourself which is more important and effective for warmongering….
Stats Watch
At reader request, I added some business stats back in. Please give Econintersect click-throughs; they're a good, old-school blog that covers more than stats. If anybody knows of other aggregators, please contact me at the email address below.
Retail: "Headline Retail Sales Decline in November 2020" [Econintersect]. "Retail sales modestly declined according to US Census headline data. The three-month rolling average improved. Year-over-Year growth remains in positive territory. Retail sales have fully recovered their pre-virus levels overall. However, there is still year-over-year weakness in restaurants, department stores, clothing stores and gas stations. There was a downward adjustment to last month's data. The real test of strength is the rolling averages which modestly improved. Overall, this report is considered weaker than last month." From the Times, "U.S. retail sales declined more than expected in November": "The uncertainty around holiday spending has been exacerbated as retailers pushed annual sales events into October, in a bid to jump-start the season and prevent crowded stores and shipping delays in November. Many major chains reported sales gains in October, but they were not certain about how it would affect spending in November and December. Mr. Faucher also noted that the boom in shopping this spring after the restrictions were lifted and stores reopened reduced 'the need for purchases at the end of the year.'"
* * *
Debt: "Bets on World of Negative Interest Rates End With Capitulation" [Bloomberg]. "At the height of the pandemic, it seemed only a matter of time before negative interest rates — the last resort of central banks — ruled global markets…. Traders now see a sub-zero move as increasingly unlikely, with policy makers largely favoring a 'new conventional' mix of bond purchases and sector-specific aid programs."
Commodities: "Traders now see a sub-zero move as increasingly unlikely, with policy makers largely favoring a "new conventional" mix of bond purchases and sector-specific aid programs" [Reuters]. "But refining profits for the fuel surged to multi-month highs in all key trading hubs in December on hopes of higher demand in 2021, with U.S. and European margins underpinned by a recovery in air cargo volumes and Asian margins also by a rebound in domestic travel and heating consumption."
The Bezzle: "Subway sandwich scam mystifies loyalty card users" [Naked Security]. "Subway customers in the UK and Ireland were swamped with scam emails yesterday in a phishing campaign that aimed to trick recipients into downloading malware…. As phishes go, this one isn't terribly sophisticated or believable, and the scam itself requires several clicks, each one more suspicious than the last…. The bad news is that we can't yet tell you where the email list used in this scam came from, or whether all the recipients were Subway customers. We also don't know how or why the crooks ended up using the same newsletter service that Subway is said to use. Nevertheless, the advice given in Subway's autotweet messages is perfectly sound, and is your first and easiest defence: delete the email."
Tech: "Facebook Is a Doomsday Machine" [The Atlantic]. "The giants of the social web—Facebook and its subsidiary Instagram; Google and its subsidiary YouTube; and, to a lesser extent, Twitter—have achieved success by being dogmatically value-neutral in their pursuit of what I'll call megascale. Somewhere along the way, Facebook decided that it needed not just a very large user base, but a tremendous one, unprecedented in size. That decision set Facebook on a path to escape velocity, to . …. The cycle of harm perpetuated by Facebook's scale-at-any-cost business model is plain to see…. Every time you click a reaction button on Facebook, an algorithm records it, and sharpens its portrait of who you are. The hyper-targeting of users, made possible by reams of their personal data, creates the perfect environment for manipulation—by advertisers, by political campaigns, by emissaries of disinformation, and of course by Facebook itself, which ultimately controls what you see and what you don't see on the site. Facebook has enlisted a corps of approximately 15,000 moderators, people paid to watch unspeakable things—murder, gang rape, and other depictions of graphic violence that wind up on the platform. . At megascale, this algorithmically warped personalized informational environment is extraordinarily difficult to moderate in a meaningful way, and extraordinarily dangerous as a result. These dangers are not theoretical, and they're exacerbated by megascale, which makes the platform a tantalizing place to experiment on people." • I think we should simply eliminate social media and return the Internet to the state it was in back whenver Google returned a list of Blue Links, and social media didn't exist.
Manufacturing: "Carrier Goes From Spinoff to Top Industrial Stock During the Pandemic" [Bloomberg]. "But as 2020 ends, Carrier is the best-performing industrial stock in the S&P 500—by a long shot…. Carrier, which traces its roots to 1902, is credited with inventing modern air conditioning… Its heating and cooling systems… have become an asset for hospitals, hotels, and office buildings in the fight against the coronavirus, a largely airborne pathogen that passes most easily between people in poorly ventilated spaces. No air conditioning system can replace masks and social distancing, but adjusting the controls to allow for more outside air to flow into buildings and cleaning or upgrading filters can help prevent the virus from spreading. Carrier's portable OptiClean machine can be used to scrub air or to create pressure that keeps air from moving between one room—say, an office bathroom or a hospital room—and another…. Carrier says it expects interest in improving indoor air quality to endure even after the pandemic passes; it has sized this new market at about $10 billion for the overall industry, including $165 million of opportunities the company is already broaching with customers. In preparation for a vaccine, Carrier introduced mobile freezer pods enabled with its Sensitech monitoring technology. It's also working with Amazon.com Inc.'s web services arm to connect its cold-chain storage operations to the cloud and use the collected data to reduce vaccine waste."
Concentration: "Amazon won't comply with California subpoenas on COVID-19 safety, attorney general says" [Sacramento Bee]. "Amazon has yet to let the state know how many of the company's workers have been infected by or died from COVID-19, despite subpoenas filed months ago, California Attorney General Xavier Becerra said in a petition to the Sacramento County Superior Court on Monday. The company also has not provided information about how it's trying to prevent the spread of the coronavirus, including with regard to sick leave policies and cleaning procedures, Becerra said. He is asking the court to order Amazon to comply with the state's subpoenas and provide that information. The petition comes months into the state's investigation into Amazon's workplace safety practices. It also comes two months after Cal-OSHA levied $1,870 in fines on two Amazon warehouses in Southern California for failing to provide sufficient safety training for employees. The company is appealing those fines."
Concentration: "Hackers used SolarWinds' dominance against it in sprawling spy campaign" [Reuters]. "'We don't think anyone else in the market is really even close in terms of the breadth of coverage we have,' [SolarWinds Chief Executive Kevin Thompson] said. 'We manage everyone's network gear.'…. Now that dominance has become a liability – an example of how the workhorse software that helps glue organizations together can turn toxic when it is subverted by sophisticated hackers." Now note the qualifiers. More: "Three people familiar with the investigation have told Reuters that Russia is a top suspect, although others familiar with the inquiry have said it is still too early to tell… Cybersecurity experts are still struggling to understand the scope of the damage." • There's been an upsurge of national security goon-driven stories recently….
The Economy: "America's Economy Faces a Zombie Recovery, Even With Vaccine" [Bloomberg]. "Much of the economy remains in suspended animation—a zombie recovery—that masks how much the crisis has curtailed ambitions and how much depends on a new injection of government aid that has languished for months in a partisan Congress…. The U.S. economy is likely to end the year almost 3% smaller than at the start. That's not bad considering where things stood in the second quarter, when output collapsed at an annualized rate of more than 30%. [But for many] business owners who went into 2020 thinking they'd be riding an expansion, it feels worse."
* * *
.
Today's Fear & Greed Index: Day Two of Missing Fear & Greed Index [CNN]. Last updated Dec 16 at 11:32am.
Health Care
"Dry ice and millions of secret chickens" [Olivia Webb, Acute Condition]. "This looks to be the state of the dry ice market. According to Thomasnet.com, an online platform for product sourcing, there are just a few major producers of dry ice in the U.S…. These producers are used to making a set amount of dry ice every year, and they may very well struggle to meet the increased demand of the pandemic. The dry ice shortage is likely to be exacerbated by the pandemic; apparently the carbon dioxide used to produce dry ice is typically captured as a byproduct of ethanol processing for fuel. And because Americans are using far less fuel during the pandemic, the rate of ethanol processing has gone down. (A side note: I haven't been able to figure out if medical dry ice production has different suppliers or sources—sometimes the medical industry requires an additional layer of sterility, but I'm not sure if that applies here.)" • So, both concentration and our horridly distorted energy policies (since ethanol is, sadly, a farm state scam, even if it did seem like a good idea at the time).
"Feds rebuff Pfizer's pleas to speed up supplies of COVID vaccine raw materials: reports" [Fierce Pharma]. "Pfizer could provide more than the 100 million doses it promised in its original contract with the U.S. government in the first half of next year—but only if Trump administration officials demand that suppliers of raw materials quickly fulfill the company's orders. And CEO Albert Bourla is calling on the government to use the Defense Production Act to do just that…. The Trump administration hasn't done so yet because they've focused on providing those materials to vaccine makers that did take federal R&D funding, like Moderna, according to unnamed sources who spoke to the New York Times… Pfizer requested early on that the government award it 'favored status' with suppliers of raw materials, but officials were afraid that would damage competing vaccine programs that did take federal R&D money, according to the Times report. Among those companies is Moderna." • If it weren't for the importance of the vaccine program, I'd call this chutzpah.
"Infected Santa, Mrs. Claus could have exposed 50 children in Georgia to COVID-19" [The Hill]. "The Long County Board of Commissioners chairman confirmed the positive test results following Thursday's event in a statement posted on the board's website… [Chairman Robert Parker said:] 'My children both had their picture made with Santa, and their smiles were bigger than any day when they head off to school, where the same risk of exposure exist. I want to further emphasize that no children were forced to attend the events and that choice was left solely in the hands their parents,' he said. Parker added that this particular Santa and Mrs. Claus consider the job the 'most important of their lives.' 'Without them filling these roles locally, I know there are countless underprivileged children who would never have experienced the joy of meeting Santa Claus,' he said. 'My family and the community are praying for a speedy recovery for the 'Clauses', and are looking forward to many more years of the joy they bring to our county.'"
It does seem that polio had different effects on McConnell and FDR:
As a polio survivor, I am a huge supporter of vaccinations. Whenever my turn comes, I will absolutely take the vaccine and do my part to reassure anyone who's doubtful. It's the right thing to do for yourself, for your family, and for the country. pic.twitter.com/xsHidTzN4s

— Leader McConnell (@senatemajldr) December 15, 2020
Gunz
"The Keefe Report: Where's All The Ammo?" [American Rifleman]. "I've spoken to the top three manufacturers, and if you were/are having difficulty finding ammunition, it's not because they aren't trying to keep up with demand. Each one of them reports that they have produced record amounts of ammunition this year. … A friend at Hornady recently reached out to me to ask that I spread the word. What's going on with ammunition is nothing sinister, nor a conspiracy. It is simple supply-and-demand….. Your fellow gun owners' buying habits have changed. I watched a guy who typically buys ammunition four or five boxes at a time take cases of Winchester White Box out of the Chantilly, Va., gun show with a dolly so loaded, the frame was buckling…. I have spoken with representatives of every major ammunition company in the United States, as well as quite a few importers. It's not that they aren't trying to meet the demand. It's just the demand is so high that as soon as product enters commerce, it's gone. There's an insatiable appetite out there now, and once rumors about ammo being in short supply start leaking out, much like the many primer scarcities we've had over the years, the demand increases. Panic begets more panic." • Interesting picture of the guns and ammo market.
Book Nook
Dad.
Boy, we're going to #LeCarré that weight…a long time.

— Another Cinna (@AnotherCinna) December 16, 2020
Groves of Academe
"UM Fires History Professor Who Criticizes 'Powerful, Racist Donors' And 'Carceral State'" [Mississippi Free Press]. "Felber is known for being vocal about prominent university faculty members and organizations. In December 2019, he kicked off the "Making and Unmaking Mass Incarceration" conference at The Lyric near the Oxford Square by revealing that it was originally supposed to be at the Overby Center for Southern Journalism and Politics. But organizers moved the conference, Felber said, due to the center's namesake, who teaches journalism at the university, being on the board of directors of CoreCivic, the nation's second-largest for-profit private-prison company, since 2001. Felber projected images of Overby and information about CoreCivic onto the large overhead screen." • Whoops.
Class Warfare
UPDATE "Chris Arnade: Dignity, Poverty, Faith, & Seeking Respect in Back Row America" (podcast) [The Moral Imagination]. "In the second half of the conversation we discuss faith, redemption, and atonement, and how the front row's empiricist, cold, secular rationalism scientific doesn't do justice to the complexities of human life, suffering, and the desire for meaning, dignity, and respect. Arnade argues that 'atheism is an intellectual luxury that is wrong' and that , and has a false view of science and certainty. Arnade shows that each person, no matter our state, is a subject, and not simply an object to be manipulated or problem to be solved. And that many of our deepest problems cannot be solved by technical means alone, but are philosophical and cultural problems—not of the poor—but of the elite."
News of the Wired
The Department of Transportation (1):
American truck culture is completely insane pic.twitter.com/UCK9A1kLOR

— 2006 drama series tie-in videogame (@TheEpicDept) December 14, 2020
The Department of Transportation (2):
FROM RUSSIA: 8 years ago Nina Aleshina passed away. She was a legendary Soviet architect specializing in Moscow metro stations, often with her colleague Natalya Samoylova, and the work is instantly recognizable: marble, anodized aluminum, elaborate lighting fixtures. pic.twitter.com/3ycAktZWhU

— Supamodu (@supamodu) November 17, 2020
* * *
Readers, feel free to contact me at lambert [UNDERSCORE] strether [DOT] corrente [AT] yahoo [DOT] com, with (a) links, and even better (b) sources I should curate regularly, (c) how to send me a check if you are allergic to PayPal, and (d) to find out how to send me images of plants. Vegetables are fine! Fungi and coral are deemed to be honorary plants! If you want your handle to appear as a credit, please place it at the start of your mail in parentheses: (thus). Otherwise, I will anonymize by using your initials. See the previous Water Cooler (with plant) here. Today's plant (PM):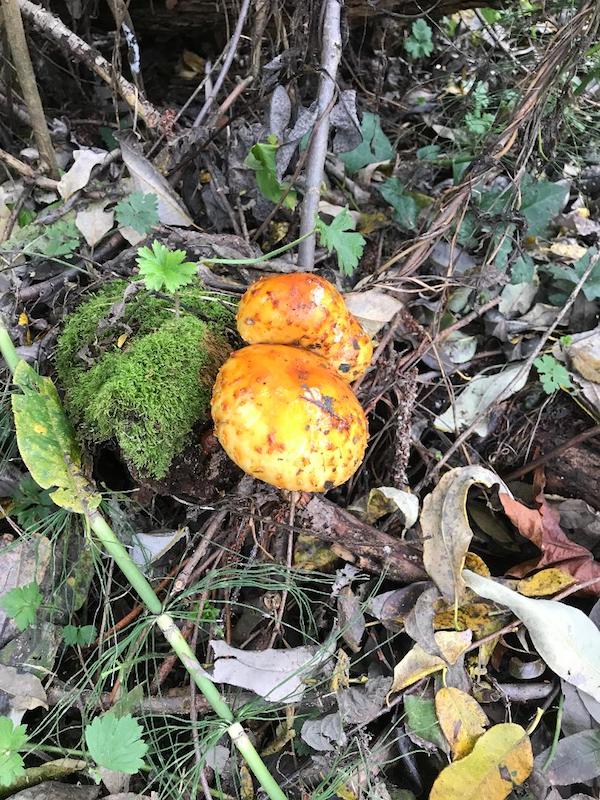 PM writes: "Fungus in the park."
Readers, I'm running a bit low on plants. If you all — and especially readers who have not contributed before! — would kindly send me some more fresh ones, that would be great. Thank you!
* * *
Readers: Water Cooler is a standalone entity not covered by the recently concluded and — thank you! — successful annual NC fundraiser. So if you see a link you especially like, or an item you wouldn't see anywhere else, please do not hesitate to express your appreciation in tangible form. Remember, a tip jar is for tipping! Regular positive feedback both makes me feel good and lets me know I'm on the right track with coverage. When I get no donations for five or ten days I get worried. More tangibly, a constant trickle of donations helps me with expenses, and I factor in that trickle when setting fundraising goals:
Here is the screen that will appear, which I have helpfully annotated.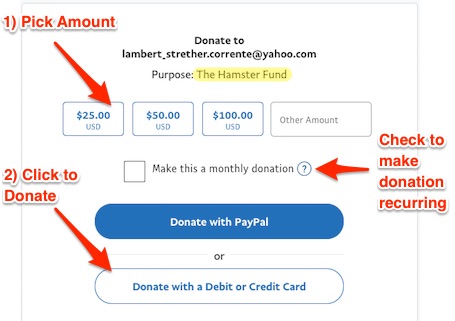 If you hate PayPal, you can email me at lambert [UNDERSCORE] strether [DOT] corrente [AT] yahoo [DOT] com, and I will give you directions on how to send a check. Thank you!