By Lambert Strether of Corrente.
Patient readers, again the extraordinary volume of material and my (thanks, Tim [snarls]) Apple-driven workflow woes have me behind the eight-ball. I will sort through more material and write a continuation of yesterday's essay, hopefully by 3:00PM. –lambert UPDATE All done. The essay is more of a rant. Actually.
Bird Song of the Day
#COVID19
At reader request, I've added this daily chart from 91-DIVOC. The data is the Johns Hopkins CSSE data. Here is the site.
I feel I'm engaging in a macabre form of tape-watching, because I don't think the peak is coming in the next days, or even weeks.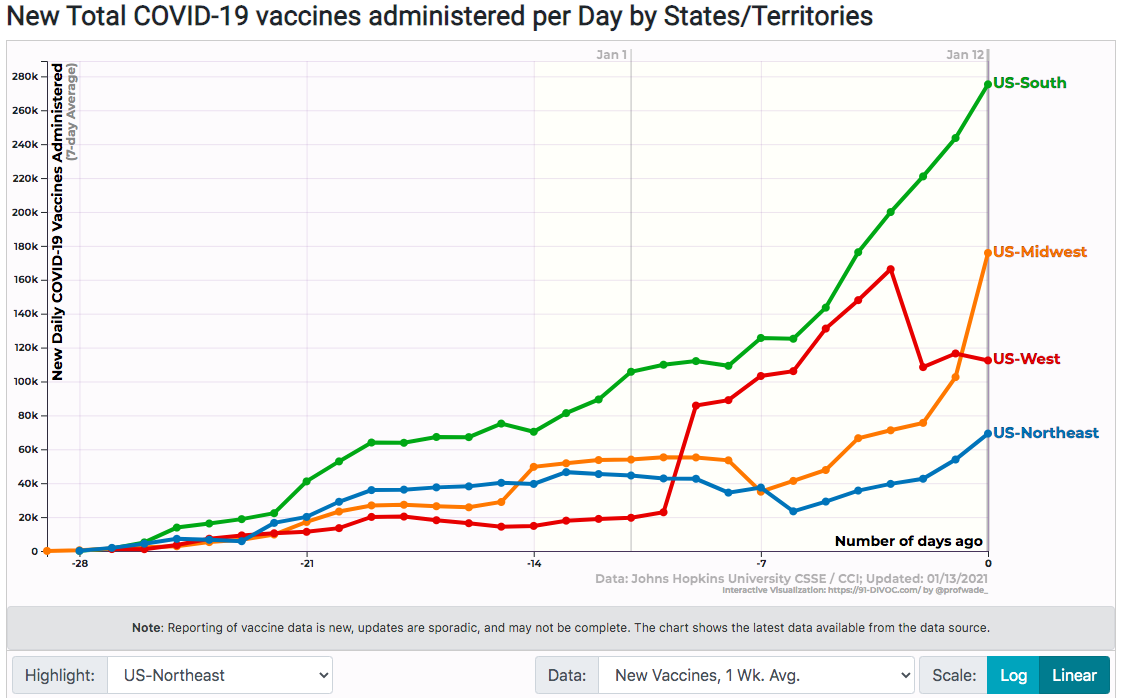 The South is the national champion for vaccination, so far, although the Midwest is now coming up on the outside.
Here are the states of the South (as defined by the US Census):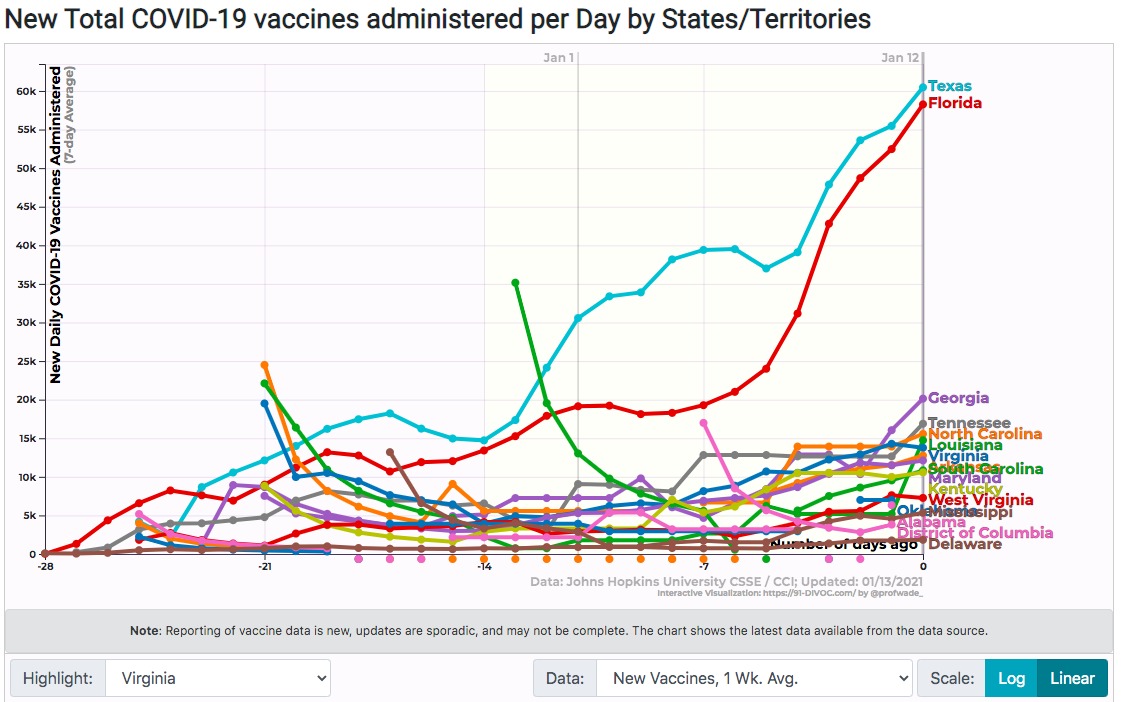 Case count by United States region: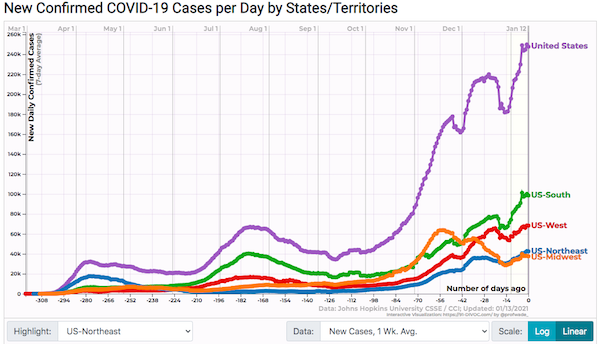 Big states (New York, Florida, Texas, California):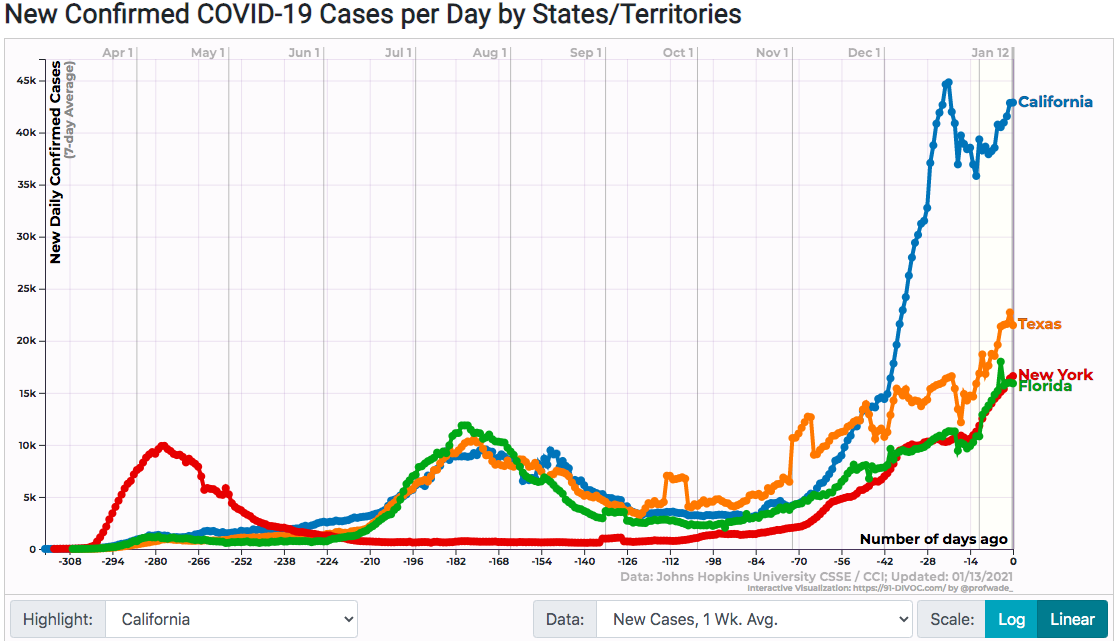 Oh, California!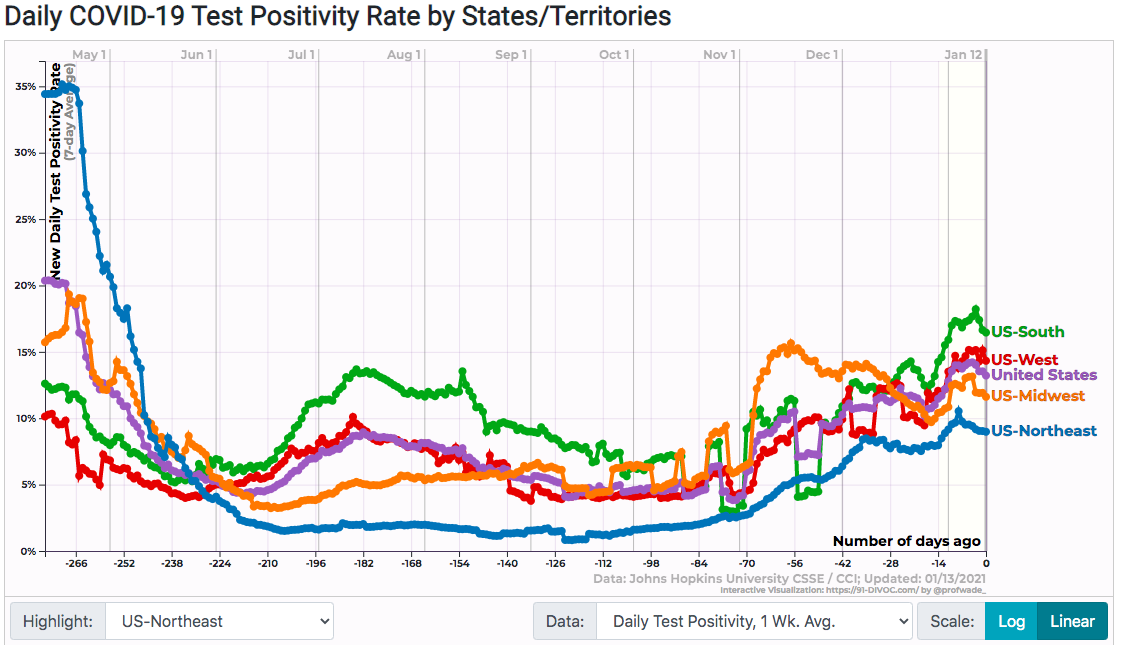 Synchronized drop, weirdly.
Nowhere near 3%, anywhere.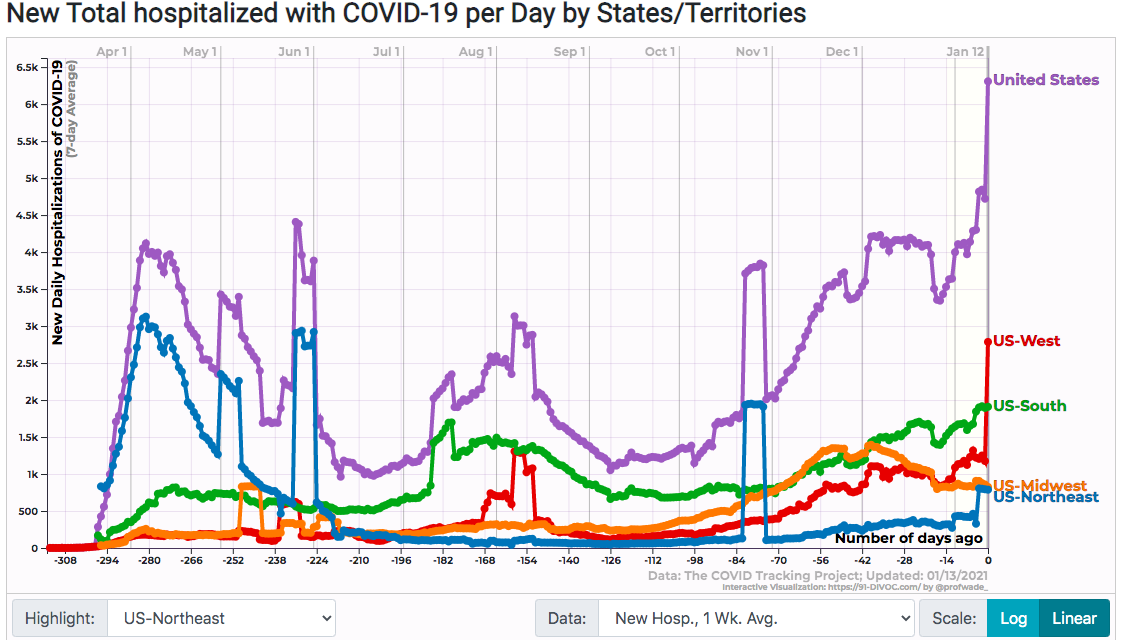 Holy moley, an enormous jump in the West. The Northeast seems to be holding steady after its jump, so maybe it's not reporting. Hospitalization is discretionary; they may also be reducing their admissions rate — relative to cases we cannot see in this data! — to preserve future capacity; or because hospitals have figured out how to send people home.
Case fatality rate (plus deaths):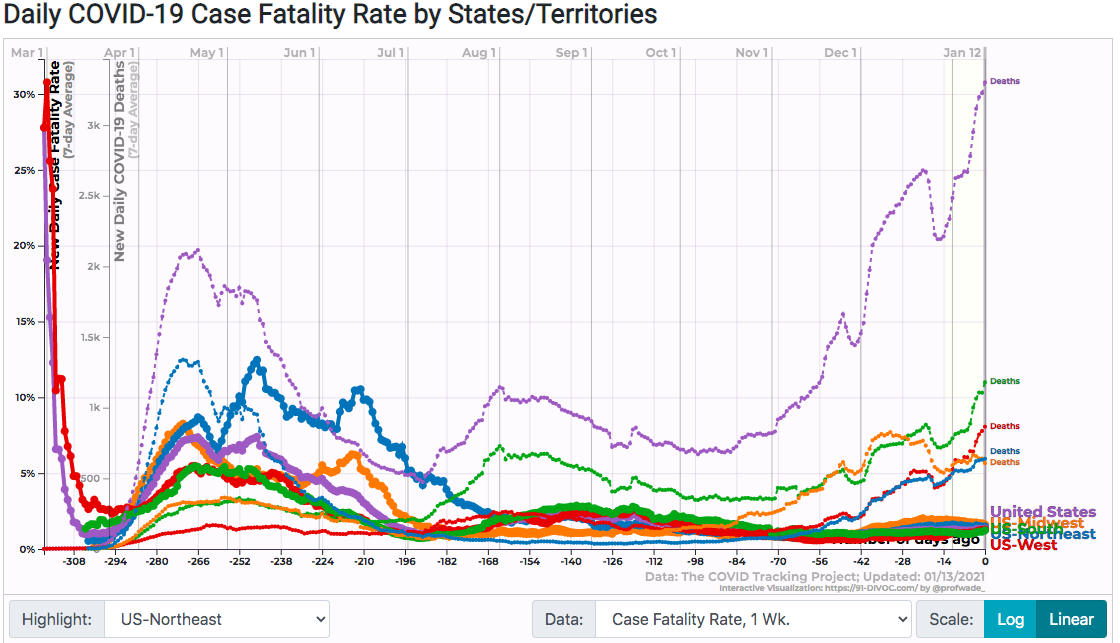 Fatality rate looking a little better, though still not as good as two months ago.
* * *
IA: "Iowa won't immediately offer COVID-19 shots to all seniors, despite federal recommendation" [Des Moines Register (JG)]. "Iowa does not plan to immediately offer coronavirus vaccinations to all people older than 65, as the federal government recommended Tuesday, the Iowa Department of Public Health said…. 'Once we have reasonable confidence that supply meets the demands of this broader eligibility criteria, we will activate the broader distribution criteria,' the department said in a news release Tuesday afternoon. 'From the very beginning (of) this distribution effort, it has been our goal to reach all Iowans.' Iowa's vaccination program, which started in mid-December, has focused on front-line health care workers and residents and staff of long-term care facilities so far."
PA: "'We must show patience': Pa. vaccine rollout faces criticism as unused doses pile up" [York Daily Record]. "Health officials in Pennsylvania — much like those in other states — face mounting criticism for their slower-than-promised coronavirus vaccine rollout as public health experts and President-elect Joe Biden slammed what they said was poor planning and a lack of urgency about 'getting shots into arms.'… Pennsylvania mirrored those numbers with only 311,477 people vaccinated as of Tuesday. That's only about 33% of the nearly 830,000 doses shipped to the commonwealth to inoculate front-line health workers and residents and staff of nursing homes, making it rank 33rd in the nation for inoculating residents, according to the CDC." • You don't get "shots into arms," ffs; you get "shots into people's arms." I wish I knew who invented that vile locution.
VA: "Virginia investigating if website has been incorrectly telling Spanish readers they don't need the coronavirus vaccine" [Virginian-Pilot]. "A translation problem on the Virginia Department of Health website apparently has been telling Spanish readers they don't need the coronavirus vaccine. The issue came up during a Virginia Vaccination Advisory Workgroup telemeeting Monday. Dr. Rebecca Vargas-Jackson, a member of the group, said her students at George Mason University were the first to bring it to her attention. Before the faulty translation, the English passage simply meant the vaccine wasn't mandatory, she said."
Politics
"But what is government itself, but the greatest of all reflections on human nature?" –James Madison, Federalist 51
"They had one weapon left and both knew it: treachery." –Frank Herbert, Dune
"They had learned nothing, and forgotten nothing." –Charles Maurice de Talleyrand-Périgord
Inaugural
"Secret Service launches massive security operation to protect Biden inauguration" [WaPo]. Paragraph six: "Veteran Secret Service and Homeland Security officials who spoke on the condition of anonymity to share their worries…." • Well, at least the anonymous intelligence officials aren't in the lead. It's wise to remember that these are the same people — press and intelligence community — who brought us RussiaGate. They have not changed. There's no indication thay they've thrown away their playbook, which has after all worked well for them. I don't doubt that the situation is dangerous, even unprecedented, as the Capitol seizure was unprecedented. It's not clear to me that the Post and its sources are the ones to explain the nature of the danger to us.

"Right-wing extremist chatter spreads on new platforms as threat of political violence ramps up" [Politico]. "With the threat of future political violence looming, a surge in online extremist chatter is increasingly taking place in private groups and encrypted messaging apps with little, if any, rules about what is posted…. But the severity of the threat is increasingly hard to ascertain, in part because of the crackdown that authorities have already put in place on message boards. That crackdown has driven would-be insurrectionists further underground and scattered their activity across innumerable platforms, including one — TikTok — that's best known as a hub for teens to share videos. The diffuse, chaotic nature of the online chatter has fed into a climate of fear." • You say "climate of fear" like that's a bad thing. Anyhow, they got forced off the plaforms and now nobody can track them, good job. What on earth did anyone expect?

"We're bringing the war back home" [sings] (1):

like a dying star that implodes before it goes supernova , in the final stage of an empire foreign policy becomes domestic policy ???? pic.twitter.com/Wb6OhWv0RH

— detty (@0ddette) January 13, 2021

"We're bringing the war back home" (2):

A model of the statue of Freedom overlooks scores of U.S. troops deployed to the Capitol to protect Congress as the House prepares to impeach President Trump a 2nd time, on Jan. 13, 2021. pic.twitter.com/gwfdE3qeXB

— Lindsay Wise (@lindsaywise) January 13, 2021
Impeachment
UPDATE "Trump impeachment: six House Republicans indicate they will vote in support – live" [Guardian]. Cori Bush: "The 117th Congress must understand that we have a mandate to legislate in defense of Black lives. The first step in that process is to root out white supremacy, starting with impeaching the white supremacist-in-chief."

"Group of House Republicans wants Trump censured" [PIX11]. "A group of moderate House Republicans has introduced a resolution to censure President Donald Trump for his role in last week's attack at the Capitol and for 'attempting to unlawfully overturn the 2020 presidential election.' The group, led by Rep. Brian Fitzpatrick of Pennsylvania, said in a statement Tuesday that they believe Democrats' push to impeach the president for a second time is unrealistic and would likely result in acquittal by the Senate. Instead, they said they believe the House and Senate should censure Trump to ensure that Congress "can unite to hold the president accountable." • MoveOn's original position re: Clinton.
Capitol Seizure
Let's never forget the Capitol seizure happened in America:

My fiancé got me this book pic.twitter.com/n1IMg6NVPZ

— Tess Owen (@misstessowen) January 13, 2021

Not Germany, not Italy, not Spain. America.

And he's not wrong, is he?

Louis Gohmert: "I don't know why they aren't more uprisings all over the country."

— Blake News (@blakehounshell) January 13, 2021

Although roundly mocked — Gohmert is indeed eminently mockable — by the usual suspects.

Some Congressional reactions:

"Mikie Sherrill says unidentified lawmakers led 'reconnaissance' tours ahead of Capitol attack" [Politico]. "Sherrill did not identify the lawmakers she was referring to, how she was able to describe their activities as "reconnaissance" and how she knew they were connected to the riots that consumed the Capitol the following day. She told POLITICO on Wednesday that she's referred her information to authorities." • Sherrill is a CIA Democrat.

"'It was like looking at evil': The Capitol attack through the eyes of the Massachusetts delegation" [Boston Globe]. "'Every panic button in my office had been torn out — the whole unit,' [Sarah Groh, Ayanna Pressley's chief of staff] said, though they could come up with no rationale as to why. She had used them before and hadn't switched offices since then." • This seems to be the only such incident that has surfaced in the week since the Capitol seizure; pix would have been nice.

Some backers:

"Here Are The Donors To Tea Party Group That Helped Organize Pre-Riot Rally" [The Intercept]. "Donors to the Tea Party Patriots Foundation, one of the groups that helped organize the January 6 rally preceding the deadly attack on the U.S. Capitol, include the Jewish Community Federation and late billionaire Republican donor Sanford Diller, according to a 990 form submitted to the IRS by the tax-exempt nonprofit in 2019. The right-wing organization was listed on the March to Save America website alongside groups like Stop the Steal, Turning Point Action (an affiliate of Turning Point USA), and Women for America First, according to a report last week from Documented, a watchdog group that investigates corporate influence. The March to Save America website is down, but archived versions list several participating organizations. Supporters of President Donald Trump gathered for a mass event outside the Capitol last week, aiming to coincide with challenges to Joe Biden's Electoral College victory. The rally culminated in a mob attack on the Capitol that left five people dead. The Tea Party Patriots' tax filing was obtained by Eli Clifton, the a senior adviser at the Quincy Institute for Responsible Statecraft, who shared it with The Intercept."

Participants:

"Six Republican lawmakers among rioters as police release photos of wanted" [Independent]. "Tennessee state lawmaker Terri Lynn Weaver told the Tennessean that she was 'in the thick of it' during the rally before the storming of the Capitol. She said there was 'Just a whole heck of a lot of patriots here.' She later tweeted a picture of the mob at the base of the Capitol, saying: 'Epic and historic day gathering with fellow Patriots from all over the nation DC."" • All the lawmakers, as was Weaver, are state legislators. "Patriot" might be a good word to reclaim.

"What covering heavy metal taught me about spotting Nazis" [Columbia Journalism Review]. "a close look at his hairy torso made Angeli's leanings clear: when I zoomed in on his tattoos, I noticed white power symbols—Angeli was quite literally wearing his fascist sympathies on his heart. I knew what I was seeing because I recognized some of the same iconography hidden in the margins of black-metal albums…. The Encyclopedia Metallum, a kind of crowdsourced metal Wikipedia, has been an invaluable resource in examining album details and discovering links between seemingly harmless artists and their racist collaborators. Sometimes a werewolf is just a werewolf, but often it's a sign of something more malignant." Of the horns dude: "[A] close look at his hairy torso made Angeli's leanings clear: when I zoomed in on his tattoos, I noticed white power symbols—Angeli was quite literally wearing his fascist sympathies on his heart. I knew what I was seeing because I recognized some of the same iconography hidden in the margins of black-metal albums." • I think the headline is a little deceptive. Led Zeppelin is heavy metal; so far as I know they have no Nazi sympathies. Black-metal is a later derivative, no? Can any metal fans in the readership comment?

Consequences (1):

Well-off, white Trump supporters at U.S. Capitol riot face consequences they didn't expect at home.

"Becky's Flowers" was dropped by a wedding planning app. A real estate broker who arrived on a private plane faces calls to lose her license.https://t.co/y4VaZHAQIF

— Heather Timmons (@HeathaT) January 12, 2021

Consequences (2):

Rep. @MondaireJones : "There must be consequences for last week's treason and sedition. We must send a message that nobody in the United States is above the law." I am so immensely proud and grateful to watch you lead @RepMondaire

— Jess Moskowitz (@jessmosk12) January 13, 2021

Consequences (3):

cancel culture is a weird way to spell consequences

— Steven Rich (@dataeditor) January 13, 2021

Consequences (4):

The longer the GOP speeches go, the more this gets etched in stone: rejecting consequences for Trump, no matter the outrage, remains a prime directive for almost all House Rs. Which, of course, guarantees that he retains control of his base & leverage over them going forward. https://t.co/AWJmubEZEE

— Ronald Brownstein (@RonBrownstein) January 13, 2021

"Consequence" discourse makes my back teeth itch is because to me, the political class of the United States includes the most consequence-free people on the planet, save only the oligarchs it serves. This is the political class that allowed life expectancy to drop without making it a political issue. With no consequences. This is the political class that deindustrialized flyover and sent our manufacturing capability to China. With no consequences. This is the political class that still embraces the war criminals who brought us Iraq, Afghanistan, Libya, Syria, and Yemen. With no consequences. Within the political class, the Democrats wagging their fingers while yammering about "consequences" are the party that never even did a post mortem on the 2016 election. No consequences. The party of RussiaGate. No consequences. The party whose base is protected from globalization by credentials and guilds. No consequences. This is the party whose response to the last crash was to sail off in half-empty lifeboats like Titanic survivors.

For that, consequences, as we see. Matthew 7:5 is relevant:

You hypocrite, first take the log out of your own eye, and then you will see clearly to take the speck out of your brother's eye.

Of course, it's the "you hypocrite" that sets off my moralizing fury (and Matt 7:5 is more subtle than one might think: What about the log(s) in my own eye?). But on reflection I think it's the "you will see clearly" part that is far more important. Will a now-dominant party and a party's base that cannot see clearly — that refuses, over and over again, to self-reflect or hold itself accountable — be able to attain the strategic insight and operability capability to deal with the current, multiple crises? We must pray that they do (those of us who pray). I have my doubts.
Transition from Trump
"'I've Been Selfish And Arrogant, And I Apologize,' Says Content, Mentally Healthy Trump Minutes After Social Media Ban" [The Onion]. Trump: "Over the past quarter hour, I've realized that caring for others, lending a hand to someone in need—these are the only things in this world that can give a man true integrity. I hope you all have it in your hearts to forgive me for my pride and my many failures in this life." • This classic of the same genre is, I think, better.
Stats Watch
At reader request, I added some business stats back in. Please give Econintersect click-throughs; they're a good, old-school blog that covers more than stats. If anybody knows of other aggregators, please contact me at the email address below.
"December 2020 CPI: Year-over-Year Inflation Rate Grows" [Econintersect]. "According to the BLS, the Consumer Price Index (CPI-U) year-over-year inflation rate was 1.4 % year-over-year (up from the reported 1.2 % last month). The year-over-year core inflation (excludes energy and food) rate was unchanged at 1.6 %."
* * *
Finance: "Walmart to launch fintech startup with partner Ribbit Capital" [Banking Dive]. "The details of Walmart's new fintech startup are scarce. The Bentonville, Arkansas-based company did not disclose the name of the new entity, specific services or a launch date. The retailer said the strategic partnership 'will bring together Walmart's retail knowledge and scale with Ribbit's fintech expertise to deliver tech-driven financial experiences tailored to Walmart's customers and associates.' The startup will be majority-owned by Walmart and its board will include Furner, Walmart Executive Vice President and CFO Brett Biggs and Meyer Malka, managing partner of Palo Alto, California-based Ribbit Capital. Walmart said its plans to add independent industry experts to the fintech's board and build a management team of experienced fintech leaders. The company also plans to grow the startup through partnerships and acquisitions with fintech companies." • A "tech-driven financial experience." Who comes up with this drivel? Does it mean something to investors?
Retail: "E-commerce in the pandemic and beyond" (PDF) [Bank of International Settlements]. "In terms of e-commerce, the pandemic unfolded in three basic stages: (i) a precautionary stage; (ii) a
stockpiling stage; and (iii) a shelter at home stage. Proprietary data from Mercado Libre shed light on which products saw the highest demand in each stage (Graph 2, left-hand panel). Initially, as the Covid-19 virus spread across Asia, Europe and the Americas, consumers made precautionary purchases of medical supplies, eg hand sanitiser, disinfectant and facemasks. In the second stage, after a pandemic was declared, consumers stockpiled household essentials such as personal care products and non-perishable foodstuffs. This is consistent with uncertainty about the length of government containment measures. Finally, in the third stage, technological goods, exercise equipment and entertainment and education services were in high demand. This reflects the fact that more activities were being conducted at home, and teleworking and home schooling became more prevalent. This stage was particularly important in the Americas. While in some countries in Asia and Europe lockdowns were often in place for a matter of weeks, in some parts of the US and Latin America, non-essential retailers were closed for months."
Shipping: "New world record set for shipping rates: $350,000 per day" [Hellenic Shipping News]. "It has never been more expensive to get a container of goods across the ocean. But it's not just containers. Liquified natural gas (LNG) shipping is also rewriting the record books…. In the case of container shipping, COVID has supercharged rates as consumers switch purchasing from services to goods. In the case of LNG, shipping rates have been driven up by extreme winter weather in Asia (LNG is used to generate power for heating), LNG production outages in Asia and Panama Canal congestion."
The Bezzle: "This Year, Autonomous Trucks Will Take to the Road With No One on Board" [IEEE Spectrum]. "In principle, developing an autonomous truck can be somewhat easier than developing an autonomous car. That's because unlike passenger vehicles, trucks—in particular long-haul tractor-trailers—generally follow fixed routes and spend most of their time on highways that are more predictable and easier to navigate than surface streets." • As I've been saying for years: When your algorithm is broken, control your inputs. Anyhow, I'm sure robot trucks will experience no trouble driving over those long, straight roads in flyover. No trouble at all, and especially not at night.
* * *
Today's Fear & Greed Index: 68 Greed (previous close: 69 Greed) [CNN]. One week ago: 59 (Greed). (0 is Extreme Fear; 100 is Extreme Greed). Last updated Jan 13 at 12:05pm.
Health Care
"Hatzolah EMS Service Could Land Flying Ambulances On City Streets" [Bklyner]. "Hatzolah Air, a newly formed air division of the volunteer emergency medical service (EMS) organization whose independent chapters serve mostly Orthodox Jewish communities in Brooklyn and around the world, announced last week that it pre-ordered four air ambulances from an Israeli aerospace company called Urban Aeronautics. Renderings from press releases announcing the purchase show a futuristic-looking vehicle landing on crowded city streets to assist at the site of an accident."
A long but useful thread on airborne transmission:
The risk of transmission is complex and multi-dimensional. It depends on many factors: contact pattern (duration, proximity, activity), individual factors, environment (e.g. outdoor, indoor), socioeconomic factors, and mitigation measures in place. (2/n)(https://t.co/sn3rLXoFHQ\) pic.twitter.com/wIMNRvRfxK

— Muge Cevik (@mugecevik) January 11, 2021
"social mask, the intelligent mask that can identify air-borne pathogens" [designboom]. "MIT's pandemic response lab launched an initiative asking designers, researchers, engineers, scientist, or anyone to reimagine face coverings and PPE. today we present you with the winning entry, the social mask by burzo ciprian, a young designer and engineer from romania…. the front of the mask contains a modular device that can be removed or replaced while integrating the biosensors, bluetooth capabilities, and an air vent. on the side, users can find another filter ventilation system, the temperature sensor and its display. the intelligent mask can connect to your phone via a dedicated app with different functions like temperature tracking, particle status checking, or a map with surrounding users. collecting the data from the mask, the algorithm realizes a percentage of the possible infection with SARS COV-19. all users will appear on the map so that an uninfected person avoids the area with possible infections." • All nice ideas if the data can be collected. I myself would settle for a visualization of airflows (via CO2 concentration?). Which reminds me: Presumably sending aerosols up into the air to get them away from people at ground level would be a good thing (or would it? Aerosol experts please weigh in). Something along these lines: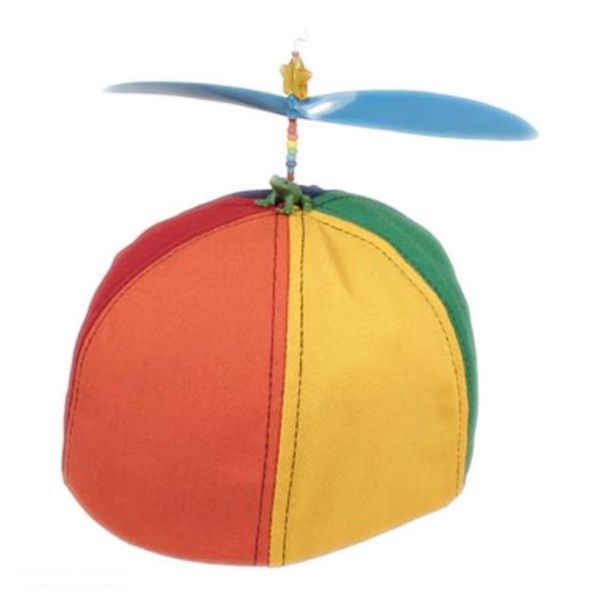 The 420
"Mexico moves to create world's largest legal cannabis market" [Al Jazeera]. "Mexico's health ministry on Tuesday published rules to regulate the use of medicinal cannabis, a major step in a broader reform to create the world's largest legal cannabis market in the Latin American country. The new regulation, signed off on by Mexican President Andres Manuel Lopez Obrador, will now allow pharmaceutical companies to begin doing medical research on cannabis products. The cannabis reform taking place includes the recreational use of marijuana and would create the world's biggest national cannabis market in terms of population."
Guillotine Watch
"Slouch or Slack Off, This 'Smart' Office Chair Cushion Will Record It" [New York Times]. "A technology company in eastern China designed 'smart' cushions and gave them to its employees for their office chairs as part of a product study. The cushions were supposed to monitor their health, note bad posture as a sign of possible fatigue, measure heart rates and tally minutes spent at work stations. But when the company's human resources manager began inquiring about employees' long breaks and early departures from work, it soon became clear that the cushions were also recording the last thing employees wanted their bosses to know: when they were absent from their desks, potentially spelling trouble for workers." • What, no options for electrodes and automatically closing wrist straps?
Class Warfare
"Dollar General offers workers four hours pay to get COVID-19 vaccine" [The Hill]. "Dollar General announced on Wednesday that it is offering its workers four hours of pay if they go get the COVID-19 vaccine. The company said the offer is currently only applicable to front-line workers, but it plans to extend it to its distribution and transportation teams. The offer is only an incentive and the company will not require its workers to get the vaccine. 'We do not want our employees to have to choose between receiving a vaccine or coming to work, so we are working to remove barriers (e.g., travel time, mileage, child care needs, etc.) by providing frontline hourly team members with a one-time payment equivalent of four (4) hours of regular pay after receiving a completed COVID-19 vaccination and salaried team members with additional store labor hours to accommodate their time away from the store," the announcement states.' Dollar General is one of the first larger companies to incentivize its employees to get the vaccine. The more essential employees who get the vaccine, the safer customers will feel shopping in those stores.'" • Half a day doesn't seem like enough time.
"Report of Ombudsperson" (PDF) [White & Stradley, PLLC, Attorneys At Law]. Of the American Economic Association: "Reported bullying based on sex includes yelling, screaming, throwing objects at a victim, breaking objects in front of the victim, and making a threatening move to cause a victim to feel she was about to be punched. Also reported is less physically threatening conduct such as pressuring a complainant to party more, to party less, not to work with students, to allow students to get all the credit for their work, to be more friendly, less friendly, less threatening, or less attractive. Sexual harassment allegations include rape, attempted rape, unwanted touching, unwanted grabbing (to the point of leaving bruises), inappropriate suggestions of sexual encounters, and gaining entry into a complainant's secure workplace through personal connections, in order to visit the victim without permission." • Horrid stuff.
News of the Wired
Chumps:
In 1959, a Swedish engineer at Volvo patented what would become one of the greatest inventions of all time

Volvo stood to make billions

But after a meeting with Volvo's President, he decided to give it away for free – and it changed the world

Here's how that meeting went ??

— Ankith Harathi (@ankithharathi) January 12, 2021
No.
This AI-driven companion might bring relief for the lonely elderly pic.twitter.com/XFxP2GgLNM

— Reuters (@Reuters) January 13, 2021
So some private equity firm can rent out the robot? Really?
"Are Straight People OK? How We Can Improve Heterosexuality" [Teen Vogue] and "What to Do When Your Friends Keep Judging Your Relationship" [Teen Vogue]. • Make up your minds! (The department heading for both is — you guessed it — "Identity." To be fair, Teen Vogue actually has a labor reporter. Nevertheless….
"French gastronomy: The origins of haute cuisine" (video) [France24]. • I'm not filing this under Guillotine Watch, I only learned to eat over the age of 40, and French cuisine in Montréal taught me how. Food can give a lot of pleasure, and that's before we get to the conviviality promoted by eating together, a value people are increasingly desperate to have in the pandemic.
* * *
Readers, feel free to contact me at lambert [UNDERSCORE] strether [DOT] corrente [AT] yahoo [DOT] com, with (a) links, and even better (b) sources I should curate regularly, (c) how to send me a check if you are allergic to PayPal, and (d) to find out how to send me images of plants. Vegetables are fine! Fungi and coral are deemed to be honorary plants! If you want your handle to appear as a credit, please place it at the start of your mail in parentheses: (thus). Otherwise, I will anonymize by using your initials. See the previous Water Cooler (with plant) here. Today's plant (HH):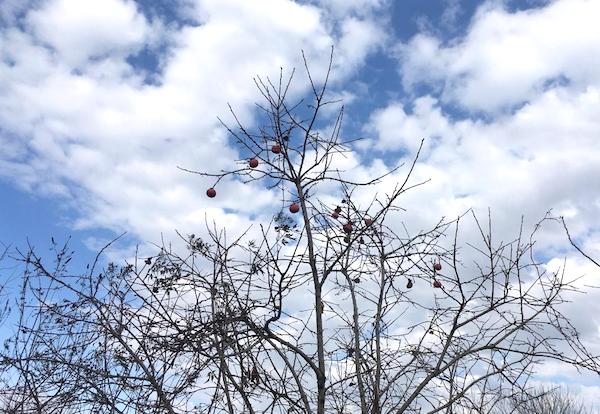 Hh writes: "The leaves have fallen from our persimmon tree here in central Texas, revealing the fruits that we overlooked when we made our persimmon harvest last month." Lovely composition.
* * *
Readers: Water Cooler is a standalone entity not covered by the recently concluded and — thank you! — successful annual NC fundraiser. So if you see a link you especially like, or an item you wouldn't see anywhere else, please do not hesitate to express your appreciation in tangible form. Remember, a tip jar is for tipping! Regular positive feedback both makes me feel good and lets me know I'm on the right track with coverage. When I get no donations for five or ten days I get worried. More tangibly, a constant trickle of donations helps me with expenses, and I factor in that trickle when setting fundraising goals:
Here is the screen that will appear, which I have helpfully annotated.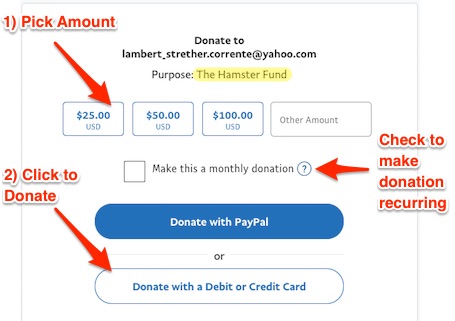 If you hate PayPal, you can email me at lambert [UNDERSCORE] strether [DOT] corrente [AT] yahoo [DOT] com, and I will give you directions on how to send a check. Thank you!