By Lambert Strether of Corrente.
Bird Song of the Day
Yet another Grey Catbird for vocal catbird stans. Dawn chorus!
#COVID19
Lambert here, last Friday: Well, I said "If these declines continue through the end of the week, I'm gonna have to conclude we're looking at a genuine fall in the numbers — not the current narrative, I might add — and that we are not looking at a reporting effect from the long weekend." So I have to conclude we're looking at a genuine fall in the numbers.
We are also not seeing an explosion from travel over the holidays, now well in the rear-view mirror. We might get a spike in ten days or so, if people were partying on MLK day, but with luck it will be small. Of course, there are those worrisome variants, so a mood of sunny optimism is not warranted.
Amplifying the variants issue: I am looking at aggregated regional and national data. That doesn't preclude the idea that there are individual "hot spots" that are doing very badly. And if those hot spots are due to the new variants, and one or more of the variants is either resistant to the vaccine, or eludes current treatment protocols, we could see another rendition of the "stair step" pattern that we've already seen in cases. Unfortunately, our data collection is so bad that we have no way of tracing viral lineage in anything like near-real time, so we can't tell where the variants are hitting. (Cities with direct flights to the UK or South Africa would be places to check the sewage.) We might keep in the back of our minds that the first sign of a tsunami is water withdrawing from the shore — like the decline we are seeing now. It never hurts to have an extra mask or two around the house, or sacks of rice and beans, say I.
* * *
At reader request, I've added this daily chart from 91-DIVOC. The data is the Johns Hopkins CSSE data. Here is the site.
I feel I'm engaging in a macabre form of tape-watching…. (A reader asked the source of the data: Johns Hopkins CSSE. DIVOC-91 does allow other data sets to be used, like Our World in Data and The Atlantic, and where they provide visualizations similar to those below, a cursory comparison shows that the shape of the curves is the same.)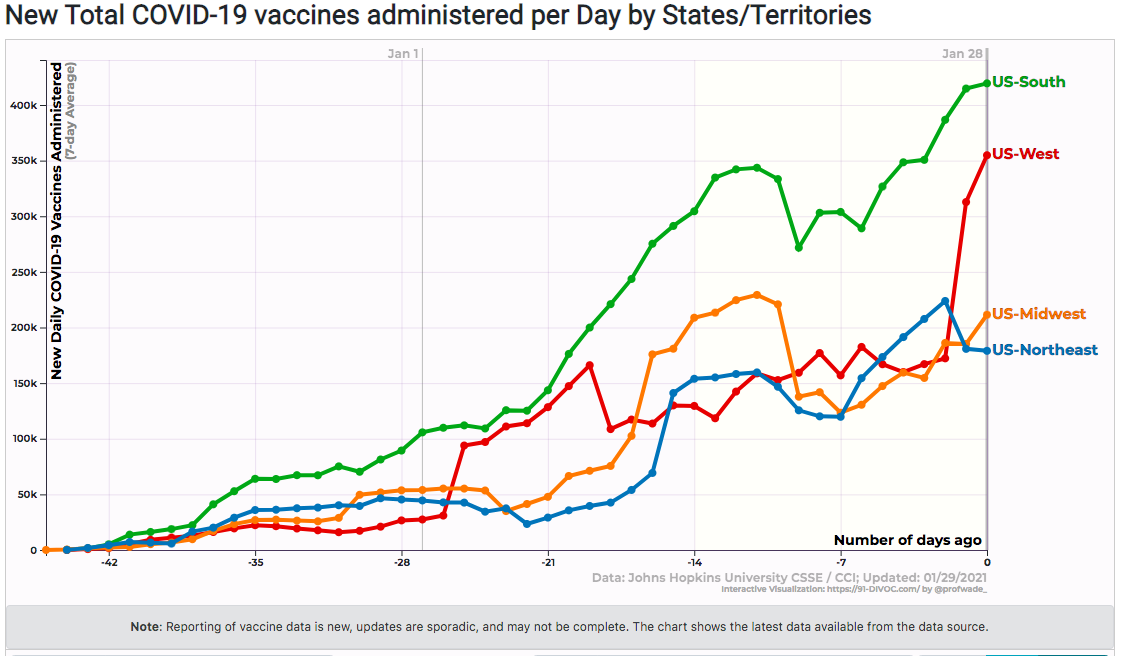 Vaccination in the Northeast: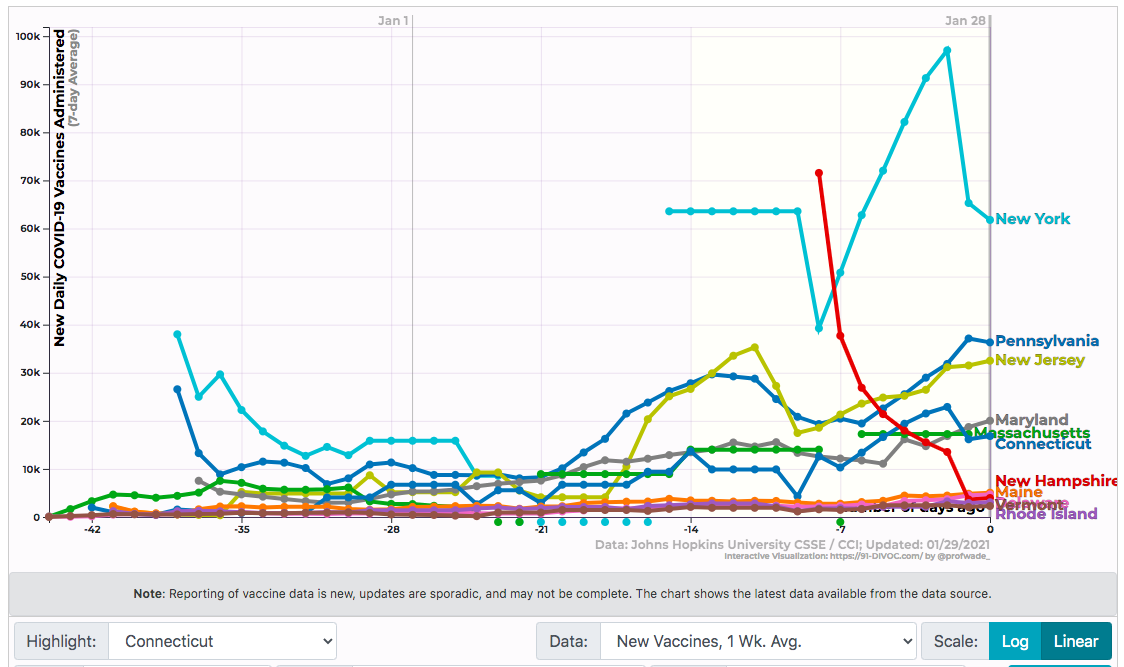 I wondered why the Northeast was lagging. Massachusetts is flat, and New York is down.
Case count by United States region: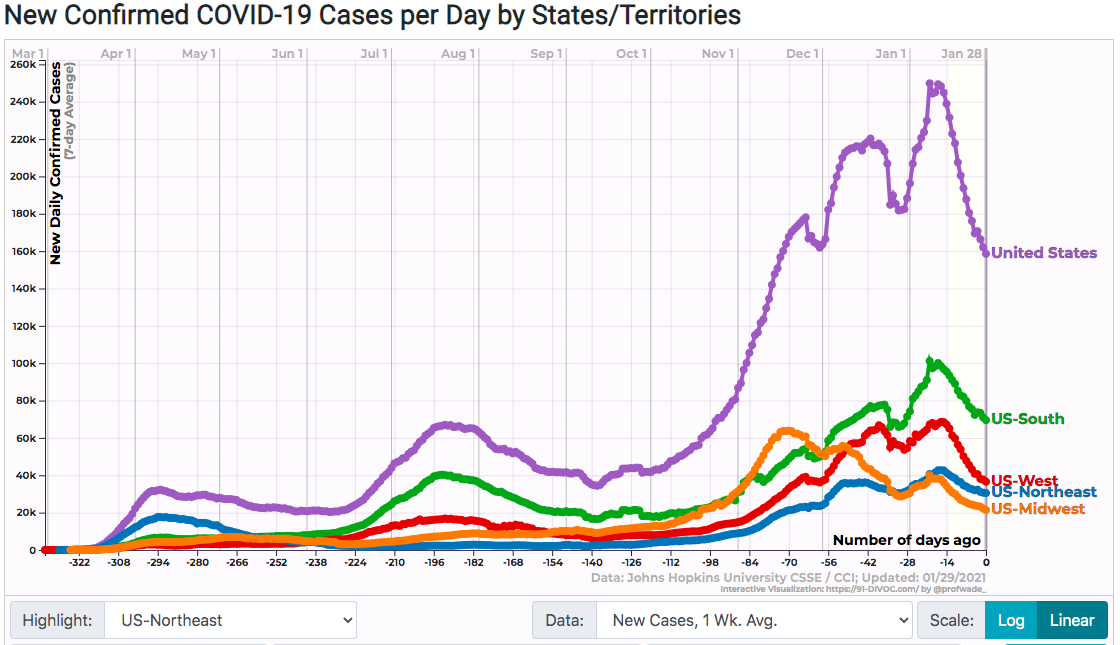 Big states (New York, Florida, Texas, California):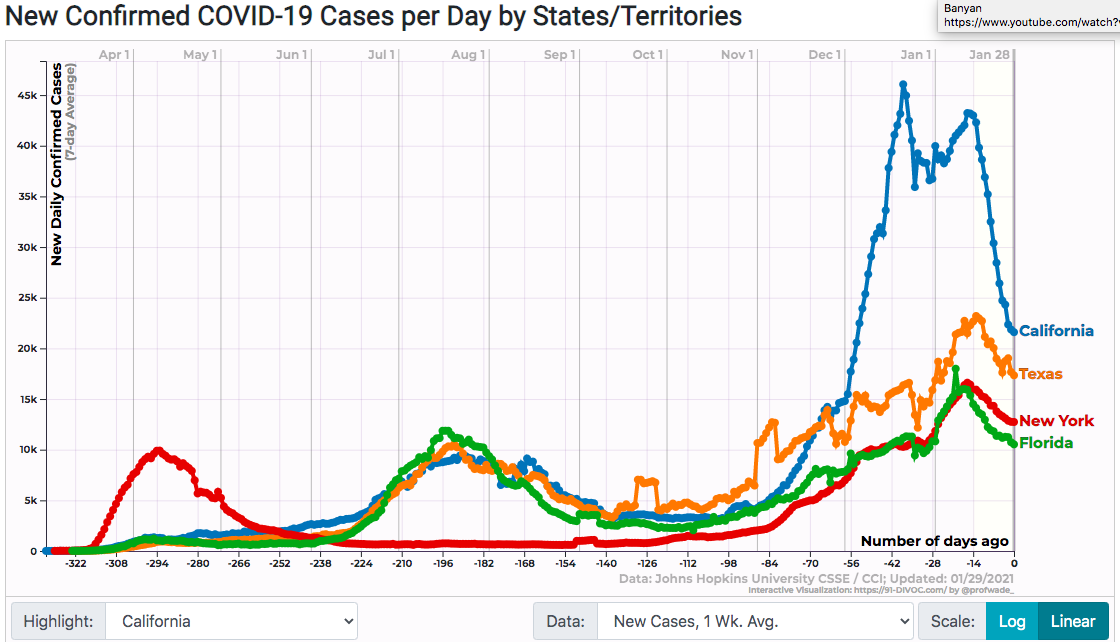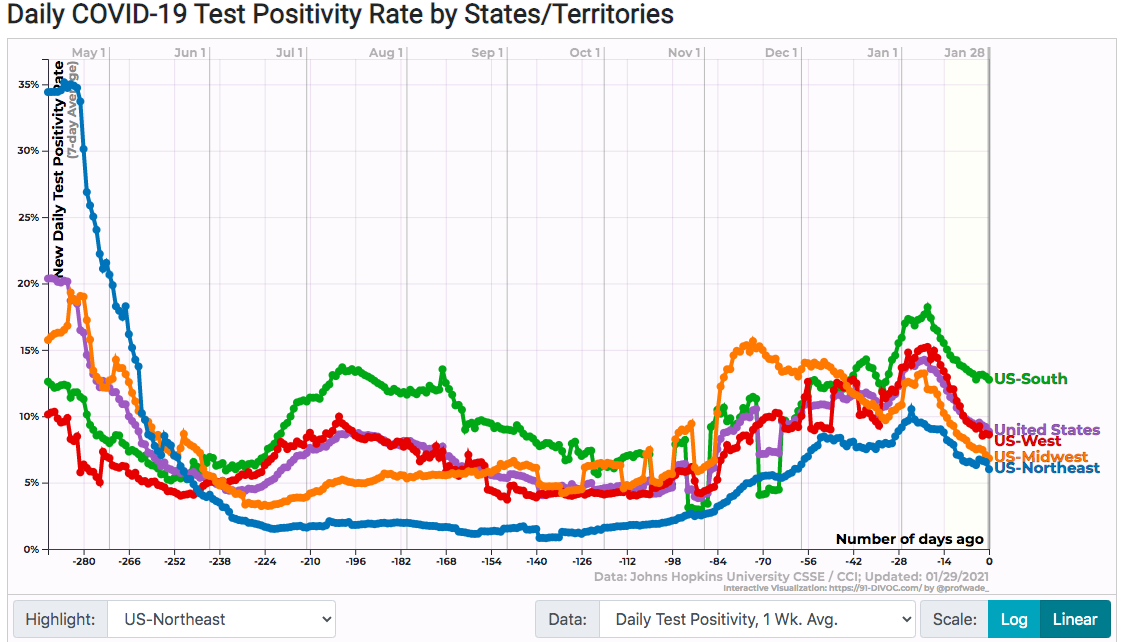 Nowhere near 3%, anywhere.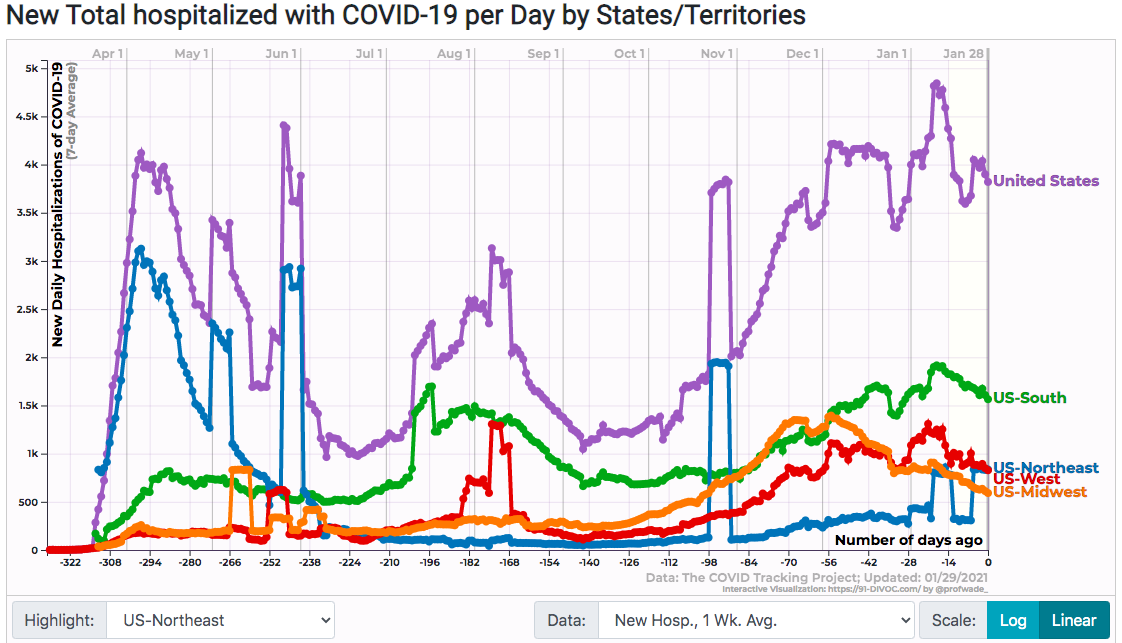 Hospitalization is discretionary; they may also be reducing their admissions rate — relative to cases we cannot see in this data! — to preserve future capacity; or because hospitals have figured out how to send people home.
Case fatality rate (plus deaths):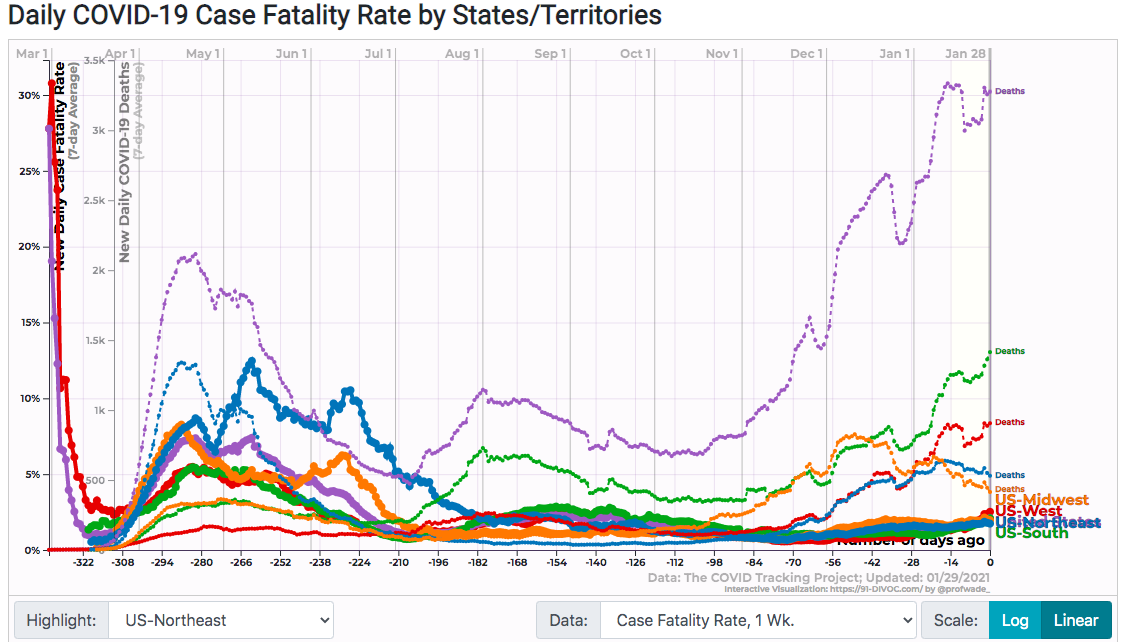 There's that slow rise in the fatality rate again.
Politics
"But what is government itself, but the greatest of all reflections on human nature?" –James Madison, Federalist 51
"They had one weapon left and both knew it: treachery." –Frank Herbert, Dune
"They had learned nothing, and forgotten nothing." –Charles Maurice de Talleyrand-Périgord
Capitol Seizure
How about landmines?

PERMANENT SECURITY FENCING coming to US Capitol.

New statement from acting US Capitol Police chief: "Vast improvements to the physical security infrastructure must be made to include permanent fencing" pic.twitter.com/6JMPfcn1E9

— Scott MacFarlane (@MacFarlaneNews) January 28, 2021

On the bright side, perhaps the fencing could keep the Congress critters in?

Good for Bowser:

Bowser says DC "will not accept" permanent fencing around Capitol https://t.co/winEtX0DsU pic.twitter.com/rwcepppJRe

— The Hill (@thehill) January 28, 2021
Impeachment
'QAnon Shaman' willing to testify in impeachment trial, lawyer says" [The Hill]. "A man photographed wearing face paint and a horned headdress during the Jan. 6 insurrection at the U.S. Capitol said he would be willing to testify at former President Trump's impeachment trial in February, his attorney told The Associated Press. Jacob Chansley, who is known as the 'QAnon Shaman,' would be willing to testify that he was incited to allegedly storm the Capitol by the then-president, according to attorney Albert Watkins. 'QAnon Shaman' is a name that references the far right conspiracy theory known as QAnon…. Watkins told the AP that after Trump failed to pardon him or other participants in the insurrection, his client 'felt like he was betrayed by the president.'" • Jacob Chansley is gonna turn out just like David Brock.
RussiaGate
"'The perfect target': Russia cultivated Trump as asset for 40 years – ex-KGB spy" [David Smith, Guardian]. "[Yuri Shvets], who has carried out his own investigation, said: 'For me, the Mueller report was a big disappointment because people expected that it will be a thorough investigation of all ties between Trump and Moscow, when in fact what we got was an investigation of just crime-related issues. There were no counterintelligence aspects of the relationship between Trump and Moscow.' He added: "This is what basically we decided to correct. So I did my investigation and then got together with [journalist Craig Unger of Vanity Fair]. So we believe that his book will pick up where Mueller left off." • Blurbs from the Amazon posting:

Praise for American Kompromat

"For the first time a former KGB employee has gone on record to describe Donald Trump's historic relationship with the Kremlin. It's a bombshell that must be looked into."—Robert Baer, former CIA operative and author of See No Evil

"I said in 2017 that Trump had more Russian connections than Aeroflot, and American Carnage documents every flight. Trump's loyalty to Russian dictator Vladimir Putin was deeper and more insidious than merely envying his wealth and power. America has removed Putin's puppet from the White House, but the KGB man who controlled him is still in the Kremlin, eager to repeat the success of his greatest operation: President Trump. Read Craig Unger to understand why the danger to American democracy is far from over."—Garry Kasparov, Chairman of the Renew Democracy Foundation and author of Winter Is Coming: Why Vladimir Putin and the Enemies of the Free World Must Be Stopped
Transition to Biden
"'For Christ's sake, watch yourself': Biden warns family over business dealings" [Politico]. "In the midst of his campaign for president, Joe Biden took his younger brother, Frank, aside to issue a warning. 'For Christ's sake, watch yourself,' Biden said of his brother's potential business dealings, according to a person with knowledge of the conversation. 'Don't get sucked into something that would, first of all, hurt you."" • Quite a lead…
Realignment and Legitimacy
"Time For Senator J.D. Vance?" [The American Conservative]. • No. No it's not.

"First Red House, now a new Portland occupation simmers" [KOIN]. "Brenulla White-Bey, a 66-year-old retired Multnomah County nutrition counselor who stopped paying her mortgage five years ago but declines to leave her former house, told the Portland Tribune the authorities have got it wrong. White-Bey, like the Kinneys [of North Mississippi], has been filing legal documents arguing that she is a "Moorish" and an indigenous sovereign citizen, not a subject of the United States. The Black woman also argued that her mortgage was illegal — contrary to how three judges ruled in Multnomah Circuit Court. In court, White-Bey has used documents that 'are common to the sovereign citizen movement, including Moorish Sovereigns,' said Cruz, the Southern Poverty Law Center analyst. 'Individuals who use the documents are often desperate to retain properties they are losing or have lost as a result of non-payment.'" • A vacuum on the left got filled with this nonsense.
Stats Watch
At reader request, I added some business stats back in. Please give Econintersect click-throughs; they're a good, old-school blog that covers more than stats.
Income and Expenditures: "December 2020 Real Income Grew and Real Expenditures Declined" [Econintersect]. "The data continues to be affected by the pandemic. Expenditures declined month-over-month (and is in contraction year-over-year) whilst income improved month-over-month (and is in expansion year-over-year)…. The note from the BEA says it all: "The December estimate for personal income and outlays was impacted by the response to the spread of COVID-19. Many provisions of the Coronavirus Aid, Relief, and Economic Security (CARES) Act continued to wind down before the Coronavirus Response and Relief Supplemental Appropriations (CRRSA) Act was enacted on December 27, 2020. Additionally, new restrictions and closures took effect in some areas of the United States. ."
Rail: "Rail Week Ending 16 January 2021 – Improvement This Week" [Econintersect]. "Week 3 of 2021 shows same week total rail traffic (from the same week one year ago) improved according to the Association of American Railroads (AAR) traffic data. Total rail traffic has been mostly in contraction for over one year – and now is slowly recovering from the coronavirus pandemic. Total rail traffic has two components – carloads and intermodal (containers or trailers on rail cars). Container exports from China have recovered, container exports from the U.S. remain deep in contraction. This week again intermodal continued in expansion year-over-year and continues on a strengthening trendline."
* * *
On GameStop, be sure to read Yves' post here if you have not already.
Mr. Market: Shorts are the good guys (to the extent there are good guys):
Fact check: TRUE

Enron, Lehman, Wirecard, Valeant.

It wasn't the regulators finding the problems. It was the short sellers.

And if they're wrong, they lose money. https://t.co/y2pUB03WtC

— Jonathan Tepper (@jtepper2) January 28, 2021
Mr. Market: "BlackBerry execs sold shares as Reddit-driven rally started" [Reuters]. "Three BlackBerry executives, including the chief financial officer, sold $1.7 million of the telecoms technology firm's stock in the early days of this month's meteoric share price rise, filings with securities regulators show. BlackBerry and other heavily shorted stocks have soared in the past few days as traders organizing on social media platforms such as Reddit took on the hedge funds making bets against them. The stock sales represent one of the first examples of company executives cashing out on the frenzy."
Mr. Market: "Experts Say Robinhood's GameStop Fiasco Likely Caused by Lack of Cash" [Vice]. "A dominant theory among some investors was that Robinhood stopped allowing people to buy GameStop stock in order to benefit firms such as Citadel, a company that pays Robinhood for information about its users' trades and recently helped bail out a company called Melvin Capital from the short-sale positions it had taken on GameStop. Regulatory experts, however, say that this doesn't seem to be the reason. As they see it, the likeliest explanations for Robinhood defenestrating itself by breaking trust with its user base are less nefarious but perhaps more embarrassing, and suggest that the stock trading platform may not have had enough cash on hand to stay within regulatory rules for brokerage firms. In other words, experts tell Motherboard that a mass influx of people buying tons of GameStop stock likely created a cash flow issue—or the threat of a cash flow issue—that could have put Robinhood out of compliance with very basic regulatory rules that every brokerage is required to follow."
Mr. Market: "Robinhood raises $1 billion and taps credit lines to make trading of GameStop available to customers" [NBC]. "Robinhood raised $1 billion overnight from investors to shore up its balance sheet as the brokerage app was set to ease restrictions in the trading of certain volatile stocks, according to CNBC's Andrew Ross Sorkin. The money raised was on top of $500 million the broker accessed through credit lines to ensure it had the capital required to keep allowing its clients to trade stocks like GameStop and AMC Entertainment. Robinhood CEO Vlad Tenev told CNBC that tapping the credit lines was a proactive measure and denied it was because of a liquidity issue." • Oh.
Mr. Market: A self-licking ice cream cone:
peak Silicon Valley:

"To appease unhappy staff, Robinhood on Thursday provided its roughly 1,000 employees a $40 credit to restaurant delivery app DoorDash."https://t.co/wbwZ9Hc16i

— Eliot Brown (@eliotwb) January 29, 2021
Mr. Market: "Analysis: How Wall Street gains from 'populist' trading movement" [Reuters]. "Steep gains in shares of GameStop Corp and other stocks this week have been described as populist market revolts. But among those out ahead are some of Wall Street's largest asset managers, which can realize gains both from their share stakes and from lending out stocks to short sellers. Other beneficiaries include market-makers and trading systems that profit from huge volumes."
Concentration: "Google salvaged Robinhood's one-star rating by deleting nearly 100,000 negative reviews" [The Verge]. "It's not outside Google's purview to delete these posts. Google's policies explicitly prohibit reviews intended to manipulate an app's rating, and the company says it has a system that 'combines human intelligence with machine learning to detect and enforce policy violations in ratings and reviews.' Google says it specifically took action on reviews that it felt confident violated those policies, the company tells The Verge. Google says companies do not have the ability to delete reviews themselves." • I'm sure Google would do that for anyone…
Concentration: "Google threatens to shut down search in Australia" [CNN]. "Google says it will shut down its search engine in Australia if a controversial bill designed to benefit the news media becomes law. At a Senate hearing in Canberra on Friday, Google (GOOGL) Australia Managing Director Mel Silva said the draft legislation "remains unworkable," and would be "breaking" the way millions of users searched for content online.
"If this version of the Code were to become law, it would give us no real choice but to stop making Google Search available in Australia," she told lawmakers. "That would be a bad outcome not just for us, but for the Australian people, media diversity and small businesses who use Google Search.'" • I say bring it. We did fine without Google. If Australia wants Search, as opposed to whatever it is that Google is peddling these days, they can set up a public utility.
* * *
Today's Fear & Greed Index: 35 Fear (previous close: 41 Fear) [CNN]. One week ago: 60 (Greed). (0 is Extreme Fear; 100 is Extreme Greed). Last updated Jan 29 at 12:35pm. More fear!
Health Care
"Analysis: "Russian roulette" in Europe as needle shortages hamper COVID-19 shots" [Reuters]. "Industry executives say that, while output of needles and syringes is sufficient to meet current demand, chaotic ordering means that they often do not get to where they are most urgently needed. Work is under way to assess future demand and find ways to meet it, they say…. German medical technology industry association BVMed said there were no production bottlenecks and that supplies of syringes and needles were adequate. But muddled orders were complicating distribution, it added, calling for better coordination."
"More than FIFTY Orthodox Jewish weddings with up to 300 guests have been illegally held in London during third lockdown, investigation claims" [Daily Mail]. "Speaking anonymously, one source involved in the Orthodox weddings industry told Jewish News: 'These illegal weddings have been going on for 10 months. 'We're not talking about one or two. We are talking multiple weddings every day. All have 150 to 200 guests. At one wedding the bride was Covid-positive.'" Madness. More: "Sources added that some organisers are now asking for a £10,000 payment upfront from the wedding party to pay the fine if police raid the ceremony." • This seems to be an issue with lower-case "o" orthodox globally. I wonder how universal the "I refuse to live in fear" attitude is?
Class Warfare
"6,000 Amazon warehouse workers will hold union vote in Alabama on Feb. 8" [CNBC]. "Amazon warehouse workers at an Alabama warehouse can begin voting by mail in early February on whether to form a union, a National Labor Relations Board hearing officer ruled Friday. The ruling kicks off what will be a closely watched union vote at one of the nation's largest employers. About 6,000 employees at the fulfillment center in Bessemer, Alabama will cast their ballots beginning on Feb. 8 to be represented by the Retail, Wholesale and Department Store Union. Ballots must be received by the NLRB's regional office by March 29, then the board will begin counting the ballots beginning at 10 a.m. CT on the following day. The decision represents a blow to Amazon, which had pushed for the election to be held in person at the Bessemer facility, known as BHM1." • Under Amazon's surveillance cameras, yeah right.
"Interview: James Medlock" [Noahpinion]. From Smith's introduction: "'James Medlock' is the pseudonym of a Twitter personality who has been stirring up the left-leaning portion of the internet. But instead of the usual Twitter routine — denunciations, anger, etc. — Medlock has thrilled people with his relentless calm and the power of his simple message. That message is that people simply need more money, and we know how to get it to them: Universal programs, higher taxes, and stronger unions. A self-proclaimed 'social democrat in the streets, market socialist in the sheets', Medlock has captured the attention of major Twitch streamers and gathered a Twitter following that spans all ages and walks of life. Often sporting sock emojis (for 'socdem', or 'social democrat'), Medlock's followers have become the Nice Guys of Left Twitter, subduing haughty libertarians and obstreperous tankies alike with a relentless barrage of cheerful humanitarianism sprinkled with empirical data. Their numbers have steadily grown, and AOC follows Medlock now too. In my opinion, he would make a perfect policy advisor."
"Revolution, Reform, and Resignation" [Phenomenal World]. "[B]ecause it left the property structure intact and allowed markets to allocate resources, the social democratic approach fueled the causes of inequality at the same time as it aimed to mitigate their effect. This contradiction reached its limits in the 1970s. As many old ills were overcome, new ones emerged. Indeed, the list of problems to be resolved by socialist programs in the mid-1970s was not any shorter than it had been at the turn of the twentieth century. The constraints of capitalist economy turned out to be inexorable, and political defeats meant that reforms could be reversed. In office in most Western European countries, social democratic governments desperately searched for responses that would preserve their commitment to "ultimate goals" in the face of the economic crisis. During the early 1970s, socialist parties developed new energy policies, workers' management schemes, and structures of economic planning. But Callaghan's defeat to Thatcher in 1979, and the departure of Communists from the Mitterand government in 1984, administered fatal blows. Mitterand's turn to austerity was the final act of resignation in the face of domestic and international constraints. All that was left were successive 'third ways.'"
"Job Seekers' Beliefs and the Causes of Long-Term Unemployment" [Liberty Street Economics]. "A robust finding in labor economics is that the chances of finding a job decline significantly the longer a person is unemployed (see, for example, Machin and Manning [1999]). This empirical regularity is referred to as 'negative duration dependence.'… Our analysis underlines the importance of the heterogeneity in unemployed job seekers' employment prospects. But job seekers underestimate these differences. Those with low underlying employment prospects tend to be overly optimistic and vice versa. The corresponding dynamic selection drives the optimistic bias among the long-term unemployed. Importantly, the under-response of beliefs can itself induce a higher incidence of long-term unemployment. Job seekers with worse employment prospects discard too many potential job offers, as they hold out for the possibility of a better offer in the future. Workers with better prospects do the opposite. The differences in re-employment thus get magnified through job-search behavior. Incorporating such biases in beliefs into a model of job-search behavior, we find that they may raise the incidence of long-term unemployment by 10 percent—a significant amount."
"Episode 55 – Night in the Word ft. Scott Benson" [Sh*tty Christians]. "This week Zac and Michael are joined by Scott Benson, creator of Night in the Woods and founding member of The Glory Society worker co-op. We dive into Scott's past in Christian ska bands, losing faith while you're in ministry, making games without bosses and the legend of Ska Mom." • Like some of the Trillbillies, an expatriate from evangelism (it does happen). Benson is a member of Sid The Cat's staff. This is a long podcast, but I think it's a great window into a subculture about which I know virtually nothing: Christian apostates who join DSA. Also video games. Also worker co-ops!
News of the Wired
Look on my works, ye mighty:
Sand-filled rooms in houses in the ghost town of Kolmanskop, southern Namibia. Once a small, prosperous diamond-mining village, Kolmanskop was abandoned in the 1950s and it's been slowly swallowed by the desert ever since.https://t.co/q5dwjP9PwM pic.twitter.com/8TXFuBSSEo

— Irène DB (@UrbanFoxxxx) August 31, 2018
"How ecstasy and psilocybin are shaking up psychiatry" [Nature]. "Once dismissed as the dangerous dalliances of the counterculture, these drugs are gaining mainstream acceptance. Several states and cities in the United States are in the process of legalizing or decriminalizing psilocybin for therapeutic or recreational purposes. And respected institutions such as Imperial; Johns Hopkins University in Baltimore, Maryland; the University of California, Berkeley; and the Icahn School of Medicine at Mount Sinai in New York City have opened centres devoted to studying psychedelics. Several small studies suggest the drugs can be safely administered and might have benefits for people with intractable depression and other psychological problems, such as post-traumatic stress disorder (PTSD). One clinical trial involving MDMA has recently ended, with results expected to be published soon. Regulators will then be considering whether to make the treatment available with a prescription. Psychedelic-assisted psychotherapy could provide needed options for debilitating mental-health disorders including PTSD, major depressive disorder, alcohol-use disorder, anorexia nervosa and more that kill thousands every year in the United States, and cost billions worldwide in lost productivity. But the strategies represent a new frontier for regulators."
* * *
Readers, feel free to contact me at lambert [UNDERSCORE] strether [DOT] corrente [AT] yahoo [DOT] com, with (a) links, and even better (b) sources I should curate regularly, (c) how to send me a check if you are allergic to PayPal, and (d) to find out how to send me images of plants. Vegetables are fine! Fungi and coral are deemed to be honorary plants! If you want your handle to appear as a credit, please place it at the start of your mail in parentheses: (thus). Otherwise, I will anonymize by using your initials. See the previous Water Cooler (with plant) here. Today's plant (ML):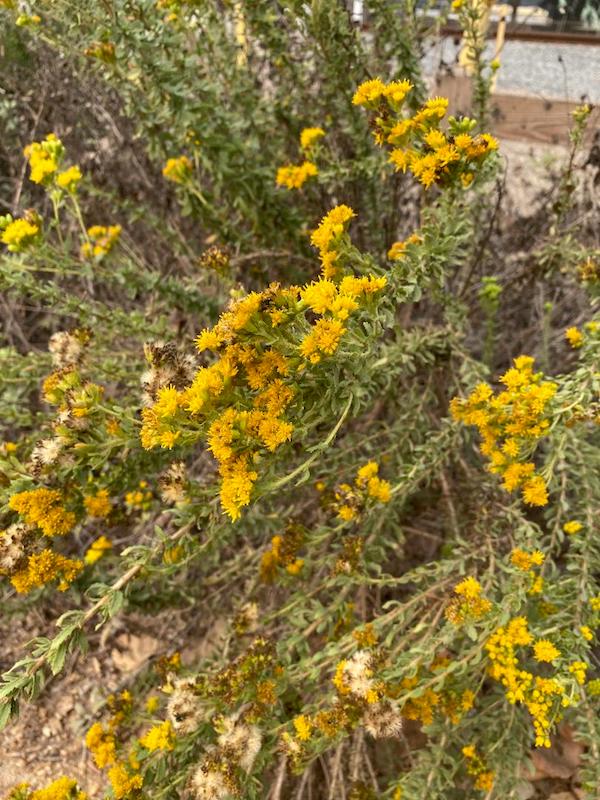 ML writes: "Coastal Goldenbush, from a few months ago. Tar Pits Park in Carpenteria, CA."
* * *
Readers: Water Cooler is a standalone entity not covered by the recently concluded and — thank you! — successful annual NC fundraiser. So if you see a link you especially like, or an item you wouldn't see anywhere else, please do not hesitate to express your appreciation in tangible form. Remember, a tip jar is for tipping! Regular positive feedback both makes me feel good and lets me know I'm on the right track with coverage. When I get no donations for five or ten days I get worried. More tangibly, a constant trickle of donations helps me with expenses, and I factor in that trickle when setting fundraising goals:
Here is the screen that will appear, which I have helpfully annotated.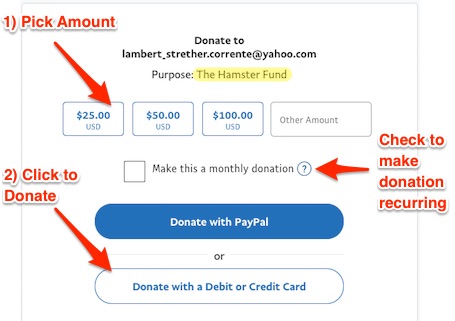 If you hate PayPal, you can email me at lambert [UNDERSCORE] strether [DOT] corrente [AT] yahoo [DOT] com, and I will give you directions on how to send a check. Thank you!