Dear patient readers
Thanks for all your kind notes yesterday. Feeling a good bit better.
Surfing duck: Pet becomes local celebrity at Australian beach BBC (David L)
'A brilliant way to get humans to behave': the shelter where volunteers read to farm animals Guardian (furzy)
I want to tell you a story, and it begins with this VERY WEIRD animal: Meet Thetys vagina…
[a thread ?]
? m_patton https://t.co/lew1mGS7Gn#DailyJelly pic.twitter.com/YqqBc5hwqP

— Open Ocean Exploration (@RebeccaRHelm) January 29, 2021
28 Trillion Tonnes of Ice Have Melted Since 1994, on Track With Worst-Case Scenarios ScienceAlert (Kevin W)
How algorithms and data are used to influence you Vox (resilc)
Researchers use AI to help businesses understand Code of Federal Regs, other legal docs TechXplore (Dr. Kevin)
Mediterranean diet and the hallmarks of ageing European Journal of Clinical Nutrition
#COVID-19
A Stalled Global Vaccine Drive: The West's Greed Could Come Back To Haunt It DER SPIEGEL
Men Seem to Endorse COVID Conspiracies More Than Women. Why? Vice (resilc)

I Am the Designer of This Restaurant's Outdoor Seating Space, and This Is My Artist's Statement McSweeney's Internet Tendency (Anthony L)
Science/Medicine
Think it couldn't get any worse? China rolls out 'more accurate' ANAL SWABS for Covid-19 testing RT (Kevin W)

As WHO mission into Covid origin begins in China, bereaved son seeks answers NBC (furzy). I am such a moron. The reason for China's resistance may be that that big official dinner in Wuhah as the disease was starting to get going, and was widely publicized/criticized outside China, may have been kept well under wraps. Any investigation is likely to expose earlier evidence of the disease; the question then becomes whether there were warnings or calls for follow-up that were ignored.
US
>CDC issue sweeping national mask mandate on ALL public transport including planes, ships, subways and buses that will take effect on TUESDAY Daily Mail

GOP Lawmaker Who Proposed Bigfoot Hunting Season Now Wants to Know If Vaccines Track You. (They Don't.) (resilc)

What does the more contagious strain of coronavirus in Washington state mean, and what can be done? Seattle Times (furzy)

Several Mutations of the Coronavirus That Causes COVID-19 Detected in Oregon Wastewater Willamette Week (David L)

Vaccinated congressman tests positive for virus Associated Press

US children will 'hopefully' get vaccines in late spring or early summer, says Fauci Guardian (Kevin W)
UK/Europe
Met Police officers privately ordered to switch off NHS COVID-19 tracing app openDemocracy

EU vaccine export row: Bloc backtracks on controls for NI BBC
Brazil
Study finds that Brazil's Jair Bolsonaro carried out an 'institutional strategy to spread the coronavirus' El Pais (Paul R)

Brazil's Second Wave: A Country Is Made To Suffer as President Sabotages Immunization Campaign Der Spiegel (furzy)
China?
Beijing must recognise its own mistakes in US-China relations South China Morning Post
For Peace With North Korea, Biden Must End the US-South Korea Military Exercises Truthout (furzy)
New Cold War
Putin signs last-minute extension to nuclear weapons treaty with US Guardian (Kevin W)
Syraqistan
THE HALF-BAKED SMEAR CAMPAIGN AGAINST ROBERT MALLEY — AND BIDEN'S IRAN POLICY Intercept (resilc)
Imperial Collapse Watch
Will the US end military domination to save the planet? Responsible Statecraft (resilc)

Joe Biden's dollar policy holds the key to a fairer global financial system South China Morning Post
Trump Transition
Legal Pressure on Trump Increases With Judge's Order in Fraud Inquiry New York Times (furzy). IMHO the valuation issue is noise. Any lender does his own due diligence and on real estate, should make his own proformas from the rent rolls. Unless Trump provided copies of tax returns for the relevant entities that weren't the same as the ones filed, or fake rent contracts, it's hard to see the problem. Plus as we've pointed out with PE, when you have more than one firm investing in the same company, it is not hard to see valuations that differ by 100% or more (as in one fund puts a value on it 2x or more higher than the other fund) and each can offer a very articulate defense of their valuation. But not treating forgiven debt as income? How could Trump's accountants have signed his tax returns?

Ex-FBI lawyer Kevin Clinesmith avoids prison after admitting he doctored email in investigation of Trump campaign Washington Post
Capitol Seizure
The Capitol insurrection isn't moderating the GOP. It's making them more extreme. The Week (resilc)

Proud Boys Charged With Conspiracy in Capitol Riot New York Times

Scrutiny grows over National Guard presence at Capitol The Hill
Biden
Biden signs executive orders at furious pace The Hill

Biden Orders Sweeping Review of Government Science Integrity Policies Science Magazine

How the Biden Presidency Could Change the U.S. Space Program Time (furzy)
Biden Is Refusing to Give Marjorie Taylor Greene the Attention She Craves Daily Beast
Our Famously Free Press
'It's censorship': Journalist arrested after photographing protest outside controversial asylum camp Independent
The G.O.P. Is in a Doom Loop of Bizarro New York Times (Kevin W)
This is BIG. I just learned that Gavin Newsom is under HEAVY pressure from Nancy Pelosi and a contingent of others to appoint Adam Schiff as California's next AG. And let me tell you, this would be a huge problem for criminal justice reform in the state.

— Shaun King (@shaunking) January 30, 2021
Robinhood is still severely limiting trading, customers can only buy one share of GameStop CNBC
GameStop Stock Game Got Stomped Matt Levine. The important stuff is in the second half of the piece, where he discussed the extension of credit by exchanges even for non-levered trades, DTCC, and clearinghouse margin. The key point comes (yet again) in a comment at the Financial Times, that the trading restrictions almost certainly have nada to do with protecting anyone except Robinhood, since a long position creates new clearinghouse requirements:
It is now becoming clearer Robin Hood has a liquidity issue.
The central clearing facility for stock trade known as the DTCC – Depository Trust & Clearing Corporation has raised collateral requirements on GME from 1-3% to 100%. That's the real reason clearing houses stopped accepting new orders on GME from brokers. The collateral requirements on several stocks has increased due to the extreme volatility. This is why Robin Hood and others have halted or stopped trading on these stocks only. Robin Hood had to increase its credit line at the banks and now allows small trades on GME for 1 or 5 shares basically they cant pay the collateral requirements for the DTCC…..they don't care about whether you lose or make money. But the settlement risk is a problem, that's why they limit trading. It's a good case study that shows the industry could benefit from real time resilient settlement infrastructure
An FT story focused on this issue: GameStop curbs put clearing houses under the spotlight
Cable ISP Warns 'Excessive' Uploaders, Says Network Can't Handle Heavy Usage ars technica
Tesla Roadster Delayed To 2022 Electrek
Exclusive: U.S. oil industry seeks unusual alliance with Farm Belt to fight Biden electric vehicle agenda Reuters. Resilc: "Everybody seems to think there are zero issues with electric vehicles, it is a wonderfix."
Class Warfare
The U.S. Economy Excels at One Thing: Producing Massive Inequality CounterPunch (resilc)

This is the most powerful false equivalence I have ever encountered. pic.twitter.com/yDUsMyQc5A

— Zach Griffen (@runzach) January 29, 2021

6 Workers Die in Non-Union Plant in GA – UE Unionizes 1,500 at Univ of New Mexico – Workers Exposed to COVID in Anti-Union Meeting Mike Elk
Antidote du jour. Tracie H: "This sweet Chihuahua is an occasional assistant at a wonderful shop in Laguna Beach (CA) called the Laguna Exchange":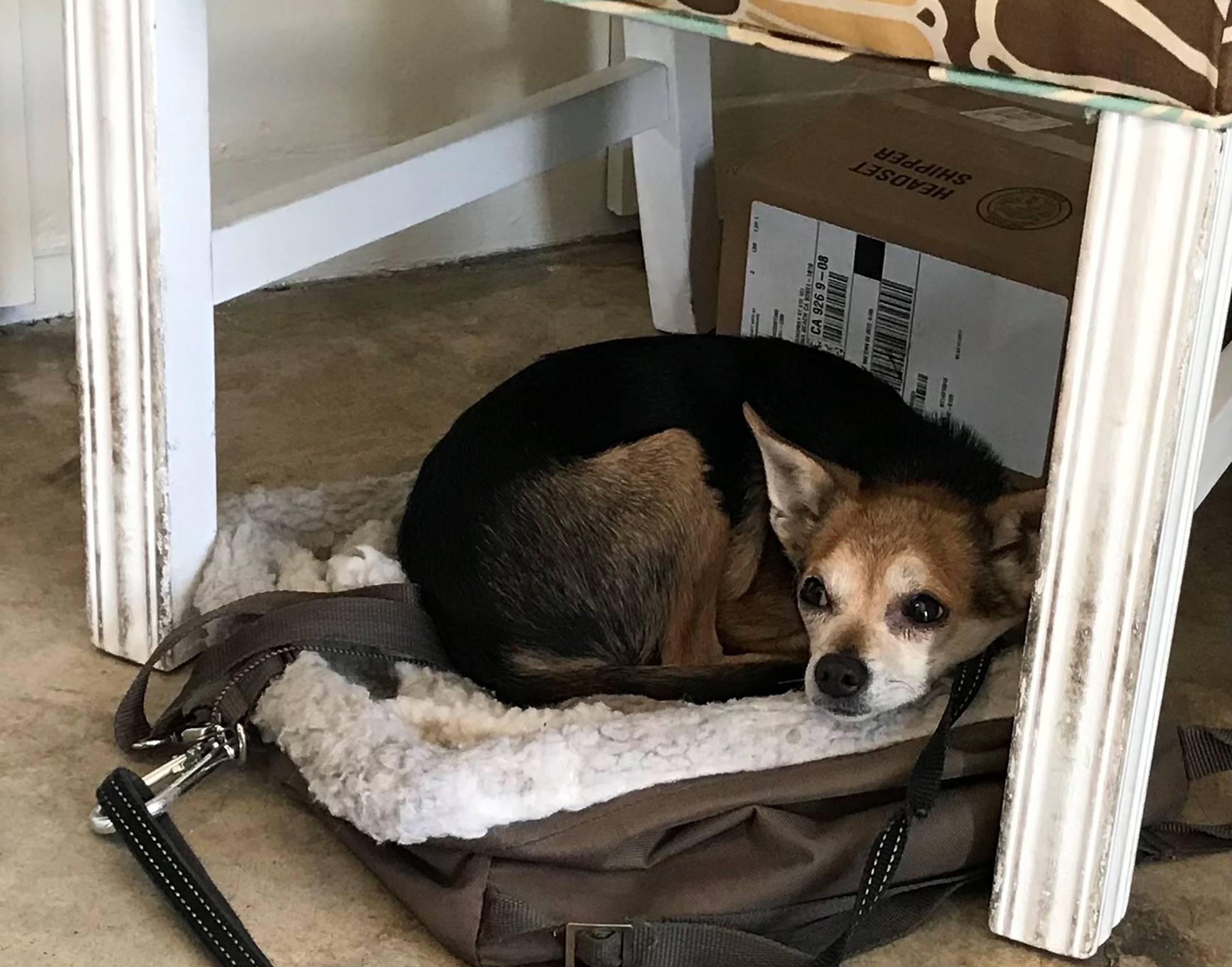 And a bonus (David L). Soon, he'll be counting cards:
And another bonus (Chuck L):
Some much needed joy to start your day with pic.twitter.com/RktGq459R9

— Louisa Compton (@louisa_compton) January 29, 2021
See yesterday's Links and Antidote du Jour here.