Earth is whipping around quicker than it has in a half-century Live Science
Liquid glass discovered as new state of matter New Atlas
#COVID19
China?
Chinese Communist Party introduces new rules on what members can say as it 'boosts internal democracy' South China Morning Post

Covid: WHO team investigating virus origins denied entry to China BBC

A Different Story about the Origin and Development of Alternative Protein in China The Pig Site
Japan declares state of emergency for Tokyo area as COVID-19 cases surge Reuters
The Koreas
Coronavirus: China's Sinovac shots readied for mass roll-out in Indonesia, Philippines and Thailand South China Morning Post. Contracts are signed, but efficacy trials are not complete. "Coronavac" is an inactivated virus vaccine.
Nearly Half in Philippines Don't Want Covid Vaccine, Survey Says Bloomberg
Indonesians unknowingly fund hardline group behind Bali bombings Al Jazeera
Exclusive: Vietnam buys Indian rice for first time in decades – industry officials Reuters
Vietnam's Coming Leadership Change The Diplomat
India
In Narendra Modi's condemnation of US Capitol siege lies coded message for India Firstpost

'It was as if the entire country was walking' People's Archive of Rural India
East Africa braces for a return of the locusts Deutsche Welle
Syraqistan
Iran sends warning to US friends with South Korea tanker seizure Nikkei Asian Review. "Seoul weighs using frozen assets to purchase vaccines for Tehran."
UK/EU
Grenfell Tower inquiry suspended because of Covid Guardian

Leading French political scientist Duhamel accused of sexually abusing stepson France24
Humanitarian aid workers who fathered children abroad tracked down using DNA Euronews
Venezuela crisis: Maduro loyalists take control of parliament BBC
Capitol Seizure
Carnage at the Capitol: Four dead, pipe bombs, guns and Molotov cocktails are found and Senators return to the chamber under armed guard – as DC Mayor Muriel Bowser imposes 15 days of emergency measures until Joe Biden's inauguration Daily Mail. Quite the Daily Mail headline. This seems like the best timeline; Yves used it too, in her post.

'Hold the Line': Inside the House Chamber as a Pro-Trump Mob Stormed In Bloomberg. Read all the way to the end.

How a sparse protest became a Capitol Hill riot Politico

Explosive device found at RNC; DNC evacuated: report The Hill

Man seen in viral photo in Nancy Pelosi's office is from Northwest Arkansas 5 News. There's a lot to unpack here.

MEGATHREAD: Archiving the Capitol Hill Riots Reddit

* * *

WATCH: Mitch McConnell Give Speech Opposing Effort to Overturn Election New York Magazine

Dimon Condemns Trump Mobs as Wall Street Looks On in Horror Bloomberg

'Double standard': Black lawmakers and activists decry police response to attack on US Capitol USA Today

The Plot To Storm The Capitol Was Brewing For Days In Pro-Trump Online Media HuffPo

* * *

Historical parallels (1):

See any similarities? Images from Juan Guaidó's attempt to storm Venezuela's National Assembly and today's pro-Trump mobs occupying the U.S. Capitol building, just one year apart.@anyaparampil pic.twitter.com/65nDxEpNzd

— teleSUR English (@telesurenglish) January 6, 2021

Parallel at least in the imagery.

Historical parallels (2):

Based on the sample I've seen so far, I'm pretty confident in saying most of the commentators using words like insurrection, terrorism etc. to describe what happened in DC today whole-heartedly backed the *exact same thing* when it happened in Bolivia in 2019.

— Branko Marcetic (@BMarchetich) January 6, 2021

Historical parallels (3): Brooks Brothers Riot Jacobin. From 2016, still germane. Of course, Bush had better lawyers.

Learned nothing, forgotten nothing:

The Biden people will respond to this shit the only ways they know how: more social media censorship & turbocharging their Russia Cold War. They think everything is fundamentally sound here, but for "The Internet" & evil rooskies. Nothing will be learned.https://t.co/AdYKKuwLx8

— Mark Ames (@MarkAmesExiled) January 6, 2021

PMCs gotta PMC:

The total lack of accountability doesn't only fall on government institutions.

How haven't Harvard and Princeton, Yale and Stanford, revoked the degrees of Ted Cruz and Josh Hawley, today?

How haven't these two inciters of an armed insurrection been disbarred, today?

How?

— Anand Giridharadas (@AnandWrites) January 7, 2021

The IT aspect, a thread:

Knowing House IT stuff, I don't think I'd sleep well until the networks were rebuilt from scratch and every computer wiped and the internals visually inspected before being put back in service.

Every printer, every copier. Every nook and cranny.

— Ian (@neurovagrant) January 6, 2021

* * *

Was it a coup? No, but siege on US Capitol was the election violence of a fragile democracy The Conversation

My Statement: When Order is Restored at the Capitol, Congress Needs to Quickly Count the Electoral College Votes Confirming Biden Victory and Trump Needs to Be Immediately Removed from Office Election Law Blog

Japanese lessons for the American coup Noahpinion. Whatever this was, it wasn't a coup. The dude in the Viking costume at the Senate Rostrum wasn't proclaiming a new republic; he was posing for photos.

Serbia Deploys Peacekeeping Forces To U.S. The Onion. From 2000. Naturally.
Biden Transition
Why the politicisation of the US census really counts FT
Live Not By Lies: The Right-Wing Version The American Conservative
TK Newsletter: 2021 Has to Be Better Edition Matt Taibbi, TK News. For some definition of "better."
Antidote du jour (via):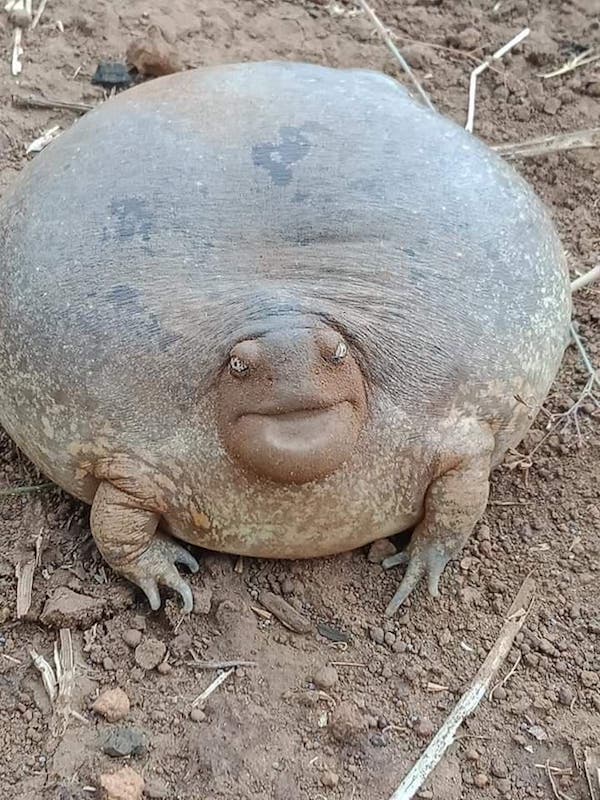 Not Baron Harkonnen, a Cambodian bullfrog.
Bonus antidote:
? The Corgi Express @mcamk ? #dogs #dogsoftwitter #tuesdayvibe pic.twitter.com/4kBPNSMoyV

— Evan Kirstel #RemoteWork (@EvanKirstel) January 6, 2021
See yesterday's Links and Antidote du Jour here