In the old pre-Covid normal, there were all sorts of reasons to conferences: travel and dine on the company dime, see colleagues and perhaps make useful contacts, pick up industry scuttlebutt, and maybe learn something from the speakers. From what I can tell, the last motive was usually the least important. But since the other justifications aren't operative for virtual conferences, one would assume that conference organizers would have to tweak their formulas. Thus conference sponsor Pension Bridge implicitly endorsing the ethically-challenged former CalPERS CIO Ben Meng by having him speak their "ESG Summit" this month is a sign either of abject ignorance of their market or lack of respect for the ESG fetishization of appearances.
By way of background: CalPERS Chief Investment Officer Ben Meng resigned abruptly last August after the financial media picked up on the story broken by this site: that CalPERS has made a $1 billion commitment to a Blackstone fund when Meng owned Blackstone shares1. This is a clear violation of California's state law, which prohibits state officials from entering into contracts in which they have a personal interest. We also described, but the press was apparently less interested in, the fact that Meng looked certain to have committed an felony due to the inconsistencies across two years of his financial disclosure forms, the Form 700.
Meng resigned within days of our story coming out, which had an awfully guilty look, particularly since CalPERS later tried claiming it had known about Meng's conflicts of interest for months and apparently hoped they would never come to light.2 Meng's abrupt departure also left CalPERS in the lurch, without leadership when it was already struggling to meet its (overly) ambitious 7% investment return target. Meng's exodus was a major story in the financial press, which has likely contributed to the difficulty CalPERS is still encountering in finding a successor.
In addition, the California Fair Political Practices Commission opened an investigation into whether Meng violated the state's conflict of interest laws. That investigation is ongoing.
In other words, Meng is and will remain under a cloud unless the California Fair Political Practices Commission gives him a clean bill of health. That seems unlikely.
So how could it possibly make sense for Pension Bridge to present Meng as if he were a respected investment industry professional, particularly at a conference supposedly dedicated to promoting good conduct on the "environmental, social and governance" fronts? Or are we to understand that these lofty principles apply only to investee companies, and the investors themselves get to be hypocrites?
Even worse, Pension Bridge, in a promotional e-mail that three contacts received, depicted Meng as currently employed by CalPERS, and put him on a par with Anne Simpson, a Managing Investment Director and keynote speaker at the event:
From: Rosie Instance
Date: February 2, 2021 at 10:48 AM PST
To: rinstance@pensionbridge.com
Subject: Re: Anne Simpson and Ben Meng are taking part in the Pension Bridge ESG Summit 2021

Dear XXX,

I hope you are well.

Pension Bridge is excited to welcome Anne Simpson and Ben Meng from California Public Employees Retirement System to the ​ESG Summit 2021 that begins later this month and we wanted to make sure you didn't miss out.

Running over 3 half-days from February 23rd to 25th, this year's event follows on from the successful launch of the ESG Summit we saw last year in San Diego. Anne is a Keynote speaker and will be introducing the Summit whilst Ben is a panellist on the 'How Quant and AI can play a role in ESG investing' panel.

With ESG considerations having never been in the spotlight more when it comes to making investment decisions, we have seen a surge of interest from investors keen to expand their knowledge in the space, as well as to connect with like-minded peers.

As a firm that is showcasing their ESG credentials, and positioning yourself as a leader in its implementation, it would be great to have you involved in this year's event. Registration is free of charge and open to all at California Public Employees Retirement System.

Simply click here to register >

I hope to see you there!

All the best,
Rosie Instance
Marketing Manager – Pension Bridge
Let's put aside the fact that just as with most institutional investors conferences, CalPERS and its ilk pay nothing, which means they are the product being sold. And as Robinhood app users found out, that can lead to unhappy outcomes.
One of our contacts quickly e-mailed Ms. Instance:
Rosie,

This is outrageous that Pension Bridge is proudly announcing Ben Meng of CalPERS, participating in your ESG Summit.

Mr. Meng resigned with zero notice in August 2020 after serious conflict of interest allegations were made in the press. Meng left CalPERS without leadership at a critical time.

2021 is surely the year of shamelessness.

Count me out!
Ms. Instance chose to ignore the only point made, the propriety of having Meng as a speaker, in her reply:
Hi XXX,

I do apologise for the error on our part, this was a fundamental error in our wording in this email.

I am aware that Ben left the firm earlier this year, and on all other communication Ben Meng is listed as "Former CIO".

I am extremely sorry for this and this shouldn't be seen as a reflection on the Pension Bridge brand, this was purely an error on my part.

Kind regards
Rosie
Having Meng as a speaker does reflect badly on Pension Bridge, in multiple ways.
Having looked at her bio on LinkedIn, Rosie looks to be too young and therefore junior to have been responsible for the selection and vetting of speakers. The fact that the other materials list Meng as the former CIO isn't helpful to Pension Bridge's case.
Are we to believe that Pension Bridge is so out of touch with major news stories in the pension fund space that no one in their entire shop was aware that Ben Meng quit abruptly, making the underlying ethics controversy, which was already serious, look even worse? And to make matters worse, that they also don't do the most basic due diligence on speakers, starting with a web search?
Or are we to conclude that they did know that Meng is under investigation by the State of California, yet they thought it was perfectly fine to have him as a speaker at an ESG conference, where the incongruity would be glaring, and insult the upstanding members of the CalPERS community by flogging his participation in their promotional missive?
To underscore how inappropriate it was to invite Meng as one of the faces of an ESG conference, let us turn the mike over to Principles for Responsible Investment, the UN initiative of which CalPERS is a loud and proud member. From the first page of their blueprint: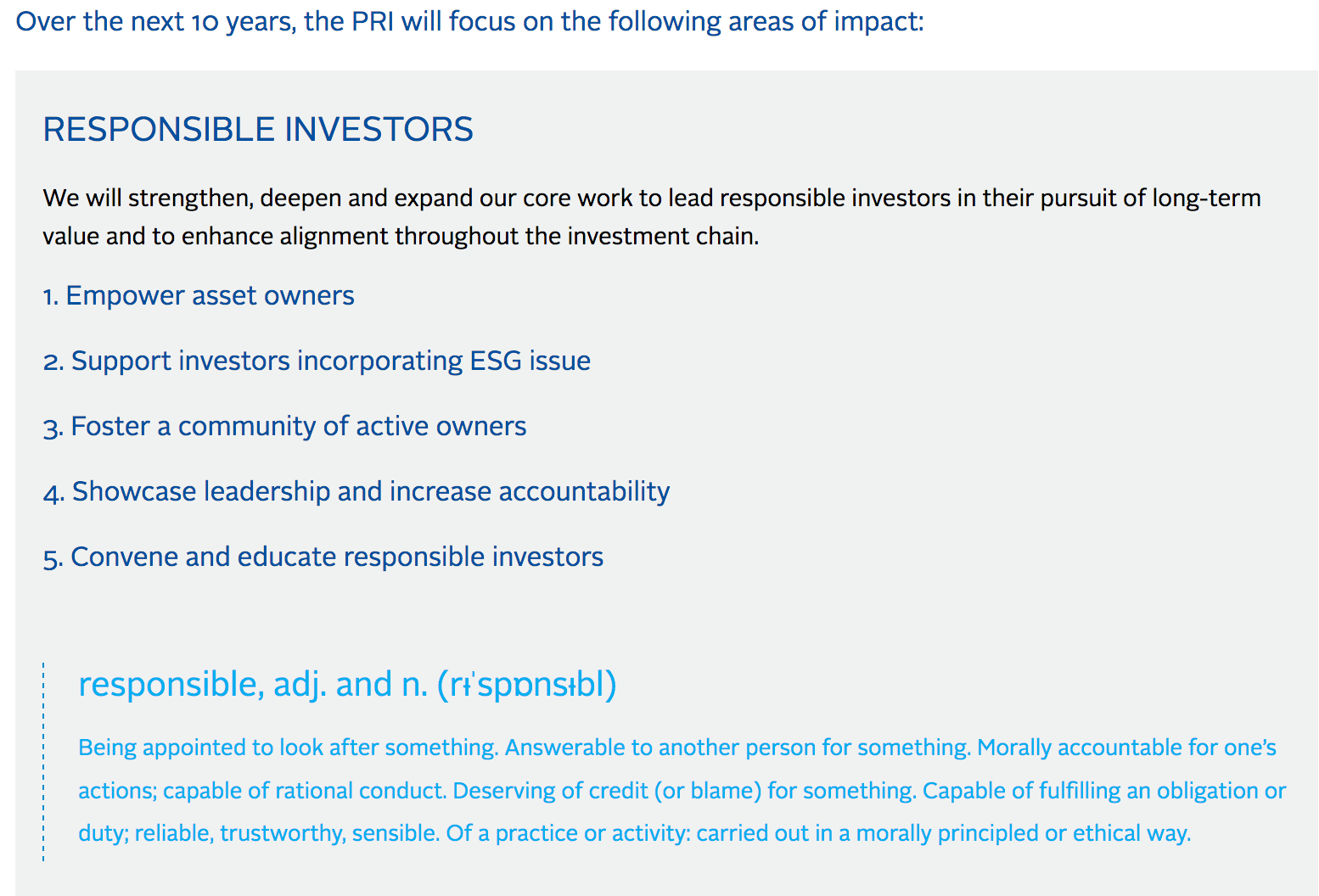 According to PRI, the "responsible investors" clearly extends to the investing organizations and not just the fund recipients. And it's telling that the UN has to define "responsible," apparently because people in the money biz need to be reminded that ethics matter.
We e-mailed Pension Bridge for a comment and received no reply. We sent the same e-mail3 to Brad Pacheco at CalPERS, pointing out that the e-mail from Pension Bridge created the appearance that CalPERS had acquiesced to the mischaracterization of Meng's status. Pacheco replied in a timely manner, saying that CalPERS had noticed the error too and board member Rob Feckner had contacted Pension Bridge.
The content of the reply to Feckner about the misrepresentation of Meng's relationship to CalPERS was identical to the e-mail sent above which was on an entirely different topic, that Meng should not be speaking at all.
So we have yet another ding to Pension Bridge's "brand," to the extent it actually stands for anything positive. Its staff apparently has severely deficient reading comprehension skills.
While CalPERS is presumably an unfortunate bystander to Pension Bridge's incompetence, the timing isn't helpful. CalPERS still does not have a new Chief Investment Officer, and the less that is seen and heard of Meng in the meantime, the better, particularly since CalPERS' knowing inaction made Meng's bad situation worse.4 However, with Pension Bridge not even issuing a correction of its e-mail, some recipients (certainly the three that contacted me, plus a fourth who had the e-mail sent on to him) wondered if CalPERS was trying to rehabilitate Meng. From Pensions & Investments last week:
At the California Public Employees' Retirement System, Sacramento, former CIO Yu "Ben" Meng is credited with pushing the $444.5 billion pension plan to prepare for the pandemic and work from home even before the COVID-19 virus hit the U.S., said CEO Marcie Frost.
Gee, if Meng had such foresight about Covid, pray tell why did he dump two tail risk hedges just before they were about to generate a $1 billion payday?
And why is Frost praising Meng about his supposed Covid warning now, and not much closer to the date when it was executed, which would have been while he was an employee in good standing? This way-after-the-fact credit makes it look as if CalPERS is trying too hard to boost Meng. That only leads cynics to gossip whether CalPERS or Frost personally has reason to be afraid of him.
____
1 We neglected to point out a second Blackstone conflict of interest, that after Meng joined CalPERS, he received a contract to teach at the Schwarzman College at Tsinghua University. His compensation was between $10,000 and $100,000. Schwarzman College is a one-year program for winners of the Schwarzman Scholars award. One might contend, as we had initially thought, that the link between a charity sponsored by Blackstone's founder and CEO, Steve Schwarzman, and Blackstone proper was too removed to amount to a conflict of interest. However, as the plaintiffs in Mayberry v. KKR argued, Blackstone has unusual governance arrangements dating from the time of its IPO, giving Schwarzman an unusual degree of control over a nominally public company. They Mayberry v. KKR plaintiffs contend that Blackstone is a personal instrumentality of Schwarzman, a corporate alter-ego.
2 This is even worse than it sounds, since Meng held two other private equity investments, shares in Carlyle and in an Ares credit fund. Given Meng's statement that CalPERS needed more private equity, this means Marcie Frost and the board were fine with the CEO not just having made, but being certain to continue to make, investments that were illegal under California law.
3 Our e-mail to Pension Bridge, which went unanswered:
Dear Ms. Instance,

I intend to publish a story about your firm's prominent misrepresentation of Ben Meng's employment status and your willingness to present Meng as a highly respected investment professional at your ESG conference. You surely must know that Meng resigned from CalPERS without giving any notice after he was caught out having approved and perhaps even spearheaded a $1 billion investment in a Blackstone fund while he was also an investor in Blackstone stock. Meng is currently under investigation by the California Fair Political Practices Commission for failure to comply with state conflict of interest requirements.

Meng's resignation was a major story, reported prominently by all the leading financial media outlets, including Bloomberg, the Wall Street Journal, and the Financial Times, as well as specialist publications that focus on public pensions. Meng, who has been charged with a basic and serious ethics breach, hardly seems a fitting face for an "ESG" conference, where the "G" stands for governance. Or are we to take it that the "G" according to Pension Bridge is not "good governance" but merely governance, as in having someone in charge, no matter how visibly tainted their record is?

On top of that, you falsely depict Meng as currently associated with CalPERS, as opposed to having resigned under a cloud. Your e-mail promoting your conference has as its first substantive sentence:

"Pension Bridge is excited to welcome Anne Simpson and Ben Meng from California Public Employees Retirement System to the ​ESG Summit 2021 that begins later this month and we wanted to make sure you didn't miss out."

To "welcome" Meng "from" CalPERS puts him on the same footing as Simpson, who is currently a Managing Investment Director at CalPERS, tantamount to saying that Meng is also currently employed there, which is clearly incorrect, It is impossible to believe that Pension Bridge is so out of touch with public pension news as to not have made that misrepresentation knowingly.

Perhaps you will attempt to claim that CalPERS is the source of this misrepresentation or alternatively, that CalPERS approved of this formulation. Neither you nor CalPERS can create your own facts. As conference organizers, participants expect an honest depiction of who is presenting. That puts the onus on you to verify speaker bios and present them accurately.

Please address the following questions:

1. How does Pension Bridge justify a fundamental misrepresentation of Ben Meng's status by depicting him as having been sent from CalPERS along with Anne Simpson, as in appearing in an official capacity, which is clearly impossible since he no longer works there?

2. How does Pension Bridge explain featuring a speaker who has been charged with a serious ethical breach as consistent with the aims of a conference marketed as promoting good governance?

Please send any comment by the end of the business day February 3, 2021.

Yves Smith
4 Meng conceivably could have ridden the scandal out if he had sold all of his private equity stocks as soon as CalPERS knew about his conflict of interest. Marcie Frost, if she had any interest in actually performing her duties, should have looked at all the Forms 700 of her direct reports, and the Blackstone and Carlyle names would have been hard to miss. But even generously accepting the strained CalPERS position, that it was OK not to have noticed anything was amiss until April 2020, when Meng's as of assuming office filings in 2019 also showed those private equity positions, he should have dumped those stocks then.