By Lambert Strether of Corrente.
Bird Song of the Day
Most popular bird song audio at eBird today. Begging calls from nestlings!
* * *
#COVID19
At reader request, I've added this daily chart from 91-DIVOC. The data is the Johns Hopkins CSSE data. Here is the site.
I feel I'm engaging in a macabre form of tape-watching. If we are in "in the eye of the storm" , we are still in the eye of the storm.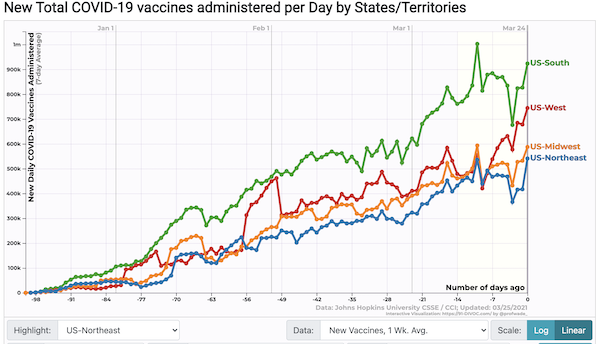 Early in February, I said a simple way to compare Biden's performance to Trump's on vaccination would be to compare the curves. If Biden accelerated vaccine administration, the rate of vaccination post-Inaugural would kink upward, as the policies of a more effective administration took hold. They have not. The fragmented, Federalized, and profit-driven lumbering monstrosity that we laughingly call our "health care" "system" has not responded to "energy in the executive," but has continued on its inertial path.
Case count by United States regions: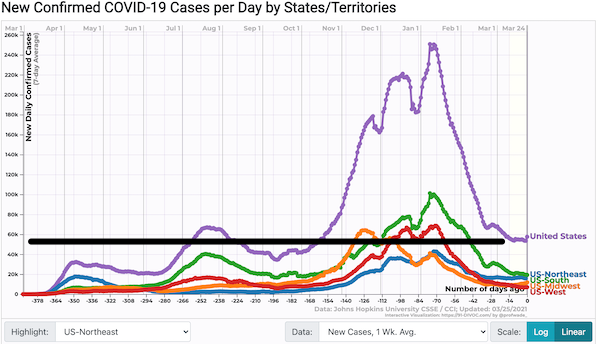 I don't like that little upward blip at all. • I helpfully added a black line to show how horrific the new normal we are all so triumphal about just now really is. The curve has definitely been flattening for the last three weeks, and in the last two days seems to have flattered entirely (remember I use one-week averages to smooth out data artifacts). That's not good, and when we look at the Northeast, it's flattened entirely. Since these are averaged weekly, there's some momentum in the train, too. So there's really no reason to break out the champers.
I promised to look at Michigan. Here are cases, tests, deaths, and vaccinations (separately scaled):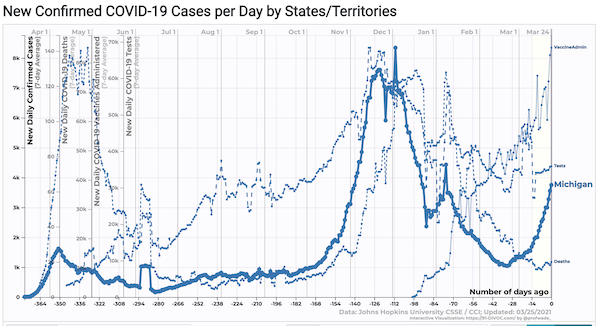 I couldn't get hospitalization to work; perhaps I'll have better luck later.
Big states (New York, Florida, Texas, California):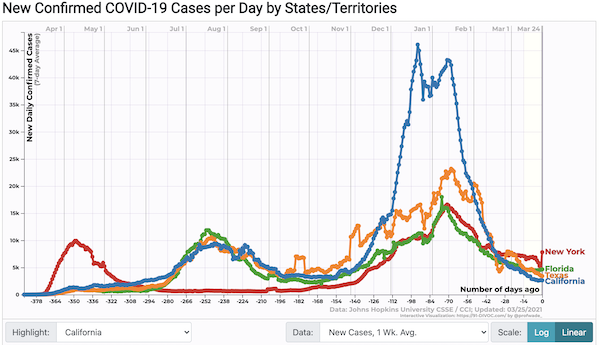 New York in the "lead," but with a jump after a recent drop. I'm also loathe to give Florida's DeSantis permission for a happy dance, but there's no question that in the enormous natural experiment that is our Federalized response to Covid, Florida didn't do badly, and its case curve looks pretty much like that corrupt crook Cuomo's, just with a later peak.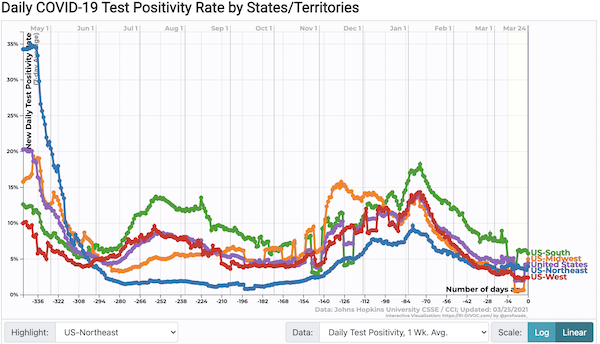 Big jump in the South and the Midwest.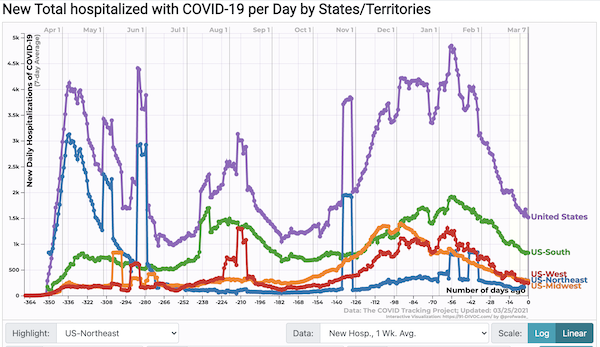 Hospitalization data is the best data we have, because hospital billing is a highly functional data acquisition system (ka-ching). That said, hospitalization is discretionary; they may also be reducing their admissions rate — relative to cases we cannot see in this data! — to preserve future capacity; or because hospitals have figured out how to send people home.
Case fatality rate (plus deaths):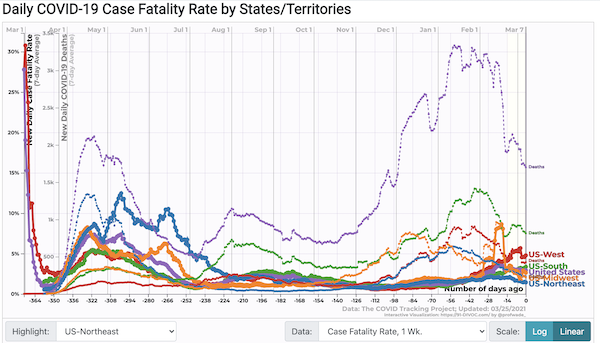 Good to see those deaths dropping. The fatality rate in the West is where it was last May.
* * *
Politics
"But what is government itself, but the greatest of all reflections on human nature?" –James Madison, Federalist 51
"They had one weapon left and both knew it: treachery." –Frank Herbert, Dune
"They had learned nothing, and forgotten nothing." –Charles Maurice de Talleyrand-Périgord
More to come, after I make sure Biden didn't slip a cog at his presser. –lambert
Biden Administration
UPDATE "Watch Live: Biden Issues New Vaccine Goal During His 1st Press Conference" [NPR]. • I'll have more to say when I can see a transcript. My high-level reactions are two-fold: First, Biden is already better than Obama (granted, not a high bar). Second, so far at least, hearing Biden's voice doesn't make me want to throw things (unlike both Clintons, both Bushes, and Obama). I know Biden's record, so that probably means he's a better con man than any of 'em, but I think my reaction is worth noting.

"Biden makes Harris the point person on immigration issues amid border surge" [Politico]. "Vice President Kamala Harris will be the White House's point person on immigration issues at the nation's southern border, President Joe Biden announced Wednesday, tasking her with stemming the rising tide of migrants, many of them unaccompanied children, arriving in the U.S. 'I can think of nobody who is better qualified to do this,' the president told reporters at the White House." • I tend to think Biden is handing Harris a poisoned chalice; the problem isn't reallly soluble, and so Harris can never get credit for solving it. (Incidentally, "nobody who is better qualified" doesn't actually mean Harris is qualified. In fact, nothing does qualify here.)

"There is no immigration crisis" [Ryan Cooper, The Week]. "It's true that it would be much cheaper and simpler to deflate the frenzy of media hysteria by doing what Trump did — basically closing the border, throwing penniless refugees back over it, and forcing Mexico to deal with the problem. Dealing with migrants in a fair and humane fashion will require money, patience, and good administration. But how better to solve a fake crisis created by Republicans and bored occupants of green rooms in Washington, D.C. than with a fake solution?" • I agree that the immigration "crisis" is not organic. What I can't figure out is the press's motive for pushing it.

Psaki on purging the stoners (which I imagine translates to optimizing for drunks):

"It is still illegal federally" — Jen Psaki explains why past marijuana use resulted in a number of White House staffers losing their jobs pic.twitter.com/AkaoxqQKOC

— Aaron Rupar (@atrupar) March 24, 2021

To be fair, the Biden Administration also optimized for those clever enough to lie on their intake forms. Off to the NGOs with the rest, for seasoning!

UPDATE "Secret Service reportedly got involved in bizarre gun case involving Hunter Biden" [New York Post]. "The Secret Service intervened in an investigation into a 2018 incident involving Hunter Biden and his girlfriend at the time — his former sister-in-law, Hallie — in which she took his gun and tossed it into the trash, thinking he was going to kill himself with it, according to a report. When she returned to retrieve the gun, it was gone, Politico reported on Thursday. Police in Delaware launched an investigation in case the gun, left in a trash can across from a high school, had been used in a crime, the report said. But Secret Service agents contacted the owner of the store where Hunter bought the gun and asked to take the paperwork recording the sale, Politico reported. The owner, Ron Palmieri, at first balked at the request, suspecting they were attempting to hide Hunter's ownership of the gun, but ultimately complied and turned over the documents to the Bureau of Alcohol, Tobacco, Firearms and Explosives, the government agency that oversees federal gun laws."
Democrats en Deshabille
"Top health officials told to prioritize COVID testing for Cuomo's relatives" [Albany Times-Union]. " High-level members of the state Department of Health were directed last year by Gov. Andrew M. Cuomo and Health Commissioner Dr. Howard Zucker to conduct prioritized coronavirus testing on the governor's relatives as well as influential people with ties to the administration, according to three people with direct knowledge of the matter. Members of Cuomo's family including his brother, his mother and at least one of his sisters were also tested by top health department officials — some several times, the sources said. The medical officials enlisted to do the testing, which often took place at private residences, included Dr. Eleanor Adams, an epidemiologist who graduated from Harvard Medical School and in August became a special adviser to Zucker. Adams conducted testing on Cuomo's brother Chris at his residence on Long Island, according to the two people. 'If their job was to go test an old lady down in New Rochelle, that's one thing — that's actually good,' one of the people with knowledge of the matter said. 'This was not that.'" • Oh, great. Bent medicos from Harvard.
Realignment and Legitimacy
Alert reader occasional anonymous commented yesterday:

Lambert, have you listened to the latest West Wing Thing? Dave Anthony touches on school re-opening near the beginning, and as he tells it things are going down very poorly at the PTA meeting level. Many parents are in fact not cool with being told they should knowingly send their kids into potential danger. He's convinced the Democrats are shredding their support and reputation at this level. He also says teachers and even principles are basically giving up on continuing with their careers because of this (America already treats teachers like crap, and in fact seems to actively resent them. The degree to which they've been told to pound sand in the last year seems to be pushing many of them over the edge). In fact Anthony goes so far as to say he thinks there's going to be permanent damage to the very idea of public education by the time this is all over.

Lambert here: Indeed I did, and that episode is especially spectacular ("The West Wing Thing"). The concept that the Democrats, under Biden, have managed to destroy public education, and are so detached from all reality that they don't even know it, is extremely plausible to me. (They will also have betrayed the teachers unions, as well as the parents, disproportionately Democrat, who stuck with public education because they believed in it.) The public health establishment has even more to answer for than suppression mention of aerosol tranmission, because they have led parents to believe that children don't get Covid, when we keep getting weekly and daily examples that they do, in schools. and it spreads. If I were a parent, as I said, I'd be pounding my head on my desk. However, and this is a big however, Anthony is in the realm of anecdote. Can readers conifrm? And where would I look to move the story beyond anecdote? I do think The West Wing is right that when the pandemic ends, as pandemics do, there's going to be blowback of unheard-of proportions.

"QAnon now pushes alarming conspiracy myths targeting China and Jewish people" [Los Angeles Times]. "Following the November election, Finkelstein, Miller-Idriss and other extremism trackers noticed a shift in memes and codes words used by conspiracy peddlers. They appeared to be seizing upon a decades-old fear that tumultuous events in people's lives — such as the pandemic and its subsequent lockdowns — are part of a master plan to subjugate the masses and replace legal norms with the totalitarian rule of a select few." • Directionallly…
Stats Watch
Employment Situation: "20 March 2021 Initial Unemployment Claims Rolling Average Improves Again" [Econintersect]. "Market expectations for weekly initial unemployment claims (from Econoday) were 695 K to 735 K (consensus 725 K), and the Department of Labor reported 684,000 new claims."
Manufacturing: "United States Kansas Fed Manufacturing Index" [Trading Economics]. "The Kansas City Fed's Manufacturing Production Index fell by 3 points from the previous month to 23 in March 2021 and slightly below market expectations of 24, but still pointed that Tenth District manufacturing activity grew solidly compared to a month ago and a year ago with positive expectations for future activity. Among industries, the factory activity expansion was driven by durable goods plants for primary metals, machinery, transportation equipment, furniture, and miscellaneous manufacturing. The indexes for shipments, new orders, and order backlog expanded at a faster pace in March and supplier delivery time was very high as well. Meanwhile, the pace of job creation remained positive but slightly slower than in recent months."
Trucking: "February 2021 Trucking Slows" [Econintersect]. "Headline data for the CASS Freight Index show that truck volumes show volumes slowed month-over-month – and the year-over-year growth declined but remained in positive territory. The American Trucking Association (ATA) index declined and is in contraction year-over-year…. The CASS index is inclusive of rail, truck, and air shipments. The ATA truck index is inclusive of only trucking industry member movements (ATA's tonnage data is dominated by contract freight). I put a heavier weight on the CASS index year-over-year which is more consistent with rail and ocean freight. Econintersect tries to validate truck data across data sources. It appears this month that the truck employment rate of growth continues to improve. Please note using BLS employment data in real-time is risky, as their data is normally backward adjusted (sometimes significantly). Additionally, Econintersect believes that the BLS is not capturing all truck employment."
GDP: "Third Estimate 4Q2020 GDP Improves Marginally to 4.3%. Corporate Profits Improve." [Econintersect]. "The third estimate of fourth-quarter 2020 Real Gross Domestic Product (GDP) improved from the second estimate's positive 4.1 % to 4.3 %. The coronavirus recovery is the reason for the improvement from the previous quarter – and pushed GDP quarter-over-quarter growth to record levels. I am not a fan of quarter-over-quarter exaggerated method of measuring GDP – but the recovery from the pandemic is not over as the year-over-year GDP growth remains in contraction."
* * *
Retail: "Store openings are outpacing closures in 2021: Coresight" [Retail Dive]. "Even with the COVID-19 pandemic still weighing on physical retail, retailers in the U.S. collectively plan to open 3,344 stores so far this year, according to a recent Coresight Research report. That is 39.5% more openings than announced at this point last year and also well ahead of the 2,649 closures announced so far in 2021… he lion's share of openings are by discounters. Dollar General, which made huge gains in 2020, accounts for nearly a third of the total store openings across retail… Dollar stores and off-price retail have expanded rapidly since the Great Recession, as consumers broadly seek value and the middle class shrinks amid growing income equality." • Rather remarkable to see "the middle class shrinks amid growing income equality" in a garden-variety trade publication.
Retail: Metaphor:
When your mum bumps into someone she knows in the milk aisle in Tesco pic.twitter.com/kTIc5xkjhV

— Hannah Al-Othman 📝🗞 (@HannahAlOthman) March 24, 2021
Shipping: "Egypt shuts Suez Canal amid struggle to refloat grounded megaship" [Agence France Presse]. With ships waiting in both the Mediterranean and Red Sea and in the canal, the [Egypt's Suez Canal Authority (SCA)] announced it was 'temporarily suspending navigation' along the waterway." • Ships are being towed out:
The MV MAERSK DENVER just cleared the #SuezCanal breakwater, backwards, under tow.#SuezCanal's hardworking tugs have now removed the full northbound convoy stuck behind the #EVERGIVEN.

Some already back at anchor at designated berths (E.g. pic 3 ASIA RUBY III) pic.twitter.com/MkpJr8bFdB

— John Scott-Railton (@jsrailton) March 25, 2021
Shipping: "The bank effect and the big boat blocking the Suez" [FT Alphaville]. The original explanation was wind. "It certainly was windy along the Suez Canal. According to Meteoblue, which provides weather data to apps and corporate clients, winds peaked above 30mph at the Suez Protectorate on Wednesday, not far from the Ever Given. Most harbours would fly a small craft advisory at that speed. But wasn't unprecedented. Wind peaked above 30mph twice in 2020 at the same location, in March and again in May." But: "The Suez Canal is basically just a 24m-deep ditch dug in the ground to let the ocean in. When a ship comes by and displaces the water, the water has nowhere to go; it gets squeezed in between the ship's hull and the floor and the sides of the ditch…. [Evert Lataire, head of the Maritime Technology Division at Ghent University in Belgium] wrote his dissertation on a similar phenomenon as a ship passes close to a bank: ; in 2009 Ghent University's Shallow Water Knowledge Centre put together a whole conference about it. Clever pilots on the Elbe, according to Lataire, will use it to shoot around a bend. However: the more water a ship displaces, the stronger the effect. And the closer the side of the hull is to the shore, the stronger the effect. The bigger the ship, the faster the bow shoots away from the bank.… [On the video,] everything happens quickly, in a way that looks a lot like the bank effect. Bow shoots away from the bank. Stern continues to hug the bank and move north. Ship spins. Bow bulb punches through the riprap." • A must-read, and worth clearing your cookies. Kudos. This is why we have the pink paper.
Shipping: "'Beached whale' ship could block Suez Canal for weeks" [Reuters]. ""We can't exclude it might take weeks, depending on the situation," Peter Berdowski, CEO of Dutch company Boskalis which is trying to free the ship, told the Dutch television programme 'Nieuwsuur'… Berdowski said the ship's bow and stern had been lifted up against either side of the canal. 'It is like an enormous beached whale. It's an enormous weight on the sand. We might have to work with a combination of reducing the weight by removing containers, oil and water from the ship, tug boats and dredging of sand.'"
Shipping: Why was there only one digger?
Managed to dig out good part of the bulbous thingy. It's still stuck. #Evergiven #SuezCanal #Suez pic.twitter.com/zbeD59LA6V

— Guy With The Digger At Suez Canal (@SuezDiggerGuy) March 25, 2021
For the photo op?
Shipping: "Suez blockage extends as salvors fail to free Ever Given" [Lloyd's List]. "Rough calculations suggest westbound traffic is worth around $5.1bn daily while eastbound traffic is worth $4.5bn."
Shipping: "Where are all the containers? The global shortage explained" [Hilllebrand]. "[A]lmost all of the remaining containers in Asia headed out to Europe and North America, but those containers did not come back quickly enough. Massive workforce disruptions due to coronavirus restrictions in North America affected not only ports, but cargo depots all across the country as well as inland transport lines. Without adequate staffing, containers started to pile up. As borders tightened, customs became more complicated to clear as well, worsening congestion. In addition, there were rapid shifts in tradelane demands that were challenging for carriers to adapt to. There was no time to clear the very large backlog of containers with limited workers before more started arriving. North America currently faces a 40% imbalance; which means that for every 100 containers that arrive only 40 are exported. 60 out of every 100 containers continue to accumulate." • Worth reading in full. It's all about a closely-coupled, fragile system! (And I don't see how the Suez Canal being blocked can be helping.)
Shipping: "Massive Cargo Ships Are Outrun by Nimble Fleet in New Speed Race" [Bloomberg]. "[R]unning full steam has revealed how temperamental the backbone of the global trading system is when stretched: Crews are overworked, thousands of containers have tumbled overboard in high seas and the vessel blocking Suez threatens wider economic problems if it snarls traffic for more then a few days." • the article doesn't really match the headline, which has a lot more detail about the suddenly very profitable container industry.
The Bezzle: "Here's an inside look at the unregulated life coach industry" (video) [CNBC]. "Life coaches are part of an estimated $2.85 billion global industry of professional coaches. Life coaches have been met with skepticism, given the profession does not require licensing or formal training yet can resemble therapy. With a greater interest in wellness and attempts to overcome the stigma of therapy, the appeal of becoming a life coach or seeking the assistance of a coach grows year over year." •
The Fed: "Fed to set monetary policy on actual economic outcomes, Evans says" [Reuters]. "Chicago Federal Reserve President Charles Evans on Wednesday said the central bank will set its monetary policy on economic outcomes and will not reduce monetary policy accommodation until it sees actual improvements. 'We're looking for actual improvement in the economy and inflation to get back up to our dual mandate objectives of maximum inclusive employment and 2% inflation on average,' Evans said at an event hosted by the Japan America Society of Chicago."
* * *
Today's Fear & Greed Index: 39 Fear (previous close: 40 Fear) [CNN]. One week ago: 55 (Neutral). (0 is Extreme Fear; 100 is Extreme Greed). Last updated Mar 25 at 1:00pm. One year ago, just after the end of the Before Times: 17 (Extreme Fear).
Health Care
"Rural-Urban Differences In Severe Maternal Morbidity And Mortality In The US, 2007–15" [Health Affairs]. "severe maternal morbidity and mortality increased among both rural and urban residents in the study period, from 109 per 10,000 childbirth hospitalizations in 2007 to 152 per 10,000 in 2015. When we controlled for sociodemographic factors and clinical conditions, we found that ." • The solution, obviously, is to eliminate rural hospitals entirely.
"How CMS's interoperability mandate reduces healthcare costs and improves member experience" [ZS]. "For health plans, data interoperability is accelerating digital transformation and will help pave the way for a seamless virtual and in-person care experience. As business processes are digitized and integrated into an interoperable data lake, new, member-facing digital apps will be far easier to bring to market. The Centers for Medicare & Medicaid Services' (CMS) Interoperability and Patient Access Rule has a role in accelerating this digital transformation. Under the new mandate, , starting July 1, extended from the original date of January 1 due to COVID-19. The CMS rules around data sharing will apply to Medicare Advantage plans, state Medicaid and Children's Health Insurance Program (CHIP) agencies, and insurers that offer qualified health plans, or Medicaid and CHIP managed care plans. Payer-to-payer data exchange based on the data classes defined within the United States Core Data for Interoperability will be required starting January 1, 2022." • Interesting, although "seamless" is one of those words I watch for, because it never is. I suppose I should take a look at the API…
Games
Inspiration:
This is the game that made me believe I could make games. https://t.co/PG9cwCdDnp

— Grand Designs Outer Chaos (@bombsfall) March 24, 2021
Was that really what resolution was 10 years ago?
The Agony Column
"I'm Always Horny for Sauron" [Jezebel]. "Even getting up Mordor in the first place is an accomplishment, but getting railed by Sauron, a man/swirling bit of ether and anger, is the great prize. Mordor seems nice. A big mountain, great views, with plenty of space for the large home that I have always dreamed of. Sauron's large arms will build me the mansion of my dreams: vaulted ceilings, lots of marble in the foyer, a dash of Godfather chic in the courtyard. Perhaps my Romanesque fountains will spout the blood of my enemies instead of water, but that's okay. It's what Sauron—and I—want. It's all we need."
Groves of Academe
"Criticism of Ideas Is Not Harassment" [The Chronicle of Higher Education]. "The internal rationale for calling criticism 'harassment' is as simple as it is absurd: because these Critical Theories are believed to proceed from one's 'social position' as an occupant of some 'identity category,' the person and her ideas are treated as though they overlap. They do not. Thinking they do is a dangerous mistake for anyone to make, not least institutions that are nominally devoted to Truth. The backbone of rational thought is separating people from ideas to protect the dignity of the former while being free to criticize the latter." • I'd like to see the documents in the case, though.
Our Famously Free Press
Metaphor:
#NewProfilePic pic.twitter.com/IsJyMeCFLg

— Movie Effects VFX 🎬 (@MovieEffectVfx) March 24, 2021
Black Injustice Tipping Point
"Evanston is Paying Reparations of $25,000 to Black Residents—They Say That's Not Enough" [Newsweek]. "The Chicago suburb's reparations program was established in 2019, with a $10 million fund established from a 3 per cent tax on recreational marijuana sales. The program's focus is on addressing housing inequity, with a first phase that allocates $400,000 of the budget to provide $25,000 grants to eligible recipients to help with home ownership, mortgage assistance and home improvements…. Robin Rue Simmons, the 5th Ward Alderman who spearheaded Evanston's reparations program, told Newsweek she is proud of the city for advancing the initiative. She said the enduring racial divide that remains in Evanston despite years of various equity initiatives prompted her to pursue reparations. "I thought that we as a city might localize a reparative policy to empower the Black community and help rebuild wealth that had been stripped away due to predatory practices and other anti-Black practices," she said. To qualify for Evanston's reparations program, Black residents must have either lived in Evanston between 1919 and 1969 and suffered from housing discrimination, or be a direct descendant of someone who did. It was during that period that Evanston's Black families suffered from redlining and other discriminatory housing policies that prevented them from purchasing property in desirable neighborhoods, Dino Robinson, a historian and the founder of the Shorefront Legacy Center, told Newsweek."
Class Warfare
"Choke points: mapping an anticapitalist counter-logistics in California" [libcom.org]. "While it is indisputably within the sphere of production that the value-form is created and the obfuscation of social relations under capital begins, perhaps the notion that it is within sphere of circulation that the value-form can begin to be destroyed necessitates more tactical experiments explicitly targeting this realm in the US context of struggles." • I would, crudely, identify circulation with the supply chain, and remark that we're seeing two big stories in this "realm" this week: The grounding of the Ever Given, and the organization of Amazon's Birmingham warehouse.
UPDATE "Amazon Exec's Snarky Tweets At Bernie Sanders Backfire" [HuffPo]. "Amazon executive Dave Clark attempted to mock Sen. Bernie Sanders (I-Vt.) on Twitter on Wednesday, prompting a barrage of replies featuring negative news stories about the company. Clark, who is CEO of Amazon's worldwide consumer unit, tweeted Wednesday about Sanders' upcoming trip to Alabama, where the senator will meet with Amazon workers who are pushing to unionize their warehouse. 'I welcome @SenSanders to Birmingham and appreciate his push for a progressive workplace,' Clark wrote. He then added: 'I often say , but that's not quite right because we actually deliver a progressive workplace.'" • I wonder if Clark actually believes this?
UPDATE Amazon PR seems not to understand the Streisand Effect:
1/2 You don't really believe the peeing in bottles thing, do you? If that were true, nobody would work for us. The truth is that we have over a million incredible employees around the world who are proud of what they do, and have great wages and health care from day one.

— Amazon News (@amazonnews) March 25, 2021
"Amazon Denies Workers Pee in Bottles. Here Are the Pee Bottles" [Vice]. "[T]he fact that Amazon delivery drivers pee in bottles and coffee cups in their vans is not invented. It has been well-documented, and is a huge talking point among many delivery drivers. It is one of the most universal concerns voiced by the many Amazon delivery drivers around the country that Motherboard has interviewed. Delivery workers, who drive Amazon emblazoned vans, often deliver up to 300 packages a day on a 10 hour shift. If they take too long, they can be written up and fired. So spending time locating and using a bathroom is not always an option. In fact, here's a photo of an Amazon delivery driver's pee bottles. Motherboard confirmed the driver's position and employment." • In fact, "urine bottles" are the subject of management directives:
Amazon claims its workers don't pee in bottles; defenders say it's an urban legend. But these photos sent to me by a former driver for a former @amazon contractor called Synctruck in a California facility suggest strongly otherwise. https://t.co/hp4zCqOxRO pic.twitter.com/StHNvV9B1x

— Ken Bensinger (@kenbensinger) March 25, 2021
Hard to unsee:
This is a thing for FedEx drivers too. Commit times and mandatory deliveries-per-hour quotas often make it impossible to stop for bathroom breaks. https://t.co/xjh3JwQiCs

— L3L4ND SHOULD BE WRITING (@Leland_Lydecker) March 25, 2021
Still, if I understand the voting, the key constituency not yet won over is younger workers who are not familiar with unions or history. I don't know how the pee bottle controversy will play with them.
News of the Wired
"The Case of the Missing Matzoh" [San Diego Jewish World]. • Great anecdote. Contains not one but two classification systems. The Navy's National Stock Numbers ("Rabbi/Leader Version: NSN 9925-01-526-3373"; "Participant Version: NSN 9925-01-526-3364"), but also this from an official Naval teletype: "CONGRINT / SECNAVINT", which is Navy-ese for Congressional Interest, Secretary of the Navy Interest. In other words, "It's all gone political, sir."
"Scratching the surface: the use of sheepskin parchment to deter textual erasure in early modern legal deeds" [Heritage Science]. "[S]heepskin parchment was preferentially selected over that of calf or goat for legal deeds, a selection which extends back to at least the thirteenth–fourteenth century in England, Wales and Ireland. The roots of this preference may lie in early efforts to impede the fraudulent modification of legal agreements after signing due to the increased visibility of erasure and text alterations afforded by sheepskin." • I'm trying to imagine whether Terry Pratchett, may his name be a blessing, could have introduced sheepskin NFTs into Ankh-Morpork.
* * *
Readers, feel free to contact me at lambert [UNDERSCORE] strether [DOT] corrente [AT] yahoo [DOT] com, with (a) links, and even better (b) sources I should curate regularly, (c) how to send me a check if you are allergic to PayPal, and (d) to find out how to send me images of plants. Vegetables are fine! Fungi and coral are deemed to be honorary plants! If you want your handle to appear as a credit, please place it at the start of your mail in parentheses: (thus). Otherwise, I will anonymize by using your initials. See the previous Water Cooler (with plant)
here
. Today's plant (ChiGal):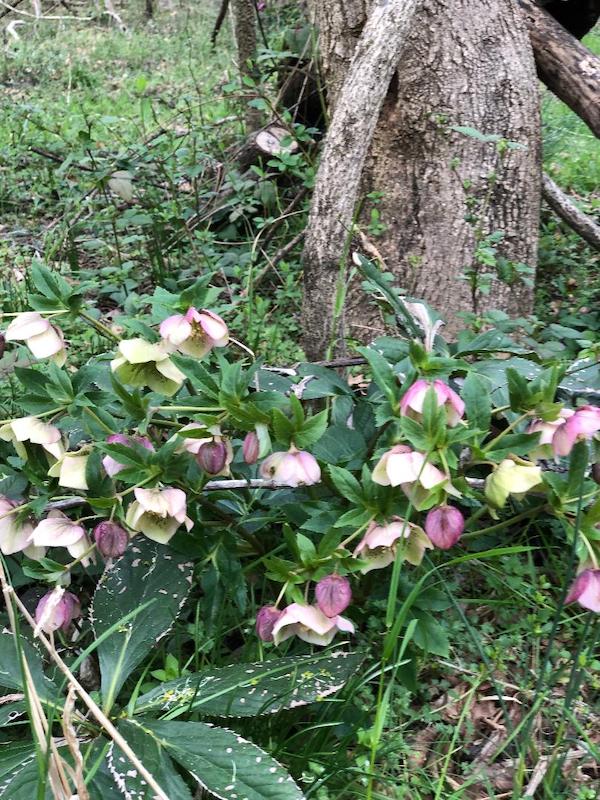 ChiGal writes: "Spring has sprung! Hellebores spotted on a creekside walk." At reader request, I will try to make plants coincident, and not lagging, seasonal indicators.
* * *
Readers
: Water Cooler is a standalone entity
not
covered by the recently concluded and — thank you! — successful annual NC fundraiser. So if you see a link you especially like, or an item you wouldn't see anywhere else, please do not hesitate to express your appreciation in tangible form. Remember, a tip jar is for tipping!
Regular positive feedback both makes me feel good and lets me know I'm on the right track with coverage
. When I get no donations for five or ten days I get worried. More tangibly, a constant trickle of donations helps me with expenses, and I factor in that trickle when setting fundraising goals:
Here is the screen that will appear, which I have helpfully annotated.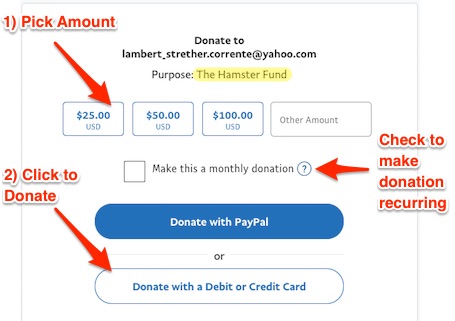 If you hate PayPal, you can email me at lambert [UNDERSCORE] strether [DOT] corrente [AT] yahoo [DOT] com, and I will give you directions on how to send a check. Thank you!