By Lambert Strether of Corrente.
Bird Song of the Day
Most popular bird song audio at eBird today, and very pretty.
#COVID19
At reader request, I've added this daily chart from 91-DIVOC. The data is the Johns Hopkins CSSE data. Here is the site.
I feel I'm engaging in a macabre form of tape-watching. If we are in "in the eye of the storm" , we are still in the eye of the storm.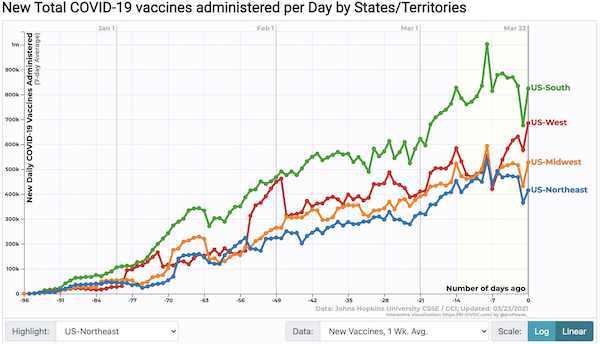 Looks like yesterday's stumble was a data artificact. • Early in February, I said a simple way to compare Biden's performance to Trump's on vaccination would be to compare the slopes of the curves. If Biden accelerated vaccine administration, post-Inaugural slopes would get steeper. They have not. The fragmented, Federalized, and profit-driven lumbering monstrosity that we laughingly call our "health care" "system" has not responded to "energy in the executive," but has continued on its inertial path.
Case count by United States regions: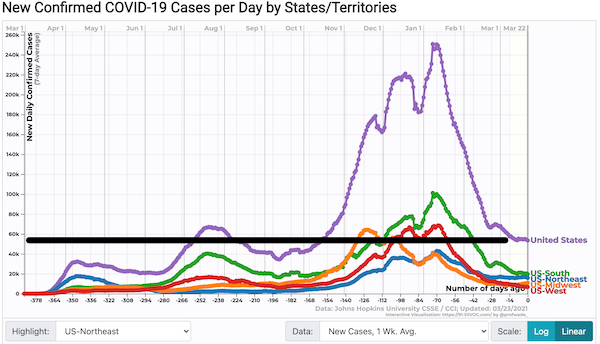 I helpfully added a black line to show how horrific the new normal we are all so triumphal about just now really is. The curve has definitely been flattening for the last three weeks, and in the last two days seems to have flattered entirely (remember I use one-week averages to smooth out data artifacts). That's not good, and when we look at the Northeast, it's flattened entirely. Since these are averaged weekly, there's some momentum in the train, too. So there's really no reason to break out the champers.
MA:
Ten consecutive days of new cases in Massachusetts surpassing the same day from the prior week and eight consecutive days of the positive rate rising week-over-week. #WBZ #coronavirus

— Liam Martin (@LiamWBZ) March 22, 2021
Wait 'til the students come back to Boston and Cambridge from Spring Break.
Big states (New York, Florida, Texas, California):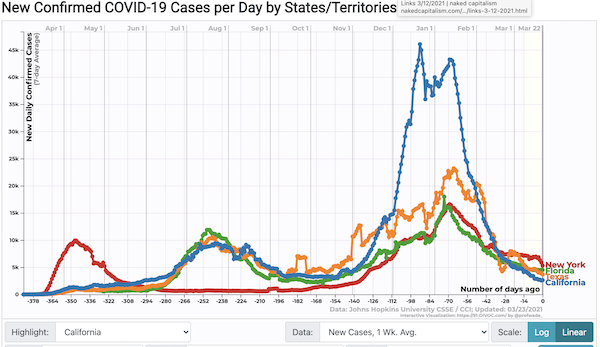 New York still leads, although with a recent drop. I'm also loathe to give Florida's DeSantis permission for a happy dance, but there's no question that in the enormous natural experiment that is our Federalized response to Covid, Florida didn't do badly, and its case curve looks pretty much like that corrupt crook Cuomo's, just with a later peak.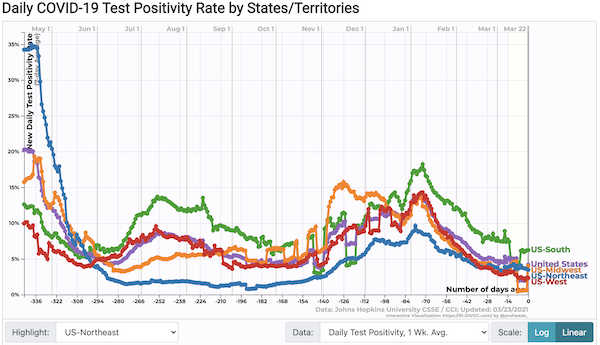 Big jump in the South.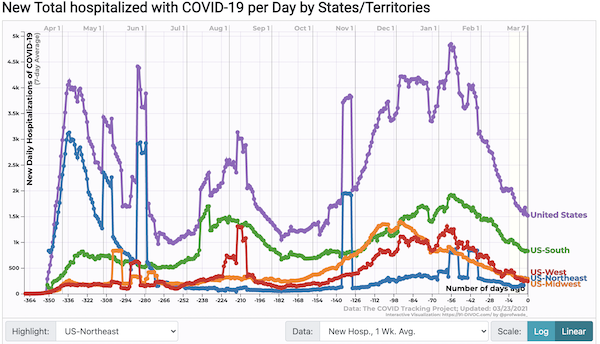 Hospitalization data is the best data we have, because hospital billing is a highly functional data acquisition system (ka-ching). That said, hospitalization is discretionary; they may also be reducing their admissions rate — relative to cases we cannot see in this data! — to preserve future capacity; or because hospitals have figured out how to send people home.
Case fatality rate (plus deaths):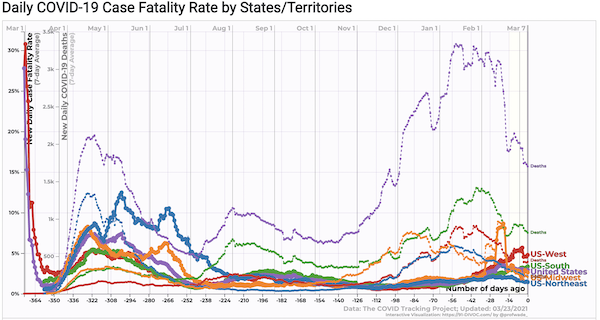 Good to see those deaths dropping. The fatality rate in the West is where it was last May.
* * *
Politics
"But what is government itself, but the greatest of all reflections on human nature?" –James Madison, Federalist 51
"They had one weapon left and both knew it: treachery." –Frank Herbert, Dune
"They had learned nothing, and forgotten nothing." –Charles Maurice de Talleyrand-Périgord
Capitol Seizure
Biden Administration
"House Democrats demand answers on slow $1,400 checks" [The Hill]. • Plus, they owe me six hundred bucks.

"How earmarks can help fix Congress" [The Week]. "Earmarks grease the wheels of politics, and they help tie the United States together as a functioning society." • Yep.

"How Biden quietly created a huge social program" [WaPo]. "An unlikely coalition of Democrats across the ideological spectrum mounted an 11th-hour push in the final weekend before the American Rescue Plan for President Biden to go big on tackling child poverty. They prevailed over what one person involved in the process called the "cost police" in Biden's inner circle, those anxiously warning about the ballooning cost of the stimulus package…. This under-the-radar success created what could be the most consequential piece of the $1.9 trillion package — one that, , could approach the impact of the programs established under President Lyndon B. Johnson's War on Poverty." • I've never seen such auto-backpatting for programs that only last a year.

"Texas Democrat Shares Photos Of Overcrowded Migrant Detention Centers" [HuffPo]. "President Joe Biden's administration has tried for weeks to keep the public from seeing images like those released Monday of immigrant children in U.S. custody at the border sleeping on mats under foil blankets, separated in groups by plastic partitions. Administration officials have steadfastly refused to call the detention of more than 15,000 children in U.S. custody, or the conditions they're living under, a crisis. But they have stymied most efforts by outsiders to decide for themselves."

Fundamentally, nothing will change:

NEW: Don't count on seeing Anita Dunn's financial disclosure. She's reportedly serving as a temporary senior WH advisor.
From the WH
"This individual is not required to file a 278 and thus there are no documents responsive to your request."
cc @waltshaubhttps://t.co/GSmYBHTaS8

— Brian Schwartz (@schwartzbCNBC) March 21, 2021
Republican Funhouse
"GOP hopefuls crank up the 'if-Trump-doesn't-run' primary" [Politico]. "[W]hat's truly unique about the Republicans' pre-presidential primary is the contingent framework that is unfolding around it. It's a primary — but a wholly conditional one. Prospective 2024 candidates, donors and conservative media outlets — the entire Republican ecosystem — are building strategies and structuring the race around the single question of whether former President Donald Trump runs again." • Trump's only 74. So in 2024 he's one year younger than Biden is today.
Realignment and Legitimacy
"The Chamber Of Commerce Goes Woke" [The American Conservative]. "Although CEOs may earn light applause here and there for their statements in support of "LGBTQ+" diversity and donations to Black Lives Matter, such actions are inevitably never enough, as the leftist revolutionaries they pander to always demand more. Meanwhile, business leaders gain no meaningful political capital with Democrats, who move to spurn them at the first opportunity. But as long as the Chamber, and the big business community they represent, continue to see leftist causes as their own, Republicans should learn to treat them not as tepid allies but as potentially hostile enemies."
Stats Watch
Manufacturing: "United States Richmond Fed Manufacturing Index" [Trading Economics]. "The Manufacturing Activity Index in the US fifth district including the District of Columbia, Maryland, North Carolina, South Carolina, Virginia, and most of West Virginia rose to 17 in March of 2021 from a 7-month low of 14 reported in the previous two months. The shipments index increased sharply while the other two components, new orders and employment, held steady. Survey results suggested that manufacturers increased employment and wages in March."
* * *
Tech:
When it comes to broadband, America is the original shithole country: a land of copper wires wrapped in newspaper, then dipped in tar and draped over shrubs and sold to suckers with no other choice at some of the highest prices in the western world.

— Cory Doctorow (@doctorow) March 23, 2021
* * *
Today's Fear & Greed Index: 53 Neutral (previous close: 54 Neutral) [CNN]. One week ago: 56 (Greed). (0 is Extreme Fear; 100 is Extreme Greed). Last updated Mar 23 at 12:48pm. One year ago, just after the Before Times: 5 (Extreme Fear).
The Biosphere
"Why Oumuamua, the Interstellar Visitor, Looks Eerily Familiar" [New York Times]. "In the scenario favored by Dr. Desch and Dr. Jackson, the nascent Oumuamua was knocked from a Pluto-like object that was circling a distant star some half-billion years ago. It would have originally been roundish, but as it traveled through space it was carved away by cosmic rays. By the time it entered our solar system in 1995 or so, it had lost half its original mass, according to their model. During its passage around the sun it likely melted to a sliver, like a bar of soap in the shower, the researchers say. Only 10 percent would have remained by the time it left the solar system, boosted by the rocketlike effect of evaporating nitrogen. Nitrogen sublimates at about 25 degrees Kelvin, Dr. Desch said: 'We calculate that Oumuamua reached temperatures in the 45 to 50 K range while it rounded the sun, so it was sublimating nitrogen gas like crazy, hence the strong mass loss.' He and Dr. Jackson concluded in their paper: 'A key advantage of the proposal we advance here of a nitrogen ice fragment is that it can simultaneously explain all of the important observational characteristics of Oumuamua, and that material of this composition is found in the solar system. We therefore conclude that Oumuamua is an example of an uncommon but certainly not exotic object: a fragment of a differentiated Pluto-like planet from another stellar system.'" • Dang. (Then again, if you're an alien observer, why not hitch a ride on a chunk of Nitrogen instead of taking a ship? Especially when the chunk doesn't look like a ship?
Health Care
"'I was sort of stunned': Fauci and U.S. officials say AstraZeneca released 'outdated information' from Covid-19 vaccine trial" [STAT]. "In an interview Tuesday morning with STAT, Anthony Fauci, the head of the NIAID, said the DSMB raised concerns because it felt the results in a AstraZeneca press release Monday looked more favorable than more recent data from the vaccine study had shown. 'I was sort of stunned,' Fauci said. 'The data safety and monitoring board were concerned that the data that went into the press release by AZ was not the most accurate and up-to-date data. That is what the DSMB communicated to AZ in a rather harsh note. Having seen that letter we could not just let it go unanswered.'" • Wait. A press release? Clearly, whoever is handling AstraZeneca's public relations needs to be… spoken to. To be fair, Fauci does like to endorse drugs and ramp stocks based on press releases, so clearly the accuracy of press releases would be of great concern to him. But I dunno… From a realpolitik perspective in the United States, Moderna, Pfizer, and J&J are national champions. AstraZeneca, like Sputnik, is not. So I don't think it's unreasonable to ask if Fauci is putting the boot into AZ for reasons that have nothing to do with health care. Zeynep Tufecki comments:
Fuming. I supported a US trial of AstraZeneca so it could undo the *unnecessary* damage to vaccine confidence from their botched initial rollout. Yesterday, I was cautious because, again, press release, no data. Turns out AZ is botching this rollout, too. https://t.co/1Euvr4l4Oh

— zeynep tufekci (@zeynep) March 23, 2021
I agree. Wait for the paper.
"Variants Rise in Some States, Adding Urgency to Vaccine Push" [Bloomberg]. "U.S. officials and public-health experts are again raising alarms about the resurgence of Covid-19 cases in some regions, and are particularly concerned about the role variants are playing in states including Michigan and New Jersey. The developments could augur a long-feared possibility: That another surge could occur even as states are flinging open vaccine eligibility criteria, trying to get shots in arms as quickly as possible. In Michigan and Minnesota, infections are mounting swiftly and new hospital admissions of confirmed or suspected Covid cases are up about 70% and 32%, respectively, from recent lows, according to U.S. Department of Health and Human Services data. The pace of daily Covid-19 hospital admissions, meanwhile, has stopped its slide in New York and New Jersey — despite the vaccine campaign — and begun to inch higher."
"Regina schools see rising COVID-19 cases as they move to online learning" [CTV]. " Public and Catholic schools in Regina have confirmed more than 30 COVID-19 cases in 21 schools across the city since they announced Friday schools will move to Level 4 learning ahead of spring break… On Friday, the Saskatchewan Health Authority confirmed there are 25 Saskatchewan schools dealing with cases of COVID-19 variants of concern, most of which are in and around Regina."
More beach-shaming, the trope that will not die:
Groups of German tourists were seen partying without masks at Mallorca beach in Spain pic.twitter.com/xxr69FWq9O

— Reuters (@Reuters) March 23, 2021
More beach-shaming. Yes, it's idiotic, and the cameraman making selfies — can videos be selfies? — makes it meta-idiotic. But the beach is outdoors; the real danger is indoors, in bars, restaurants, and accommodations. Yet those are never shown or shamed, presumably because they are businesses.
"The Curious Case of Florida's Pandemic Response" [The Atlantic]. "But the closer I looked, the more holes I found in the simple pro-Florida narrative….. Yes, Florida is seeing falling COVID-19 cases and hospitalizations. But so is just about everywhere else. And its overall pandemic performance is just about typical. (Some have questioned the veracity of the state's public COVID-19 data, but I'm assuming for the purposes of this piece that its numbers are accurate.) Florida ranks 27th in deaths per capita, with higher proportional fatalities than Washington, D.C., California, and 22 other states. That's not a resounding 'vindication,' even if Florida's economic performance blew everybody else's out of the water. As far as I can tell, though, it didn't. At 4.8 percent, its unemployment rate is 18th in the country, and not meaningfully different from that of the median states, South Carolina and Virginia, at 5.3 percent. Real-time data tracking state spending and employment show that Florida is doing, again, no better than average…. But while I think Florida's pandemic success has been inflated, the state has surprised people. In 2020, smart media figures and scientists predicted that COVID-19 would especially ravage Florida, given its open economy and elderly population. They were wrong. Why? Did Florida just get lucky? Is this mostly about the salutary benefits of the outdoors, or the coronavirus's sensitivity to heat and humidity? Do strict lockdowns simply fail the cost-benefit analysis? The answer to all three questions may be yes. But they are important unknowns, and we should investigate them with data rather than political headlines alternately claiming that Florida is an economic heaven and a pandemic hell. If the numbers can tell us anything at this point, it's that Florida is neither." • Well worth a read.
Groves of Academe
"The Humanities Have a Marketing Problem" [Chronicle of Higher Education]. "The causes of the precipitous humanities declines? First, a political assault on the welfare state that began by defunding education and increasing student debt. Second, an inaccurate student belief that majoring in the humanities leads to lower salaries and higher unemployment. And third, a 50-year culture war against the academy in general and the humanities in particular. Not a cause of these changes, despite what Tucker Carlson tells you: anything that takes place in the humanities classroom…. What if, then, we reorganized the undergraduate curriculum around a set of concepts that instead of foregrounding training in the graduate disciplines, foregrounded topics, skills, and ideas central to humanistic work and central to the interests of students? What if the humanities were marketed within the academy by the names of their best and most important ideas, and not by the names of their calcifying disciplinary formations? One way to put such a change in place would be to reorganize the existing curriculum into sets of four-course modules. Such modules could come in two types. Skill modules would focus on practices: language learning, writing and speaking, historical, cultural, and social analysis. Theme modules would focus on topics: social justice, migration studies, the problem of God, translation, journalism, wealth and inequality, conflict, ideas of beauty, television, society and technology, and the like." Not uninteresting. But: "Administrator-faculty trust would be paramount." • Oh.
Our Famously Free Press
"Want To Serve The Empire? Help Circulate Its Propaganda Narratives!" [Caitlin Johnstone]. "All you have to do to help ol' Uncle Sam spark off them shiny lil' Tomahawk missiles and incinerate those goofy foreigners for geostrategic control and Raytheon shareholder profits is this: just go around repeating the same stuff your buddies at the US State Department say about governments we don't like. That's it! That's all there is to it. It really is that simple."
Black Injustice Tipping Point
"How 'sex addiction' has historically been used to absolve white men" [NBC]. ""Historically, the term 'sex addiction' has been used by white males to absolve themselves from personal and legal responsibility for their behaviors,' Apryl Alexander, associate professor in the Graduate School of Professional Psychology at the University of Denver, told NBC Asian America. 'It is often used as an excuse to pathologize misogyny…. The self-identification of sex addiction, she said, is often seen in individuals who are raised in conservative and religious environments, 'where there's a high level of moral disapproval of their natural kind of sexual urges and desires.' Many of these populations are overwhelmingly white." • So we're reducing evangelical Christianity to… whiteness? What about teh intersectionality?
Class Warfare
"Because of Monopolies, Income Inequality Significantly Understates Economic Inequality" (PDF) [Federal Reserve Bank of Minneapolis]. "In social science research, household income is widely used as a stand-in for, or approximation to, the economic well-being of households. In a parallel way, income-inequality has been employed as a stand-in for inequality of economic well-being, or for brevity, "economic-inequality." But there is a force in market economies, ones with extensive amounts of monopoly, like the United States, which leads income- inequality to understate economic-inequality. This force has not been recognized before and derives from how monopolies behave. Monopolies, of course, raise prices. This reduces the purchasing power of households, or the value of their income. But monopolies, in fact, reduce the purchasing power of low- income households much more than high-income households. What has not been recognized is that, in many markets, as monopolies raise the prices for their goods, they simultaneously destroy substitutes for their products, low-cost substitutes that are purchased by low-income households. In these markets, then, while high-income households face higher prices, low-income households are shut out of markets, markets for goods and services that are extremely important for their economic well-being. It often leaves them with extremely poor alternatives, and sometimes none, for these products. Some of the markets we discuss include those for housing, financial services, and K-12 public education services. We also discuss markets for legal services, health care services, used durable equipment and repair services. Monopolies that infiltrate public institutions to enrich members, including those in foster care services, voting institutions and antitrust institutions, are also discussed." • Pretty amazing, for the Fed. Maybe one day they'll write about the workplace.
"Slavery, Race and Ideology in the United States of America" (PDF) [Barbara Jean Fields, New Left Review]. From 1990, said to be a classic. "One of the most important of these absurd assumptions, accepted implicitly by most Americans, is that there is really only one race, the Negro race. That is why the Court had to perform intellectual contortions to prove that non-Negroes might be construed as members of races in order to receive protection under laws forbidding racial discrimination. Americans regard people of known African descent or visible African appearance as a race, but not people of known European descent or visible European appearance. That is why, in the United States, there are scholars and black scholars, women and black women. Saul Bellow and John Updike are writers; Ralph Ellison and Toni Morrison are black writers. George Bush and Michael Dukakis were candidates for president; Jesse Jackson was a black candidate for president. Moreover, people in the United States do not classify as races peoples of non-European but also non-African appearance or descent, except for purposes of direct or indirect contrast with people of African descent; and even then, the terms used are likely to represent geography or language rather than biology: Asian or Hispanic. Even when terms of geography designate people of African descent, they mean something different from what they mean when applied to others. My students find it odd when I refer to the colonizers of North America as Euro-Americans, but they feel more at ease with Afro-Americans, a term which, for the period of colonization and the slave trade, has no more to recommend it. Students readily understand that no one was really a European, since Europeans belonged to different nationalities; but it comes as a surprise to them that no one was an African."
"What we lose if we stop travelling on business" [Financial Times]. "[W]hen I do see water shortly after landing, it never fails to exhilarate: the vaporetto into Venice, the evening stroll along Hong Kong's Victoria Harbour, Seattle's waterside Pike Place Market. A few years back, as I walked in brilliant sunlight across the white-painted Cavenagh Bridge over the Singapore River, I said to myself: you were lucky to have done all this (and lucky, too, to be going back to a cloudier country where I can say what I like). Even when the first sight is the airport metro station or a rainy street, I'm lifted by the thought of being somewhere different… Travel not only broadens the mind, it deepens understanding — business travel most of all. Interactions on a work trip, unlike those on holiday, are not just with those serving you. You deal with people as equals. You go into their workplaces, you talk about what they are making and doing, you enter their lives. I have been into aircraft factories in Seattle and Toulouse, a financial services company in Bogotá, luxury watchmaking workshops in Geneva. Even other countries' offices have their fascinations: how people greet you, how they are with each other, what pictures they have on the walls. Each told me something." • In my experience, all this is true; it's the humanists argument for travel. I'm not certain, however, how much business travel has made the "business class" more humane, based on outcomes.
"The best-known street in the city is Evergreen Point Road. Because the road runs along the water, it is a who's who of luxury real estate. Jeff Bezos, Bill Gates, and several Microsoft executives live on the street." [Business Insider]. From 2019, still germane. "The Bezos family, which is the richest in the world, lives in the tiny waterfront city of Medina, Washington, located just outside of Seattle. Microsoft founder Bill Gates is perhaps the most famous fellow resident, although the town's inhabitants include numerous other Microsoft bigwigs, tech entrepreneurs, and telecom magnates." • There are not very many of the Shing.
News of the Wired
Any results yet?
— Anna Pallai (@Mono80) March 23, 2021
* * *
Readers, feel free to contact me at lambert [UNDERSCORE] strether [DOT] corrente [AT] yahoo [DOT] com, with (a) links, and even better (b) sources I should curate regularly, (c) how to send me a check if you are allergic to PayPal, and (d) to find out how to send me images of plants. Vegetables are fine! Fungi and coral are deemed to be honorary plants! If you want your handle to appear as a credit, please place it at the start of your mail in parentheses: (thus). Otherwise, I will anonymize by using your initials. See the previous Water Cooler (with plant)
here
. Today's plant (EMM):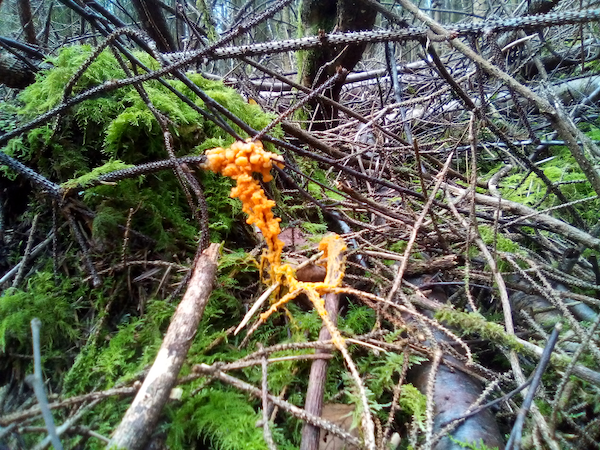 EMM writes: "This is a mushroom, I don't know what it's called, found in Ireland. Keep up the good work!"
* * *
Readers
: Water Cooler is a standalone entity
not
covered by the recently concluded and — thank you! — successful annual NC fundraiser. So if you see a link you especially like, or an item you wouldn't see anywhere else, please do not hesitate to express your appreciation in tangible form. Remember, a tip jar is for tipping!
Regular positive feedback both makes me feel good and lets me know I'm on the right track with coverage
. When I get no donations for five or ten days I get worried. More tangibly, a constant trickle of donations helps me with expenses, and I factor in that trickle when setting fundraising goals:
Here is the screen that will appear, which I have helpfully annotated.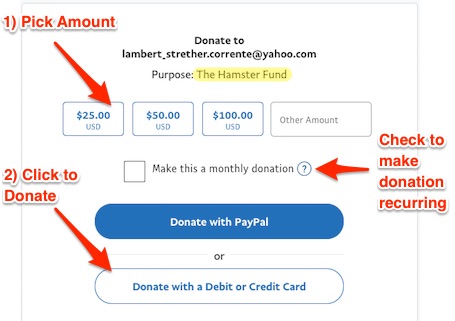 If you hate PayPal, you can email me at lambert [UNDERSCORE] strether [DOT] corrente [AT] yahoo [DOT] com, and I will give you directions on how to send a check. Thank you!