By Lambert Strether of Corrente.
Bird Song of the Day
From Peru, another tour de force. Macaulay supplies waveforms for each audio clip, which is a good way to sort for what might be interesting. Most bird species have similar waveforms for all the clips (differences come from other birds, or buzzing insects, or automobile noises). Not so the mockingbird! Most of the waveforms differm even within species!
#COVID19
At reader request, I've added this daily chart from 91-DIVOC. The data is the Johns Hopkins CSSE data. Here is the site.
I feel I'm engaging in a macabre form of tape-watching, because I don't think the peak is coming in the next days, or even weeks. Is the virus gathering itself for another leap?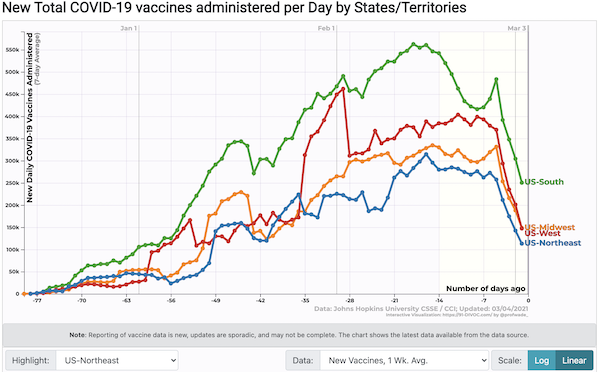 Early in February, I said a simple way to compare Biden's performance to Trump's on vaccination would be to compare the slopes of the curves. If Biden accelerated vaccine administration, the slopes would get steeper. What I expected was that that the slopes would remain the same; that the fragmented, Federalized, and profit-driven lumbering monstrosity that we laughingly call our "health care" "system" would not respond to "energy in the executive," but would continue on its inertial path. What I did not expect was that vaccine administration would collapse, as it has been doing for the last two weeks, with the nose-drive accelerating in the last week. It is true that I'm looking at averages, but if the averages continue like this for another week or two, at some point somebody's going to notice and say something. Biden has taken steps to increase production, it is true, and has moved the date when any American can get a vaccine forward, but with a multiplying process like a pandemic, the future is now.
Case count by United States region: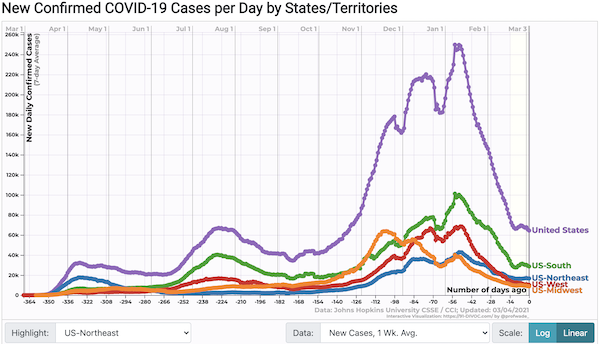 A little uptick in the South, with the Northeast flattening.
Big states (New York, Florida, Texas, California):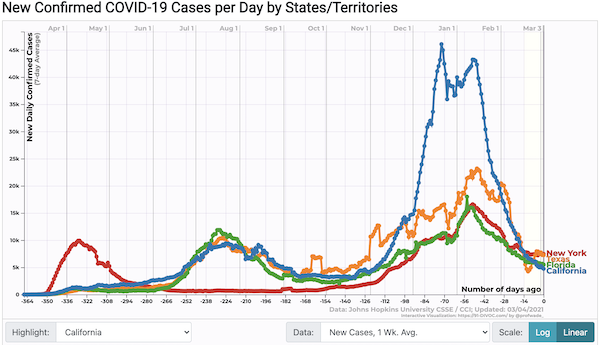 New York and Texas now in parallel.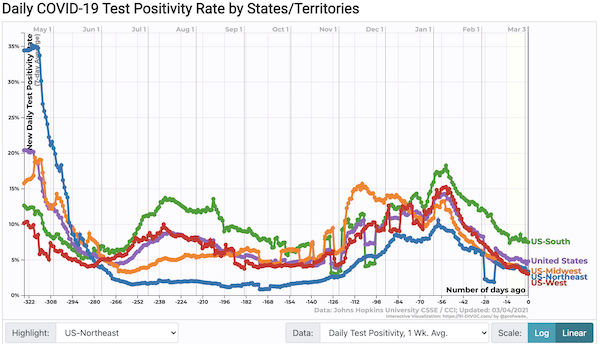 Decline is flattening across the board. Weather? Variants? Regional averages approach 3%, which is what we want to see.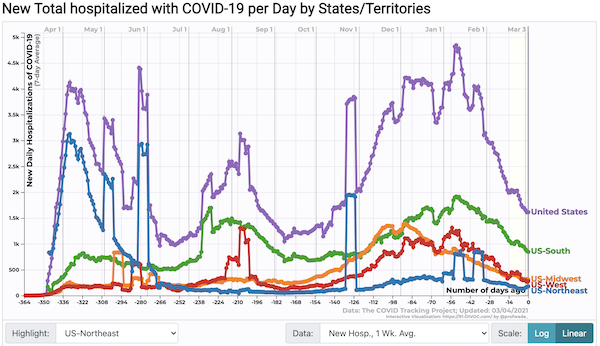 Hospitalization is discretionary; they may also be reducing their admissions rate — relative to cases we cannot see in this data! — to preserve future capacity; or because hospitals have figured out how to send people home.
Case fatality rate (plus deaths):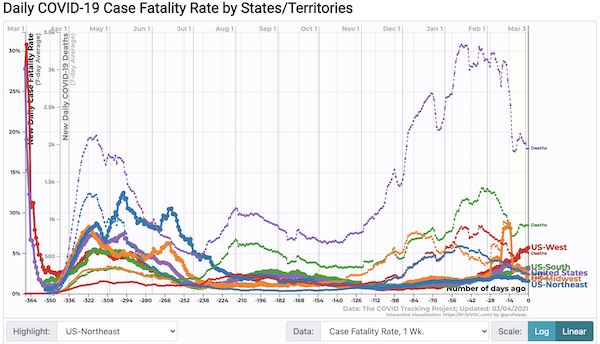 That fatality rate in the West (red) is rising still, which is what worries me. Now it's at it's highest in over a year. It's not going vertical, which is what I feared. Is the reason nobody else is worrying about this is that it's not really a problem?
Politics
"But what is government itself, but the greatest of all reflections on human nature?" –James Madison, Federalist 51
"They had one weapon left and both knew it: treachery." –Frank Herbert, Dune
"They had learned nothing, and forgotten nothing." –Charles Maurice de Talleyrand-Périgord
Capitol Seizure
"What Are the Cultural Revolution's Lessons for Our Current Moment?" [The New Yorker]. I missed this one back in February. The material on China is interesting and I assume has undergone the famous New Yorker fact-checking process. But: "Trump failed to purge all the old élites, largely because he was forced to depend on them, and the Proud Boys never came close to matching the ferocity and reach of the Red Guards. Nevertheless, Trump's most devoted followers, whether assaulting his opponents or bombarding the headquarters in Washington, D.C., ." • Holy moley! More: "Order appears to have been temporarily restored (in part by Big Tech, one of Trump's enablers). But the problem of political representation in a polarized, unequal, and now economically debilitated society remains treacherously unresolved. Four traumatic years of Trump are passing into history, but the United States seems to have completed only the first phase of its own cultural revolution." • This is liberal Democrat self-aggrandizement of a high order! Comparing the Capitol seizure to the Cultural Revolution, and Trump to Mao Tse-Tung? Really?

"Most alleged Capitol rioters unconnected to extremist groups, analysis finds" [Guardian]. "Nearly 90% of the people charged in the Capitol riot so far have no connection with militias or other organized extremist groups, according to a new analysis that adds to the understanding of what some experts have dubbed the 'mass radicalization' of Trump supporters. A report from George Washington University's Center on Extremism has analyzed court records about cases that have been made public. It found that more than half of people facing federal charges over the 6 January attack appear to have planned their participation alone, not even coordinating with family members or close friends. Only 33 of the 257 alleged participants appear to have been part of existing "militant networks", including the Proud Boys and the Oath Keepers anti-government militia." • Lol. Not exactly Red Guards led by Chairman Mao, as the fools at the New Yorker seem to really believe!

"Capitol Police ask that National Guard stay for another 60 days" [ABC]. "Two U.S. officials confirmed Thursday that the Capitol Police have requested a 60-day extension for the National Guard presence at the Capitol. One official said the request is being reviewed." • Two months sounds pretty close to permanent, to me. Maybe we should build the Guard some nice barracks?
Biden Administration
UPDATE "Ron Klain has one of the busiest jobs in D.C. — and one of the most active Twitter feeds, too" [NBC]. Oh, look. A beat sweetener. "Now, Biden officials see Klain's Twitter account as one of their main messaging channels to progressive forces they see as a key part of their governing coalition." • Oh.

UPDATE Kamala does some heavy lifting:

With the Senate getting ready to vote on the American Rescue Plan, @VP is visiting Fibre Space – a woman-owned small business in Alexandria, Virginia. pic.twitter.com/1MraDykgTO

— Symone D. Sanders (@SymoneSanders46) March 3, 2021

The replies are quite something…

"Column: Biden's $1.9-trillion big spend is a big bet on modern economic theory" [Los Angeles Times]. "[N]ow economists — and Biden — are trying something new. They're working on the premise that it's neither government deficits nor a failure of thrift that causes economic problems. Rather, it's government stinginess that leads to unemployment, which in turn deprives people the money they need to cover taxes, which in turn pay for the common good. As Stephanie Kelton, former chief economist on the Senate Budget Committee, argues in her bestseller "The Deficit Myth," the country's real deficits are in healthcare, jobs, infrastructure, education and the climate. But rather than address those things by spending, writes Kelton, the government proceeds in terror of not 'balancing the budget,;' falsely believing that an unbalanced budget is the source of inflation. 'We run around like a six-foot-tall guy who wanders around perpetually hunched over in a house with eight-foot ceilings because someone convinced him that if he tries to stand up tall he'll suffer a massive head trauma,' she writes." • "Head trauma." That's a keeper….

"Biden's State Rescue Dwarfs Tax Hit, Turning It Into Stimulus" [Bloomberg]. "Listen to any of the architects of the $1.9 trillion spending package winding its way through Congress — from Treasury Secretary Janet Yellen to White House economic adviser Brian Deese — and they will tell you the aid is urgently needed to rescue the economy. It is, they insist, simply relief for Americans struggling to get through the pandemic. But at least one important slice of the package — the nearly $200 billion being earmarked to state governments — goes beyond a rescue and is almost certain to further stimulate an economy that is already beginning to rapidly recover. That's because those proposed cash transfers are more than six times greater than the approximately $31 billion of expected tax revenue that disappeared in the current fiscal year, according to pre-pandemic and more recent forecasts compiled by Bloomberg. In other words, that money could make up for that loss and be plowed back into states' economies, such as their own version of relief checks, infrastructure projects and more, depending on the federal guidelines around the aid." • Good!

Biden Walkbacks: "A Path to Nowhere" [Rampant]. "Despite the campaign rhetoric and repeated promises to restore a "fair and humane" policy, Biden and the Democrats are already walking that back—and appear to be walking away—from any real push for substantive immigration reform. The much-touted flurry of executive orders to ostensibly roll back the horrible policies of Trump have been only half-steps. Many of his initial orders and memos introduce temporary pauses to some aspects of enforcement to supposedly allow for review without making explicit changes. Meanwhile, the promise of immigrant legalization within one hundred days is shaping up to be a replay of the failed promises of the Obama era. Furthermore, the Biden proposals leave the already sprawling architecture of migrant repression intact." • Worth reading in full.

"The House Passes a Major Voting Rights Bill—and Creates a Helluva Battle in the Senate" [Mother Jones]. " Sen. Amy Klobuchar (D-Minn.), a chief sponsor of [HR 1] the voting rights legislation, tells me she supports killing the filibuster to pass this legislation. 'I would get rid of the filibuster,' Klobuchar says. 'I have favored filibuster reform for a long time and now especially for this critical election bill.'" • Interesting.
Republican Funhouse
"The new grifters: outrage profiteers" [Axios]. "As Republicans lost the Senate and narrowly missed retaking the House, millions of dollars in grassroots donations were diverted to a handful of 2020 congressional campaigns challenging high-profile Democrats that, realistically, were never going to succeed…. Call it the outrage-industrial complex. Slick fundraising consultants market candidates contesting some of their party's most reviled opponents. Well-meaning donors pour money into dead-end campaigns instead of competitive contests. The only winner is the consultants." • Wait, this isn't the Amy McGrath race? Or whoever ran against Susan Collins?
Democrats en deshabille
"New book: Cuomo angered Biden team with convention address" [The Hill]. "New York Gov. Andrew Cuomo (D) angered now-President Biden's campaign in 2020 over his speech at the Democratic National Convention, which aides considered to be self-aggrandizing. According to the new book 'Lucky: How Joe Biden Barely Won the Presidency,' Cuomo did not deliver his recording of his speech until the day he was set to appear and used much of his remarks to tout his response to the coronavirus pandemic rather than praise Biden, the Democratic presidential nominee. When Biden's aides asked him to refilm the speech, Cuomo refused,… In his speech, Cuomo did not mention Biden until the final 10 seconds of his five-minute time slot. 'They put his speech on our doorstep, lit it on fire, rang the doorbell, and then ran away,' said one person involved in the content production." • Could it be that Cuomo actually believes that he did a good job?

UPDATE "Cuomo Enters Survival Mode After Public Apology, Show of Remorse" [Bloomberg]. "Even if Cuomo survives this latest crisis, it marks a striking turn of events from earlier in the pandemic when he was given the moniker "America's Governor" and won an Emmy award for his televised virus briefings."

UPDATE "Cuomo's office accused of violating its own sexual harassment policy" [Politico]. "A high-ranking Democrat in the New York Legislature and a lawyer representing one of Gov. Andrew Cuomo's accusers say the governor's office flouted its own rules on handling sexual harassment complaints. An executive order issued by Cuomo two years ago requires such allegations against state employees to be referred to the Governor's Office of Employee Relations, which must conduct an investigation even if a victim declines to file a formal complaint with the office. State law also requires such an investigation. But Cuomo's staff won't say if that happened when Charlotte Bennett, a 25-year-old executive assistant in the governor's office, complained to Cuomo's chief of staff, Jill DesRosiers, that the governor had questioned her about her sex life last spring."

No, the mail isn't from Frank Luntz. It's from those ghouls at Mothership Strategies:
Our Famously Free Press
"TikTok Played a Key Role in MAGA Radicalization" [Wired]. "Our team at the National Conference on Citizenship has been monitoring content on Parler continuously for the past few months, and what we saw generally mirrors what others have reported: The platform was a hotbed of misinformation, conspiracy theories, hate, and incitements to violence. There was also a lot of spam and junk. Parler was, and is, a dirty, disgusting place, but in terms of volume and reach, it was just a drop in the ocean. We've also been monitoring TikTok for the past two years, as it grew from an entertaining novelty into a significant player capturing online attention share. Practical jokes and dance memes might be the dominant content, but just below the surface lurks a darker current infused with violence and hate that mirrors what we see on Parler, except here it has a much wider committed following. While Parler prided itself on having little to no moderation, TikTok has moved aggressively to enforce community guidelines and take down content. Still, a large and growing segment of the platform creates and shares problematic messages that risk radicalizing users. Many of these videos fall into a gray area that makes them difficult for moderation to address.
2020
"David Shor on Why Trump Was Good for the GOP and How Dems Can Win in 2022" [New York Magazine]. "One high-level takeaway is that the 2020 electorate had a very similar partisan composition to the 2016 electorate. When the polls turned out to be wrong — and Trump turned out to be much stronger than they predicted — a lot of people concluded that turnout models must have been off: Trump must have inspired higher Republican turnout than expected. But that looks wrong. It really seems like the electorate was slightly more Democratic than it had been in 2016, largely due to demographic change (because there's such a large partisan gap between younger and older voters, every four years the electorate gets something like 0.4 percent more Democratic just through generational churn). So . A lot of voters changed their minds between 2016 and 2020." • So that lunatic, Scott Adams, was right?! More: "Over the last four years, white liberals have become a larger and larger share of the Democratic Party. There's a narrative on the left that the Democrats' growing reliance on college-educated whites is pulling the party to the right (Matt Karp had an essay on this recently). But I think that's wrong. Highly educated people tend to have more ideologically coherent and extreme views than working-class ones. We see this in issue polling and ideological self-identification. College-educated voters are way less likely to identify as moderate. So as Democrats have traded non-college-educated voters for college-educated ones, white liberals' share of voice and clout in the Democratic Party has gone up. And since white voters are sorting on ideology more than nonwhite voters, we've ended up in a situation where white liberals are more left wing than Black and Hispanic Democrats on pretty much every issue: taxes, health care, policing, and even on racial issues or various measures of "racial resentment." So as white liberals increasingly define the party's image and messaging, that's going to turn off nonwhite conservative Democrats and push them against us." • The whole article is worth reading in full, especially the "defund the police" material.
Realignment and Legitimacy
"Republican governors loom over precarious Senate" [Axios]. "Nineteen seats in the U.S. Senate could potentially flip parties if there's an unexpected vacancy, according to Axios' analysis of state vacancy rules, which most often allow the governor to appoint a replacement. … Depending on the senator, a single resignation, retirement or death — by accident or old age — could flip control of the 50-50 Senate, or give Democrats a two-vote cushion….. More than a quarter of the Senate is 70-plus…. Six of those senior senators are Democrats in states where a Republican governor is authorized to appoint a replacement — at least in the interim — if a senator abruptly retires or dies in office." • Gerentocracy has a price….

UPDATE "How Much Longer Can This Era Of Political Gridlock Last?" [FiveThirtyEight]. "[T]oday, the factors locking in continued closely-balanced hyper-partisan politics are much stronger. And absent a major change to the rules of our elections, no realignment lies in sight. Instead, deepening partisan trench warfare will only worsen fights over the basic rules of voting, undermining the shared legitimacy of elections on which democracy depends."

"Now Could Be Buffett's Moment to Lend America a Hand" [Conor Sen, Bloomberg]. "From a new presidential slogan of "Build Back Better" to an economy strained by supply chain problems everywhere, it's never been more clear that America is consumed with the need to invest heavily across a variety of industries to power growth in the years to come. That still begs the question of who's in the best position to make those investments. When the need is in the hundreds of billions, if not trillions, of dollars over an indefinite time horizon, the list of potential players shrinks dramatically. Not many companies have the resources to do it in the private sector…. [I]nfrastructure and fixed investment might become the ideal Berkshire investment opportunity in the years to come… whatever opportunities present themselves in a decade where infrastructure investments might define the decade's economy." • Well, aside from the State, of course. In any case, we don't want opportunities to "present themselves." We want to create them.
Stats Watch
At reader request, I added some business stats back in. Please give Econintersect click-throughs; they're a good, old-school blog that covers more than stats.
Employment Situation: "United States Initial Jobless Claim" [Trading Economics]. "The number of Americans filing for unemployment benefits rose to 745 thousand in the week ended February 27th, from the previous week's revised figure of 736 thousand and compared to market expectations of 750 thousand. Claims remained at high levels as the US economy struggles to sustain the labor market recovery amid coronavirus-induced restrictions and a lack of fiscal support."
Employment Situation: "United States Challenger Job Cuts" [Trading Economics]. "Planned job cuts announced by US based companies fell by 57 percent to 34,531 in February of 2021, the lowest monthly total since December of 2019. Most jobs were cut in retail (9,257), followed by energy (3,736) and insurance industry (3,128)."
Productivity: "4Q2020 Final Headline Productivity Contracts" [Econintersect]. "A simple summary of the headlines for this release is that labor costs are growing and productivity is contracting on a quarter-over-quarter basis… Doing a productivity analysis during a major recession or recovery period is a waste of time as productivity is obscured by government interventions."
Manufacturing: "United States Factory Orders" [Trading Economics]. "New orders for US manufactured goods rose by 2.6 percent from a month earlier in January 2021, the largest increase since last July and above market expectations of a 2.1 percent advance. Demand for transport equipment climbed by 7.7 percent, boosted by jumps in orders for civilian aircraft (389.9 percent), defense aircraft (63.1 percent), ships and boats (52.1 percent), and vehicles (1.6 percent)." • Interesting it's transport.
* * *
Shipping: "Is dry bulk shipping's strange Q1 a sign of strength to come?" [Hellenic Shipping News]. "It has been a particularly strange Q1 for dry bulk shipping. Usually, the larger ships — Capesizes with capacities of around 180,000 deadweight tons (DWT) that carry iron ore and coal — do poorly all quarter. This year, they did better in January than they had in a decade before succumbing to their usual slump. Then came another oddity: The smaller bulkers began earning much more money than the Capesizes…. The bullish view on all of this strangeness is that Capesizes did so well early in the quarter because the supply-demand balance is tight."
Tech: "Google promises it won't just keep tracking you after replacing cookies" [The Verge]. "Google is slowly phasing out third-party tracking cookies, and today, it's making it clear that it won't just replace them with something equally invasive despite the impact the change will have on Google's lucrative advertising business. In a blog post, Google explicitly states that it 'will not build alternate identifiers to track individuals as they browse across the web' after the third-party cookies are gone. 'Instead, our web products will be powered by privacy-preserving APIs which prevent individual tracking while still delivering results for advertisers and publishers,' writes Google. 'Advances in aggregation, anonymization, on-device processing and other privacy-preserving technologies offer a clear path to replacing individual identifiers.'" • I wonder what "on-device processing" means…
Tech: "Brave buys a search engine, promises no tracking, no profiling – and may even offer a paid-for, no-ad version" [The Register]. "Brave, maker of the identically named privacy-focused web browser, has acquired its own search engine to offer as an alternative to Google Search and competing search engines that exist but aren't all that visible in Google's shadow. On Wednesday, the company plans to announce that it's taking over Tailcat, a search engine developed by Cliqz, another privacy-focused browser biz that aspired to compete with Google and shut down last year. The deal, terms undisclosed, makes Cliqz owner Hubert Burda Media a Brave shareholder. Brave intends to make Tailcat the foundation of its own search service, Brave Search. The company hopes that its more than 25 million monthly active Brave customers will, after an initial period of testing and courtship, choose to make Brave Search their default search engine and will use it alongside other parts of its privacy-oriented portfolio, which also includes Brave Ads, news reader Brave Today, Brave Firewall+VPN, and video conferencing system Brave Together."
Manufacturing: "GM extends production cuts due to chip shortage, Stellantis warns of lingering pain" [Reuters]. "The global semiconductor chip shortage led General Motors Co on Wednesday to extend production cuts at three North American plants and add a fourth to the list of factories hit, and Stellantis [a a multinational automotive manufacturer] to warn the pain could linger far into the year."
Concentration: "The Whole Web Pays For Google And Facebook To Be Free" [Bloomberg]. "Consider all the paywalls and paid services that are rolling out across the internet. News, films, music and even theatrical streaming are now available for a subscription fee. The latest example is Twitter Inc., which announced last week that it plans a paid product, dubbed "Super Follows," where users can charge followers for "premium" tweets and other content. The move is a way for the company to decrease its dependence on advertising revenue — a pot of money that's increasingly being swallowed up by just Google and Facebook. If online power, and the ad revenue that comes with it, continues to concentrate within those two platforms, expect what you watch, read or listen to elsewhere on the web to start costing you money."
Concentration: "Amazon accused of copying camera gearmaker's top-selling item" [CNBC]. "Peak Design has been selling its 'Everyday Sling' since 2017, while Amazon's private-label business released a strikingly similar product last October, called the 'Amazon Basics Everyday Sling.' … Peak Design isn't the first company to question how the retail giant comes up with its own products. Allbirds co-CEO Joey Zwillinger in 2019 called out Amazon for releasing a knit shoe with "striking resemblances" to its own product. More recently, a Wall Street Journal investigation last April found that Amazon uses data from third-party sellers to help develop its private-label goods." • Peak Design made a video. It's pretty funny:
* * *
Today's Fear & Greed Index: 49 Neutral (previous close: 52 Neutral) [CNN]. One week ago: 58 (Greed). (0 is Extreme Fear; 100 is Extreme Greed). Last updated Mar 4 at 12:40pm.
The Biosphere
"Can Bacteria Build A Cheaper Refrigerator?" [Issues in Science and Technology]. "Refrigeration accounts for 17 percent of global energy consumption. In addition to being expensive, it often uses toxic gases that harm the atmosphere and cause global warming. Students from Universidad de los Andes explored ways to bring refrigeration to remote communities in Colombia that lack electricity and refrigeration. These rural areas face health risks when vaccines, lab tests, and medicines can't be refrigerated properly. The students focused on properties of a bacteria called Pseudomonas syringae, which often attacks plants. Scientists have discovered that this bacteria also produces a protein that makes water freeze at higher temperatures. Using this bacteria, the team were able to raise the freezing temperature of water to 4 ºC (39.2ºF), potentially lowering the amount of energy needed to make ice. In well-built coolers, ice made this way can last much longer than regular ice. The team named its natural refrigeration project PseudoFreeze, after the bacteria itself. Its first application is an icebox to transport vaccines to places without electricity." • Cool!
"A 'space hurricane' hovered above the North Pole for about 8 hours, study says" [USA Today] (original). "The observations, made by satellites in August 2014, were only uncovered during retrospective analyses led by scientists from Shandong University in China. The phenomenon would be an incredible sight, but it's likely no one saw this particular space hurricane. It would be visible to the naked eye, Lockwood told USA TODAY, "but because the event is over the pole you would have to be at very high latitudes (to see it).":
Health Care
A ton of useful videos on ventilation and aersols in this thread:
1/ GOOD VIDEOS TO EXPLAIN COVID-19 AIRBORNE TRANSMISSION

A journalists just asked me for those. So I thought of the ones below, but please reply with others that also do a good job.

— Jose-Luis Jimenez (@jljcolorado) March 4, 2021
Perhaps I should go back an aggregate the studies….
"Masks Don't Affect Oxygen Saturation in People With Asthma" [MedScape]. "Wearing a mask to protect against transmission of COVID-19 does not decrease oxygen saturation, according to a new study. Oxygen saturation did not decline in more than 200 mask-wearing individuals attending an asthma and allergy clinic, regardless of the type of mask they were wearing and how long they had been wearing the mask." • A late-breaking paper at the American Academy of Allergy, Asthma, and Immunology.
Our Famously Free Press
"NYTimes Peru N-Word, Part Two: What Happened January 28?" [Donald G. McNeil Jr.] Times Executive Ediitor Dean Baquet: "But Donald, you've lost the newsroom. People are hurt. People are saying they won't work with you because you didn't apologize." • You've "lost the newsroom"? Really? Well, I suppose the job of an Executive Editor is to, well, execute….
Meanwhile, David Brooks is still firmly ensconced:
NEW: NYT columnist David Brooks draws a second salary for leading an Aspen Institute project funded by Facebook, Jeff Bezos' dad, & others. He didn't disclose this to readers. The Times refused to say if the paper was aware of Brooks' second salary: https://t.co/7WN3zrtrKp

— Craig Silverman (@CraigSilverman) March 3, 2021
Games
"Dungeons & Dragons' Racial Reckoning Is Long Overdue" [Wired]. From January, still germane: "The Dungeons & Dragons roundtables have been excellent, and they highlight the community-led efforts to make role-playing games more inclusive. Less great have been WotC's revisions and updates to its old material. Curse of Strahd Revamped is an excellent example of this disconnect. During a Curse of Strahd campaign, players are helped and hindered by the Vistani. As written, the Vistani are itinerant people who live in elaborate wagons, wear bright clothing, enjoy drinking, and try to scam the players every chance they get. Most, but not all, work for Strahd, the campaign's principal villain. The Vistani are a paper-thin Romani stereotype, and WotC promised to update Curse of Strahd with the help of a Romani consultant. So what did they change or remove? The original publication included the sentence "Although they can seem lazy and irresponsible to outsiders, the Vistani are serious people, quick to act when their lives or traditions are threatened." The revised edition removed the lines about laziness and irresponsibility. The revised edition also removed a single use of the word "vardo" to describe Vistani wagons, a direct reference to Romani. That's the bulk of the changes to the Vistani in the revised Curse of Strahd. Aside from a few lines pulled, their characterization is largely the same. They still lay curses on people, use a power called the "Evil Eye," get drunk in scripted scenes, and attempt to con the players out of their fortune. A few overtly offensive lines were changed, but the Vistani remain much as they were—a thinly veiled Romani stereotype." • I'm not a game designer. It's not at all clear to me how to write a game without stereotypes. If fully-rounded, fleshed out individuals are what we want, that's a job for a novelist, and the great ones are thin on the ground, plus the business doesn't scale, plus great novelists have their own biases, for good or ill. What do readers think?
Book Nook
Happy World Book Day:
A Book, by Emily Dickinson

There is no frigate like a book
To take us lands away,
Nor any coursers like a page
Of prancing poetry.
This traverse may the poorest take
Without oppress of toll;
How frugal is the chariot
That bears a human soul!#WorldBookDay

— Tim Harford (@TimHarford) March 4, 2021
More to come on this, –lambert UPDATE See below; alll done.
"The reckoning with Dr. Seuss' racist imagery has been years in the making" [NBC News]. "'In Dr. Seuss' books, ' said Ebony Thomas, a professor of children's and young adult literature at the University of Pennsylvania. She is the author of "The Dark Fantastic: Race and the Imagination from Harry Potter to the Hunger Games.'" • Leaving aside whatever they or authorial intent is implied by "oriented", and whatever is meant by "centered," Thomas means — besides Dr. Seuss — books like Alice in Wonderland, Winnie the Pooh, Mary Poppins, the Wind in the Willows, the Wizard of Oz, Charlotte's Web, Where the Wild Things Are, Goodnight Moon, Harold and the Purple Crayon, Make Way for Ducklings, Madeline, the Tale of Peter Rabbit and all of Beatrix Potter, Eloise, My Father's Dragon, and Pippi Longstocking, presumably all now on Thomas's hit list, or other consultant's. Of the other childrens' book I read — or had read to me — I'd worry about Dr. Doolittle (racist portrayals), Rudyard Kipling (colonialism), and sadly, the Babar series (ditto colonialism). And yes, if "Dr. Seuss once drew Black boxers as gorillas and perpetuated Jewish stereotypes by portraying Jewish characters as financially stingy, according to a study published in the journal 'Research on Diversity in Youth Literature," those are books I wouldn't recommend to the unwary reader. But then we get this very interesting thread from Michael Harriott, from which I excerpt the Seuss-relevant part, but which you should read in full:
But on this day, my mom was just sitting there, rocking in that faux leather Lazy Boy with a copy of Green Eggs and Ham.

Technically, it wasn't my book. But I kept it under my mattress because my sisters were all snitches. So I know, if it was ever found, they were GONNA tell.

— Michael Harriot (@michaelharriot) March 4, 2021
Far be it from me to question the authority or judgment of Harriott's mother, although "Green Eggs" is not one of Seuss books no longer to be published. But here is a copy of Green Eggs and Ham in video form (you can turn the sound down).
What I see as an adult today — I don't recall what I saw as a child — is Sam I Am finding all kinds of ways to offer a behatted, nameless, and extremely white creature color — and the white creature ultimately accepting the offer. Readers, if you have an interpretation that brings out the racism, please share.
How I remember Doctor Seuss: I was and am a dyslexic. I had a very hard time learning to read (I couldn't get my head round the idea that the order of letters in words was significant). So over a vacation, my father sat me down at the top of the stairs, and we would read Doctor Seuss together, starting with One Fish, Two Fish, Red Fish, Blue Fish, and moving on from there. By the end of the vacation, I was reading well, and never looked back. I guess it was those hours spent with my father reading Doctor Seuss that drove the racism irremediably, deeply, into my soul. Good to know, I guess. Happy World Book Day!
Class Warfare
"In Palm Beach, Covid-19 vaccines intended for rural Black communities are instead going to wealthy white Floridians" [STAT]. "They came from Stuart and West Palm Beach and Miami, even from Port Charlotte on the Gulf coast, many arriving in Pahokee for the first time. Plenty of locals were vaccinated too, but they were outnumbered by the out-of-towners. They drove with hearts in their mouths, anxious at the possibility of finally getting Covid-19 protection after weeks of rising at 5:45 a.m. to unsuccessfully enter the online lottery for vaccines that had been outsourced to the Publix supermarket chain…. Individually, each person who arrived was desperate for a life-protecting injection. Collectively, their demographics reflected a pattern that has played out within Florida and across the United States, where the Black and Hispanic populations disproportionately affected by Covid-19 have been left behind in the vaccine rollout."
"Some "Politically Incorrect" Pathways Through PC" [Stuart Hall]. PC is yesterday's "cancel culture.
From 2018, still germane: "In the old days, class and economic exploitation were what the left considered the "principal contradiction" of social life. All the major social conflicts seemed to flow from and lead back to them. The era of PC is marked by the proliferation of the sites of social conflict to include conflicts around questions of race, gender, sexuality, the family, ethnicity and cultural difference, as well as issues around class and inequality. Issues like family life, marriage and sexual relations, or food, which used to be considered "non-political," have become politicized. PC is also characteristic of the rise of "identity politics," where shared social identity (as woman, Black, gay or lesbian), not material interest or collective disadvantage, is the mobilizing factor. It reflects the spread of "the political" from the public to the private arena, the sphere of informal social interaction and the scenarios of everyday life. The feminist slogan, "The personal is political," captures these shifts perfectly." • Here is the complete original, which includes material on Thatcherism's successful beatdown of Ken Livingstone's Greater London Council. I dunno. On material conditions, maybe everything old is new again? After all, "Where's my $2,000 check?" is a question that cuts across class, but that most if not all identities share.
And on the anti-cancel culture right, a thread:
The irony of the self-professed free thinkers of today, the anti-"cancel culture" warriors is that they are mainly a bunch of bad propagandists. Their thinking lacks any of the intellectual heft of critics of multiculturalism and political correctness in the 1990s, for example.

— Nikhil Pal Singh (@nikhil_palsingh) March 4, 2021
I can't help but think that a lot of the neo-cons came from the Marxist tradition, which say what you will, has an extremely robust tradition of debate practiced by expert controversialists. Today's right — coddled on wingnut welfare by billionaires — has no such tradition. Nor do they have the energy that comes from apostasy. Perhaps that accounts for their flaccidity and dullness.
News of the Wired
I am not feeling wired today, I am afraid.
* * *
Readers, feel free to contact me at lambert [UNDERSCORE] strether [DOT] corrente [AT] yahoo [DOT] com, with (a) links, and even better (b) sources I should curate regularly, (c) how to send me a check if you are allergic to PayPal, and (d) to find out how to send me images of plants. Vegetables are fine! Fungi and coral are deemed to be honorary plants! If you want your handle to appear as a credit, please place it at the start of your mail in parentheses: (thus). Otherwise, I will anonymize by using your initials. See the previous Water Cooler (with plant) here. Today's plant (EB):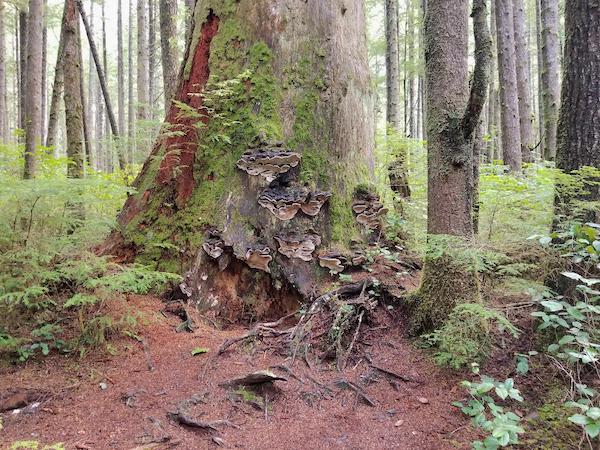 EB writes: "Cedar tree in Olympic National Forest with additions."
* * *
Readers: Water Cooler is a standalone entity not covered by the recently concluded and — thank you! — successful annual NC fundraiser. So if you see a link you especially like, or an item you wouldn't see anywhere else, please do not hesitate to express your appreciation in tangible form. Remember, a tip jar is for tipping! Regular positive feedback both makes me feel good and lets me know I'm on the right track with coverage. When I get no donations for five or ten days I get worried. More tangibly, a constant trickle of donations helps me with expenses, and I factor in that trickle when setting fundraising goals:
Here is the screen that will appear, which I have helpfully annotated.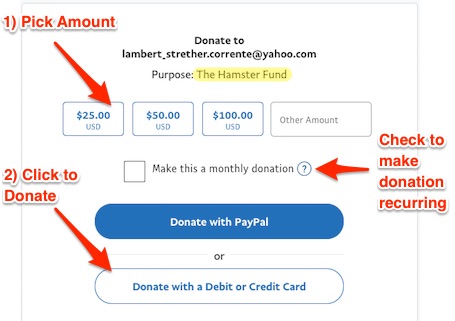 If you hate PayPal, you can email me at lambert [UNDERSCORE] strether [DOT] corrente [AT] yahoo [DOT] com, and I will give you directions on how to send a check. Thank you!