By Lambert Strether of Corrente.
Patient readers, Water Cooler was a little out of balance today, because there was more interesting business news than usual (a sign of shifts in the zeitgeist, perhaps). I will add more material here and there shortly. –lambert UDPATE All done!
Bird Song of the Day
From Buenos Aires, Argentina. Alert readers Flora and A Different Chris commented yesterday that they emjoyed the Bird Song of the Day. I too enjoy beginning writing on, er, a positive note. Thanks also to Doc Octogon, Amfortas the hippie, Patrick, and ambrit for discussing the habits of this interesting creature.
This concludes a week of mockingbird songs (which has nothing to do with Operation Mockingbird). Readers, if you want to me look into a species or locale at Macaulay — the archive is quite large — do feel free to write me at the email address in the Plant section.
#COVID19
At reader request, I've added this daily chart from 91-DIVOC. The data is the Johns Hopkins CSSE data. Here is the site.
I feel I'm engaging in a macabre form of tape-watching, because I don't think the peak is coming in the next days, or even weeks. Is the virus gathering itself for another leap?
I'm holding the vaccination chart in abeyance until I look at data issues at DIVOC-19 and/or Johns Hopkins, after I get the rest of the post done.
Case count by United States region: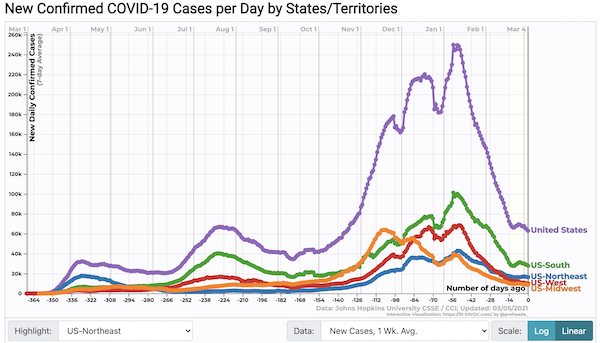 A little uptick in the South, with the Northeast flattening.
Big states (New York, Florida, Texas, California):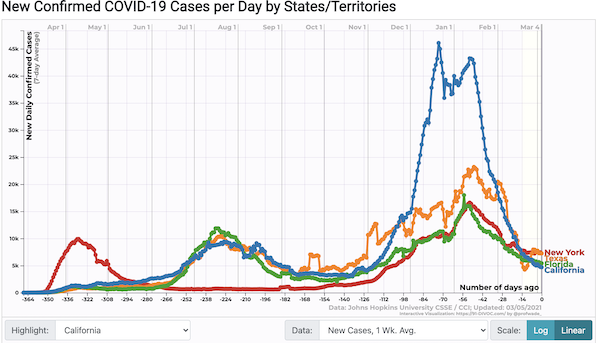 New York and Texas now in parallel.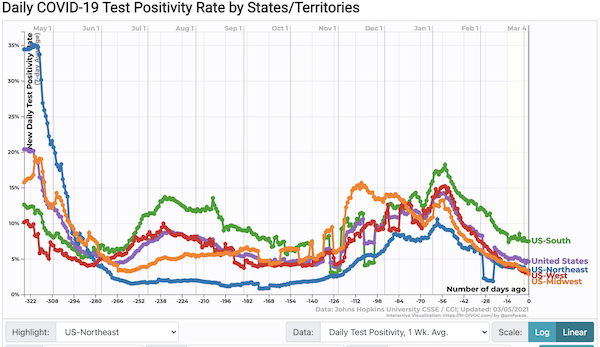 Decline is flattening across the board. Weather? Variants? Regional averages approach 3%, which is what we want to see.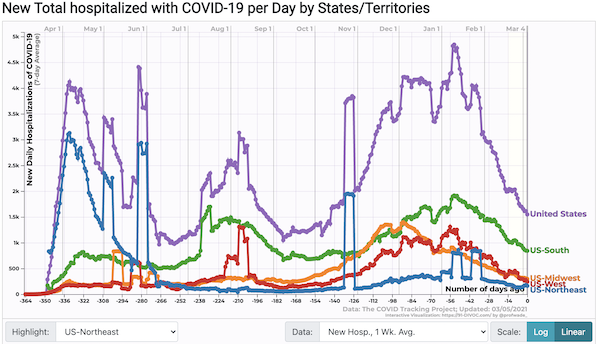 Hospitalization is discretionary; they may also be reducing their admissions rate — relative to cases we cannot see in this data! — to preserve future capacity; or because hospitals have figured out how to send people home.
Case fatality rate (plus deaths):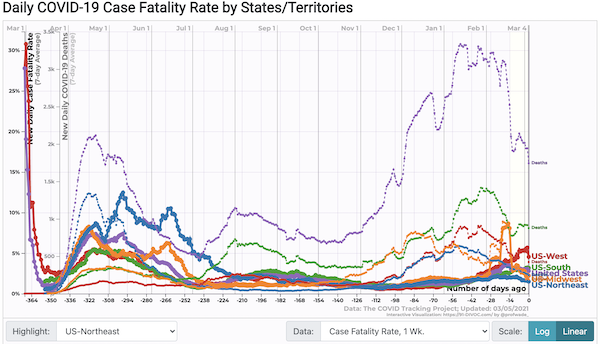 That fatality rate in the West (red) is rising still, which is what worries me. Now it's at it's highest in over a year. It's not going vertical, which is what I feared. Is the reason nobody else is worrying about this is that it's not really a problem?
Politics
"But what is government itself, but the greatest of all reflections on human nature?" –James Madison, Federalist 51
"They had one weapon left and both knew it: treachery." –Frank Herbert, Dune
"They had learned nothing, and forgotten nothing." –Charles Maurice de Talleyrand-Périgord
Capitol Seizure
UPDATE "As the Insurrection Narrative Crumbles, Democrats Cling to it More Desperately Than Ever" [Glenn Greenwald]. "The date of March 4 has taken on a virtually religious significance for the Q-Anon movement, announced NBC News' Ben Collins, who was heard on NPR on Thursday speaking through actual, literal journalistic tears as he recounted all the times he called Facebook to plead with them to remove dangerous right-wing extremists on their platform (tears commence at roughly 7:00 mark). Valiantly holding back full-on sobbing, Collins explained that he proved to be so right but it pains and sorrows him to admit this. With his self-proclaimed oracle status fully in place, he prophesized that March 4 had taken on special dangers because Q-Anon followers concluded that this is when Trump would be inaugurated. This is how apocalyptic cult leaders always function. When the end of the world did not materialize on January 6, Collins insisted that January 20 was the day of the violent reckoning. When nothing happened on that day, he moved the Doomsday Date to March 4." • Nice redeployment of the cult dynamics trope, I must say. And: "What we know for sure is that no Trump supporter fired any weapon inside the Capitol and that the FBI seized a grand total of zero firearms from those it arrested that day — a rather odd state of affairs for an "armed insurrection," to put that mildly." * Yep.
Biden Administration
"U.S. Senate Democrats to offer plan to alter jobless benefits in COVID-19 aid bill" [Reuters]. By "alter," we mean "cut." "Liberal and moderate Democrats reached a deal that would scale back federal unemployment benefits in a COVID-19 aid bill to $300 per week, from the proposed $400, a Senate Democratic aide said on Friday." • A deal? What did the "moderate Democrats" want? $200? $0? A negative number? This bill just keeps getting worse and worse.

UPDATE "AP-NORC poll: Americans largely back Biden's virus response" [Associated Press]. "Joe Biden is enjoying an early presidential honeymoon, with 60% of Americans approving of his job performance thus far and even more backing his handling of the coronavirus pandemic, according to a new poll from The Associated Press-NORC Center for Public Affairs Research. At a moment of deep political polarization in America, support for Biden's pandemic response extends across party lines. Overall, 70% of Americans back the Democratic president's handling of the virus response, including 44% of Republicans."

UPDATE "Biden backs new war powers vote in Congress, White House says" [Politico]. "President Joe Biden intends to work with Congress to repeal the war authorizations that have underpinned U.S. military operations across the globe for the past two decades and negotiate a new one that reins in the open-ended nature of America's foreign wars, the White House said Friday. In a statement to POLITICO, press secretary Jen Psaki said the president wants to 'ensure that the authorizations for the use of military force currently on the books are replaced with a narrow and specific framework that will ensure we can protect Americans from terrorist threats while ending the forever wars.'" • We'll have to see, but it's hard to see how matters could be worse, even if Tim Kaine is spearheading the effort.

"Biden's Deputy DOT Pick Promises to Prioritize NJ-NY Rail Tunnel" [Bloomberg]. ""Gateway is going to be a priority,' Polly Trottenberg, who served recently as commissioner of the New York City Department of Transportation, said during a confirmation hearing before the Senate Commerce, Science and Transportation Committee. 'It is truly a project of national significance, and as you say, one that really would have just a massive rippling impact if we were to see those over-100-year-old tunnels under the Hudson River for some reason need to be shut down.'" • Sensible! (Males me wonder if one reason they're leaving Cuomo outta the Governor's chair is to get somebody in who doesn't have his history.)

UPDATE "Give Biden a Break" [Ed Kilgore, New York Magazine]. The lead: "Joe Biden has been president of the United States for 43 days." • It's interesting we're getting this kind of story [double-checks calculator] only 43 days in. IIRC — it's been a long time — this kind of talking point took 90 days at least to reach the mainstream (although "he's only been President __ days" began with activists in the first month or so). A subjective measure of Biden's predicament. ("A President is not a dictator" and "Green Lantern Theory," again in my possibly flawed recollection, took about a year to get rolling.)

UPDATE "Biden World gives a shoulder shrug to the raging culture wars" [Politico]. ""I don't think there is any danger in ignoring a debate on Mr. Potato Head and Dr. Seuss," said John Anzalone, a Biden adviser and campaign pollster. Anzalone contends there's no benefit to engaging in "meaningless" topics, and that there may indeed be an upside in disregarding them as the Biden administration and Democrats close in on a massive Covid-relief package, amid more than 500,000 deaths from the pandemic….. Other aides to the president agree, pointing to the often-fleeting nature of the stories burning up conservative airwaves as proof there's no need to weigh in…. Pollster Frank Luntz said wielding "cancel culture" as a cudgel is "definitely" effective for rallying the GOP base. 'The delegitimization of Trump and his voters five years ago is what led to his election,' Luntz said. 'The cancel culture by the left is exactly the same strategy, and it will cause the same result. It doesn't matter if you are on the left or on the right: people will fight for their right to exist.'" • It occurs to me that a good solution, at least for formulaic, "series" books like Dr. Seuss, would be to publish new works, in the same style, with flaws corrected; expand the canon, don't contract it. For example, there are new "Miss Marple," "Sherlock Holmes" books, using the same cast of characters, but written for the respective fan bases by new authors.
Democrats en deshabille
$15 minimum wage goes down to defeat:

The $15 minimum wage just failed, because 8 Democrats voted against it. The Democrats broke their promise.

The Dems who voted no are:

Joe Machin (WV)
Jon Tester (MT)
Jeanne Shaheen (NH)
Maggie Hassan (NH)
Angus King (ME)
Kyrsten Sinema (AZ)
Tom Carper (DE)
Chris Coons (DE)

— Gravel Institute (@GravelInstitute) March 5, 2021

Seems appropriate:

Sinema just walked into the Senate carrying a large chocolate cake

— Igor Bobic (@igorbobic) March 5, 2021

I don't so much blame the Senators, who were revolving weasels who wanted to avoid any flack in their home states, Biden's campaign promises be damned (looking at you, Angus King). I blame the Biden administration for not whipping them.

"White House weighs minimum wage negotiations with Republicans" [Politico]. "The White House is weighing whether to engage in talks with Republicans on a minimum wage hike once Congress passes its Covid relief bill, two sources with knowledge of their strategic thinking say. White House aides said they believe there's room to bring Republicans into the fold because raising the minimum wage is popular across ideological grounds. They pointed to the recent $15-an-hour wage increase passed in Florida, a state that voted for Donald Trump, as evidence that the issue has widespread support. In a sign that the White House is looking to broaden the coalition behind a wage hike, administration officials reached out to trade groups last week to gauge their willingness to support legislation, according to two people familiar with the matter. Negotiations with Republicans would be another step entirely. And it would likely frustrate progressives and raise alarms among labor and advocacy groups who are looking to Biden to make good on his promise to deliver a $15-an-hour minimum wage. Progressives argue that a phased-in $15 floor over five years is already a compromise and would likely oppose any deal that would go significantly lower." • Because obviously the minimum wage should be set to whatever the lowest state sets it at.

"Poll: Majority of West Virginians support $15 federal minimum wage" [WDTV]. But and: "On Thursday, a group of lawmakers, including West Virginia's Senator Shelly Moore-Capito came out in favor of a phased in $10 federal wage increase. U.S. Senator Joe Manchin says he would support an $11 minimum wage. 'I think that everybody that gets up in the morning and goes to work for 40 hours and goes to work 50 weeks out of the year should be above the poverty line,' Senator Manchin said.'"

* * *
Republican Funhouse
"Top Pa. senator appoints colleague's wife to lucrative Gaming Control Board seat" [Spotlight PA]. " The top Republican in the Pennsylvania Senate has quietly appointed the spouse of a colleague to a coveted spot on the state's Gaming Control Board, raising questions anew about whether the regulatory panel has become a lucrative landing ground for the politically connected. Senate President Pro Tempore Jake Corman (R., Centre) named Frances "Fran" Regan to serve a two-year term on the board, a plum appointment in Harrisburg circles because, at a $145,000 annual salary, it is one of the higher-paid positions in state government…. Unlike with several previous appointments, there was no press release announcing her selection — her name simply appeared on the board's website. When asked for Regan's resume, board officials initially said they did not have one." • Lol, just imagine, I thought corruption only happened in Philly.
2020
UPDATE Just as Sanders supporters said:

For what it's worth, here is the infamous Warren/Sanders meeting as recounted in "Lucky," the just-released account of Biden's narrow win over Trump.

Keen readers will note that, as the Warren camp later privately admitted, Sanders never actually said a woman couldn't win. pic.twitter.com/farDHbuW7b

— Branko Marcetic (@BMarchetich) March 4, 2021

Worth noting that Warren did more damage to the Sanders campaign than any Centrist. And how sad that she never got a pay-off from Biden!
RussiaGate
Woo woo:

This — "Ron Johnson, Senator from Wisconsin, by way of Moscow" — is as batshit crazy and as much conspiratorial derangement as anything from QAnon, and far more damaging since it's mainstream, but because it's on a corporate outlet, it doesn't count:pic.twitter.com/G90LfPRoHF

— Glenn Greenwald (@ggreenwald) March 5, 2021

Greenwald is right, no matter what he might say about "socialism" (see below).
Realignment and Legitimacy
"The Betrayal At The Heart of Sanders, AOC and Corbyn's Refusal To Use Power" [Ian Welsh]. "Here's a rule: power everyone knows you won't use, you don't have…. Left-wingers are not credible because they never use their power. We saw this with Corbyn in Britain when he repeatedly refused to throw out MPs who challenged him or allow MPs to be re-selected (primaried, in effect.) There was nothing they couldn't do to his cause or him that would get him to retaliate… I'm going to return to this and the reasons, which go beyond a misunderstanding of how to use power or cowardice (Corbyn is not in any way a coward) , because it's important. I like Bernie and AOC, and I admire Corbyn, but their refusal to use power is a betrayal, and I use that word deliberately, of the people they represent and who trust them." • Contrasting Corbyn to Johnson, who immediately purged his enemies.

UPDATE "Glenn Greenwald Says 'I Consider Tucker Carlson To Be A Socialist'" [Daily Caller]. "Greenwald responded by describing former socialist President of Brazil Luiz Inácio Lula da Silva's rise to power and how he ran on a presidential ticket with an 'austerity advocating banker' to help Brazilians be less concerned about his presidency. He explained that Lula supported socialist leaders like Fidel Castro and Hugo Chavez, but was successful because he believed in civil liberties and a free market. 'Obviously the term 'socialism' carries a lot of baggage from the Cold War. It evokes, on purpose, the Soviet Union, or Castro, or Chavez,' Greenwald continued. 'But I think what you are seeing is this kind of hybrid socialism that really is about nothing more than trying to sandpaper the edges off of neoliberalism.'…. He went on to say that he 'would describe a lot of people on the right as being socialists,' such as former White House strategist Steve Bannon and 'the 2016 iteration' of former President Donald Trump as a candidate, 'based on what he was saying.' 'I consider Tucker Carlson to be a socialist,' Greenwald said of the Daily Caller co-founder. He then described an instance where Carlson and Democratic New York Rep. Alexandria Ocasio-Cortez, a self-identified socialist, agreed in their mutual opposition to Democratic New York Gov. Andrew Cuomo wanting 'to give tens of millions of dollars to Amazon to bring an office to New York.' He attributed their agreement to people realizing "that neoliberalism doesn't work." • A lot of people dunking on Greenwald for this one, but I think his comments reflect less on him than on the absence of a principled, militant socialist movement capable (see Ian Welsh above) of wielding power. It might seem plausible to say a domesticated fowl is really the same as a hawk — if there are no hawks around to see.

UPDATE "Cass Sunstein: Meet The Horrible New Obama-Era Elite, Or "All The President'S Middlebrows"" [Mark Ames, The Exiled]. • From 2009, when those who were to become the Obama Alumni Association had not yet graduated. It's just so great that Sunstein — now "shaping" immigration rules for the Biden administration — dropped Martha Nussbaum for a much younger Samantha Power. Anyhow, these people are now running the Executive Branch again, so this very funny piece is well worth a read.
Stats Watch
At reader request, I added some business stats back in. Please give Econintersect click-throughs; they're a good, old-school blog that covers more than stats.
Employment Situation: "February 2021 BLS Jobs Situation – Job Gains Excellent" [Econintersect]. "The headline seasonally adjusted BLS job growth was significant and well above expectations, with the unemployment rate improving from 6.3 % to 6.2 %…. Very good growth and last month's poor employment gain was revised upward…. Very good growth and last month's poor employment gain was revised upward." • But modified rapture:
The jobs report shows an acceleration in job growth in February and an upward revision to January's job growth. The economy is down 9.5 million jobs from February 2020 and will need more than two years of job growth at February's pace just to get back to pre-pandemic levels. 1/ pic.twitter.com/GKpQiyJ6hv

— Council of Economic Advisers (@WhiteHouseCEA) March 5, 2021
Employment Situation: "United States Non Farm Payrolls1939" [Trading Economics]. "The US economy added 379K jobs in February of 2021, following an upwardly revised 166K rise in January and compared to market expectations of 182K amid easing business restrictions, falling coronavirus infection rates, a fast vaccine rollout and continued support from the government. Most of the job gains occurred in leisure and hospitality, with smaller gains in temporary help services, health care and social assistance, retail trade, and manufacturing. Employment declined in state and local government education, construction, and mining. However, that leaves the economy about 9.5 million jobs short of the peak in February of 2020, as the labour market still has a long way to go before fully recovering from the pandemic shock." • For education specifically:
**Education continues to CUT jobs**

Local gov education jobs are down 674,000 from last year.
State gov education jobs are down 327,000 from last year.

In February, local gov education jobs fell another 37,000 and state gov education jobs fell another 32,000

— Heather Long (@byHeatherLong) March 5, 2021
And here is the 25-year Labor Force Participation Rate, per Trading Economics:

source: tradingeconomics.com
Oof (even without a zero baseline). Note that continued fall under Obama. Note the discernible rise under Trump. Interesting!
Trade: "January 2021 Trade Data Continues To Show Recovery" [Econintersect]. "Trade data headlines show the trade balance continues to worsen with imports growing faster than exports…. The data in this series wobbles and the 3-month rolling averages are the best way to look at this series. The 3-month average rate of growth improved for imports and exports Econintersect uses the import trade data as a factor in determining the acceleration or deceleration of the economy – but does not believe the negative trade balance per se is an economic issue."
* * *
Money: "Cash and COVID-19: The Effects of Lifting Containment Measures on Cash Demand and Use" [Bank of Canada]. "More than half of Canadians used cash as a form of payment during the July survey period, which was somewhat less than the proportion using debit and credit methods. So while electronic methods continued to dominate, a large percentage of Canadians also used cash for payments, and that share increased from the spring into the summer. A large majority of Canadians continue to report that they have no plans to go cashless in the next five years." • Good.
Banking: "In serving the Amish, Lancaster County bankers find 'make-a-difference' work" [Banking Dive]. "Having a strong mobile banking platform that delivers services to customers whenever and wherever they need it is considered a necessity for banks operating in today's competitive financial services landscape. Bank of Bird-in-Hand's mobile banking operation not only includes a digital app but , and stands as one example of the innovative ways lenders serve the largest Amish settlement in the U.S." • Not such a bad model.
Housing: "'This Is Unprecedented': Why America's Housing Market Has Never Been Weirder" [The Atlantic]. "In the last year, a lot of middle- and high-income households took advantage of the pandemic to accelerate their plans to buy first homes, second homes, and vacation homes. The typical 2020 homebuyer made nearly $100,000, a significantly higher income than the average homebuyer had in past years…. As the COVID-inspired flight to larger houses boosted home prices, the pandemic took a sledgehammer to urban amenities, and downtown rents fell. Restaurants, bars, and museums have closed, and remote work has made living close to the office less valuable…. All of this has crushed demand for rented apartments in cities. But something else has accentuated this historic divergence between downtown rents and suburban housing prices: the quirky habits of the Millennial generation…. In some ways, the massive rent-own divergence in 2020 highlighted one of the fundamental tragedies of the pandemic, which has so adeptly exposed America's preexisting social inequalities. The plague disproportionately infected and impoverished minority and low-income hourly workers. But for some rich households, it created the perfect opportunity to spring for that Florida vacation house, or that suburban lot with the south-facing pool."
Retail: "Popular flea collar linked to almost 1,700 pet deaths. The EPA has issued no warning." [Investigate Midwest]. "Seresto, one of the most popular flea and tick collars in the country, has been linked to hundreds of pet deaths, tens of thousands of injured animals and hundreds of harmed humans, U.S. Environmental Protection Agency documents show. Yet the EPA has done nothing to inform the public of the risks. Seresto, developed by Bayer and now sold by Elanco, works by releasing small amounts of pesticide onto the animal for months at a time. The pesticide is supposed to kill fleas, ticks and other pests but be safe for cats and dogs…. Since Seresto flea and tick collars were introduced in 2012, the EPA has received incident reports of at least 1,698 related pet deaths. Overall, through June 2020, the agency has received more than 75,000 incident reports related to the collars, including nearly 1,000 involving human harm. The EPA is in charge of regulating products that contain pesticides. The agency has known about these incidents for years but has not informed the public of the potential risks associated with this product, said Karen McCormack, a retired EPA employee who worked as both a scientist and communications officer."
Tech: "World's highest-capacity' solid-state battery developed in Japan" [Nikkei Asian Review]. "With a lower risk of fires and more enhanced energy efficiency than conventional lithium-ion batteries, solid-state batteries are considered to be the next-generation power source. Leading manufacturers in solid-state technology include Japanese peers Toyota Motor and Murata Manufacturing, but they have yet to tackle such challenges as increasing capacity and trimming costs. Hitachi Zosen sees demand for use in such harsh conditions as space and for industrial equipment operated in atypical environments. With plans to double the battery's capacity by 2025, the infrastructure and plant builder has begun small-scale production of a prototype and seeks to work with a partner on commercialization." • Technology to keep an eye on.
Tech: "Google's FLoC Is a Terrible Idea" [Electronic Frontier Foundation (Ian)]. This is an excellent and readable long-form article on one of Google's concepts for a cookie replacement, coming soon to a browser uncomfortably near you. I picked out this: ". By definition, targeted ads allow advertisers to reach some kinds of people while excluding others. A targeting system may be used to decide who gets to see job postings or loan offers just as easily as it is to advertise shoes. Over the years, the machinery of targeted advertising has frequently been used for exploitation, discrimination, and harm. The ability to target people based on ethnicity, religion, gender, age, or ability allows discriminatory ads for jobs, housing, and credit. Targeting based on credit history—or characteristics systematically associated with it— enables predatory ads for high-interest loans. Targeting based on demographics, location, and political affiliation helps purveyors of politically motivated disinformation and voter suppression. All kinds of behavioral targeting increase the risk of convincing scams." I can think of some examples… Concluding: "We emphatically reject the future of FLoC. That is not the world we want, nor the one users deserve. Google needs to learn the correct lessons from the era of third-party tracking and design its browser to work for users, not for advertisers." • But that's not what Google needs at all. It's what we need.
Tech: "Inside Twitter's Plan to Fact-Check Tweets" [Bloomberg]. "Twitter Inc. formally announced an effort called 'Birdwatch,' or what it refers to as a 'community-based approach to misinformation.' The concept is this: Users will add notes to tweets that are misleading or inaccurate, and then the most useful of those notes will "travel with" the tweet so that other people can see them side by side…. But there are lots of things that need to go right for Birdwatch before that happens. For starters, people need to participate, and actually contribute well-researched notes when they see tweets that need added context. History tells us social media is more about consumption than contribution." • I'm picturing KHive fact-checking Tweets on Kamala…. Or whatever operation Brock would set up.
Tech: "Here Is the Article You Can Send to People When They Say 'But the Environmental Issues With Cryptoart Will Be Solved Soon, Right?'" [Everest Pipkin]. "Cryptoart is a piece of metadata (including, generally- an image or link to an image/file, the creator of that file, datestamps, associated contracts or text, and the purchaser of the piece) which is attached to a "token" (which has monetary value on a marketplace) and stored in a blockchain. An individual piece of cryptoart is called an NFT. You can think of each NFT as a trading card or a collectible with an individual value that is also affected by the general market value of NFTs as a concept, the Ethereum network and cryptocurrency in general. Like beanie babies without the beans…. Numbers vary, but minting artwork on the blockchain uses somewhere between weeks, months, years, (and in rare instances decades) of an average EU or US citizen's energy consumption. During unprecedented temperature increases, sea level rise, the total loss of permanent sea ice, widespread species extinction, countless severe weather events, and all the other hallmarks of total climate collapse, this kind of gleeful wastefulness is, and I am not being hyperbolic, a crime against humanity…. And lest you think we are dealing in long-term abstractions- this devastation has tangible, externalized cost; a recent study out of the University of New Mexico estimated that in 2018 every $1 of Bitcoin value was responsible for $0.49 in health and climate damages in the US, costs that are borne by those who will, for the most part, never see any return from cryptocurrency mining whatsoever."
Manufacturing: "Global semiconductor shortage spurs run on vintage chipmaking tools" [Reuters]. "Minnesota-based Polar Semiconductor makes chips for automakers and is booked beyond capacity. But expanding production lines to help solve a chip shortage that is shutting down car factories around the world is not feasible – in part due to the scarcity of older-style chipmaking machinery. Chip factories like Polar use these tools to make chips on 200-millimeter silicon wafers, which were state-of-the-art two decades ago. Now, advanced chips are made using much larger wafers, but there is still a lot of demand for simpler, older chips. The demand has been supercharged by a combination of the COVID-19-driven boom in computer gear and unexpected strength in auto sales that resulted in shortages. …Automakers use a range of chips in cars. Some, such as those in infotainment systems, are made in the same cutting-edge chip factories that make smartphone chips. But other chips in braking and engine systems are made using older, proven technologies that meet automakers' durability and reliability requirements. But the machines to make those older chips can take six to nine months to find, said Surya Iyer, vice president of operations and quality at Polar."
* * *
Today's Fear & Greed Index: 54 Neutral (previous close: 48 Neutral) [CNN]. One week ago: 48 (Neutral). (0 is Extreme Fear; 100 is Extreme Greed). Last updated Mar 5 at 12:27pm. Everything is grey (Neutral). Mud season for Mr. Market?
Our Famously Free Press
UPDATE "Following weeks of smears, Zaid Jilani resigns from Center for American Progress to take new job" [Mondoweiss]. "Last month Israel lobbyist Josh Block smeared several writers who work for two Democratic Party-linked organizations– Center for American Progress (CAP) and Media Matters– as anti-semites. Since then, CAP has done little to stand up for its writers' comments, and today a writer targeted by Block has left CAP, the Washington Post reported. Zaid Jilani confirmed to me that he's leaving. The job was long in the works, and he's excited: he is going to United Republic, a nonprofit that fights the corporate influence in politics. "I moved to a new spot I like and I wish everyone well at the Center for American Progress," he says. I still regard this news as a big setback. Jilani is a fabulous young journalist. He should be allowed to voice a critique of the Israel lobby inside the Democratic Party machinery." • When the history of "cancel culture" is written, Israel's machinations against it critics in this country and in the UK (Corbyn) will be seen as a precuror.
Black Injustice Tipping Point
""White Privilege" and "Black Lives Matter": Examples of How Black Activism Failed" [Ghion Journal]. "The only people who profit from these campaigns of grievance and woe-is-me victimhood are the very charlatans who are sitting in the lap of comfort and leading lives of true privilege. The establishment reward demagogues who incite passions and lead us in the wrong direction. There is a reason, after all, the Obamas were compensated to the tune of $60 million and why Ta-Nehisi Coates keeps landing on the New York Times bestsellers list. The fastest way to make a buck and get leg up is to sell your own people down the river in order to be invited into the whites' house. The leaders of Black Lives Matter have perfected the art of the shakedown in ways that puts Jessie Jackson to shame; they have made more money in our names and using our pains than any black organization since the NAACP. What do we have to show for the hundreds of millions they have collected since Ferguson? Email or DM me if you know the answer because I have been searching for that answer since Michael Brown was assassinated. Far from being freedom fighters, Black Lives Matter is a co-op of fee collectors who hear cash registers ringing each time a "black" man or woman gets killed by a cop." • Yikes! And: "People who have it bad don't have a license to insult and disparage others who have it marginally better." That's an interesting moral principle. I'm hard-pressed to think of a Biblical parable the supports it, but the intuition seems correct, on the assumption that (a) there are others who have it significantly better, which (b) causes the "crabs in a bucket" phenomenon described. That's the world we live in, of course (as it was the world of First Century Palestine. So maybe the parable exists and I'm missing it).
UPDATE "Consuming Blackness in 'progressive' West Virginia" [Scalawag]. "When I was for a time the only Black lobbyist working the West Virginia statehouse, I saw Black people trotted out when nonprofits needed a Black body or a Black woman's story. Then, we were vulnerable, downtrodden, in dire need of help only white people could give, or in trouble. Or, in my case, trouble personified…. This recent crop of national news stories from West Virginia brought back a memory I haven't been able to shake. That recollection shows the vast distance between a Black woman's subjective experience of white, middle-class "anti-racist" events and the smooth façade nonprofits show the world… In 2009, I went to Charleston, West Virginia's premier women's empowerment fundraiser on a donated ticket. My free admission reminded a less-fortunate me that I could not afford my place among hundreds of middle- to-upper-caste [hmm] white women attending the "Girls' Night Out" YWCA event. … I wandered inside a zebra-patterned tent to find dozens of chuckling white women searching a Black man's prone shirtless body for California rolls…. Serving sushi from a body is a Japanese practice called nyotaimori. I heard event organizers say it was an ancient art form. Google told me nyotaimori is rarely practiced in Japan outside random seedy clubs. And, when it does happen, a woman's body is usually the 'platter.'" • I keep saying "euthanize the NGOs" for a reason….
Class Warfare
"Do we care about who cares?" [The Lancet]. "The domestic, emotional, and caring labour and lower status essential work that keep families and households together, also known as reproductive labour, is essential to health. Maintaining hygiene and safety, such as by cooking, cleaning, feeding, and "doing the dirty work", is mostly done by women, and particularly women of colour. As a result, such women form the bedrock of our economy and societies. COVID-19 has exposed the ways in which women's low-value work has been taken for granted and the discrimination and lack of status it is given. Health-promoting domestic work is largely ignored by health systems and economic estimates. Silvia Federici, a scholar in domestic labour, comments: '.' Better wages and conditions and inclusion of this labour in gross domestic product (GDP) are needed to properly value this work. Taking an intersectional lens to gender here will be crucial." • Nodding my head at Federici — in the Lancet! — taken aback at "intersectional lens." Be that as it may, despite my fulminations at the PMC, we should never forget that there are in fact good faith efforts by professionals to uphold the principles of, I suppose, their guilds (and some of them read NC).
"Congressional delegation heads to Alabama amid growing support for Amazon workers" [Reuters]. "A group of U.S. lawmakers visited an Amazon.com Inc facility in Alabama on Friday, lending their support to a growing push to unionize workers at the e-commerce firm… The congressional delegation includes U.S. Representatives Andy Levin, Jamaal Bowman, Cori Bush, Terri Sewell, and Nikema Williams. Workers at the Amazon fulfillment center in Bessemer, Alabama, are voting on whether to become the first Amazon employees in the United States to join a union. The visit comes on the heels of President Joe Biden's recent message where he defended workers' rights to form unions. While he did not mention Amazon, he referenced 'workers in Alabama.'"
"Breach of Fiduciary Responsibility & Shareholder Lawsuits" (PDF) [Robert W. McGeem, SSRN]. "Refusing to do business with individuals or organizations solely because some small group of corporate executives does not approve of those individuals or organizations, results in causing harm to the vast majority of the shareholders they are supposed to represent. It is a classic case of the agent not working in the best interest of the principal, which is inherently immoral. Some smart lawyers might see these breaches of fiduciary duties as an opportunity to launch class action lawsuits against these executives, and perhaps pierce the corporate veil, which would make them personally liable. Such lawsuits would remind the top management at these corporations that they have a fiduciary duty to their shareholders, which is a good thing. " • Novel theory.
News of the Wired
"How the 'Ecstatic Joy of Nature' Unites Vincent van Gogh and David Hockney" [Smithsonian]. • Wallpaper's wallpaper, amiright? [ducks].
"Multimodal Neurons in Artificial Neural Networks" [OpenAI]. "We've discovered neurons in CLIP that respond to the same concept whether presented literally, symbolically, or conceptually…. One such neuron, for example, is a "Spider-Man" neuron (bearing a remarkable resemblance to the 'Halle Berry' neuron) that responds to an image of a spider, an image of the text 'spider,' and the comic book character 'Spider-Man' either in costume or illustrated." • Cool. We've gotten AI to confuse the signfiier with the thing signified. I'm sure that won't cause any problems:
The latest generation of adversarial image attacks is, uh, somewhat simpler to carry out https://t.co/CBnA53lEcy pic.twitter.com/h4e0bShq9i

— Brendan Dolan-Gavitt (@moyix) March 4, 2021
Commodity fetishism (which may, or may not, be related to the tweet above):
Bring back Frankie Frank. pic.twitter.com/rqUz1asT15

— Schooley (@Rschooley) February 25, 2021
"FAA Files Reveal a Surprising Threat to Airline Safety: the U.S. Military's GPS Tests" [IEEE Spectrum]. "Early one morning last May, a commercial airliner was approaching El Paso International Airport, in West Texas, when a warning popped up in the cockpit: 'GPS Position Lost.; The pilot contacted the airline's operations center and received a report that the U.S. Army's White Sands Missile Range, in South Central New Mexico, was disrupting the GPS signal. 'We knew then that it was not an aircraft GPS fault,' the pilot wrote later. The pilot missed an approach on one runway due to high winds, then came around to try again. ;'We were forced to Runway 04 with a predawn landing with no access to [an instrument landing] with vertical guidance,' the pilot wrote. 'Runway 04…has a high CFIT threat due to the climbing terrain in the local area.' CFIT stands for 'controlled flight into terrain,' and it is exactly as serious as it sounds. The pilot considered diverting to Albuquerque, 370 kilometers away, but eventually bit the bullet and tackled Runway 04 using only visual aids. The plane made it safely to the ground, but the pilot later logged the experience on NASA's Aviation Safety Reporting System, a forum where pilots can anonymously share near misses and safety tips…. Previously undisclosed Federal Aviation Administration (FAA) data for a few months in 2017 and 2018 detail hundreds of aircraft losing GPS reception in the vicinity of military tests…. The military is jamming GPS signals to develop its own defenses against GPS jamming. Ironically, though, the Pentagon's efforts to safeguard its own troops and systems are putting the lives of civilian pilots, passengers, and crew at risk." • What could go wrong?
* * *
Readers, feel free to contact me at lambert [UNDERSCORE] strether [DOT] corrente [AT] yahoo [DOT] com, with (a) links, and even better (b) sources I should curate regularly, (c) how to send me a check if you are allergic to PayPal, and (d) to find out how to send me images of plants. Vegetables are fine! Fungi and coral are deemed to be honorary plants! If you want your handle to appear as a credit, please place it at the start of your mail in parentheses: (thus). Otherwise, I will anonymize by using your initials. See the previous Water Cooler (with plant) here. Today's plant (expat2Uruguay):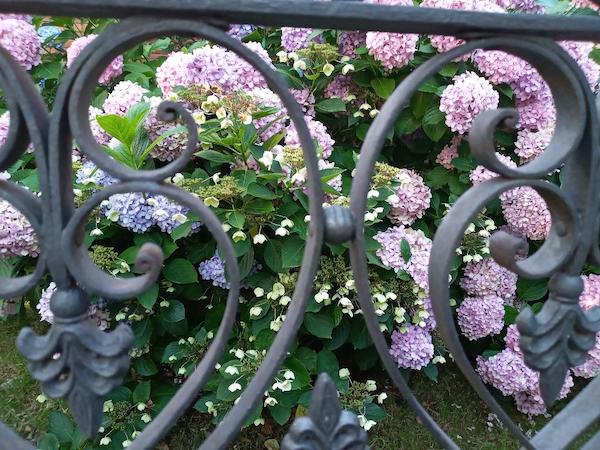 expat2Uruguay writes: "One of the creative things they do here in Uruguay is to plant different plant species together. Here are hydrangea and what looks like hellebore in combination."
* * *
Readers: Water Cooler is a standalone entity not covered by the recently concluded and — thank you! — successful annual NC fundraiser. So if you see a link you especially like, or an item you wouldn't see anywhere else, please do not hesitate to express your appreciation in tangible form. Remember, a tip jar is for tipping! Regular positive feedback both makes me feel good and lets me know I'm on the right track with coverage. When I get no donations for five or ten days I get worried. More tangibly, a constant trickle of donations helps me with expenses, and I factor in that trickle when setting fundraising goals:
Here is the screen that will appear, which I have helpfully annotated.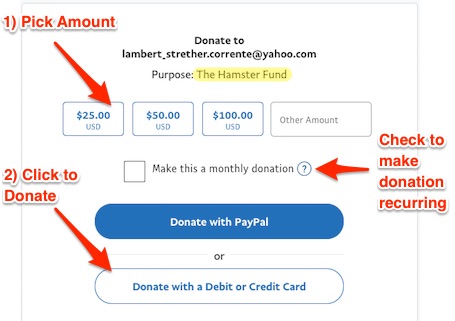 If you hate PayPal, you can email me at lambert [UNDERSCORE] strether [DOT] corrente [AT] yahoo [DOT] com, and I will give you directions on how to send a check. Thank you!