By Lambert Strether of Corrente.
Bird Song of the Day
Owl Week at the Naked Capitalism Water Cooler continues.
#COVID19
At reader request, I've added this daily chart from 91-DIVOC. The data is the Johns Hopkins CSSE data. Here is the site.
I feel I'm engaging in a macabre form of tape-watching, because I don't think the peak is coming in the next days, or even weeks. Is the virus gathering itself for another leap?
I'm holding the vaccination chart in abeyance until I look at data issues at DIVOC-19 and/or Johns Hopkins, after I get the rest of the post done.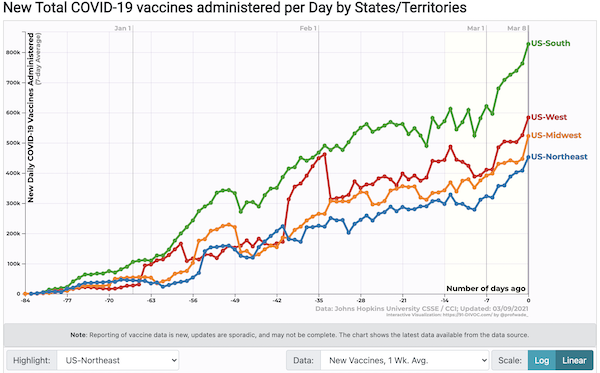 Patient readers, I must apologize for mistaking a data artifact for data. Alert readers cpm and shrewd wookie pointed out the vaccination decline I was worried about didn't conform to the data in the New York Times, which showed a steady increase. I had allowed my priors, which include both pessimism and a distrust of the (paywalled) Times and the institutional media generally, to get in the way of double-checking the data. From the 91-DIVOC data log, the Johns Hopkins data was successfully merged over the weekend, meaning that whatever pipes were clogged got unclogged. So I have restored the chart. Thanks again to alert readers cpm and shrewd wookie. The NC commentariat is the best commentariat. However, I still stand by this comment–
Early in February, I said a simple way to compare Biden's performance to Trump's on vaccination would be to compare the slopes of the curves. If Biden accelerated vaccine administration, the slopes would get steeper. What I expected was that that the slopes would remain the same; that the fragmented, Federalized, and profit-driven lumbering monstrosity that we laughingly call our "health care" "system" would not respond to "energy in the executive," but would continue on its inertial path.
Case count by United States regions: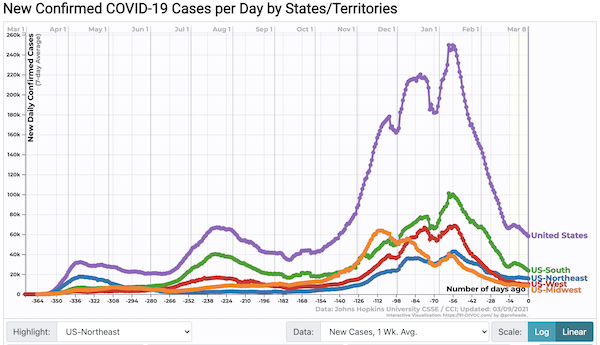 South heads downward again, Northeast flat.
Big states (New York, Florida, Texas, California):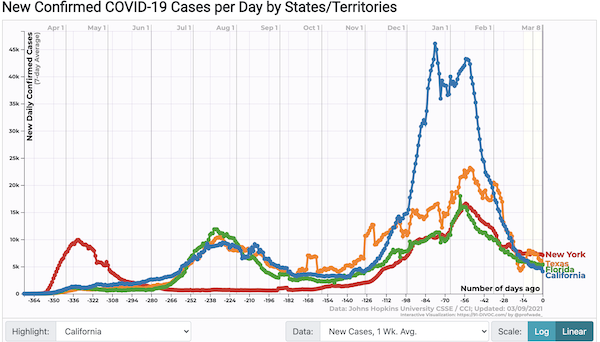 Texas drops below New York.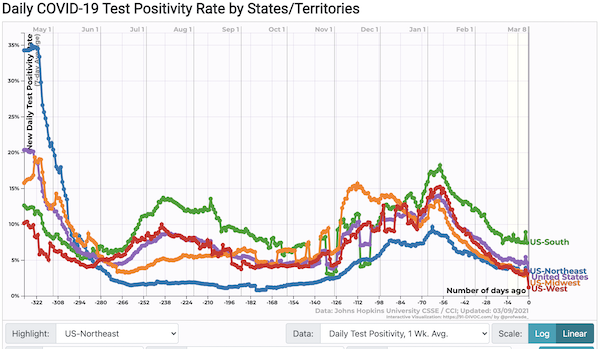 Jumps in the South.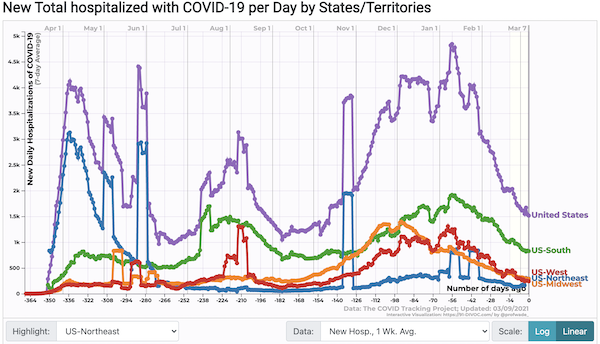 Hospitalization is discretionary; they may also be reducing their admissions rate — relative to cases we cannot see in this data! — to preserve future capacity; or because hospitals have figured out how to send people home.
Case fatality rate (plus deaths):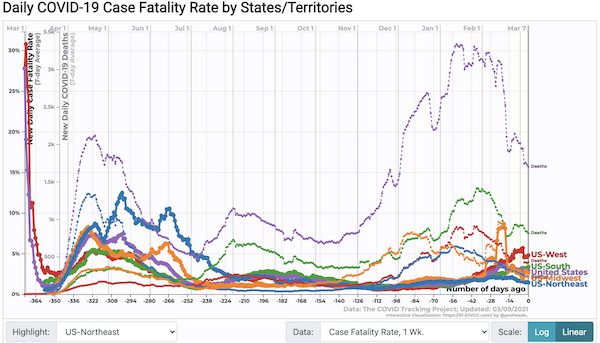 That fatality rate in the West (red) is rising still, which is what worries me. Now it's at it's highest in over a year. It's not going vertical, which is what I feared. Is the reason nobody else is worrying about this is that it's not really a problem? Is this some sort of statistical artifact as well?
* * *
"Former Biden COVID-19 adviser: 'We are in the eye of the hurricane right now'" [The Hill]. "'Let me just say we are in the eye of the hurricane right now. It appears that things are going very well,' [Michael Osterholm, a former Biden adviser on COVID-19] said. 'We've been through a terrible, terrible year. But what we know is about to come upon us is the situation with this B.1.1.7. variant. A virus that originated in the United Kingdom, that today is wreaking havoc in parts of Europe.' Osterholm noted that several countries in Europe have recently resorted to 2-month lockdowns in order to contain the new variants. Early research has found that its possible variants such as those from Brazil and South Africa are capable of re-infecting those who have already recovered from a previous COVID-19 case. 'Last time I was on your show four weeks ago, the B.1.1.7 variant had about 1 to 4 percent of the virus we were seeing in communities across the country. Today it's up to 30 to 40 percent.' Osterholm told Todd. 'And what we've seen in Europe when we hit that 50 percent mark, you'll see cases surge.'" • I would imagine wastewater testing is the only way we have to track this, since our DNA sequencing — absent a single NHS like the UK — is in such a shambles.
"California vs. Florida: Who handled COVID-19 better?" [Los Angeles Times]. Not sure why "handled" in the past tense, if B.1.1.7 is about to do its stuff, but whatever. "California imposed myriad restrictions that battered the economy and have left most public school students learning at home for a year. Florida adopted a more laissez-faire approach decried by public health experts — allowing indoor restaurant dining, leaving masks optional and getting children back in classrooms sooner. For much of the last year, it seemed that California's response under Democratic Gov. Gavin Newsom had led to a dramatically lower COVID-19 death rate. Florida had a cumulative rate as much as 84% higher than California's last fall. But the winter surge slammed California, and that gap narrowed to 11%." •  But the comparison is really apples and oranges: "The shrinking difference in the death rates is likely the product of California's higher levels of poverty, density, overcrowding and climate that make it particularly susceptible to coronavirus spread, experts say." • In other words, leaving climate aside, Blue California has a more vicious oligarchy than Red Florida>? Hard to believe.
Politics
"But what is government itself, but the greatest of all reflections on human nature?" –James Madison, Federalist 51
"They had one weapon left and both knew it: treachery." –Frank Herbert, Dune
"They had learned nothing, and forgotten nothing." –Charles Maurice de Talleyrand-Périgord
More to come. –lambert UPDATE All done!
Biden Administration
"How Biden Is Trying to Help Working-Class Voters in Red-State Alabama" [New York Times]. "His words demonstrated a willingness to use his bully pulpit on behalf of communities that have often fallen outside the Democratic Party's governing focus: working-class voters in Republican states, many of whom are Black. The message also elevated the national debate about the future of labor and unions, a cross-ideological issue on which Mr. Biden can uniquely find common cause with the progressive wing of his party even as many Democrats continue to shy away. Mr. Biden's statement did not mention Amazon specifically and carefully avoided backing the union, calling instead for a fair election that followed federal labor guidelines. Still, for union supporters in Alabama, a state used to being on the back burner of national and Democratic politics, Mr. Biden's video was taken as a sign that his pledges to pursue racial equity and curb corporate power were more than just campaign catchphrases."
Republican Funhouse
"RNC Responds To Trump's Cease-And-Desist Demand With A Thanks, But We're Good" [HuffPo]. "The Republican National Committee on Monday told Donald Trump that it has every right under the First Amendment to continue mentioning him in fundraising missives, rejecting his demand last week to 'cease and desist' from doing so. 'The RNC, of course, has every right to refer to public figures as it engages in core, First Amendment-protected political speech, and it will continue to do so in pursuit of these common goals.' General Counsel J. Justin Riemer wrote to the former president's 'Save America' political committee. Trump on Friday had told the party to stop using his name or likeness in 'all fundraising, persuasion, and/or issue speech,' which came just days after Trump, in his first public appearance since leaving office, told an audience of conservative activists that there was 'only one way' to support good Republicans: by giving money to his Save America PAC. One Trump adviser said Save America received 'millions' based on that single request and predicted that Trump's efforts would kill the GOP's own small-donor program. The Trump campaign and the RNC jointly built a list of more than 40 million supporters over the past five years, which includes several million donors who typically give $5 or $20 or $50 each month. Both have a right to use it."
Democrats en Deshabille
"Entire Staff of Nevada Democratic Party Quits after Democratic Socialist Slate Won Every Seat" [The Intercept]. Because unity. "On March 6, a coalition of progressive candidates backed by the local chapter of the Democratic Socialists of America took over the leadership of the Nevada Democratic Party, sweeping all five party leadership positions in a contested election that evening. Whitmer, who had been chair of the Clark County Democratic Party, was elected chair. The establishment had prepared for the loss, having recently moved $450,000 out of the party's coffers and into the Democratic Senatorial Campaign Committee's account. The DSCC will put the money toward the 2022 reelection bid of Sen. Catherine Cortez Masto, a vulnerable first-term Democrat. While Whitmer's opponents say she was planning to fire them anyway, Whitmer denies that claim. 'I've been putting in the work,' Whitmer told The Intercept for the latest episode of Deconstructed. 'What they just didn't expect is that we got better and better at organizing and out-organizing them at every turn.'" • This is what the liberal Democrats would have done to Sanders, too. Meanwhile, the dean of Nevada political journalists, Jon Ralson, is still repeating his chair-throwing smear of Sanders supporters:

I hear the new regime has a fundraising idea to recoup all that lost Establishment money leaving the state Dem Party:

A chair-throwing contest!

It just might work.

— Jon Ralston (@RalstonReports) March 7, 2021
L'Affaire Joffrey Epstein
"The Day Jeffrey Epstein Told Me He Had Dirt on Powerful People" [James B. Stewart, New York Times]. From 2019. "The overriding impression I took away from our roughly 90-minute conversation was that Mr. Epstein knew an astonishing number of rich, famous and powerful people, and had photos to prove it. He also claimed to know a great deal about these people, some of it potentially damaging or embarrassing, including details about their supposed sexual proclivities and recreational drug use." • Creepy in retrospect is how Stewart most definitely does not, not, not, not meet with Epstein again, despite Epstein's repeated requests.
Realignment and Legitimacy
"Is the United States Heading in the Right Direction?" [Morning Consult]. Handy chart:
Stats Watch
Small Business Optimism: "The NFIB Small Business Optimism Index in the United States rose by 0.8 points from the previous month to 95.8 in February 2021, still remaining below the 98 average and pre-pandemic levels" [Trading Economics].
Debt: "December 2020 Loan Performance: Delinquencies Shrink For The Fourth Straight Month" [Econintersect]. "The Loan Performance Insights Report for December 2020 shows 5.8% of mortgages were in some stage of delinquency (30 days or more past due, including those in foreclosure), which represents a 2.1-percentage point increase in the overall delinquency rate compared to December 2019, when it was 3.7%. However, national overall delinquency has been declining month to month since June 2020."
* * *
Shipping: "OPEC+ deal shocker will prolong bloodletting for crude tankers" [Hellenic Shipping News]. "The analyst consensus was that OPEC+ and Saudi Arabia individually would bring 1 million-1.5 million b/d of production back online starting next month. Instead, OPEC+ will hold production flat and Saudi Arabia will continue its voluntary 1 million b/d cut. Even worse for tanker demand, Argus Media reported that Saudi Arabia is not going to bring its production back all at once starting in May. Rather, it would phase production back in 'gradually,' and 'not in a single month.' Oanda analyst Edward Moya dubbed Saudi Arabia's decision 'shocking.'"
The Bezzle: "Bitcoin's Climate Problem" [Andrew Ross Sorkin, New York Times]. "But depending on which study you read, the annual carbon emissions from the electricity required to mine Bitcoin and process its transactions are equal to the amount emitted by all of New Zealand. Or Argentina. To put this into perspective, one Bitcoin transaction is the "equivalent to the carbon footprint of 735,121 Visa transactions or 55,280 hours of watching YouTube," according to Digiconomist, which created what it calls a Bitcoin Energy Consumption Index. (Critics of this comparison point out that the average Bitcoin transaction is worth about $16,000, while the average Visa transaction is worth $46.37, but you get the point.)" • Commentary:
Every single one of these places should be hit with a predator drone https://t.co/3ylRDOlnZc

— Will 🦥 Menaker (@willmenaker) March 9, 2021
The Bezzle:
Elon is confident that Tesla FSD will reach level 5 this year – the highest level of autonomous driving.

(An interview with Mathias Döpfner, Dec 2020) pic.twitter.com/S83AAkGD61

— BogusThought🇺🇲 (@billhuang688) March 3, 2021
The Bezzle: "Beta" is doing a lot of work here:
Availability varies by region due to regulatory approval delays and/or Tesla internal development & testing.

Note: word "Beta" is used to reduce complacency in usage & set expectations appropriately. All software is first tested internally by Tesla simulation & QA drive teams.

— Elon Musk (@elonmusk) March 6, 2021
So is "Full." Full of what?
The Bezzle: "Tesla touts self-driving to consumers. To the DMV, it tells a different tale" [Los Angeles Times]. "In official correspondence with California's Department of Motor Vehicles, Tesla lawyers recently admitted the $10,000 option that Tesla sells as Full Self-Driving Capability is not, in fact, capable of full self-driving. "Currently neither Autopilot nor FSD Capability is an autonomous system," Tesla attorney Eric Williams said in a Dec. 28 letter to the DMV, although that could change, he added. Not soon, though. Musk has been tweeting plans for a major Full Self-Driving software release. But Williams told the DMV that 'we do not expect significant enhancements' that would allow full self-driving, and that the 'final release' of a current feature package that lets Teslas stop at traffic lights and turn left and right without human input 'will continue to be an SAE Level 2, advanced driver-assist feature.'" In plain English, that means the vehicle cannot drive itself, at any time, without constant attention from a human driver." • Lol, only Level 2, when autonomy is Level 5 (See NC here for the levels. That post is from 2016, so Elon hasn't made a lot of prpgress in five years.)
The Bezzle: "Tesla loses more than quarter of a trillion in a month as rally fizzles" [Reuters]. "Shares of Tesla Inc closed lower for a fifth consecutive session on Monday, caught in a tech-led selloff that has wiped more than $277 billion off the company's market value over the last month. High-flying tech stocks, which powered the market's rebound from the pandemic lows in March last year, have been hit by a one-two punch of rising yields and investors shifting funds to sectors poised to benefit from a recovery in the global economy aided by accelerated rollouts of COVID-19 vaccines."
The Bezzle: But at least somebody's making money:
Or as Elon would say, pedos https://t.co/ps3jRqwANf

— Stalingrad & Poorski (@Stalingrad_Poor) March 9, 2021
The Bezzle: If your algorithm won't work, control the inputs:
Should we all wear sensors to avoid being run over by driverless cars? https://t.co/OjYG3l0Vt5 pic.twitter.com/fMhs9ACTVX

— New Scientist (@newscientist) March 7, 2021
Manufacturing: "Boeing monthly aircraft orders outpace cancellations for first time since 2019" [CNBC]. "Boeing's February sales included 25 Boeing 737 Max planes to United Airlines and 27 KC-46 tankers. The Chicago-based aircraft manufacturer posted 51 cancellations, including 32 Max planes. Singapore Airlines replaced an order for 19 787-10 Dreamliners with one for 11 777X jets, Boeing's long-delayed new plane. The company expects that twin-aisle, long-range jet to enter commercial service in late 2023." • Hmm. Two years. Really?
Manufacturing: "Boeing, Boeing …Gone" (PDF) [The American Conservative]. • I thought I was the first one to make that joke. Here, TAC calls its shot on Boeing. In 2005. (I had not recalled that Boeing actually outsourced the 787 wings, which is like Chanel outsourcing the "little black dress," but so they did.)
* * *
Today's Fear & Greed Index: 53 Neutral (previous close: 49 Neutral) [CNN]. One week ago: 61 (Greed). (0 is Extreme Fear; 100 is Extreme Greed). Last updated Mar 9 at 12:59pm. Mr. Market came back from the Nineteenth Hole on Sunday no longer in a grey mood. Then everything changed!
Health Care
A magisterial thread on Covid, aerosols, and ventilation, worth reading in full:
1/ Another thread on the whole airborne thing. But this one might be a bit different, and I hope it serves as a bridge to critics. I want outline how I became so invested in the problem myself, and address what I hope are the last few stumbling blocks in Canada.

— Conor Ruzycki (@caruzycki) March 7, 2021
With some speculation on why uptake has been slower than one might expect (with more generous reasons than I usually give). Here's an unrolled thread.
CDC continues to butcher aerosol messaging:
Increased ventilation, along with masking and staying 6ft apart, can help reduce the likelihood of spreading #COVID19 and protect schools and child care programs. Learn more: https://t.co/EuSX3miaad. pic.twitter.com/t9btpwZIyT

— CDC (@CDCgov) March 8, 2021
Then why in the name of all that is holy was ventilation not a bullet point in your school reopening guidelines? (CDC also uses the confusing term "virus particles," thereby eliding the difference between droplets, which fall, and aerosols, which float, making it impossible for decision makers to understand why the recommendations are structured as they are.
"LA teachers advised not to post spring break pics on social media as union advocates to keep schools closed" [The Post Millennial]. • Bargaining tactics aside, still, after a year, shaming people for congregating outdoors. We learn nothing.
The 420
"Indoor Weed Farms Are Hotboxing the Planet" [Gizmodo (Re Silc)]. "A new study published in Nature Sustainability on Monday aims to quantify the climate impact of indoor cannabis cultivation across the country. The authors, who are researchers at Colorado State University, wanted to track how greenhouse gas-intensive these operations would be if they were set up anywhere in the country…. [T]he authors found that the cumulative greenhouse gas emissions created by one of these indoor cultivation warehouses was between 5,033 pounds (2,283 kilograms) and 11,428 pounds (5,184 kilograms) of carbon-equivalent per every 2.2 pounds (1 kilogram) of dried flower. Put another way, the eighth of weed you buy (legally, of course) comes with up to a 41-pound (19-kilogram) carbon footprint. The authors say it doesn't have to ruin your buzz, though. We don't need to give up growing weed. We just need to start shifting the industry toward more outdoor growing operations."
Police State Watch
American exceptionalism:
Police killings of civilians: rate per 10 million of population.

Such extreme statistical differences raise basic questions about a US social crisis. pic.twitter.com/qFgVuCsxkF

— Richard D. Wolff (@profwolff) March 9, 2021
Our Famously Free Press
"Reporter faces trial in case seen as attack on press rights" [Associated Press]. "Des Moines police and County Attorney John Sarcone's office argue that Sahouri wasn't wearing press credentials and appeared to be a participant in an unlawful assembly, saying journalists do not have a free pass to ignore dispersal orders…. Des Moines Register executive editor Carol Hunter said Sahouri's lack of press credentials, which she left in her car, is a "red herring" because police knew immediately she was a journalist and a press badge isn't required to enjoy constitutional protections. Reporters must be free to witness protests and hold participants and police accountable, Hunter said."
Class Warfare
"Union in Amazon effort disavows social-media boycott call" [AL.com]. "Calls for a boycott in support of Amazon workers holding a union vote in Alabama do not have the support of the union involved, a spokesperson said Sunday. 'RWDSU has no affiliation with this,' said Chelsea Connor, director of communications for the Retail, Wholesale and Department Store Union, 'nor did we call for it.'" • Hmm.
"The Roots of Racial and Spatial Inequality" [Black Perspectives]. " Both in the early 1970s and in the first decade of the 21st century, Black and Brown communities were systematically targeted by predatory lenders and speculators, whose machination led to these Black communities being "destroyed for cash," crippling both present and future. One way to understand the racialized effects of both disasters is to take Taylor's approach and focus on the racialization of space endemic to the political economy of the U.S.'s metropolitan areas. This centering of race and space leads us to Taylor's singular formulation of 'predatory inclusion.' Predatory inclusion describes the processes by which 'African American homebuyers were granted access to conventional real estate practices and mortgage financing, but on more expensive and comparatively unequal terms' (4). As Nathan Connolly and others have noted, the inverse of predatory inclusion was predatory exclusion; the process of private market exploitation and extraction of Black spaces, sanctioned, and at times facilitated, by public authority. Central to these processes, whether they took place in the urban core or the suburban periphery, was a key article of faith created and elaborated on by white society and its institutional structures, 'White [space] is worth more, precisely because it is not Black [space].' Indeed as Taylor argues, embedded in the 'popular consciousness' was '[t]he idea that Black owners and renters were destructive and careless" (191).'"
News of the Wired
"How to Make a Great Garden Fence" [Popular Mechanics]. Final sentence: "No animal of any kind has been spotted in the garden, ever." • Hmm.
SQL mavens, a query:
Research suggests that tests for computer-tech jobs are designed in a way that puts women and minorities at far greater risk of failing https://t.co/NVPfZiXbHL

— The Wall Street Journal (@WSJ) March 9, 2021
I'm not at all sure that "SELECT COUNT(*)" is the way to write approach that problem . Comments?
* * *
Readers, feel free to contact me at lambert [UNDERSCORE] strether [DOT] corrente [AT] yahoo [DOT] com, with (a) links, and even better (b) sources I should curate regularly, (c) how to send me a check if you are allergic to PayPal, and (d) to find out how to send me images of plants. Vegetables are fine! Fungi and coral are deemed to be honorary plants! If you want your handle to appear as a credit, please place it at the start of your mail in parentheses: (thus). Otherwise, I will anonymize by using your initials. See the previous Water Cooler (with plant) here. Today's plant (TH):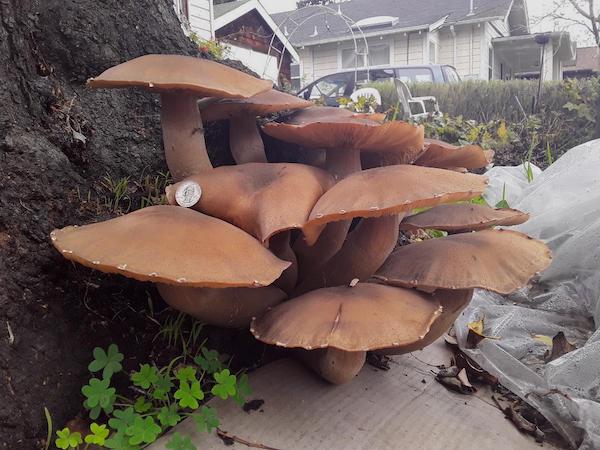 TH writes: "We've had a period of wet and relatively warm weather in Berkeley, CA, but so far not much in the way of mushrooms except wood-growing honey mushrooms and this huge cluster (quarter for scale) which I have not identified." Readers? What kind of mushrooms do we have here?
HH writes: "I waited until today to take these photos, because we wanted to see how our second batch would turn out. Our first batch, while tasty, had some processing issues (cooking for too long, basically — caused some caramelization). In these photos of today´s batch, there is a deep orange, barely translucent color. The first batch was opaque and very dark, and so we are unsure whether it should be called 'marmalade' or just 'candied orange rind.'" Holy moley, look at that glow! (I suppose I should declare processed plants honorary; I think activities like canning, pickling, and drying are to be encouraged. But no plant meals, please; nothing plated.
* * *
Readers: Water Cooler is a standalone entity not covered by the recently concluded and — thank you! — successful annual NC fundraiser. So if you see a link you especially like, or an item you wouldn't see anywhere else, please do not hesitate to express your appreciation in tangible form. Remember, a tip jar is for tipping! Regular positive feedback both makes me feel good and lets me know I'm on the right track with coverage. When I get no donations for five or ten days I get worried. More tangibly, a constant trickle of donations helps me with expenses, and I factor in that trickle when setting fundraising goals:
Here is the screen that will appear, which I have helpfully annotated.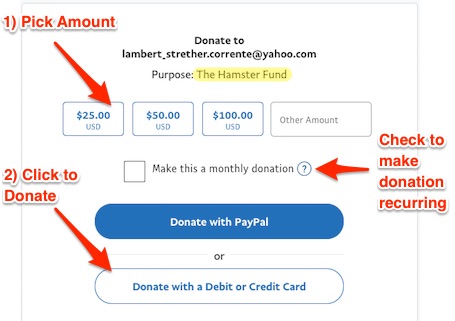 If you hate PayPal, you can email me at lambert [UNDERSCORE] strether [DOT] corrente [AT] yahoo [DOT] com, and I will give you directions on how to send a check. Thank you!