It is hardly a secret that Bitcoin mining consumes ginormous amounts of energy (we'll leave other cryptocurrencies out of the discussion since it's not necessary to include them to make our case).
It is also hardly a secret that Bitcoin has no legitimate use:
Is there any use case for bitcoin, etc. except making illegal activity and money laundering invisible to authorities?

— Steve Roth (@asymptosis) February 22, 2021
"Speculation for speculation's sake" is not a legitimate purpose; the social benefit of speculation is to facilitate price discovery in markets for assets of societal value. Oh, and possibly to provide entertainment if it doesn't come at a high cost to the general public. There are tons of existing speculative vehicles and venues, and broadly speaking, they provide some net benefit or at least don't do much harm.
By contrast, the profligacy and and destructiveness is reminiscent of Easter Island, where a once-thriving society came to ruin by depleting its a resource for the purpose of display.
According to Jared Diamond,1 Easter Island was an environmentally marginal location, literally the most remote habitable land, but made viable because the islanders, who'd colonized the island only some hundreds of year back, built study boats which were essential to fishing. European explorers in the 1700s found only a burnt-looking island they first thought was only sand, with scrub and a few scrawny trees. That wasn't how the Easter Island was when first settled. Per Diamond:
For at least 30,000 years before human arrival and during the early years of Polynesian settlement, Easter was not a wasteland at all. Instead, a subtropical forest of trees and woody bushes towered over a ground layer of shrubs, herbs, ferns, and grasses. In the forest grew tree daisies, the rope- yielding hauhau tree, and the toromiro tree, which furnishes a dense, mesquite-like firewood. The most common tree in the forest was a species of palm now absent on Easter but formerly so abundant that the bottom strata of the sediment column were packed with its pollen. The Easter Island palm was closely related to the still-surviving Chilean wine palm, which grows up to 82 feet tall and 6 feet in diameter. The tall, unbranched trunks of the Easter Island palm would have been ideal for transporting and erecting statues and constructing large canoes. The palm would also have been a valuable food source, since its Chilean relative yields edible nuts as well as sap from which Chileans make sugar, syrup, honey, and wine.
As most of you know, those trees were harvested to transport and build platforms for the famed Easter Island statues. Diamond's account explains how the settlers depleted both plants and animal life (seabirds were originally an important part of the diet) over the years. But the idea that the natives destroyed an essential resource….for what purpose? ritual? display?…arrests the modern imagination.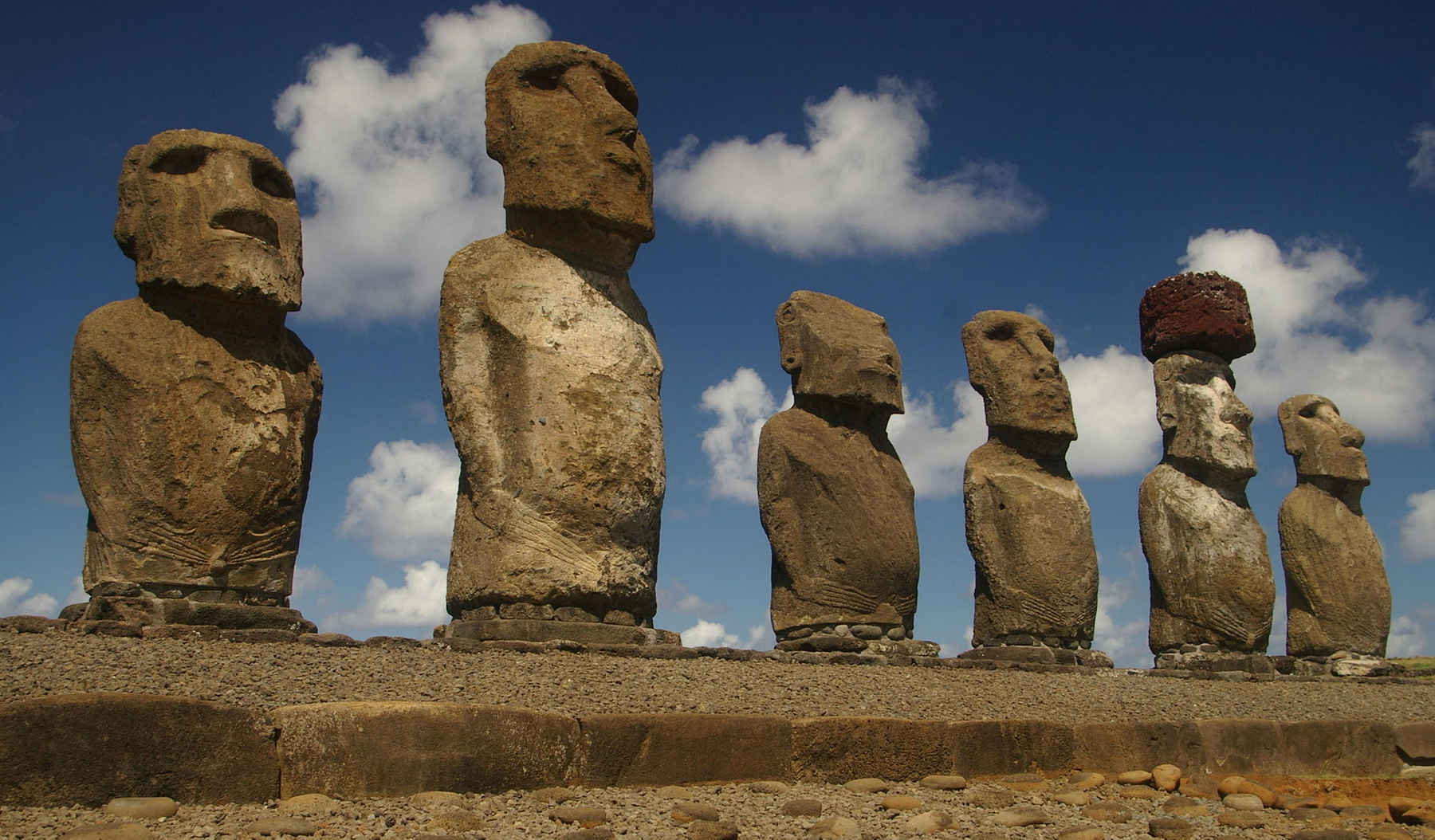 I have been stunned at the failure of governments to crack down on Bitcoin and crypto due to their significant and obvious role in facilitating crime and tax evasion (although as we'll discuss below, India has announced that it is implementing the most stringent anti-crypto policies in the world). There is or should have been no other side to this argument if anyone dimly credible with political clout had made a stink early on. Banks' failure to act as opponents is curious but they find making nice with bad guys to be highly profitable (look at Standard Chartered's money laundering abuses as a starter). They've also faffed about to see if they could devise businesses around blockchain (which has long looked like a technology hunting for an application).
But libertarian world views are so deeply internalized that officials don't bother taking a stance until lobbyists show up, although once in a while activists can get their attention.
So where have the environmentalists been? Look at this excerpt from a February Truthout article:
That's part of the reason why Bitcoin mining has a growing environmental impact. In 2018, Princeton Professor Arvind Narayanan estimated in congressional testimony that the Bitcoin network accounted for slightly under 1 percent of world electricity consumption — a bit more than the electricity consumption of the state of Ohio or the state of New York. Scientists writing in the journal Nature warned in 2018 that Bitcoin's growth could single-handedly push global emissions above 2 degrees Celsius. More recent estimates found that the carbon emissionsof Bitcoin mining "sits between the levels produced by the nations of Jordan and Sri Lanka." The University of Cambridge Judge Business School's Bitcoin Electricity Consumption Index estimates that Bitcoin mining will consume more than 120 terawatt-hours of electricity globally this year — more energy than Argentina. (One terawatt-hour is equal to outputting 1 trillion watts of energy for one hour.) Researchers have also found that Bitcoin mining is more energy-intensive than mining both gold and platinum.

As the price of Bitcoin skyrockets, so do the incentives to mine it.
Who are the sources? Professor Narayanan is an IT expert, as opposed to a climate change authority. The authors of the 2018 Nature paper are all with the University of Hawai'i at Mānoa, from the departments of Geography and Environment, Biology, Botany, Tropical Plant and Soil Science, and the Pacific Biosciences Research Center and the Hawai'i Institute of Marine Biology. In other words, various environmental scientists, from a school that has done a lot of environment and climate change work, but I don't see it referenced in the sort of mass publications that would indicate that they have policy clout. The fact that it's the University of Cambridge's business school, and not some Big or even Any Name Environmental Group/Person that created the Bitcoin energy consumption index is telling.
Elon Musk offering to take Bitcoin for Teslas has a spotlighted Bitcoin as an energy miscreant. And the business press has led the criticism. From The environmental idiocy of Tesla's bitcoin bet in the Financial Times:
Last week, Tesla disclosed it had invested $1.5bn of its reserves in bitcoin and unveiled plans to accept payments in the cryptocurrency for its electric cars, albeit "initially on a limited basis"….

There's just one hitch: it's hard to square this new enthusiasm for crypto with environmentalism. For bitcoin isn't environmentally neutral — it's carbon-tastic idiocy. And the cheerleading of Musk actually makes it worse.

Critics deride bitcoin as useless, saying it lacks income and utility. Yet this punter's plaything has serious environmental consequences. "Mining" bitcoin — the process by which the supply of coins is augmented — requires electricity on a vast scale to run the computers involved. According to the Dutch economist, Alex de Vries, it chomps through around 78 terawatt hours (TWh) a year globally — equivalent to the consumption of Chile, a country of 20m. Each bitcoin transaction uses the same amount of power as 436,000 through the Visa payment system.
The BBC, using the Cambridge tool, came up with an estimate more than 50% higher:
Bitcoin uses more electricity annually than the whole of Argentina, analysis by Cambridge University suggests…

Cambridge researchers say it consumes around 121.36 terawatt-hours (TWh) a year – and is unlikely to fall unless the value of the currency slumps.
And from Frank Leroy at CryptoLucid:
This is how insanely bad Bitcoin is for the environment: If you buy a Tesla car (around 40 000 $) in Bitcoins, the impact of the mining of those bitcoins is around 80 tons of CO2. This is 4 times more than the saving of CO2 you can expect from this car (compared to a gasoline one) on its entire lifetime (around -20 tons).
Just this week, Bank of America sounded a further alarm, about rapid increase in Bitcoin energy consumption. Via Bloomberg:
The energy used by the network of computers that power the digital coin is comparable to that of many developed countries and rivals the emissions from major fossil-fuel users and producers such as American Airlines Group Inc. and ConocoPhillips, according to a report by Bank of America Corp. The level of emissions, which have risen alongside a spike in Bitcoin's price, have grown by more than 40 million tons in the past two years….

"What I'm concerned about is the pace of growth in the demand for energy," Francisco Blanch, head of commodities and derivatives research at Bank of America and lead author of the report, said in an interview. "The rate of change is enormous — nothing is growing at this pace in the energy world."

Bitcoin transactions are processed by miners — crypto slang for companies that operate a vast array of computers. Miners compete to confirm transactions and get new coins awarded in return — but they require huge amounts of energy to run. Buoyed by increased competition, only a handful of such firms — most China-based — controlled about 50% of all the computing power on the network, Bloomberg News reported last year.

According to Bank of America, it's since become even more concentrated, with roughly three-quarters of so-called hash power now concentrated in the country. That, too, is worrying to Blanch, as almost 60% of Chinese electrical generation is derived from coal-fired plants.
Notice the Federal government bar? I would assume that it includes the activities of the US military.
The point here is simple: calling for a ban on Bitcoin and other cryptocurrencies is the lowest of low hanging climate change fruit. Yet the idea is nowhere to be found in the Green New Deal, which actually should come as no surprise. The Green New Deal refuses in any way to advocate for conservation, unless that "conservation" comes about via additional resource expenditure, like retrofitting buildings. Its proponents appear allergic to anything that might dimly resemble a hairshirt. They serve up the illusion that we can save the planet and keep modern civilization more or less as it is as long as we throw money at building out new "green" tech. This "no sacrifice" isn't just wrong-headed, it's destructive, since people who ought to know better will carry on as if no fundamental changes are needed.
One of the ironic proof is it you search on "Green New Deal" and Bitcoin, even on neutral search engines like Qwant, the majority of the articles regard the Green New Deal as a plus for Bitcoin because spending or at worst not clearly a negative. For instance: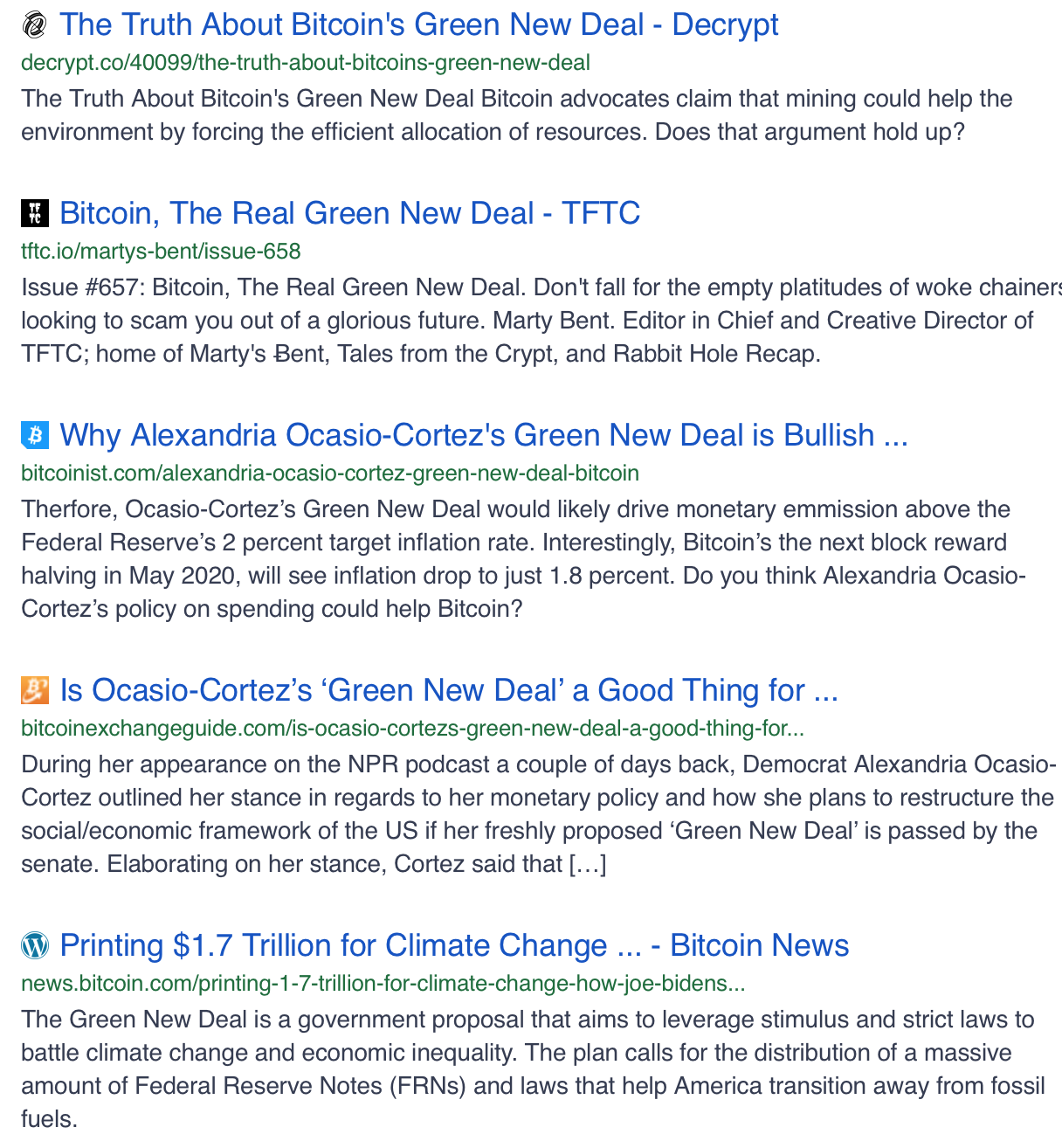 And it's not as if governments can't act, they are just refusing to. Of all places, neoliberal India is starting the strictest crackdown to date. The problem from the environmental perspective is that this move is just to get rid of competition for an official digital currency….which has yet to be created. Still, the move illustrates that it's perfectly possible to be bloody-minded. From Reuters:
India will propose a law banning cryptocurrencies, fining anyone trading in the country or even holding such digital assets, a senior government official told Reuters in a potential blow to millions of investors piling into the red-hot asset class.

The bill, one of the world's strictest policies against cryptocurrencies, would criminalise possession, issuance, mining, trading and transferring crypto-assets, said the official, who has direct knowledge of the plan….

[T]he bill would give holders of cryptocurrencies up to six months to liquidate, after which penalties will be levied, said the official, who asked not to be named as the contents of the bill are not public.

Officials are confident of getting the bill enacted into law as Prime Minister Narendra Modi's government holds a comfortable majority in parliament.
I don't see how it's possible to prevent catastrophic climate outcomes given this level of complacency, cowardice, and self-indulgence. Many years ago, Financial Times columnist Lucy Kellaway explained how "no" became a managerial taboo. From the Financial Times:
For people in any position of authority the ability to say no is the most important skill there is. All good parents must say it often. So must all good managers. No, you can't have a pay rise. No, you can't be promoted. No, you can't travel club class. No, we are not going to an offsite workshop to discuss living our core values….

Put like this it sounds banal, though actually it's heresy. An illogical love of Yes is the basis for all modern management thought. The ideal modern manager is meant to be enabling, empowering, encouraging and nurturing, which means that his default position must be Yes. By contrast, No is considered demotivating, uncreative and a thoroughly bad thing.
We need to say "no" to lots of activities to tighten our carbon belts. If we can't muster up the gumption to say "no" to pointless energy hogs like Bitcoin, the planet will eventually do it for us. And the planet will be much less nice about it.
____
1 Some recent scholars have tried challenging Diamond, by asserting that Easter Island's inhabitants were in fact good husbanders of their resources. Most reviews point out that the new work straw mans Diamond. From what I can tell, it does not disprove Diamond's central claim, that deforestation put the island society in a tailspin. And moving the estimate of when that happened later doesn't somehow shift blame to Europeans, since they didn't harvest the critical resources, particularly the trees.