By Lambert Strether of Corrente.
Bird Song of the Day
Another shore-bird. Quite the wave-form.
* * *
#COVID19
At reader request, I've added this daily chart from 91-DIVOC. The data is the Johns Hopkins CSSE data. Here is the site.
I feel I'm engaging in a macabre form of tape-watching.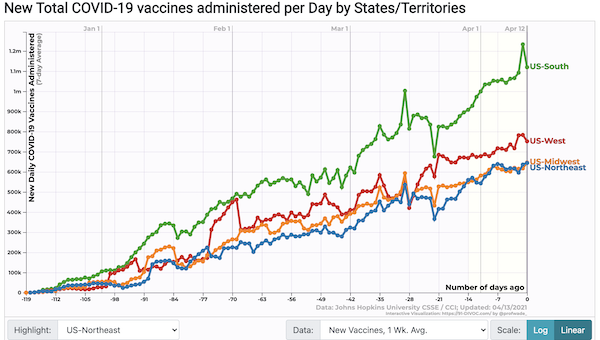 South reverts to the mean.
Case count by United States regions:=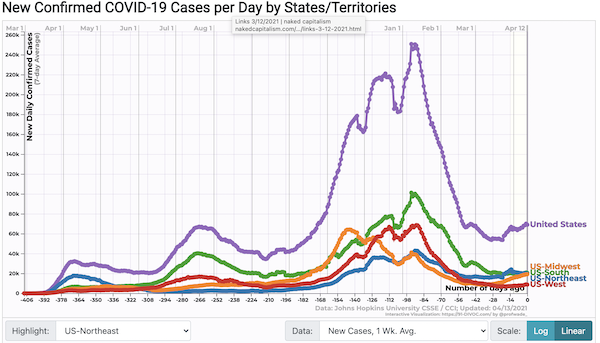 Gaaaaah! Yes, the rise is from the Midwest, but wouldn't it be nice if the rise in the Midwest was cancelled out by decreases everywhere else.
The Midwest in detail: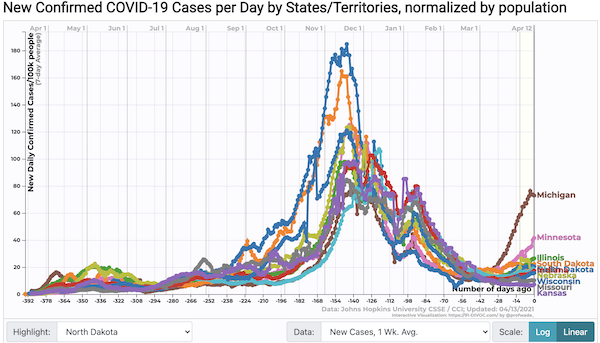 Michigan dips (and since this is a one-week average, this might be meaningful). Minnesota follows Michigan's upward trend. Illinois emerging from the pack?
MI: "Feds won't play 'whack-a-mole' by sending more vaccines to Michigan" [Detroit Free Press]. "The federal government will not change its COVID-19 vaccine distribution strategy, "playing whack-a-mole," by sending more doses to Michigan, said Andy Slavitt, White House senior adviser for COVID-19 response, during a Monday morning news briefing. Michigan is in the midst of another massive spike in coronavirus cases, with the worst-in-the-nation infection rate and a soaring hospitalizations that have forced some hospitals to postpone non-urgent surgeries and other procedures as they hit capacity. Dr. Rochelle Walensky, director of the Centers for Disease Control and Prevention said Michigan can't vaccinate its way out of the current surge." • What awful messaging. One day it's doom. The next day it's weepiness. The next day it's "we won't play whackamole." More from Walensky: "In fact, we know that the vaccine will have a delayed response. The answer to that is to really close things down, to go back to our basics, to go back to where we were last spring, last summer and to shut things down, to flatten the curve, to decrease contact with one another, to test to the extent that we have available, to contact trace." Walensky is telling a Democrat governor to do what they cannot politically do, so she's completely out of touch. Even worse, it's being done in a preachy and condescending manner.
Big states (New York, Florida, Texas, California):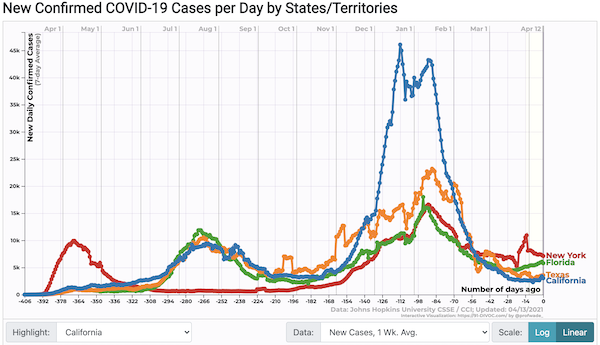 =
Florida continues its slow climb. California starting to follow?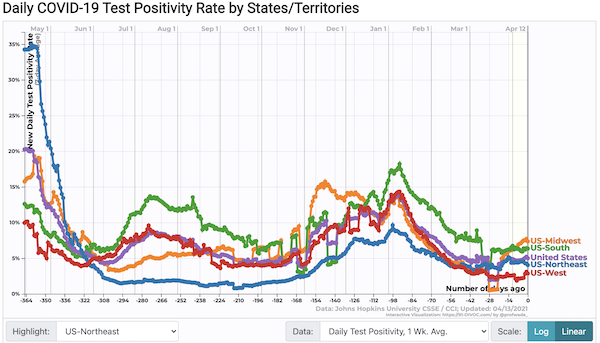 Midwest increases.
Still heading down.
Case fatality rate (plus deaths):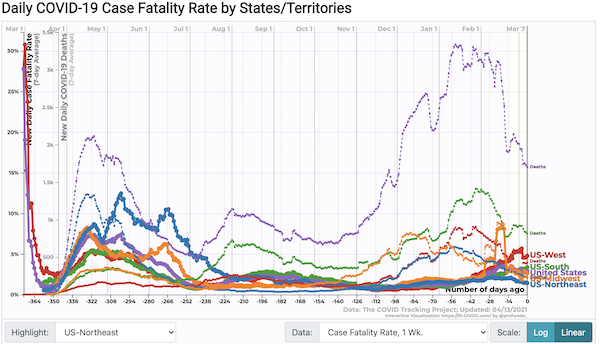 Good to see those deaths dropping. The fatality rate in the West is dropping now, for some reason as unknown as why it rose.
* * *
Politics
"But what is government itself, but the greatest of all reflections on human nature?" –James Madison, Federalist 51
"They had one weapon left and both knew it: treachery." –Frank Herbert, Dune
"They had learned nothing, and forgotten nothing." –Charles Maurice de Talleyrand-Périgord
Biden Administration
UPDATE "Investors lament being frozen out of Biden infrastructure plan" [Financial Times]. "President Joe Biden's 'American jobs plan', unveiled last month, calls for $2tn of investment in highways, electrical grids and other basic infrastructure. At the same time, the White House put forward corporate tax reforms that it said would generate enough money to pay for the investment spree within 15 years. That has disappointed some investors and asset managers who once expected public-private partnerships would be a lucrative financing opportunity." • That's a damn shame. Commentary:

and a visual guide to how the Biden Infrastructure Plan according to BlackRock would look like, with a nod to @KatharinaPistor pic.twitter.com/58bc9DjDeP

— Daniela Gabor (@DanielaGabor) April 12, 2021

The sucking mandibles are helpfully shaded red.

"The commission to shape Biden's tech agenda" [Politico]. " A group of leaders with direct lines to the Biden administration, including Common Sense Media's Jim Steyer, former Massachusetts Gov. Deval Patrick and former Education Secretary Margaret Spellings, is launching a commission that will assemble a "blueprint" for a comprehensive tech policy agenda under Biden, with a focus on soliciting input from people inside as well as outside D.C. — Why we're watching so closely: There's still a ton we don't know about where the Biden administration will come down on issues at the heart of the tech industry, like privacy and Section 230 reform. And these kinds of independent commissions have a pretty good track record when it comes to informing policy — a similar 'blueprint' from an Obama-era independent commission (which was also led by Spellings and Steyer) translated into policy change. That means this is one report that will actually end up in the hands of influential Bidenworld players. 'A comprehensive tech policy agenda for the country is long overdue,' Steyer told MT. The Future of Tech Commission is being promoted as a bipartisan endeavor (Spellings served under President George W. Bush), but it's unclear so far if it will get widespread traction from Republicans. By the summer, the commission will compile solutions for government and industry on topics including privacy, antitrust, digital equity, and content moderation. They've already had conversations with the White House, FCC and lawmakers ahead of this launch. (Steyer has worked closely with White House deputy chief of staff Bruce Reed, a former adviser to Common Sense, for years. And Tim Wu, Biden's competition adviser on the National Economic Council, was also previously an adviser for Common Sense.)" • Well, I do like Tim Wu. That's all I can say.

UPDATE "Amtrak's $80 billion plan to connect the US is the latest step in a rail revolution but has a glaring omission: high-speed rail" [Business Insider]. "Rather, Amtrak is using the billions to give service to rail-strapped cities like Phoenix, Las Vegas, and Nashville, Tennessee, and upgrade existing lines. Not one penny will be spent towards building a clean-slate high-speed rail line even though getting America's high-speed rail network in line with those in Europe and Asia is a desire for many Americans." • America not having HSR is dumb. But it's not clear to me, given [genuflects] Blue State California's experience with it, that we can get the job done. (Even this cheerleading article admits California's HSR will take 14 years.) As for HSR on the Acela Corridor, a new tunnel under the Hudson would cost $11 billion and that's assuming the rest of the kinks in the line can be straightened. So we may have to accept dumb. Given hysteresis, it's not so clear that Amtrak's plan is a bad one.
Democrats en Deshabille
"Sen. Mark Kelly Is Emerging As An Obstacle To The Pro Act" [The Intercept]. "SEN. MARK KELLY has resisted co-sponsoring a major piece of labor law reform legislation known as the PRO Act, citing a policy of not endorsing measures that don't also have Republican support, according to sources familiar with the reasoning provided to advocates of the bill. Winning Kelly's support for the legislation is crucial, as it is hoped that if he comes on board he could bring his Arizona colleague, Sen. Kyrsten Sinema, with him, leaving backers just three cosponsors short of the 50 that would bring the bill to the floor. Kelly has told advocates that he doesn't want to be the only Arizona senator to cosponsor the bill, so backers of the bill are hoping to win the two in tandem. The PRO Act, short for the Protecting the Right to Organize Act, has already passed the House of Representatives. The legislation would make it easier to form a union and win a contract, harder for companies to union-bust, and easier for the National Labor Relations Board to crack down on rule-breaking companies. It would also make more workers eligible to unionize, including independent contractors. It would arguably be the most transformative piece of legislation enacted since the 1970s." • Kelly is, of course, a Democrat.
Republican Funhouse
"Senate Republicans Create New 'Annual' Award, Give It to Trump" [Jonathon Chait, The New Republic]. "This morning, by an odd coincidence, the National Republican Senatorial Committee announced it was creating a new annual prize: the Champion for Freedom Award. And the inaugural winner is … Donald J. Trump! There are several unusual things about this award. One is that there is no evidence the NRSC had any intention of giving it out before Trump attacked the party's leader. The second is that Trump, who adores awards so much he sometimes invents them, did not even bother to put on a sport coat to receive this. The third is that the NRSC apparently plans to give it out every single year from now on." • All good clean fun by Chait. Chait, sadly, does not deploy snark around this sentence from the Award: "As President, Donald Trump delivere for the American peope by appointing three pro-Constitution judges to the Supreme Court." If you are a believer in that sort of judge, as I think most Republicans are, then Trump's Award was richly deserved, tacky circumstances or no. Snark in the face of a strategic debacle: That's our liberal Democrats.
Stats Watch
Inflatiion: "March 2021 CPI: Year-over-Year Inflation Rate Rises To 2.6%" [Econintersect]. "According to the BLS, the Consumer Price Index (CPI-U) year-over-year inflation rate was 2.6 % year-over-year (up from the reported 1.7 % last month). The year-over-year core inflation (excludes energy and food) rate grew from 1.3 % to 1.6. Energy was the major influence for the month-over-month growth for the CPI-U. Medical care services cost inflation declined from 3.0 % to 2.7 % year-over-year."
* * *
Shipping: "Port of Oakland Reports Record Cargo Surge" [Maritime Logistics]. "The Port of Oakland reported all-time high container volume for import and export cargo in the month of March amid an ongoing trade boom exploding through U.S. ports. And there's no sign of the global surge in business activity abating any time soon, the port said. 'Ships are full, ocean freight rates are sky high and the need for empty containers to ship more cargo is never-ending,' declared Port of Oakland maritime director Bryan Brandes. 'We just don't see conditions easing in the next several months.' Oakland's cargo boom mirrors a nearly year-long volume increase at many ports worldwide,. The port said its total volume is up nearly 9% through the first three months of 2021. It attributed the gains to pandemic-weary consumers purchasing overseas goods to counter lockdown fatigue, a phenomenon known as 'retail therapy'; retailers and manufacturers replenishing depleted inventories; and American exporters meeting unrelenting demand for high-quality U.S. products, especially farm goods."
Manufacturing: "GM shortens downtime at Tennessee plant as chip supply improves" [CNBC]. ""Following our announcement last Thursday, April 8, GM's supply chain organization has made strides working with our supply base to mitigate the near-term impacts of the semiconductor situation on both Spring Hill Assembly and Ramos Assembly,' GM said in an emailed statement. Automotive executives have characterized the chip shortage as fluid. GM, Ford Motor and others have said the shortage will cut billions off their earnings in 2021." • If we wanted to ration automobile production, there's a single chokepoint. So what was the meeting with Biden for?
Pharma: "Here's what major analysts said about J&J, Moderna and other related stocks following the pause news" [CNBC]. "The news that the Johnson & Johnson vaccine would be paused appeared to take the wind out of the stock market on Tuesday, but many Wall Street analysts argued that the development did not change the overall direction for U.S. vaccination trends. And individual company analysts argued it could be a buying opportunity for competitors and some other related shares."
* * *
Today's Fear & Greed Index: 51 Neutral (previous close: 54 Neutral) [CNN]. One week ago: 64 (Greed). (0 is Extreme Fear; 100 is Extreme Greed). One year ago, just after the end of the Before Times: 42 (Fear). Last updated Apr 13 at 12:34pm.
The Biosphere
"The Deep Sea" [Neal.fun]. • This is incredibly, incredibly cool. Click through and start scrolling down (or swiping, if you are on mobile),
"The health hazards of California's neighborhood drilling" [High Country News]. "A 2020 analysis by FracTracker Alliance, a nonprofit that collects data on the health consequences of oil and gas development, found that some 2.17 million people in California live within a half mile of an oil or gas well; another 5 million live within a mile. From 2015 through 2020, the state issued more than 25,000 permits for drilling new wells and redrilling older ones, more than 60% of them in Spanish-speaking communities." • Biden's American Jobs Plan (supposedly) will cap old wells, but what about these? More: "Hollin Kretzmann, senior attorney with the Center for Biological Diversity, contends that 'there's a mountain of evidence saying that living close to oil and gas wells is harmful to human health.' But it's not always conclusive, as data on the health effects of living near oil and gas operations are notoriously scant. That's in part because where there's fossil-fuel production, there are plenty of other culprits for polluted air. In Kern County, pesticides and particulate matter drift from industrial-scale alfalfa fields into human lungs; cars and trucks that travel the state's only north-south arteries choke the air with exhaust. When wildfires burn in the nearby mountains, smoke settles in the valleys and drives the air-quality index into the hazardous range for months. Nor are drillers always transparent about the contents of the slurries they use to pump out hard-to-extract oil. Volatile organic compounds, a class that includes benzene, a known carcinogen, have been detected near oil facilities." • I will say again: I remember the few times when the boiler ran out of fuel toward the end of the month, and I would have to get a five gallon oil can, fill it up at the truck stop, and then pour it into the boiler's fuel tank standpipe the outside the house. It was clear that oil is a substance you never want to touch, smell, or breathe, or even get near. It was the most wretched and nasty substance I've ever encountered. Clearly in a civilized society it would be taboo and left in the ground. And so I have no difficulty far-fetching that the correlation between higher death rates for Latinos from Covid, and their disproportionate proximity to oil drilling is not random.
Health Care
"US recommends 'pause' for J&J vaccine over clot reports" [Associated Press]. "The U.S. on Tuesday recommended a "pause" in using the single-dose Johnson & Johnson COVID-19 vaccine to investigate reports of rare but potentially dangerous blood clots, a development that could jeopardize the rollout of vaccines around the world. The Centers for Disease Control and Prevention and the Food and Drug Administration announced that they were investigating unusual clots that occurred 6 to 13 days after vaccination. The FDA commissioner said she expected the pause to last a matter of days. The clots occurred in veins that drain blood from the brain and occurred together with low platelets, the fragments in blood that normally form clots. All six cases were in women between the ages of 18 and 48. One person died, and all of the cases remain under investigation. More than 6.8 million doses of the J&J vaccine have been given in the U.S., the vast majority with no or mild side effects. Any slowdown in the dissemination of the shots could have broad implications for the global vaccination effort. The J&J vaccine held particular promise for less affluent countries because its single-dose regimen and relatively simple storage requirements make it easier to use in the developing world." • These seem to be two government sources collecting vaccine safety data: VSAFE (CDC) and VAERS (HHS). More on VAERS. Commentary:
Exactly this👇. https://t.co/bkayOpEYe1

— Kristian G. Andersen (@K_G_Andersen) April 13, 2021
Could be. But that's a hard message to convey when the over-riding message is fear, fear, fear, and not steady resolve, combined with constant and ever-shfting demands for compliance from what Thomas Frank justly labels "the fuck-up class."
"Why would a Covid vaccine cause rare blood clots? Researchers have found clues" [STAT]. "Most tellingly, both the paper from Norway and the second paper, which looked at patients from Austria and Germany, found that blood clots were seen in people who had high levels of antibodies to platelet factor 4, the same types of antibodies reported, infrequently, after treatment with heparin. That doesn't explain why a vaccine is causing the immune system to produce those antibodies, or whether other vaccines might do the same. But it provides a first step toward explaining the side effect, which experts say is extremely rare, and to looking into whether the same types of rare clots could occur with other shots….Still, Paul Offit, the director of the Vaccine Education Center at Children's Hospital of Philadelphia and a veteran of discussions about vaccine safety, rattled off a list of questions even before the news about the J&J vaccine broke. Why, he asked, would a vaccine lead to the production of antibodies against platelet factor 4? He emphasized that even when the FDA authorized the vaccine, the plan had been to carefully monitor for cases of thromboses. Offit sits on a key FDA committee involved in reviewing vaccine data. 'What you really would love to know,' Offit said, 'is what is causing the immune response to platelet factor 4?' Is some part of the adenovirus mimicking platelet factor 4? If so, would that same mimicry occur with other adenoviruses? There's no clear answer. But Offit suspects it's a class-wide problem, meaning the same phenomenon associated with AstraZeneca's vaccine is associated with Johnson & Johnson's." • Much informed speculation, not a bad thing.
Decision tree for reducing airborne risk:
Reducing Risk #COVIDisAirborne
1⃣ Source elimination
Regular Antigen Testing, Avoid Crowds
2⃣ Source control
Mask fitted, Avoid talking, singing, yelling, Reduce time, Keep distance
3⃣ Ventilation
Constant/Cross/Natural/Forced, Measure CO2, Outdoors Better
4⃣ Filtration/Treatment pic.twitter.com/MR7EUzUesF

— S.Coscolín 📷🛩️🇪🇦 (@SergioCoscolin) April 13, 2021
This is really not all that complicated, although I suspect easier for introverts to execute than extroverts. At some point, I should really indulge myself and get a CO2 meter.
"Open Letter to address the use of Electronic Air Cleaning Equipment in Buildings" [Medium]. "We appeal to school district facility managers and administration leadership, as well as the relevant national and international bodies and Architecture, Engineering and Construction (AEC) industry consultants and professional organizations, to recognize the unproven nature of many electronic air cleaning devices. Such devices are typically electrically powered air-cleaners intended to remove particles from airstreams or to inactivate pathogens. As they are unproven, it is critical to avoid wasting valuable emergency COVID relief aid dollars installing them within school district facilities. Following the precautionary principle, we must advocate for schools not to use electronic air cleaning devices. The proven measures that should be taken to address airborne transmission risk include properly sized and maintained ventilation (mechanical and natural), mechanical filtration (including portable HEPA filter units), and germicidal ultraviolet light systems. Such measures are practical and often can be easily implemented; many are not costly, particularly when assessed on a per student basis. Even without the relief aid dollars many are inexpensive enough to be funded with capital outlay dollars instead of passing a bond." • It would be a horrible outcome if school districts decided that aerosol transmission was real, and then got suckered into buying electronic air cleaning devices. The letter is signed by a number of aerosol luminaries. On another note:
This is apparently a real company: https://t.co/9EBZA8iKvu https://t.co/4j7PxMs1oc

— Blake News (@blakehounshell) April 12, 2021
I am pleased that the much-tried Redfield is doing this. Old-fashioned fans are proven technology,
Department of Feline Felicity
From 2020, still germane:
all of these cats are better muslims than me pic.twitter.com/To4DMmUC8l

— trashfuture co-host (@AliceAvizandum) April 24, 2020
Games
"The Company Quietly Building a Board-Game Empire With Catan, Pandemic, and Ticket to Ride" [Bloomberg]. "Dusting off old board games or buying new ones over the past year in your effort to avoid watching Bridgerton, you might have noticed something about Catan, Pandemic, Game of Thrones, Ticket to Ride, Specter Ops, Agricola, 7 Wonders, and Lord of the Rings. If you'd bought them a decade ago, they would have come from a half-dozen producers. Today, those titles are made by a single company: Asmodee Holding…. Makers of games have benefited from millennials' pursuit of old-school authenticity, the growth of board game cafes, and—over the past year—Covid-19 lockdowns. Industry revenue climbed about 10% annually in the 2010s, then grew at twice that pace last year thanks to booming sales to people stuck at home, according to Ample Market Research. .. Many board game enthusiasts insist creativity has suffered under Asmodee. Owners of game stores in three U.S. states say prices are up and customer support has suffered…. nd instead of original titles with new characters, settings, and situations, the emphasis has shifted to licenses of Hollywood franchisel. such as Marvel superheroes and Star Wars, and spinoffs of existing fare. * Asmodee is — hold onto your hats here, folks — owned by a private equity firm, PAI Holdings. Readers?
Police State Watch
I would never advise anyone to do this. A thread:
PSA: if you or someone nearby are being brutalized by a police Spot robot and can get a hand or something underneath, grab this handle and yank it forward. This releases the battery, instantly disabling the robot.

Keep your hands away from joints, Spot WILL crush your fingers. https://t.co/bMyEKmpS7R pic.twitter.com/vw8WDMWDAD

— Len the sleep paralysis demon (@LenKusov) February 24, 2021
Don't try this at home!
Groves of Academe
"The New Politics of Higher Education" (review) [Boston Review]. "Why the left's turn from higher education has coincided with a newfound conservative appreciation for it."
Guillotine Watch
Such bad taste:
Actually, based off the way this is decorated, maybe I should be sharpening 23 knives. pic.twitter.com/421ROiLOk1

— The Best of Zillow (@thebestofzillow) April 13, 2021
Class Warfare
"DoorDash Is Pushing Drivers to Deliver More With a $50K Sweepstakes" [Vice]. "For every 25 deliveries a courier made through DoorDash between April 5 and April 18, drivers will be entered once for a chance to win $50,000. The lottery prize will only be given to 10 drivers, and each will also be allowed to select a charity to donate an additional $50,000 from DoorDash." • It's like DoorDash read the Owner's Manual for a plantation in the Old South,
"An Update on How Households Are Using Stimulus Checks" [Liberty Street Economics]. "We find remarkable stability in how stimulus checks are used over the three rounds, with a slight decline in the share dedicated to consumption and a proportional increase in the share saved. The average share of stimulus payments that households set aside for consumption—what economists call the marginal propensity to consume (MPC)—declined from 29 percent in the first round to 26 percent in the second and to 25 percent in the third.,,, Combining all respondents, we find that in January, households reported using or planning to use an average 16 percent of the second-round stimulus funds for essential spending, an average 6 percent for non-essential spending, and to donate 3 percent, resulting in a total MPC of 26 percent. They also reported saving or planning to save an average 37 percent of their stimulus checks and use 37 percent to pay down debt. These shares are very similar to those we found for the first round of stimulus checks."
News of the Wired
Department of Crapification:
Pharmacist here. If you want a stapler that can do up to about 20 sheets at once, staple 500+ prescription bags per shift with almost no jams, and not start feeling all mushy after a few months, you want a Bostitch P3, the older the better. pic.twitter.com/CGPwo9gpet

— Seize the Means of Vaccine Production (@raptorchocolate) April 13, 2021
"The older the better."
* * *
Readers, feel free to contact me at lambert [UNDERSCORE] strether [DOT] corrente [AT] yahoo [DOT] com, with (a) links, and even better (b) sources I should curate regularly, (c) how to send me a check if you are allergic to PayPal, and (d) to find out how to send me images of plants. Vegetables are fine! Fungi and coral are deemed to be honorary plants! If you want your handle to appear as a credit, please place it at the start of your mail in parentheses: (thus). Otherwise, I will anonymize by using your initials. See the previous Water Cooler (with plant) here. Today's plant (jbeech):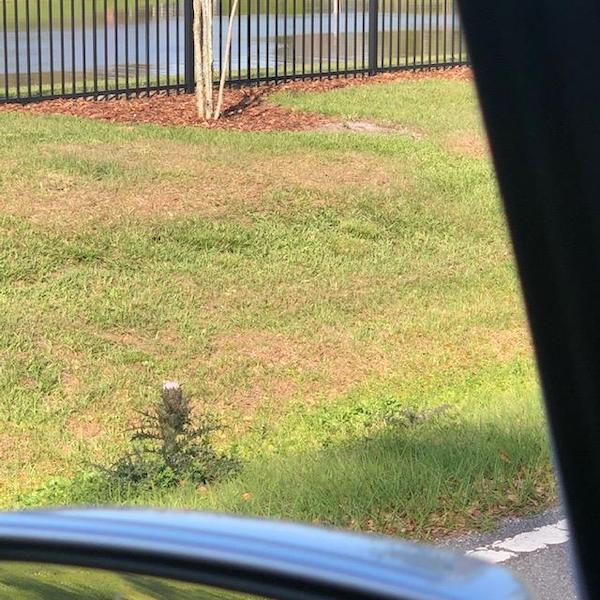 jbeech writes: "It's a weed! Details follow."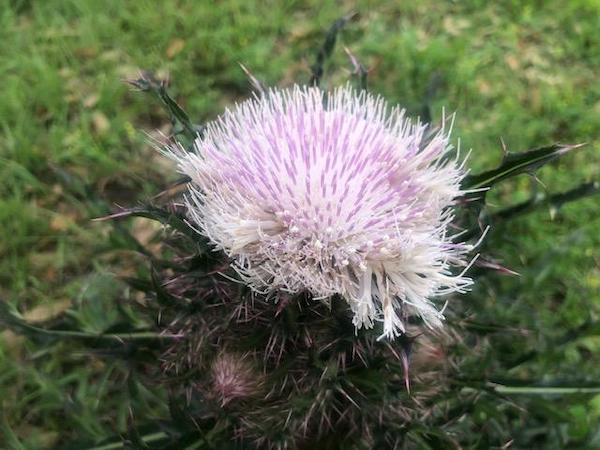 jbeech: "Detail of the weed. It's pretty!"
Looks like a Scotch thistle to me. I had them, and thought they were pretty too, until I discovered they were extremely invasive, far above my standards for acceptable invasiveness (which are high). Also, pulling them up is a pain.
* * *
Readers: Water Cooler is a standalone entity not covered by the recently concluded and — thank you! — successful annual NC fundraiser. So if you see a link you especially like, or an item you wouldn't see anywhere else, please do not hesitate to express your appreciation in tangible form. Remember, a tip jar is for tipping! Regular positive feedback both makes me feel good and lets me know I'm on the right track with coverage. When I get no donations for five or ten days I get worried. More tangibly, a constant trickle of donations helps me with expenses, and I factor in that trickle when setting fundraising goals:
Here is the screen that will appear, which I have helpfully annotated.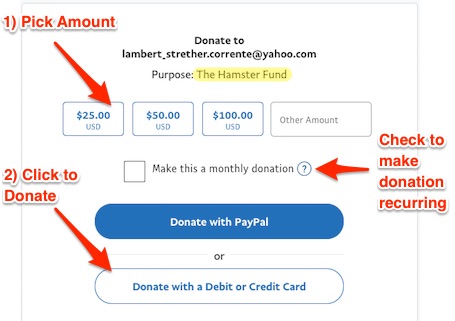 If you hate PayPal, you can email me at lambert [UNDERSCORE] strether [DOT] corrente [AT] yahoo [DOT] com, and I will give you directions on how to send a check. Thank you!