Yves here. Welcome back to award-winning John Siman, who gives us the first installment on Thomas Frank's new book on the populist impulse in America and why decades of liberalism have pushed it even more into the wilderness.
By John Siman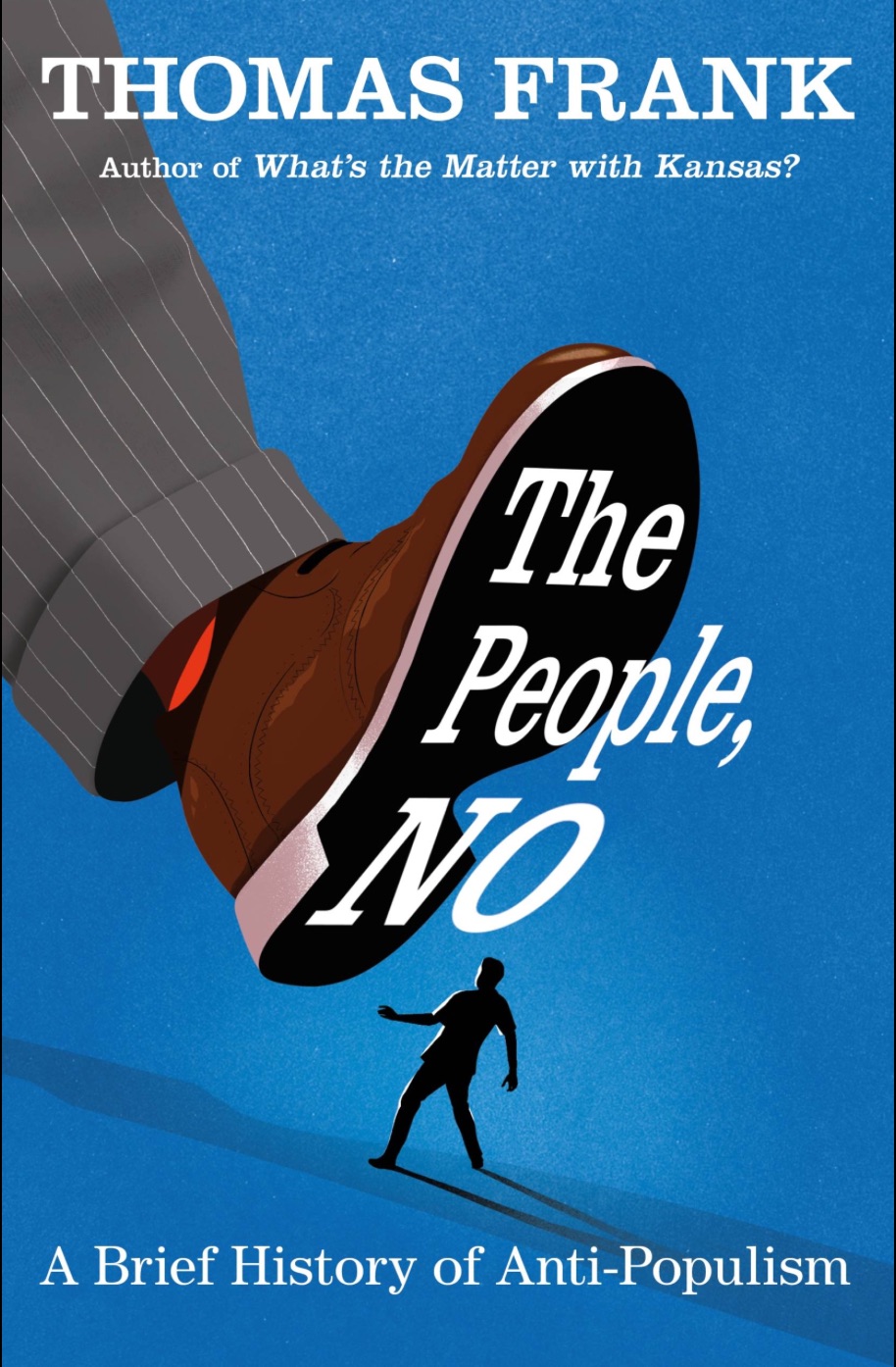 (This is the first of two essays.)
The incandescent but brutally short-lived Populist movement of the 1890s was, as Thomas Frank writes in his new book, The People, No!, "our country's final serious third-party effort, the last one to stand a decent chance of breaking the duopoly of the Republicans and Democrats" (p. 19). Indeed, the very real possibility of William Jennings Bryan's being elected President in 1896 as the Populist + Democratic "Fusionist" candidate so panicked the nation's elites that they coalesced with unprecedented amounts of media vituperation and corporate money to destroy both Bryan's candidacy and the perceived Populist insurrection. (Bryan nevertheless carried 22 states to McKinley's 23 and won almost 47% of the popular vote.)
Frank describes the hysterical elite opposition to Bryan and the Populists, which was organized with military precision by McKinley's genius campaign manager Mark Hanna, as America's first Democracy Scare. After all, as Frank explains with his uniquely penetrating wit, "[D]emocracy must be controlled … before it ruins our democratic way of life" (p. 3). A class war really was fought and won in the USA in 1896, but it was an upside-down class war, waged, that is, from the top down, the absolute reversal of a Marxist revolution, like the plot of an Ayn Rand novel.
And yet, in spite of the efficient smashing of the Populist movement, an optimistic spirit of what can be called populism with a small p abides permanently at the heart of our democracy. "The populist impulse," Frank argues, "has in fact been a presence in American life since the country's beginning. Populism triumphed in the 1930s and 1940s, when the people overwhelmingly endorsed a regulatory welfare state. Populist uprisings occur all the time in American life, always with the same enemies — monopolies, banks, and corruption…" (p. 14). Thus Frank entitles his third chapter "Peak Populism [sic] in the Proletarian Decade," and he explains why the seeming anachronism is appropriate: "Franklin Roosevelt was, of course, a Democrat, and he did not call his New Deal 'populist,' but the lineage was clear to historians and popular writers of the day" (p. 87).
But what might the actual Populist Party have been like had it endured? Frank suggests that we imagine an energetic, forward-looking, home-grown labor party which would have embraced both black and white workers and farmers, which would have formed policy with a fundamental distrust of and even contempt for experts and elitists, yet which would have been unencumbered by un-American Socialist and Marxist baggage. Populism to Frank expresses the abiding promiseof democracy. Indeed Democratic Promise, a 700-page study by activist-turned-historian Lawrence Goodwyn (1928 – 2013), is the title Frank's favorite book about the original Populist movement, or as Goodwyn's subtitle has it, the The Populist Moment in America.
So how can we understand the Democrats of Roosevelt's "Proletarian Decade" as essentially similar to the original Populists? Frank directs our attention to the elections of 1932 and (especially) of 1936, because he sees them as effecting the just reversal of the election of 1896. We observe that in his 1932 nomination acceptance speech Roosevelt reiterated, in order to condemn the false theory of trickle-down economics advanced by plutocrats, a stirring passage from Bryan's 1896 Cross of Gold acceptance speech.
Bryan had said in 1896: "There are two ideas of government. There are those who believe that if you just legislate to make the well-to-do prosperous, that their prosperity will leak through [italics mine] on those below. The Democratic idea has been that if you legislate to make the masses prosperous their prosperity will find its way up and through every class that rests upon it."
And here is how Roosevelt echoed Bryan's words thirty-six years later, in 1932, as he went forth to defeat the incumbent President Hoover in a landslide: "There are two ways of viewing the government's duty in matters affecting economic and social life. The first sees to it that a favored few are helped and hopes that some of their prosperity will leak through, sift through, [italics mine] to labor, to the farmer, to the small businessman. That theory belongs to the party of Toryism, and I had hoped that most of the Tories left this country in 1776. But it is not and never will be the theory of the Democratic Party" (p. 90).
So it was in 1932. When Roosevelt ran for reelection in 1936, we see that the hysterical Democracy Scare organized against him was essentially similar to the hysterical Democracy Scare organized against Bryan in 1896, that the politics and the rhetoric of anti-populism operate according to a kind of algorithm. "[The word] populism," Frank told Matt Taibbi in an interview published on August 8, "becomes the generic term for idiots who refuse rule by the Professional Class."
It is in the context of this algorithm that Frank describes the American Liberty League, which was the main propaganda front group for the elite corporate interests organized against Roosevelt: "With the lavish budget its wealthy backers furnished, the League followed the strategy pioneered by Mark Hanna forty years previously, producing speeches, radio broadcasts, pamphlets, and a blizzard of panic-screaming headlines" (p. 119). Furthermore, as Frank shows, almost all of the newspapers in the United States attacked Roosevelt with an orchestrated virulence: "[T]he newspaper industry came together against the would-be dictator Roosevelt the same way it had united against Bryan in 1896" (p. 120).
And so we come to Frank's first fundamental, almost Newtonian, observation about American politics since the 1890s: Any outbreak of the optimistic spirit of populism is always and everywhere opposed by the carefully-organized pessimistic rage of anti-populism.
Corollary: The rhetoric of populism and that of anti-populism remain fairly constant over decades.
However: The spirit of populist rhetoric can be traced directly back to Jefferson's lifelong defense of democracy against aristocrats like Adams and oligarchs like Hamilton, while the rhetoric of anti-populism is a rhetoric of would-be aristocrats and preening oligarchs. It is a rhetoric, in other words, fundamentally opposed to democracy (cf. pp. 32-33).
Why, then, is populism in some form not explicitly at the center of our national aspirations? For populism "may well be," as Frank argues, "the key to turning our nation around" (p. 114). Why, then, while we as a nation endure what seems to be a second, more nightmarish Gilded Age — indeed, Frank notes "that we are living through a period of elite failure every bit as spectacular as that of the 1890s" (p. 52) — do we not cherish the memory of the original Populists?
Why? Because after thirteen decades of well-financed Democracy Scares, we Americans of the twenty-first century have inherited populism as a word not merely gutted but diabolically repurposed — repurposed to censure what it was invented to praise: Despite the historical memory of Thomas Frank (and only a very few others), the word populism is generally used now to express elite contempt for the people, those unwashed ignorant lunatic masses, those idiots who refuse rule by their betters, those low-SAT racist rabble, those deplorables.
And thus we cannot intelligibly utter the one word that would most precisely express what ought to be our permanent American hope to forever renew our original birth in freedom.
And thus we have been, insofar as we still aspire to be a democratic people, rendered mute.
Perhaps Bernie Sanders' two presidential campaigns would not have been such bitter disappointments had he been able to proclaim himself a proud populist in the deeply patriotic tradition of Franklin Roosevelt — had he been able, that is, to toss all his creepy Socialism talk and all his spineless concessions to woke, New York Times-style racism and hallucinatory Russiagating onto the ash-heap of history.
Sadly, however, as Angela Nagle and Michael Tracey wrote in their essay First as Tragedy, Then as Farce: The Collapse of the Sanders Campaign and the 'Fusionist' Left, Bernie chose to surround himself with "… a left-wing intellectual firma­ment in which something as basic as revering the American flag would have been considered a shameful appeal to retrograde jingoism…. Any gesture which gave the faintest whiff of signaling national pride or love of country would be instantly denounced as a fascistic[italics mine] betrayal…."
C.J. Hopkins has a more cynical take on why Bernie folded — this delightfully sarcastic prognostication is from Hopkins's 2019 essay Bernie, The Magic Socialist: That's right, folks, Bernie is back, and this time it's not just a sadistic prank where he gets you all fired up about his fake 'revolution' for fifteen months, gets cheated out of the nomination, then backs whichever corporate-bought candidate the Democratic Party orders you to vote for."
And in the end, Bernie did endorse Biden, even as Biden promised unwavering opposition to medicare-for-all. In the end, just as Hopkins had predicted, Bernie was happy to shill for neo-liberalism, that is, for anti-populism.
So who's to blame for this utter and debilitating debasement of the vocabulary of our democracy? Frank's answer is disturbing, to say the least. It's easy to condemn Mark Hanna and the Republicans' brutal smears of Bryan and Populism in 1896, just as it's easy to condemn the murderous white supremacy of the anti-populist Democrats in the South (who were panicked by the possibility of an emerging Populist alliance between poor black farmers and poor white farmers). Skipping ahead forty years to the Great Depression, we can see that it's easy to condemn the DuPonts and the American Liberty League and the Republicans for smearing Roosevelt and the New Deal. But all of their anti-populist rhetoric was the predictable blowback of oligarchs who sensed an imminent threat to their privilege.
So who's really to blame? The establishment Democrats are, that is to say, the Liberal Class. They are. At least for the past nearly seven decades. For the official Liberalism of the Democratic Party has become, as Frank has been telling us for years, the politics of an elite, of the properly-credentialed Professional Class, a class devoted to advancing its own interests with aggressive moral smugness — "moral narcissism" is the deliciously ironic term Frank used in one interviewto describe this elite orgy of moral superiority — and thus with undisguised contempt for the working class.
That their party, the Democratic Party, once the party of the common people, once the party of, well, democracy, has become the party of the high-achieving winners— of the conquistadors of the meritocracy — of the newfangled hipper-than-thou smarter-than-thou richer-than-thou woker-than-thou Silicon Valley + Wall Street oligarchy — is the great theme of Frank's work since he published What's the Matter with Kansa sin 2004. A great theme it is, yes, but a very bitter pill for many sympathetic readers to swallow.
                                                  *          *          *
Frank's super-cheerful, super-optimistic, beyond Midwestern-nice persona may provide the spoonful of sugar to help this medicine go down. I chatted with him via Zoom just a few days after I received my review copy of the book in July, and he was broadcasting then from his old boyhood bedroom in Kansas. This was very trippy to see, for things looked very early Reagan years on my screen. Back to the Future, in a way.
And as I watched him on YouTube over the next couple of weeks, it seemed that Frank became more and more articulate and unabashedly passionate with every interview he gave. By the time he got to Matt Taibbi and Katie Halper's show, boy, was he on his game! (I strongly encourage the reader to watch this interview in its entirety: Thomas Frank on Useful Idiots, Interview Only.) So let me share my transcription of the delightful way in which Frank introduced Taibbi and Halper's audience to the ugly reality of the liberals' longstanding contempt for working people — to the ugly reality that there is, right now, no party in the USA for non-elites.
Frank introduced the topic by imagining a very likely future — in order to show how very bleak the present is: "Let's just assume that things keep going as they are," he told them, "and the Democrats continue along the same trajectory and become more and more and more the party of the educated elite. And the Republicans continue to become more and more and more the party of capitalists, the Koch brothers, that type. And the rest of us just get to fit in…. I mean, where do we go? There is no party for — us."
"Right," Taibbi agreed, nodding. What Frank has said is very profound.
"But isn't your thesis … that the Dems wanted this?" Halper asked. "I mean that's the thesis in Listen, Liberal." (I assume she had a passage like this one in mind: "When the left party in a system severs its bonds to working people — when it dedicates itself to the concerns of a particular slice of high-achieving affluent people — issues of work and income inequality will inevitably fade from its list of concerns" [Listen Liberal, p. 30]).
"Yes, exactly," Frank said, "and I repeat it with more detail it in this [book]. They actively turned against working-class issues — and working-class people— in the late '60s and early '70s. This is kind of the alarming part of the book. You all remember the last scene in Easy Rider — they're riding along on their motorcycles — they're in Louisiana…." Pause.
Taibbi didn't remember. This is embarrassing. Halper teases him.
"What?!" Frank exclaimed, blushing.
Gee whiz, I thought. Having to explain the context of Easy Rider to Matt Taibbi is, when you get right down to it, a lot like having to explain Hell's Angels initiation rites or Albert Hoffman's discovery of LSD and crank to Hunter Thompson. Such a weird hermeneutic task will be gracefully accomplished only by means of the extra gentle irony of Thomas Frank. From his old boyhood bedroom in Kansas.
"I saw it when I was like ten," Frank said. "They showed it on TV. It was a big big deal. But you have to first go back to that movie version [1940] of The Grapes of Wrath starring — Henry Fonda, Peter Fonda's dad [as Tom Joad; here is a link to a clip of his sublime "I'll be there speech."
And it ends with the Joads, remember, the people from Oklahoma, the migrant workers, the tenant farmers, and they're driving along in their crappy little truck, and Ma Joad says, and this is the great, classic line of '30s populism: 'We're the people. We keep on a-comin'.' Movie ends. And they're in their shitty little truck."
"Mmhum," agreed Taibbi, back in high gear.
So Frank continued: "OK, Easy Rider— made [in 1969] by Peter Fonda, Henry's son. And it's often regarded as a generational slap-back — it's the comeback at The Grapes of Wrath: They're going the other direction across the country — they drive through Oklahoma. The same scenery, basically. They're in Louisiana somewhere, driving along on their motorcycles — they've got the awesome choppers, you know, and the Steppenwolf soundtrack…. And they're just driving along, and these two, basically, rednecks — I mean they're total stereotypes — driving along in a pickup truck [emphasis his] going the other way, for no reason at all pull out a shotgun and kill 'em."
Taibbi chuckled grimly. "Great."
"It's the inversion, the direct inversion, of the ending of The Grapes of Wrath. And that was the attitude in the late '60s: That the white working class were the foes now, the problem. These were the people — we basically had to do something about them. And you go back and look at the countercultural classics like The Greening of America [written by Charles Reich in 1970, one of the Clintons' professors at Yale Law School; the book first appeared in excerpted form in — radical chic! — The New Yorker], … the Archie Bunker stereotype comes up at this same time. This incredible stereotype gets built in the late '60s and early '70s — that union members are the biggest problem in our society, and the Democratic Party turns away from them. And this is conscious: They talked about it all the time, they wrote books about it: We are the party of highly-educated kids coming off the campus, in other words, of the Professional — of the proto-Professional Class. Yes indeed. This is where all that begins, and they have never looked back from that moment."
In the book Frank turns to the work of historian Jefferson Cowie (the author of Stayin' Alive: The 1970s and the Last Days of the Working Class) to provide chilling additional detail to the Fonda vs. Fonda story. Cowie quotes Easy Riders creenwriter Terry Southern on what it meant for the stock rednecks in the pickup truck to blow the shit out of the Peter Fonda and Dennis Hopper characters: Southern said that he understood the film's horrifying final scene as, "'an indictment of blue-collar America, the people I thought were responsible for the Vietnam War.'"
"Which is to say," Frank resumes, "Southern thought the people serving in the Vietnam War were the people who got us into the Vietnam War."
And thus did a new generation of college-educated and morally narcissistic American liberals reimagine the salt-of-the-earth Joads as deplorables, as irredeemables — "as fascists" (pp. 190-191).
                                                  *          *          *
But the people who actually got us into the Vietnam War (and kept us there) were — to recall the deliciously ironic title of David Halberstam's monumental history, The Best and the Brightest — not a bunch of violent white-supremacist meth-head rednecks. No, not at all. They were rather the cream of the cream of the new, post-World War II American elite: they were the technocrats, the new meritocracy.
And no one alive writes about the American meritocracy with more insight than does Thomas Frank. His summary of their ways is worthy of memorization: "For them, merit is always synonymous with orthodoxy: the best and the brightest are, in their [own] minds, always those who went to Harvard, who got the big foundation grant, whose books are featured on NPR" (Listen, Liberal, p. 39). These are the men and women who, for going on seven decades now, have formed the Professional Class, the Expert Class, the Liberal Class, the Creative Class, the Learning Class, the Opinion Class, and so on and so forth — they are, in short, the hipper, cooler (and now woker) half of the American Ruling Class. Bottom line: Not only are they way richer and more powerful than you, they are way better than you, both intellectually and morally. At least they see it that way.
Most non-elite Americans, however, because they have, at this point in our history, endured over two generations of breathtakingly spectacular meritocratic failures — including the unending trillion-dollar wars that the elites never fight in and never win, including the elites' financialized ransacking of the once-industrial American heartland, including the elites' perversion of medical care and higher education into grotesque unaffordable rackets — would, if asked, give a more precise answer to the intriguing question of class nomenclature — Liberal Class? Creative Class? Learning Class? — by describing the ascendant meritocracy as our gleefully parasitic Fuck-Up Class.
Quite fittingly, the foundational belief of this class, as Frank shows, is anti-populism. For they believe that democracy is far too important to be left to the dēmos(δῆμος being the Greek word for the plebeians, the class of commoners). No, democracy, as they teach and are taught, requires the subjugation of the dēmos. Democracy actually means aristocracy, but with the well-credentialed technocrats of today taking the place of the well-bred aristocrats of yesteryear.
Frank traces the genealogy of the American meritocracy back to its origins in the 1950s and even identifies its father. This is, by far, the most brilliant part of the book. "Up until this point," Frank writes, "its [anti-populism's] prime constituency had been comfortable and conservative business interests lashing back at radical troublemakers. But now anti-populism was taken up by a new elite, a liberal elite that was led by a handful of thinkers at prestigious universities" (p. 147). And who was, among these elite thinkers, the one true father of our anti-populist meritocracy? It was the eminent historian Richard Hofstadter (1916-1970).
Hofstadter, Frank explains, "retold the story of the 1890s People's Party in his enormously influential 1955 book, The Age of Reform…. [In it] he accused the Populists of losing faith in progress…. He argued that the Populists despised immigrants — indeed, that 'everyone remote and alien was distrusted and hated' by them. Also, that they were 'profoundly nationalistic and bellicose,' … [and] they were 'chiefly' responsible for anti-Semitism in America, blaming Jewish bankers for the farmer's problems" (pp. 154-155).
None of this was true. Hofstadter had "cherry-picked his evidence," Frank told me, in order to promote an ideology that would legitimize elite technocratic rule over regular people, over the dēmos. Hofstadter's purpose, obviously, was not the uncovering of historical truth but rather (to use the apposite Nietzschean terminology) the creation of meritocratic values. Within about ten years, as Frank points out, all of Hofstadter's narrative inventions had been properly exploded in the relevant academic journals. But so what. Hofstadter's smearing of the Populists — and by extension of any mass movement in America that might rise up in the populist spirit and challenge the new meritocracy — caught on like wildfire.
A wildfire that continues to burn fiercely in the hearts of our meritocratic elites. Hillary Clinton, as should be obvious but for various creepy reasons isn't, guaranteed her loss of the 2016 presidential election when she spoke in the spirit of Hofstadter: Trump's supporters were "deplorables" and "irredeemables," she said. In so doing she made her anti-populist contempt for regular Americans indelibly obvious: "[Flyover] America," as Frank interprets Hillary's Hofstadterian heart, "was a wicked land and its people were bastards: racists, sexists, facilitators of evil who actually deserved the postindustrial and opioid-saturated bleakness of their red-state lives" (p. 236).
Yet Hillary's calamitous loss did not force her into permanent political exile — quite the contrary! — it further endeared her to her meritocratic Chosen People: "'I won the places that represent two-thirds of America's gross domestic product…,'" Frank quotes her (p. 231), "'the places that are optimistic, diverse, dynamic, moving forward.'"
At the opposite end of the elitism spectrum from Hillary and Hofstadter is Frank's historiographical hero, the big-hearted Texan Larry Goodwyn, who wrote of the "ideological patience" that is required of citizens who would join a mass movement. Lots of patience. Because non-elites, the people, the plebs, the dēmos, are inevitably rough around the edges, cantankerous even. Of course they are. And more often than not they exhibit very poor fashion sense. Thus the promise of democracy is simultaneously its painstaking challenge.
Yet, since the age of Hofstadter, the establishment Democratic Party has become not merely impatient with Americans, but smugly dismissive of and hostile to them. Frank describes this possibly fatal crisis of democracy with his characteristic gentle wit: "What is certain," he writes, "is that the liberalism of scolding will never give rise to the kind of mass movement that this country needs. It is almost entirely a politics of individual righteousness, an angry refusal of Goodwyn's 'ideological patience.' Its appeal comes not from democratizing the economy but from the satisfaction of wagging a finger in some stupid proletarian's face, forever" (p. 241).
Frank told me that he is doing his best to remain optimistic as he moves onto his next book (which may not even be about politics!), and though I admire his deeply charitable disposition, everything he so eloquently writes would seem to indicate that our national predicament verges on the hopeless. But Frank has just emailed me: "I wish there was a way to end your essay on a hopeful note." Hopeful?? Well, Thomas Frank, yes. Given all the brilliant books you have written for us Americans, you certainly merita happy ending.
                                                  *          *          *
So let's go back in time, back to the future, as it were, further back even than Thomas Frank's Reagan-era boyhood home in Kansas. Quentin Tarantino has blazed a trail for us here. Consider his 2019 film Once Upon a Time in Hollywood, in which Brad Pitt, whose martial arts skills are intensified with a dose of hippie-chick LSD, and Leonardo DiCaprio, who is armed with a Hollywood-enhanced Nazi-frying flamethrower, relive August 8, 1969 in order to destroy the murderous Manson family members who would kill the beautiful flower Sharon Tate, a fair damsel in distress if there ever was one. Now that's a happy ending!
And so Tarantino, yes! And Taibbi, who, crucially, wherever he goes, carries a copy of Hunter Thompson's Fear and Loathing on the Campaign Trail '72, seems to owe Frank a favor now, after the Easy Rider lesson. My own copy of Thompson's book has a new introduction by Taibbi himself. In it, as I reread Thompson's account of his sharing a tab of black acid with the bespectacled, genial, midwestern journalist John Chancellor, a Frankian figure if there ever was one, I realize that Taibbi could do for Frank now what Thompson did for Chancellor back then … and launch him on a trip back to … May of 1972.
For in May of 1972 Thompson's hero George McGovern, now remembered as an embarrassing failure, as the archetypal pie-in-the-sky elitist liberal, had recently won the Wisconsin presidential primary because of the labor support —  because of the populist support — he was attracting. "[McGovern's chief pollster Patrick] Caddell," Thompson writes, "then got up to analyze the blue-collar support. Both McGovern and [arch-segregationist Alabama Governor George] Wallace, he said, draw on the same pool of extremely alienated blue-collar voters, a group that is constantly getting deeper into bitterness, cynicism, and resentment about the current government" (Fear and Loathing on the Campaign Trail '72,p. 162).
We should note that McGovern, like Thomas Frank, was a trained historian, but not part of the Hofstadterian "Consensus" school. Quite the contrary. McGovern wrote his 1953 doctoral dissertation about the American labor movement — specifically, about the Colorado coal strike of 1913-14.
And Wallace's presidential campaign slogan in 1976 would be "Trust the People."
But on May 16, 1972, the racist Wallace was shot by a nut with a gun, at a campaign event in a parking lot in Laurel, Maryland. Wallace was paralyzed for life.
And who came to visit him in the hospital in May of 1972 (where we can visualize his inert legs covered with a confederate-flag bedspread)? Shirley Chisolm, the first black woman to run for president. She did. Wallace's rival in the deepest possible sense. She said that's what her belief in democracy required of her.
Enter Thomas Frank, with Matt Taibbi by his side, as his guide. George Wallace would in later years amazingly and sincerely repent of his racism — see the late Congressman John Lewis's breathtaking account in George Wallace Repents — but in order to save McGovern's populist crusade, Wallace needed to repent then, right there from his hospital bed, and not to John Lewis, but to Shirley Chisolm. And so Frank calls on the magic of Hunter Thompson and Larry Goodwyn, of Brad Pitt and Sharon Tate (now 29 years old) and summons the spirit body of Wallace's dear deceased wife Lurleen, who, cancer-ridden, had given her life to make Wallace's 1968 presidential campaign possible.
And what had Lurleen (brilliantly played by Mare Winningham in the 1997 TV mini-series — with Angelina Jolie playing Wallace's second wife Cornelia) learned in four years in the Afterlife? Well, what do you think she'd learned? Love thy neighbor. And she tells this to George Wallace, and he knows she's right. Trust the People.
And so when Governor Wallace emerges from the hospital in his wheelchair, he has already undergone the change of heart John Lewis would tell us about so many years later. Wallace speaks eloquently throughout the USA about the evil of racism, the evil of Vietnam, and the renewed populist message of his new friend George McGovern.
And what happened next? Well, Hunter Thompson's hero George McGovern beat old Nixon that November — of course he did — and began an era of lasting peace and populist prosperity and racial harmony. An era that continues to this day. Plus President McGovern asked Sharon Tate to persuade Peter Fonda and Terry Southern to redo the bleak, anti-populist ending of Easy Rider: The film now winds up with those crusty rednecks in the pickup inviting Fonda and Hopper over for a veritable feast of Louisiana crawfish étouffée. And they all lived happily ever after. Trust the People.