By Lambert Strether of Corrente.
Bird Song of the Day
From a park in Asunción, Paraguay.
* * *
#COVID19
At reader request, I've added this daily chart from 91-DIVOC. The data is the Johns Hopkins CSSE data. Here is the site.
I feel I'm engaging in a macabre form of tape-watching.
Alert reader RockHard says the spike in the Northeast is from Pennsylvania. And so it is. Here is the data for the Northeast: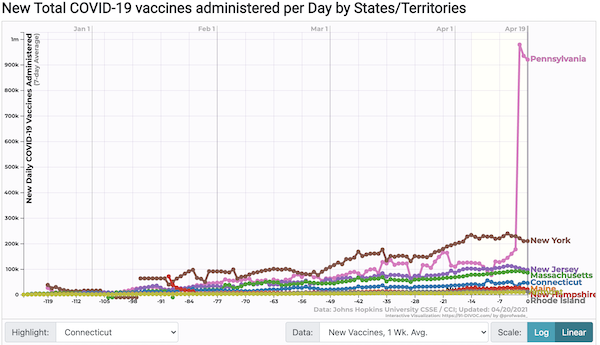 If the Pennsylvania data is good, we need to do whatever they're doing. But I don't think it is good. From the Daily Item: "Pennsylvania state officials say more than 7 million doses of a COVID-19 vaccine have been administered and a quarter of the state's population is fully vaccinated after another 84,000 shots were given on Saturday." The Daily Item again: "The state is receiving nearly 680,000 doses of the Pfizer-BioNTech and Moderna vaccines on Monday." But are those vaccines, as we horridly say, "in arms"? Vaccinations cannot have increased by more than an order of magnitude suddenly. And if this is a reporting backlog, what a debacle. One would expect headlines and credit- or blame-taking somewhere. But nothing. This is Johns Hopkins data, so it's down to them. Readers?
Case count by United States regions: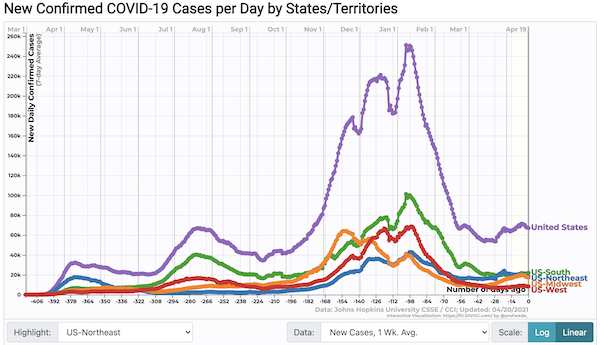 Good news two days in a row.
The Midwest in detail: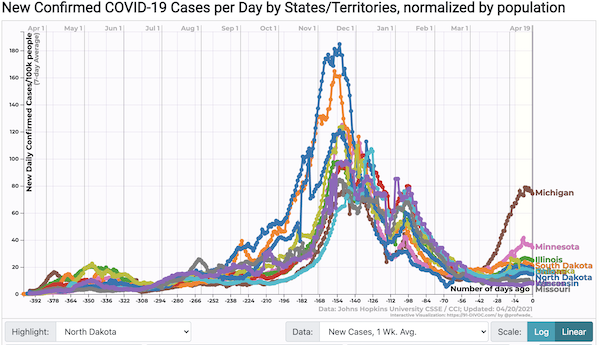 Crossed fingers on Michigan and Minnesota (Could be that people actually do listen when Governors ask them do so stuff, but enough, and enough of them?)
Big states (New York, Florida, Texas, California):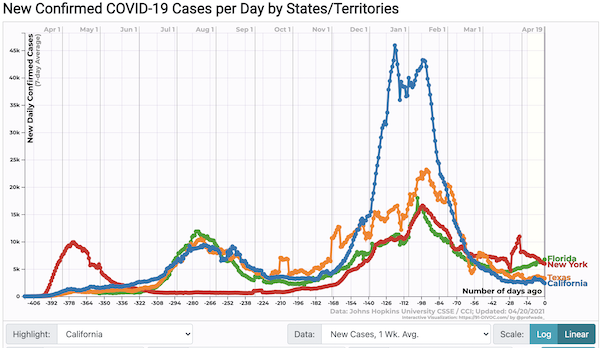 Florida, by a nose. California not following.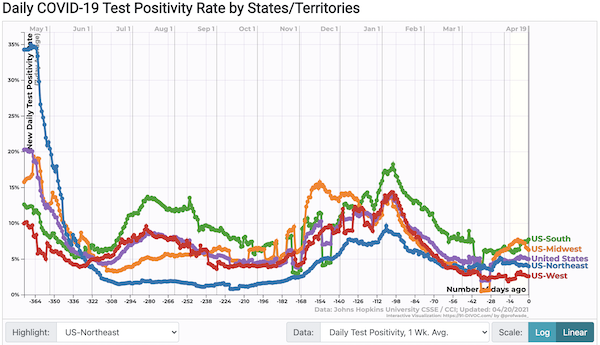 Midwest increases.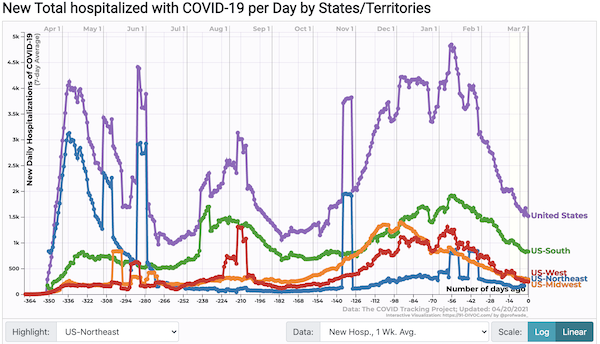 Still heading down.
Case fatality rate (plus deaths):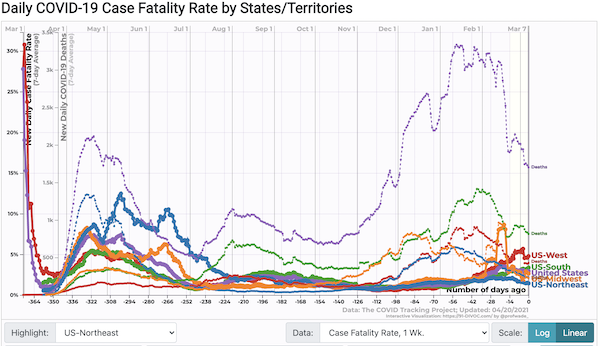 Good to see those deaths dropping. The fatality rate in the West is increasing again, for some reason as unknown as why it dropped.
* * *
Politics
"But what is government itself, but the greatest of all reflections on human nature?" –James Madison, Federalist 51
"They had one weapon left and both knew it: treachery." –Frank Herbert, Dune
"They had learned nothing, and forgotten nothing." –Charles Maurice de Talleyrand-Périgord
Biden Administration
"Trump calls Afghanistan withdrawal 'a wonderful and positive thing to do' and criticizes Biden's timeline" [CNN]. "Though the former President offered his support of President Joe Biden's plans to bring home American troops, he urged his successor to draw an end to America's longest war well before the September 11 deadline that Biden set last week. Trump said that while leaving Afghanistan is 'a wonderful and positive thing to do,' he had set a May 1 withdrawal deadline and added that 'we should keep as close to that schedule as possible.' … Biden said the withdrawal of American troops will begin on May 1, the agreement the Trump administration made with the Taliban. Some US troops will remain to protect American diplomats, though officials have declined to provide a precise number." • So already the walkback begins. And "in line with" is doing a lot of work.
Democrats en Deshabille
"Dems Somehow Pretend This Mostly Helps The Middle Class" [The Daily Poster]. "For years, Democratic lawmakers fought the GOP lie that cast estate tax cuts for billionaires as efforts to rescue family farms. But in this new era of ubiquitous misinformation, the same Democrats are waving a white flag in the battle against anti-tax bullshit. They are ripping a page out of the GOP's "death tax" playbook and conjuring a new lie, this one depicting tax breaks for affluent donors as a defense of working-class homeowners. In the process, Democratic leaders show they fight far harder for the donor class than they do for the working class. At issue is the $10,000 cap on state and local tax (SALT) deductions that was included in President Donald Trump's 2017 tax bill. The cap was designed to limit the amount of state and local tax payments that households not using the newly expanded standard deduction can write off from their federal taxable income…. Notably, members of Congress are not pushing a far more progressive reform of the SALT cap. They are also not pushing to merely raise the cap so that it provides a few more deductions to the lower end of top earners. Instead, they are demanding a full repeal of the cap, which would make sure the maximum amount of deductions flow to the richest sliver of the population."

"I Have a Message for Andrew Cuomo's Top Donors: Cut Your Ties Now" [Ron Kim, Newsweek]. • From an Assemblyman.
Our Famously Free Press
"Policy group hires Mark Halperin years after sexual harassment scandal" [Axios]. "Political journalist Mark Halperin, whose career crumbled in 2017 after multiple women accused him of sexual harassment, has joined No Labels, a D.C.-based bipartisan policy group, Punchbowl News reports. Halperin was once one of the most powerful figures in Washington media. His downfall became one of the prominent examples of the #MeToo movement calling out abuse in the media industry in the fight to end sexual harassment." • No Labels. Of course.
Realignment and Legitimacy
"Ohio nearly purged 10,000 voters who ended up casting 2020 ballots" [Guardian]. "The recent purge marks the second time in recent memory that Ohio has nearly purged scores of eligible voters from its rolls. Months ahead of a scheduled purge in 2019, the state released a list of 235,000 people who were set to be removed from the rolls. Voting rights groups found more than 40,000 eligible voters included on it and were able to prevent them from being removed. Democratic and Republican officials alike have overseen purging for years in Ohio, but a 2016 Reuters analysis illustrated the way the practice can disproportionally hurt Democrats. In the state's three largest counties, voters in Democratic-leaning neighborhoods were struck from the rolls at twice the rate of those in GOP areas, the analysis found. In heavily Black areas of Cincinnati, more than 10% of voters were removed from the rolls between 2012 and 2016 because of inactivity, compared with just 4% in one of the city's suburbs."
Stats Watch
Housing: "February 2021 CoreLogic Single-Family Rents: Rent Prices Continue To Spike" [Econintersect]. "The Single-Family Rent Index (SFRI), which analyzes single-family rent price changes nationally and across major metropolitan areas, for February 2021 shows a national rent increase of 3.9% year over year, up from a 3% year-over-year increase in February 2020. As families continue to seek out more space and face housing affordability concerns, high demand and low rental supply inventory have led to rising rental prices across almost every price tier."
* * *
Retail: "Amazon to open first-ever hair salon in London" [CNBC]. "The launch of the salon comes as many people in the U.K. are struggling to book appointments for haircuts as a result of a backlog that has been caused by the country's coronavirus lockdown. "At the moment Londoners will take any appointment they can get," said London-based venture capitalist Simon Menashy. … Amazon said it will also give customers one of its Fire tablets to use during their appointment." • Gotta unload those tablets somehow, I guess. But is there a line of business that Amazon won't invade?
* * *
Today's Fear & Greed Index: 47 Neutral (previous close: 57 Greed) [CNN]. One week ago: 51 (Neutral). (0 is Extreme Fear; 100 is Extreme Greed). Last updated Apr 20 at 12:56pm. Looks like readers want to keep this. Thank you!
The Biosphere
"Extreme melt reduced Greenland ice sheet storage: study" [Agence France Presse]. "The vast melting of Greenland's ice sheet caused by unusually high temperatures in 2012 had a lasting impact on its ability to absorb and store future meltwater, new research showed Tuesday. Authors of the research said it was evidence of how one-off or rare weather events could have a lasting impact on Earth's frozen spaces and a knock-on effect on global sea levels. In summer 2012, much of the Arctic sweltered in a rare heatwave that saw blue lakes glimmering across Greenland's previously frozen ice sheet. Using advanced modelling techniques, a team of researchers in the US reanalysed radar data collected by flights from NASA's Operation IceBridge between 2012-2017 to interpret melting near the surface of the ice sheet. Ice sheet regions that haven't undergone extreme melting can store meltwater throughout their upper 50 metres or so, preventing it from flowing into the ocean. But the team found that the melting in 2012 had refrozen into a layer of slick ice, creating slippery conditions that can speed up its movement and send chunks into the ocean. In some parts of the Greenland Ice Sheet, the team found that the melt layer had reduced its storage capacity to just five metres. 'When you have these extreme, one-off melt years, it's not just adding more to Greenland's contribution to sea-level rise in that year,' said lead study author Riley Culberg, from Stanford University. 'It's also creating these persistent structural changes in the ice sheet itself.'"
"Noise pollution may prevent forest growth: Study" [Guardian]. "The effects of noise can reach organisms without ears. Because of the way living things rely on each other, noise pollution may actually stop some forests from growing, a new study suggests. In a New Mexico woodland dominated by pinyon pine and juniper trees, researchers found far fewer tree seedlings in noisy sites than they did in quiet ones. The study raises questions about the future of the area. "If the noise stays there long term, are we going to see the slow-motion transition from a pinyon-pine forest to more of a scrubland, and lose this important ecosystem of the pinyon pine which supports so much wildlife?" said Jennifer Phillips, a behavioral ecologist at Texas A&M University-San Antonio. The study area is dotted with gas wells, some of which are quiet and some of which have compressors that create a constant din. This allowed Phillips and her colleagues to compare sites that were similar except for noise level."
"These Ants Shrink Their Brains for a Chance to Become Queen" [New York Times]. • Not subtweeting KHive, I assume [rimshot. laughter].
Health Care
I'll put the world chart here so it doesn't get lost: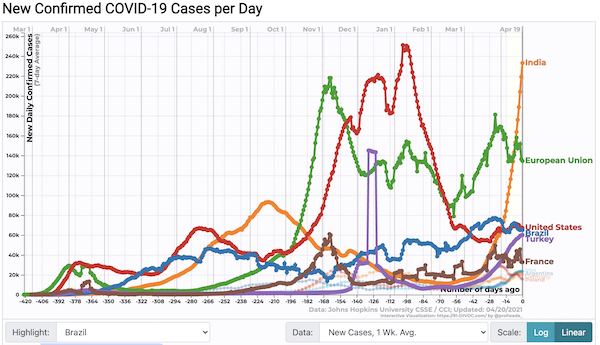 India is bad, for sure, but in absolute terms still behind the world's #1, #1, peak United States (adjusted for population, they'd look even better).
* * *
"We know a lot about Covid-19. Experts have many more questions" [STAT!]. "STAT was curious which questions topped scientists' lists. So, we asked a bunch. More than two dozen virologists, epidemiologists, immunologists, and evolutionary biologists shared with us their top question. (Some … cheated, submitting several.) There was surprising diversity in the questions, though many cluster around certain themes, such as the nature of immunity or the impact of viral variants. Knowing what scientists still want to learn shows us how far we've come — and how far we have left to go to solve the mysteries of SARS-2 and Covid-19." • 
Police State Watch
"A Tradition of Violence: The History of Deputy Gangs in the Los Angeles County Sheriff's Department" [Knock LA]. Amazing reporting, in fifteen parts. "There are at least 18 gangs within the Los Angeles County Sheriff's Department. Officials at various government agencies, including the Los Angeles County Board of Supervisors, the Los Angeles County District Attorney, the California Senate Senate Subcommittee on Police Officer Conduct, and the United States Commission on Civil Rights have heard testimony on the violence inflicted on communities at the hands of deputy gangs for decades. And yet, there have not been any internal investigations or significant policy changes to address the issue. Deputy gangs have killed at least 19 people, all of whom were men of color. At least four of them had a mental illness. Los Angeles County keeps a list of lawsuits related to the deputy gangs. Litigation related to these cases has cost the County just over $100 million over the past 30 years." • Cheap at the price?
The 420
Happy 420:
Happy 420!

Legalizing marijuana is a moral obligation – and a smart decision economically. #LegalizeIt @BernieSanders pic.twitter.com/8Uy0vbjQe1

— Our Revolution (@OurRevolution) April 20, 2021
Handy map:
Here's the state of marijuana legalization on 4/20/2021https://t.co/9GKxDLI0Vu pic.twitter.com/jqluxOeB9p

— Mitch 🌹🍞☮️✊🏽🇵🇸🏴🚩 (@dboon2024) April 20, 2021
"House approves cannabis banking bill" [Axios]. "The House voted 321-101 Monday to approve a cannabis banking bill that would allow banks to 'provide services to cannabis companies' in states where marijuana is legalized. In the past, banks have been hesitant to do business with companies involved with cannabis for fear of violating federal laws. If passed, this bill would remove one of the barriers to developing a national cannabis industry. The bill, which has rare bipartisan support, states that proceeds from legal marijuana businesses wouldn't be considered illegal and prompts federal regulators to create regulations for supervising these kinds of transactions, per Reuters."
"Americans overwhelmingly say marijuana should be legal for recreational or medical use" [Pew Research Center]. "As more states, including Virginia and New York, continue to legalize marijuana, an overwhelming share of U.S. adults (91%) say either that marijuana should be legal for medical and recreational use (60%) or that it should be legal for medical use only (31%). Fewer than one-in-ten (8%) say marijuana should not be legal for use by adults."
Keeping my eye on Fetterman:
I was the only candidate who said it in 2016, and I'll keep saying it until we make it happen:

Let's make weed legal. Let's address the systemic racism in our nation's drug policy and end the war on drugs.

Happy 4/20. pic.twitter.com/ZMhW8HK6u7

— John Fetterman (@JohnFetterman) April 20, 2021
"Dallas police to stop arresting people for small amounts of marijuana after new policy" [Dallas Morning News]. "New policy comes after report found Dallas police made thousands of arrests for small amounts of marijuana on mostly Black and Latino residents."
"Controversial Florida medical marijuana bill 'effectively dead'" [Tampa Bay Times]. "A controversial measure being contemplated by Florida lawmakers to cap the potency of medical marijuana will apparently not become law this year. Proponents of the THC capping measure, including many House Republicans, said the legislation was needed in part to stop drug seeking behavior on the part of medical marijuana patients. At multiple committee stops, Roach compared the issues with Florida's medical marijuana system to the issues that bred the state's deadly opioid crisis. (Democratic opponents, noting that a marijuana overdose has never killed a Floridian, dismissed such concerns as 'reefer madness.') The bill's apparent death was celebrated by medical marijuana advocates, who argued the measure would have amounted to the Legislature overriding a doctor's medical advice. The bill would have limited the amount of THC in smokable cannabis to just ten percent of the plant by volume; what if, advocates argued, a doctor thought a patient needed stronger medicine than that?"
Games
A comparison:
video games are like opera, an important form of culture and medium of creative expression i simply don't know how to understand or enjoy.

— Steve Randy Waldman (@interfluidity) April 20, 2021
This is where I am, but opera, at least in this country today, is not followed by tens of millions of people.
"People Are Playing a Guessing Game in Google Maps" [Wired]. "GeoGuessr is a website that was created as a hobby project in 2013 by Swedish IT consultant Anton Wallen. You're placed, virtually, into a random location around the world. GeoGuessr interfaces with Google Street View, allowing you to explore the surrounding area to use context clues to figure out where, exactly, you are. If it has a vehicle-accessible road near it, then it's fair game." • This looks pretty neat!
"Even As A Pacifist You Will Still Kill Over 700 People In Grand Theft Auto V" [Kotaku]. "Like they did with Max Payne, Sex Positive Gamer have sat down with Grand Theft Auto V and played it as peacefully as possible, keeping murders to the absolute minimum required to progress the story. And it's still a lot of murders. 726, to be precise, most of them as part of missions where the objective is simply to kill XX number of bad guys, or certain targets, before it counts as being completed. They never ran over a single pedestrian, or triggered any police chases, and tested several missions with respawning enemies to find the fastest way possible to complete them. That's 172 kills playing as Michael, 295 as Franklin and "only" 258 as the homicidal maniac Trevor Philips, with a final kill coming as a collaboration between all three in the game's final (canon) main story mission." • That seems like rather a lot. I wonder if killing in the imagination, as in the bloody Game of Thrones, is different from killing in a game, where the body is involved, not simply the mind.
"6 Creatively Funny Ways Gamers Abused NPCs" [Cracked]. • Non-Player Characters.
The Agony Column
"There's a Name for the Blah You're Feeling: It's Called Languishing" [New York Times]. "Languishing is a sense of stagnation and emptiness. It feels as if you're muddling through your days, looking at your life through a foggy windshield. And it might be the dominant emotion of 2021…. In the early, uncertain days of the pandemic, it's likely that your brain's threat detection system — called the amygdala — was on high alert for fight-or-flight. As you learned that masks helped protect us — but package-scrubbing didn't — you probably developed routines that eased your sense of dread. But the pandemic has dragged on, and the acute state of anguish has given way to a chronic condition of languish. Languishing is the neglected middle child of mental health. It's the void between depression and flourishing — the absence of well-being. You don't have symptoms of mental illness, but you're not the picture of mental health either. You're not functioning at full capacity…. Psychologists find that one of the best strategies for managing emotions is to name them." • I agree with the last claim. Once I named "Seasonal Affective Depression," it no longer had such power over me. I knew what was happening to me.
Class Warfare
"Inside the Alabama Amazon Union Drive: An Interview with the Lead Organizer" (interview) [Joshua Brewer, Labor Notes]. Interesting on nuts and bolts. Brewer: "So we did know that it was well over 1,500 workers at that point—we had over that amount of cards. When they filed and they returned back with the 5,800, we still had over 50 percent. We were looking at a mail-ballot election, and the committee was telling us it was hot: 'Workers want to vote, they want to push, they don't want to wait.' We give them guidance and certainly there's times where we even tell them, "Listen, we think you're wrong here," but at the end of the day it's a worker-led campaign." • So it was a "hot shop"?
"Amazon: How one cancer patient's story helps explain the Alabama union vote" [BBC]. "Amazon's tactics had a darker side though. The union wanted to talk about excessive workload, bathroom breaks and pay. Amazon pushed the narrative that the union might take away worker benefits, including healthcare."
"The Repressive Politics of Emotional Intelligence" [The New Yorker]. "Gradually, one sees why the concept of emotional intelligence won such wide acceptance. It is not a quality or even an attribute but a regimen of restraint. It is a collection of practices—assessment, feedback, coaching, meditation—for monitoring yourself and others, in a way that marries the promise of total self-actualization to the perils of absolute social deprivation. For all its righteous proclamations about what ails the modern world, its goals are straightforwardly conservative: to encourage people to stay in school, to secure stable employment, to bind themselves to their work, to have families and keep them intact, and to raise their children to repeat this same cycle of productive activity. Emotional intelligence, in other words, is a self-help doctrine deeply indebted to the moralizing ideology of neoliberalism."
"The Consequences of Catholicism for Political Theory" [Benjamin Studebaker]. "The countries we think of as 'western' are all countries where Catholicism was once dominant but is now in varying levels of retreat. Western countries are 'post-Catholic'… It was only in the Catholic west that politics and morality were firmly separated, with the former rendered clearly subordinate to the latter…. Because Catholicism made politics subject to religion, it became especially important for its theology to be clear. If the legitimacy of the regime depends on the regime having the right moral orientation, a moral consensus must be maintained and articulated. Any breakdown in the consensus over religion would threaten to destroy the political consensus, too. So in the Catholic world, heresy became extraordinarily taboo…. The excessively strong, excessively precise claims of the Catholics led to the repudiation of these claims by the Protestants and humanists. This tore apart the Catholic consensus and badly undermined political legitimacy…. In the post-Catholic world, the state was still expected to justify itself in reference to morality. Without a moral consensus, the basis of the state's authority was in jeopardy. So when post-Catholic states embraced pluralism, they had to embrace pluralism as a morality in itself, so that this morality could take on the role which Catholicism had previously played. This, ultimately, is what liberalism is–a kind of pluralism fashioned into a morality to which the state might be answerable. A liberal state, therefore, is one in which the state must demonstrate a commitment to pluralism to demonstrate its moral righteousness. This means that the liberal state demonstrates its moral righteousness by refusing to take specific moral positions that might undermine pluralism." • Hmm. I'm not seeing any examples, here.
"The Dead End of the Left?" [Commonweal]. "Contra the "Catholic Left," which tended to regard Marx's atheism as accidental, and tried to rescue his socio-political analysis from his religious views, Del Noce concluded that what Marx proposed was not just a new theory of history or a new program of political economy, but a new anthropology, one completely different from the Christian tradition. (Louis Dupré had made a similar argument in the pages of Commonweal; see 'Marx and Religion: An Impossible Marriage,' April 26, 1968.) Marx viewed humans as 'social beings' entirely determined by historical and material circumstances rather than by their relationship with God. He viewed human reason as purely instrumental—a tool of production and social organization rather than the capacity to contemplate the truth and participate in the divine wisdom. Finally, Marx viewed liberation as the fruit of political action, not as a personal process of conversion aided by grace. Marxist politics was not guided by fixed and absolute ethical principles, because ethics, along with philosophy, was absorbed into politics. Del Noce concluded that there was no way to rescue Marx's politics from his atheism, which had as much to do with his view of man as with his view of God."
News of the Wired
"They Hacked McDonald's Ice Cream Machines—and Started a Cold War" [Wired]. "Press the cone icon on the screen of the Taylor C602 digital ice cream machine, [Jeremy O'Sullivan] explains, then tap the buttons that show a snowflake and a milkshake to set the digits on the screen to 5, then 2, then 3, then 1. After that precise series of no fewer than 16 button presses, a menu magically unlocks. Only with this cheat code can you access the machine's vital signs…. The secret menu reveals a business model that goes beyond a right-to-repair issue, O'Sullivan argues. It represents, as he describes it, nothing short of a milkshake shakedown: Sell franchisees a complicated and fragile machine. Prevent them from figuring out why it constantly breaks. Take a cut of the distributors' profit from the repairs. "It's a huge money maker to have a customer that's purposefully, intentionally blind and unable to make very fundamental changes to their own equipment," O'Sullivan says." • Right to repair once more….
* * *
Readers, feel free to contact me at lambert [UNDERSCORE] strether [DOT] corrente [AT] yahoo [DOT] com, with (a) links, and even better (b) sources I should curate regularly, (c) how to send me a check if you are allergic to PayPal, and (d) to find out how to send me images of plants. Vegetables are fine! Fungi and coral are deemed to be honorary plants! If you want your handle to appear as a credit, please place it at the start of your mail in parentheses: (thus). Otherwise, I will anonymize by using your initials. See the previous Water Cooler (with plant) here. Today's plant (FreeMarketApologist):\\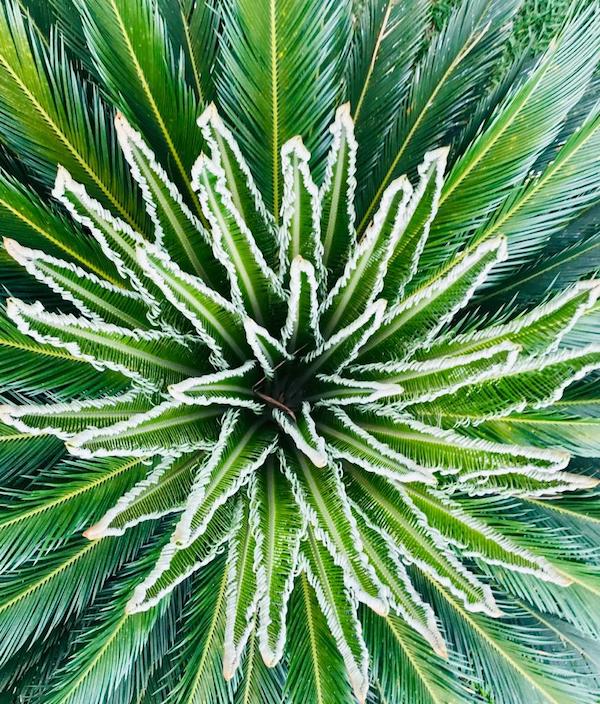 FreeMarketApologist writes: "From Xalapa, Mexico, a cycad that has sent up new growth this afternoon."
* * *
Readers: Water Cooler is a standalone entity not covered by the recently concluded and — thank you! — successful annual NC fundraiser. So if you see a link you especially like, or an item you wouldn't see anywhere else, please do not hesitate to express your appreciation in tangible form. Remember, a tip jar is for tipping! Regular positive feedback both makes me feel good and lets me know I'm on the right track with coverage. When I get no donations for five or ten days I get worried. More tangibly, a constant trickle of donations helps me with expenses, and I factor in that trickle when setting fundraising goals:
Here is the screen that will appear, which I have helpfully annotated.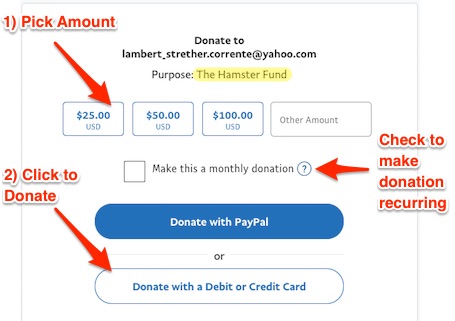 If you hate PayPal, you can email me at lambert [UNDERSCORE] strether [DOT] corrente [AT] yahoo [DOT] com, and I will give you directions on how to send a check. Thank you!