By Lambert Strether of Corrente.
Bird Song of the Day
Amazonia sounds like a busy place!
* * *
#COVID19
At reader request, I've added this daily chart from 91-DIVOC. The data is the Johns Hopkins CSSE data. Here is the site.
I feel I'm engaging in a macabre form of tape-watching.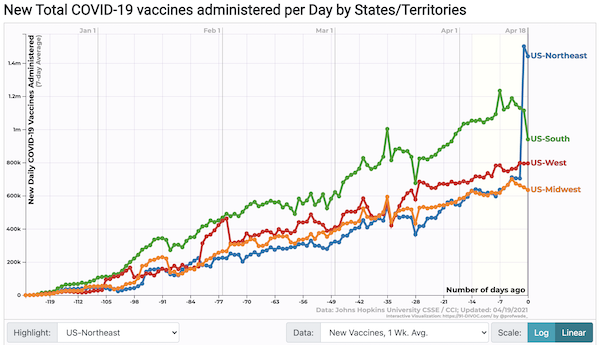 Holy cow! Did somebody at CDC find a bunch of faxes from the Northeast wadded up in a drawer? I did spend a few minutes poking around, and didn't find anything on this staggering leap, so I assume this is a data glitch that's going to be rolled back. Readers? And in a week or so, we'll see what effect the J&J debacle has had, if any.
US: "Covid-19 Live Updates: All U.S. Adults Eligible for Vaccine, Meeting a Biden Goal" [New York Times]. • As readers know, I put the rising vaccine numbers down to "the troops"; people on the ground getting it done, as opposed to messaging or policy at the Federal level; that's why there's no inflection point after Biden took office, but a steady rise. So Biden, in essence, painted his Bulls-eye when the arrow's trajectory was known.
Case count by United States regions: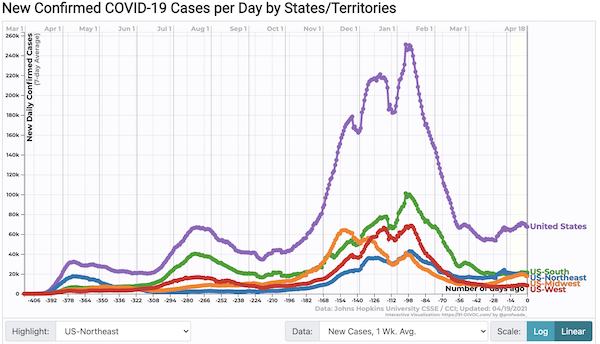 Some good news for a change.
The Midwest in detail: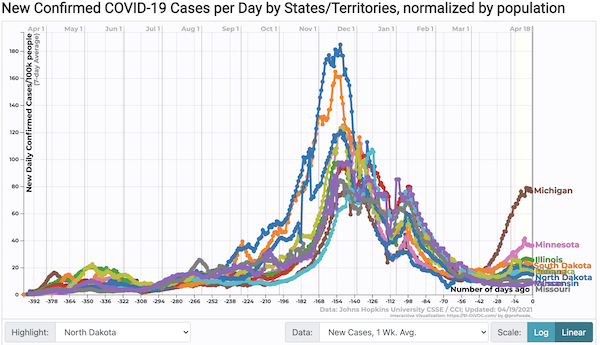 Would be lovely if Michigan was stalling out. MInnesota, too. (Could be that people actually do listen when Governors ask them do so stuff, but enough, and enough of them?)
MI:
Why are schools not on this list? This is from Michigan's Covid site…schools account for the most clusters. We have no clear data about this here in BC…how is it possible we are so different? pic.twitter.com/TKOJMslq1L

— Lisa Cogan (@lisapaigecogan) April 15, 2021
Heckuva job, Rachel.
Big states (New York, Florida, Texas, California):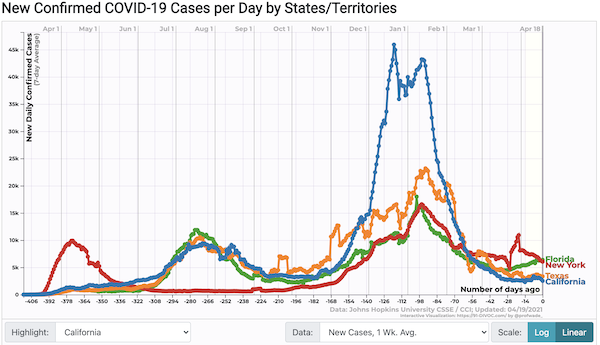 Florida, by a nose. California not following.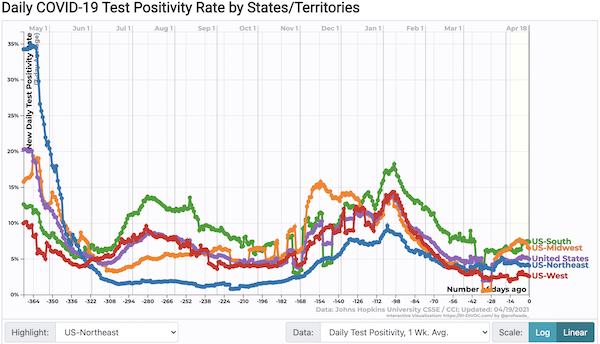 Midwest increases.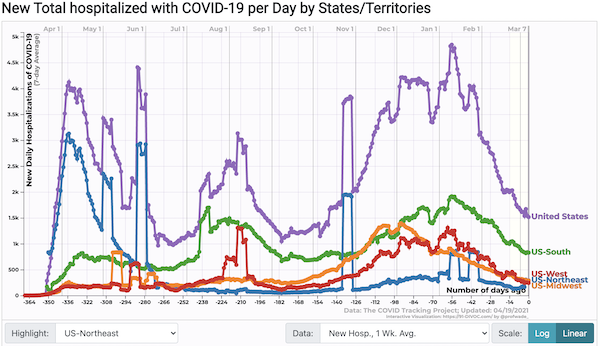 Still heading down.
Case fatality rate (plus deaths):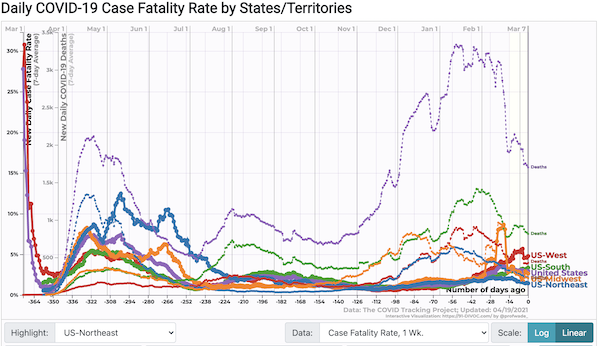 Good to see those deaths dropping. The fatality rate in the West is dropping now, for some reason as unknown as why it rose.
* * *
Politics
"But what is government itself, but the greatest of all reflections on human nature?" –James Madison, Federalist 51
"They had one weapon left and both knew it: treachery." –Frank Herbert, Dune
"They had learned nothing, and forgotten nothing." –Charles Maurice de Talleyrand-Périgord
Biden Administration
"Biden won't bring on board controversial Russia expert" [Politico]. "Matthew Rojansky, the director of the Wilson Center's Kennan Institute, was being considered for the position of Russia director on the NSC — an influential role that would make him a key touchpoint between the various Cabinet agencies seeking to drive a concerted response to Russia's aggressive moves in Eastern Europe and beyond…. Rojansky got far in the hiring process, the people noted, and was being considered for the role for at least six weeks before his name was made public by Axios. That report provoked uproar among well-known Russia hawks, including activists Bill Browder and Garry Kasparov, as well as the largest Ukrainian-American organization in the country. Rojansky's critics have pointed to the Kennan Institute's 2015 award to Russian oligarch Petr Aven, and an open letter written by Ukrainian alumni of the Kennan Institute in 2018 that slammed the think tank unit as an 'unwitting tool of Russia's political interference.'" • The national security goons mounted Trump and dug in the spurs when they forced him to fire Flynn, though he bucked a good deal. The same thing just happened, more slowly and genteelly, here with Biden.

National Security goon Susan Rice got banned from entering Russia in the latest New Cold War spat. She responds:

So much for taking my family on Spring Break to our favorite AirBnB in Siberia… pic.twitter.com/VA09hChtNC

— Susan Rice (@AmbassadorRice) April 17, 2021

Now, I know Rice is from Portland, which is practically in Boston anyhow, but there are places north in her home state where that B&B would look pretty good. Palatial, even. Perhaps she's a little out of touch…

"Kamala's KHive trolls boosted by bots while media defends harassment campaigns" [The Grayzone]. The final paragraph: "Harris and her husband, Douglas Emhoff, have openly embraced and encouraged the KHive, praising its members as "pretty awesome." • Oh.
Democrats en Deshabille
"Cuomo gets boost from former Google CEO" [Politico]. "As the governor signed one of the budget bills Friday, [Eric] Schmidt joined Cuomo to help tout an effort to expand broadband access — and give the Democrat a public boost of confidence. 'Governor, your leadership in general over this pandemic has been extraordinary,' Schmidt said. As with other events in recent weeks, Cuomo was flanked by supporters who praised his handling of the Covid-19 crisis." • I guess the Silicon Valley tradition of the "cuddle puddle" continues. (Schmidt had "a string of exotic lovers in his 'open marriage'." So perhaps that formed a bond.)

"George W. Bush: 'It's a problem that Americans are so polarized' they can't imagine him being friends with Michelle Obama" [The Hill]. • Who doesn't want to be friends with a war criminal?
Our Famously Free Press
Learned nothing….

I don't understand why President Biden would tie his hands with a commitment that "all" US forces will be withdrawn from Afghanistan. Drones and special forces too? Biden's speech tried to shift the onus to Trump, but that's evasion of his own decision. https://t.co/StG2yliPlo

— David Frum (@davidfrum) April 18, 2021

It kills me this guy is editing the Atlantic — and that the Atantic is still worth reading.
Stats Watch
Employment Situation: "Key reason unemployment rate fell: Californians dropped out of workforce" [CalMatters]. "The Golden State's unemployment rate hit a pandemic low of 8.3% in March, down from 8.5% in February, according to figures released Friday by the Employment Development Department. But the decline was largely caused by the nearly 40,000 Californians who stopped looking for work altogether, even as employers added 119,600 new jobs. Similarly, California's unemployment rate improved 0.3% between December and January, partly because 36,500 people dropped out of the job market. February is so far the only month in 2021 that saw an increase in the civilian labor market….. The numbers suggest that it will take more than fully reopening on June 15 for California's economy to bounce back — and for the state to close gaps that persisted long before the pandemic hit. "
* * *
* * *
Today's Fear & Greed Index:
Today's Fear & Greed Index: 56 Greed (previous close: 59 Greed) [CNN]. One week ago: 54 (Neutral). (0 is Extreme Fear; 100 is Extreme Greed). Last updated Apr 19 at 12:20pm. This index is here by request, but perhaps it's time has come and gone. Here is a discussion of its pros and cons. I personally like it not because I used it as an investment tool — I don't play the ponies, and in any case NC does not give investment advice — but because I feel about Mr. Market the way that Canadians are said to feel about the United States: If it rolls over, I'll get crushed. So when the Fear Index is at 3, or the Greed at 97, I take note. Readers?
Rapture Index: Closes up one on Gog (Russia). "Russia and the U.S. have locked horns over several world issues" [Rapture Ready]. Record High, October 10, 2016: 189. Current: 188 (Remember that bringing on the rapture is a good thing, so high is better.)
Health Care
"CDC COVID-19 Partner Update: When to Clean, When to Disinfect, and What Science Says about SARS-CoV-2 on Surfaces" [Centers for Disease Control]. • It's a webinar. I should sign up, but I don't think I could stand it:
"What Science Says about SARS-CoV-2 on Surfaces" is that — and I'll put this as kindly as I can — is that fomites are not the main means of transmission. Why on earth, at this late date, is CDC encouraging hygiene theatre? (Dr. Vincent Hill is chief of the CDC's Waterborne Disease Prevention Branch.)
"Aerosols and making spaces safe" (videos) [Nuffield Department of Primary Care Health Sciences, University of Oxford].
Were I to give advice, I'd say go long C02 meters as a proxy for "shared air" (with potential Covid contamination). Not sure I'd splash out 200 bucks for one personally, since I can just avoid 3-C spaces, but certainly schools could use them, for planning purposes (i.e., not a budget-busting one per classroom). And–
"Exhaled CO2 as a COVID-19 Infection Risk Proxy for Different Indoor Environments and Activities" [Environmental Science & Technology Letters]. "CO2 is co-exhaled with aerosols containing SARS-CoV-2 by COVID-19-infected people and can be used as a proxy of SARS-CoV-2 concentrations indoors. Indoor CO2 measurements by low-cost sensors hold promise for mass monitoring of indoor aerosol transmission risk for COVID-19 and other respiratory diseases. We derive analytical expressions of CO2-based risk proxies and apply them to various typical indoor environments….Although large uncertainties, mainly from virus exhalation rates, are still associated with infection risk estimates, our study provides more specific and practical recommendations for low-cost CO2-based indoor infection risk monitoring." • The article has math with italic letters, which is above my paygrade, but one of the authors supplies this useful thread:
6/ Which factors increase risk?

– Strong vocalization (much more virus out)
– Lack of masking (more virus out and breathed in)
– Breathed volume (e.g. exercise, more virus inhaled)
– Event duration (more virus inhaled)
– Infection rate in population (chance of infected present)

— Jose-Luis Jimenez (@jljcolorado) April 5, 2021
A thread to bring you up to speed on variants:
THREAD on VARIANTS, VACCINES & POTENTIAL FUTURES:

I've been looking at data on sequenced variants. I've also been thinking about our vax programme & India.

TLDR: the Indian variant needs to trigger surge testing in England. And India needs to be on red list. 1/23

— Prof. Christina Pagel (@chrischirp) April 18, 2021
"'Ripe for fraud': Coronavirus vaccination cards support burgeoning scams" [WaPo]. Three listings on EBay and WaPo mashes the big red hysteria button. Let's assume that somehow (not everybody has a cellphone) vaccinations were recorded digitally (by the vaccinators, obviously, since only they know all the data) and that this EHR could be filled out without slowing the line or halting it entirely, in the case of network failure. What would happen? Millions of vaccination records would be hacked, that's what would happen (and you can bet insurance companies would pay very good money to some black hat for the info too. Actuaries love that kind of stuff). In reality, the CDC card functions perfectly well for the purpose for which it was designed: To remind the patient of what their next shot should be, and inform the practioner. It's only when you try to turn to card into something it isn't — a vaccine passport — that "fraud" enters in. One might almost think WaPo's story was motivated, first by the push for vaccine passports, and second by the prospect of a nice fat contract for AWS.
"What Iowa's excess mortality statistics say about COVID-19's true impact" [Bleeding Heartland]. "In conclusion I would say that, while there is no smoking gun indicating exactly how many COVID-19 deaths were not officially counted, an analysis of excess mortality statistics generally supports my suspicion that the official death toll likely underestimates the impact of SARS-CoV-2 and its management by the state of Iowa and the federal government. The 5,453 excess deaths in Iowa in 2020 was 15 percent higher than 4,736, the current official death count of COVID-19 in Iowa from March through December 2020. That's a difference of 717 deaths. Surely not all of them stemmed directly from COVID-19, but some likely did, and other lives ended earlier than if had there been no pandemic, or if Iowa had better managed spread of the virus."
"As part of revamp, Ohio Medicaid hires watchdog for state-run pharmacy benefits manager" [Columbus Dispatch]. "Bedeviled for years by pharmacy benefit managers making hundreds of millions from Ohio, the state Medicaid department completed its revamp of the entire PBM setup Wednesday by awarding a contract costing 25% less than estimated. Indianapolis firm Myers and Stauffer will be paid an average of $1.5 million a year under a two-year pact that has an additional six optional years. The price tag if the deal remains in place for the entire eight years would be $12 million….. After a Dispatch investigation into PBM drug-pricing practices for Ohio's Medicaid recipients, in 2018 a consultant hired by the state discovered the PBMs were making close to a quarter of a billion dollars — three to six times the standard industry rate. The state dumped a 'spread pricing' method — in which PBMs were charging the state much more than they were reimbursing Ohio pharmacies to dispense the prescriptions — and tried a 'pass-through' model that barred spread pricing. However, a Dispatch investigation found that the PBMs were directing many prescriptions for the most expensive specialty drugs toward pharmacies owned by the same firms as the PBMs. Gov. Mike DeWine ordered a complete revamp, and Wednesday's action was the final contract to put that goal into effect."
Police State Watch
""How Could This Happen in America?" Why Police Are Treating Americans Like Military Threats" [William Hogeland, Truthout]. From 2011, still germane: "James Madison may offer some long-range perspective. During the 1787 Constitutional Convention, arguing for forming a nation instead of retaining the confederation of states, he said that force applied to citizens collectively rather than individually ceases to be law enforcement and becomes war; groups so treated will seize the opportunity to dissolve all compacts by which they might otherwise have been bound. Madison's argued against militarism in favor not of anarchy but of a higher kind of law and order." • Speaking of which:
Remember how, in the wake of George Floyd's murder, the UCs pledged to re-dedicate to racial justice (and started by uhhhh using Jackie Robinson Stadium as an open air jail)? 2/ pic.twitter.com/SfCDmk8xNP

— Cops Off Campus (@ucftp) April 16, 2021
Sports Desk
"The Knicks' Revolutionary Competence" [New York Magazine]. "The stunner is that the Knicks are solid right now. They're a tough, defensively minded squad that plays together, plays hard, and plays like it hasn't noticed that it says KNICKS on their uniforms. This has been almost entirely the doing of new coach Tom Thibodeau, a 63-year-old gym rat who won a championship as the "defensive guru" of the Boston Celtics, nearly won a title with the Chicago Bulls, and then was run out of Minnesota, labeled as a control freak coach in a league where coaches are now supposed to be hands-off and player-friendly. In many ways, he took the Knicks job because no one else would have him (and because he wasn't exactly the smoothest television personality). But his obsessive attention to detail and unhealthy competitiveness — he looks like every vein in his head is going to burst into flames at any moment — has, remarkably, transformed the team." • I don't follow sports at all, but I do occasionally encounter a feel-good story like this one. For example: "He has turned Julius Randle, long considered a mercurial, unfocused coulda-been star who would never realize his true talent, into an All-Star and deserved fan favorite in New York. (After years of being viewed as a disappointment, Randle nearly burst into tears upon hearing cheers of "MVP" from the newly admitted fans at the Garden.) " • Good for them. Long may it last. And [family blog] you, James Dolan, you cancer.
The 420
"As Pot Goes Mainstream, Illicit Market Endures: Cannabis Weekly" [Bloomberg]. "Just one in three cannabis consumers in the U.S. buys from established brick-and-mortar stores, according to a survey published this month by New Frontier Data. The most popular source remains the users' friends, while another 20% get their weed from dealers. The results underscore how strong the illicit cannabis market still is — and the opportunity for companies to convert people to legal sales. The study found that consumers now spend an estimated $89 billion on legal and illegal cannabis in the U.S." • So why not legalize buying "pot" from friends? No corporate market?
Department of Feline Felicity
Dad.
— Well, actually, Bruce Baugh (@BruceRedux) April 16, 2021
Class Warfare
I missed the beginning of this discussion, which was probably my good luck:
It. Is. A. Useful. descriptive. Term. In. England. For. The. Groups. In. The. Wake. Of. The. Roman. Departure. pic.twitter.com/pQqUlxr8IJ

— Dr Dan Waterfield (@danwaterfield) April 18, 2021
That's Anglo-Saxonx. And as was pointed out down-thread, the Jutes have undergone erasure. This is violence.
"Marxism and Buddhism" [Aeon]. I think that's a stretch. Still, this is interesting: " According to Marx's historical materialism, the social relations that determine the self are, as we know, determined by the 'mode of production'. Consequently, when the 'mode of production' changes, so does human nature….. If something is empty of substance, then it is relations that define the thing. In other words, everything is what it is in virtue of bearing certain relations to other things and, as those things are related to other things, ultimately in virtue of bearing relations to everything else. Everything stands in a unique set of relations to other things, which thereby individuates it without its having to assume a unique and individual substance. You stand in countless relations to your parents, spouse, but also to your car and bank account. The impression that there are such things as houses, selves, spouses, bank accounts, hammers and so on, all independent of a network of relations, is actually a conceptual illusion. This, in short, is the Buddhist notion of emptiness. The notion of emptiness includes the notion of self. The self, too, is empty in that it is exclusively defined by its relations, not some underlying substance. This is the idea of no-self." • Harking back to the Penobscot language the other way, I believe that Penobscots define places not by (colonialist) latitude and longitude, but to the other places surrounding the place of interest. It's relational.
News of the Wired
"NASA's Ingenuity helicopter lifts off of Mars" [Science]. "A few hours ago, in the middle of martian daytime, Ingenuity, NASA's $80 million small helicopter, furiously spun its rotors, rose in the air and hovered. It rotated and took a picture before alighting once again on the surface. The modest flight, lasting less than 1 minute, represents a major milestone: the first controlled flight of a powered aircraft on another planet. The data began to trickle in at 6:40 a.m. EDT, relayed by the Perseverance rover to orbiters above and back to Earth. Cheers erupted 12 minutes later among Ingenuity's small team of engineers and scientists when confirmation of a successful flight came, first from a laser altimeter showing the helicopter had risen about 3 meters in the air. Those data were followed by a picture from a camera on the helicopter's belly, showing its shadow directly below on the surface. 'We can now say that human beings have flown a rotorcraft on another planet.' said MiMi Aung, Ingenuity's project manager at NASA's Jet Propulsion Laboratory. 'We've been talking so long about our Wright brothers moment on Mars. And here it is.'… But even if it was modest, Ingenuity's first flight will be one for the record books, Aung added. 'Each world,' she said, 'only gets one first flight.'" • While I don't think humans should be allowed onto another planet until we can prove we haven't destroyed this one, nevertheless Perseverance and Ingenuity have been thrilling and beautiful.
Dad.
This is my step ladder.

I never knew my real ladder. pic.twitter.com/5vIFjZDZPV

— YS (@NYinLA2121) April 18, 2021
* * *
Readers, feel free to contact me at lambert [UNDERSCORE] strether [DOT] corrente [AT] yahoo [DOT] com, with (a) links, and even better (b) sources I should curate regularly, (c) how to send me a check if you are allergic to PayPal, and (d) to find out how to send me images of plants. Vegetables are fine! Fungi and coral are deemed to be honorary plants! If you want your handle to appear as a credit, please place it at the start of your mail in parentheses: (thus). Otherwise, I will anonymize by using your initials. See the previous Water Cooler (with plant) here. Today's plant (ChiGal):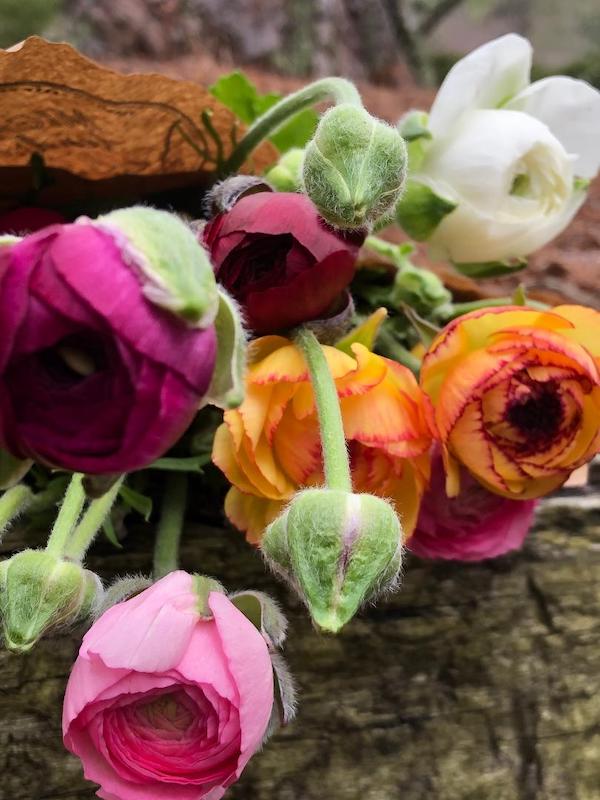 ChiGal writes: "Not a wedding anniversary bouquet but still feels like a celebration: first flowers from the farmer's market since 2019, a long time to go without ranunculus!"
* * *
Readers: Water Cooler is a standalone entity not covered by the recently concluded and — thank you! — successful annual NC fundraiser. So if you see a link you especially like, or an item you wouldn't see anywhere else, please do not hesitate to express your appreciation in tangible form. Remember, a tip jar is for tipping! Regular positive feedback both makes me feel good and lets me know I'm on the right track with coverage. When I get no donations for five or ten days I get worried. More tangibly, a constant trickle of donations helps me with expenses, and I factor in that trickle when setting fundraising goals:
Here is the screen that will appear, which I have helpfully annotated.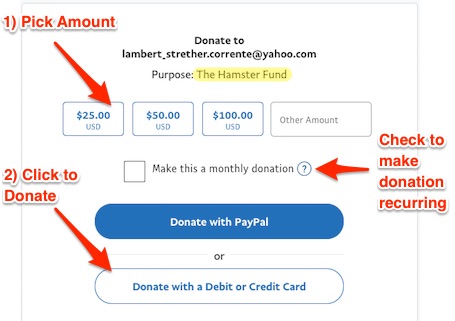 If you hate PayPal, you can email me at lambert [UNDERSCORE] strether [DOT] corrente [AT] yahoo [DOT] com, and I will give you directions on how to send a check. Thank you!