Yves here. Richard Murphy is writing from a UK vantage, where the lockdowns have been harder and longer-lived than in the US, stimulus has been less lavish, but the UK is also further along in getting citizens vaccinated (although the US ranks better on the proportion fully vaccinated, at 26%, versus 19% for the UK):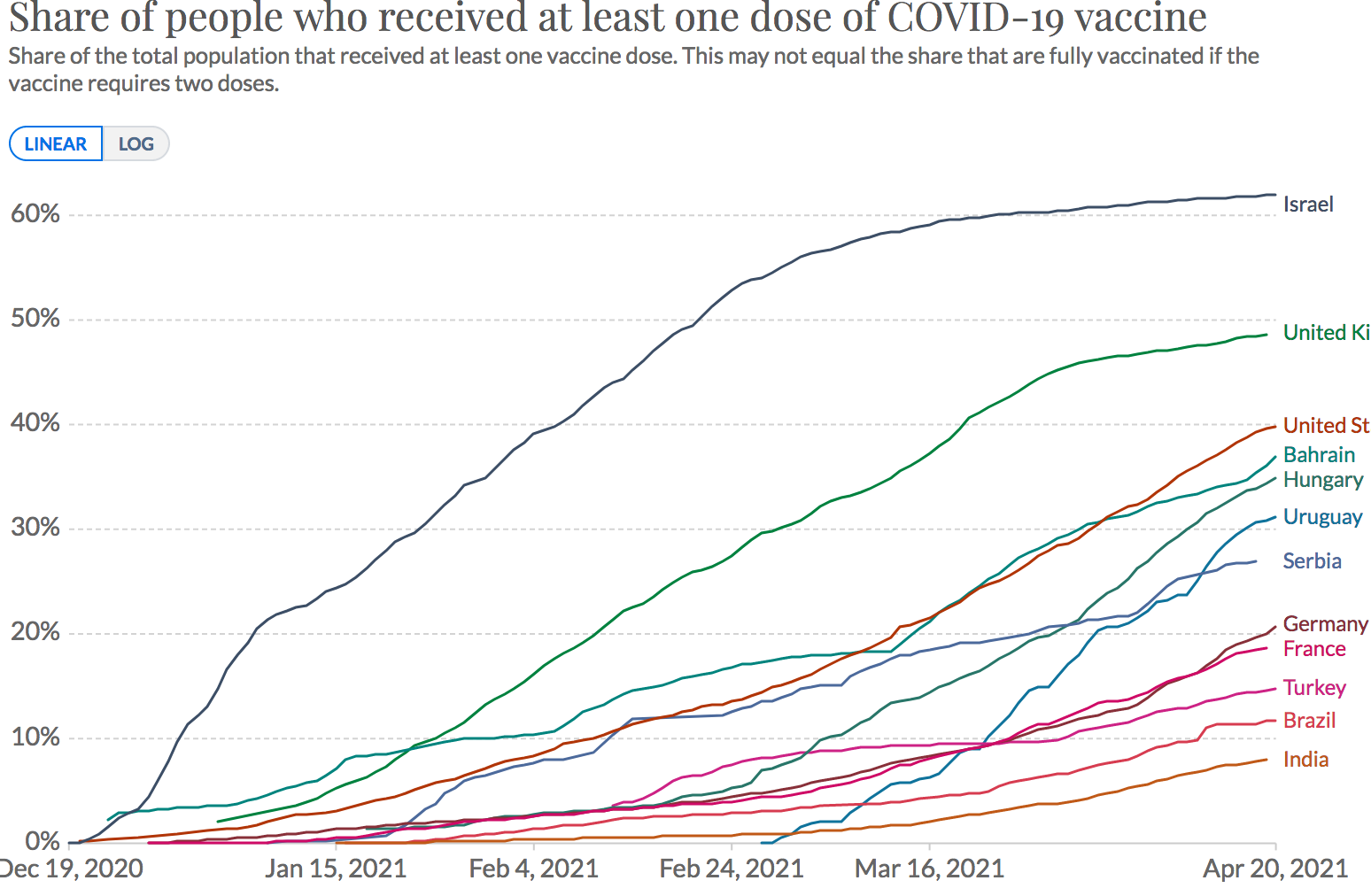 Another factor in the UK's favor is as far as I can tell, vaccine hesitancy and anti-vax sentiment is lower than the US, so they don't appear to be approaching vaccination stall speed, as we are here. So in the UK, it might be true that managing the reopening id the trickier problem now than managing Covid, particularly with Brexit and poor conditions in Europe as additional headwinds (both their Covid surges and their insufficient support spending). But the proximity to Europe also increases the odds of yet another contagion landing, particularly one that can do a decent job of escaping the vaccines (a variant of concern in India has two mutations on the spike protein which make it particularly hazardous-looking).
On our side of the pond, despite very peppy retail sales figures in the US, and the hope that the spending surge will fuel a strong, sustained recovery here, the fat lady hasn't sung yet. Our spring boomlet could still fizzle by the early summer. While the plural of anecdote is not data, I see our aides making big one-time purchases (used cars!) that were necessities, and saying that their budgets remain tight. How many who are on the bottom of the K-shaped recovery are in similar straits?
We still have a lot of known unknowns:
Even though the stimulus kept business closures to a far lower level than expected, many retail businesses are getting by due to rent moratoriums. Some, but no one now seems to have a good fix on how many, may not get enough profits in the door to cut a deal on their arrearages with their landlords. Indeed, perversely, a better-seeming economy (see Wolf Richter on the boom in new business formations) may make landlords less willing to cut tenants who can't make up all the past due rent much of a break

We don't know how close we are to a vaccination top-out. 65% of the population? 75%? Add to that that many people are resistant to an annual booster….so what happens if another shot is necessary sooner than that, either due to immunity not lasting a full year or nasty variants requiring another jab tailored to them?

Infection rates are rising alarmingly in Michigan and are moving up in other states. As Lambert keeps pointing out, school reopenings look to be a significant contributing factor. But many parents are at their wit's end with remote schooling and the Biden Administration has thrown its weight behind getting classes back in session without doing much of anything to make schools safer. Adding insult to injury, the CDC's Rochelle Walensky told Michigan to lock down rather than allocate more vaccines. I don't see states outside the Northeast and the West Coast having any stomach for that, should it prove necessary

The US has also been unwilling to enforce hard quarantines for entrants from overseas. Yet Brazil and India are spawning all sorts of new variants
So despite Covid conditions looking better, it's premature to declare victory.
By Richard Murphy, a chartered accountant and a political economist. He has been described by the Guardian newspaper as an "anti-poverty campaigner and tax expert". He is Professor of Practice in International Political Economy at City University, London and Director of Tax Research UK. He is a non-executive director of Cambridge Econometrics. He is a member of the Progressive Economy Forum. Originally published at Tax Research UK
I have long suggested that the big issue for the economy when facing the challenge of coronavirus was not surviving the lockdowns – we now know how to do that – but in managing the recovery. At that point, I have always argued, the real problems will be revealed.
Most especially, companies deprived of working capital (cash, in common parlance) as a result of losses incurred not made good by loans, and by a combination of lost skills (whether through simple lack of practice or significant staff turnover) will face the crisis of trying to get back to trading at the scale that they were working at pre-March 2020 and will discover that the thinned out resources at their command will fail, and they will too.  To put this in the language of business, the effort to be what they once were will represent for them what is described as over-trading, which is the phenomenon of stretching available resources too thinly with the risk that the whole edifice then fails.
I fear that the evidence to support this prediction is growing. In the FT this morning this is noted:
The number of companies in significant financial distress has risen at the fastest rate in more than seven years, sparking warnings that "the dam of zombie businesses could be about to break" when government Covid-19 support comes to an end in the summer.
The report comes from insolvency firm Bebies Traynor, which has been using a consistent measure of such stress since 2014. Basically measuring the number of firms revealing stress in their credit status, plus those suffering court orders against them, they now think 720,000 businesses are in distress. That's a 100,000 increase in a quarter. It's also a significant proportion of the number of firms that they must be monitoring in the UK.
Of course, some firms are always in such distress. Business failure is normal. But this trend is not. If the data does reflect likely forthcoming failure – as this firm clearly thinks that it does – then this indicates real problems to come, just as I predicted there would be at this stage of the recovery cycle.
This poses a real challenge for the government. Not only does this create the real risk of substantial losses on the loan facilities that it made available – many of which will not be repaid if this rate of failure happens – but such a loss of capacity could be severely disruptive to the economy over the year or more ahead.
It has to be admitted that new companies might rise, phoenix-like, from the ashes of many of these failures. But that ignores another issue, and that is the multiplier effect within business failure. The shareholders of many companies may well have a perverse incentive to shut up the old shop and reopen as a new one over the coming year or so, shedding liabilities for loans that will prove extremely burdensome to repay if they do just that. And let's be clear, they can often walk away from their debts at present, precisely because limited liability provides them with that opportunity. But it is not only the government to whom they will owe money. They will also owe their suppliers and if the knock-on effect of failure is big – and it may well be so – then the moral hazard implicit within all limited liability structure may well create a real risk to companies that as yet are showing no stress at all.
Even if we avoid another lockdown (and I think the chance that we will avoid such an event very low indeed) the risk to business at present is exceptionally high. Those who predict sunny days ahead really can't read the runes of cash flow. And cash flow is king. It's just that most economists have never run a business and so they really do not know that.