By Lambert Strether of Corrente.
Bird Song of the Day
Sounds like the sounds you hear from whales and fish under the sea.
* * *
#COVID19
At reader request, I've added this daily chart from 91-DIVOC. The data is the Johns Hopkins CSSE data. Here is the site.
I feel I'm engaging in a macabre form of tape-watching.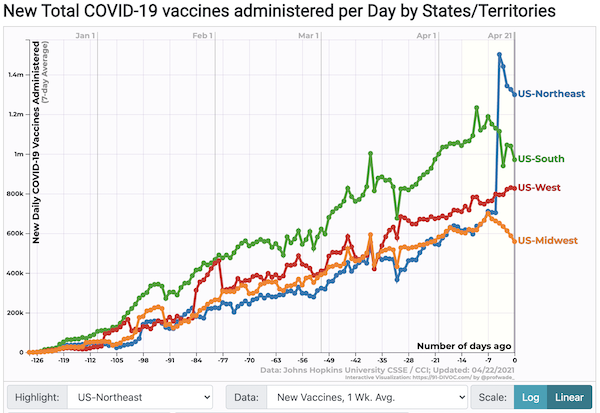 The Northeast jump is down to an enormous data error; the CDC data doesn't show it, so it's down to Johns Hopkins of DIVOC-19; I've written the maintainer. UPDATE No response from the maintainer. I think I'll try the telephone. (Here are the data status updates.)
"Vaccination slowdown could threaten recovery" [The Hill]. "As the Biden administration touted the accomplishment of administering 200 million vaccine doses, doubling the president's goal of 100 million vaccines administered in his first 100 days in office, the country has seen a drop in the seven-day average of daily vaccinations following weeks of steady upticks…. Overall, the seven-day average reached a highpoint of 3.38 million vaccines per day last week before it declined to 3.02 million on Tuesday…. Public health experts warn this deceleration of vaccine administration could jeopardize the country's ability to get the virus under control as variants spread worldwide. It could also signal a decrease in demand due to lack of access or public hesitancy."
Case count by United States regions: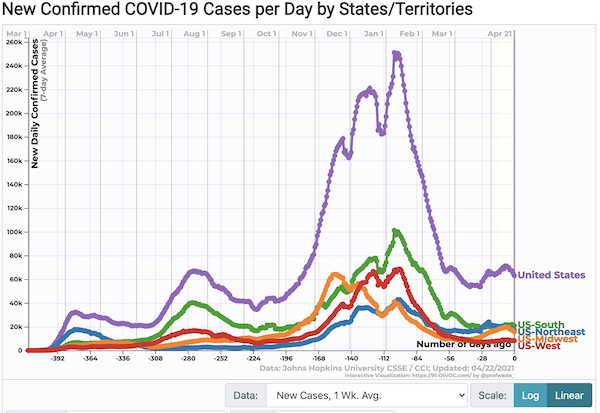 Good news three four days in a row.
CA: Over the transom (from a reader whose email I cannot retrieve; take a bow, please!):
Hey Lambert, suggest you take a look at the Covid situation in Davis, California. We've got wastewater monitoring, via 'Healthy Davis Together', renewed five day a week in-person schooling, and all three of B.1.1.7, B.1.35.1, and P.1 have been detected in town recently. The Yolo County Public Health Officer recently reported that 2/3 of positive tests in the first week of April were B.1.1.7. Wastewater monitoring is indicating increased prevalence. One neighborhood, 'East Central Davis' would seem to account for most of the increase. If I'm not mistaken kids from there mostly attend Birch Lane Elementary.
Here is the site. More like this, please.
The Midwest in detail: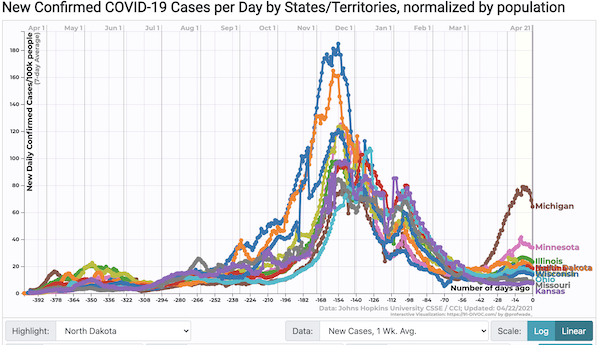 Michigan and Minnesota heading down, along with their neighbors (Could be that people actually do listen when Governors ask them do so stuff, but enough, and enough of them?)
Big states (New York, Florida, Texas, California):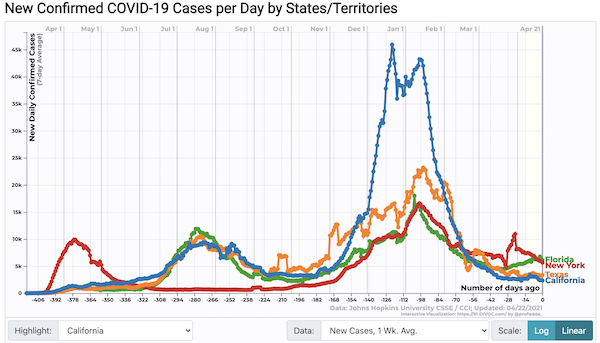 Florida, by a nose. California not following.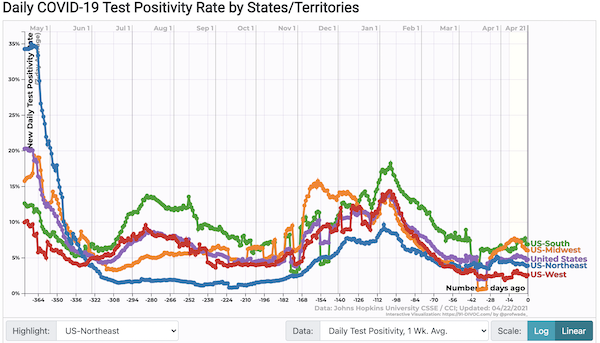 Midwest increases.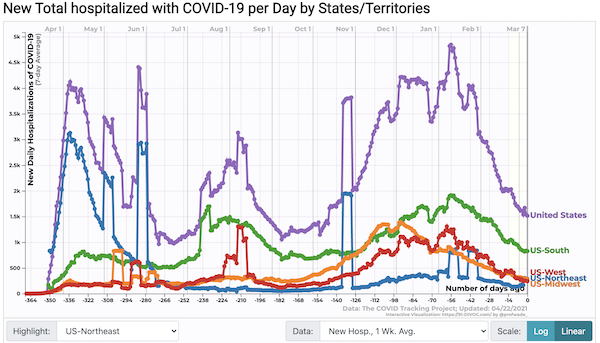 Still heading down.
Case fatality rate (plus deaths):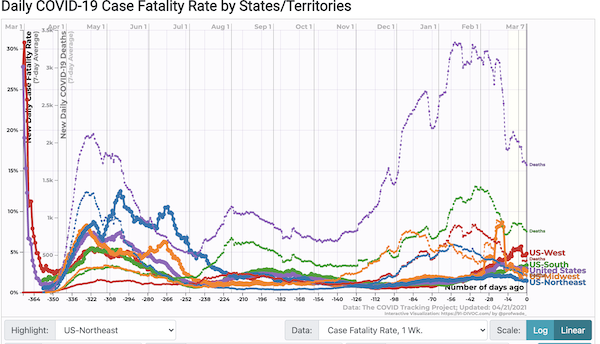 Good to see those deaths dropping. The fatality rate in the West is increasing again, for some reason as unknown as why it dropped.
* * *
Politics
"But what is government itself, but the greatest of all reflections on human nature?" –James Madison, Federalist 51
"They had one weapon left and both knew it: treachery." –Frank Herbert, Dune
"They had learned nothing, and forgotten nothing." –Charles Maurice de Talleyrand-Périgord
Biden Administration
"Biden's Everything Doctrine" [Foreign Affairs]. "The competing imperatives of democracy promotion, global leadership, and "a foreign policy for the middle class" contain stark, if unrecognized, tensions. In part, those tensions stem from the limited time and attention available to the U.S. president and his senior staff; any time Biden spends standing up for allies in the South China Sea will not be spent on the concerns of the U.S. middle class. But to a greater extent, the tension comes from the limited resources and political capital that the United States has for negotiations with both its allies and its adversaries…. If the United States prioritizes the defense of eastern Europe, it cannot push as hard on its European allies to make trade concessions that might promote U.S. jobs. If the United States focuses on getting a new Iran nuclear deal, it cannot lean as hard on Saudi Arabia to lower energy prices or abstain from killing journalists. The United States might impose sanctions on a Russian-German gas pipeline to protect the sovereignty of Ukraine, but then the U.S. economy will suffer, particularly if the Russians or Germans impose sanctions in retaliation. Such tradeoffs are inevitable but rarely articulated by policymakers…. So far, the Biden administration has, at least rhetorically, insisted that it can pursue all its objectives without making sacrifices or encountering tensions. Such a foreign policy of broad commitment is no longer sustainable."

"Supreme Court Slashes FTC's Power to Seek Monetary Awards" [Bloomberg]. "The U.S. Supreme Court slashed the Federal Trade Commission's power to seek monetary awards in court, throwing out a legal tool the consumer-protection agency has used to collect billions of dollars over the past decade." • Maybe now the FTC can stop letting ginormous monopolies buy their way out of trouble? Stoller comments:

As @chopraftc notes, there are other things the FTC can do, like write rules or use dormant penalty authority. https://t.co/rRgDbUofWl

— Matt Stoller (@matthewstoller) April 22, 2021
Democrats en Deshabille
UPDATE "Six Questions for Alec Karakatsanis of the Civil Rights Corps on George Floyd, Debtors' Prisons and the Criminalization of Poverty" [Washington Babylon]. Excellent detail on law enforcement for profit, as in Ferguson. And then this:

5/ Do you think the protests over George Floyd's death and police violence in general will lead to any significant criminal justice reform? What are the three most urgent priorities?

It is too early to tell, but I am optimistic because the energy, relationships, and knowledge of the people engaged in this movement feel more advanced than they did just a few years ago. Of course, >. So, we have our work cut out for us. The three most urgent priorities, in my mind, are: 1) Dramatically reducing the size and funding of police forces; 2) Taking those resources and reinvesting them in the communities long targeted by police; 3) Connecting this struggle to a broader political fight and organizing for equality in health care, housing, environmental justice, education, workplace democracy, etc.

Liheral Democrats positioning themselves as on George Floyd's side? That's a neat trick!

"The brother of a top Biden advisor lobbied the White House this year on behalf of big health-care companies" [CNBC]. "The brother of one of President Joe Biden's leading advisors started lobbying the White House earlier this year on behalf of several prominent health-care companies as the administration began its efforts to combat the Covid pandemic. Jeff Ricchetti, the brother of longtime Biden advisor and White House counselor Steve Ricchetti, started lobbying the Executive Office of the President in the first quarter, according to new disclosure reports reviewed by CNBC.The lobbying disclosures show that Jeff Ricchetti lobbied the EOP for health-care giants GlaxoSmithKline, Horizon Therapeutics and Vaxart Inc. His efforts for these firms came as the Biden administration ramped up efforts to combat the Covid pandemic with a vaccination blitz and other initiatives.

"CVS Health Quietly Made Massive Donation to Dark-Money Group Fighting Access to Care" [The Intercept]. "The health care giant, which owns Aetna health insurance and operates thousands of pharmacies and walk-in clinics around the country, provided $5 million to the Partnership for America's Health Care Future, or PAHCF. The seven-figure donation from CVS is the largest known contribution to PAHCF, which was formed in 2018 to lobby and advocate against proposals such as Medicare for All, the public option, and similar reforms that have gained growing support in recent years. PAHCF is a 501(c)(4) and is not required to disclose donor information.

"Cuomo's woes keep piling on" [City & State]. "Gov. Andrew Cuomo is facing political peril from so many sides that it is getting difficult to keep things straight. There is the outstanding matter of his administration's handling of the coronavirus in nursing homes. A litany of sexual misconduct allegations from multiple women have led to calls for his resignation and impeachment. Other scandals concern possible political meddling in distributing vaccines, safety concerns at the Gov. Mario M. Cuomo Bridge and special treatment arranged by the governor for family members who needed COVID-19 tests. Revelations about a controversial $4 million book deal hardly help. The governor has denied wrongdoing in every case, but ongoing probes could make it difficult for him to finish his current term in office or run for a fourth term next year. State Attorney General Letitia James could confirm the worst accusations of alleged sexual misconduct and could expose the governor's alleged self enrichment at public expense through the book deal through the two investigations she is now overseeing. Members of the Assembly Judiciary Committee meanwhile are probing a range of issues as they continue an impeachment investigation that will likely stretch into the summer. That means Cuomo's political fate hinges on much, much more than the alleged sexual misconduct and nursing home cover-up that have tended to dominate discussions about the erstwhile pandemic hero." • Ouch. With a handy list of scandals.
Republican Funhouse
"Senate GOP keeps symbolic earmark ban" [The Hill]. "Senate Republicans on Wednesday opted to keep a ban on earmarks, a symbolic victory for conservatives that capped a weeks-long fight about spending in the post-Trump era. They reaffirmed the existing caucus rules that contained the earmark ban and added language supporting the idea of spending cuts for raising the debt ceiling, in a call back to the fiscal-hawk priorities that helped fuel the Tea Party wave and swept Republicans to power in 2010. But top members of the caucus acknowledge the ban isn't enforceable and that GOP senators will be able to request earmarks if they want to. "

"How Josh Hawley and Marjorie Taylor Greene Juiced Their Fundraising Numbers" [ProPublica]. "Two of the leading Republican firebrands in Congress touted big fundraising hauls as a show of grassroots support for their high-profile stands against accepting the 2020 election results. But new financial disclosures show that Sen. Josh Hawley, R-Mo., and Rep. Marjorie Taylor Greene, R-Ga., relied on an email marketing vendor that takes as much as 80 cents on the dollar. That means their headline-grabbing numbers were more the product of expensively soliciting hardcore Republicans than an organic groundswell of far-reaching support."
Realignment and Legitimacy
"Support for D.C. Statehood Is Lukewarm, but Many Voters Haven't Made Up Their Minds" [Morning Consult]. "Among the 28% who are undecided about D.C. statehood, arguments about its size relative to other states and the fact that its residents pay federal taxes appear to be the most persuasive. 74% of D.C. statehood's opponents argue that it was never meant to be a state. More voters – including 1 in 4 opponents of D.C. statehood – support making Puerto Rico a state."

"Senate Democrats Bring In Joe Lieberman As Ringer On D.C. Statehood" [Forbes]. • Oh.

"When QAnon Came to Canada" [The Walrus]. "[Blain McElrea] couldn't be positive of members' citizenships, but he described Canadians from all walks of life who were, like him, 'suspicious of the narrative.' What narrative? The World Economic Forum, McElrea claimed, is selling its COVID-19 plan as a ruse for instituting globalized rule. For McElrea, such a plan mimics the qualities of the virus itself—it can be anywhere, it wants to be everywhere, and it is designed to proliferate and control as many carriers as possible without them knowing. Talking with McElrea, it was clear that QAnon supporters like him view themselves as the real epidemiologists—not of the virus, which they minimize, but of a pandemic of political corruption that only intuition and spiritual renewal can cure…. ANON MAY FEEL like an alternate reality, but it belongs very much to our world. "We are at the stage where we have citizens and people who are completely distressed," said clinical psychologist and violence researcher Ghayda Hassan from her office at the Université du Québec à Montréal. People who, she continued, "are rendered vulnerable by a globalized economic system that is producing more and more injustices, who feel that institutions and governments are violating their basic rights, but who cannot self-organize into a smart, structured line of thought." Hassan argued that this kind of feeling of injustice is expressing itself "in nihilistic and anarchistic ways: 'Let's destroy these organizations; let's destroy governments.'" One positive way forward, Hassan suggested, is for public responses to stop demonizing QAnon supporters, as this can play into their self-isolating narratives. Adherents should be taken at their word, she said, as people who yearn to connect the dots toward justice." • Canadian context, but still interesting! • The author comments:

She added: "I feel like, very often, the pain is real, even if the facts are not." /3

— matthew remski (@matthewremski) April 20, 2021

The Christian Right did the same thing:

These people think national elections are rigged but that there's still a chance to win in ultra-local politics to shape the next generation.

— Arieh Kovler (@ariehkovler) April 21, 2021

I've gotta say, though: A popular movement that conceptualizes global elites as blood-drinking lizard people with peculiar sexual habits is a lot more directionally correct than the Christian Right ever was.

UPDATE "Local Economic and Political Effects of Trade Deals: Evidence from NAFTA" (PDF) [Jiwon Choi, Ilyana Kuziemko, Ebonya Washington, Gavin Wright]. From the Abstract: "We show that counties whose 1990 employment depended on industries vulnerable to Mexican import competition via the 1994 North American Free Trade Agreement (NAFTA) suffer large employment losses (relative to the bottom quartile of counties, counties in the top quartile of NAFTA exposure see 5-8 log-point declines in employment by 2000). Despite large employment losses, we can reject even modest population declines. Trade-adjustment-aid relief rises, but covers a tiny share of the job losses we document, and Disability Insurance in fact displays a much larger response. Exposed counties (many in the upper South) begin the period more Democratic in terms of votes in House elections, but as NAFTA is debated in 1992-1994 they shift in the Republican direction and by 2000 vote majority-Republican in House elections. We show with a variety of microdata, including 1992-1994 respondent-level panel data, that opposition to free trade predicts shifts towards Republican party identification." • Bill Clinton, good job.

UPDATE "How Democrats Lost the Sunshine State" [Ruy Teixeira, The Liberal Patriot]. "One reason is the move of white noncollege voters away from the Democrats, particularly in the north of the state. In 2020, Biden probably lost them by about 30 points. Another is a white college population that is relatively conservative and did not move much, if at all, toward the Democrats in 2020. But most brutal has been slippage in the Hispanic vote, which can cancel out or more the presumed positive effects for the Democrats of demographic change." • Oops. So much for the coalition of the ascendant.
Stats Watch
Coincident Indicator: "March 2021 CFNAI Super Index Moving Average Index Improved" [Ecointersect]. "The economy's rate of growth improved based on the Chicago Fed National Activity Index (CFNAI) 3 month moving (3MA) average – and the economy is slightly above the historical trend rate of growth… This index is likely the best coincident indicator of the U.S. economy. A coincident indicator shows the current state of the economy. This month, four of the four broad categories of indicators improved. The economy has slowed from its rate of growth in 2018 but now has moved above territory associated with recessions [a level below -0.7 indicates a recession is likely underway."
Employment Situation: "17 April 2021 Initial Unemployment Claims Rolling Average Improves" [Econintersect]. "Market expectations for weekly initial unemployment claims (from Econoday) were 515 K to 670 K (consensus 615 K), and the Department of Labor reported 547,000 new claims. The more important (because of the volatility in the weekly reported claims and seasonality errors in adjusting the data) 4 week moving average moved from 678,750 (reported last week as 683,000) to 651,000."
Manufacturing: "United States Kansas Fed Manufacturing Index" [Trading Economics]. "The Kansas City Fed's Manufacturing Production Index jumped 17 points from the previous month to 40 in April 2021, suggesting Tenth District manufacturing output expanded at a record pace, driven by higher activity levels at durable goods plants, especially for primary and fabricated metals, and transportation equipment manufacturing."
Manufacturing: "United States Manufacturing PMI" [Trading Economics]. "The IHS Markit US Manufacturing PMI was revised slightly higher to 59.1 in March of 2021 from a preliminary of 59, pointing to the second-highest griwth in factory activity on record. The overall expansion was supported by the steepest rise in new orders since June 2014, although production was reportedly held back by supply shortages. Supplier lead times lengthened to the greatest extent on record. At the same time, inflationary pressures intensified, with cost burdens rising at the quickest rate for a decade."
* * *
Real Estate: "How the Pandemic Did, and Didn't, Change Where Americans Move" [New York Times]. "[N]ew data shows that it did indeed appear to prompt an unusually large flow of urban residents out of New York and San Francisco, two regions with a high share of jobs that can be done remotely even after the pandemic is behind us. But about 30 million change-of-address requests to the U.S. Postal Service in 2020 show that with these two very visible exceptions — and a few smaller ones — migration patterns during the pandemic have looked a lot like migration patterns before it. Some smaller regional metro areas and vacation hubs benefited. But in general, areas that were already attracting new residents kept attracting them. Those that were losing migrants lost more. And there are few examples, at least in the data so far, of previously down-and-out regions drawing people in. In short, as disruptive as the pandemic has been in nearly every aspect of life, it doesn't appear to have altered the underlying forces shaping which places are thriving or struggling."
Shipping: "Crew Of 'Ever Given' Could Be Stuck On The Big Boat For Years" [Jalopnik]. "but the Ever Given still hasn't moved on from its holding spot in the Great Bitter Lake in the middle of the Suez Canal after almost a month. The crew still stuck on the ship is very concerned about this, as there seems to be no sign that an agreement will be reached between Egypt and the Ever Given's owners any time soon. Until there is an agreement in place, the crew is stuck there, and they could be for years. Apparently, it isn't unusual for crew members to get trapped on ships caught in the middle of international shipping disputes." • No, it isn't.
Shipping: "Op-Ed: Bareboat Charter Scheme Threatens Great Lakes Shipping" [Maritime Executive]. "A major private equity firm and one of its holdings could force a major U.S.-flagged fleet of Great Lakes dry bulk cargo vessels out of service — and the risk these businesses raise could spread to the U.S.-flagged deep-sea and inland waters maritime sectors. The culprits here are American Industrial Partners and the bankrupt Rand Logistics LLC. Their intent is to gut jobs, wages and employee benefits to secure 'cost savings' that can then be diverted to paying off the massive accumulating debt of Rand Logistics and widening the profit margin of American Industrial Partners."
Tech: "TikTok sued for billions over use of children's data" [BBC]. "Lawyers will allege that TikTok takes children's personal information, including phone numbers, videos, exact location and biometric data, without sufficient warning, transparency or the necessary consent required by law, and without children or parents knowing what is being done with that information… TikTok has more than 800 million users worldwide and parent firm ByteDance made billions in profits last year, with the vast majority of that coming via advertising revenue. The claim is being launched on behalf of all children who have used TikTok since 25 May 2018, regardless of whether they have an account or their privacy settings. Children not wishing to be represented can opt out."
Tech: "Google Turmoil Exposes Cracks Long in Making for Top AI Watchdog" [Bloomberg]. "For more than three years, Google held up its Ethical AI research team as a shining example of a concerted effort to address thorny issues raised by its innovations. Created in 2017, the group assembled researchers from underrepresented communities and varied areas of expertise to examine the moral implications of futuristic technology and illuminate Silicon Valley's blind spots. It was led by a pair of star scientists, who burnished Google's reputation as a hub for a burgeoning field of study. In December 2020, the division's leadership began to collapse after the contentious exit of prominent Black researcher Timnit Gebru over a paper the company saw as critical of its own artificial intelligence technology. To outsiders, the decision undermined the very ideals the group was trying to uphold. To insiders, this promising ethical AI effort had already been running aground for at least two years, mired in previously unreported disputes over the way Google handles allegations of harassment, racism and sexism, according to more than a dozen current and former employees and AI academic researchers."
Manufacturing: "Emirates says wants 'grown-up' talks on Boeing 777x" [Reuters]. • Oh. Let's just hope Boeing hasn't managed to crapify it's only remaining solid performer.
* * *
Today's Fear & Greed Index: 61 Greed (previous close: 61 Greed) [CNN]. One week ago: 58 (Greed). (0 is Extreme Fear; 100 is Extreme Greed). Last updated Apr 22 at 12:58pm.
The Biosphere
"The humble shrub that's predicting a terrible fire season" [Ars Technica]. Chamise, a really neat plant. "Fire scientists aren't so much interested in the regenerative abilities of the chamise as its powers of prognostication. Because the plant is so abundant, it's a sort of standardized species—they can sample it all over the state. Fire weather researchers like San Jose State University's Craig Clements (who's also a fire chaser) use it to get an idea of how parched vegetation is overall. Clements goes out into the field, randomly samples chamise plants, and takes the material back to the lab. He weighs it, pops it in an oven for 24 hours at 212 degrees Fahrenheit, and then weighs it again to determine how much water it's lost. Or, put another way, he measures how much moisture the shrub had in the first place. And nothing scares a fire weather scientist quite like a year with dehydrated chamise. If it's dry, then that's a good indicator that everything is dry. "Right now, these are the lowest April 1 fuel moistures we've ever had," Clements says. This is supposed to be the time of year when moisture levels are at their highest, thanks to recent autumn and winter rains. But California is withering in a drought. 'The shocking thing in 2021 is that we don't have any new growth on chamise in our sample areas,' Clements says. 'These plants are stunted by the drought.'"
"Must Love Bogs" [The Baffler]. "Compared to this period of destructive disregard, the past several years have been good ones for peatlands. In 2016, at its World Conservation Congress in Hawaii, the International Union for Conservation of Nature (IUCN) agreed upon a resolution that recognized the importance of peatlands and their vital role in climate change mitigation—though they cover only 3 percent of the earth's land surface area, peatlands contain more carbon than all of the world's vegetation (including forests) combined…. In May of 2020, a newly formed youth organization called Re-Peat hosted a global, virtual "Peat Fest": twenty-four interdisciplinary "peaty hours" to help further the conversation around peatlands—but also to highlight artists, read poetry, and do yoga. The field is a very different one, a more optimistic one, than it was when Joosten first took up the cause…. Even so, peatlands can still seem like fringe topic. This is why Re-Peat is calling for a shift in how we think about them, one that is strikingly similar to what peatland conservationists have been pushing for for decades: to move away from the perception of peatlands as "wastelands," "spaces of nothingness," and into a new understanding of their value." • On peat, see NC here, here, and here.
Health Care
"Use of Ivermectin as a Potential Chemoprophylaxis for COVID-19 in ERgypt: A Randomised Clinical Trial" (PDF) [Journal of Clinical and Diagnostic Research]. Results: "Fifteen contacts (7.4%) developed COVID-19 in the ivermectin arm compared to 59 (58.4%) in the non-intervention arm (p<0.001). The protection rate for ivermectin was more prominent in contacts aged less than 60-year-old (6.2% infected compared to 58.7% if no treatment)... Side effects of ivermectin were reported in 5.4%; they were mild. Conclusion: Ivermectin is suggested to be a promising, effective and safe chemoprophylactic drug in management of COVID-19." • Sure is odd we're not getting RCTs on Ivermectin in the US. "B.1.1.7 variant linked to 100-plus person 'superspreader' outdoor party near Maple Creek, Sask." [Global News]. "On April 2, a gathering allegedly took place at a rural residence near Maple Creek, according to the RCMP, which were contacted by the health authority on Tuesday to assist with investigating what was an outdoor event. Under Saskatchewan's existing public health orders, outdoor gatherings of up to 10 people are permissible. 'Obviously with a 100-plus person party, that wasn't happening,' Wasko said, noting attendees were primarily in their late teens and early 20s." • I have my priors on outdoor transmission, so I'll wait for the epidemiology on this one. For example, I wonder if what the indoors of the "residence" was like and what it was used for.
"University of Virginia hospital system to cancel thousands of backlogged lawsuits over medical bills" [The Hill]. "The University of Virginia Health System has announced that it will be canceling decades of court judgments and liens over unpaid medical bills in an effort to reduce some of the financial burden of medical costs for low-income patients. UVA Health announced the new policy in a Monday press release, explaining that it plans to "release all liens and judgments for patients who are at or below 400% of the federal poverty level." • Now do college debt.
Police State Watch
It wasn't just one "bad apple" at Abu Ghraib either: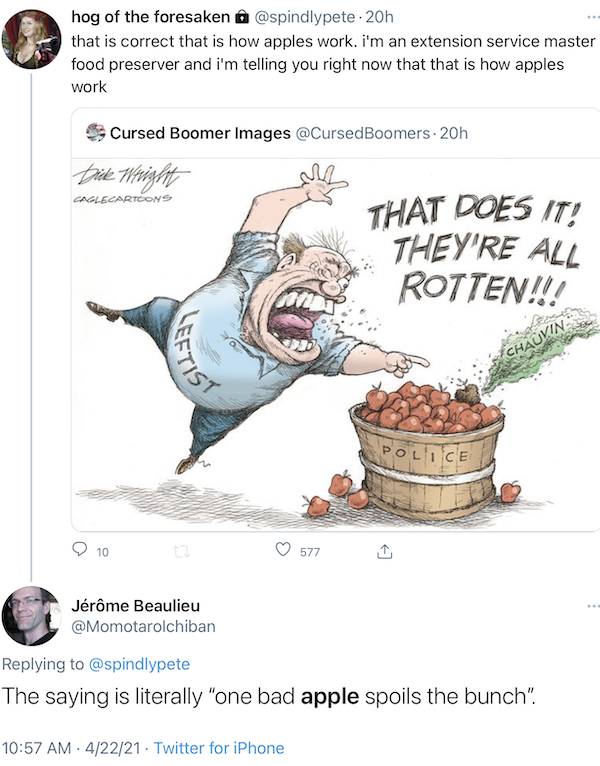 "Defund the police: how a protest slogan triggered a policy debate" [Financial Times]. "Eleven months ago "Defund the police" was a slogan that appeared on placards at protests; now it is being debated by American city councils. Polls show only a small portion of Americans support the idea of defunding the police, a flexible phrase that can mean redirecting funds to social services or outright elimination of the department. Yet after the conviction of the officer accused of murdering George Floyd in Minneapolis, and in the wake of yet more deaths at the hands of police, what was previously a fringe concept has become part of mainstream US political discussion. Minneapolis has three proposals to diminish the police department's power that supporters are attempting to place on the ballot in November. Two would replace the police department with a department of public safety, with the police as one division of it. The third would place the police department under the control of a 13-member civilian commission, with the power to hire the police chief and discipline officers for misconduct. Austin, Texas cut its police budget in August by 35 per cent, with 5 per cent taking immediate effect. Seattle cut the police budget by 20 per cent in December. City councils have cut police budgets in nearly two dozen other cities, although mostly because the pandemic has battered municipal finances."
"An Interactive Guide To Ambiguous Grammar" [McSweeney's Internet Tendency]. "As a thought experiment, let's examine in extremely close detail a set of iterative changes that can be made to a single simple grammatical structure, turning it from a statement taken at face value into one loaded with unrealized implication. This makes for rich writing which rewards – or even demands – close scrutiny." • I could also file this under Our Famously Free Press…..
Bible Corner
Well, good!
they built the 2nd tallest jesus statue in the world in an empty field outside a small polish town and the local priest is making bank renting the crown for wifi antennas pic.twitter.com/2Q8pMhhSQy

— Venture Communist (@venturecommunis) April 13, 2021
Groves of Academe
"Here's Who Was Hit Hardest by Higher Ed's Pandemic-Driven Job Losses" [Chronicle of Higher Education]. "Since the World Health Organization declared a pandemic in March of 2020, institutions of higher education have shed a net total of at least 570,000 workers, according to preliminary, seasonally adjusted figures from the U.S. Labor Department. Put another way, for every nine workers employed in academe in February 2020, at least one had lost or left that job a year later… Despite a significant increase in recent months, the net loss in jobs remains so large that it's erased more than a decade of job gains for the sector, with higher ed's work force now matching its size in February 2008."
Class Warfare
Another account worth reading:
"Organize locally," "join a union," and "make sure to vote in your local elections" are frequently empty, meaningless, vague, footnote talking points anchored in zero political programs, and in what are typically broader discussions about horrible recent events, or personalities.

— Black Socialists in America (@BlackSocialists) April 21, 2021
I do try to avoid this tendency, but I'm not sure I always succeed. (Co-op mavens, please send us more links — or newsletters to subscribe to!
"'There's a Very Human Cost to Convenience'" [New York Magazine]. Amazon driver: "It's really irrelevant if what they're paying is better than another company. The only relevant thing is, Is it going to pay my bills? I would love to see someone draw up a budget where you can live comfortably on $15 an hour. And obviously, people do it, you know, but it's a stressful life to make ends meet like that. A lot of people I know at my delivery-service partner are working two jobs. And that's just ridiculous because our work is worth more than that. [Editor's note: He earns $18 an hour.] Amazon is like any other corporation that has ever existed. It was started solely to make money. Hearing about workers' issues doesn't necessarily make them more money. To Amazon, it's a waste of time. They just want to pay us as little as possible, give us the cheapest health-care plan possible; they don't even give us a pension. They're not going to invest in any kind of safety equipment. It's all about just keeping costs low. And they don't care about workers. They only care about profit." • Worth reading in full.
"Union asks NLRB to set aside Amazon election results" [Politico]. "The 23 objections filed last week with the National Labor Relations Board and released Monday allege that Amazon "created an atmosphere of confusion, coercion and/or fear of reprisals" which interfered with the employees' "freedom of choice" in the election. 'We demand a comprehensive investigation over Amazon's behavior in corrupting this election,' said RWDSU President Stuart Appelbaum in a statement. But the company pushed back against the unions claims, arguing that the union wasn't accepting the employees' choice to reject the union." • IMNSHO: It's good to "raise awareness" this way, but you have to win on the shop floor.
News of the Wired
Rentiers gotta rent:
For reference, this is the original pop up message I got on the system – couldn't snap it last night as I was mid-drive. BMW store says it's £160 for "unlimited" use… pic.twitter.com/zLbkuktEwV

— Jake Groves (@_jakegroves) March 25, 2021
* * *
Readers, feel free to contact me at lambert [UNDERSCORE] strether [DOT] corrente [AT] yahoo [DOT] com, with (a) links, and even better (b) sources I should curate regularly, (c) how to send me a check if you are allergic to PayPal, and (d) to find out how to send me images of plants. Vegetables are fine! Fungi and coral are deemed to be honorary plants! If you want your handle to appear as a credit, please place it at the start of your mail in parentheses: (thus). Otherwise, I will anonymize by using your initials. See the previous Water Cooler (with plant) here. Today's plant (Alfred):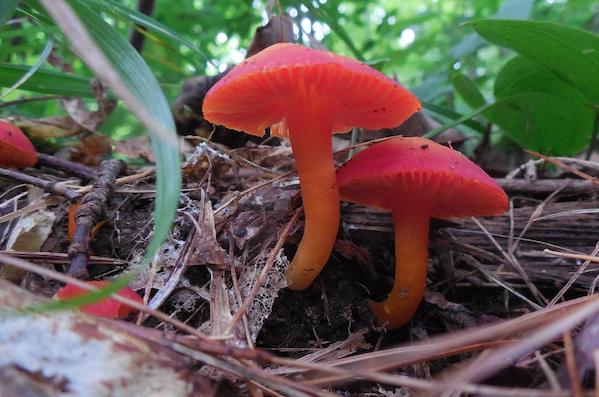 From the North Woods.
* * *
Readers: Water Cooler is a standalone entity not covered by the recently concluded and — thank you! — successful annual NC fundraiser. So if you see a link you especially like, or an item you wouldn't see anywhere else, please do not hesitate to express your appreciation in tangible form. Remember, a tip jar is for tipping! Regular positive feedback both makes me feel good and lets me know I'm on the right track with coverage. When I get no donations for five or ten days I get worried. More tangibly, a constant trickle of donations helps me with expenses, and I factor in that trickle when setting fundraising goals:
Here is the screen that will appear, which I have helpfully annotated.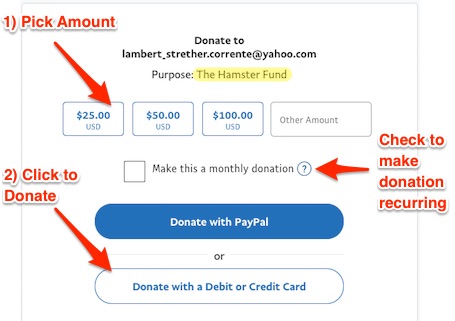 If you hate PayPal, you can email me at lambert [UNDERSCORE] strether [DOT] corrente [AT] yahoo [DOT] com, and I will give you directions on how to send a check. Thank you!