Yves here. Tom Neuburger gives a hard look at AOC's recent donations to corporate Democrats and tries to ferret out what she intended to accomplish.
Tom is at a loss to understand why AOC chose the party members she did. I am at a loss to understand why she thought $5,000 donations would have made any difference to the recipients even if they had been on board with taking funds from her. As I am sure readers know, there's a dark art as to how heavyweight bundlers and donors work around formal contribution limits.
And on top of that, Congressional Democrats run a pay-to-play operation. Kicking in enough money to the DCCC is the cost of entry for getting House committee leadership positions. We explained this back in 2011, via the work of Tom Ferguson, in Congress is a "Coin Operated Stalemate Machine." I strongly urge you to read the entire post. Key section:
A new article by Ferguson in the Washington Spectator sheds more light on this corrupt and defective system. Partisanship and deadlocks are a direct result of the increased power of a centralized funding apparatus. It's easy to raise money for grandstanding on issues that appeal to well-heeled special interests, so dysfunctional behavior is reinforced.

Let's first look at how crassly explicit the pricing is. Ferguson cites the work of Marian Currander on how it works for the Democrats in the House of Representatives:

Under the new rules for the 2008 election cycle, the DCCC [Democratic Congressional Campaign Committee] asked rank-and-file members to contribute $125,000 in dues and to raise an additional $75,000 for the party. Subcommittee chairpersons must contribute $150,000 in dues and raise an additional $100,000. Members who sit on the most powerful committees … must contribute $200,000 and raise an additional $250,000. Subcommittee chairs on power committees and committee chairs of non-power committees must contribute $250,000 and raise $250,000. The five chairs of the power committees must contribute $500,000 and raise an additional $1 million. House Majority Leader Steny Hoyer, Majority Whip James Clyburn, and Democratic Caucus Chair Rahm Emanuel must contribute $800,000 and raise $2.5 million. The four Democrats who serve as part of the extended leadership must contribute $450,000 and raise $500,000, and the nine Chief Deputy Whips must contribute $300,000 and raise $500,000. House Speaker Nancy Pelosi must contribute a staggering $800,000 and raise an additional $25 million.

Ferguson teases out the implications:

Uniquely among legislatures in the developed world, our Congressional parties now post prices for key slots on committees. You want it — you buy it, runs the challenge. They even sell on the installment plan: You want to chair an important committee? That'll be $200,000 down and the same amount later, through fundraising…..

The whole adds up to something far more sinister than the parts. Big interest groups (think finance or oil or utilities or health care) can control the membership of the committees that write the legislation that regulates them. Outside investors and interest groups also become decisive in resolving leadership struggles within the parties in Congress. You want your man or woman in the leadership? Just send money. Lots of it….

The Congressional party leadership controls the swelling coffers of the national campaign committees, and the huge fixed investments in polling, research, and media capabilities that these committees maintain — resources the leaders use to bribe, cajole, or threaten candidates to toe the party line… Candidates rely on the national campaign committees not only for money, but for message, consultants, and polling they need to be competitive but can rarely afford on their own..

This concentration of power also allows party leaders to shift tactics to serve their own ends….They push hot-button legislative issues that have no chance of passage, just to win plaudits and money from donor blocs and special-interest supporters. When they are in the minority, they obstruct legislation, playing to the gallery and hoping to make an impression in the media…

The system …ensures that national party campaigns rest heavily on slogan-filled, fabulously expensive lowest-common-denominator appeals to collections of affluent special interests. The Congress of our New Gilded Age is far from the best Congress money can buy; it may well be the worst. It is a coin-operated stalemate machine that is now so dysfunctional that it threatens the good name of representative democracy itself.

If that isn't sobering enough, a discussion after the Ferguson article describes the mind-numbing amount of money raised by the members of the deficit-cutting super committee. In addition, immediately after being named to the committee, several members launched fundraising efforts that were unabashed bribe-seeking. But since the elites in this country keep themselves considerable removed from ordinary people, and what used to be considered corruption in their cohort is now business as usual, nary an ugly word is said about these destructive practices.
So as much as AOC has seemed disappointing of late, the overwhelming majority of voters have no clue as to what she is up against.
By Thomas Neubuger. Originally published at God's Spies
Many want more than a week's salvation from Republican misrule. They want salvation for the rest of their lives from Democratic misrule as well.
On April 1, @AOC did a livestream with Michael Miller, the head of the Jewish Community Relations Council of New York. She was asked about "peace between Israelis and Palestinians."

Her response was incredibly underwhelming, to say the very least: pic.twitter.com/qHdwTy5pVO

— Human Rights Watch Watcher (@queeralamode) April 7, 2021
One of the defining marks of the current divide among Democratic Party supporters is what to expect from Party elected officials.
The "practicalists" (I'll explain that term in a moment) celebrate the transition from Trump and Republican destruction, see optimistic promise in Biden's tentative populism, and experience an almost existential relief at their deliverance. This group is dancing in the streets.
Don't take the latter effect lightly: A great many people felt traumatized to their bones by Trump and his era, and whether or not that feeling was shared by you and your own friends, it's nonetheless real for others and it informs their reaction to everything that has followed. I suspect the practicalists — those starved for delivery from Republican rule — form the majority of the Party electorate.
The "idealists" (so called by the so-called practicalists) feel relief at release from the Trumpian grip, but not so much that they can calm their fear of the next neoliberal president, however kinder and gentler (even than the last one) he may prove to be.
The "practicalists," of course, are of a first-thing-first frame of mind, or so they see themselves. "First, we get rid of Republicans," they say. "Then we secure the gate from renewed assault." And only after that do they look at the rubble of the world and start to rebuild in earnest. For these good people, any rebuilding at all is reason for joy and celebration. And Biden is indeed rebuilding … sort of.
For "praticalists," any inadequacy in the plan for moving forward is fully offset by the fact of motion itself. After years of retreat and decay, it's easy to understand the present reversal's appeal, even if small.
Theso-called "idealists," on the other hand, see little to like in an energy plan that will not end the dominance of fossil fuel in the lifetime of anyone living; see nothing to cheer in the prospect of extended forever war, continued diplomatic assault against Syria and Iran, and the constant coddling of Israeli apartheid and torture of its Palestinian neighbors and citizens; and cannot bring themselves to relax as the nation settles into rule by a man whose campaign slogan was "Nothing will fundamentally change."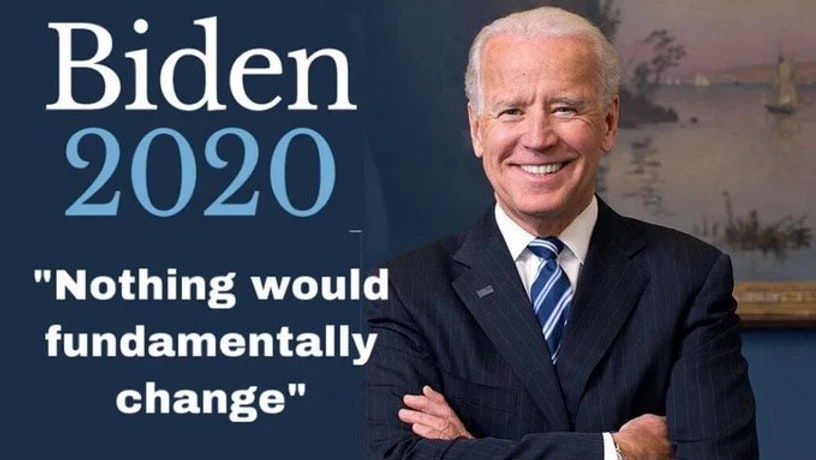 The most important word in that slogan — "Nothing will fundamentally change" — is not the first or the last. It's the word "fundamentally."
Whatever Biden agrees to, whatever wonderful (or better-than-Trump) improvements he makes to our common condition, he nonetheless assures us that the people who own us today will own us tomorrow; that those who caused the problems we face now will not be pushed aside so others can fix them; and most importantly, that the men and women he serves, who feed first and mainly on money, will not go hungry.
These "idealists" want more than a week's salvation from Republican misrule. They want salvation for all of the rest of their lives from Democratic misrule as well. In fact, they see themselves as the actual practicalists in the story, since it's certainly practical to want your infant children to live adult lives in the least bad climate-battered world we can give them.
Our grandchildren won't praise dead Democrats for saving them from dead Republicans; but they will certainly hate us all for turning half of surviving Americans into starving refugees, dying at the fences that protect the more-fortunate Canadians, and the other half into servants of the despotic rich, who will long since have abandoned anyone they don't need to a lonely fate.
How do we know the despotic rich will do that tomorrow? Because they're doing it today in far less drastic circumstances.
Why Did AOC Donate to the Campaigns of Corporate Democrats?
Which brings us to the growing battle over the direction being taken by Alexandria Ocasio-Cortez (AOC). Not the news that corporate Democrats are refusing or returning the campaign cash she gave them — the news about her giving her money to corporate Democrats in the first place.
The three Democrats named in the Politico piece linked above, those whose campaigns AOC tried to support, are Conor Lamb, a man who thinks the $15 minimum wage is too high, New Dem caucus member Carolyn Bourdeaux, and Elissa Slotkin, an ex-CIA security hawk who "rejects Medicare For All" in favor of improving the ACA and the never-going-to appear (and easily gamed if it does) "public option." As Howie Klein put it, all are part of "the Republican wing of the Democratic Party" and all are members of the notoriously pro-corporate "Problem Solvers Caucus."
Why on earth is Alexandria Occasio-Cortez, a genuine hero of the people, supporting — with money given personally to her — the pro-corporate Democrats her supporters roundly despise? The answer from her defenders, well-meaning but sometimes tetchy, is "So we can make sure that Democrats keep control of government…stupid! Because, you know, job one is Republicans."
Thus the divide. On a scale of one to the-next-eight-years or so, how important is it that Democrats keep control of government? On that scale, very, of course.
But on a scale of one to your-surviving-grandchildren-living-like-feral-rats, how important is it that Conor Lamb keep his seat so he can vote with Republicans to his heart's content? I'll let you decide for yourself.
As to AOC her own self, where is she headed? She's certainly seems to be moving in a practicalist direction. Though she started her official career leading a sit-in outside Nancy Pelosi's office — an act her supporters loved her for — she's now giving her donors' money to the worst members of the Democratic caucus. And as the clip above shows, she's dancing like Democrats do around Israeli genocide.
She's obviously changed her stripes. But into what?