By Lambert Strether of Corrente.
Bird Song of the Day
Another shore-bird. They seem talkative!
* * *
#COVID19
At reader request, I've added this daily chart from 91-DIVOC. The data is the Johns Hopkins CSSE data. Here is the site.
I feel I'm engaging in a macabre form of tape-watching.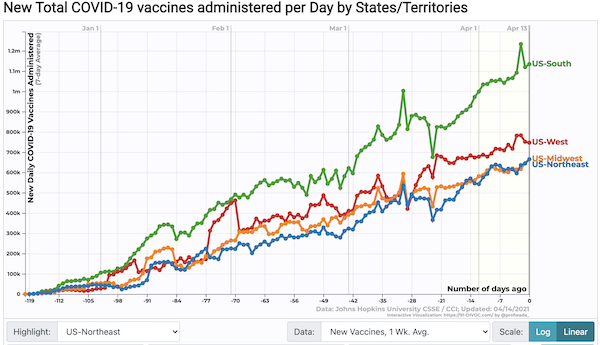 South reverts to the mean.
Case count by United States regions: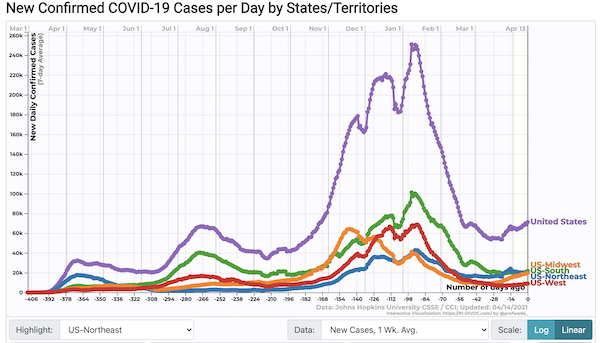 Gaaaaah! Yes, the rise is from the Midwest, but wouldn't it be nice if the rise in the Midwest was cancelled out by decreases everywhere else.
The Midwest in detail: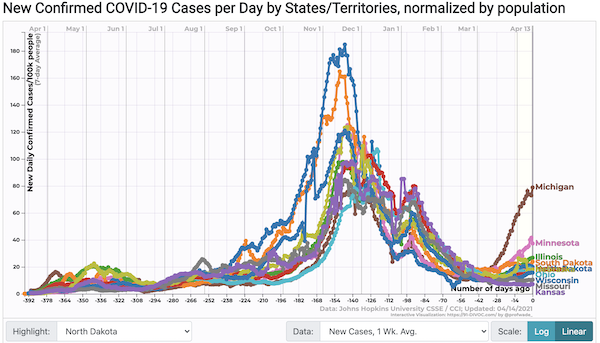 The Michigan dip was noise, dammit. Minnesota follows Michigan's upward trend. Illinois emerging from the pack? Oddly, that almost-entirely-covered-over chartreuse (?) line is Nebraska, and it looks like they had an upward trend, and got it sorta under control.
Big states (New York, Florida, Texas, California):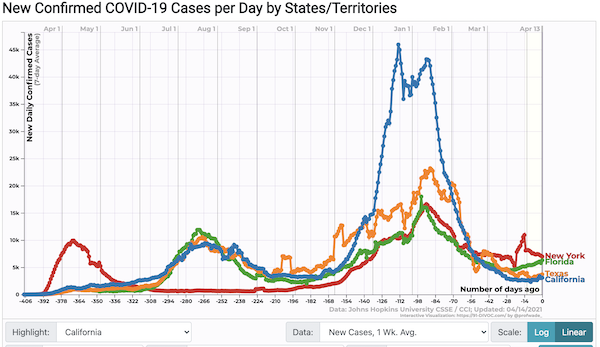 Florida continues its slow climb. California starting to follow?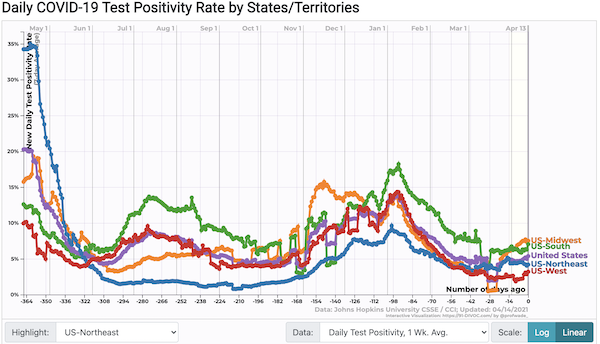 Midwest increases.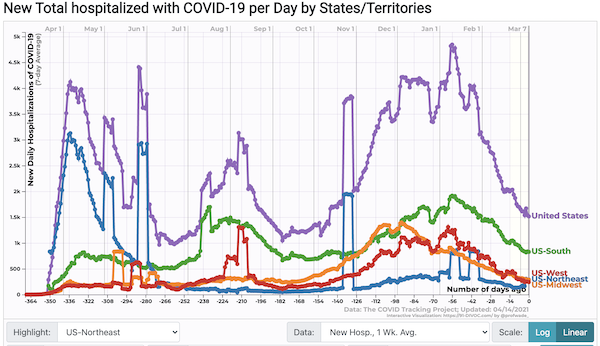 Still heading down.
Case fatality rate (plus deaths):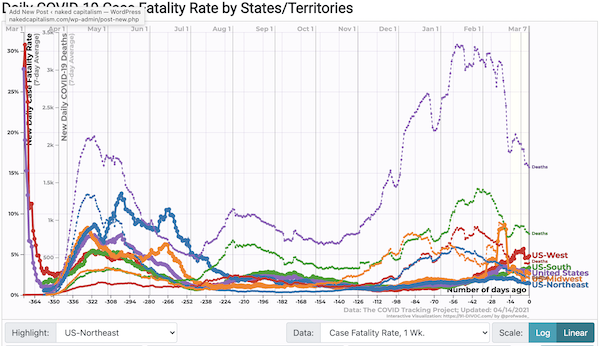 Good to see those deaths dropping. The fatality rate in the West is dropping now, for some reason as unknown as why it rose.
Exclusive: Texas nonprofit got massive border contract after hiring Biden official
* * *
Politics
"But what is government itself, but the greatest of all reflections on human nature?" –James Madison, Federalist 51
"They had one weapon left and both knew it: treachery." –Frank Herbert, Dune
"They had learned nothing, and forgotten nothing." –Charles Maurice de Talleyrand-Périgord
Capitol Seizure
"Pelosi says she would have put up a fight against Capitol mob: 'I'm a street fighter'" [The Hill]. "House Speaker Nancy Pelosi (D-Calif.) says in a new interview that she would have put up a fight had she encountered rioters at the Capitol on Jan. 6." • Except security hustled her out. Which she allowed. Come on, man.
Biden Administration
"Biden to address Congress on April 28" [The Hill]. "Speaker Nancy Pelosi (D-Calif.) invited Biden to make the address in a letter released publicly earlier that day. The president has accepted the invitation, a White House official confirmed late Tuesday night. 'Nearly 100 days ago, when you took the oath of office, you pledged in a spirit of great hope that 'Help Is On The Way.' Now, because of your historic and transformative leadership, Help Is Here!' Pelosi wrote in the letter. 'In that spirit, I am writing to invite you to address a Joint Session of Congress on Wednesday, April 28, to share your vision for addressing the challenges and opportunities of this historic moment,' Pelosi added."

"On Unions, A Gap Between Biden's Words And Actions" [Daily Poster]. "During the 2020 campaign, Biden's platform included support for a pair of measures designed to deter the kind of union busting at play in Alabama. One is a Department of Labor measure known as the 'persuader rule,' which would require employers to more thoroughly disclose their spending on anti-union consultants. The second is known as the 'neutrality rule,' which would require federal contractors like Amazon to remain neutral during unionization campaigns. Both would signify major steps toward fulfilling Biden's campaign pledge to be 'the most pro-union president you've ever seen.'… Biden could instead try to fulfill his campaign promises by using his executive authority to put the rules in place. Such a unilateral move would come with risks; executive actions are more likely to be held up in a federal court system packed with conservative, anti-union judges. But short of passing the PRO Act, such executive actions, despite their legal vulnerabilities, might offer the best opportunity to deter Amazon and other employers' efforts to block workers from unionizing." • Joe Biden owes me six hundred bucks.

"Welcome to the New Progressive Era" [Anand Giridharadas, The Atlantic]. "The conversations I've had in recent weeks have painted a portrait of an improbable coming-together of people and forces: a moderate president, with an ascendant progressive movement at his back and at his throat, facing a once-in-a-generation window of opportunity. It's still early. It remains to be seen if this momentum will continue, if the infrastructure plan musters the votes, if the ungainly Sanders-to-Manchin coalition holds. But for now, a capital that has been defined in recent years by the absence of useful action bubbles with generative possibility. And many of us who thought we knew what a Biden presidency would look like, and didn't expect much from it, are suddenly asking ourselves: How did we get him so wrong? Representative ilhan omar, a Minnesota Democrat and member of the so-called Squad, endorsed Sanders in the primary and didn't anticipate a whole lot from Biden. Nevertheless, during the winter transition, she and her colleagues in the Congressional Progressive Caucus shared their ideas and priorities with the incoming administration—and were taken aback when many of them were adopted. 'The $1.9 trillion package that they put forth was a surprise," she told me. "A lot of us made recommendations when the administration was in their transition space, and I don't think a lot of us expected many of those things would make it in.'" • For sure, Biden's better than Obama. More than that, I am not willing to say. For example, the headlines on the American Jobs Plan are a lot more expansive than the line items, and I want to know where those line items will go. (Recall that the Democrats reinstituted earmarks.)

UPDATE "'A gaslighting chamber of insanity': Moderate Republicans seethe at Biden" [Politico]. That's a damn shame. "In the span of a few months, the G-10 has gone from the center of politics in DONALD TRUMP'S Washington to the policy sidelines in President JOE BIDEN'S. While these senators mostly despised Trump, they were the engine of policymaking for his final Covid relief bill. While they mostly respect Biden, they have so far been irrelevant to his legislative push despite his inaugural promise of 'unity.'… 'Everything they support is defined as either Covid relief or infrastructure, and everything they oppose is like … Jim Crow voter suppression and evil,' this G-10 aide said. 'And you constantly just feel like you're in this gaslighting chamber of insanity. But it's working.'

Can you imagine if Trump had done this:

Biden Admin resumed private property seizure for border wall construction today. We are heartbroken for our friends & neighbors, Fred, Lillie, Lisa & Rey, as the government has just taken immediate possession of their land. Now it's #BidenBorderWall #NotAnotherFoot was a lie pic.twitter.com/wGXDkSx0XO

— National Butterfly (@NatButterflies) April 13, 2021

"ZOMG!!!! The butterflies!!!!!!"
Democrats en Deshabille
UPDATE "How Hunter Biden's Memoir Played in the White House" [New York Magazine]. "Yet Hunter Biden's ballad of the black sheep landed quietly in Washington, 'I'm shocked,' a senior White House official said. 'I get stuff on the dogs all the time. I've been so surprised I didn't get anything on Hunter.' Whether they had braced for a media frenzy or not, members of the Joe Biden administration report that, internally, the arrival of Hunter's book (which was ghostwritten by the journalist Drew Jubera) on April 6 was a big nonevent. " • Gosh, it's almost as if the word has gone out that Hunter's untouchable. "Shocked," is good, though. Irony, We West Wing types like that in our high officials.

UPDATE Shocked, shocked:

Pelosi's massive Microsoft purchase was very well timed, just ahead of this news. If she had non-public information this is illegal, but if she didn't, it's not — because congress writes the laws and makes sure they can do this https://t.co/I8UcL0SPAn

— Ryan Grim (@ryangrim) April 12, 2021
Republican Funhouse
"Trump's early endorsements reveal GOP rift" [The Hill]. "Former President Trump's recent endorsements of Sens. Ron Johnson (R-Wis.), Rand Paul (R-Ky.) and Marco Rubio (R-Fla.) are exposing a rift between Republicans who want to leave the Trump era behind and those who see his populist brand of conservatism as a winning formula. By dropping a string of Senate endorsements almost 20 months before Election Day, Trump is inserting himself squarely in the internal debate among GOP lawmakers about where they want to go as a party and how closely they want to work with President Biden. He is also sending signals to allies that he can protect them from primary challenges next year, a potentially strong incentive for fellow Republicans not to discard his legacy. 'It's a great preemptive thing to put off any potential challengers,' said Jim McLaughlin, a Republican strategist, who noted that Trump has a 'very good relationship' with Sen. Rick Scott (Fla.), head of the Senate GOP's campaign arm." • But these are all establishment figures! Whatever the Republican Party is going to become, it won't become the party of Lisa Murkowski and Susan Collins.

"What Will Trump Loyalists' Sensed Powerlessness Mean For Politics?" [Democracy Corps]. From March 26, still germane. "We conducted focus groups in March with Trump Loyalists in Georgia and Wisconsin and Trump-aligned, non-Trump conservatives and moderates in suburban and rural Georgia, Ohio, and Wisconsin. It took a long time to recruit these groups because Trump voters seemed particularly distrustful of outsiders right now, wary of being victimized, and avoided revealing their true position until in a Zoom room with all Trump voters — then, they let it all out." • I can't understand this dynamic at all! More: "They worry now that it is the government that has taken the initiative on the use of force, increasing their sense of powerlessness." • Founded by James Carville and Stanley Greenberg, so I'm wondering how much this is preaching to the choir (for example, "insurrection" is taken as a given). It's hard for me to reconcile "Democrats have only a 2-point lead in party identification" with a sense of disempowerment by Republicans.

UPDATE "New details shed light on Gaetz's Bahamas trip" [Politico]. "Gaetz, who has not been charged, has consistently denied the two anonymous claims against him: that he had sex with a 17-year-old girl and paid for sex." • After JFK, Ted Kennedy, Bill Clinton, Mario Cuomo (giving Biden a free pass here; this is the story I find ugliest) and, if you're worried about age differentials and transactions that have every appearance of being a payoff, Willie Brown and Kamala Harris, we're worried about a sex scandal? Driven by anonymous sources? Really? But that's where we are:

Poor old cameraman has been sent by his corporate bosses to camp outside Rep. Gaetz's office with a camera ☹️

(BTW imagine the outrage if @JackPosobiec set foot near AOC's front door). pic.twitter.com/G2e0UsjXZB

— Raheem Kassam (@RaheemKassam) April 14, 2021

Anybody know if there's some poor shlub of a cameraman outside Cuomo's office? Come on, man.
Realignment and Legitimacy
"Intelligence Sources Say Biggest Threat To U.S. Is Actually U.S. Policy" [Caitlin Johnstone]. "According to my source, the real threat to America today is the standing policy of overextending US military commitments in a futile effort to maintain unrivaled unipolar planetary hegemony on a world that is forever out of control while impoverishing and oppressing Americans at home, all to preserve a failed competition-based model of mass-scale human behavior that our species needs to evolve beyond anyway."

UPDATE The picture is more important than the headline:

More than 100 companies sign letter opposing U.S. state voting restrictions https://t.co/Qk4q2tfkh2 pic.twitter.com/mRPyJU4ela

— Yahoo Finance (@YahooFinance) April 14, 2021

The picture screams "impenetrably complex digital device." And next to the open door? A dark figure in a hoodie…

Thanks to assiduous work by the PMC and the political class over many years, this about FDR is now conventional wisdom. Indeed, it may be the only thing about FDR many people "know":

New: @WhipClyburn is tired of Biden-FDR comparisons

"Biden's legacy, if he's going to have credibility, must be much closer to Harry Truman than to Franklin Roosevelt…FDR's legacy was not good for Black people"

At helm w/@AlexThomp @theodoricmeyer https://t.co/8vO9yBo3H7

— Laura Barrón-López (@lbarronlopez) April 13, 2021

All of which leaves unexplained by Black people were firmly part of the Democrat Party base after FDR. Maybe they got conned by the ol' okey-dokey,

UPDATE "Nevada's New Democratic Party Raises Back Funds Shuttled By Ex-Staff" [The Intercept]. "JUST OVER A month after the staff of Nevada's Democratic Party quit rather than work alongside an incoming slate of candidates backed by the local chapter of Democratic Socialists of America, taking $450,000 and severance with them, the party's new leadership has raised that money back with some to spare. The Nevada Democrats have raised $530,000 from more than 16,500 contributions since the March 6 elections, when a progressive slate of five candidates — one incumbent and four newcomers — took over the party, beating the preferred picks of the local machine. The figure includes $100,000 raised on their own within a few weeks of the election and a boost in contributions with help from national progressive allies like Sen. Bernie Sanders, I-Vt., Rep. Alexandria Ocasio-Cortez, D-N.Y., and Rep. Cori Bush, D-Mo., who sent fundraising emails over the last several weeks on the party's behalf." • Harry Reid's state, too.

A literacy test:

literacy test for enlightened votes pic.twitter.com/zEciLXe0wR

— Nam🌾⚙🍚 🧦 (@Nam06328478) April 13, 2021

Try as I might, I couldn't make sense of #1 or #5, and I think the answer to #10 is "t", written in the first circle.
Stats Watch
Inflation: "March 2021 Import Year-over-Year Inflation Grows To +6.9%" [Econintersect]. "Year-over-year import price indices inflation grew from +1.4 % to +3.0 %…. There is only a marginal correlation between economic activity, recessions, and export/import prices. Prices can be rising or falling going into a recession or entering a period of expansion. Econintersect follows this data series to adjust economic activity for the effects of inflation where there are clear relationships."
* * *
Shipping: "North America's February container imports jump 100% from Far East" [Hellenic Shipping News]. "North American import of containerised goods from the Far East soared to a noteworthy high of 1.62m TEU during February 2021, a 100% increase from the low point of the same month last year. Fuelled by US stimulus, volumes moving on the trans-pacific trade lane to consumers and businesses in North America thereby defied all obstacles during a month usually characterised by slow activity. In particular, the US economic stimulus packages have worked magic for the container shipping industry, gaining strength eight months in a row. In a normal year, February volumes are seasonally low due to the impact from the Chinese Lunar New Year when exports out of the Far East drop as factories close for the holiday. 'If you ask the ports of San Pedro bay on the US west coast, they will tell you that this massive surge in volumes is a double-edged sword. Record-breaking business activity overloads logistic chains in and around the ports, both ashore and at sea,' says Peter Sand, BIMCO's Chief Shipping Analyst.
Shipping: "Suez megaship owner haggles over US$900 million release demand" [Channel News Asia]. "The Japanese owner of a megaship seized after blocking the Suez Canal has said it is negotiating with Egyptian authorities after they demanded US$900 million in compensation for its release." • Negotiating. "We've got your boat. Give us a call!"
The Bezzle: "Coinbase listing set to capitalise on crypto bull run" [Financial Times]. "Coinbase became a dominant company by winning the trust of cryptocurrency novices. Next comes the stock market. When the nine-year-old start-up lists on the Nasdaq exchange on Wednesday, it will become the first major cryptocurrency company to go public in the US, a milestone that has generated excitement in an already buoyant market for digital assets. The challenge is that few people know how to value the company, which counts on volatile transactional revenues in lightly regulated markets for the vast majority of its business." • No red flags there!
Tech: The new oil?
We've likely reached the point where this chart of global semiconductor production is as consequential as where oil is produced around the world. Via ING's @RicoLuman & @tspakman https://t.co/bnYjKKi7Je pic.twitter.com/ctdtHSF9hZ

— Cate Long (@cate_long) April 11, 2021
Tech: "DARPA awards 3 companies contracts for nuclear spacecraft by 2025" [The Hill]. "The Defense Advanced Research Projects Agency (DARPA) announced on Monday that it selected Jeff Bezos's Blue Origin, General Atomics and Lockheed Martin for the first phase of the Demonstration Rocket for Agile Cislunar Operations (DRACO) program. General Atomics's contract is worth $22 million, Blue Origin's is worth $2.5 million and Lockheed Martin's will be worth $2.9 million, a DARPA spokesperson confirmed to The Hill." • Oh great. We're going to give Bezos nukes. What could go wrong?
Tech: "Unfair Use: Anti-Interoperability and Our Dwindling Digital Freedom" [Cory Doctorow, The Reboot]. "Some 40 years later, the world is a very different place. Between software copyrights, anti-circum­vention rules, software patents, enforceable terms of service, trade secrecy, noncompete agreements, and the Oracle/Google dispute over API copyrights, any attempt to interoperate with an existing product service with­out permission from its corporate master is a legal suicide mission, an invitation to almost unlimited civil — and even criminal — litigation. That is to say: if you dare to modify, improve, or replace an existing, dominant software-based product or service, you risk bankruptcy and a long prison sentence. Forty years ago, we had cake and asked for icing on top of it. Today, all we have left is the icing, and we've forgotten that the cake was ever there. If code isn't licensed as 'free,' you'd best leave it alone."
Manufacturing: "A 'game-changer' for PPE recycling: Scientists develop technology that can turn masks and gowns into SCHOOL CHAIRS" [Daily Mail]. "The NHS is using new tech that turns waste personal protective equipment (PPE) like COVID masks, gowns and curtains into plastic for school chairs and other products. Machines developed by the Cardiff-based Thermal Compaction Group can compact bags of PPE into large, reusable plastic blocks in the space of an hour. These three-feet-long blocks can then be collected and processed, providing raw materials to make an assortment of other products including toolboxes."
* * *
Today's Fear & Greed Index: 53 Neutral (previous close: 51 Neutral) [CNN]. One week ago: 63 (Greed). (0 is Extreme Fear; 100 is Extreme Greed). One year ago, just after the end of the Before Times: 42 (Fear). Last updated Apr 14 at 12:20pm.
The Biosphere
"What the narwhal can tell us about the climate crisis" [High Country News]. "[S]cientists described what they found in 10 tusks collected from animals in northwest Greenland. Because a tusk grows continuously over the many decades of a narwhal's life, the researchers could read the outsized teeth like the rings of a tree. They found that between 1962 and 2000, the mercury in the tusks increased by an average of 0.3% a year, but between 2000 and 2010 it increased by 1.9% per year. This is consistent with increased mercury discovered in the bodies of other top predators in several regions across the Arctic, possibly due to air pollution blowing in from the south."
Health Care
UPDATE The White House Covid Response team. Fauci, Walensky, and Zeints:
Tune in now for this morning's COVID-19 briefing where Dr. Fauci, Dr. Walensky, and Jeff Zients will focus on the FDA and CDC's recommendation to pause use of the Johnson & Johnson vaccine. https://t.co/0kkV3w3aJo

— White House COVID-19 Response Team (@WHCOVIDResponse) April 14, 2021
Not a bad idea, but a couple of news cycles too late. Why wasn't this done before the toothpaste left the tube? Did they think standing on their authority would be enough?
"Blood clot risks: comparing the AstraZeneca vaccine and the contraceptive pill" [The Conversation]. "Although evidence is still emerging, the mechanisms behind the type of clotting linked to the vaccine and that linked to the pill appear to be quite different. It's a reminder of how complex the blood and clotting is, with multiple parts of the process that can be disrupted…. for some who've taken the vaccine, platelets appear to stick together in the venous sinuses of the brain, which causes a blockage that prevents blood draining out of the brain tissues. This creates back pressure in the small vessels of the brain and blood leaks into the brain itself, causing damage in the same way a haemorrhagic stroke would…. In some people who have had the first dose of the AstraZeneca vaccine, unwanted clotting is being reported in the brain, known as cerebral venous sinus thromboembolism (CVST)…. Despite the combined oral contraceptive pill also increasing the risk of blood clots in those who take it, these clots are likely formed by a different mechanism to those seen in CVSTs. Clotting is a complex system." • This article is interesting, but I'd file it under inforrmed speculation. It's interesting to see a clinical anatomist try to work through the problem, though,.
The Conservatory
"A Man Named Earl" [Vulture]. "In public housing, you see the best and the worst of people. There's love, camaraderie, and music in rec-room birthday parties, in concrete cookouts, in block parties on the weekend. Lounge on stoops and listen through walls, and you might hear and see too much. You might know the unmistakable glint of sunlight bouncing off of a steel handgun produced in broad daylight in a place where you'd least expect it. You might come to meet the mild-mannered child whose parents only seemed to speak in open hands and electrical cords, the "bad" child who left "to see family" for months at a time and came back rougher every summer, the smart one underserved and under-engaged by public school, the beloved neighborhood figure growing wiry and thin and drawing rumors of clandestine habits. DMX was one of us, all of us, really. He commanded respect as much for the brilliance of his craft as for navigating street life adeptly enough to get out unscathed, a folk hero as much as a rapper. He hustled his way out of the projects, out of child abuse, out of a lack of opportunities. He wasn't just a celebrity; he was proof that it was possible for everyone else downwind to survive without compromising their beliefs. He pondered the question of whether we ever truly escape from the circumstances of our births, whether or not our past trauma lies perpetually in wait to create havoc in our present. The genius of DMX as a writer and a performer lay in his ability to repackage the burdens of Black inner-city life in art that was vibrant and lively even in darkness."
"A philosophy of sound" [Aeon]. "Along with touch, sound is one of the first senses to develop – long before sight or smell. Developing human foetuses can hear their mother's heartbeats (and voices) in utero. We hear gentle, albeit muffled sounds while developing, less muffled and more acute sounds when we're born, definitely all kinds of muffled and acute sounds while alive – and according to many spiritual traditions, we might hear the most perfect music when we die. Perhaps this is another reason why sound and rhythm are such universal forces: they're some of the founding experiences of all human beings. Gioia opens his work on music by noting that, in Hindu iconography, Shiva is holding a drum at the moment of creation; an apt image, given that contemporary science dubs the beginning of the Universe 'the Big Bang'." • Well worth a read. It was hard to extract because it's so interesting!
Games
"The Video Game Industry Is Consolidating" [Bloomberg]. "the $180 billion industry is consolidating. In fact, it's become nearly impossible for independent gaming companies to survive. Just a few years ago the big-budget video game industry was complemented by a healthy number of independent companies that could make hits with fewer resources and more creative risks. Double Fine Inc., which employed fewer than 100 people, was known for an eclectic mix of artistic titles. Obsidian Entertainment Inc. had a reputation for building deep, complicated roleplaying games. But both companies faced financial struggles. They were often contracted by publishers on work-for-hire projects, leaving their fates tied to the whims of whatever executives wanted in a given quarter. Losing a contract could be devastating, leading to layoffs and budget crunches. So it was no surprise to see them both get swallowed up by Microsoft Corp.: Obsidian in 2018 and Double Fine a year later. Even big publishers aren't immune. Last fall, Microsoft purchased ZeniMax Media Inc., the parent company of Bethesda Softworks, in a $7.5 billion deal. ZeniMax, which released several commercial flops such as Prey and Fallout 76, had reportedly been looking to sell itself for years. It was the only major U.S. game publisher that wasn't publicly traded. Which brings us to Tonic Games, whose subsidiary Mediatonic saw a jolt of success last year thanks to Fall Guys, one of the pandemic's most popular online games. It was addictive, satisfying, and the perfect way to interact with strangers during extended lockdowns. But Mediatonic struggled to maintain momentum for the game, even with a surge of hiring and planned new features. Rather than risk further player dropoff and potential financial uncertainty, the studio's top executives sold out to Epic, one of the richest game companies in the world." • I suppose if one owned games, instead of renting them on platforms, this wouldnl't matter so much?
"People over 55 are fastest-growing market for games" [Boing Boing]. "The marketing research company Global Web Index reports that the number of 'gamers' over 55 years of age has grown 32% in the last three years. The Covid pandemic accelerated but did not create the growth, with grandparents seeing game time as family time."
Our Famously Free Press
Top Bidder for Tribune Newspapers Is an Influential Liberal Donor NYT. The deck: "The Swiss billionaire Hansjörg Wyss helped build a sophisticated behind-the-scenes operation that attacked Republicans and promoted Democratic causes."
"Luke O'Neil's 'Lockdown in Hell World' Details the Horrors of 2020" (interview) [Kim Kelly, Teen Vogue]. O'Neil: "I started to see the writing on the wall that freelancing just doesn't seem like a viable career path anymore. It's like how you see like a squirrel in the park, and it's shivering all the time, and looking around and afraid it's gonna get eaten at any second, scraping around for acorns. That's what [freelancing] feels like. And so when the Substack folks came to me, I thought, Well, this seems like a gamble, but the industry isn't gonna protect me. Nobody's gonna look out for me, so I'll just say screw it and try to go out on my own."
This Day in History
From Ford's Theatre:
At 10:15 p.m. on April 14, 1865, Abraham Lincoln was shot by John Wilkes Booth during a performance of "Our American Cousin" at Ford's Theatre. While it may be easy to dismiss Booth as a madman, the assassination conspiracy was a well-planned act of political violence. (1) pic.twitter.com/hbddHVmf8A

— Ford's Theatre (@fordstheatre) April 14, 2021
Class Warfare
"The Fight to Organize Amazon Is Just Getting Started" [Jacobin]. "atrocious working conditions and totalitarian control within the workplace are hardly unprecedented. Steel mills and auto plants were often intolerable, dangerous jobs until they were organized. Workers failed to organize shop after shop, until they didn't. There are important differences among these industries: as Rich Yeselson points out, while 1930s General Motors had a comparable number of workers spread across a similar number of facilities as Amazon does today, 25 percent of those workers were in the Flint plant, which meant workers could gain incredible leverage by organizing one facility. Amazon, excluding the fifty thousand, largely white-collar, workers at its headquarters, lacks a similarly strategic site. But while this is a challenge, there is nothing inherent in the work itself, nor any trick in the company's playbook, that workers haven't seen before. Amazon is swallowing the world at a pace that is almost impossible to comprehend, and the organization of its workers grows more pressing by the day. Unionizing it will be an uphill battle, but the labor movement in the United States has never had favorable odds. You learn from the setbacks, and then, you keep moving." • Noteworthy is that the law and the media are thoroughly discussed, but the actual tactics deployed at Bessemer are not. Like organizing at the front gate…..
News of the Wired
"Canada Ranks No. 1 in 2021 U.S. News Best Countries Ranking" [US News and World Report (Re Silc)]. • We're #6. Re Silc: "USA USA in the Top Ten immediately brings the whole thing in question. I was at Ocean State Discount store in North Adams, MA today buying plant stakes. Three check out clerks talking about NO 40 hour jobs anywhere near them." Well, they should just move.
Sign, object, interpretant:
Design is the "architecture of control" (Dan Lockton, 2005)

Often not about what it enables you to do, but what it prevents you from doing. pic.twitter.com/xFtCPIhAV0

— Harry Brignull (@harrybr) April 14, 2021
* * *
Readers, feel free to contact me at lambert [UNDERSCORE] strether [DOT] corrente [AT] yahoo [DOT] com, with (a) links, and even better (b) sources I should curate regularly, (c) how to send me a check if you are allergic to PayPal, and (d) to find out how to send me images of plants. Vegetables are fine! Fungi and coral are deemed to be honorary plants! If you want your handle to appear as a credit, please place it at the start of your mail in parentheses: (thus). Otherwise, I will anonymize by using your initials. See the previous Water Cooler (with plant) here. Today's plant (CK):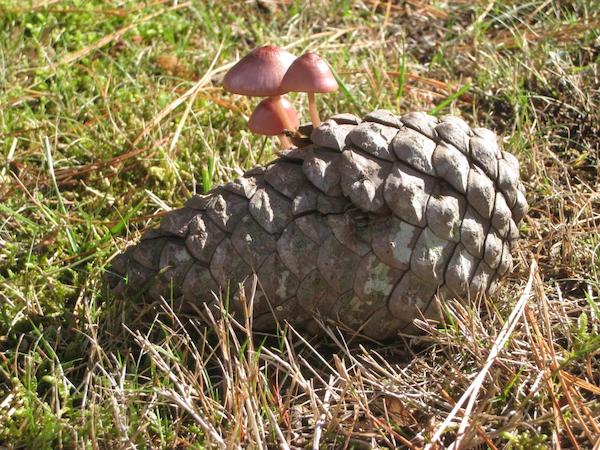 CK writes: "This surprising accommodation was found some years back, on a walk near our home in SW France."
* * *
Readers: Water Cooler is a standalone entity not covered by the recently concluded and — thank you! — successful annual NC fundraiser. So if you see a link you especially like, or an item you wouldn't see anywhere else, please do not hesitate to express your appreciation in tangible form. Remember, a tip jar is for tipping! Regular positive feedback both makes me feel good and lets me know I'm on the right track with coverage. When I get no donations for five or ten days I get worried. More tangibly, a constant trickle of donations helps me with expenses, and I factor in that trickle when setting fundraising goals:
Here is the screen that will appear, which I have helpfully annotated.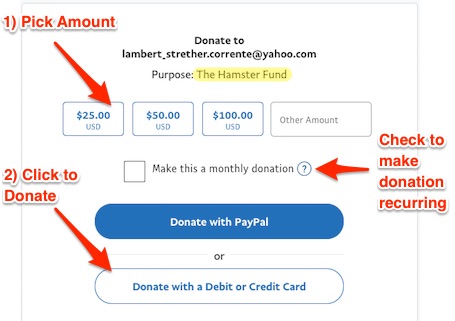 If you hate PayPal, you can email me at lambert [UNDERSCORE] strether [DOT] corrente [AT] yahoo [DOT] com, and I will give you directions on how to send a check. Thank you!