By Lambert Strether of Corrente.
Recently, the political class has been working hard to rehabilitate George W. Bush into an elder statesman, no doubt to continue the liberal Democrat conversion of suburban Republicans, with headlines like "George Bush reborn as the nation's grandfather" (the London Sunday Times, but you know it will migrate over here), "George W Bush is back – but not all appreciate his new progressive image" (Guardian), "Bush calls on Congress to tone down 'harsh rhetoric' about immigration" (CNN), and "George W Bush reveals who he voted for in 2020 election – and it wasn't Biden or Trump" (the Independent. Bush wrote in Condaleeza Rice, who Exxon once named a tanker for). I could go on. But I won't. These stories from major outlets seem to be erasing early coverage like "The 7 worst moments of George W. Bush's presidency" (WaPo, 2013), "The blood on George W Bush's hands will never dry. Don't glorify this man" (The Guardian, 2017), "Reminder: George W. Bush Is Still Very, Very Bad" (Vice, 2018), "Seth Meyers: Don't Let Trump Make You Forget How Awful George W. Bush Was" (Vanity Fair, 2020), and "We Shouldn't Have to Remind People George W. Bush Was a Terrible President: (Jacobin, 2020). That's unfortunate, because George W. Bush (hereafter "Bush"; the "W" distinguishes him from his spook Yankee patrician Dad, oil bidnessman George H.W. Bush). As with so much else that is fetid in the miasmic air of our current liberal Democrat dispensation, Bush's rehabilitation begins with the Obamas, in this case Michelle Obama, in this iconic photo: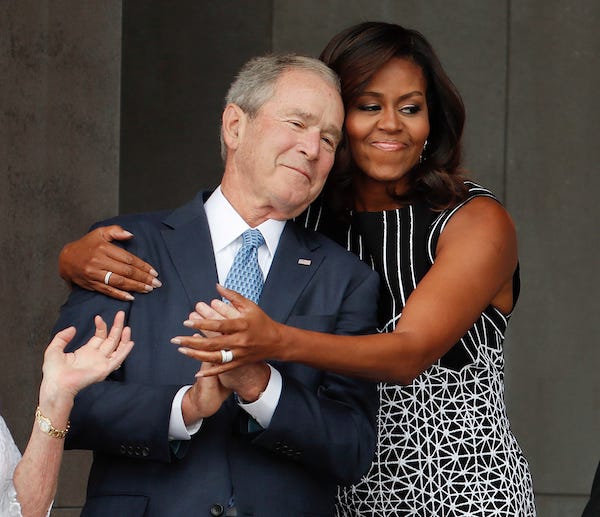 (The backstory: "Michelle Obama Reveals What Really Happened During Her Sweet Exchange With George W. Bush," and "Michelle Obama: George W. Bush is 'my partner in crime'[1] and 'I love him to death'").
Bush became President in the year 2000. That was — let me break out my calculator — 2021 – 2000 = 21 years ago. It occurs to me that our younger readers, born in 2000, or even 1990, may not know how genuinely horrid Bush was, as President.
I was blogging even back then, and I remember how horrid Bush was; certainly worse than Trump, at least for Trump's first three years in office, until the Covid pandemic. To convey the full horror of the Bush years would not a series of posts, but a book. The entire experience was wretched and shameful.
Of the many horrors of the Bush years, I will pick three. (I am omitting many, many others, including Hurricane Katrina, the Plame Affair, Medicare Part D, the Cheney Energy Task Force, that time Dick Cheney shot an old man in the face, Bush's missing Texas Air National Guard records, Bush gaslighting the 2004 Republican National Convention with terror alerts, and on and on and on. And I didn't even get to 9/11, "You've covered your ass," WMDs, and the AUMF. Sorry. It's exhausting.) I'm afraid my recounting of these incidents will be sketchy: I lived and blogged in them, and the memories of the horror well up in such volume and detail that I lose control of the material. Not only that, there was an actual, functioning blogosphere at that time, which did great work, but unfortunately most of that work has succumbed to link rot. And my memory of events two decades ago is not as strong as it could be.
Here I will rely on excerpts from Colonel Sam Gardiner's (PDF) "Truth from These Podia: Summary of a Study of Strategic Influence, Perception Management, Strategic Information Warfare and Strategic Psychological Operations in Gulf II" (2003), whose introduction has been saved from link rot by the National Security Archive and a full version by the University of Leeds. I would bet, long forgotten even by many of those who blogged through those times. ("Gulf II" is what we refer to as the "War in Iraq.") Quoting from the full version:
You will see in my analysis and comments that I do not accept the notion that the first casualty of war is truth. I think we have to have a higher standard. In the most basic sense, Washington and London did not trust the peoples of their democracies to come to right decisions. Truth became a casualty. When truth is a casualty, democracy receives collateral damage.
Seems familiar. (Gardiner's report can be read as a brilliant media critique; it's really worth sitting down with a cup of coffee and reading it all.)[2] More:
My research suggests there were . I'll cover most in this report. At the end, I will also describe some stories that seem as if they were part of the strategic influence campaign although the evidence is only circumstantial.

What becomes important is not each story taken individually. If that were the case, it would probably seem only more of the same. If you were to look at them one at a time, you could conclude, "Okay we sort of knew that was happening." It is the pattern that becomes important. It's the summary of everything. To use a phrase often heard during the war, it's the mosaic. Recognizing I said I wouldn't exaggerate, it would not be an exaggeration to say the people of the United States and UK can find out more about the contents of a can of soup they buy than the contents of the can of worms they bought with the 2003 war in the Gulf.
The White House was, naturally, at the center of the operation:
One way to view how the US Government was organized to do the strategic communications effort before, during and after the war is to use the chart that was used by the Assistant Deputy Director for Information Operations. The center is the White House Office of Global Communications, the organization originally created by Karen Hughes as the Coalition Information Office. The White House is at the center of the strategic communications process….
Handy chart: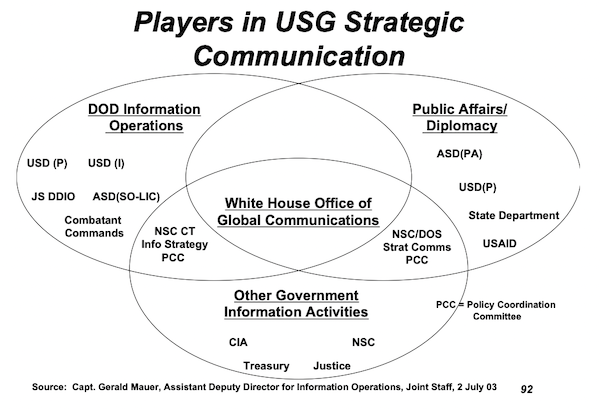 And:
Inside the White House there was an Iraq Group that did policy direction and then the Office of Global Communications itself.
Membership of the White House Iraq Group: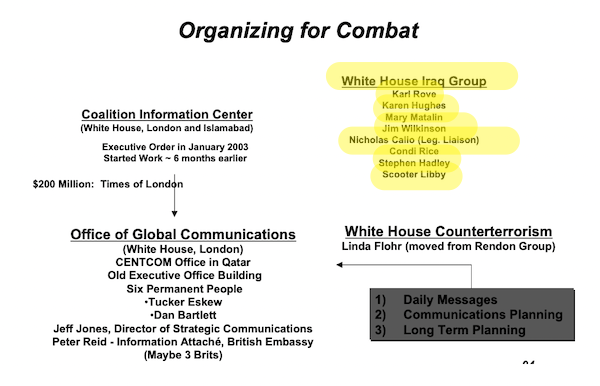 So, in 2020 Bush's write-in vote for President was Condi Rice, the [x] Black [x] woman who helped run a domestic disinformation campaign for him in 2003, to sell the Iraq War to the American people. Isn't that…. sweet?
Of course, I was very naive at that point. I had come up as a Democrat, and my first real political engagement was the Clinton impeachment. Back in 2003, I was amazed to discover that there was a White House operation that was planting fake stories in the press — and that I had been playing whackamole on them. At a higher level, I was disturbed that "Washington and London did not trust the peoples of their democracies to come to right decisions." Now it all seems perfectly normal, which is sad.
There are a lot of images of our torture prison in Iraq, Abu Ghraib. This one (via) is not the most famous, but to me it is the most shocking: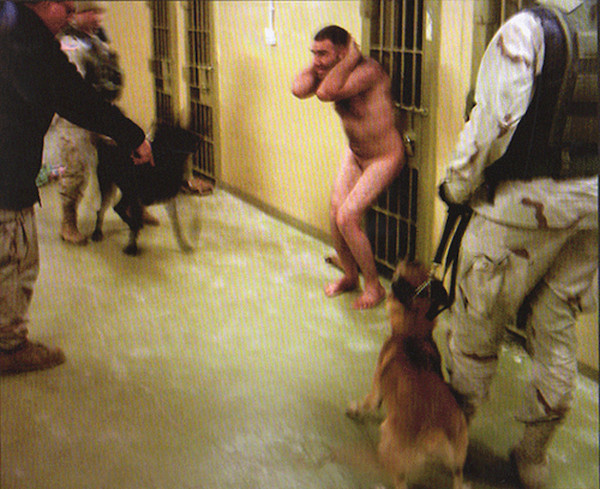 What kind of country sets dogs on a naked prisoner? Well, my kind of country, apparently. (Later, I remember discussing politics with somebody who came from a country that might be considered less governed by the rule of law than my own, and they said: "Abu Ghraib. You have nothing to say." And they were right.)
For those who came in late, here's a snapshot (the detail of the story is in fact overwhelming, and I also have pity for the poor shlubs the brass tossed into that hellhole[3].) From the Los Angeles Times, "Few have faced consequences for abuses at Abu Ghraib prison in Iraq" (2015):
[A] 44-year-old Al Jazeera reporter named Salah Ejaili, said in a phone interview from Qatar that he was arrested in 2003 while covering an explosion in the Iraqi province of Diyala. He was held at Abu Ghraib for 48 days after six days in another facility, he said.

"Most of the pictures that came out in 2004, I saw that firsthand — the human pyramid where men were stacked up naked on top of each other, people pulled around on leashes," he said in the interview, with one of his attorneys translating. "I used to hear loud screams during the torture sessions."

Ejaili says he was beaten, left naked and exposed to the elements for long periods, and left in solitary confinement, among other acts.

"When people look at others who are naked, they feel like they're animals in a zoo, in addition to being termed as criminals and as terrorists," he said. "That had a very strong psychological impact."

The plaintiffs also say they suffered electric shocks; deprivation of food, water and oxygen; sexual abuse; threats from dogs; beatings; and sensory deprivation.

Taha Yaseen Arraq Rashid, a laborer, says he was sexually abused by a woman while he was cuffed and shackled, and also that he was forced to watch a female prisoner's rape.

Ejaili said that his face was often covered during interrogations, making it difficult for him to identify those involved, but that he was able to notice that many of the interrogators who entered the facility wore civilian clothing.

His attorneys, citing military investigations into abuses at Abu Ghraib and other evidence, say the contractors took control of the prison and issued orders to uniformed military.

"Abu Ghraib was pretty chaotic," said Baher Azmy, legal director for the Center for Constitutional Rights, which brought suits against CACI and L-3 Services. "They were involved in a conspiracy with the military police to abuse our clients."…. Eleven U.S. soldiers were convicted in military trials of crimes related to the humiliation and abuse of the prisoners.
(So Abu Ghraib is a privatization story, too. Oddly, whoever signed the contract never ended up in court.) All this seemed pretty shocking then. But now we know that the Chicago Police Department ran a torture site at Homan Square while Rahm Emanuel, Obama's Chief of Staff, was Mayor, so perhaps this is all perfectly normal too.
Warrantless Surveillance and the Destruction of the Fourth Amendment
Here is the wording of the Fourth Amendment:
The right of the people to be secure in their persons, houses, , and effects, against unreasonable searches and seizures, shall not be violated, and no Warrants shall issue, but upon probable cause, supported by Oath or affirmation, and particularly describing the place to be searched, and the persons or things to be seized.
If our legal system had the slightest shred of integrity, it would be obvious to the Courts, as it is to a six-old-child, that what we laughingly call our "personal" computers and cellphones contain "paper," not in the tediously literal sense of a physical material made from wood fibre, but in the sense of content. Bits and bytes are 20th Century paper, stored on silicon and hard disk platters. Of course a warrant should be needed to read what's on my phone, ffs.
That Fourth Amendment common sense did not prevail is IMNSHO due in large part to Bush's program of warrantless surveillance, put in place as part of the Global War on Terror. Here again, the complexity is overwhelming and took several years to unravel. I'm afraid I have to quote Wikipedia on this one:
A week after the 9/11 attacks, Congress passed the Authorization for Use of Military Force Against Terrorists (AUMF), which inaugurated the "War on Terror". It later featured heavily in arguments over the NSA program.

Soon after the 9/11 attacks President Bush established the President's Surveillance Program. As part of the program, the Terrorist Surveillance Program was established pursuant to an executive order that authorized the NSA to surveil certain telephone calls without obtaining a warrant (see 50 U.S.C. § 1802 50 U.S.C. § 1809). The complete details of the executive order are not public, but according to administration statements, the authorization covers communication originating overseas from or to a person suspected of having links to terrorist organizations or their affiliates even when the other party to the call is within the US.

In October 2001, Congress passed the Patriot Act, which granted the administration broad powers to fight terrorism. The Bush administration used these powers to bypass the FISC and directed the NSA to spy directly on al-Qaeda via a new NSA electronic surveillance program. Reports at the time indicate that an "apparently accidental" "glitch" resulted in the interception of communications that were between two U.S. parties. This act was challenged by multiple groups, including Congress, as unconstitutional.

The precise scope of the program remains secret, but .
Of course, all this is perfectly normal today. So much for the Fourth Amendment, good job. (You will note that the telcos had to be in on it; amusingly, the CEO of Qwest, the only telco that refused to participate, was charged and convicted of insider trading, good job again.) The legal aspects of all this are insanely complex, but as you see from my introduction, they should be simple.
Conclusion
Here's a video of the Iraqi (now in Parliament) who threw shoes at Bush (who got off lightly, all things considered):
We should all be throwing shoes at Bush, seriously if not literally. We should not be accepting candy from him. We should not be treating him as an elder statesman. Or a "partner in crime." We should not be admiring his paintings. Bush ran a bad, bad, bad administration and we are living with the consequences of his badness today. Bush is a bad man. We are ruled by bad people. Tomorrow, Obama!
NOTES
[1] Indeed.
[2] For example, I vividly remember playing whack-a-mole as a blogger with the following WMD stories: Drones, weapons labs, WMD cluster bombs, Scuds, nuclear materials from Niger, aluminum tubes, and dirty bombs. They one and all fell apart on close inspection. And they were only a small part of the operation, as Gardiner shows in detail.
[3] My personal speculation is that Dick Cheney had a direct feed from the Abu Ghraib torture chambers to the White House, and watched the proceedings live. Some of the soldiers burned images of torture onto CDs as trophies, and the prison also had a server, whose connectivity was very conveniently not revealed by the judge in a lawsuit I dimly remember being brought in Germany. So it goes.