By Lambert Strether of Corrente.
Bird Song of the Day
From New Zealand.
* * *
#COVID19
At reader request, I've added this daily chart from 91-DIVOC. The data is the Johns Hopkins CSSE data. Here is the site.
I feel I'm engaging in a macabre form of tape-watching. All the charts are becoming dull — approaching nominal, if you accept the "new normal" of cases, for example.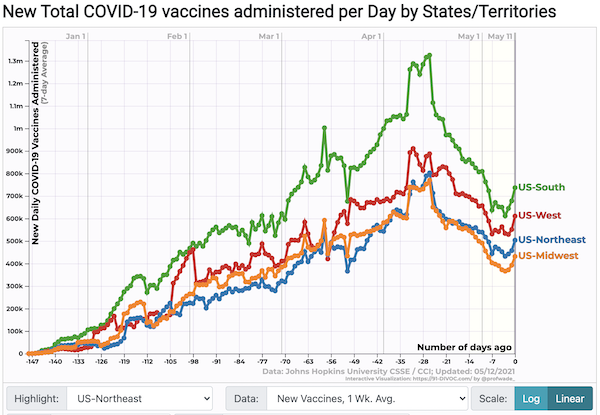 Maybe the free beer is a better idea than we thought? Or, credit where it's due, perhaps people listened to Biden? (We might speculate from Michigan that asking, as opposed to compelling, does seem to, if not work, at least not fail.)
Case count by United States regions: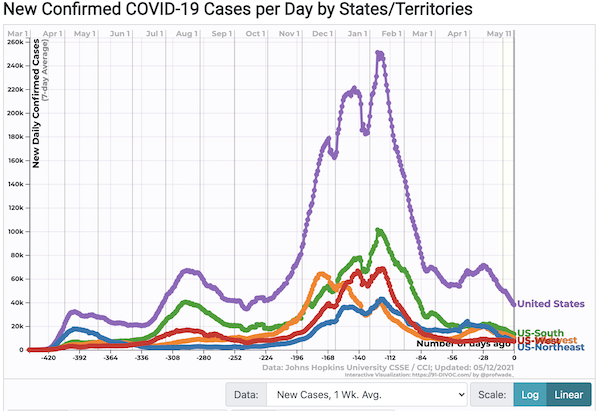 The Midwest in detail: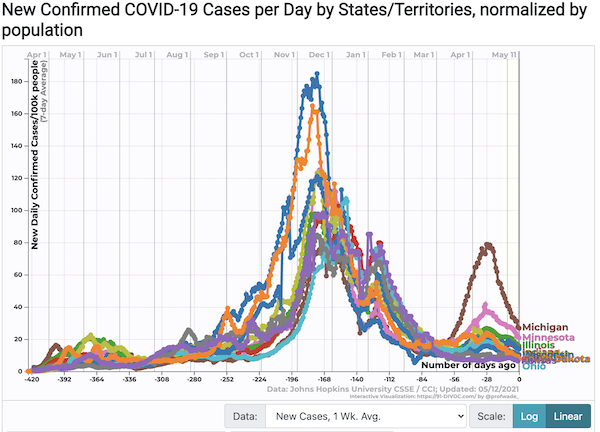 Continued good news. But Michigan's decrease is agonizingly slow.
Big states (New York, Florida, Texas, California):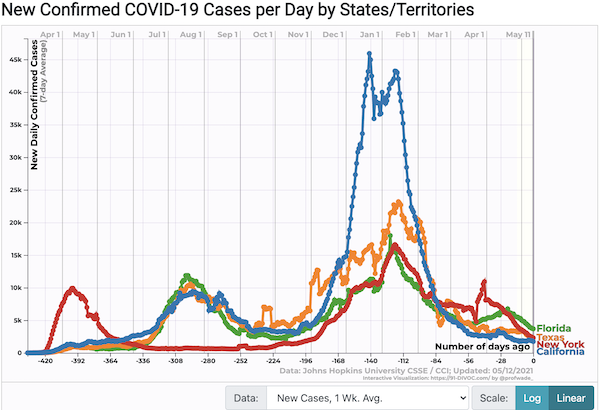 Continued good news.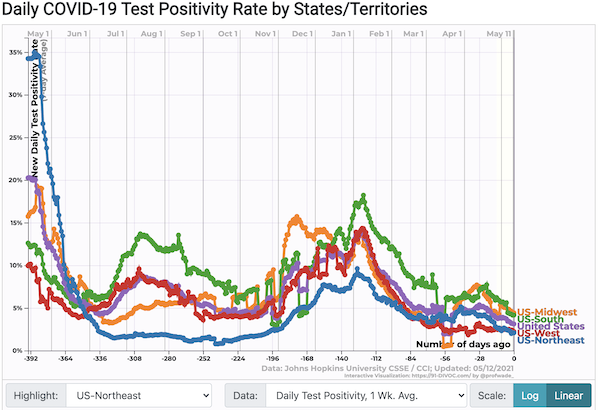 Down, except for the West, now flat.
* * *
Politics
"But what is government itself, but the greatest of all reflections on human nature?" –James Madison, Federalist 51
"They had one weapon left and both knew it: treachery." –Frank Herbert, Dune
"They had learned nothing, and forgotten nothing." –Charles Maurice de Talleyrand-Périgord
Capitol Seizure
"In Exclusive Jailhouse Letter, Capitol Riot Defendant Explains Motives, Remains Boastful" [Pro Publica]. "In a letter sent from behind bars, a key defendant in the Jan. 6 riot at the U.S. Capitol said he and fellow inmates have bonded in jail, and boasted that those attacking the building could have overthrown the government if they had wanted. The letter is signed 'the 1/6ers' and expresses no remorse for the assault on the Capitol, in which five people died. While no names appeared on it, ProPublica was able to determine, through interviews with his family and a review of his correspondence from jail, that it was penned by Guy Reffitt, a member of the Three Percenter right-wing militant group accused of participating in the riot. The letter said the inmates arrested for their role in the attack regularly recite the Pledge of Allegiance inside the Washington, D.C. jail and sing the national anthem 'all in unison, loud and proud most everyday.' 'January 6th was nothing short of a satirical way to overthrow a government,' said the letter, written by hand on yellow lined paper. 'If overthrow was the quest, it would have no doubt been overthrown.'"
Biden Administration
"Biden sees Trump rematch as real possibility" [The Hill]. "In an interview with Axios that aired Sunday evening, White House chief of staff Ron Klain said Biden is anticipating the possibility of running against Trump again. 'I wouldn't want to estimate or underestimate Donald Trump as an opponent if he chooses to run,' Klain said. Klain then said that Biden is working to set up a list of accomplishments that will make it more difficult for Trump or any other Republican to defeat him in 2024." • The wild card is Covid, just as in 2020. If the Biden Administration's gamble with Trump's vaccine pays off, I think Biden wins, if (a) the economy keeps up an (b) Biden doesn't throw a cog. If Biden's food taster slips up, and Harris runs against Trump, I think Trump would have a very solid shot.

UPDATE "Senate Commerce Committee advances Biden's FTC nominee Lina Khan" [The Hill]. "Khan is an influential antitrust scholar, known for her 'Amazon's Antitrust Paradox' paper, which she wrote as a student at Yale. She also served as an aide to the House Judiciary antitrust subcommittee's investigation into the market power of the biggest tech companies….. Khan would be joining the FTC at a critical time. The agency is engaged in a lawsuit against Facebook, along with attorneys general across the country, suing the social media giant over allegations of anti-competitive acquisitions." • Good!
Democrats en Deshabille
UPDATE "Arabella Advisors: Democrats' Darkest Dark Money" [The American Conservative]. "Arabella Advisors is a for-profit consulting firm founded by former Clinton administration staffer Eric Kessler, who started his career as an environmental activist for the League of Conservation Voters. The firm controls four nonprofits (the "sisters") with vague names and a common address: the 501(c)(3) New Venture Fund, Hopewell Fund, and Windward Fund, and the Sixteen Thirty Fund, Arabella's 501(c)(4) lobbying shop. Each of these nonprofits pays the company for the privilege of being staffed and led by Arabella folks ($137 million since 2008), and all four are behemoths—bringing in $731 million from difficult-to-trace donors in 2019 alone. My colleagues and I at the Capital Research Center have studied the Arabella network for over two years. Here's how it works. . Big foundations—including the Gates, Buffett, and Ford Foundations—have laundered billions of dollars through this network, washing their identities from the dollars that go to push radical policies on America. But the real juice from these nonprofits comes from the vast array of 'pop-up groups' they run—called so because they consist almost solely of slick websites that may pop into existence one day and pop out the next, usually once the campaign is through. We've counted over 350 such front groups pushing everything from federal funding of abortion to overhauling Obamacare to packing the Supreme Court. Arabella is as dark as 'dark money' gets." • The old saying that "money is the mother's milk of politics" is peculiarly applicable. And at last we have a view of the connective tissue of the NGO world. Fascinating stuff, all done with layers of indirection ("cut-outs") and a fee for everybody, as is liberal Democrat's wont….

UPDATE "Rushing to Judgment on Scott Stringer" [The Nation]. "We cannot flourish as a society if a single accusation out of the blue upends an election overnight and ruins a 30-year career in politics…. Emily Jane Goodman is a retired New York State Supreme Court justice who began her career as a trailblazing feminist lawyer. "This will come back to haunt us," she told me. "It will be a way of canceling women. '" • A lightbulb goes on over every strategist's head, Republican or Democrat.
Republican Funhouse
On the Cheney flap: Before we go all "Big Lie!", and "These People Have Lost Their Minds," and "I Fear for the Republic," let's recall that Facebook ads like this:

were the sharp end of the spear of a putative Russian influence campaign that tipped the 2016 election to Trump (at least in the imaginations of liberal Democrats), and that this orthodoxy was seriously enforced, so much that Sanders himself, in 2020, had to pledge fealty to it. (From the Times collection: "These Are the Ads Russia Bought on Facebook in 2016"). The Republicans aren't dumb. If they didn't know that delegitimizing the election of an opponent on wholly spurious grounds was not only fun, profitable, and extremely effective in enforcing party discipline, they certainly knew it after watching Democrats 2016-2020.)

* * *

"Cheney ousted by U.S. House Republicans, but will seek re-election" [Reuters]. "House of Representatives Republicans on Wednesday ejected Liz Cheney from their leadership ranks as punishment for repudiating former U.S. President Donald Trump's false claims of a stolen election, but she remained defiant and made plans to seek re-election to Congress. Her ouster from her party's No. 3 post in the Democratic-led House unfolded in mere minutes in a closed-door meeting. The action signaled that Trump, despite losing to Democrat Joe Biden in November, has solidified his hold over House Republicans as he jockeys to play a major role in the 2022 congressional elections and flirts with running for president again in 2024. Cheney's decision, disclosed by a spokesperson, to seek re-election next year for a fourth two-year term as the lone House member representing Wyoming appears to set the stage for a clash between competing factions in a Republican Party facing a moment of reckoning over its future – either following Trump's lead or finding a new path."

The World's Greatest Troll™ weighs in:

Good statement by Trump on Cheney's ouster from leadership. pic.twitter.com/f3OKaaXIjS

— John Cardillo (@johncardillo) May 12, 2021

The beauty part here is that Trump has fallen back into his original mode of speaking the truth that cannot be spoken. (1) Liz Cheney, spawn of Dick "Fourth Branch" Cheney, the Vice President who shot an old man in the face and got away with it, is a horrible human being. And Cheney is a warmonger (along with the liberal Democrats who voted for Iraq, all of whom Trump is subtweeting). On the warmongering part:

2. Cheney's speech is filled with Cold War references: "communist domination…Castro's totalitarian regime…Soviet gulag…the cusp of another Cold War — this time with communist China." The argument is USA needs to unite in order to combat Red China

— Jeet Heer (@HeerJeet) May 12, 2021

UPDATE "Liz Cheney Helped Create Donald Trump's GOP" [HuffPo]. "In recent weeks, pundits and political writers have called Cheney 'the conscience of Republicans,' a 'martyr' and a 'symbol of courage,' and have bemoaned 'a party that lost its way.' Even House Speaker Nancy Pelosi (D-Calif.) called her 'a leader of great courage, patriotism and integrity.'" • Say no more! Say no more! More: "But make no mistake ― Cheney helped bring the Republican Party to the place it is today. She, like many other Republicans, encouraged Trump or looked the other way until it was too late. Republican politicians have a habit of inviting the most extreme elements into their house and then bemoaning their fringe friends as the party gets out of control. Former House Speaker John Boehner (R-Ohio), who made a name for himself with the hardball politics of the Newt Gingrich era, came to despise the tea party movement and the politicians it elected ― the Freedom Caucus and Sen. Ted Cruz (Texas) ― even as he failed to rein in the movement's most extreme positions and benefited from its rise. Cheney is no different…. She voted in line with Trump's positions 93% of the time. Until the 2020 election, her most notable differences with the president were on foreign policy. Cheney was more hawkish than Trump, in line with the reputation of her hawkish father, former Vice President Dick Cheney."

UPDATE "Swing-voter focus group: Ousting Cheney is a mistake" [Axios]. "Nine of 14 voters said they could vote for a Republican for U.S. House or Senate races next year. All but one ruled out backing any candidate who clings to the former president's lie that the 2020 election was stolen from him…. These voters said they're turned off by House Republicans' perceived fealty to Trump and the idea that there's no tolerance for dissent or critical or independent thinking." • I'm trying to come up with an election where voters when for the independent thinker, and I can't come up with one. I mean, the Repubicans are hardly likely to run an egghead like Adlai Stevenson, eh? No indeed–

UPDATE "Exclusive poll: Republicans favor Greene over Cheney" [Axios]. Handy chart:

"More than 100 Republican former officials to seek reforms, threaten new party" [NBC]. "More than 100 influential Republicans plan to release a call for reforms within the GOP alongside a threat to form a new party if change isn't forthcoming, a person familiar with the effort said. The statement, set to be released Thursday, involves a 'Call for American Renewal,' a credo that declares that it is imperative to 'either reimagine a party dedicated to our founding ideals or else hasten the creation of such an alternative.' The push will include 13 yet-to-be-revealed principles that the signatories want the GOP to embrace." • Oh! A big bowl of mush! More: "AThe move was first reported by Reuters, which cited some of the people involved: former New Jersey Gov. Christine Todd Whitman, the former administrator of the Environmental Protection Agency; former Pennsylvania Gov. Tom Ridge, the first secretary of homeland security; former Transportation Secretary Mary Peters; and former GOP Reps. Charlie Dent of Pennsylvania, Barbara Comstock of Virginia, Reid Ribble of Wisconsin and Mickey Edwards of Oklahoma. Evan McMullin, a former CIA agent who ran for president as an independent in 2016, is also involved." • Names to conjure with! Since when is is there such a thing as a "former" CIA agent? And how on earth would we tell!

"Rep. Scalise, survivors of 2017 baseball shooting call for FBI to review investigation" [The Hill]. "House Minority Whip Steve Scalise, R-La., and more than a dozen other House Republicans are calling on the FBI to review its conclusion about the 2017 congressional baseball shooting that left the GOP and several others severely wounded. In a letter Tuesday to FBI Director Christopher Wray, Scalise and other Republicans who were on the field during the shooting questioned how the agency concluded that the motivation of the gunman, James Hodgkinson, was 'suicide by cop.' 'Prior to opening fire, he even asked if the Members on the field that morning were Republican or Democrat and was assured that the Members were Republicans,' the letter said." • Tit for tat… .

"Conservatives Panicking After Every Member Of Republican Party Ousted For Insufficient Loyalty To Trump" [The Onion].
Trump Legacy
"Trump's blog isn't lighting up the internet" [NBC]. "Four months after former President Donald Trump was banished from most mainstream social media platforms, he returned to the web last Tuesday with "From the Desk of Donald J. Trump," essentially a blog for his musings. A week since the unveiling, social media data suggests things are not going well. The ex-president's blog has drawn a considerably smaller audience than his once-powerful social media accounts, according to engagement data compiled with BuzzSumo, a social media analytics company. The data offers a hint that while Trump remains a political force, his online footprint is still dependent on returning to Facebook, Twitter and YouTube." • If your politics depends on a platform, you don't have a politics.
Realignment and Legitimacy
"On the Epistemological Similarities of Market Liberalism and Standpoint Theory" [Episteme]. From the Abstract:

In this paper, we draw attention to the epistemological assumptions of market liberalism and standpoint theory and argue that they have more in common than previously thought. We show that both traditions draw on a similar epistemological bedrock, specifically relating to the fragmentation of knowledge in society and the fact that some of this knowledge cannot easily be shared between agents. We go on to investigate how market liberals and standpoint theorists argue with recourse to these similar foundations, and sometimes diverge, primarily because of normative pre-commitments. One conclusion we draw from this is that these similarities suggest that market liberals ought to, by their own epistemological lights, be more attentive towards various problems raised by feminist standpoint theorists, and feminist standpoint theorists ought to be more open to various claims made by market liberals.

So intersectionality is neoliberalism in a rainbow T-shirt? No wonder the CIA likes it so much.
Stats Watch
"April 2021 CPI: Year-over-Year Inflation Heats Up" [Econintersect]. "According to the BLS, the Consumer Price Index (CPI-U) year-over-year inflation rate was 4,2 % year-over-year (up from the reported 2.6 % last month). The year-over-year core inflation (excludes energy and food) rate grew from 1.6 % to 3.0 %."
* * *
Labor Market: "Extremely High Dislocation In The Labor Market" [Econintersect]. "The length of the work week rose from 34.9 to 35 hours. That tied the record high using data that goes back to March 2006. Weekly hours worked by private production & non-supervisory workers goes back further. It stayed at 34.4 hours which tied the highest reading since April 2000. From the 1960s to the 2010s, there was a multi-decade decline in hours worked per week… Permanent unemployment rose in April, but the BLS report was a blip. Job openings are spiking much quicker than hires which signals high dislocation in the labor market. Hiring will spike once the pandemic is over this summer. The highest net percentage of small businesses are raising prices since the 1970s. The April CPI report will show core inflation rose above the Fed's target for the first time in this expansion. The Fed won't turn hawkish because of this. They will call it transitory." • Very interesting article, worth reading in full.
Commodities: "Iron Ore's 'Ridiculous' Prices to Stay as Fear Grips Commodities" [Bloomberg]. "Iron ore's stunning surge won't fade anytime soon because buyers remain nervous about being caught short as global demand accelerates amid lingering supply threats, according to a veteran commodities trader…. China's steel and iron ore futures also jumped to record highs Wednesday. The nation's steelmakers are ramping up production in defiance of government attempts to rein in output to control the industry's carbon emissions, while robust profit margins are enabling mills to better accommodate surging input costs. Iron ore is 'grossly overpriced at the moment, but fear is an amazing motivator and prices are a reflection of fear,' [Andrew Glass, Singapore-based founder of Avatar Commodities Ltd.] said. 'You're seeing fear more broadly with gold prices up, the dollar down, there is a flight to safety, and there is a certain amount of fear feeding into commodities markets.'"
Retail: "'Made in China, sold on Amazon' gadgets from Aukey, Mpow vanish from e-commerce site" [South China Morning Post]. "Amazon.com has apparently blocked several prominent mainland Chinese merchants for alleged "suspicious behaviour", in a move that industry insiders said is part of a targeted crackdown on questionable business practices sellers on the platform, including those based in China. For over a week now, most Amazon listings from Aukey, a major Shenzhen-based electronics vendor, have been listed as 'currently unavailable.' Similarly, most products on Mpow, the main Amazon electronics store run by ByteDance and Xiaomi-backed consumer product firm Patozon, have not been available for purchase since late April…. The two companies are part of a growing wave of Chinese vendors turning to Amazon to reach international customers. In January, China-based sellers represented 75 per cent of all new merchants on Amazon, according to a recent report by consultancy Marketplace Pulse. The share of China-based sellers on Amazon's US site has surged to 63 per cent this year from 28 per cent in 2019."
Shipping: "Pandemic propels makeover at shipping giant Maersk" [Hellenic Shipping News]. "Shipping group Maersk said on Tuesday it expects average returns on invested capital towards 2025 to be significantly above recent years, propelled by high demand for containers to meet a surge in consumer orders. The Danish company said it aims to bolster supply chain logistics for clients such as Puma and Walmart as it spurs a transformation that began before the pandemic. Maersk Chief Executive Soren Skou told investors at a Capital Markets Day ." • Holy [family blog]! Reinforcing every bad tendency, of course (where moar autarky is The Good).
Mr. Market: "Dow off 300 points, testing 50-day moving average after inflation climbs to highest in 13 years" [MarketWatch]. "U.S. stock indexes traded sharply lower early Wednesday, after a reading on inflation for the year to April climbed 4.2%, marking the highest rate in about 13 years, reigniting fears that the Federal Reserve may need to dial back its easy money policies earlier than expected."
Infrastructure: "Power Outages Are Increasing. Can Medical Equipment Users Adapt?" [Undark]. "Over the past several decades, Americans have increasingly benefited from in-home technology, which can extend lifespans and enable more people to stay in their own homes. But the expanding array of such devices — including home oxygen machines, medication nebulizers, home dialysis, infusion pumps, and electric wheelchairs — all depend on a reliable power supply. Federal officials collect and map where the 2.6 million people on Medicare with these medical devices live, providing the information as a tool for public health and emergency preparedness efforts through its emPOWER Program. It's unknown how many non-Medicare recipients also rely on this equipment, but data indicate that overall usage is increasing, [Joan Casey, an environmental epidemiologist at Columbia University] said. She was involved with a study published earlier this year in the journal Epidemiology which found that rentals of oxygen equipment had nearly tripled from 2008 to 2018, based on data from more than 243,000 Kaiser Permanente patients…. Shao Lin, a University at Albany physician-researcher who studies the health effects of extreme weather events, more recently assessed whether power outages affected hospitalizations among patients with chronic obstructive pulmonary disease (COPD), who may require oxygen machines and other devices to help them breathe. Lin and her colleagues compared hospitalizations in New York state when the power was out with normal days. They estimated that, on days without power, 23 percent of hospital admissions for COPD patients could be linked to the loss of electricity."
Science: "UPDATED: Feds charge another CRO staffer with faking data in a GlaxoSmithKline pediatric asthma study" [Endpoints News]. "A Florida woman has been indicted as part of a clinical trial fraud scheme over a GlaxoSmithKline pediatric asthma study, the Justice Department announced Tuesday, the latest development in a case where three individuals have already pleaded guilty. Jessica Palacio was charged with participating in a plot to falsify medical records, giving off the appearance that trial participants were making their scheduled visits to a Miami CRO and taking an experimental asthma medication as required. Palacio was also charged with lying to FDA investigators about her conduct. 'Reliable and accurate data from clinical trials is the cornerstone of FDA's evaluation of a new drug,' said Justin Fielder, special agent at the Miami branch of the FDA's Office of Criminal Investigations, in a statement. 'We will continue to monitor, investigate and bring to justice those whose actions may subvert the FDA approval process and endanger the public health.'" • Just a reminder of what we're dealing with when we deal with Big Pharma.
Science: "How COVID broke the evidence pipeline" [Nature]. "In the standard paradigm of evidence-based medicine, researchers collect evidence on a therapy from randomized controlled trials until it gets a green or red light. But in many situations, such trials are unethical, impractical or unfeasible: it's impossible to do a randomized controlled trial to test whether a new urban motorway improves people's health by siphoning traffic out of town, for example. Often, researchers have to pragmatically assess a range of different evidence — surveys, natural experiments, observational studies and trials — and mosaic them together to give a picture of whether something is worthwhile. 'You have to get on and do what we can with the best available evidence, then continue to evaluate what we're doing,' says [David Ogilvie, who works in the field at the MRC Epidemiology Unit at the University of Cambridge, UK]. However well scientists synthesize and package evidence, there's of course no guarantee that it will be listened to or used. The pandemic has shown how hard it can be to change the minds of ideologically driven politicians and hardened vaccine sceptics or to beat back disinformation on Twitter." • Or bureaucratic droplet goons, seemingly defeated by an aerosol thought collective that interacted constantly on Twitter, with the press, the public, and each other, all to good effect.
* * *
Today's Fear & Greed Index: 39 Fear (previous close: 49 Neutral) [CNN]. One week ago: 51 (Neutral). (0 is Extreme Fear; 100 is Extreme Greed). Last updated May 12 at 12:06pm.
Health Care
"Embracing the science on airborne transmission is key to preventing new COVID-19 outbreaks" [Globe and Mail]. "COVID-19 contact tracing shows transmission follows the 80/20 rule – 80 per cent of future infections are spread by just 20 per cent of current cases. Super spreader events occur in closed, close, crowded places where aerosols can accumulate, and where individuals engage in vocal activities that generate a lot of aerosol: singing karaoke, shouting over the noise of machinery, breathing heavily during a workout. In many of these settings, the spark is an infectious individual who has no symptoms yet or has symptoms but dares not stay home from work. Current strategies to mitigate transmission in the community and in particular indoor workplaces fail to recognize these key epidemiologic characteristics of SARS-CoV-2. . Current workplace guidelines follow hospital principles. Continuous masking is not required if distancing is observed, and masks are removed in lunchrooms. The current approach is clearly inadequate based on the indoor workplace transmission we are witnessing. A transition to an airborne approach revolves around a simple and powerful concept: COVID spreads by breathing shared air, and infectious air accumulates indoors. Primary mitigation strategies shift from two metres distancing and handwashing to ventilation and high-quality masks." • All health care workers and teachers, especially need to know this; and "essential workers," too (remember them?).
Naked Capitalism Cooking Community™
"Your Least Favorite Gross Viral Food Videos Are All Connected to This Guy" [Eater]. "These videos all tend to have a similar aesthetic. A beautiful woman in her 30s stands at a counter or a sink or a stove doing something unholy with eggs or a waffle maker or McDonalds hamburgers or, sometimes, a power drill. The videos typically jump from Facebook to TikTok before appearing without warning on Twitter and instantly becoming trending topics. "I'm proposing a ban on white women making TikTok videos of them cooking until we figure out what the hell is going on," user @papermarkis wrote recently…. Lax and the women behind the recipe videos aren't the first to figure out that people on the internet will watch you debase yourself with food. In fact, it was Korean users who first put a name to this kind of thing — mukbang, or "eating show." mukbang videos range from harmless and wholesome to intentionally outrageous and grotesque, like the YouTuber who ate a live octopus on camera last year. mukbang has also long carried with it a connotation of being related to a fetish. Many of the most popular mukbang influencers are all thin, beautiful women who eat large quantities of, oftentimes, very messy food. One could argue that Rick Lax and this endless rabbit hole of gross food women have used Facebook's algorithms to create a uniquely American mukbang." • Word of the day: mukbang.
Sports Desk
"South Dakota pitcher's prosthetic arm found at recycler" [Associated Press]. "[Augustana's Parker Hanson] got a text Tuesday saying that his prosthetic had been recovered at Millennium Recycling Inc. in Sioux Falls, the Sioux Falls Argus Leader reported. A worker at the plant found it among other items in the recycling facility and picked it out." • The photo of the two plant workers is fasciinating: Their T-shirts read "Always Essential" (and you can get landfill sorting facilities never shut down. Fortunately, this one has high ceilings). It would be ironic if the "essential worker" tag, invented by PMC Schwärmer when they realized who fed them, and as quickly forgotten, led to some sort of class consciousness….
"All the Reasons Why It Has Never Been Harder to Be an MLB Hitter" [Bleacher Report]. "Unless MLB is going to reverse course and replace all of the new balls with balls from previous seasons, batted balls are likely to continue underperforming while pitchers keep filling up the zone with high-velocity, high-spin pitches. As for the defensive shift, it's notable that MLB is already experimenting with regulating shifts at the minor league level in 2021. And frankly, it's a good idea. Nonetheless, regulations on shifts are likely years, not months, away from being a reality at the major league level. Which is to say that hitters are going to have to keep doing the same thing and hope for better results, or perhaps make some changes so as to avoid all-time offensive infamy. It would make for a fascinating story if hitters moved en masse through Door No. 2, but don't count on it. Because as rough as this year has been, it hasn't exactly been a 1968-level disaster from either a home run or runs scored perspective. Between that and the reality that warmer weather will help balls carry, hitters have two good reasons to stick to stay the proverbial course. However, the 2021 season could lead to changes for the long run. If nothing else, it could further move the needle in favor of policing shifts. It could also convince MLB that more work is needed to bring the ball to an agreeable middle ground. For instance, there might at least be a way to make the current ball less conducive to spin. Until then, it's about time everyone made peace with the likelihood that the 2021 season is going to be one for the books. Even if it's one that hitters will never, ever want to revisit." • "Don't try to strike everybody out. Strikeouts are boring. Besides that, they're fascist. Throw some ground balls." So, all of a piece.
News of the Wired
Gratitude changes your attitude?
Wait for it. Beautiful pic.twitter.com/NcnsjEN5f7

— Behind The Scenes 🎬 (@MovieEffectVfx) May 11, 2021
* * *
Readers, feel free to contact me at lambert [UNDERSCORE] strether [DOT] corrente [AT] yahoo [DOT] com, with (a) links, and even better (b) sources I should curate regularly, (c) how to send me a check if you are allergic to PayPal, and (d) to find out how to send me images of plants. Vegetables are fine! Fungi and coral are deemed to be honorary plants! If you want your handle to appear as a credit, please place it at the start of your mail in parentheses: (thus). Otherwise, I will anonymize by using your initials. See the previous Water Cooler (with plant) here. Today's plant (DL):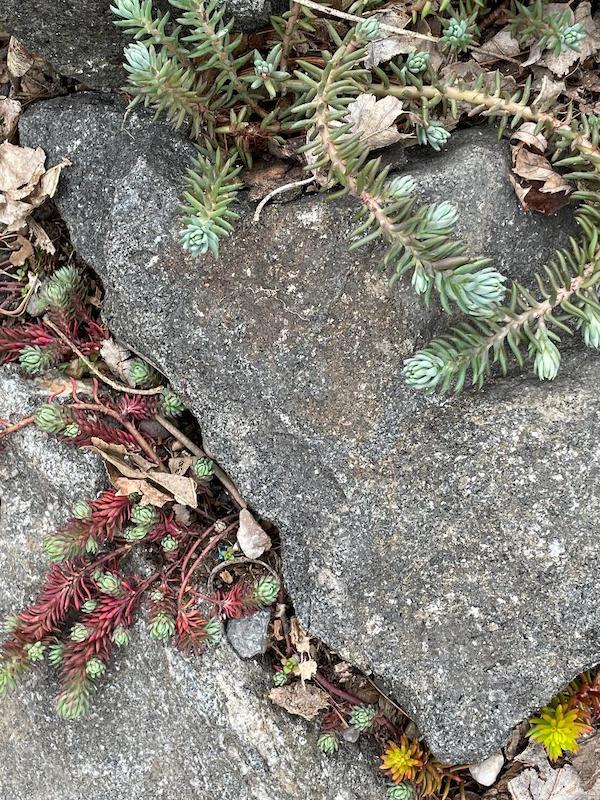 DL: "Sedum from the wilds of the Bronx that." I am a huge fan of this sort of garden feature; I suppose you'd call it a miniature landscape? There's something about the combination of rocks, random accretions of plant matter, and humble, ground-hogging perennials that I find very destressing and soothing to the eye.
* * *
Readers: Water Cooler is a standalone entity not covered by the recently concluded and — thank you! — successful annual NC fundraiser. So if you see a link you especially like, or an item you wouldn't see anywhere else, please do not hesitate to express your appreciation in tangible form. Remember, a tip jar is for tipping! Regular positive feedback both makes me feel good and lets me know I'm on the right track with coverage. When I get no donations for five or ten days I get worried. More tangibly, a constant trickle of donations helps me with expenses, and I factor in that trickle when setting fundraising goals:
Here is the screen that will appear, which I have helpfully annotated.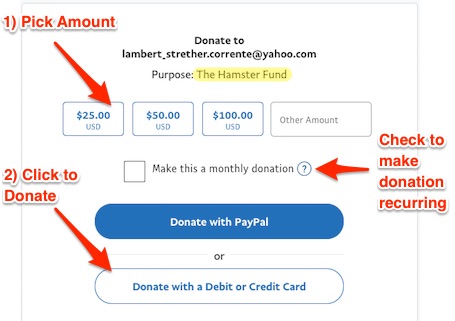 If you hate PayPal, you can email me at lambert [UNDERSCORE] strether [DOT] corrente [AT] yahoo [DOT] com, and I will give you directions on how to send a check. Thank you!