By Lambert Strether of Corrente.
Bird Song of the Day
* * *
#COVID19
At reader request, I've added this daily chart from 91-DIVOC. The data is the Johns Hopkins CSSE data. Here is the site.
I feel I'm engaging in a macabre form of tape-watching. All the charts are becoming dull — approaching nominal, if you accept the "new normal" of cases, for example.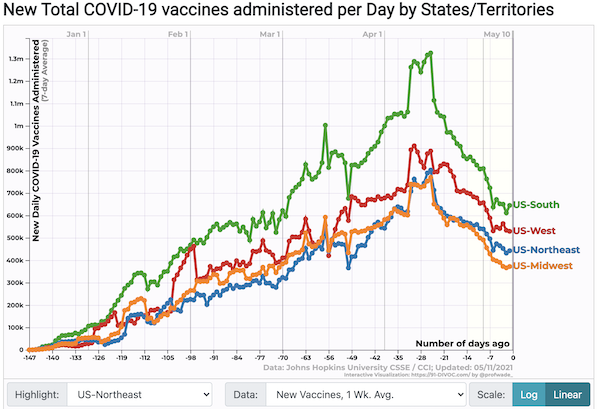 "Many police officers spurn coronavirus vaccines as departments hold off on mandates" [WaPo]. "Police officers were among the first front-line workers to gain priority access to coronavirus vaccines. But their vaccination rates are lower than or about the same as those of the general public, according to data made available by some of the nation's largest law enforcement agencies. The reluctance of police to get the shots threatens not just their own health, but also the safety of people they're responsible for guarding, monitoring and patrolling, experts say. At the Las Vegas Metropolitan Police Department, just 39 percent of employees have gotten at least one dose, officials said, compared to more than 50 percent of eligible adults nationwide. In Atlanta, 36 percent of sworn officers have been vaccinated. And a mere 28 percent of those employed by the Columbus Division of Police — Ohio's largest police department — report having received a shot."
"In the U.S., It's Getting Better" [Bloomberg]. "The U.S. is by no means out of the woods. The slowdown in new cases is coinciding with a drop in the pace of vaccinations, which are crucial to keeping the deadly virus at bay. The latest vaccination rate across the 50 states is 2.29 million doses per day, on average, down from more than 3.37 million doses a day on April 13."
NY: "Most Of New York City Remains Undervaccinated As COVID Restrictions Lift" [The Gothamist]. "About 44% of New York City residents have received at least one COVID-19 shot, and about 32% are fully vaccinated. But some neighborhoods are much further along than others. In wealthier and whiter zip codes, more than two-thirds of residents are at least partially vaccinated (one zip code in the Financial District is at 89%). Most neighborhoods in upper Manhattan, Queens, The Bronx, Brooklyn and Staten Island are well below half their populations being fully vaccinated. East New York's three zip codes, on average, sit at 34% with at least one shot and 24% fully vaccinated—even as the governor and mayor lift restrictions on social venues and city offices. By the time Israel rolled back its lockdown in mid-March, 50% of its residents had been fully vaccinated, and 60% had taken one dose. Israel's population is similar in size to New York City."
Case count by United States regions: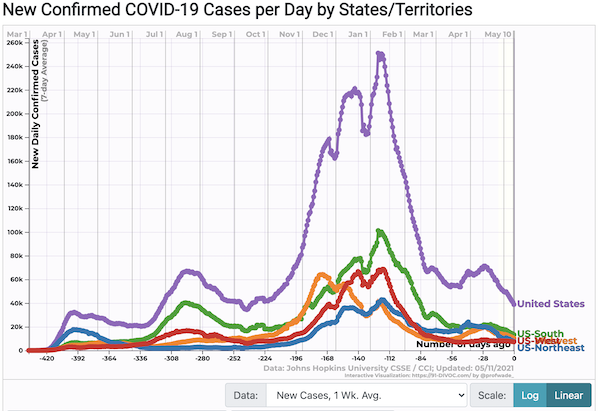 "The Math That Explains the End of the Pandemic" [New York Times]. "Places with rising vaccination rates, like the United States, can look forward to case numbers coming down a lot in the meantime. And sooner than you might think. That's because cases decline via the principle of exponential decay. … Exponential growth means case numbers can double in just a few days. Exponential decay is its opposite. Exponential decay means case numbers can halve in the same amount of time. Every case of Covid-19 that is prevented cuts off transmission chains, which prevents many more cases down the line. That means the same precautions that reduce transmission enough to cause a big drop in case numbers when cases are high translate into a smaller decline when cases are low…. The end of the pandemic will therefore probably look like this: A steep drop in cases followed by a longer period of low numbers of cases, though cases will rise again if people ease up on precautions too soon. This pattern has already emerged in the United States."
TX: "School Reopenings, Mobility, and COVID-19 Spread: Evidence from Texas" [NBER]. "Previous evidence suggests that schools can be reopened safely if community spread is low and public health guidelines are followed. However, in Texas, reopenings often occurred alongside high community spread and at near capacity, making it difficult to meet social distancing recommendations. Using event-study models and hand-collected instruction modality and start dates for all school districts, we find robust evidence that reopening Texas schools gradually but substantially accelerated the community spread of COVID-19. Results from our preferred specification imply that school reopenings led to at least 43,000 additional COVID-19 cases and 800 additional fatalities within the first two months. We then use SafeGraph mobility data to provide evidence that spillovers to adults' behaviors contributed to these large effects. Median time spent outside the home on a typical weekday increased substantially in neighborhoods with large numbers of school-age children, suggesting a return to in-person work or increased outside-of-home leisure activities among parents."
The Midwest in detail: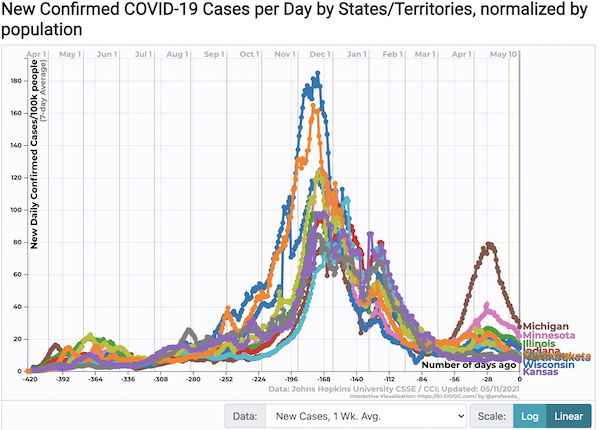 Continued good news. But Michigan's decrease is agonizingly slow.
Big states (New York, Florida, Texas, California):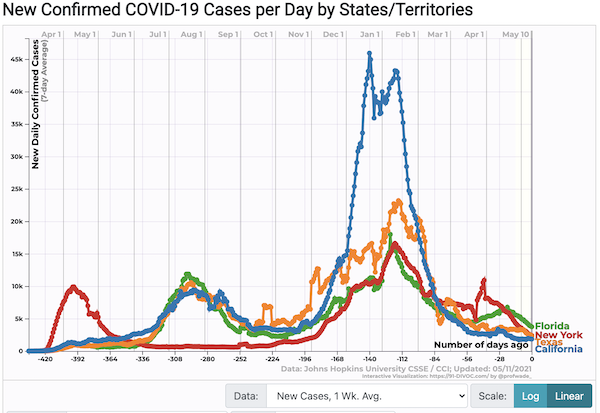 Continued good news.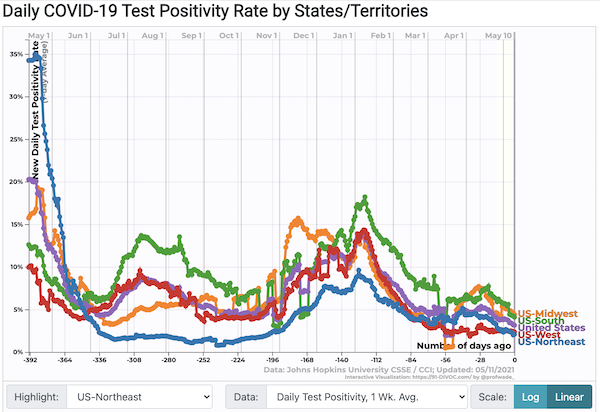 Down, except for the West, now flat.
* * *
Politics
"But what is government itself, but the greatest of all reflections on human nature?" –James Madison, Federalist 51
"They had one weapon left and both knew it: treachery." –Frank Herbert, Dune
"They had learned nothing, and forgotten nothing." –Charles Maurice de Talleyrand-Périgord
Biden Administration
"Life after Obama: Jay Carney is a top advisor to Jeff Bezos and architect of Amazon's HQ2" [CNBC]. From 2019, still germane. This paragraph: "Carney is in a garage band with former deputy national security advisor Antony Blinken, journalists Dave McKenna and David Segal, and Eli Attie, a screenwriter for "The West Wing." The members are spread out from Los Angeles to London, so they only get together about once a year to record songs they know will never get released, according to people with knowledge of the group." • These people all seem to know each other.

"USAID chief Samantha Power: Getting shots 'into arms' can restore US global leadership" [The Hill]. "Administrator for the U.S. Agency for International Development (USAID) Samantha Power said in an interview published on Tuesday that she wishes to restore the prestige of the U.S. by getting vaccines administered in countries around the world. Speaking to Washington Post senior national security correspondent Karen DeYoung, Power, a former ambassador to the United Nations, said she wanted to revive USAID's power and responsibility, which DeYoung said has waned since it was created in the 1960s. According to Power, part of this goal could be realized if USAID 'is unleashed to design programs around getting vaccines into arms in countries where we've worked for generations, for 60 years.'" • Hey, remember when the CIA used a vaccination program as cover to flush out Bin Laden in Pakistan? Good times. Best stick to IP and manufacturing, not injections.

UPDATE "Bernie Sanders and Pramila Jayapal: We must fix the gaping holes in Medicare" [WaPo]. "Today, everyone in America aged 65 or older is guaranteed health-care benefits through Medicare regardless of income or medical condition, while the official poverty rate for seniors is now less than 9 percent. That is the good news. The bad news is that, since its inception in 1965, Medicare has not covered such basic health-care needs as hearing, dental care and vision. The result: Millions of senior citizens have teeth rotting in their mouths, are unable to hear what their children and grandchildren say or can't read a newspaper because of failing eyesight. It is a cruel irony that older Americans do not have coverage for these benefits at the time when they need it the most." •¨It's a brutal demonstration of political power by liberal Democrats that they've been able to take #MedicareForAll "off the table" in the midst of a pandemic (and when free vaccines show that the way forward is health care that's free at the point of delivery). So I'm glad that Sanders and Jayapal are in there punching, but how different it should be!
Democrats en Deshabille
"Kyrsten Sinema doesn't feel the need to explain herself" [The 19th]. "[I]t is becoming increasingly unclear whether Sinema's continued desire to hear from her Republican colleagues, but not explain herself to her more liberal constituents, is the best way to achieve the kind of durable change she has sought during her political career…. Who is, and isn't, able to get an audience with Sinema has become the subject of much discussion in Arizona's political circles. Trish Muir, the chair of the Pima Area Labor Federation, a local council of the AFL-CIO in the Tucson area, which is historically home to Arizona's Democratic base, said that the federation's members 'are not just liberal Democrats' and from 'all walks and all political beliefs' but have nevertheless been unable to get Sinema's attention. 'Outside of calling her general office number, I don't know how to get ahold of this woman,' Muir said, noting that she is in regular contact with Arizona's other Democratic senator, Mark Kelly, who 'has my cell phone number.'" • The least Sinema could do is give labor lip service.

"Opposition to Newsom recall grows as Caitlyn Jenner, GOP generate little support, poll finds" [Los Angeles Times]. "The campaign to recall Gov. Gavin Newsom has failed to gain momentum in recent months as significantly more California voters favor keeping him in office, and only anemic support has surfaced for reality TV star Caitlyn Jenner while other Republican candidates hoping to take the governor's place have little backing, according to a new UC Berkeley Institute of Governmental Studies poll that was co-sponsored by the L.A. Times…. And as governor of the most populous state in the union, Newsom possesses ample power and opportunities to court California's electorate before the recall makes its way to the ballot. Aided by the state's economic recovery and a $75.7-billion budget surplus, Newsom on Monday proposed sending $600 state stimulus checks to millions of Californians along with a $5-billion rental assistance plan."
Republican Funhouse
"Stop saying Republicans are 'cowards' who fear Trump. The truth is far worse." [Greg Sargent, WaPo]. "Take the shenanigans in Arizona, where GOP state legislators have commissioned a recount of ballots in Maricopa County. It is being conducted by a firm whose chief executive has promoted nonsense about fraud in the 2020 election. What's more, the GOP-controlled county board of election supervisors has blasted the recount while vouching for the election's integrity. Even one Republican supporter of the recount has now denounced it as 'ridiculous' and 'embarrassing.' Given all this, it's impossible to chalk this effort up to 'cowardice' or 'fear of Trump.' It is a deliberate action plainly undertaken to manufacture fake evidence for the affirmative purpose of further undermining faith in our electoral system going forward.

UPDATE "President Bush's portraits of immigrants reflect a lifelong kindness to strangers" [Dallas Morning News]. "George W. Bush, the governor of Texas, had spotted me and somehow innately understood my discomfort in that moment. Across that dusty dance floor, through throngs of people exponentially more important than me, Gov. Bush came right up to me, looked me square in the eye, extended his hand for a shake, and said, "Hello young man, how are you this evening?"… I have never forgotten the kindness and sincerity Gov. Bush, now former President Bush, showed to me that evening and has shown to so many other strangers during his public service." • This is so, so stupid. In fact, Bush was an extremely effective politician, and this anecdote shows why ("When you can fake sincerity, you've got it made"). I think the Iraqi strangers tortured at Abu Ghraib or incinerated with white phosphorus might take issue with the headline. Man, the propaganda on George Bush is so thick you can cut it with a knife. To what end? A government of national unity? A seat on the Supreme Court? The political class — led by the Obamas — is putting so much effort into Bush's rehabilitation there must be some political calculus involved.
2020
"Study Finds Connection Between Believing Russia Rigged 2016 Election And Believing 2020 Election Was Foolproof" [Babylon Bee]. "The study also found that people who believed the 2016 election was trustworthy and legitimate now believe the 2020 election was completely fixed."
Realignment and Legitimacy
"Viral Visualizations: How Coronavirus Skeptics Use Orthodox Data Practices to Promote Unorthodox Science Online" (PDF)[CHI Conference on Human Factors in Computing Systems]. From the Introduction:

Almost every US state now hosts a data dashboard on their health department website to show how the pandemic is unfolding. However, despite a preponderance of evidence that masks are crucial to reducing viral transmission [25, 29, 105], protestors across the United States have argued for local governments to overturn their mask mandates and begin reopening schools and businesses. A pandemic that affects a few, they reason, should not impinge on the liberties of a majority to go about life as usual. To support their arguments, these protestors and activists have created thousands of their own visualizations, often using the same datasets as health officials. This paper investigates how these activist networks use rhetorics of scientific rigor to oppose these public health measures. Far from ignoring scientific evidence to argue for individual freedom, antimaskers often engage deeply with public datasets and make what we call "counter-visualizations"—visualizations using orthodox methods to make unorthodox arguments—to challenge mainstream narratives that the pandemic is urgent and ongoing. By asking community members to "follow the data," these groups mobilize data visualizations to support significant local changes.

And:

These findings suggest that the ability for the scientific community and public health departments to better convey the urgency of the US coronavirus pandemic may not be strengthened by introducing more downloadable datasets, by producing "better visualizations" (e.g., graphics that are more intuitive or efficient), or by educating people on how to better interpret them. This study shows that there is a fundamental epistemological conflict between maskers and anti-maskers, who use the same data but come to such different conclusions. As science and technology studies (STS) scholars have shown, data is not a neutral substrate that can be used for good or for ill [14, 46, 84]. Indeed, anti-maskers often reveal themselves to be more sophisticated in their understanding of how scientific knowledge is socially constructed than their ideological adversaries, who espouse naive realism about the "objective" truth of public health data. Quantitative data is culturally and historically situated; the manner in which it is collected, analyzed, and interpreted reflects a deeper narrative that is bolstered by the collective effervescence found within social media communities. Put differently, there is no such thing as dispassionate or objective data analysis. Instead, there are stories: stories shaped by cultural logics, animated by personal experience, and entrenched by collective action. This story is about how a public health crisis—refracted through seemingly objective numbers and data visualizations—is part of a broader battleground about scientific epistemology and democracy in modern American life.

As usual, liberal Democrats think their opponents are stupid, when they're not. DDascinating and well worth a read.

* * *

"Hey, I'm runnin' for mayor here!" [Politico]. "The Democratic mayoral primary is the most consequential election in New York City in recent memory. It is the first competitive race for mayor since 2013, and the winner will likely go on to inherit a city still reeling from a deadly pandemic, an economy in crisis and a dramatic spike in crime. To rank the candidates, we considered five statistics: donations, contributors, share of New York City donors, remaining cash and average donation size." #1, Andrew Yang, #2 Scott Stringer, #3 Eric Adams, #4 Dianne Morales, #5 Maya Wiley, #6 Kathryn Garcia, #7 Raymond McGuire, #8 Shaun Donovan.

"Philadelphia Embraced Larry Krasner's Progressive Vision. But He May Be Running Out of Time" [The Trace]. "n January 2018, Larry Krasner walked into the Philadelphia District Attorney's Office fresh from a historic victory. A PBS camera crew followed, capturing him and his core staff mapping out a plan to drop prosecution of a series of low-level offenses, including possession of small amounts of marijuana, crack and powder cocaine possession under a few grams, and prostitution. The meeting offered Krasner more than just a chance to set policy. As he sat back in his chair and declared the old ways of thinking about prosecution in Philadelphia had to go, no matter the political consequences, Krasner was girding his office for battle. 'A lot of the entrenched power in the city believes in things based on ideas they formed 25 years ago, and they are going to attack us for doing different things,' Krasner said…. as Krasner runs for reelection in a May 18 primary, the honeymoon is over. Philadelphia's homicide rate soared in 2020, and Krasner's position on guns has drawn criticism from all corners. The city's police are using the crime surge and Krasner's tactics against him. 'Krasner's catch-and-release plan is not working,' said John McNesby, who leads the Philadelphia Fraternal Order of Police union. 'We have people on the street who should not be on the street.' Since Krasner's successful run in 2017, the nation's political landscape has changed. If the protests in the summer of 2020 were a litmus test of support for police reform, Krasner seemed to be on the right side of history. The mainstream caught up to this once-novel theory. 'Defund the police' became shorthand for deeper efforts to transform public safety. But the protest movement wasn't the only event dominating the news. Even as COVID-19 lockdown measures reduced overall crime, homicides in cities like Chicago, Baltimore, Washington, D.C., Nashville, and St. Louis either remained relatively high or increased. In Philadelphia, 499 people were killed in 2020, the highest total in more than five decades….. Critics say Krasner's stance on guns drove the historic surge in homicides across Philadelphia in 2020, although there's no evidence to support any causal claims."
Stats Watch
Employment Situation: "United States Job Openings" [Trading Economics]. "The number of job openings in the US rose by 597 thousand from the previous month to 8.123 million in March 2021, the highest level since the series began in December 2000 and well above market expectations of 7.5 million. Jobs were created in a number of industries led by accommodation and food services (+185,000); state and local government education (+155,000); and arts, entertainment, and recreation (+81,000). Meanwhile, the number of job openings decreased in health care and social assistance (-218,000)."
Small Business Optimism: "April 2021 Small Business Optimism Up In April But Job Openings Remain At Record Highs" [Econintersect]. "The NFIB Small Business Optimism Index rose to 99.8 in April, an increase of 1.6 points from March. The Optimism Index has increased 4.8 points over the past three months since January but a record 44% of owners reported job openings they could not be filled."
Debt: "February 2021 Loan Performance: Small Uptick In Overall Delinquencies, Serious Delinquencies Continued To Decrease" [Econintersect]. "The Loan Performance Insights Report for February 2021 5.7% of all mortgages in the U.S. were in some stage of delinquency (30 days or more past due, including those in foreclosure), representing a 2.1-percentage point increase in the overall delinquency rates compared to February 2020. The slight (0.1 percentage point) increase over January 2021 marks the first uptick in month-to-month national delinquency since August 2020."
* * *
Commodities: "Gas Pumps Run Dry in U.S. South as Pipeline Shutdown Bites" [Bloomberg]. "From Virginia to Louisiana, convenience stores and corner gas stations are turning away customers as tanks tap out amid panic buying. The White House relaxed some environmental rules in a bid to allow gasoline to flow in from other parts of the country. One Washington D.C.-area fuel distributor warned that 'catastrophic; shortages are imminent and called on government officials to order school buses to stay off the roads. Four days into the crisis, Colonial Pipeline Co. has only managed to restart a small segment of the pipeline as a stopgap measure and doesn't expect to be able to substantially restore service before the weekend." • Colonial's ginormous leak, naturally, got almost no coverage. Colonial's quite the company, isn't it?
Retail: "Walmart vs Amazon: the battle to dominate grocery" [Financial Times]. "Spearheading it is Stephanie Landry, an Amazon veteran who launched Prime Now grocery delivery back in 2014 and has been involved in Amazon's previous ventures in food. She will need to learn lessons from them, including Amazon's $13.4bn purchase of the high-end Whole Foods chain in 2017. The deal alarmed supermarkets, but their fears have not been realised. One problem was that ." • Amazon is not a stupid company. But that was stupid. No attention given to aisle layout? In retail? Really?
Shipping: "Insurer of ship that blocked Suez Canal says reduced claim still high" [Reuters]. "UK Club, an insurer of the container ship that blocked the Suez Canal in March, said on Monday a reduced compensation claim made by the Egyptian authorities for almost $600 million to free the vessel and cover related losses was still 'exceptionally large.' The Suez Canal Authority (SCA) adjusted its claim from an initial $916 million in an effort to settle out of court, SCA head Osama Rabie told private TV network MBC Masr on Saturday."
Shipping: "Commodities boom sends bulk shipping costs to decade highs" [Financial Times]. "'China's insatiable appetite for iron ore has been the single most important factor,' said Ulrik Uhrenfeldt Andersen, chief executive of Golden Ocean, the largest listed owner of capesize ships. Iron ore, a crucial source of profits for some of the world's biggest miners, hit a record high of almost $230 a tonne this week as Chinese steel mills cranked up production to make the most of high domestic prices. This followed the introduction of production curbs in Tangshan, China's top steelmaking city, as part of a pollution crackdown. However, the move only served to reduce capacity and push up domestic prices, which mills in other parts of the country have seized on."
The Bezzle: "The Autonomous Vehicle World Is Shrinking — It's Overdue" [The Verge]. "After years of positive vibes [propaganda] about the future of autonomous vehicles and nearly unrestricted access to cash from Kool-Aid-drunk venture capitalists, the AV industry is confronting some hard truths. The first is that autonomous vehicles are going to take a lot longer to reach mass scale than previously thought. The second is that it's going to be a lot more expensive, too. And the third hard truth: going it alone is no longer a viable option…. The mid-level engineers always knew this to be true, [Reilly Brennan, general partner at venture capital firm Trucks] said. It was the CEOs who were making the erroneous predictions about the availability of self-driving taxis by 2020. "I think the CEOs of those companies knew that they were going to be playing golf by 2020," he said." • NC readers will not be surprised by any of this. The whole piece is worth a read.
Manufacturing: "EXCLUSIVE Tesla puts brake on Shanghai land buy as U.S.-China tensions weigh – sources [Reuters]. "U.S. electric car maker Tesla Inc (TSLA.O) has halted plans to buy land to expand its Shanghai plant and make it a global export hub, people familiar with the matter said, due to uncertainty created by U.S.-China tensions. With 25% tariffs on imported Chinese electric vehicles imposed on top of existing levies under former U.S. President Donald Trump still in place, Tesla now intends to limit the proportion of China output in its global production, two of the four people said"
Manufacturing: "Boeing 737 MAX deliveries shrink to four planes in April due to electrical issue" [Reuters]. "Boeing Co (BA.N) said on Tuesday 737 MAX jet deliveries fell to just four airplanes in April from 19 in the previous month, as the U.S. planemaker's best-selling aircraft struggles with an electrical problem that has re-grounded part of the fleet. Boeing said last month it was halting deliveries of the jet again due to the electrical problem."
Mr Market: "Wall Street stocks join global sell-off as inflation concerns mount" [Financial Times]. "Wall Street stocks joined a global equities sell-off as concerns mounted that rising inflation will prompt central banks to tighten monetary policy. The Nasdaq Composite index, whose largest constituents include big tech groups Apple, Amazon, Facebook and Tesla, pared back morning losses of about 2 per cent to be down 0.6 per cent at lunchtime in New York. The broader-based S&P 500 index slid 0.9 per cent, with all of its sectors in the red. Concerns have surfaced that sustained high inflation could force the US Federal Reserve to reduce its $120bn of monthly bond purchases that have boosted financial assets since last March."
* * *
Today's Fear & Greed Index: 50 Neutral (previous close: 53 Neutral) [CNN]. One week ago: 51 (Neutral). (0 is Extreme Fear; 100 is Extreme Greed). Last updated May 11 at 12:12pm.
The Biosphere
"'Forests are not renewable': the felling of Sweden's ancient trees" [Guardian]. The deck: "Forests cover 70% of the country, but many argue the Swedish model of replacing old-growth forests with monoculture plantations is bad for biodiversity." • "Many argue"?
"U.S. Set to Greenlight Vineyard Wind Project" [Marine Link]. "The Biden administration is on Tuesday set to approve the first major U.S. offshore wind farm, the Vineyard Wind project off the coast of Massachusetts, according to two sources with knowledge of the process. Final approval will be announced by the Department of Interior, which hopes to launch a new domestic energy industry along the U.S. East Coast that will help create jobs and reduce reliance on fossil fuels." • I'm not enthusiastic about wrecking the viewshed, and for Maine offshore wind, I'm even less enthusiastic about all the power (and the profit) going out of state. But I'm even less enthusiastic about cooking the planet with coal, oil, and gas. So….
Health Care
Handy chart on school reopenings:
You can tell me a thousand times that schools are safe but we closed schools three times and three times cases went down. This pattern is seen around the world, modelling experts have analyzed data and identified schools as one of the top interventions. #keepschoolsclosed pic.twitter.com/Q3C8AAZM6E

— 🇨🇦 Bill Comeau Crush the Curve 📉 (@Billius27) May 1, 2021
Proper school ventilation doesn't have to be expensive:
1/ Proven Technology. The cost to put a very good portable HEPA filtration system in a classroom that typically holds 24 or 25 students is approx $10/student/yr (year 1), with recurring filter & energy costs of around $7/student/yr. Per year. Not per day, week, or month. https://t.co/koEddITfGb

— Dr. Richard Corsi (@CorsIAQ) March 12, 2021
Party hearty:
Saturday night in a crowded loft in NYC. Can anyone top this reading? #aranet4 #COVIDisAirborne #CO2 pic.twitter.com/L6BjWqIdec

— johnnymidlife md (@johnnymidlife) May 3, 2021
I've got an idea! Let's try shaming!
'Grow the f*ck up and get the vaccine' — These health care workers shared their honest thoughts about anti-vaxxers in this hilarious PSA on 'Jimmy Kimmel Live!' pic.twitter.com/cT2pvUmPaZ

— NowThis (@nowthisnews) May 6, 2021
Our Famously Free Press
"Why I Did Not Take A Selfie with Obama" (interview) [Matt Taibbi, Conversations with Slava]. Taibbi: "When I was sent out to cover Barack Obama in 2008 – I liked Obama, I think all the reporters did, we all thought he was cool -, but when I first went on the plane, I went back into the press section and I saw that all over the press section the reporters had pasted pictures of themselves posing with Barack Obama. I was like a high school yearbook room, you know. This was like a ritual that everyone has done where, you know: "Oh, we have all taken our own cool pictures with the cool candidate." And again, back in the seventies, you would never have seen reporters, you know, doing that kind of thing. It was considered unseemly to be seen even shaking hands with a politician and there was a big culture shift in the business where suddenly the idea is we are on the other side of the rope line now, you know, we are part of the system, we don't mind being pals with the president or the candidate. I was really shocked by that. It took me a while to get over that. And I had arguments with people on the plane about that. But for me that's the perfect illustration of how this generation of reporters doesn't see itself as separate in the same way that people in Seymour Hersh's day would have, for instance." • Again, journalists think of themselves as in the same class as those they cover. This interview, which precedes the Substack and cancel culture madness, is well worth a read.
Guillotine Watch
I think Bezos got a little wobbly, mentally, in the last few years. Check the detail here:
"Amazon studios executives had to send Bezos regular updates on the projects in development that included spreadsheets describing how each show had each story element; and if one element was missing, they had to explain why." https://t.co/XVDCyDAIBD

— Peter Kafka (@pkafka) May 11, 2021
Class Warfare
"The Solution Is Not Always Stomping On Workers" [Esquire]. Only sometimes? "'The disappointing jobs report makes it clear that paying people not to work is dampening what should be a stronger jobs market,' the Chamber said in a statement dashed off almost immediately after the report was released. 'One step policymakers should take now is ending the $300 weekly supplemental unemployment benefit. Based on the Chamber's analysis, .'" • Well, that's a miserable wage and a miserable life, isn't it! Maybe those businesses should fail, and be replaced by businesses that can pay workers more and still be going concerns?
"The Debate Over Service Work and Unemployment Benefits Shows Why Marxism Is Right" [Luke Savage, Jacobin]. "With very few exceptions, low-wage work is a meat grinder designed to extract the most labor for the least compensation permitted by law, less scrupulous owners and managers cutting corners or skirting regulations wherever they think they can get away with it. By and large, it's not something any rational person would choose to do (let alone enjoy) unless they had no other option — a reality impressed on me again last week as America's business and restaurant lobbies complained of worker shortages and elected politicians dutifully regurgitated their talking points…. This kind of line might be pretty standard fare in American politics, but it's also a very revealing statement about how a large swath of the US economy actually functions — the implication being that the only thing keeping many businesses in low-wage sectors going is millions of people forced to sell their labor at bargain-basement prices because the alternative is quite literally destitution." • For example:
do…do I need to? Isn't that…self-explanatory? "I live under a capitalist system wherein I either work or die. I also lost my last job because a deadly virus shut down society for a year & now the government is big mad about having to give me UI"? Is that sufficient? pic.twitter.com/tB2lsGy7bR

— roo (@PissJugTycoon) May 11, 2021
"Space Colonization Is A Capitalist Perception Management Op" [Caitlin Johnstone]. "Space colonization is largely a capitalist perception management op promoted by the likes of Musk and Bezos to strengthen the narrative that it's okay to continue the world-raping global capitalist principle of infinite growth on a finite world because we can escape the catastrophic ecological consequences of that paradigm by fleeing to space. 'Ecocidal capitalism is fine, we'll just go to space before it kills us!' is the message we're all meant to absorb. And too many do. A large obstacle to waking people up to the existential crises we are facing as a species is the blind faith that technology will save us from the consequences of our mass-scale behavior, and therefore we don't need to change. Which suits the world's richest men perfectly. But it's a lie. Humanity will never colonize space. We are not separate or separable from this planet in that way." • Elon makes it to Mars and all his gut bacteria die. Hilarity ensues!
News of the Wired
"How cities will fossilise" [BBC]. "Like other wealthy cities, Shanghai will be vigorously defended against sea level rise, but climate feedback loops mean that the oceans will creep upwards for centuries to come. When the water does become unmanageable, there will likely be a slow abandonment, with the wealthiest leaving first. Poorer people, with nowhere to go, may have to adapt to semi-submerged conditions. Over several hundred years, the upper levels of Shanghai Tower will decay as wind and water erode them. Perhaps they'll be weakened, too, by scavengers harvesting valuable materials. If the lowest levels have managed to remain above water, only the bottom one or two storeys will remain standing, surrounded by a rubble layer of fallen debris. The inevitable inundation may come from the sea, or from the collapse of the massive Three Gorges Dam higher up the Yangtze river. But as it floods, the water will bring vast amounts of mud and sediment that will cover the ground floor and subsurface levels like a wax seal. After 500 years, only a low-lying island would remain where the tower once stood, streaked red by oxidised iron left over from the four immense steel supercolumns that once held it in place. The real story will be below ground." • Reminds me of Kim Stanley Robinson's New York 2140….
"Supplemental: The Streets of Paris" (podcast) [Mike Duncan, Revolutions]. • Unexpectedly moving essay from an American in Paris: the streets of Paris during France's victory in the World Cup, during the gilets jaunes, and during the first French Covid lockdown.
* * *
Readers, feel free to contact me at lambert [UNDERSCORE] strether [DOT] corrente [AT] yahoo [DOT] com, with (a) links, and even better (b) sources I should curate regularly, (c) how to send me a check if you are allergic to PayPal, and (d) to find out how to send me images of plants. Vegetables are fine! Fungi and coral are deemed to be honorary plants! If you want your handle to appear as a credit, please place it at the start of your mail in parentheses: (thus). Otherwise, I will anonymize by using your initials. See the previous Water Cooler (with plant) here. Today's plant (DL):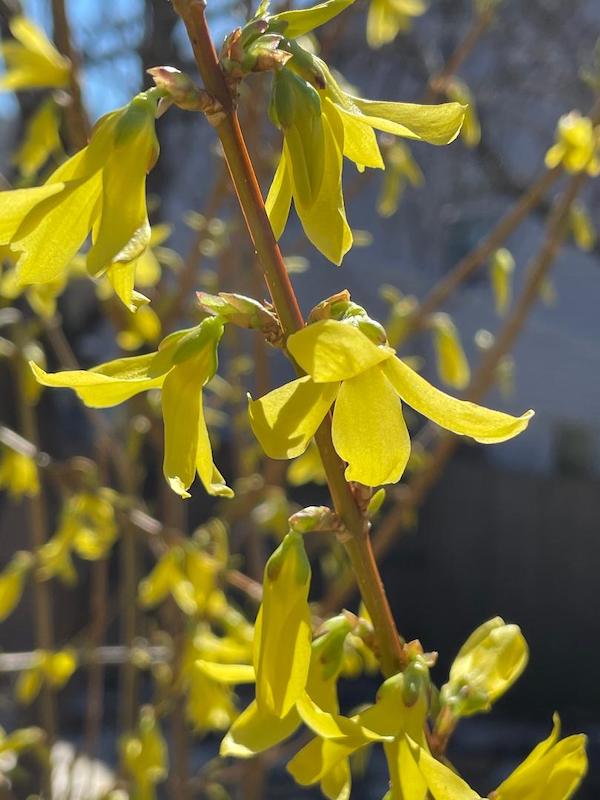 DL writes: "From the wilds of the Bronx."
* * *
Readers: Water Cooler is a standalone entity not covered by the recently concluded and — thank you! — successful annual NC fundraiser. So if you see a link you especially like, or an item you wouldn't see anywhere else, please do not hesitate to express your appreciation in tangible form. Remember, a tip jar is for tipping! Regular positive feedback both makes me feel good and lets me know I'm on the right track with coverage. When I get no donations for five or ten days I get worried. More tangibly, a constant trickle of donations helps me with expenses, and I factor in that trickle when setting fundraising goals:
Here is the screen that will appear, which I have helpfully annotated.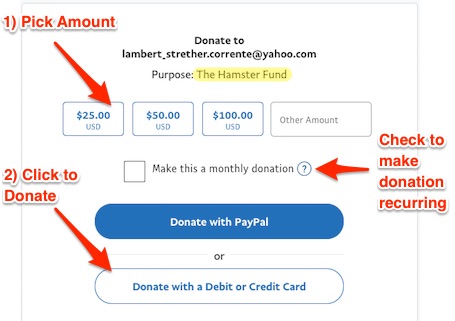 If you hate PayPal, you can email me at lambert [UNDERSCORE] strether [DOT] corrente [AT] yahoo [DOT] com, and I will give you directions on how to send a check. Thank you!