By Lambert Strether of Corrente.
Bird Song of the Day
I am so happy there is a creature called the "Short-toed Snake-Eagle." Also, eagles seem to have calls that are more differentiated than cranes (thank heavens).
* * *
#COVID19
At reader request, I've added this daily chart from 91-DIVOC. The data is the Johns Hopkins CSSE data. Here is the site.
I feel I'm engaging in a macabre form of tape-watching. All the charts are becoming dull — approaching nominal, if you accept the "new normal" of cases, for example.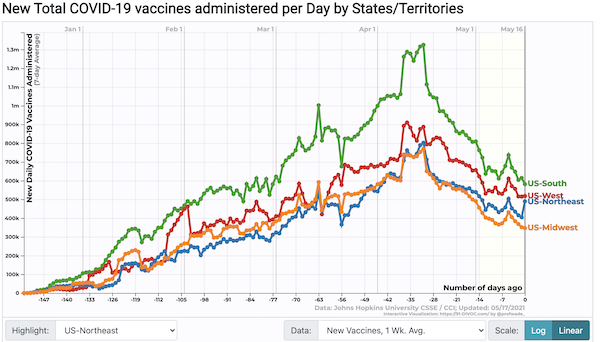 Still whoops. I guess we'll see if Biden abandoning masks provides sufficient incentive. There's also been a lot of discussion about polling that shows different uptake between Republicans and Democrats, and across identities. But since about a month ago, the curve shapes have been in synch by region, arguing for a more uniform (national) explanation. Perhaps supply. Or class?
Case count by United States regions: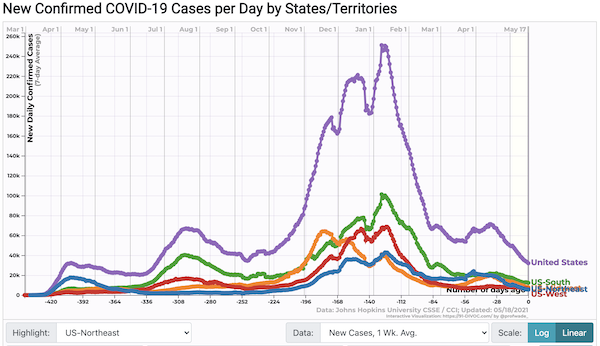 Continued good news. Since this is a weekly average, the Biden/CDC masking kerfuffle will not show up for awhile, if indeed it does show up. (As promised, I killed the Midwest map, now that Michigan has fallen back into the pack, and replaced it with a World map, below.)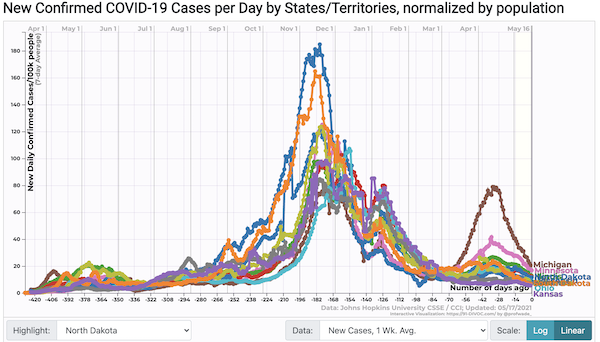 Continued good news. Looks like I can abandon this chart when Michigan is no longer an outlier. I think I'll do a case chart for the world instead.
Big states (New York, Florida, Texas, California):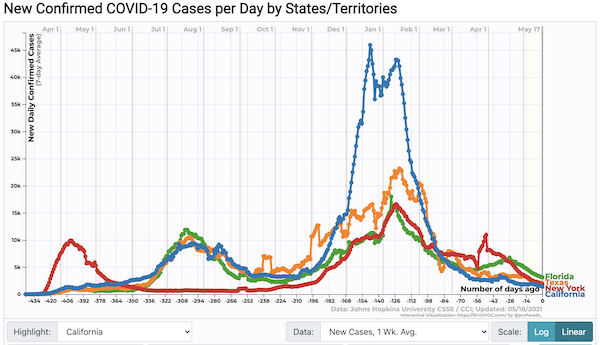 Continued good news. (This chart may seem redundant but I'm trying to think through where the next wave, if God forbid there is a next wave, would show up. Florida and Texas are both entrepots to Latin America, and New York and California to Europe and Asia, respectively. (Now that I think of it, a map of counties near resort towns would be helpful, too; the historical correlation between skiing and superspreading is pretty clear, in Europe and the US. Maybe I can dig one up.)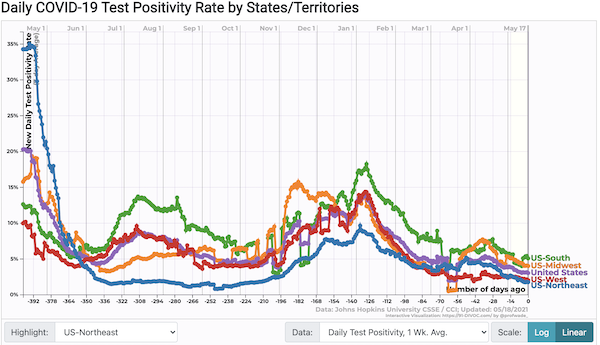 The West is flat. The South is rising.
DIVOC-91 no longer updates hospitalization and death so I went and found some substitutes; neither provide regional data.
Hospitalization (CDC):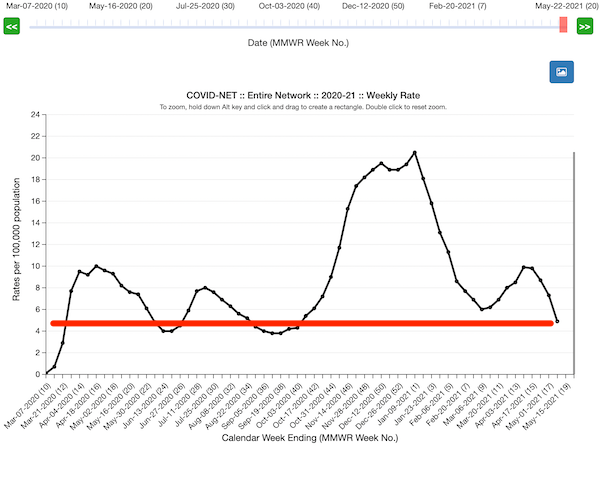 More good news. I have added an anti-triumphalist red line.
Deaths (Our World in Data):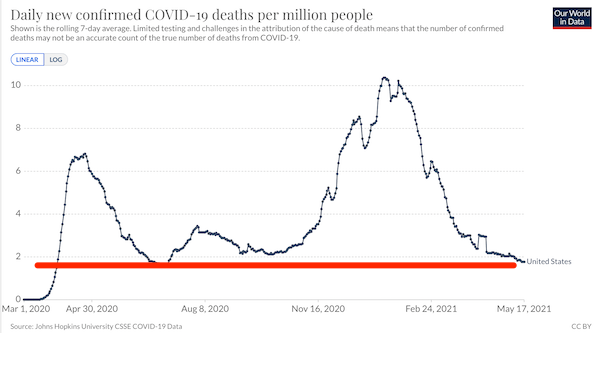 More good news. I have added an anti-triumphalist red line.
NEW Covid cases worldwide: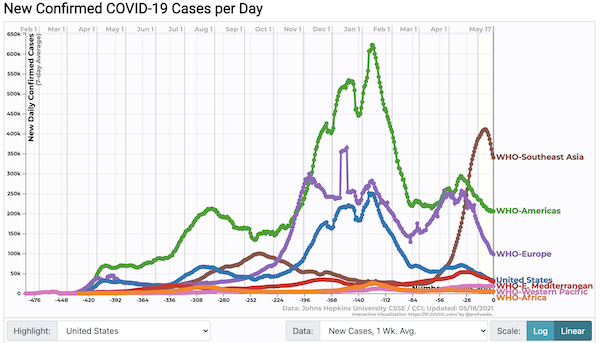 I think it makes more sense to look at all regions rather than individual countries (even if we know, for example, that WHO's Southeast Asia is mostly India by sheer weight of numbers, even though many individual countries are having issues). And why is Africa such an enormous outlier? Readers?
* * *
Politics
"But what is government itself, but the greatest of all reflections on human nature?" –James Madison, Federalist 51
"They had one weapon left and both knew it: treachery." –Frank Herbert, Dune
"They had learned nothing, and forgotten nothing." –Charles Maurice de Talleyrand-Périgord
Biden Administration
I'm not the only one with Biden Fog:

The much-promised $15 minimum wage and public option have been so thoroughly erased from politics, elite media and the Biden-Is-FDR Narrative that I've caught myself wondering if my mind is playing tricks on me and the promises were never actually made (note: they were).

— David Sirota (@davidsirota) May 18, 2021

"White House: Biden committed to codifying Roe v. Wade regardless of Miss. case" [The Hill]. "The White House says President Biden is committed to codifying the outcome of Roe v. Wade regardless of how the Supreme Court rules after the justices agreed to hear arguments over a Mississippi law that bans virtually all abortions after 15 weeks of pregnancy…. It's unlikely Congress will pass a law cementing the precedent set by Roe v. Wade into law, as it would require at least 10 GOP senators to vote with all 50 Democrats and independents. Only Republican Sens. Susan Collins (Maine) and Lisa Murkowski (Alaska) have made clear their support for the law." • So what does "codify" mean, then? An Executive Order?

"Biden warns that states with low Covid vaccination rates may see cases rise again" [CNBC]. "For the first time since the pandemic began over a year ago, Covid-19 cases are down in all 50 states, Biden announced during a White House press conference on the nation's progress fighting the virus. That progress could still be reversed, he said, especially in states where a low percentage of people have been vaccinated. 'We know there will be advances and setbacks, and we know that there are many flare-ups that could occur,' Biden said. 'But if the unvaccinated get vaccinated, they will protect themselves and other unvaccinated people around them.' He said it would be a needless 'tragedy' to see Covid cases rise among those who do not get vaccinated. 'I want to thank the American people who have stepped up and done their patriotic duty and gotten vaccinated,' he said." • How about all the goddamned Americans who did their patriotic duty and masked up and stayed home and social distanced. And how about all the goddamned essential workers who risked their lives to feed their families. Biden's gooey sentimentality is starting to irk me.

And speaking of being irked:

President Biden: "Respect those who want to continue to wear a mask." pic.twitter.com/NjQQoSd954

— The Hill (@thehill) May 18, 2021

To me, this reads like Biden thinks people who sacrificed personally for the sake of public health are a minority, weak people who need to be protected with him, and not deserving of respect by default. Am I overly irked?
Democrats en Deshabille
It's just one poll:

NYC Mayoral Democratic Primary:

Adams: 18% (-1)
Stringer: 15% (+9)
Yang: 15% (-17)
Garcia: 8% (+3)
Morales: 6% (+2)
Donovan: 5% (+1)
McGuire: 4% (+1)
Wiley: 4% (-5)
Chang: 2% (+1)

Emerson College / May 15, 2021 / n=631 / MOE 3.8% / Telephone/Online

(% Change With March 6)

— Polling USA (@USA_Polling) May 17, 2021
2020
The Arizona recount:

Oh my god R-Studio even has a RAID autodetect function. I've used it. What dimestore idiots are these #AZAudit posers? It's literally point and click. https://t.co/DeFrEohIdu

— SwiftOnSecurity (@SwiftOnSecurity) May 18, 2021

Above my paygrade, I admit.
2022
"Trump's Engaged Party Defining The Battle For 2022" [Democracy Corps]. A Democrat shop but one of the saner ones. "We were also surprised by how much Donald Trump's loyalist party is totally consolidated at this early point in its 2022 voting and how engaged it is. Yes, they have pulled back from histor-ic presidential year levels: the percent scoring 10, the highest level of interest in the election, has fallen from 84 to 68 percent. But Democrats' engagement fell from 85 percent to 57 per-cent. Republicans are following their political theater much more closely than are Democrats — producing an 11-point gap. Neither is showing the level of interest of the presidential election in 2019 and 2020, but they are higher than a comparable point in 2018, suggesting the era of high turnout elections is not over. And with such high early engagement of Republicans and white working class voters in this survey, it means either." • Of course, the electorate shapes Trump, too. That's one of his strengths.

"Trump signals he's ready to get back in the game" [The Hill]. "An emboldened former President Trump is preparing to become more active as he looks to boost GOP allies while mulling a new run for the White House. Trump is expected to hit the road soon resuming his signature rallies, which will put him more in the public eye and create questions for television networks about coverage. He's also set to hold his first fundraiser for his new super PAC at a time when his control over the GOP was augmented after House Republicans voted to dump Rep. Liz Cheney (R-Wyo.) from their leadership team over her repeated criticism of the former president's false claims about his loss in the 2020 election. 'I think he feels good. I think he feels vindicated,' said one Trump ally, who said the developments make it more likely that Trump will be 'aggressively on the playing field' stumping for GOP candidates in the coming months ahead of 2022. said GOP strategist Doug Heye, who has criticized Trump in the past." • Which has not always been the case with Republicans, and is the case with Democrats, but only because they threw the working class under the bus, condemning themselves to a permanent 50% + 1 strategy (albeit a strategy lucrative for consultants).
Stats Watch
Housing: "'There's no way I can pay for this:' One of America's largest hospital chains has been suing thousands of patients during the pandemic" [Econintersect]. "Headline residential building permits improved and construction completions worsened. The rolling averages improved for both permits and construction completions…. The backward revisions this month were small. It is always difficult to understand the trends as the backward revisions sometimes reverse trends month-to-month. The nature of this industry normally has large variations from month-to-month (mostly due to weather) so the rolling averages are the best way to view this series.mThe rolling averages say this sector is growing."
Housing: "March 2021 CoreLogic Single-Family Rents: High-End Rentals and Inventory Pressure Quicken Single-Family Rent Growth in March" [Econintersect]. "The Single-Family Rent Index (SFRI), which analyzes single-family rent price changes nationally and across major metropolitan areas, for March 2021 shows a national rent increase of 4.3% year over year, up from a 3% year-over-year increase in March 2020. According to the U.S. Census, the occupancy rates for single-family rentals is at a generational high, which is driving up inventory pressure and, subsequently, rent growth. A recent CoreLogic survey shows that nearly 70% of consumers agree high prices for homes are causing many people to rent. However, as demand continues to drive rent prices higher, we may expect to see growing affordability challenges on the rental front as well, as 36% of consumers already feel rental options in their neighborhood are not very or not-at-all affordable."
* * *
Debt: "Credit Card Balance Declines Are Largest Among Older, Wealthier Borrowers" [Liberty Street Economics]. "Total household debt rose by $85 billion in the first quarter of 2021, according to the latest Quarterly Report on Household Debt and Credit from the New York Fed's Center for Microeconomic Data. Since the start of the pandemic, household debt balances have increased in every quarter but one—the second quarter of 2020, when lockdowns were in full effect…. One of the most confounding changes in debt balances is that of credit cards. In the first quarter of 2021, balances shrunk by $49 billion, the second largest decline in the history of the time series, which begins in 1999…. [I]t appears that many households are working to reduce their revolving debt balances, and this is happening across the board…. Credit card borrowers in the two lower income areas reduced their card balances by 15 percent in the year since the pandemic began, while those in the highest income zip codes saw a 19 percent reduction."
Tech: The Internet of Sh*t:
Our dog left a giant poo in the middle of our dining room/office in the dead of night

Then the robo-vacuum awoke at 7am to complete its programmed run, and fastidiously smeared shit all over the house

I'm taking it as a horrific canine/AI repudiation against indoor mixing

🤢

— Luke Allen (@drlukeallen) May 17, 2021
Wait 'til the family bot puts the turkey in the crib and the baby in the oven. (Hilariously, the replies to the tweet give other anecdotes of the same "fastidiousness.")
* * *
Today's Fear & Greed Index: 39 Fear (previous close: 40 Fear) [CNN]. One week ago: 51 (Neutral). (0 is Extreme Fear; 100 is Extreme Greed). Last updated May 17 at 12:49pm.
Health Care
I've been annoyed the phrase "I'm leading my life," generally by not masking up or taking other elementary public health measures, especially when the individual involved presents this choice as courageous. My view is different: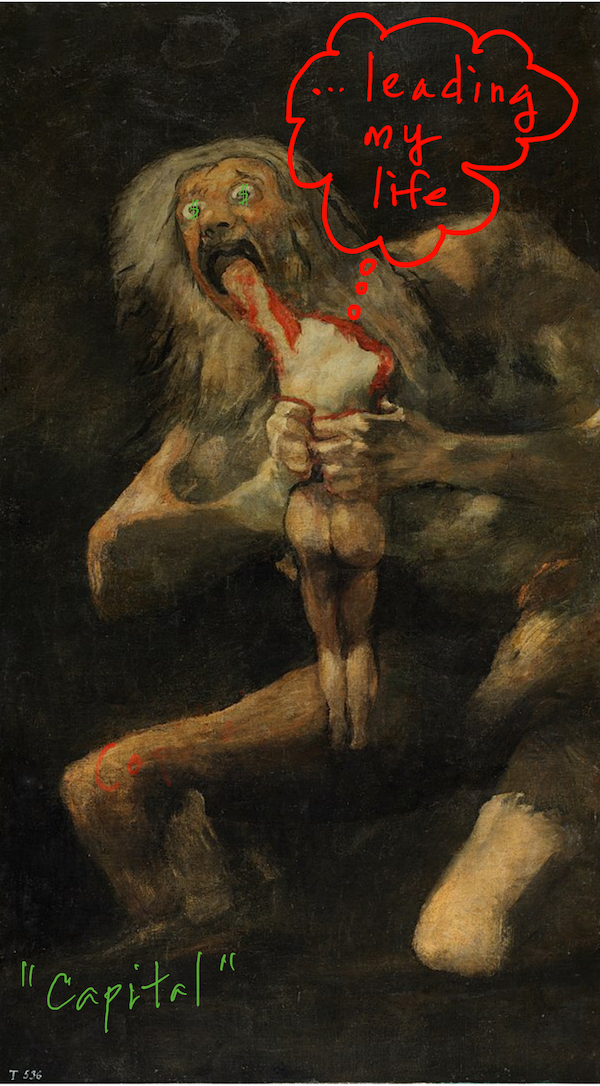 (Gotta work on my calligraphy, I guess. Image is Goya's Saturn Devouring His Son, from the Prado.)
Long thread with technical detail on ventilation:
HVAC without V is a HAC(k) job

🧵 about ventilation
– Mechanical versus Natural ventilation
– ASHRAE Standard 62.1 historical rates
– Why schools are under-ventilated?
– What is the cost of outside air?
– What we should do about it?

— Marwa Zaatari (@marwa_zaatari) April 18, 2021
"School Building Ventilation Survey" [NYC Department of Education]. "Properly ventilated classrooms are key to school safely. The DOE continues to monitor ventilation in all spaces throughout the building on a regular basis and posts updated information on each school's page on our website, on the Overview tab, under Building Ventilation Information on a regular basis. As always, the health and safety of our staff, students and families is our number one priority…. Any room that does not meet our stringent safety standards will not be used for instructional purposes unless it is repaired or remediated. We want to remind you that while ventilation is essential to our COVID-19 prevention plan, it is only one part of a comprehensive strategy to keep our students, educators, and staff members safe inside and outside our schools." • With reports on every school. Kudos.
"COVID-19: Regulator increases time Pfizer jab can be stored in a fridge to one month" [Sky News]. "The European Medicines Agency (EMA) previously advised that vials needed to be kept at an ultra-low temperature, between minus 70C and minus 80C, until a few days before use when it can be transferred to a standard medical fridge. But the EMA said in a statement it had extended the approved storage period for an unopened thawed vial when kept in a fridge between 2C and 8C from five days to one month."
The Biosphere
"Just 20 companies are responsible for over half of 'throwaway' plastic waste, study says" [CNBC]. Just 20 companies are the source of more than half of single-use plastic items thrown away globally, according to a study that highlights the devastating impact on the environment. The Plastic Waste Makers Index, published Tuesday, names the companies that are at the forefront of the plastic supply chain and manufacture polymers, known as the building block of plastics. It also highlighted that the firms identified are supported by a small number of financial backers. Single-use plastics, such as bottles, bags and food packages, are the most commonly discarded type of plastic. Made almost exclusively from fossil fuels, these "throwaway" plastics often end their short lifecycle polluting the oceans, being burned or dumped into landfills. The study says 20 petrochemical companies are responsible for 55% of the world's single-use plastic waste. The findings were published by the Minderoo Foundation, one of Asia's largest philanthropies. The research was conducted by academics from the London School of Economics, the Stockholm Environment Institute, Wood Mackenzie, among others. U.S. energy giant ExxonMobil tops the list, contributing 5.9 million metric tons to global plastic waste, closely followed by U.S. chemicals company Dow and China's Sinopec. The study says 100 companies are the source of 90% of global single-use plastic production." • Enough said. That's a deal:
Guillotine Watch
"Celebrity Couples Explain What Made Their Marriages Last" [The Onion]. • The Obamas are #10.
"The Dirt Piles on Bill Gates Following Divorce Announcement" [New York Magazine]. "Pursuing sexual relationships at a powerful institution he co-founded was not just limited to Microsoft, or the affair in 2000. According to the New York Times, Gates tried to date women working for him at Microsoft and the Bill and Melinda Gates Foundation, asking people out by email — 'If this makes you uncomfortable, pretend it never happened,' he wrote in 2006 — and in person. Witnesses also claim that he was dismissive of his wife in meetings at their shared group, and that Gates did not respond to her request for an outside party to investigate a sexual-harassment claim against their money manager, who is still on the job. More information on the Epstein connection also came to light on Sunday evening. While it's already understood that Melinda Gates was not thrilled by her husband spending time with the alleged sex trafficker, the Times notes that Gates ignored her advice on the subject and continued meeting with him. Epstein provided some advice of his own, according to the Daily Beast, which reported that the predator met with Gates dozens of times between 2011 and 2014 and told him how to end his 'toxic' marriage to Melinda. Apparently going to Epstein's Upper East Side mansion to get the advice was more impactful than the advice itself." • Ouch.
Class Warfare
"How Teachers Fought for Their Safety in the Pandemic—and Won" [The Nation]. "McCann credits the actions of thousands of Philly teachers who taught outside in protest that day for the change in vaccine eligibility rules, as well as more transparency about building conditions. "The action worked—we pulled it off," she said. Arthur Steinberg, president of the American Federation of Teachers Pennsylvania, noted that the teachers also secured a "robust" testing and tracing program in the schools, which was 'directly attributable to our activism and mobilization,' he said. Whether and how to bring teachers and students back inside school buildings has been the subject of intense debate since last summer. But a clear theme has emerged: Expanding on recent waves of activism, teachers were able to band together and compel school districts to adopt protocols for masks, ventilation, testing, and even vaccination. Teachers have secured 'really innovative agreements that were unprecedented,' said Randi Weingarten, president of the American Federation of Teachers."
The magic of the marketplace:
For all the people who think these businesses can't pay, look at all the 'Help Wanted' signs and see what they're paying now. Even gas stations are paying $15 an hour now pic.twitter.com/4vf7cjpLY3

— Derenic Byrd (@DerenicByrd) May 17, 2021
"Labor, Gig Companies Near Bargaining Deal in N.Y." [Bloomberg]. "New legislation creating collective bargaining rights for gig-economy workers is poised to be introduced in New York State in the coming weeks, according to the president of the Transport Workers Union. If passed, the proposal would represent the fulfillment of a long-sought goal for companies like Uber Technologies Inc. and Lyft Inc.: a compromise that stops short of making workers into full employees. TWU President John Samuelsen said the union is backing the proposal after criticizing past deal-making efforts elsewhere. 'I had every intention of staying away from it, and now after seeing how much it'll advance gig workers, I'm fully supporting it,' Samuelsen said Monday. 'I actually think it becomes a national model.'" Oh. Commentary:
And a reminder that you too can still sign! Email the address in the link.

— Marshall Steinbaum 🔥 (@Econ_Marshall) May 18, 2021
"How Artificial Intelligence Depends on Low-Paid Workers" [Tribune]. "Lurking behind the amorphous and often abstract notion of 'AI' are material realities. 80 percent of machine learning development consists of repetitive data preparation tasks and 'janitorial' work such as collecting data, labelling data to feed algorithms, and data cleaning – tasks that are a far cry from the high glamour of the tech CEOs who parade their products on stage. At other times, the computing purportedly being done by AI is actually being done by human workers: start-ups have workers pose as chatbots or transcribe information it claims is being done through 'smart' technology. The invisible and insecure nature of this form of work places a suspicious lens over the supposed freedoms of 'anytime, anywhere' ideals of working. Defined by Mary L. Gray as 'ghost work' in a book of the same name written with Siddharth Suri, this form of work is endless in both the number of possible tasks available (transcription, translation, data labelling, survey work) and in terms of the culture of expectancy, in which workers should always be completing or thinking about new work. As Gray states, 'the great paradox of AI is that the desire to eliminate human work generates new tasks for humans.'" • I'm sure maintaining all this data is totally unproblematic, too. I wonder if the human laborers ever game the inputs?
News of the Wired
An enormous thread on "spite walls," with many examples:
It's a wall, next to a three-storey house, on the grounds of a rather grand Victorian villa which is now a school. (2/6)

— Jason Hazeley (@JasonHazeley) May 14, 2021
The analogy to cancel culture (or, as the Greeks called it, ostracism) seems clear.
* * *
Readers, feel free to contact me at lambert [UNDERSCORE] strether [DOT] corrente [AT] yahoo [DOT] com, with (a) links, and even better (b) sources I should curate regularly, (c) how to send me a check if you are allergic to PayPal, and (d) to find out how to send me images of plants. Vegetables are fine! Fungi and coral are deemed to be honorary plants! If you want your handle to appear as a credit, please place it at the start of your mail in parentheses: (thus). Otherwise, I will anonymize by using your initials. See the previous Water Cooler (with plant) here. Today's plant (RM):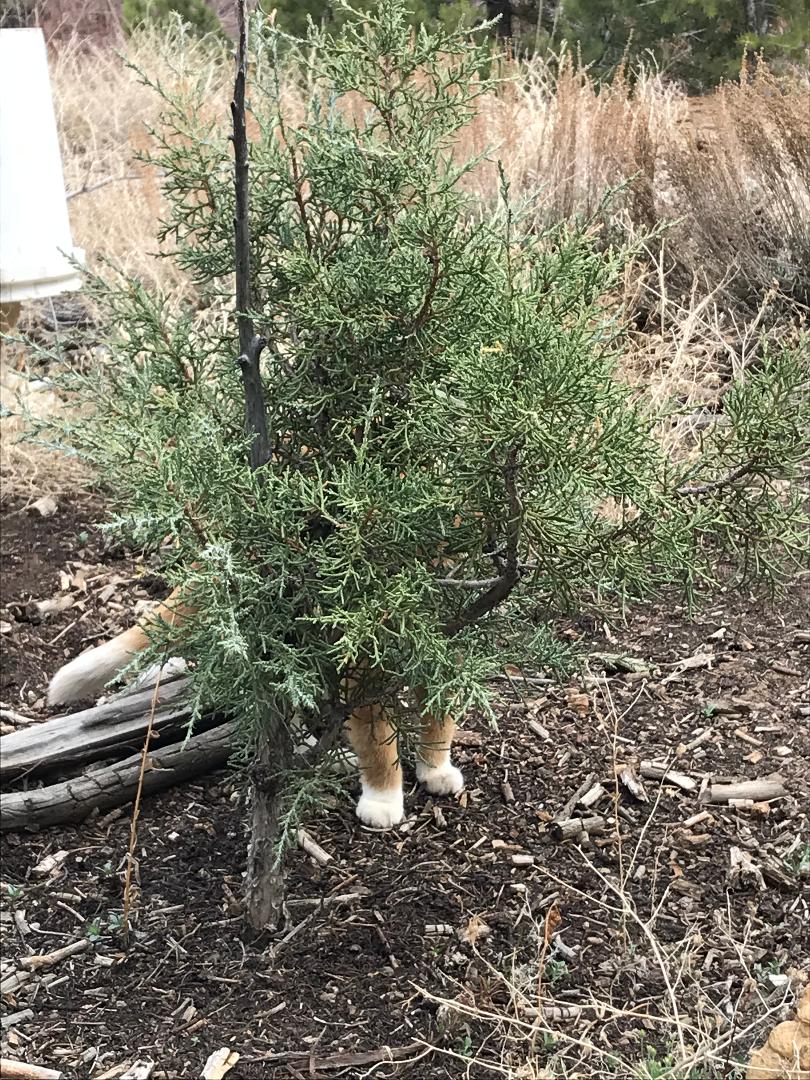 RM writes: "My daughter says it is a Junipurr cat tree."
* * *
Readers: Water Cooler is a standalone entity not covered by the recently concluded and — thank you! — successful annual NC fundraiser. So if you see a link you especially like, or an item you wouldn't see anywhere else, please do not hesitate to express your appreciation in tangible form. Remember, a tip jar is for tipping! Regular positive feedback both makes me feel good and lets me know I'm on the right track with coverage. When I get no donations for five or ten days I get worried. More tangibly, a constant trickle of donations helps me with expenses, and I factor in that trickle when setting fundraising goals:
Here is the screen that will appear, which I have helpfully annotated.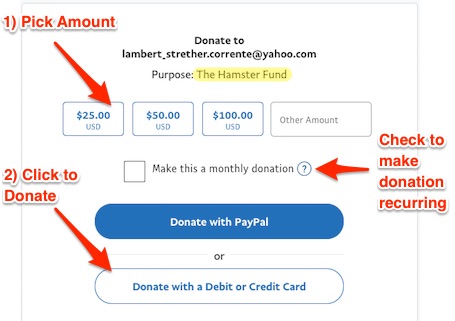 If you hate PayPal, you can email me at lambert [UNDERSCORE] strether [DOT] corrente [AT] yahoo [DOT] com, and I will give you directions on how to send a check. Thank you!