By Lambert Strether of Corrente.
Bird Song of the Day
From Japan.
* * *
#COVID19
At reader request, I've added this daily chart from 91-DIVOC. The data is the Johns Hopkins CSSE data. Here is the site.
I feel I'm engaging in a macabre form of tape-watching. All the charts are becoming dull — approaching nominal, if you accept the "new normal" of cases, for example.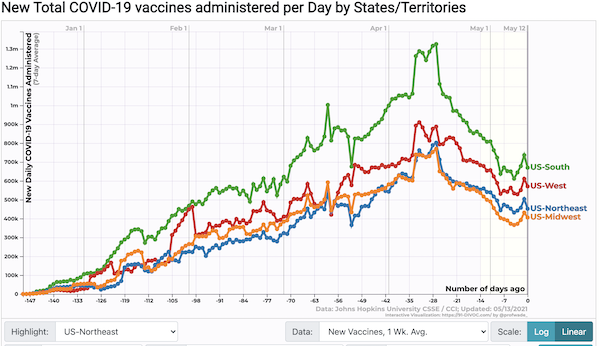 Whoops. • Maybe the free beer is a better idea than we thought? Or, credit where it's due, perhaps people listened to Biden? (We might speculate from Michigan that asking, as opposed to compelling, does seem to, if not work, at least not fail.)
"Anti-Maskers Ready to Start Masking—to Protect Themselves From the Vaccinated" [Vice]. Whatever works.
"3 Explanations for the Vaccine Slowdown" [The Atlantic]. The synthesis view: "From December to February, the share of Americans who said they'd already received a shot or wanted one as soon as possible rose by 21 points—from 34 percent to 55 percent. In March, that number increased by only six points. In April, it increased by only three points. We're persuading fewer and fewer people as we approach the solid bloc of vaccine resistance. The Johnson & Johnson shots offered an ideal chance at expanding vaccine enthusiasm at a time when we were running out of eager adults. Across the country, health clinics said that many patients were uniquely excited about the one-shot regimen—due to either skepticism about mRNA technology or fear of needles. Some of that enthusiasm evaporated after the pause, doctors told The Wall Street Journal. That is, the government's underselling of the vaccines (and overselling of their risks) did not exactly cause the dip, but did make it harder for enthusiasm to bloom among the skeptical."
Case count by United States regions: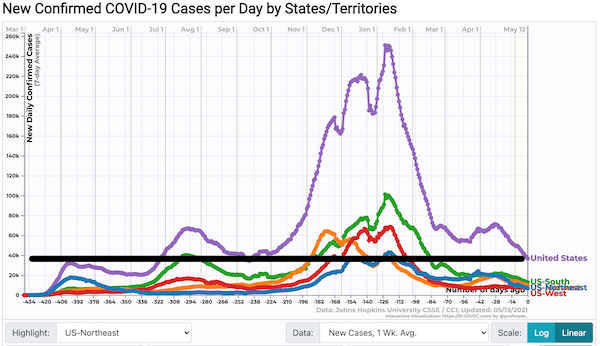 Continued good news. I have drawn an anti-triumphalist black line to show that cases levels we now regard with equanimity were regarded as crisis-level, a little over a year ago. Granted, we don't have overflowing emergency rooms (or morgues). But the effects of long covid are the same.
The Midwest in detail: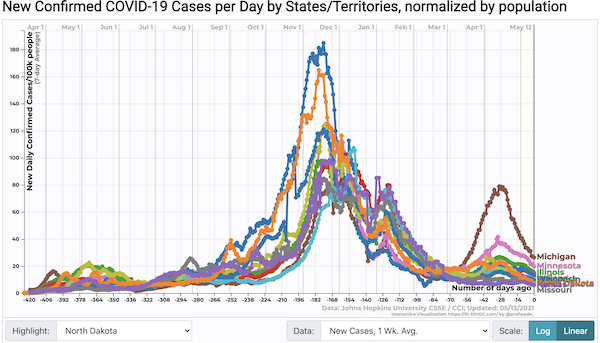 Continued good news. But Michigan's decrease is agonizingly slow.
Big states (New York, Florida, Texas, California):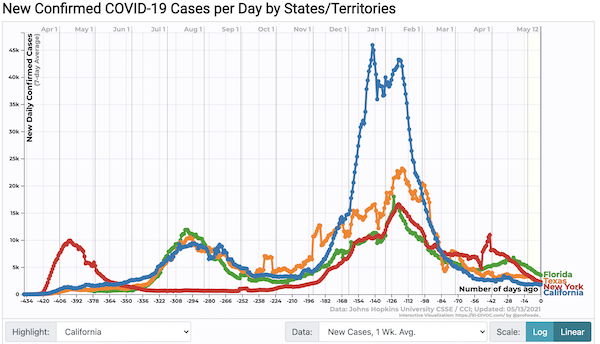 Continued good news.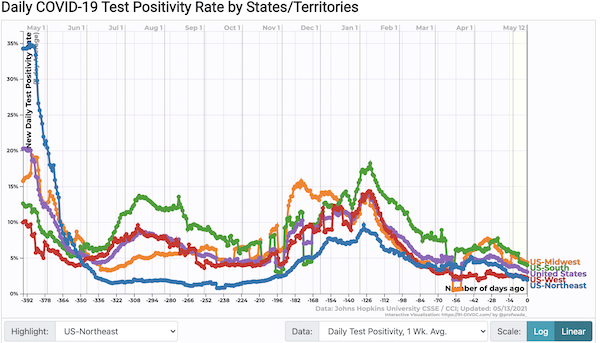 Down, except for the West, now flat.
* * *
Politics
"But what is government itself, but the greatest of all reflections on human nature?" –James Madison, Federalist 51
"They had one weapon left and both knew it: treachery." –Frank Herbert, Dune
"They had learned nothing, and forgotten nothing." –Charles Maurice de Talleyrand-Périgord
Biden Administration
"America's Broken Civil-Military Relationship Imperils National Security" [Foreign Affairs]. "Civilian control over the military is deeply embedded in the U.S. Constitution; the armed forces answer to the president and legislature. Starting in 1947, Congress built robust institutions designed to maintain this relationship. But over the past three decades, civilian control has quietly but steadily degraded. Senior military officers may still follow orders and avoid overt insubordination, but their influence has grown, while oversight and accountability mechanisms have faltered. Today, presidents worry about military opposition to their policies and must reckon with an institution that selectively implements executive guidance. Too often, unelected military leaders limit or engineer civilians' options so that generals can run wars as they see fit. Civilian control is therefore about more than whether military leaders openly defy orders or want to overthrow the government. It's about the extent to which political leaders can realize the goals the American people elected them to accomplish."

"Debt Collectors Spending Big To Block A Crackdown" [David Sirota, Daily Poster]. "Two months ago, debt collectors won a victory when congressional lawmakers allowed stimulus checks to be garnished by creditors and government agencies. Now, as the credit industry hits a jackpot during the pandemic, the leading lobby group for debt collectors has more than tripled the amount of cash it funnels to lawmakers as it campaigns to block upcoming Democratic legislation to protect millions of Americans from the repo man." • The debt collectors call themselves "the accounts receivable management industry."
Democrats en Deshabille
"Donors gave millions to Garcetti nonprofit but kept their identities secret, Times analysis finds" [Los Angeles Times]. "After Los Angeles Mayor Eric Garcetti took office in 2013, he helped launch a charity fund that allows donors to support diverse programs from environmental initiatives to youth employment. Since then, Garcetti has reported raising more than $60 million from corporations, foundations, and individuals for the nonprofit Mayor's Fund for Los Angeles. A Times data analysis found that at least $3.8 million of that total came from contributors who gave through accounts that mask their identity, a practice that alarms ethics watchdogs who say such donations skirt a state law intended to make those donors' names public…. In required filings with the city's Ethics Commission, Garcetti's office reported that a $3-million donation requested by the mayor came into the Mayor's Fund in December. An undisclosed account holder made the gift through a donor-advised fund overseen by Bessemer Trust, a wealth management firm. Garcetti spokesman Alex Comisar declined to reveal the individual or company behind the $3-million donation or other donations sought by Garcetti totaling about $1 million that have been given through donor-advised funds since 2014." • Three millions bucks is a lot to try to fit in a paper bag, so let's be fair.
Republican Funhouse
"Liz Cheney and the Big Lies" [MoDo, New York Times]. "She is willing to sacrifice her leadership post — and risk her political career — to continue calling out Donald Trump's Big Lie." • Trump's "Big Lie" being that the 2020 election was stolen from him, presumably by Democrats. According to Wikipedia (sorry), the term "Big Lie" was actually coined by Hitler in Mein Kampf, "to describe the use of a lie so 'colossal' that no one would believe that someone 'could have the impudence to distort the truth so infamously.' Hitler claimed the technique was used by Jews to blame Germany's loss in World War I on German general Erich Ludendorff."

There's no question that Trump's 2020 election claim is, if not "Big," at least excessively large. And to the extent that Trump dominates the Republican Party, fealty to the lie is a test of loyalty. Unfortunately for us all, RussiaGate, as well, is, if not "Big," at least excessively large. (RussiaGate is also a tool for warmongering against a nuclear power, and so a more dangerous Big Lie than Trump's). And fealty to the RussiaGate lie is also a test of loyalty, but for liberal Democrats.

It's as if, in 30's Germany, the Nazi Big Lie was that "the Jews stabbed Germany in the back!" and the Social Democrat Big Lie was "The Illuminati caused the German inflation!" Both party establishments are being run by crazypants people. We are in an unprecedented situation, I really don't know how to think it through, and I don't see a way out.
Realignment and Legitimacy
Stats Watch
Employment Situation: "United States Initial Jobless Claims" [Trading Economics]. "The number of Americans filing new claims for unemployment benefits dropped by 34 thousand to 473 thousand in the week ending May 8th, the lowest level since the pandemic first hit the US labor market in March 2020 and below market expectations of 490 thousand."
Inflation: "April 2021 Producer Price Final Demand Again Increased Significantly" [Econintersect]. 'The Producer Price Index (PPI) year-over-year inflation increased from +4.2 % to +6.2 %."
Debt: "1Q2021 Household Debt and Credit: Credit Card Balances See Second Largest Quarterly Decline in Series History" [Econintersect]. "The Federal Reserve Bank of New York's Center for Microeconomic Data today issued its Quarterly Report on Household Debt and Credit. The report shows that total household debt increased by $85 billion (0.6%) to $14.64 trillion in the first quarter of 2021. The total debt balance is now $344 billion higher than the year prior. While mortgage, auto loan, and student loan balances have continued to increase, credit card balances have substantially decreased."
Rail: "Rail Week Ending 08 May 2021 – Growth Surge Continues" [Econintersect]. "Total rail traffic – which has been in contraction for over one year – is now surging as it is being compared to the pandemic lockdown period one year ago."
* * *
Commodities: "Colonial Pipeline Paid Hackers Nearly $5 Million in Ransom" [Bloomberg]. That's all? "Colonial Pipeline Co. paid nearly $5 million to Eastern European hackers on Friday, contradicting reports earlier this week that the company had no intention of paying an extortion fee to help restore the country's largest fuel pipeline, according to two people familiar with the transaction. The company paid the hefty ransom in difficult-to-trace cryptocurrency within hours after the attack, underscoring the immense pressure faced by the Georgia-based operator to get gasoline and jet fuel flowing again to major cities along the Eastern Seaboard, those people said. A third person familiar with the situation said U.S. government officials are aware that Colonial made the payment."
The Bezzle: "Tesla stops payment by Bitcoin because of the impact on the environment" [Sky News]. "At current rates, such Bitcoin mining uses about the same amount of energy annually as the Netherlands did in 2019, according to data from the University of Cambridge and the International Energy Agency. In a tweet, Tesla chief executive officer Elon Musk said the company would not sell any Bitcoin, and intends to use Bitcoin for transactions as soon as mining transitions to more sustainable energy." • A rare "Double Bezzle"!
* * *
Today's Fear & Greed Index: 37 Fear (previous close: 37 Fear) [CNN]. One week ago: 51 (Neutral). (0 is Extreme Fear; 100 is Extreme Greed). Last updated May 13 at 1:26pm.
Health Care
"'A toxic cocktail:' Panel delivers harsh verdict on the world's failure to prepare for pandemic" [Science]. "There was warning after warning after warning, and yet the world failed to do what was needed to prepare for a pandemic, the first comprehensive review of the global response to COVID-19 finds. This lack of preparation left countries short of essential supplies, burdened by underresourced health systems, and scrambling to coordinate a response, while large vulnerable populations had few options to protect themselves. 'The combination of poor strategic choices, unwillingness to tackle inequalities, and an uncoordinated system created a toxic cocktail which allowed the pandemic to turn into a catastrophic human crisis,' the Independent Panel for Pandemic Preparedness and Response (IPPPR) writes in its report, which was presented today. To do better next time, the group proposes a top-to-bottom overhaul of the pandemic preparedness system, including the creation of a new global health council akin to the United Nations Security Council and more money and power for the World Health Organization (WHO). 'Pandemics pose potential existential threats to humanity and must be elevated to the highest level,' the authors write. 'It's a frank assessment of literally systematic failure in the COVID response at every level, from WHO down to country level,' says Lawrence Gostin, director of the O'Neill Institute for National and Global Health Law at Georgetown University." • I'd have to read it to know how "frank" the assessment is.
"Top scientists question the need for COVID-19 booster shots" [Reuters]. "In interviews with Reuters, more than a dozen influential infectious disease and vaccine development experts said there is growing evidence that a first round of global vaccinations may offer enduring protection against the coronavirus and its most worrisome variants discovered to date. Some of these scientists expressed concern that public expectations around COVID-19 boosters are being set by pharmaceutical executives rather than health specialists, although many agreed that preparing for such a need as a precaution was prudent. They fear a push by wealthy nations for repeat vaccination as early as this year will deepen the divide with poorer countries that are struggling to buy vaccines and may take years to inoculate their citizens even once."
"'If you're vaccinated and you're outside, put aside your mask,' Fauci says" [CNN]. • You'd think, by this point, there'd be some sort of centralized messaging on Covid policy; the Obama Alumni Association was supposed to be good at that. So why is Fauci swanning around deciding policy in public?
The Biosphere
"Singapore researchers control Venus flytraps using smartphones" [Reuters]. "Luo Yifei, a researcher at Singapore's Nanyang Technological University (NTU), showed in a demonstration how a signal from a smartphone app sent to tiny electrodes attached to the plant could make its trap close as it does when catching a fly. 'Plants are like humans, they generate electric signals, like the ECG (electrocardiogram) from our hearts,' said Luo, who works at NTU's School of Materials Science and Engineering. 'We developed a non-invasive technology to detect these electric signals from the surface of plants without damaging them,' Luo said. The scientists have also detached the trap portion of the Venus flytrap and attached it to a robotic arm so it can, when given a signal, grip something thin and light like a piece of wire."
Our Famously Free Press
"Michigan GOP lawmaker floats bill to register, fine 'fact checkers'" [Detroit News]. "The "Fact Checker Registration Act" defines a fact checker as someone who publishes in print or online in Michigan, is paid by a fact-checking organization and is a member of the International Fact Check Network…. The bill requires qualifying fact checkers to file proof of a $1 million fidelity bond with the Secretary of State's office, which will be tasked with developing the 'form and manner of registration and filing.'…. Fact checkers found to be in violation of the registry requirements could be fined $1,000 per day of violation." • And theory checkers?
"Meet the Censored: C.J. Hopkins, Critic of the 'New Normal'" [Matt Taibbi, TK News]. "Most of all, Hopkins has been critical of the emotional tenor of propaganda around Covid-19, which treats the crisis not as a logistical problem to be solved but as a signal that people should fundamentally alter their expectations for life, lowering demands for political freedoms, making the terror of death a constant public relations fixation, and embracing a "new normal" of heightened surveillance and security rituals."
Water
"California orders Nestlé to stop siphoning spring water" [High Country News]. "California water officials have moved to stop Nestlé from siphoning millions of gallons of water out of California's San Bernardino forest, which it bottles and sells as Arrowhead brand water, as drought conditions worsen across the state. The draft cease-and-desist order, which still requires approval from the California Water Resources Control Board, is the latest development in a protracted battle between the bottled water company and local environmentalists, who for years have accused Nestlé of draining water supplies at the expense of local communities and ecosystems. Nestlé has maintained that its rights to California spring water dates back to 1865. But a 2017 investigation found that Nestlé was taking far more than its share. Last year the company drew out about 58 million gallons, far surpassing the 2.3 million gallons per year it could validly claim." • 
"Maine activists protest Nestle's potential sale of Poland Spring Water to private-equity firm" [Bangor Daily News]. "If Nestle sells Poland Springs, [Nickie Sekera, the co-founder of Community Water Justice], believes the company effectively would relieve itself of the accountability it has promised to Maine communities. Nestle owns nine spring water sources in Maine, including the Bella Luna Spring in Lincoln, located more than 150 miles away from Poland Spring. … Sekera and others from Community Water Justice fear that Nestle's water withdrawal permits, negotiated with different communities, will be included in the sale, with no input from the people who depend on the water sources in question. 'We're essentially becoming a resource colony for Wall Street,' she said." • Becoming?
Groves of Academe
"Swiss funder draws lots to make grant decisions" [Nature]. "The Swiss National Science Foundation (SNSF) , Switzerland's largest government research-funding agency, has started using a random-selection process as a tiebreaker to award grants, as a way to eliminate bias in the funding process. The agency says that the 'physical lots' scheme is a small step towards making the research-funding process more objective, and that it is unlikely to be used frequently. 'In cases of grant applications of similar quality, bias often creeps in and influences the final call," says Matthias Egger, president of the SNSF, which is based in Bern. 'That is something we'd like to avoid.'"
Imperial Collapse Watch
"US fuel shortage: Drivers warned not to use plastic bags to fill up – as some fight for fuel" [Sky News]. • I've seen the photos. Yes, people are filling plastic bags with gasoline. Isn't that one of the signs of the End Times?
"Battlestar Galactica Lessons from Ransomware to the Pandemic" [Zeynep Tufecki, Insight]. "Technically, our software infrastructure was not built with security in mind. That's partly because a lot of it depends on older layers, and also because there has long been little to no incentive to build software infrastructure that prioritizes security. Operating systems could have (and should have) been built with different features like 'sandboxing': that's when a program can only play in a defined, walled area called a 'sandbox,' where it can't reach anything else. So if that program is malicious, the only damage it can reach is in that sandbox–and only in that sandbox. (This is similar to the idea of 'air-gapping': essentially, unplugging critical parts of the infrastructure from the network. It's very hard to add security after the fact to a digital system that's not been built for it. And there is a lot of what's called 'technical debt' all around us. These are programs that work but were written quickly or sometimes decades ago. We don't touch these rickety layers because it would be very expensive and difficult to do, and messing with them could cause everything else to crumble….. [O]ne thing that had been missing before was an easy or obvious way to monetize all of this digital malfeasance…. Enter Bitcoin."
Guillotine Watch
"What To Know About Bill And Melinda Gates' Divorce" [The Onion].
Class Warfare
"All Good Social Change Comes from Mass Disruption" [Rampant].
Historically, it has been revolutionaries who have been the most successful fighters for the basic social changes or reforms in people's everyday lives. Look at any major historic reforms and they were introduced as concessions to revolutionary agitation and disruptions like strikes:

The existence of a weekend off work: Anarchists.
Unemployment supports: Communists.
Racial integration: Radical Black revolutionaries.
Legalized abortion: Mass women's marches and illegal service provision.

Even as socialists and other radicals build the relationships, shopfloor networks and tenant organizations needed for socialists and radicals to have any influence on the course of this country's politics, we cannot forget that movement self-reliance, inclusivity, and confrontational approaches have always been the most effective way to win reforms.
Hmm. And "All Bad"? or "All"?
News of the Wired
"Emotion recognition: can AI detect human feelings from a face?" [FT Alphaville]. • Only if the AI can distinguish humans who are acting from other humans.
"Obscura No More" [The American Scholar]. "I have come to recognize how fortunate I was to have landed in New York when I did, for I was able to witness photography's transformation from a minor role to a lead actor in the drama of 20th-century art. When I started paying attention, art and photography were separate domains, and when I began writing for The New York Times (which I would do for most of the '80s), I was assigned to cover photography exhibitions and books while the paper's other art critics covered everything else. My territory initially was a small enough world that I got to meet and interact with many of the major players of an older generation—Berenice Abbott, André Kertész, Russell Lee, Helen Levitt, W. Eugene Smith, Ansel Adams himself—and to rub elbows with Peter Campus, Ralph Gibson, Nan Goldin, Duane Michals, Cindy Sherman, Carrie Mae Weems, and scores more contemporary artists." • Quite a list!
I've noticed some good discussions on philosophy lately. Here is a song lyric parody for you all:
She came from Bath
She had a thirst for knowledge
She was full professor at an Oxford College
That's where I
Caught her eye.
She told me that her views were jaded
I said: "in that case I'll tell you about Hegel"
She said "Fine"
And in thirty seconds time

— end of the world (@modallyyours) August 27, 2019
For those who came in late, an alert reader introduced me to this classic (lyrics):
* * *
Readers, feel free to contact me at lambert [UNDERSCORE] strether [DOT] corrente [AT] yahoo [DOT] com, with (a) links, and even better (b) sources I should curate regularly, (c) how to send me a check if you are allergic to PayPal, and (d) to find out how to send me images of plants. Vegetables are fine! Fungi and coral are deemed to be honorary plants! If you want your handle to appear as a credit, please place it at the start of your mail in parentheses: (thus). Otherwise, I will anonymize by using your initials. See the previous Water Cooler (with plant) here. Today's plant (EH):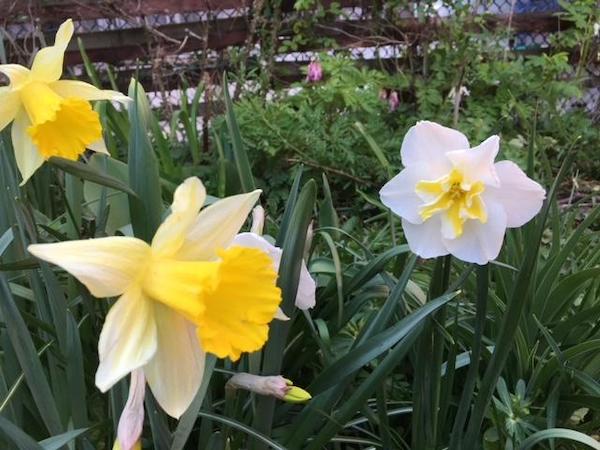 EH writes: "Sent from my iPhone."
* * *
Readers: Water Cooler is a standalone entity not covered by the recently concluded and — thank you! — successful annual NC fundraiser. So if you see a link you especially like, or an item you wouldn't see anywhere else, please do not hesitate to express your appreciation in tangible form. Remember, a tip jar is for tipping! Regular positive feedback both makes me feel good and lets me know I'm on the right track with coverage. When I get no donations for five or ten days I get worried. More tangibly, a constant trickle of donations helps me with expenses, and I factor in that trickle when setting fundraising goals:
Here is the screen that will appear, which I have helpfully annotated.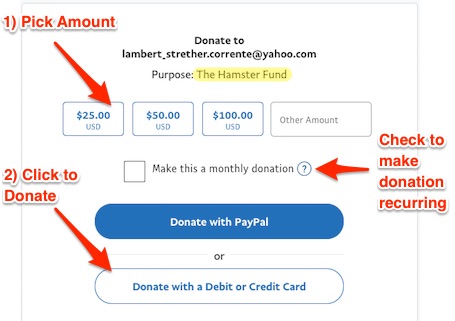 If you hate PayPal, you can email me at lambert [UNDERSCORE] strether [DOT] corrente [AT] yahoo [DOT] com, and I will give you directions on how to send a check. Thank you!