By Lambert Strether of Corrente.
Readers, I got a late start again. I will add more shortly. –lambert
Bird Song of the Day
The Changeable Hawk-Eagle. (I confess I've been choosing these eagles because of their names, but their songs have been really various.)
* * *
#COVID19
At reader request, I've added this daily chart from 91-DIVOC. The data is the Johns Hopkins CSSE data. Here is the site.
I feel I'm engaging in a macabre form of tape-watching. All the charts are becoming dull — approaching nominal, if you accept the "new normal" of cases, for example.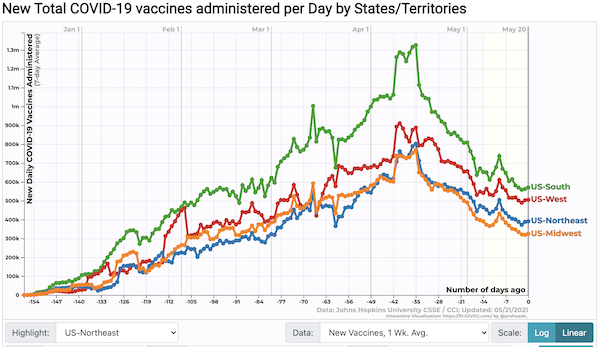 Still upward movement.
"Pentagon push has more US servicemembers getting vaccinated" [FOX News]. "Now 71% of troops surveyed say they have gotten the vaccine or plan to do so. Only 39% of active-duty spouses say they plan to get vaccinated – which could be a problem as hundreds of thousands of troops and their families plan to move to new bases this summer. If the 600,000 troops and their families don't get vaccinated before their summer moves, they could be a vector to spread the disease as happened during the 1918 Pandemic. The virus traveled with military personnel from camp to camp and across the Atlantic, and at the height of the American military involvement in the war, September through November 1918, influenza and pneumonia sickened 20% to 40% of U.S. Army and Navy personnel…. 'One of the big issues that people have right now in the military and the veteran community is there's a general lack of trust any time the government's involved,' [Nick Palmisciano, a former Army combat infantry officer who started the clothing company Ranger Up] told Fox News. 'Whether you're talking about the anthrax vaccine back in the day that caused problems or burn pits or all these things that kind of the military is used as a guinea pig.'" • Then again–
"With Half Its Troops Unvaccinated, Pentagon Aims to Persuade Skeptics" [Defense One]. "As roughly half of the active-duty force remains unvaccinated against COVID-19, the Defense Department is pushing harder for troops to accept the effectiveness of the vaccine…. Deputy Defense Secretary Kathleen Hicks and Joint Chiefs of Staff Vice Chairman Gen. John Hyten released a memo Thursday on how to 'enable and encourage vaccination.' The memo is a break from DOD's past messaging, which called getting the vaccine a personal health choice. The new memo says 'widespread vaccination' within DOD is a 'critical part' of the 'nation's fight against COVID-19.'" • The picture I have of what happens when you join the military is that you get your shots. It's an order. Has the DoD considered following that precedent? Meanwhile, from Stars and Stripes, is the Pentagon's messaging: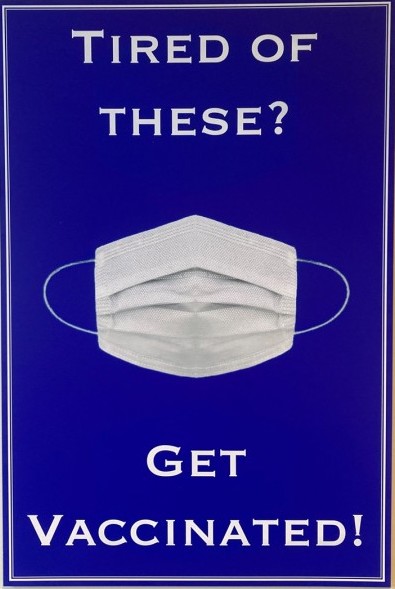 Nothing like trashing the non-pharmaceutical interventions we'll need tomorrow for the sake of a temporary advantage today.
"The 10 states that have vaccinated less than half their population now have higher COVID-19 cases" [The Hill]. "Ten states have less than half their adult residents vaccinated, and these states also have higher coronavirus cases. Alabama, Arkansas, Georgia, Idaho, Louisiana, Mississippi, South Carolina, Tennessee, West Virginia and Wyoming are averaging more than 78 new cases per 100,000 people… The Biden administration has set a goal for states to vaccinate at least 70 percent of their adults with at least one shot by July 4. Seven states have achieved this: Connecticut, Hawaii, Maine, Massachusetts, New Hampshire, New Jersey, and Vermont. The states, all of which are red except for Georgia, are also comprised of rural areas, which tend to see uneven vaccination rates. A Kaiser Family Foundation survey in April found that 3 in 10 rural residents said they would "definitely not" get vaccinated. The respondents said they would only get a vaccine if it were required. In an interview on Sunday on CNN's State of the Union, Rochelle Walensky, the Director of the Centers for Disease Control and Prevention (CDC), said that unvaccinated people have to be 'honest with themselves,' saying those who are not vaccinated are not protecting themselves." • Great messaging from Walensky, there. You'll have to pry shaming from the liberal Democrats' cold, dead hands. They just can't help themselves.
UPDATE More great messaging:
The best part of watching @aslavitt46 read off dating apps is Fauci smirking in the background + a classic facepalm at 0:29.https://t.co/EkeLkWwilR

— David Lim (@davidalim) May 21, 2021
Dating apps will certainly effectively target rural counties, as well as working class people who can't afford to take a day off or get sick (who number in the millions).
UPDATE "Obama to join social media event on vaccines next week" [The Hill]. • Ditto. Do liberal Democrats know how to do anything other than preach to the choir?
"Getting More People Vaccinated Against Covid-19 Means Wasting Doses" [Wall Street Journal]. "As part of the effort to reach the unvaccinated, authorities are aiming to send vaccines to smaller settings, such as doctor's offices and pop-up clinics. Rather than vaccinating hundreds or thousands of people a day, a site might vaccinate tens of people, or fewer. However, bulk packaging, ideal for mass-vaccination sites, might lead to more wasted doses at smaller clinics…. The CDC has said it hopes to maintain wastage below 2% of total doses delivered. Most states are reporting wasted doses far below that number, with a national wastage rate of 0.4%, as of May 20. That is concerning some health officials who think that at this stage of the rollout, some waste should be acceptable. The CDC said that as vaccination supply expands and opportunities to receive the vaccine increase nationwide, it anticipates wastage may increase."
Case count by United States regions: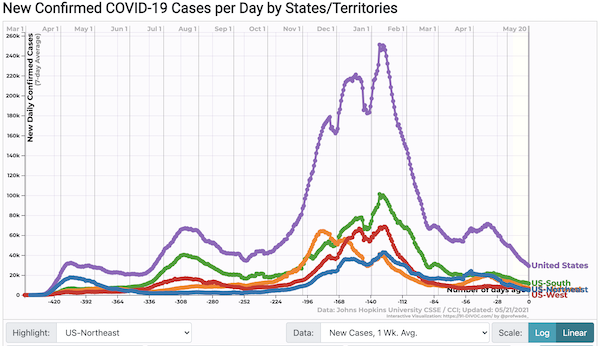 Continued good news. Since this is a weekly average, the Biden/CDC masking kerfuffle will not show up for awhile, if indeed it does show up. (As promised, I killed the Midwest map, now that Michigan has fallen back into the pack, and replaced it with a World map, below.)
Big states (New York, Florida, Texas, California):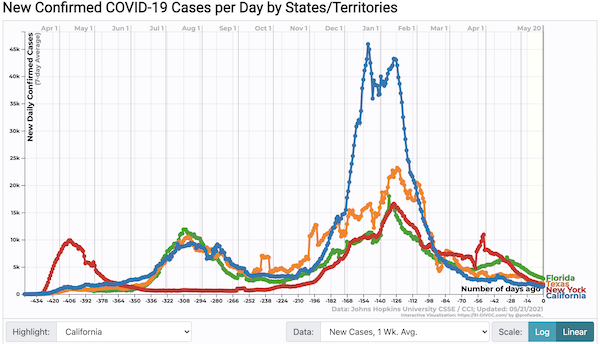 Continued good news.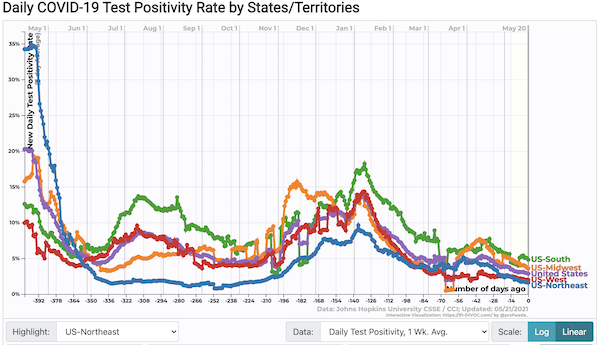 The West is flat. The South is falling again.
DIVOC-91 no longer updates hospitalization and death so I went and found some substitutes; neither provide regional data.
Hospitalization (CDC):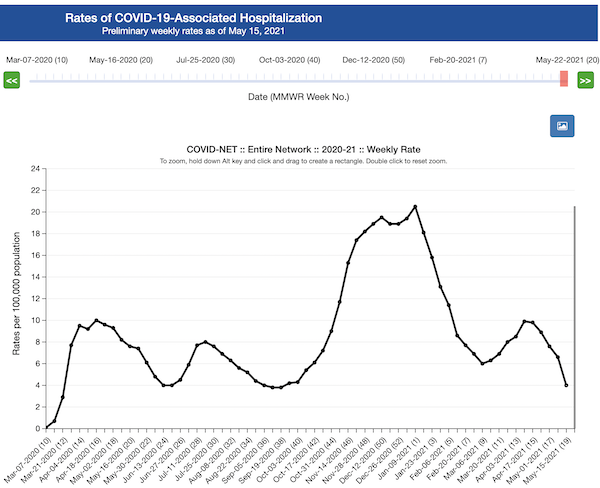 More good news.
Deaths (Our World in Data):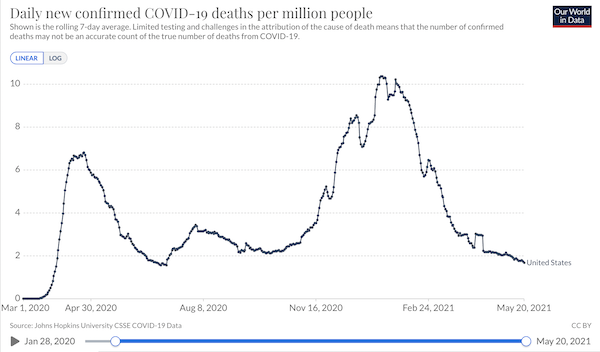 More good news.
NEW Covid cases worldwide: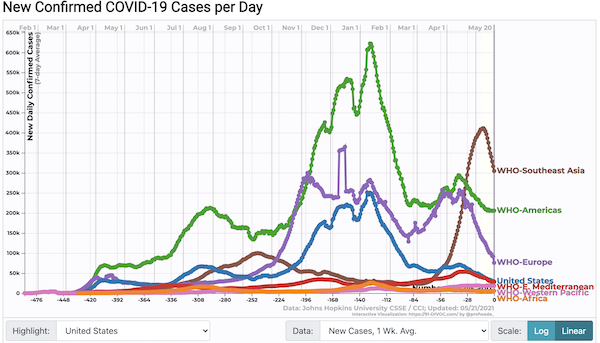 I think it makes more sense to look at all regions rather than individual countries (even if we know, for example, that WHO's Southeast Asia is mostly India by sheer weight of numbers, even though many individual countries are having issues). And why is Africa such an enormous outlier? Readers?
* * *
Politics
"But what is government itself, but the greatest of all reflections on human nature?" –James Madison, Federalist 51
"They had one weapon left and both knew it: treachery." –Frank Herbert, Dune
"They had learned nothing, and forgotten nothing." –Charles Maurice de Talleyrand-Périgord
Biden Administration
UPDATE "White House budget plan set to leave out some health care proposals from campaign" [WaPo]. "White House officials have left key Biden campaign promises on health care out of their coming budget proposal, as the administration focuses on trying to pass what it has already introduced, according to four people briefed on the internal matter. The White House jettisoned months of planning from agency staff as their initial plan could fuel criticisms that the administration is pushing new spending programs too aggressively. The budget will not include President Biden's campaign pledge to enact a public option to create a government-run health insurance program, or his pledge to cut prescription drug costs, the people said. The people spoke on the condition of anonymity to describe internal administration deliberations." • Of course. Joe Biden owes me six hundred bucks.

UPDATE "Biden's bank shot to win GOP support for his infrastructure bill" [Politico]. "The Biden White House is aware how hard it will be to convince congressional Republicans to support an ambitious infrastructure and jobs proposal. And so, they've enlisted other Republicans to help them do the convincing. Over the past few weeks, senior White House officials, Cabinet members, and President Joe Biden himself have held dozens of calls or meetings with local Republican leaders to talk roads, bridges, and modern infrastructure investments. Much of the outreach has been done in private, with the White House not providing readouts of what was discussed. But in conversations with more than a dozen local officials familiar with the White House's efforts — including those on the receiving end of the outreach — a few themes emerge. Chief among them is that the White House wants local GOP mayors and governors to convince their Republican representatives in Congress of the need to back the president's proposals." • Let me know how that works out.

"Has Biden Changed? He Tells Us" [David Brooks, New York Times]. "Another piece of his basic worldview comes from 20th-century Catholic social teaching. He said that his father loved the French Catholic philosopher Jacques Maritain, and later in the conversation mentioned that he, too, was guided by Maritain. Like most of the major figures of Catholic social teaching, Maritain placed great emphasis on social solidarity, the organic interdependence of people and communities. If you're drenched in Maritain, you believe we have serious responsibilities for one another…. The Biden administration has broken with the thinking that dominated the Clinton and Obama administrations in other ways as well, though it's not clear how much of this is driven by Biden and how much by the team around him. As Ronald Brownstein noted in The Atlantic, for years the dominant Democratic view was that wages would rise if you gave people more skills and education. The dominant Biden era view is that you also have to give people more union bargaining power to balance corporate power. For years Democrats predominantly believed you could help Black Americans if you designed colorblind policies aimed at the working class. Now Biden officials are more likely to believe you have to create race-conscious policies that explicitly benefit Blacks." • It's been a long, long time since Democrats designed "policies aimed at the working class."

"Joe Biden Declares That America Is A 'Product Of A Document' Not Geography, Ethnicity, or Religion" [The Political Insider]. "The president made these comments as he signed the Coronavirus Hate Crimes Act at the White House…. 'We're unique among all nations in that we are uniquely a product of a document — not an ethnicity, not a religion, not a geography, of a document,' Biden said. 'Think about this, I'm being literal,' he added. 'Uniquely a product of a document.'" • Hmm.

"What is Bidenomics?" [Financial Times]. "If Biden's strategy can push the US economy to a permanently higher or even faster growth path, everyone can, in fact, be made better off — including those he is asking to pay more in tax. And Yellen wields precisely this argument: 'We are confident that the investments and tax proposals in the Jobs Plan, taken as a package, will enhance the net profitability of our corporations and improve their global competitiveness. We hope that business leaders will see it this way and support the Jobs Plan.' The other implication is that the debate about whether Bidenomics will stoke inflation misses one big point. If the administration is correct that its policies can shift the US economy to a higher and possibly faster growth path, then its supply capacity will expand to satisfy more of the current demand stimulus than standard analysis would predict. A positive productivity shock is disinflationary, after all, so the productivity theses built into the administration's arguments imply that price pressures may abate and let the Federal Reserve keep interest rates low. Do not be blinded by the size of the spending. This is supply-side economics." • Interesting.

"Progressives nearly tank House Democrats' Capitol security bill" [The Hill]. "A small group of progressives known as the 'squad' came close to sinking the House Democrats' Capitol security spending bill on Thursday over concerns about Capitol Police accountability. Democratic Reps. Cori Bush (Mo.), Ilhan Omar (Minn.) and Ayanna Pressley (Mass.) all voted 'no,' while Reps. Alexandria Ocasio-Cortez (N.Y.), Rashida Tlaib (Mich.) and Jamaal Bowman (N.Y.) voted 'present.' Their opposition created a dramatic scene on the House floor leading up to the vote, as Democratic leaders scrambled to secure the necessary support and prevent an embarrassing loss on a high-profile proposal to address the security failures of the Jan. 6 insurrection. Every Republican opposed the measure, leaving little room for error. Voting 'present' allowed those three Democrats to express their frustrations without actually tanking the legislation. If all six of the Democratic defectors had voted 'no' with all Republicans, then the bill would have failed. In the end, Democratic leaders secured passage only narrowly in the nail-biter 213-212 vote with the three 'present' votes. The near-miss offered the latest example of the challenges Democrats face with a historically tight House majority, in which they currently hold only 219 seats over Republicans' 211, with five seats vacant."
Democrats en Deshabille
"Ex-FBI chief gave $100K to Biden grandkid trust as he sought 'future work': Hunter emails" [New York Post]. "Former FBI Director Louis Freeh gave $100,000 to a trust for two of President Biden's grandchildren as he sought to pursue 'some very good and profitable matters' with him, newly surfaced emails revealed Thursday. Freeh apparently made the gift in April 2016 — when Biden was the outgoing vice president — and shortly before he told Biden's son Hunter, 'I would be delighted to do future work with you,' according to the emails." • Of course, if this were Trump, there would already be anonymous leaks about Freeh's Russian connections, and the indictments would already be being prepared. So it goes.
2020
"The Inside Story of the Biden-Harris Debate Blowup" [Politico]. "Debate prep sessions are like writers' rooms. Toss out ideas, work them out, shoot them down, build them back in." • BWA-HA-HA-HA!!!! Another case of West Wing Brain!
Stats Watch
Rail: "Rail Week Ending 15 May 2021 – Growth Surge Continues" [Econintersect]. "Total rail traffic – which has been in contraction for over one year – is now surging as it is being compared to the pandemic lockdown period one year ago."
Housing: "United States Existing Home Sales" [Trading Economics]. "Existing home sales in the US unexpectedly sank 2.7 percent to 5.858 million in April of 2021, compared to forecasts of a 2 percent rise. It marks three consecutive months of declines as housing supply continues to fall short of demand. "We'll see more inventory come to the market later this year as further COVID-19 vaccinations are administered and potential home sellers become more comfortable listing and showing their homes. The falling number of homeowners in mortgage forbearance will also bring about more inventory", said Lawrence Yun, NAR's chief economist."
* * *
The Bezzle: "TRANSCRIPT: Aaron Lammer On Yield Farming, DeFi, And Ethereum" (podcast) [Tracy Alloway and Joe Weisenthal, "Odd Lots," Bloomberg]. "We speak with Aaron Lammer, the host of the Exit Scam podcast and an avid DeFi* trader." LAMMER: "So I have most of my DeFi money in things like the top 10 DeFi tokens, things like Uniswap that you've heard of. Um, and then as you say, 2000 being added a day, there's a lot of really tiny cap coins. So I'll admit I for a period would scan the top 500 coins top gainers. Um, when NFTs were big, I just looked through the entire list on CoinGecko of NFT-related coins. I'm looking for a good logo. I'm looking for a clear presentation that offers what the value is. And above all, I'm looking at the market cap." NOTE * "DeFi stands for 'decentralized finance' and refers to the ecosystem comprised of financial applications that are being developed on top of blockchain systems."
The Bezzle: "Bitcoin's growing energy problem: 'It's a dirty currency'" [Financial Times]. "'Bitcoin alone consumes as much electricity as a medium-sized European country," says Professor Brian Lucey at Trinity College Dublin. "This is a stunning amount of electricity. It's a dirty business. It's a dirty currency.' Economic authorities are starting to take notice. The European Central Bank on Wednesday described cryptoassets' 'exorbitant carbon footprint' as 'grounds for concern'. In a paper earlier this month, Italy's central bank said the eurozone's payments system, Tips, had a carbon footprint 40,000 times smaller than that of bitcoin in 2019. Measuring precisely how dirty bitcoin is has become a cottage industry in itself. The latest calculation from Cambridge university's Bitcoin Electricity Consumption index suggests that bitcoin mining consumes 133.68 terawatt hours a year of electricity — a best-guess tally that has risen consistently for the past five years. That places it just above Sweden, at 131.8TWh of electricity usage in 2020, and just below Malaysia, at 147.21TWh…. The true figure for bitcoin could in fact be much higher; Cambridge's extreme worst-case scenario calculation, based on miners using the least energy-efficient computers on the market as long as the process is still profitable, has peeled away from its central estimate sharply since November last year as the price of bitcoin has rocketed. The rationale: a rising bitcoin price attracts new miners, and also means that mining with older, less efficient equipment, makes financial sense. The higher price also means the machines producing bitcoin are forced to complete ever-tougher puzzles in search of their quarry. At the upper limit, bitcoin's electricity consumption would be about 500TWh a year. "
The Bezzle: This is brilliant, regardless:
When crypto evangelists show proof of concept things that their currency can do that fiat currencies supposedly can't pic.twitter.com/RYpvr6GaL4

— Sid Verma (@_SidVerma) May 21, 2021
Supply Chain: "Kansas City Southern to merge with Canadian National, paid Canadian Pacific $700 million breakup fee" [MarketWatch]. "Shares of Kansas City Southern rose 0.6% in Friday morning trading, after the Missouri-based railroad company said it has terminated its merger agreement with Canadian Pacific Railway Ltd., and will go with it determined was a 'superior' bid from Canadian National Railway Co. As a result, Kansas City Southern will pay Canadian Pacific a $700 million breakup fee, which will be reimbursed by Canadian National."
* * *
Today's Fear & Greed Index: 34 Fear (previous close: 37 Fear) [CNN]. One week ago: 40 (Fear). (0 is Extreme Fear; 100 is Extreme Greed). Last updated May 21 at 12:22pm.
Health Care
"In-Depth: Delaying the second COVID-19 vaccine dose has benefits and drawbacks" [ABC10]. "A new study suggests delaying the second dose of the Pfizer COVID-19 vaccine improves an important part of the immune response in older recipients. U.K. researchers measured immune cells in a group of people aged 80 and up. They found that waiting 12 weeks for the second jab generated 3.5 times more virus-fighting antibodies than the standard 3-week interval. Scientists have observed this pattern in other experimental vaccines, said Dr. Shane Crotty, a professor at the La Jolla Institute for Immunology. 'After that first immunization, your immune system is essentially still learning about the target for quite a while,' he said. 'It's not done learning at three weeks, and it's not done learning at five weeks.' By 'learning,' he means the white blood cells that make antibodies, called B cells, actually evolve when they encounter a pathogen, and that takes time. 'If you come back with a second immunization later, you take more advantage of that learning,' he said." • This one is making the rounds. Note that the link is a preprint. Participants: "172 people aged over 80 years of age."
"'Swept under the carpet': When health records are held ransom, patients are the hardest hit — and last to know" [STAT]. "Consumers might assume their health care providers are securely maintained, HIPAA-guarded fortresses. They might also expect to be made aware if and when those protections were breached, especially by criminals. But under federal law, providers are only required to publicly report breaches of protected health information impacting more than 500 people. According to the federal health department — which maintains a database of reported breaches experts have dubbed the 'Portal of Shame' — the health records of 23 million individuals were breached in the U.S. last year, with another 16.6 million so far in 2021. Experts say those figures are almost certainly an undercount. 'It's an unknown fraction of what's actually occurring,' said health care cybersecurity expert Nick Culbertson, 'a fraction of a sliver of a slice of a piece."" • I wonder how many insurance companies buy those stolen records so they can deny people care.
Police State Watch
"Police Use Painful Dog Bites To Make People Obey" [The Marshall Project]. "'Pain compliance' is a catch-all term for the methods police officers use to get a suspect under control. The idea is to apply quick, targeted amounts of pain—digging a thumb into a sensitive pressure point, twisting a wrist, stunning with a Taser—to force a person to follow orders. And police across the country, from Utah, to Ohio, to Arizona, also use dogs to hurt people in an effort to make them obey. The Marshall Project, AL.com, IndyStar, and the Invisible Institute examined more than 150 police dog bites nationwide and found numerous instances of their use for pain compliance—often on people who were unarmed and suspected only of minor offenses like traffic violations. Several suffered severe injuries, requiring surgery or months of recovery." • "Pain compliance." That's a keeper. I mean, it works for the reserve army of labor.
Water
"California governor declares drought emergency in 41 counties" [Reuters]. "California Governor Gavin Newsom on Monday issued an expanded "drought emergency proclamation" for 41 of the state's 58 counties, citing above-average temperatures and dry conditions for April and May. Newsom, a first-term Democrat facing a recall election over his handling of the coronavirus pandemic, directed the state's water board to consider modifying requirements for reservoir releases and take other conservation measures. The declaration also gives the state flexibility in regulatory requirements to mitigate drought impacts, which Newsom attributed in part to global climate change…. The move was criticized by Save California Salmon, a wildlife protection group that accused Newsom of favoring big agriculture interests."
Our Famously Free Press
"An interview with Emily Wilder, recent Stanford grad fired from AP job over criticisms of Israel" [San Francisco Chronicle]. "Wilder, who worked with the Arizona Republic upon graduation until this May, became a national news story after the Stanford College Republicans wrote a Twitter thread Monday highlighting Wilder's pro-Palestine activism in college as well as some of her old Facebook posts. In one post, Wilder referred to the late Sheldon Adelson — who was a Jewish billionaire, Republican mega-donor and staunch defender of Israel — as a 'naked mole rat.'" • Seems legit. What's the issue?
"'Vulture' Fund Alden Global, Known For Slashing Newsrooms, Buys Tribune Papers" [NPR]. "Alden already owns roughly 100 newspapers and 200 publications. In interviews with NPR, journalists who have worked at these publications warned about the hedge fund's track record of steep cuts, consolidations and sales of real estate assets. In one six-year period, according to the News Guild union, Alden cut staff at guild-represented papers by an average of 75 percent. Former executives and news leaders in markets including Northern California, Denver, and Connecticut sketched out ways in which Alden made recurring layoffs and buyouts a way of life. They say Alden's cost-cutting measures made it much harder for journalists to expend the time and resources needed to hold public officials, corporations and other major players accountable through solid reporting. In an audio recording obtained by NPR, Tribune Publishing chief content officer Colin McMahon warned journalists at Chicago Tribune in February that Alden sought to nearly double profits at its newspapers. Those profit margins currently range from 10 to 13 percent, according to McMahon; he told staffers that Alden would want them to exceed 20 percent. (McMahon is also editor in chief of Chicago Tribune.) That's particularly daunting given that Tribune Publishing already has severely reduced headcounts at its newspapers. The Baltimore Sun newsroom, for example, has some 80-odd journalists, down from 400 two decades ago."
"Inside the Simon & Schuster Blowup Over Its Mike Pence Book Deal" [Wall Street Journal]. "Publishing the [recent Mike Pence memoir], some staffers said at the session, would be a betrayal of the company's promises to oppose bigotry and make minority employees feel safe. A petition soon followed, signed by more than 200 staff members, or 14% of the staff, plus about 3,500 outside supporters, including Simon & Schuster authors. It demanded that the company scrap the Pence memoir, part of a two-book deal, and refrain from making any deals with members of the Trump administration. It said Mr. Pence advocated for policies that were racist, sexist and discriminatory, and that publishing the book would be 'legitimizing bigotry.'" • You can be sure that these deeply principled staffers would have no trouble at all publishing a book by the war criminal President who gave Michelle candy, or the President who destroyed a generation of Black wealth with his foreclosure policies. "Safe," forsooth. Grow the [family blog] up. (I would speculate that the eternal quest for "safe spaces" is in fact displaced anxiety for the class position of the PMC, which is "predatory precarity.")
"Inside the disinformation machine: How far-right media brainwash millions daily" [Flux]. Timeline:
Over the past two decades, the American media landscape has been transformed. At the turn of the last century, a hundred-year-old news canon still reigned supreme: professional journalism from wire services such as the Associated Press and leading newspapers set a national news agenda. Magazines, broadcasters, and local newspapers added their own reporting, but paid close attention to the national template. The formula worked: the late 20th century was the Golden Age of the journalism business. Professional news organizations played a powerful role in society, and ad-rich newspapers and broadcasters made record profits.

That all changed in the early 2000's, when the new digital platforms — including Google, Facebook, and Craigslist — challenged that structure and blew up its business model. Journalism's mainstays, lucrative display and classified advertising, migrated online with the advantage of reaching targeted consumers. Audiences who had been told "content wants to be free" balked at the paywalls that compensated journalists to report and editors to vet their work.

As a result, between 2000 and 2020, network news divisions closed scores of foreign and national bureaus, and one in five US newspapers failed. Over a thousand counties, most of them rural, were left with no newspaper at all.

But nature abhors a vacuum, and as professional journalism disappeared from thousands of communities, new media models stood ready to take its place. The Radical Right's media ecosystem was built on previous decades of media development through religious broadcasting and political direct mail. They benefited not just from the news deserts, they also combined with the opportunities presented by new media technologies. These would mushroom into an entire ecosystem of religious fundamentalist radio programs and podcasts, many of them disguised as "news programs," as well as countless digital platforms and social media initiatives that have been feeding a toxic diet of political propaganda and COVID misinformation to their audiences in recent years.

To understand this ecosystem, it's useful to explore its roots. Many of these can be traced to a shadowy organization called the Council for National Policy, founded in 1981 in the wake of Reagan's election. Its founding fathers were strategist Paul Weyrich, networker Morton Blackwell, and mass marketer Richard Viguerie.
Zeitgeist Watch
"Obama says UFOs are out there. But are they aliens or humans?" [MSNBC]. "Even former President Barack Obama weighed in on these objects Monday. 'What is true, and I'm actually being serious here, is that there is footage and records of objects in the skies that we don't know exactly what they are,' Obama said on CBS' 'The Late Late Show with James Corden.' (Sidebar: What a bit of synergy there for the '60 Minutes' segment; well done, everyone on the CBS crew who made that happen.)" • Synergy.
I hate to give Elon Mush credit for anything, but:
Strongest argument against aliens pic.twitter.com/eF2FFZpJQE

— Elon Musk (@elonmusk) March 23, 2021
Imperial Collapse Watch
I'm sure there's a metaphor here somewhere:
Cages like this one were installed in open stairwells at state hospitals to prevent patients from throwing themselves/others down the open interior. While they did help prevent patient falls, they did little to prevent stairs from falling down themselves.https://t.co/i1mcIz0NHB pic.twitter.com/XNm3qoEJkx

— Abandoned America 🏚️🇺🇲 (@abandonedameric) May 20, 2021
Class Warfare
UPDATE "What if the U.S. had a national maximum wage?" [Janet Nguyen, MarketPlace]. ""A maximum wage would send a message that there's more to life than chasing after ever greater amounts of money," [Sam Pizzigati, co-editor of Inequality.org] said. 'Less inequality, less concentrated wealth, less power among a small elite would be good for our democracy.' To Pizzigati, the ideal ratio for CEO-to-worker compensation would be 10-to-1. 'If we want a society where people can acknowledge each other's humanity, we have to be close enough to them in income that we can really see them and understand the life that they're leading.' He said we were closer to this formula in the 1960s, when it stood at about 20-to-1. However, Ioana Marinescu, an assistant professor at the University of Pennsylvania, said there could be potential downsides to a maximum wage policy. It could encourage firms to eliminate low-paid employees and instead hire contractors or freelancers to do the same work without formally being part of the company. That would make the pay gap between executives and the company's direct employees seem smaller, she explained, making it appear that everyone is well-paid. And even with a higher tax rate, Marinescu said, if companies were disincentivized from paying top executives lavishly, there's a question of what they will do with the money they save. Instead of redirecting it to lower-paid workers, Marinescu said it could be used to reward shareholders." • Somehow I don't see Jeff Bezos accepting 10:1 peacefully.
"Workers feel burned by bosses' broken promises about the future of remote working and about 'BS' corporate culture" [MarketWatch]. "A recent survey of full-time corporate or government employees found that two-thirds say their employers either have not communicated a post-pandemic office strategy or have only vaguely done so… Whether workers said they were staying remote for now, returning to the office or still unsure, we found that nearly a quarter of the people in our sample said their leaders were not giving them meaningful explanations of what was driving the policy. Even worse, the explanations sometimes felt confusing or insulting. One worker complained that the manager 'wanted butts in seats because we couldn't be trusted to [work from home] even though we'd been doing it since last March,' adding: 'I'm giving my notice on Monday.' Another, whose company issued a two-week timeline for all to return to the office, griped: 'Our leadership felt people weren't as productive at home. While as a company we've hit most of our goals for the year.…Makes no sense.' After a long period of office shutterings, it stands to reason workers would need time to readjust to office life, a point expressed in recent survey results. Employers that quickly flip the switch in calling workers back and do so with poor clarifying rationale risk appearing tone-deaf. It suggests a lack of trust in productivity at a time when many workers report putting in more effort than ever and being strained by the increased digital intensity of their job—that is, the growing number of online meetings and chats. And even when companies said they wouldn't require a return to the office, workers still faulted them for their motives, which many employees described as financially motivated."
UPDATE "Can a Driver Uprising Make Food Apps Deliver?" [Labor Notes]. "These immigrant gig workers—who toil for apps like Uber Eats, DoorDash, GrubHub, and Relay—drew headlines in April when 2,000 drivers snarled traffic, whooshing on their e-bikes and scooters towards City Hall in the pouring rain. They are demanding better wages and improved working conditions, including access to bathrooms and protection from theft and assault. They have a powerful ally in the building service union 32BJ SEIU, bolstering their existing partnership with a Brooklyn-based worker center called Worker's Justice Project (WJP). Estimates put the number of app-based food delivery drivers between 50,000 and 80,000 in New York City alone. Lionized as essential, immigrant workers have also been treated as disposable. A year ago, when lockdowns allowed some workers the flexibility to work from home, others—especially low-wage immigrants in housekeeping, food service, and construction—were laid off and cast out into the streets. They needed a job, fast, with no-frills onboarding. This made them easy marks for temp agencies and unscrupulous contractors. Among the most predatory were app-based companies, offering an endless supply of gigs and the convenience of signing up on a mobile phone. Legions of immigrant workers flocked to these platforms to schlep food and commodities to New Yorkers sheltering at home. Now these workers are testing their newfound power in numbers, building up committees throughout the boroughs, and notching their first wins against the tech giants."
UPDATE "Cashing in on Our Homes: Billionaire Landlords Profit as Millions Face Eviction" [Institute for Policy Studies]. From March 2021, still germane. "There are 61 individual billionaire landlords in America with collective wealth totaling $240.9 billion.
These billionaire landlords have seen their wealth increase $24.4 billion since mid-March 2020. Corporate landlords have a worsening track record of poor maintenance, rising rents and fees, and harassment of tenants and evictions. 20 corporate landlord companies are responsible for at least 3,152 evictions across the U.S. during the pandemic. Many large landlords received financial support from the coronavirus relief package — sometimes while continuing to file eviction notices against their tenants. One in five renters weren't caught up on their rent as of early February 2021. This represents 13.5 million Americans. If being behind on rent were a state, it would be the fifth-largest state in America…. The 20 corporate landlords in this report…. own or manage almost 2 million units of housing — about 4 percent of all rental housing units in the United States, or more than one in 25 rental units nationwide. Have amassed at least $245 billion in 'cash on hand'— loans, cash and other funds from investors, banks and financial firms — to purchase homes and companies active in the market."
UPDATE I like the @BlackSocialists account a lot; they strike me as level-headed and disciplined. This thread descriibes what sounds like an interesting project:
The UI/UX design process for the @DualPowerApp has begun.

We have partnered with @hydraulics_nyc (via @sanctucompu) to not only craft something innovative, but to do so via an open process that involves @BlackSocialists's Open Tech Development (OTD) team (and following) as well.

— The Dual Power App (@DualPowerApp) May 20, 2021
In the unlikely event any NCer gets involved, please report back!
* * *
Readers, feel free to contact me at lambert [UNDERSCORE] strether [DOT] corrente [AT] yahoo [DOT] com, with (a) links, and even better (b) sources I should curate regularly, (c) how to send me a check if you are allergic to PayPal, and (d) to find out how to send me images of plants. Vegetables are fine! Fungi and coral are deemed to be honorary plants! If you want your handle to appear as a credit, please place it at the start of your mail in parentheses: (thus). Otherwise, I will anonymize by using your initials. See the previous Water Cooler (with plant) here. Today's plant (CS):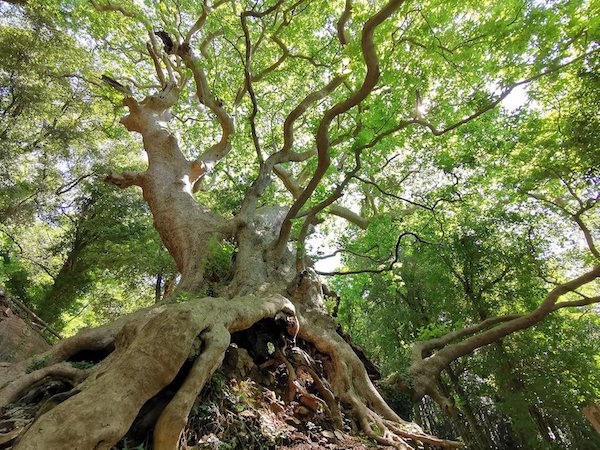 This year's Second Place Winner from the Tree of the Year site, suggested by CS. About the tree:
The Curinga plane tree is located in a very unusual position: overlooking the Tyrrhenian Sea, it juts out over a small stream. From the height of its majesty, this "guardian" seems to lovingly watch over the forest. It is thought to be planted by Basilian monks who arrived in Calabria more than a thousand years ago and that built the hermitage of Sant'Elia, but its trunk may be even older. Its trunk is completely hollow and has an opening more than 3 metres wide; whoever enters it has the feeling of being inside an incredible woody cave. Thanks to the huge size of its circumference it is now the largest plane tree in Italy.
* * *
Readers: Water Cooler is a standalone entity not covered by the recently concluded and — thank you! — successful annual NC fundraiser. So if you see a link you especially like, or an item you wouldn't see anywhere else, please do not hesitate to express your appreciation in tangible form. Remember, a tip jar is for tipping! Regular positive feedback both makes me feel good and lets me know I'm on the right track with coverage. When I get no donations for five or ten days I get worried. More tangibly, a constant trickle of donations helps me with expenses, and I factor in that trickle when setting fundraising goals:
Here is the screen that will appear, which I have helpfully annotated.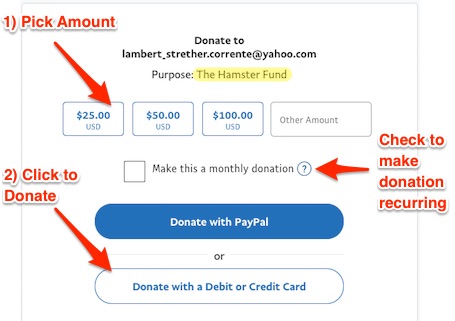 If you hate PayPal, you can email me at lambert [UNDERSCORE] strether [DOT] corrente [AT] yahoo [DOT] com, and I will give you directions on how to send a check. Thank you!