By Lambert Strether of Corrente.
Bird Song of the Day~
A duet!
* * *
#COVID19
At reader request, I've added this daily chart from 91-DIVOC. The data is the Johns Hopkins CSSE data. Here is the site.
I feel I'm engaging in a macabre form of tape-watching. All the charts are becoming dull — approaching nominal, if you accept the "new normal" of cases, for example.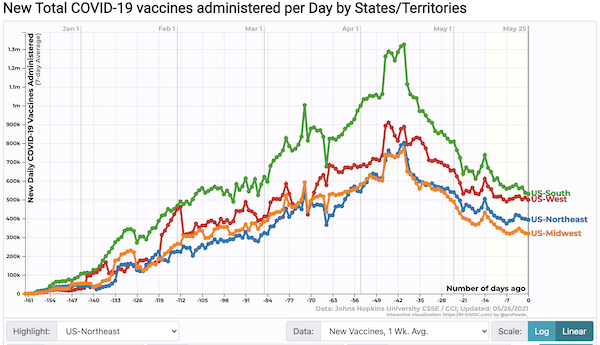 Whoopsie. Odd how the curves fluctuate together for the last month or so; apparently social, political, regional, cultural distinctions don't show up in the aggregates. It's as if the issue has been nationalized.
Case count by United States regions: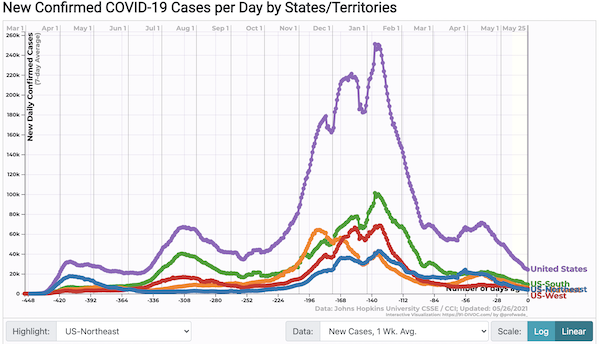 Continued good news. National case count is now slightly below the Northeast's case count was when New York was an enormous crisis.
Big states (New York, Florida, Texas, California):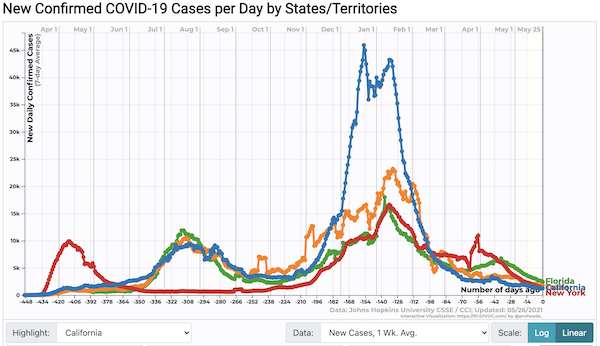 Continued good news.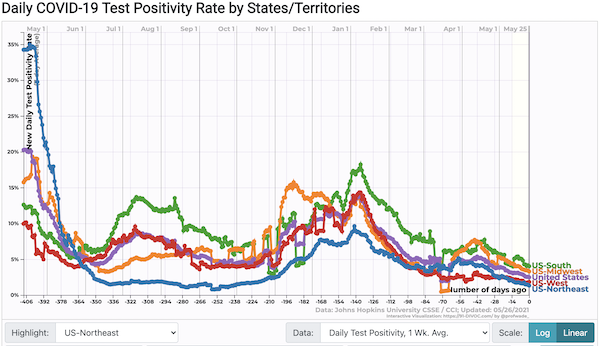 More good news.
DIVOC-91 no longer updates hospitalization and death so I went and found some substitutes; neither provide regional data.
Hospitalization (CDC):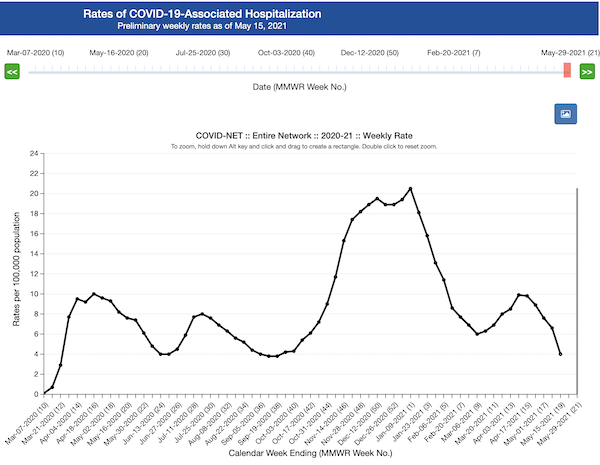 More good news.
Deaths (Our World in Data):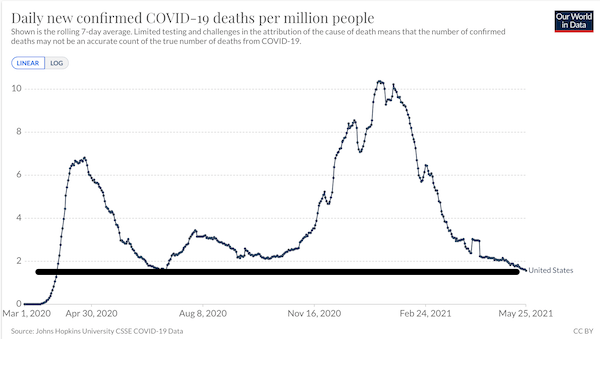 More good news. I have added an anti-triumphalist black line.
Covid cases worldwide:
]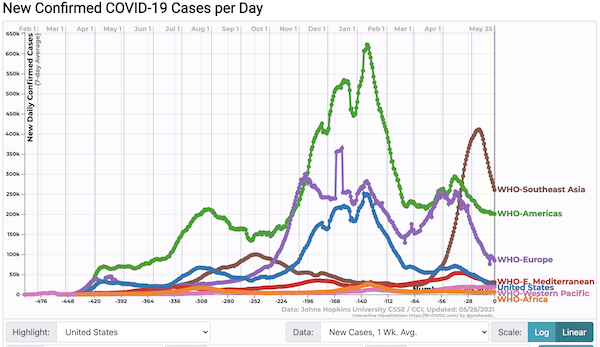 =
I think it makes more sense to look at all regions rather than individual countries (even if we know, for example, that WHO's Southeast Asia is mostly India by sheer weight of numbers, even though many individual countries are having issues). And why is Africa such an enormous outlier? Readers?
* * *
Politics
"But what is government itself, but the greatest of all reflections on human nature?" –James Madison, Federalist 51
"They had one weapon left and both knew it: treachery." –Frank Herbert, Dune
"They had learned nothing, and forgotten nothing." –Charles Maurice de Talleyrand-Périgord
Biden Administration
"Biden administration unveils offshore wind plan for California" [Los Angeles Times]. "Under the plan, the administration would allow wind power projects to be built in federal waters off the coast of Central California northwest of Morro Bay, as well as at a second location west of Humboldt Bay. Officials estimate that the two areas combined could generate 4,600 megawatts of electricity — enough to power 1.6 million homes. The government's plans represent a 'breakthrough,' said Gina McCarthy, President Biden's senior climate change advisor. 'It's an announcement that will set the stage for the long-term development of clean energy and the growth of a brand-new made-in-America industry.' Gov. Gavin Newsom praised the plans, noting that California had spent years trying to advance offshore wind power under the Trump administration, with no success. The state, he said, will accelerate its own environmental review process in order to speed up the projects, which he estimated would be built at least 20 miles offshore with enough space for roughly 380 wind turbines."

"Second gentleman Doug Emhoff is hitting the campaign trail" [Politico]. "Emhoff is no stranger to the trail. He was a mainstay of Vice President Kamala Harris' primary bid and did solo events during the general election after she joined the Biden ticket. Emhoff has spent the vast majority of his time as second gentleman being dispatched by the administration for events dealing with the pandemic, local businesses hit hard by the economic downturn and pushing for the president's infrastructure plan."

"Sanders drops bid to block Biden's Israel arms sale" [The Hill]. "Sanders was short of the votes needed to get the resolution through the Senate. Under the Arms Export Control Act, Sanders needed a simple majority, but faced opposition from Democrats."

"Top Democrats jump-start push to offer a health care 'public option,' a Biden promise" [NBC]. "Two Democratic committee chairs overseeing health care policy are seeking to jump-start a legislative push to craft a "public option" to compete with private insurers. House Energy and Commerce Chair Frank Pallone, D-N.J., and Senate Health, Education, Labor and Pensions Chair Patty Murray, D-Wash., wrote a letter to interested parties Wednesday seeking their input by July 31 on how to structure a government-provided plan. 'We believe bold steps are necessary in order to achieve universal coverage and lower health care costs,' they wrote. 'Health care affordability remains a challenge for many American families despite the fact that the United States spends more on health care than any other country.' …. A 'public option' was one of President Joe Biden's campaign promises, billed as a moderate alternative to rival Bernie Sanders' plan to scrap private coverage and put all Americans in Medicare. But Biden has not included the policy in his economic rescue and stimulus proposals so far, instead seeking to infuse cash in the ACA exchanges and invest in Covid-19 vaccines. But the Democrats are signaling it is still a priority, and aim to introduce a bill , a Murray aide said." • Slow as molasses. Biden isn't the only "sleepy" Democrat.

"Joe Biden's Liberalism Isn't All It's Cracked Up to Be" [Jacobin]. "The perceived change in Biden has yielded what can safely be called a deluge of media commentary drawing comparisons between the new administration and those of FDR and LBJ…. For what it's worth, a nearly identical media cycle surrounded the early months of the last Democratic president and was subsequently less than borne out by events. More importantly, though, it remains to be seen whether the administration's embrace of new spending will really go beyond the current context of economic and social crisis: new programs established, cash transfers and social benefits made permanent, budgetary taboos broken in the long-term, etc…. As recent reporting from the Washington Post makes clear, the next Biden budget proposal (expected later this week) will jettison key campaign commitments: most notably its pledge to overhaul health care policy by enacting a public option, arguably the centerpiece of its domestic agenda during last year's Democratic primaries. Also on the chopping block this week are promised measures to lower prescription drug costs, raise the estate tax, and relieve student debt (an issue on which the new Biden has quite audibly begun to sound like the old one)…. the language currently emerging from the White House is potentially so revealing, its increasingly conservative lawmaking strategy beginning to look a lot more like garden variety liberal triangulation than canny maneuvering… . Between these noises and a series of utterly quixotic attempts to strike a bipartisan deal on infrastructure spending, we are left with a picture of liberal governance that looks more conventionally managerial than it does transformative with each passing week — and a White House that seems increasingly likely to follow recent precedent by gradually shedding any serious effort to make permanent changes to the political or economic status quo." • "Fundamentally, nothing will change."

"Biden Concerned Ambitious Agenda Could Be Stalled By Him Not Really Caring If It Happens Or Not" [The Onion]. • As above…
Democrats en Deshabille
"New head of largest state worker union won't back Newsom" [Associated Press]. Interesting nugget: "[Newly-elected California SEIU Local 1000 President] Richard Louis Brown promised to end the union's political involvement generally, a step he said is needed to draw support from state employees across the political spectrum. With its heavy involvement supporting Democratic candidates, 'you're alienating half your union,' he said. 'You can't unify your union if you're involved in politics.'" • It's probably to much to hope for that Brown will do the right thing re: CalPERS. But it sounds like at least he won't be actively doing the wrong thing. The whole article is worth a read, because it sounds like an earthquake in California state politics.

"'Time For Self Care': Dianne Morales' Campaign Goes Dark As Sources Say Multiple Senior Staff Quit" [The Uprising]. "Morales, a relative political unknown, made waves in the mayor's race with an unabashedly progressive platform. Despite exceeding expectations, thus far, she has failed to break into the top tier of candidates in most polls. Signs of more serious trouble for her campaign first emerged on Tuesday evening when author, reporter, and general man about town Ross Barkan tweeted "multiple sources telling me senior staff have quit the @Dianne4NYC campaign over a lack of pay.'"
Realignment and Legitimacy
"Fighting the Last War, Losing the Current One?" [Cook Political Report]. "Last September, KFF and the Cook Political Report teamed up to survey voters in three critical Sun Belt states — Florida, North Carolina, and Arizona. Nine months later, KFF analysts Ashley Kirzinger, Audrey Kearney and Mollyann Brody, went back to match the results from those surveys with actual voting records from Election Day to "better understand the demographics of voters who cast ballots during this election…. Conventional wisdom has long held that a surge in Latino and younger voters would disproportionately help Democrats. Yet, KFF concluded that "neither party had an advantage with low propensity voters." According to the KFF analysis, 23 percent of Democrats and 21 percent of Republicans in Florida, North Carolina and Arizona voted in 2020 but not in 2016. …. Those low-propensity voters are also the most likely to sit out an election if they find that the process is too complicated or restrictive…. Given that many of these new voters were GOP voters, culling permanent absentee voter rolls and/or making it more challenging for a voter to cast a ballot absentee could end up depriving Republicans of some of the new participants to the electorate. Instead of rolling out a welcome mat to infrequent voters, Republicans may have put up a barrier."
Stats Watch
There are no official statistics of note today.
* * *
Shipping: "UPS establishes worldwide cold-chain logistics unit" [Freight Waves]. "UPS Inc. said Monday that it has consolidated all its cold-chain logistics and delivery services into a dedicated global operation that falls under the Atlanta-based company's UPS Healthcare umbrella. The operation, called UPS Cold Chain Solutions, will more than double the company's worldwide freezer storage capacity to 1 million square feet, and in particular expand the size of UPS' European cold chain network, including a new facility in Italy. Dan Gagnon, UPS Healthcare's vice president of global health care strategy and marketing, said UPS will broaden relationships with airlines with proven pharmaceutical delivery capabilities, as well as continue using its own freighter fleet. Gagnon said UPS will also use more less-than-container load (LCL) ocean services to move specialized containers that don't require the immediate urgency that typically justifies the use of airfreight services. UPS has offered the cold-chain services on a relatively limited and ad hoc basis. However, the COVID-19 pandemic, and UPS' crucial role in distributing COVID vaccines, convinced the company to establish a dedicated operation to meet what is expected to be a growing worldwide need for biologics and other temperature-controlled drugs to treat a wide range of diseases. UPS cited data from the Biopharma Cold Chain Sourcebook that forecast 48% growth from 2018 to 2024 for the storage and delivery of drugs maintained at 2 to 8 degrees Celsius, the traditional range for most biologics." • Interesting. Go long chill.
The Bezzle: "Blockchain startup Propy plans first-ever auction of a real apartment as a collectible NFT" [Tech Crunch]. "The auction will be of the NFT attached to a modern, brand new, one-bedroom apartment in Kiev, Ukraine, that Propy previously made history with by making it the first-ever blockchain-based real estate sale." • Location, location, location!
The Bezzle: "Ethereum Closes In on Long-Sought Fix to Cut Energy Use Over 99%" [Bloomberg]. "Ethereum and better-known-rival Bitcoin both operate using a proof-of-work system that requires a global network of computers running around the clock. Software developers at Ethereum have been working for years to transition the blockchain to what's known as a proof-of-stake system — which uses a totally different approach to secure the network that also eliminates the carbon emissions issue…. The change — delayed time and again by complicated technical setbacks — couldn't come soon enough for the cryptocurrency world, which weathered one of its biggest bouts of volatility ever this month after Elon Musk announced that Tesla Inc. would stop accepting Bitcoin as payment for cars because of the surging energy use…. The transition Ethereum developers are making is a huge undertaking. They have to create, test and implement an entirely new way of securing their network while maintaining the existing blockchain. Then when the time is right, they'll merge the existing blockchain into the new architecture that uses proof of stake to verify transactions. The shift will also radically increase the speed of transactions that Ethereum can process, making it more competitive with established payment networks like Visa or Mastercard… In proof of stake, the cryptocurrency Ether replaces hardware and electricity as the capital cost. A minimum of 32 Ether is required for a user to stake on the new network. The more Ether a user stakes the better chance they have of being chosen to secure the next batch of transactions, which will be rewarded with a free, albeit smaller, amount of Ether just as in proof of work." • Hmm.
The Bezzle: "Opinion: It's time for Elon Musk to start telling the truth about autonomous driving" [MarketWatch]. "Tesla Chief Executive Officer Elon Musk has shown that he has an influential platform by roiling the cryptocurrency market with his tweets. It is time for him to use it for a more important purpose: Telling the truth about autonomous driving… Musk's hyperbole is nothing new, and is not unique to him, but when it comes to autonomous driving, the consequences can be dire. Tesla fans have latched on to Musk's words instead of the warnings in their owner's manuals, and publicly performed dangerous stunts like sitting in the back seat of their cars as they operate on Autopilot…. Tesla says its $10,000 computer for "self-driving capabilities" improves with software updates. The fine print on Tesla's website, however, says its cars come with "features [that] require active driver supervision and do not make the vehicle autonomous." …. While fans post videos on media platforms of dangerous maneuvers — such as a man in the Bay Area of California who was arrested for riding in the back seat, then got out of jail, purchased a new Tesla and did it again for a news crew — Tesla is also now a party to at least 16 lawsuits filed across the U.S. in the past two years in which plaintiffs allege malfunction or problems with Tesla Autopilot, according to data gathered by PlainSite. None of the cases seek class-action status, and all have been filed by individuals, contending dangerous malfunctioning of the software. Tesla has not outlined the suits in its regulatory filings." • Hmm.
Mr. Market: "The Economy Is Booming. Why Don't Firms Believe It?" [Bloomberg,]. "One of the most interesting aspects of the Covid-19 pandemic has been the success of fiscal policy in preserving consumer spending, and the second-order effects of that success. Rather than an economic crash during the pandemic, we have instead seen aging supply lines straining under a surge in demand, the likes of which hasn't been seen for decades. Whether in lumber, shipping, semiconductors, or any of a range of industries, this has been a fascinating through-line in recent episodes of Odd Lots…. The whole point of a "market economy" for most people is the idea that price signals work by telling folks where to invest for the highest return. What's been surprisingly consistent in recent episodes – and commentary from guests afterwards – is that firms don't trust the boom in demand to last past the transitory disruption. In shipping, the drop-off in demand following the 2008 crash created a vicious economic environment that led to a wave of bankruptcies and consolidation in shipping. Marc Levinson speaks well to this dynamic. For lumber, the problem was in dusting off old mills and making the investments necessary to pull them back online, and then find trucks for the boards. The reason the dynamic described by Harrod's model isn't kicking in yet is that the investment signal from recent demand spikes is not nearly as loud as the signal from over a decade of structurally low demand. While it is hard to know what the future holds, it is easy to expect that it will be like the past, and in the past the demand was almost never there."
Travel: "The airline recovery is looking K-shaped" [Yahoo Finance]. "According to Jefferies senior research analyst Sheila Kahyaoglu, total U.S. airline traffic is around 40% of what it was at the same time in 2019. But the difference between destinations is stark: international is down 67% and domestic is only 22% lower. 'International is still quite weak,' Kahyaoglu told Yahoo Finance Live. Because of this, domestic airlines like Southwest (LUV) have been seeing much better numbers compared to the larger airlines that fly broader routes out of the country. This appears to be somewhat of consensus right now, due to the discrepancies of the U.S. vaccination campaigns versus the rest of the world that still waits. (Airlines are becoming creative around incentivizing vaccinations.)"
Concentration: "Amazon buys MGM in a mega media deal" [CNN]. "[T]he simplest reason Amazon wanted to buy MGM is that it can afford to. The hefty price tag for the acquisition is nothing of significant consequence for Amazon, one of the world's wealthiest companies. Amazon, which paid nearly $14 billion for Whole Foods in 2017, has a market cap of $1.7 trillion. Ultimately, the deal gives Amazon more content, a respected studio in Hollywood and a stylish super spy. That will only help it further compete in the ruthless world of streaming." • Maybe they can put big screens in the warehouses and play movies to the workers.
* * *
Today's Fear & Greed Index: The Fear and Greed screen is blank again! [CNN]. Last updated May 26 at 11:48am. New intern?
Health Care
Dominic Cummings testifies on the Johnson government's Covid response before Parliament's Science and Technology Committee:
Important !!! Dom Cummings at select committee (26 May 2021)

Senior people did not understand asymptomatic transmission and that the virus is #COVIDisAirborne

We the government failed to explain …
Even today – Govt Comms still over-stressing washing hands…@LongCovidKids pic.twitter.com/p93WsNfCR5

— #COVIDisAirborne 💙#LongCovidKids 💙#FBLCK (@grahamja51) May 26, 2021
I'm sure we'll be hearing a lot more about this; the clips are extraordinary.
"SARS-CoV-2 infection induces long-lived bone marrow plasma cells in humans" (accepted manuscript) [Nature]. Final sentence: "Overall, our data provide strong evidence that SARS-CoV-2 infection in humans robustly establishes the two arms of humoral immune memory: long-lived [bone marrow plasma cells (BMPCs)] and [Memory B cells (MBCs)]. These findings provide an immunogenicity benchmark for SARS-CoV-2 vaccines and a foundation for assessing the durability of primary humoral immune responses induced after viral infections in humans." • A bit above my paygrade; perhaps readers can comment.
"Cleaning indoor air may prevent COVID-19's spread. But it's harder than it looks" [Science News]. "Indoor air ought to be regulated for infection control, much like food and water are, air experts propose in the May 14 Science. Indoor air has mainly been conditioned to control odors and temperature, but systems should be upgraded to strip out pathogens, too, the scientists say. Knocking respiratory viruses out of circulation wouldn't just improve health, it would also be good for the bottom line. In the United States alone, yearly economic losses from flu total $11.2 billion, and other respiratory viruses cost about $40 billion. COVID-19's global monthly harm is estimated to be $1 trillion. 'There needs to be a shift in the perception that we cannot afford the cost of control, because economic costs of infections can be massive and may exceed initial infrastructure costs to contain them,' the scientists wrote." • Worth reading in full. Lots of nuance.
CO2 meters are handy:
JR express train. Unopenable windows, 15ppl.
I dared to stop the conductor, showed my Aranet4,
"You know this? The stuff Minister Nishimura recommends."
"Oh, well…."
"See, the air quality is awful for the number of ppl."
He opened the doors…better than nothing.#covidCO2 pic.twitter.com/YKKSd3uJxp

— Keiko (@Kleidsesulpice) January 27, 2021
"HHS commits $4.8B for testing uninsured people for COVID-19" [The Hill]. "The Department of Health and Human Services (HHS) announced Tuesday that it is designating $4.8 billion to provide relief funding for COVID-19 testing for uninsured people in the U.S. The administration intends the funding from the American Rescue Plan to ensure the approximately 29 million uninsured U.S. residents have access to COVID-19 testing in order to track where the virus is prevalent for appropriate responses." • The insanity of making testing during a pandemic dependent on insurance.
The Biosphere
"Shell Loses Climate Case That May Set Precedent for Big Oil" [Bloomberg]. "Royal Dutch Shell Plc was ordered by a Dutch court to slash its emissions harder and faster than planned, a ruling that could have far-reaching consequences for the rest of the global fossil fuel industry. Shell, which said it expects to appeal the ruling, has pledged to reduce its greenhouse gas emissions by 20% within a decade, and to net-zero before 2050. That's not enough, a court in The Hague ruled Wednesday, ordering the oil producer to slash emissions 45% by 2030 compared to 2019 levels. The court said the ruling applies to the entire Shell group, which is headquartered in the Dutch city and incorporated in the U.K. That raises the prospect of the company having to radically speed up its current climate and divestment policies in order to hit the new target. The ruling will be scrutinized globally amid a new era of litigation related to climate change."
Carbon cycle animation (year at top right):
Animated diagram of the Earth's Carbon Cycle and how it has changed over time.

Carbon, in various forms including CO2 and organic materials, is continually exchanged between the atmosphere, oceans, and biosphere.

However, human activities have perturbed the carbon cycle. pic.twitter.com/TvHgi2CwUD

— Dr. Robert Rohde (@RARohde) May 22, 2019
The Agony Column
"'Leaving to sin' is more about evangelicals' obsessions than the desires of those who leave" [FLUX]. "The canard that the "real" reason people leave Christianity is to embrace a "life of sin" is an old standby in the apologist's bag of tricks…. [T]he suggestion that sex plays a role in the deconstruction of authoritarian Christianity is not entirely incorrect, though things hardly ever play out in real life as they do in the fevered imaginations of Christian apologists…. Instead of accepting that leaving a high-control form of Christianity to potentially pursue greater sexual freedom is somehow contemptible, we should focus on patriarchal Christianity's longstanding and extremely unhealthy obsession with sex. From that vantage point, we can see that the Christians who make literally everything about sex are the real problem. That being the case, it is only natural that matters related to sex, sexuality, and gender are going to be important to the deconstruction of the faith."
Under the Influence
"A Guide to Online-Grooming Allegations (and Why Everyone's Talking About Them)" [New York Magazine]. "As celebrities, influencers hold a unique type of clout that no one is chasing after. All interactions between celebrities and fans begin as parasocial interactions where one person is emotionally invested in a relationship while the other party is unaware. It is experienced across mass media. Being a wealthy public figure creates a power dynamic between a celebrity and a fan that's more similar to a boss and an employee, or a coach and an athlete, than two friends. 'The very idea that you're a social-media influencer is that your ability to influence people is what has made you a celebrity or noteworthy online — that in and [Laura Palumbo, communications director at [National Sexual Violence Resource Center] says. 'That's why brands are partnering with you. That's the business model of what it is to be an influencer. And so when it comes to relationships, that power needs to be taken into account. For anyone with any type of celebrity, for them to assume they're on a level playing field with anyone who is not a celebrity or influencer is off base.'" • More cult-like behavior? Lots of icky behavior in the story that I'm skipping over. Such behaviors have always happened, but now thanks to the Internet and social media, they can happen "at scale," as they say in the Valley.
Zeitgeist Watch
Brain bleach, stat!
Would you grow your baby in a pod like this instead of a womb?

— Dr Ola Brown (@NaijaFlyingDr) May 21, 2021
I assume it comes with its own generator in case of power failure?
"Good news for nihilists? Life is meaningless after all, say philosophers" [CBC]. "Nihilist viewpoints begin with a refusal to believe that human life draws meaning from a greater context, such as the will or purpose of a divine being, or another external force such as fate or moral goodness, or any measure of the worth and quality of human life. In some interpretations, a purely nihilistic outlook disdains any attempt to attribute value or meaning to anything at all. Such views traditionally receive bad press and blunt condemnation from thought leaders across the world." • Sounds good so far. More: "'Life is the common ground,' said [British philosopher James Tartaglia]. 'If you're a nihilist, you don't think that anything goes beyond life. If you're not a nihilist, you think there's something extra. OK, but there's still this massive common ground. Fundamentalists on one side or the anti-religionist brigade … [with nihilism] we can all understand each other, right? We can all agree on life."
"American Solitude: Notes Toward A History Of Isolation" [Perspectives on History]. "The American pursuit of a high-technological strategy made far-flung and exotic geographies—the Arctic, the deep sea, outer space—into new terrains for warfare. Alone in the Canadian wilderness, radar operators along the Distant Early Warning Line watched for the earliest signs of nuclear attack, bathed in the green glow of the radar screen. Both the military and the popular press imagined the boredom and monotony that accompanied solitary duty not only as a threat to the psyche of these individual soldiers but to the nation itself. Newly dominant on the world stage, the United States was thought to be only as strong as the vigilance of its soldiers in isolation. Accordingly, psychologists and psychiatrists across North America made laboratory hermits out of research subjects in a scientific vogue for isolation and sensory deprivation…. Often funded indirectly by the CIA, research on isolation furthered the development of scientific means of solitary confinement, new techniques of indoctrination to be used against enemy combatants. Indeed, CIA interrogation manuals from this period cite this research heavily, indicating that this line of research directly shaped ethically dubious intelligence practices. Experiments in isolation explored the depths of boredom endemic to American hegemony while producing new and dangerous forms of weaponized solitude." • Makes me wonder if there is a connection between the increased isolation of quarantines and WFH, and all the cray cray. The Covid pandemic might also be conceived of as an enormous natural experiment in isolation, as well.
Class Warfare
"Top Republican says he wants to hear bank CEOs 'defend capitalism' during testimony" [CNBC]. "CEOs including JPMorgan's Jamie Dimon, Wells Fargo's Charles Scharf, Citi's Jane Fraser and Goldman Sachs' David Solomon begin two days of hearings on Capitol Hill later Wednesday." • I can't imagine better spokespeople. Pass the popcorn.
"Hospitality Workers Struggle to Find Reliable, Affordable Ways Home" [Washington City Paper]. "She took Metrorail to work for $6, but taking it home wasn't an option since trains currently stop running at 11 p.m., even on weekends. That put Owens, who doesn't own a vehicle, at the mercy of ride-sharing apps like Uber and Lyft. Owens grabbed a seat at a nearby bar while she refreshed the apps and watched fares fluctuate from $67 down to $56 and then back up to $81… Owens finally settled on a $44.64 fare at 2:06 a.m. ',' she says. 'Unfortunately I feel like that's what a lot of servers in the District are doing. You have to bite the bullet. What am I going to do? Walk five hours home to Fairfax? They have us by the balls.'"
"Some child-care workers at Google live up to 50 miles away. The company is calling them back with no transportation plans" [The Lily]. "Google announced that its child-care centers would be reopening at the end of May, despite the company's widely used transportation services still being unavailable because of safety concerns. Those private transportation services were essential for at least 10 child-care employees, Belardes said, some of whom live up to 50 miles away from the Googleplex campus in Mountain View, Calif…. On May 7, members of the Alphabet Workers Union circulated a petition addressed to some of the company's top executives asking for a $1,500-a-month transportation stipend for the affected employees. 'When workers raised this issue, the corporate response was 'Transportation is just a perk, not a benefit," the petition read. 'Shifting this cost to essential workers, who earn far less than the Googlers whose children they care for, is unacceptable.'"
News of the Wired
If any of you are doing this, please do not send pictures:
People building monsters out of discarded Cicada 🪰 shells has now become my new favourite thing! – HolG pic.twitter.com/3m3uCxfZDg

— TheRotatingChair (@RotatingChair) May 19, 2021
* * *
Readers, feel free to contact me at lambert [UNDERSCORE] strether [DOT] corrente [AT] yahoo [DOT] com, with (a) links, and even better (b) sources I should curate regularly, (c) how to send me a check if you are allergic to PayPal, and (d) to find out how to send me images of plants. Vegetables are fine! Fungi and coral are deemed to be honorary plants! If you want your handle to appear as a credit, please place it at the start of your mail in parentheses: (thus). Otherwise, I will anonymize by using your initials. See the previous Water Cooler (with plant) here. Today's plant (EC):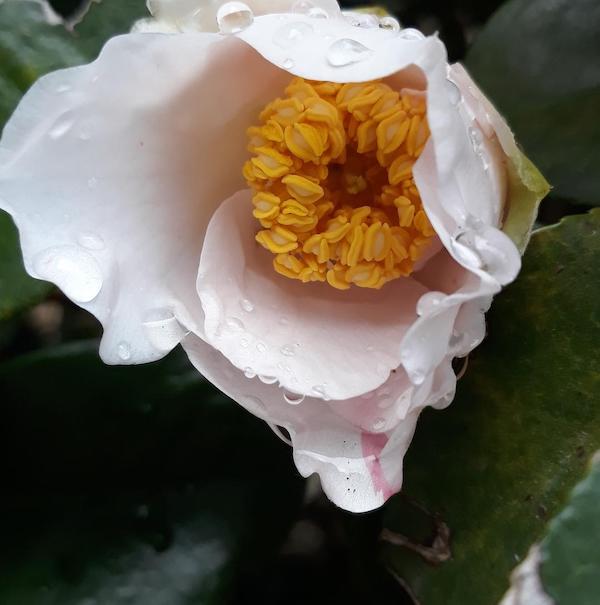 EC: "I have 2 Camellias under windows on the back side of the house. One has white flowers, the other has deep red flowers. Photo taken with my phone one morning in February when I was out with the dog."
* * *
Readers: Water Cooler is a standalone entity not covered by the recently concluded and — thank you! — successful annual NC fundraiser. So if you see a link you especially like, or an item you wouldn't see anywhere else, please do not hesitate to express your appreciation in tangible form. Remember, a tip jar is for tipping! Regular positive feedback both makes me feel good and lets me know I'm on the right track with coverage. When I get no donations for five or ten days I get worried. More tangibly, a constant trickle of donations helps me with expenses, and I factor in that trickle when setting fundraising goals:
Here is the screen that will appear, which I have helpfully annotated.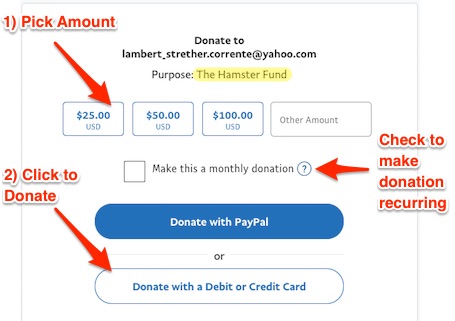 If you hate PayPal, you can email me at lambert [UNDERSCORE] strether [DOT] corrente [AT] yahoo [DOT] com, and I will give you directions on how to send a check. Thank you!