There are now more than 20 countries on the planet that are using the off-patent anti-parasite drug against Covid-19. 
Doctors in India, the world's second most populous country, are locked in an epic, gruesome battle against SARS Cov2. The country currently accounts for half of the world's cases. Many cities are running out of hospital beds. As happened in Mexico and Brazil just a few months ago, medicinal Oxygen has become dangerously scarce and is being sold on the black market at extortionate prices. As of last week fewer than 10% of Indians had received even one dose of a vaccine. Just 1.6% are fully vaccinated, according to a New York Times database — even though India is producing two vaccines on its own soil and is home to the world's biggest vaccine manufacturer.
This time around, India's government has spectacularly failed to contain the spread of the disease, largely due to its own complacency. Many doctors are prescribing Remdesivir despite the medicine's high cost and lackluster performance in clinical studies and unproven safety record. There has been a surge in black market sales of the drug as people have rushed to try to secure it, leading to a crunch in its supply. A single vial can go for Rs30,000 — ten times the official retail price.
Desperate Times, Desperate Measures
As Jerri Lynn reported on Sunday, the huge uncontrolled wave of infections hitting India is having all sorts of implications for the Modi government. In its desperation to regain control of the virus, India's government quietly changed its treatment guidelines last week. The new guidelines include the option of prescribing two repurposed medicines for mild Covid patients: budesonid and ivermectin. The former is an inhaled steroid that has been shown to reduce the time to recovery and need for urgent medical care. The latter is an off-patent anti-parasitic that has been discovered to have powerful anti-viral and anti-inflammatory properties. 
India is no stranger to ivermectin. The medicine has been used as an anti-parasitic for decades. It has also been used in the fight against malaria. Two of its regions, Uttar Pradesh (population: 230 million) and Bihar, have been using the medicine since August, to dramatic effect. By the end of 2020, Uttar Pradesh (UP) — which distributed free ivermectin for home care — had the second-lowest fatality rate in India at 0.26 per 100,000 residents. Only the state of Bihar, with 128 million residents, had less.
But Uttar Pradesh (UP) did more than treat 300,000 mild cases at home through 2020; it also used ivermectin as a prophylaxis. COVID response teams began taking the drug and hardly any of them caught the illness. A similar occurrence was reported in a study of frontline critical care workers in Argentina. U.P. then had contacts of COVID patients take it, with similar success. "Recognizing the sense of urgency," Amit Mohan Prasad, a U.P. health official, wrote in a Dec. 30 article, "we decided to go ahead."
Yet UP's remarkable success at bringing the virus under control did not inform national policy — at least not until now. The Indian Council of Medical Research declined in October to recommend ivermectin nationwide, citing, like so many health regulators, the need for more data. But all that changed last week as India became the biggest country on the planet to adopt nationwide use of ivermectin against Covid-19.
A Growing List of Countries…
More than 20 countries are now using ivermectin to treat Covid-19 to one degree or another, with promising results, despite the fact the World Health Organization has not approved its use. They include Mexico, Guatemala, Argentina, Brazil, Bolivia, Slovakia, the Czech Republic, Portugal, Nigeria, South Africa and Egypt.  
Ivermectin has a known safety profile, as a well-tolerated life-saving drug that has been prescribed almost four billion times since the 1980s. In 2015 its creators won the Nobel Prize for Medicine (for more information read my previous article, It's Time to Talk About Ivermectin).
Large "natural experiments" in regions and countries across Latin America and elsewhere add further weight to claims about ivermectin's purported efficacy. In many of the places it has been used, case numbers, hospitalizations and fatalities have tended to fall in relatively short order. Of course, there's no way of definitively proving that these rapid falloffs are due to the use of ivermectin. Correlation, as we well know, is not causation. But a clear pattern has formed that strongly supports its purported efficacy. And it's not just regions but entire countries that now appear to be benefiting from its anti-viral and anti-inflammatory properties.
Here's what happened in Mexico after the country's Institute of Social Security (IMSS) allowed ivermectin to be prescribed to outpatients with Covid, on December 29. (The following graphs come courtesy of Juan Chamie, a data scientist from EAFIT University in Colombia).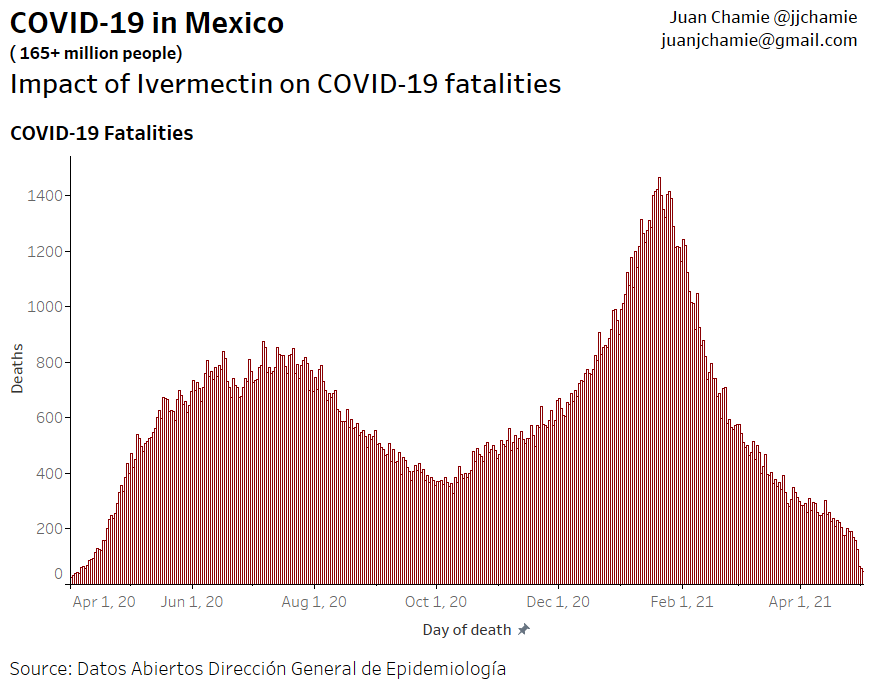 Mexico's official COVID-19 report shows fewer than 100 COVID fatalities on each of the last three days. 
A similar thing has appened in Panama, whose government adopted ivermectin on January 8.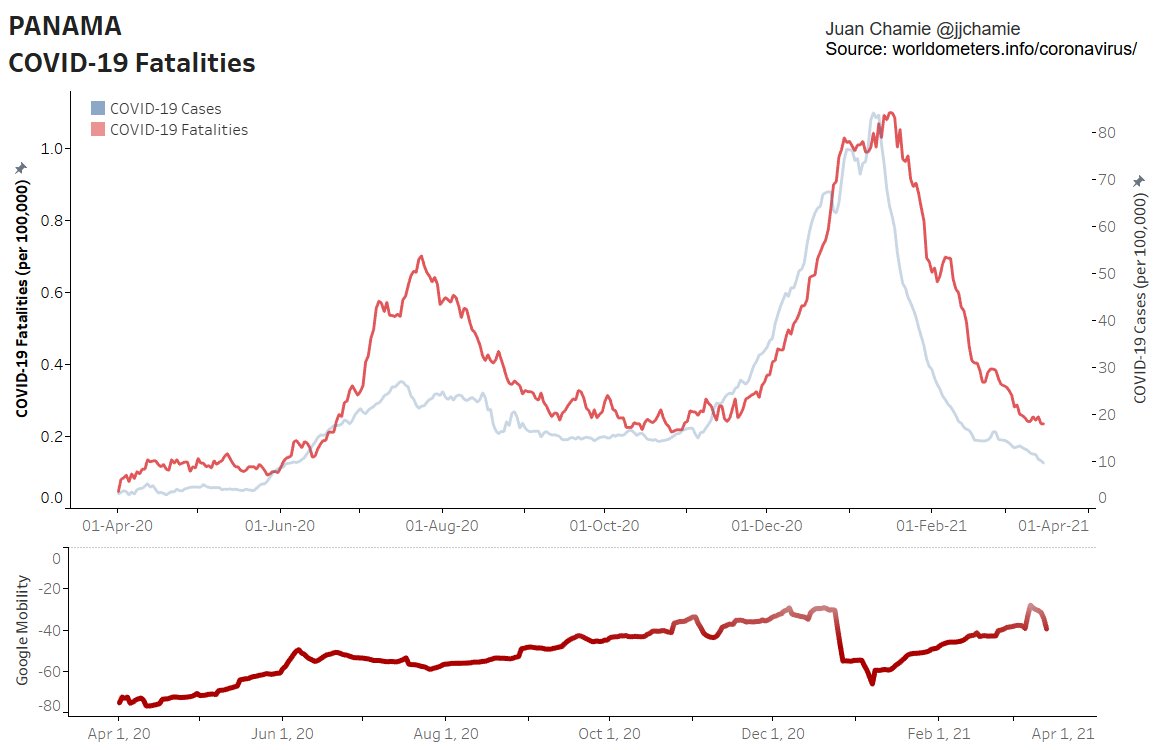 …and here's Slovakia, which on January 28 became the first EU nation to formally approve ivermectin for both prophylaxis and treatment for Covid-19 patients: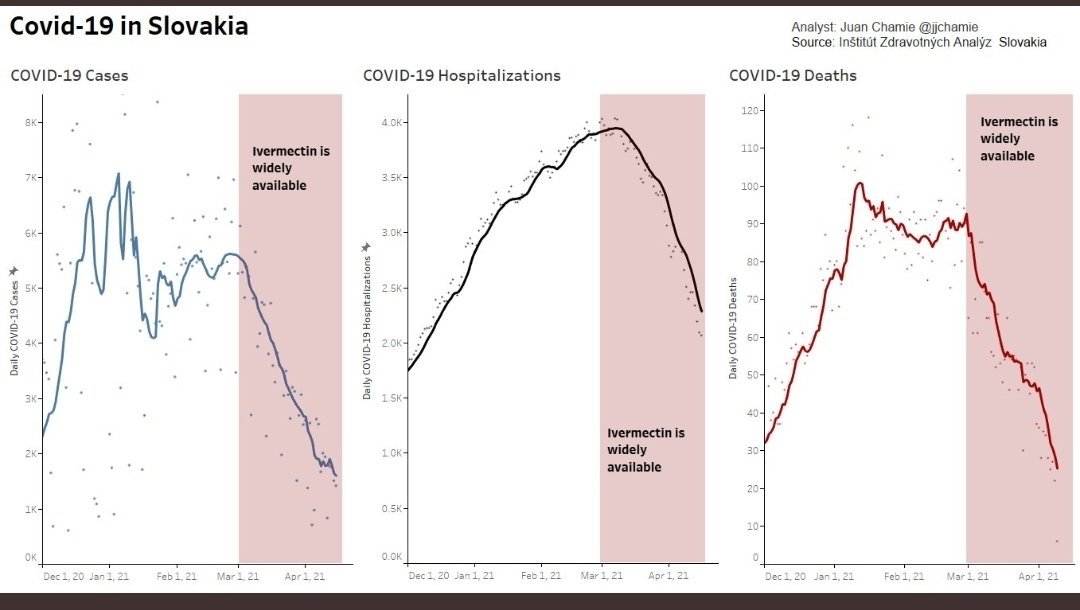 And there's the Czech Republic…
Continued Opposition Among Health Regulators
Unfortunately, these natural experiments and studies have received little attention in more advanced economies. Many people have still never heard of the drug "ivermectin", even in countries where it is being used. Most media reports about ivermectin are largely negative, peddling misinformation and often describing it as a "worm drug". This article by Quartz chastises the Indian government for continuing to use a "woefully outdated treatment plan" that includes "prescribing drugs such as hydroxychloroquine, favipiravir and ivermectin, which showed early promise but were quickly found to be ineffective."
In the case of ivermectin, this simply isn't true. Forty six COVID studies, 18 of them peer-reviewed, have shown "high efficacy". Medical researchers representing the Frontline Covid-19 Critical Care Alliance (FLCCC), which has been trying to repurpose medicines already on the market for the treatment of Covid-19, just released a peer-reviewed paper in the American Journal of Therapeutics.
Almost all of the studies so far conducted were done in the so-called Global South, in countries such as the Dominican Republic, Argentina, Bangladesh and India. But there has also been a study in Florida. And the results of a double-blind randomized controlled trial in Israel are about to be published. That study found that patients with mild covid symptoms who are given Ivemectin tend to recover from the virus more quickly than those given the placebo.
Yet despite the growing body of evidence supporting ivermectin's therapeutic effects against SARS-Cov2, national and supranational health authorities continue to drag their feet. The European Medicines Agency (EMA) concluded that the available data "do not support its use for COVID-19 outside well-designed clinical trials".
In the US the FDA refuses to approve ivermectin for the treatment of COVID-19. On its own website the FDA says it has "not reviewed data to support use of ivermectin in COVID-19 patients to treat or to prevent COVID-19," — an incredible statement given that ivermectin has been of interest as a treatment against covid for over a year. But in January the National Institutes of Health (NIH) changed their recommendation for the use of ivermectin in COVID-19 from "against" to "neutral". This is a major step forward. As a result, doctors and hospitals are at liberty to prescribe ivermectin for Covid patients. Many are choosing not to.
In Chicago a DuPont County judge just ordered Elmhurst Hospital to allow a comatose woman suffering from COVID-19 to receive ivermectin. The patient has been in intensive care at the hospital since early April and is now on a ventilator.
"Why does the hospital object to providing this medication?" said the presiding judge James Orel. "If someone has been in the ICU for a month and not improving, why would the hospital not consider another medication?"
It is still not clear whether the hospital will allow Fype to receive the medication.
A Watershed Moment?
Last month, the World Health Organization said there was still not enough evidence that ivermectin works and should only be used against covid in a trial setting. That judgement came just two months after a WHO-sponsored review and meta-analysis of found that ivermectin could cut the number of deaths from Covid-19 by as much as 75%. Crucially, some of the studies suggest that it is effective not only as a treatment in the early and later stages of the virus but also as a prophylactic.
The study's lead author Dr. Andrew Hill concluded: "If we see these same trends consistently across more studies, then this really is going to be a transformational treatment."
Yet WHO's ultimate conclusion is that more studies are needed. That essentially leaves doctors with no effective treatment for the early stages of SARS Cov2. Over one year into the pandemic, the only therapy considered "proven" as a life-saving treatment is the use of corticosteroids. And they should only be used in patients with moderate to severe illness. No agent has been proven — at least to WHO's standards — to be effective in preventing disease progression from mild to moderate or severe illness. And this is essential since it is the only way of preventing hospitalization. And if medical treatments are incapable of preventing hospitalization, hospitals are going to keep getting overwhelmed.
But even in countries where health regulators have refused to use ivermectin, opposition is growing. In South Africa, for example, a court recently ruled that ivermectin can now be used for other purposes than stated on the label of the registered medicine (off-label use). That includes the treatment of COVID-19.
The fact that India — the world's second most populous country and one of the world's biggest manufacturers of medicines — is now recommending the widespread use of ivermectin, in direct contradiction of WHO's own advice, is testament to how desperate the government has become. Just like in Mexico, treatment packs are being assembled and distributed to patients testing positive for Covid. If the medicine has a similar effect on case numbers, hospitalizations and fatalities as it appears to have had on other countries, this could become a watershed moment.