Could Rediscovery of Rare Owl Be a Hopeful Sign for Other 'Lost Birds'? EcoWatch (Furzy Mouse).
Southern California warehouse boom a huge source of pollution. Regulators are fighting back LA Times
COVID-19: B.C. Centre for Disease Control now accepts virus can linger in the air Vancouver Sun
Mammals evolved big brains after big disasters Science Daily. Hopefully!
#COVID19
U.S. will back proposal to waive intellectual property rights and boost Covid-19 vaccine production STAT. Here is the US Trade Representative's Press Release:

These extraordinary times and circumstances of call for extraordinary measures.

The US supports the waiver of IP protections on COVID-19 vaccines to help end the pandemic and we'll actively participate in @WTO negotiations to make that happen. pic.twitter.com/96ERlboZS8

— Ambassador Katherine Tai (@AmbassadorTai) May 5, 2021

"We will actively participate in text-based negotiations at the World Trade Organization (WTO) needed to make that happen. Those negotiations will take time given the consensus-based nature of the institution and the complexity of the issues involved." So, there will be fine print, and we will need to see it. Nevertheless, it's better than a poke in the eye with a sharp stick! (Oh, and see Sanders on May 2.)

Fauci: The U.S. has a 'moral obligation' to help with global pandemic response Politico. Fauci: "I am certainly not against anything that can get doses of vaccine quickly into the arms of people in the developing world." In Links 5/4: Fauci warns against discarding trade rules on Covid vaccines FT Fauci be nimble, Fauci be quick….

US move on vaccine intellectual property is a 'monumental moment' in COVID-19 fight Sky News. Says WHO.

EU Ready to Discuss U.S. Plan to Waive Vaccine Patent Protection Bloomberg

* * *

SARS-CoV-2 infection of the oral cavity and saliva Nature. From the Abstract: "Collectively, these data show that the oral cavity is an important site for SARS-CoV-2 infection and implicate saliva as a potential route of SARS-CoV-2 transmission." • Droplets (tiny loogies) making a comeback as a secondary mode of transmission?

* * *

Densely sampled viral trajectories suggest longer duration of acute infection with B.1.1.7 variant relative to non-B.1.1.7 SARS-CoV-2 (preprint) Harvard T.H. Chan School of Public Health. From the Abstract: "These data offer evidence that SARS-CoV-2 variant B.1.1.7 may cause longer infections with similar peak viral concentration compared to non-B.1.1.7 SARS-CoV-2. This extended duration may contribute to B.1.1.7 SARS CoV-2's increased transmissibility."

NVX-CoV2373 Vaccine Efficacy against B.1.351 in South Africa NEJM Novavax. From the Discussion: "Although these findings require further confirmation, our observations suggest that vaccination with prototype-sequenced NVX-CoV2373 conferred a degree of cross-protection against an immunologic escape variant." Commentary:

Most important new report today, and highly encouraging: Real world vaccine effectiveness (E) in >380,000 people in Qatar to B.1.1.7 (UK) and B.1.351 (South Africa) variants, *100% E vs severe illness both*? @NEJMhttps://t.co/JhP6zUt1LJ pic.twitter.com/Zkjk2ZpCo2

— Eric Topol (@EricTopol) May 5, 2021

Delayed production of neutralizing antibodies correlates with fatal COVID-19 Nature. From the Discussion: "Specifically, our work suggests that there is a critical time window in which the neutralizing antibodies must develop to improve virological control and disease outcome."

* * *

Millions Are Saying No to the Vaccines. What Are They Thinking? The Atlantic

Mass-Vaccination Sites — An Essential Innovation to Curb the Covid-19 Pandemic NEJM. Well worth a read.

Ruckus in the skies: What happens when airline passengers refuse to wear masks LA TIme
China?
The Surprising Strength of Chinese-Japanese Ties Foreign Affairs
Myanmar
Myanmar's anti-coup bloc to form a 'defence force' Al Jazeera. Protests ongoing:

Some pictures of today's protests against Myanmar's junta. These haven't stopped. #WhatsHappeningInMyanmar pic.twitter.com/y5oakjACqC

— Matthew Tostevin (@TostevinM) May 6, 2021

Myanmar's military taking away young men to crush uprising Channel News Asia

As striking staff return to work, Myanmar's banks face a cash crunch Frontier Myanmar. "'I have a loan from a microfinance company that I need to repay and a family to support – a wife and a five-year-old daughter,' he said. 'It wouldn't be easy for me to get another job, particularly as I'd have to change my career.'" I'd bet the Tatmadaw will hunt this poor young man down in any case. Why would they do anything else?

Myanmar parcel bomb blasts kill five people, including ousted NLD lawmaker South China Morning Post. Ugly.
Philippines' Duterte apologises for taking unapproved China jab BBC
India
Official COVID Projections Were Toppled by Virus Variants That Genome Panel Had Warned About The Wire

Crew Change Restrictions Widen on Indian COVID-19 Surge Ship & Bunker
UK/EU
Son of the soil Pedro Castillo promises a presidency for Peru's poor Guardian. Run-off next month.
How the US gov't cultivated environmental and Indigenous groups to defeat Ecuador's leftist Correísta movement The Grayzone
New Cold War
Opinion: Russia's plot to control the Internet is no longer a secret WaPo. David Ignatius. Of course.

Blinken heads to Ukraine in show of support after Russia troop standoff Reuters
Biden Administration
Our Famously Free Press
Facebook's oversight board whiffed. Trump deserves a permanent exile. Margaret Sullivan, WaPo.
Gunz
Startling surge in L.A. bloodshed as COVID-19 fades: 'Too many guns in too many hands' LA Times
Health Care
Major Depressive Disorders Have an Enormous Economic Impact Scientific American
Black Injustice Tipping Point
Black Girl Magic Trio Seeks to Suppress Spirit of Rebellion Inside St. Louis Jails Black Agenda Report
Imperial Collapse Watch
US seen as bigger threat to democracy than Russia or China, global poll finds Guardian

No Country for New Babies Eric Levitz, New York Magazine
Class Warfare
How a 'time of crisis' creates a 'crisis of time' The Long-Termist's Field Guide
The secret life of shoes: why are there 3,000 concealed in the walls of our houses FT
Data Show Demand for Butt Implants Soared During the Pandemic Bloomberg
Antidote du jour (via Guurst from):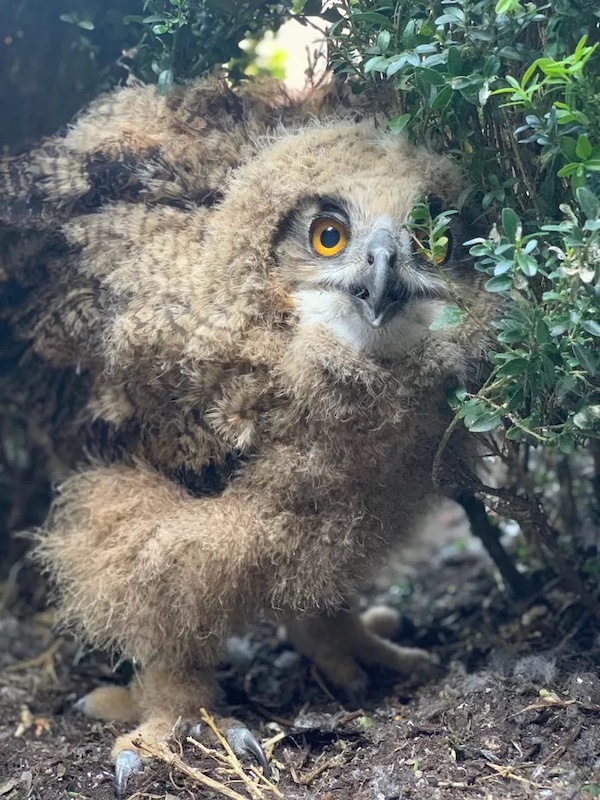 See yesterday's Links and Antidote du Jour here.