By Lambert Strether of Corrente.
Bird Song of the Day
No hammering, but a lovely duet.
* * *
#COVID19
At reader request, I've added this daily chart from 91-DIVOC. The data is the Johns Hopkins CSSE data. Here is the site.
I feel I'm engaging in a macabre form of tape-watching, because I don't think the peak is coming in the next days, or even weeks. Is the virus gathering itself for another leap?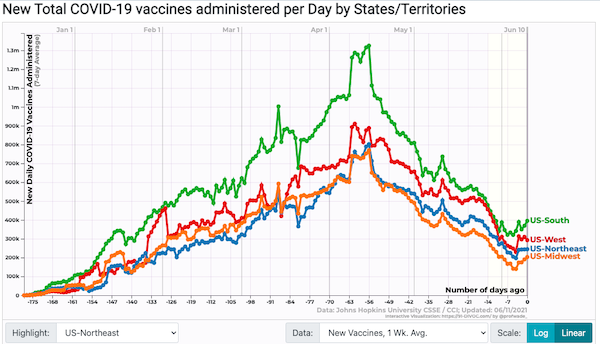 Up and down, up and down….
Case count by United States region: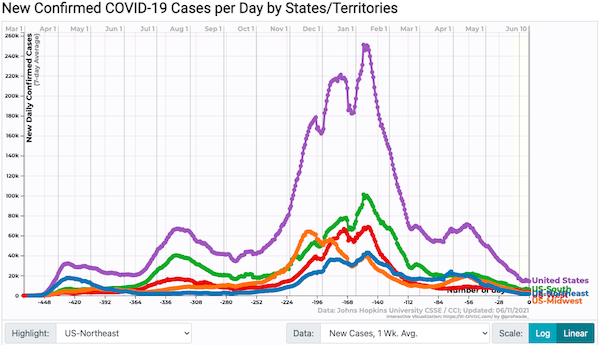 Now an uptick in the South That's unfortunuate, just as we're opening up.
Here are the case counts for the last four weeks in the South (as defined by the US Census: " Alabama
Arkansas, Delaware, Florida, Georgia, Kentucky, Louisiana, Maryland, Mississippi, North Carolina, Oklahoma, South Carolina, Tennessee, Texas, Virginia, West Virginia, and the District of Columbia):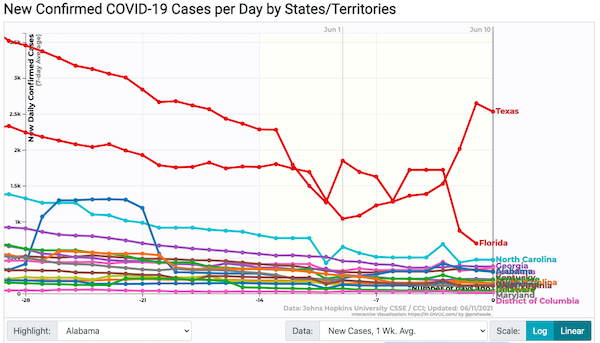 Interestingly, the uptick in the South is caused by Texas alone. That argues against the idea that air conditioning is the cause. Perhaps the Delta variant? Or, simply because of geographic proximity, the new "Mexican variant"? (This variant, T478K, does not yet have a Greek letter.) Bolstering this theory:
Webb County Texas has the highest 14-day COVID-19 positives in the U.S., with 907 per 100k people pic.twitter.com/8Z6EMQ11jk

— covid-dash.net (@CovidDash) June 11, 2021
Webb County is Laredo, on the Mexican border. Speaking against this theory:
Bell County Texas has the 2nd highest 14-day COVID-19 positives in the U.S., with 607 per 100k people pic.twitter.com/X1qZFgEPP5

— covid-dash.net (@CovidDash) June 11, 2021
Bell County is north of Austin, not on the border at all. If only we had some kind of contact tracing in place… Followed by analysis of the strains.
Big states (New York, Florida, Texas, California):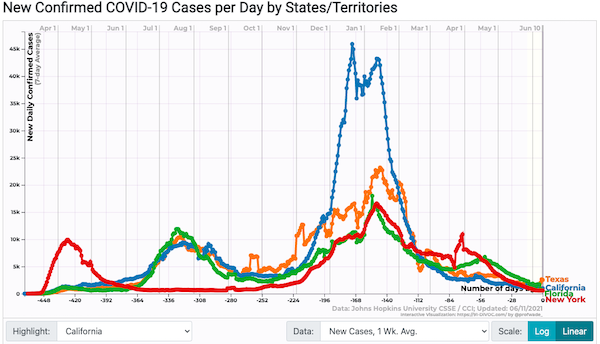 The uptick in Texas, shown also above.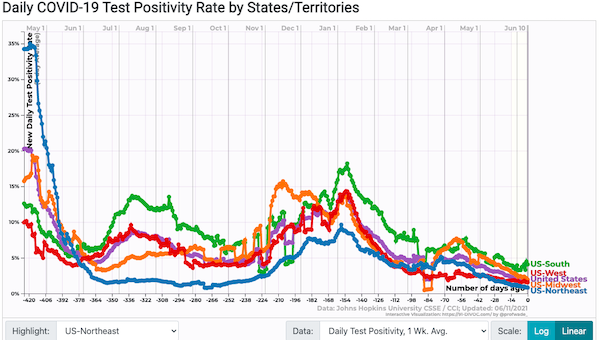 Uptick in the South.
Hospitalization (CDC):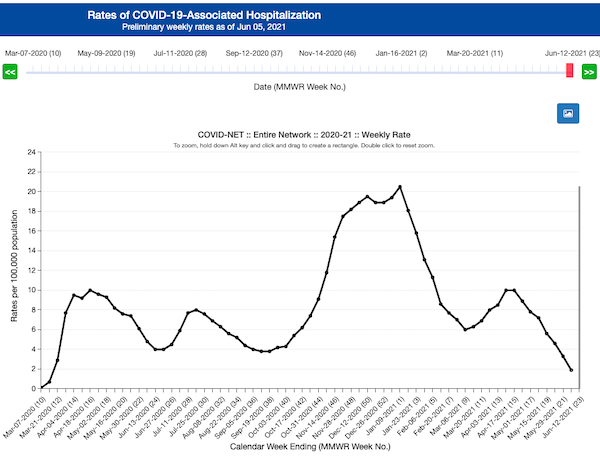 Continued good news.
Deaths (Our World in Data):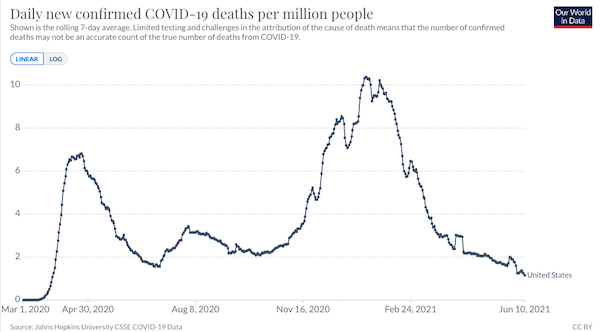 Continued good news
Covid cases worldwide: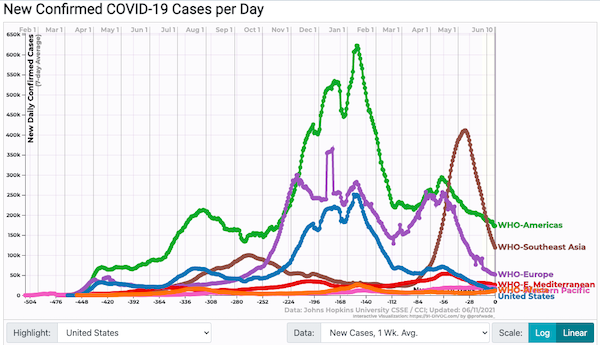 Politics
"But what is government itself, but the greatest of all reflections on human nature?" –James Madison, Federalist 51
"They had one weapon left and both knew it: treachery." –Frank Herbert, Dune
"They had learned nothing, and forgotten nothing." –Charles Maurice de Talleyrand-Périgord
Biden Administration
"Infrastructure hits a hurdle on the left" [Politico]. "Congressional Progressive Caucus Chair Pramila Jayapal (D-Wash.) said her members will not vote for any bipartisan deal unless top Democrats commit to teeing up a reconciliation bill 'at the same time.' 'We can't just allow one thing to go through and then take all the pressure and the momentum out,' Jayapal said, ticking off a list of Democratic priorities that would likely be left out of the kind of roads-and-bridges bill that Republicans have backed. 'We can't just leave women out. We can't just leave child care out.'"

UPDATE "Bipartisan Senate infrastructure deal would cost about $1 trillion" [CNBC]. "An infrastructure plan crafted by a group of Senate Democrats and Republicans would cost roughly $1 trillion, a price tag that leaves the senators with work to do to win over members of both parties…. Senators have not announced how they plan to pay for the investments. The proposal "would be fully paid for and not include tax increases," the 10 lawmakers who reached the deal said in a statement Thursday…. While the White House considers the bipartisan proposal, Democrats have started to set the groundwork to pass pieces of the president's $2.3 trillion American Jobs Plan by other means." • Good. And let's soak the rich while we're at it.

UPDATE "Vaccinate the World" [New York Times]. "In a speech in England yesterday, President Biden cited "our humanitarian obligation" in announcing that the U.S. would buy 500 million doses of the Pfizer vaccine and donate them to poorer countries. G7 leaders are set to announce today that they will collectively donate 1 billion shots by the end of next year. After Biden's speech, Natalie Quillian, the deputy coordinator of his Covid response, told us: "We are acting with the same urgency and applying the same whole-government approach that we have applied here domestically." But those donations still leave the world very far from having enough doses anytime soon. In all, at least 10 billion more shots are probably needed." • Oh. So it's like the infrastructure bill, then? Too little, too late?
Democrats en deshabille
I hoisted this description of the Democrat base from alert reader NotTimothyGeithner yesterday:

A good deal is made about the current PMC class here, but it starts with this reliable group that simply want a pat on the head and despise change. Getting these people, its the same people, to even adopt VAN, the Team Blue voter database, was incredibly difficult. I hate MacAuliffe with a passion, but he mentioned in one of his books how late Team Blue was into investing in computer databases. For these people, its not about winning its about being cool for admiring the commemorative plate version of JFK. Their attitude about doing more than a bar-b-qu/fishfry/their particular event is part of the reason for the rise of groups like DSA. Even the brake fixing operation down in New Orleans (?) is a function local Team Blue committees could throw together.

I remember a committee meeting when I was in high school, and those smucks couldn't even figure out how to authorize and pay for a billboard because of the timing requirements of the billboard company and the next meeting. These people thought I was brilliant because I proposed we vote on a budget allocation for the committee to spend on their own authority since they already had the money allocated for advertising purposes with approval of the committee. Its frightening how many people in that room went to the same public Ivy I did. The guy who detailed the problem and simply shrugged his shoulders was a history professor. In retrospect, he's probably a perfect example of Hannah Arendt's warning about historians becoming overly specialized and too narrow. I might be giving him the benefit of the doubt and assuming he knew anything about anything. Their useless nature was part of who they were.

It doesn't matter where you go. They are all like this. To a certain extent, I think DSA should focus on seizing the committees as opposed to individuals focused on seizing the committees. Its subtle.

Can other readers with actual experience of the Democrat Party at the volunteer slash state and local level comment? Is it indeed all like this? That would explain a lot.

He did say it with a smile in his voice:

AUDIO – Bernie Sanders to Politico Cannabis Reporter Natalie Fertig: 'Are You Stoned Now?' @BernieSanders https://t.co/4X2egPpUK5

— Grabien (@GrabienMedia) June 11, 2021
Realignment and Legitimacy
"Trump-inspired death threats are terrorizing election workers" [Reuters]. "While reports of threats against Georgia officials emerged in the heated weeks after the voting, Reuters interviews with more than a dozen election workers and top officials – and a review of disturbing texts, voicemails and emails that they and their families received – reveal the previously hidden breadth and severity of the menacing tactics….. The ongoing harassment could have far-reaching implications for future elections by making the already difficult task of recruiting staff and poll workers much harder, election officials say." • This is "night rider" stuff. Let's not forget that fascism was invented here in the good ol U.S. of A, in the post-Reconstruction South. This scares me a lot for than symbolic stuff, and even legislation. Maybe we should make threatening an election worker a Federal crime, and string a few of these clowns up. (FBI involvement seems to be limited to voters, and doesn't include election officials. Federal election offenses seem to be categorized as election fraud, patronage crimes, campaign financing crimes, and civil rights crimes.)

UPDATE "Democracy Is Already Dying in the States" [The Atlantic]. "In his calls for bipartisanship, Manchin is effectively giving Senate Republicans a veto on whether Washington should respond to an offensive against voting rights that red-state Republicans are advancing. Martinez Fischer echoed all of the state-level officials I spoke with when he told me that although the bipartisanship Manchin wants on voting rules might be ideal, it ignores the reality of how Republicans are acting in the states today."

UPDATE Lee Carter is my choice for President:

I am also anti-golf.

— Lee J. Carter (@carterforva) June 11, 2021

And:

You should convert most of your yard to a food garden. And if you don't have the time to maintain one, you should find a neighbor who does have time and let THEM convert most of your yard to a food garden and give you like 20% of the produce.

— Lee J. Carter (@carterforva) June 11, 2021

Correct!
Stats Watch
Rail: "Rail Week Ending 05 June 2021 – Moderate Slowing In Intuitive Sectors" [Econintersect]. "We are now seeing great rail growth as the data is being compared to the coronavirus lockdown period last year. The intuitive sectors (total carloads removing coal, grain, and petroleum) expanded 16.5 % year-over-year for this week. We primarily use rolling averages to analyze the intuitive data due to weekly volatility – and the 4 week rolling year-over-year average for the intuitive sectors slowed from +35.5 % to +30.0 %. When rail contracts, it suggests a slowing of the economy."
* * *
Shipping: "Why the world is in a shipping crisis" [Business Insider]. "Ocean shipping powers our ability to buy a massive variety of inexpensive stuff. This system needs many things to function, but I'll distill those into a few important elements: Massive ocean-faring ships; Containers on the ships; Places for the ships to park so that the containers can be unloaded. And, all of those things have broken at some point in the last year and a half! In fact, many of them are still broken. Here's how that happened and why the shortages are still going on." This is a very good explainer. More: "Above all, when something goes astray with ocean shipping, there's a major butterfly effect. A ship that's unloaded two weeks late in Los Angeles is also going to be two weeks late when it arrives back in, say, Chittagong, Bangladesh to load up on IKEA furniture. The ship before that may have been two weeks late, too, so the carrier might just cancel the ship IKEA was expecting space on, Sundboell said. Then IKEA will have to scramble for another way to move your nightstand — and potentially every order they had after that, which will now be pushed down the road." • Tight coupling…. Well worth a read.
The Bezzle: "Uber paid 'incredible' amount to avoid landmark judgment" [Australian Financial Review]. "Uber paid a 'life changing' $400,000 to a driver so she would drop a legal challenge that could have forced the company to overhaul its business model and pay its workforce minimum pay and conditions. The Transport Workers Union used parliamentary privilege at a Senate inquiry on Thursday to reveal the confidential settlement the company's on-demand delivery arm had made with terminated driver Amita Gupta shortly after three Federal Court judges made critical comments about its arguments at trial. The settlement, some 26 times more than what [Former UberEats driver Amita Gupta] was likely to receive under the law, revealed how far the company would go to avoid paying minimum wages, the union said. 'The most telling feature of this settlement was the extent of the settlement,' TWU national secretary Michael Kaine told the inquiry. 'I think it's very clear that UberEats wanted to ensure that there were no risks that its exploitative system would be overturned by the full court and they were willing to pay an incredible amount of money, a life-changing amount of money, to the Guptas to make sure that moment in time did not occur."
The Bezzle: "El Salvador Plans To Use Electricity Generated From Volcanoes To Mine Bitcoin" [NPR]. "'I've just instructed the president of @LaGeoSV (our state-owned geothermal electric company), to put up a plan to offer facilities for #Bitcoin mining with very cheap, 100% clean, 100% renewable, 0 emissions energy from our volcanos,' President Nayib Bukele tweeted. 'This is going to evolve fast!'"
* * *
Today's Fear & Greed Index: 51 Neutral (previous close: 52 Neutral) [CNN]. One week ago: 48 (Neutral). (0 is Extreme Fear; 100 is Extreme Greed). Last updated Jun 11 at 12:41pm. Being stuck in neutral like this gives me the creeps.
Health Care
"Third member of U.S. FDA advisory panel resigns over Alzheimer's drug approval" [Reuters]. "A third member of a panel of outside advisers to the U.S. Food and Drug Administration has resigned in protest over the agency's decision to approve Biogen Inc's (BIIB.O) Alzheimer's disease treatment [eteplirsen] despite the committee's recommendation against doing so. Aaron Kesselheim, a Professor of Medicine at Harvard Medical School who had served on the FDA's advisory committee for nervous system drugs since 2015, told Reuters on Thursday he was stepping down from the panel. 'My rationale was that the FDA needs to re-evaluate how it solicits and uses the advisory committees … because I didn't think that the firm recommendations from the committee in this case … were appropriately integrated into the decision-making process,' Kesselheim said in an email…. The 11-member committee voted nearly unanimously in November that Biogen's drug should not be approved, citing inconclusive evidence that the drug was effective."
Naked Capitalism Cooking Community™
Finger-lickin' good:
I think about this picture of Jeff Bezos eating an iguana a lot. A defining image of our time, a neo-gothic artefact, a 21st century vision of baroque. An utterly horrifying vibe. pic.twitter.com/yIeDqhGzcE

— Thomas Gorton (@AngstromHoot) June 10, 2021
Our Famously Free Press
"The Curious Rise of Twitter Power Broker Yashar Ali" [Los Angeles Magazine]. "It's probably not a coincidence that Ali has amassed his power and influence just as traditional journalism outlets have been suffering through a death spiral. Between 2008 and 2019, newsroom employment has dropped by more than 23 percent. The bleeding out of the industry has led to new levels of desperation. Every day Ali is inundated with pleas from journalists to retweet their stories, which can result in significant traffic boosts. A top editor at Insider (formerly known as Business Insider) recently circulated an internal memo urging staffers to seek out retweets from Ali to optimize the impact of their stories. The fact is, like it or not, Ali's feed is impossible to ignore, and traditional newsrooms are struggling to keep up. After Ali published his Rick Jacobs piece, the L.A. Times dispatched a team of reporters to pursue the story and ran a string of follow-ups. Ten years ago, it was a link on the Drudge Report that prompted newsroom backslapping. Now it's a retweet from @Yashar."
The Agony Column
"Real Covid Sex Stories: Secret Pod Hookups, Illegal Swinger Parties, Lunchtime Sex, and More" [The Washingtonian]. "Another girl did ask if she could call me Fauci during sex. She said it with a straight face. I pretended that I didn't hear and kept going, because how do you even address that? I'm not going to say yes, because that's going to be weird. And if I say no, that kills the vibe. She didn't say anything else, and she never called me Fauci. I think the only way you can make that weirder is if she had brought a Fauci mask and asked me to put it on." • I imagine during RussiaGate, the request would have been for "Mueller."
Class Warfare
"Alabama's Coal Miners Are Striking for Their Lives" [Kim Kelly, The Nation]. "The Warrior Met picket line is really a grouping of 12 small outposts, stationed in front of each entrance to the sprawling mines. Many of the mine entrances are isolated, set down wooded country roads with no cell-phone service; there are never more than a few people out there, because the company finagled a court injunction limiting the number of people allowed on the line at a time. It also called in both state and local police as well as its own private, armed security to surveil the pickets and enforce the cap, which began as a paltry six but was bumped up to 10 following an appeal. Both the company and the union fly drones overhead to keep an eye on the lines, and police are a constant presence at the larger entrances. It's a recipe for tension, especially when the scabs and supervisors pass in and out and the community is small enough for folks to know exactly who has sold them out by crossing that line. At the end of May, after leading 300 miners on a march, 11 UMWA leaders were arrested for blocking the entrance to Mine #7 and refusing to leave; they were taken to the Tuscaloosa County Jail and kept overnight. The company's silence at the bargaining table has grown deafening, and those escalating tensions have recently reached a fever pitch, as the UMWA alleges that company employees have begun waging blatant acts of violence against the striking miners. Thanks to the watchful eye of the UMWA's drone, footage of a brazen vehicular attack surfaced earlier this week." • What a concept, actual labor reporting. This is a must read.
"Amazon to maintain pace of warehouse work despite regulator's citation" [Seattle Times]. "Amazon is donating $12 million to the nonprofit National Safety Council, a workplace safety advocacy organization, in part to establish a cross-industry task force on the type of muscle, joint and ligament injuries that make up 40% of the injuries sustained by Amazon's warehouse workers, MacDougall announced at the conference. The donation will also be used to research ways to lower the incidence of such injuries, including through grants to small businesses and universities and by funding competitions to find new ways to address workplace injuries. Amazon has previously committed to lowering by half the incidence of muscle and joint injuries among its workforce, part of founder Jeff Bezos' recently announced vision of turning Amazon into the 'Earth's Safest Place to Work.' The company will not publicly release data about its progress on reducing injuries, MacDougall said Wednesday, but will share injury statistics with the National Safety Council." • Looks like the National Safety Council will have plenty of crippled guinea pigs for its studies!
"That $5 Uber Ride, $8 Burrito, and the Brutal Costs of "Cheap"" [Jacob Silverman, The New Republic]. "Linking rising prices to workers' demands for better wages is becoming a widely used trope…. These headlines are about assigning blame: Your lunch just got more expensive thanks to the guy behind the counter…. It helps, then, to expand the aperture and take a look at how some of these companies are husbanding their vast resources. Chipotle is doing very well, making more than $350 million in profit last year, matching a similarly profitable 2019. In 2020, Chipotle's CEO was paid $38 million, but that's only part of the picture. In recent years, the fast-casual burrito chain, like many large companies, has conducted hundreds of millions of dollars in share buybacks, which are used to juice a firm's stock price, often to the benefit of executives exercising their own stock options. And a recent Securities and Exchange Commission filing shows that, in the first three months of 2021, its labor costs actually decreased by 10.2 percent. (Chipotle also benefited from 'lower avocado pricing,' it noted in a release.) As Congressman Ro Khanna said on Twitter, commenting on the company's CEO pay, 'Chipotle is not raising prices because of rising wages.' It's doing so out of greed, to preserve, and even boost, the extraordinary compensation of its executives, directors, and primary shareholders….. From Chipotle to Uber, these are obvious examples of class war, of senior company leaders and influential shareholders continuing a decades-long tradition of underpaying frontline workers in order to reap the benefits for themselves. It is all the more insidious that when workers clamor for more—for dignity, union membership, personal protective equipment, and higher pay in workplaces that often remain dangerous—they are cast as malcontents or layabouts content to mooch off unemployment benefits."
"These businesses found a way around the worker shortage: Raising wages to $15 an hour or more" [WaPo]. "The experience of 12 business operators interviewed by The Washington Post who raised their minimum wage in the last year points to another element of the equation: the central role that pay — specifically a $15-an-hour minimum starting wage — plays in attracting workers right now. Nine of the businesses had announced pay increases to at least $15 an hour since March, amid concerns about hiring in the face of the tight labor market. The other three increased wages last year. The business operators spoke about the challenges associated with increased labor costs, with three saying they had to raise prices for consumers. One of those, as well as two that did not raise prices, said they had to reduce some seasonal staffing or staff hours to make up the cost. Enrique Lopezlira, a labor economist at the University of California at Berkeley and an expert on the low-wage workforce, said the stories were a sign, albeit anecdotal, that the market was functioning as it should in the face of excessive demand for workers. 'The more employers improve the quality of the jobs and the more they think of workers as an asset that needs to be maximized, the better they're going to be able to find and retain workers long term,' he said." • "he more they think of workers as an asset." Still capitalism, though!
"The Poor Subsidize the Giving of the Rich" (interview) [Frank News]. "For example, in estate planning, there are trusts called Walton GRATs (grantor retained annuity trusts), that let you pass along billions of dollars to your heirs without paying any inheritance taxes. Republicans are always trying to repeal estate taxes, but the fact is a lot of people are barely paying their estate taxes as is; there are other ways to shuttle money to future generations. The degree to which wealthy people are able to do this was a surprise to me, and it came about because Congress made a mistake and never bothered to fix it. And everyone in that world now uses these trusts, which were declared legal in 2000. Facebook executives Mark Zuckerberg, Sheryl Sandberg, and Dustin Moskovitz, all used these trusts to pass crazy amounts of money to their heirs." • But was it a mistake? 
News of the Wired
"Why Can't I Sleep?" [UCSF Magazine]. "There's no question that the brain is doing astounding and essential work while we're unconscious each night. It is processing memories, emotions, and new knowledge; recharging the immune system; flushing away toxins; and restoring our mental and physical energy. But no one is quite clear how it all works…. How does sleep create physical restoration? What role does it have in energy? What is the difference in brain activity for someone who reports getting a "good" sleep as opposed to a "poor" one?" • For years I thought I was a poor sleeper. Then I started falling asleep to podcasts, specifically, The History of Rome. Turns out I would fall asleep eight or ten minutes into the first track, say The Cataline Conspiracy, and then wake up many centuries later, in the reign of Nero. Quite a confidence builder! And, if the soothing voice of a podcast doesnt' work, counting backwards from 400….
A thread on flat-earthers:
I own a portable planetarium and I take it to rural areas to show people the universe. I mostly visit schools but I'm cool going to churches and community events.

Sometimes (often) I get flat earth believers who end up in the planetarium. Here's how I handle that. 🧵1/17

— ☆⋆Okie Space Queen ⋆☆ (@OkieSpaceQueen) June 8, 2021
I have never met a flat-earther, but I suppose if you take a planetarium around, you're going to attract them. Interesting tactics, though!
* * *
Readers, feel free to contact me at lambert [UNDERSCORE] strether [DOT] corrente [AT] yahoo [DOT] com, with (a) links, and even better (b) sources I should curate regularly, (c) how to send me a check if you are allergic to PayPal, and (d) to find out how to send me images of plants. Vegetables are fine! Fungi and coral are deemed to be honorary plants! If you want your handle to appear as a credit, please place it at the start of your mail in parentheses: (thus). Otherwise, I will anonymize by using your initials. See the previous Water Cooler (with plant) here. Today's plan (GlennF):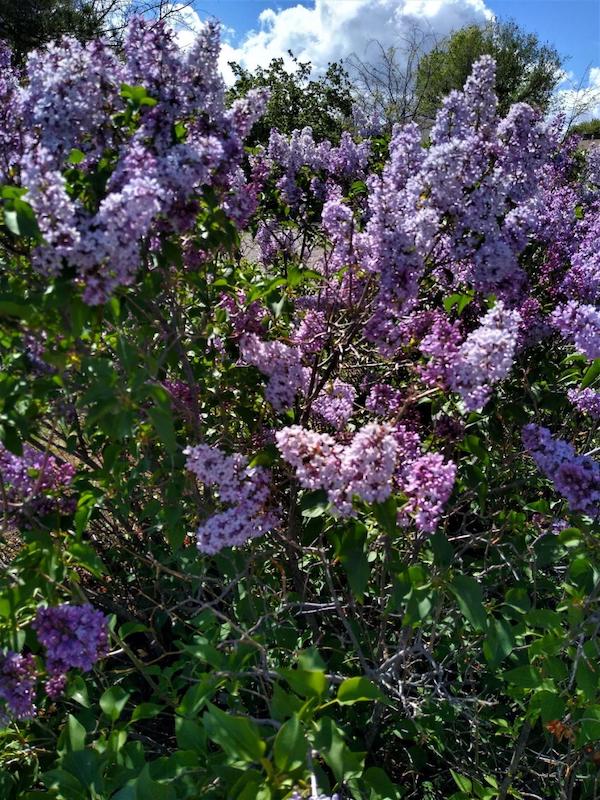 GlennF writes: "Attached is a photo I took this morning on my daily constitutional around the neighborhood. I think it is a lilac as it has a very strong scent. It was a little windy so parts are a little blurry. Also, do you know where the term 'daily constitutional' originated?" I do not. Readers? Not only are walks good, walks where you look up at the sky, not down at your shoes, are better. They are literally uplifting. Also, I am here for blurred motion; I like long exposures that show it. As with these lilacs (mmmm!).
* * *
Readers: Water Cooler is a standalone entity not covered by the recently concluded and — thank you! — successful annual NC fundraiser. So if you see a link you especially like, or an item you wouldn't see anywhere else, please do not hesitate to express your appreciation in tangible form. Remember, a tip jar is for tipping! Regular positive feedback both makes me feel good and lets me know I'm on the right track with coverage. When I get no donations for five or ten days I get worried. More tangibly, a constant trickle of donations helps me with expenses, and I factor in that trickle when setting fundraising goals:
Here is the screen that will appear, which I have helpfully annotated.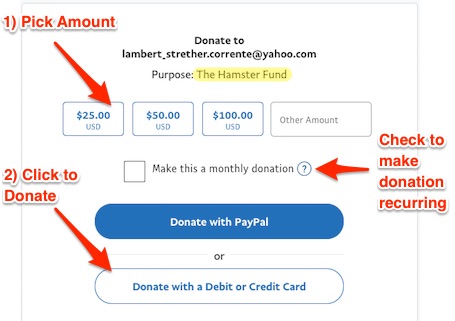 If you hate PayPal, you can email me at lambert [UNDERSCORE] strether [DOT] corrente [AT] yahoo [DOT] com, and I will give you directions on how to send a check. Thank you!2:00PM Water Cooler 6/8/2021