By Lambert Strether of Corrente.
Patient readers, this too will be a short Water Cooler, since I have a second post to write. –lambert
Bird Song of the Day
The Powerful Woodpecker (mostly calls, but occasionally exerting its power).
* * *
#COVID19
At reader request, I've added this daily chart from 91-DIVOC. The data is the Johns Hopkins CSSE data. Here is the site.
I feel I'm engaging in a macabre form of tape-watching, because I don't think the peak is coming in the next days, or even weeks. Is the virus gathering itself for another leap?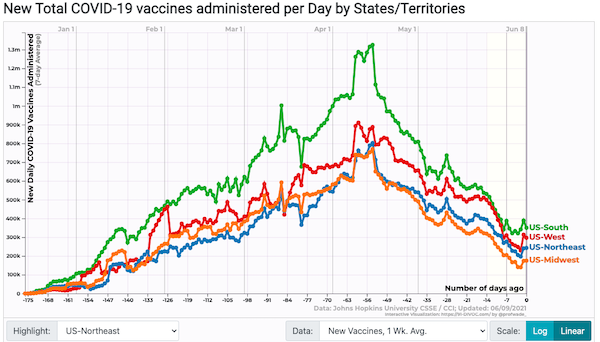 Up and down, up and down….
Case count by United States region: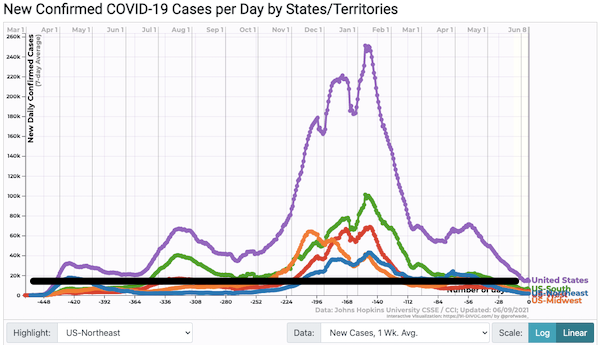 I don't like the way the curve is starting to flatten out; I added an anti-triumphalist black line to show where we are now, as opposed to where we were when th pandemic was first accelerating, in New York.
Big states (New York, Florida, Texas, California):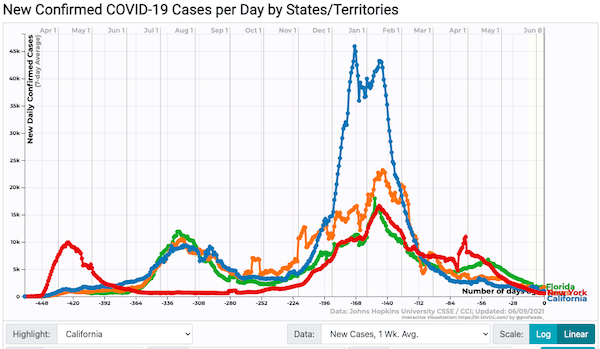 Continued good news.
Uptick in the South.
Hospitalization (CDC):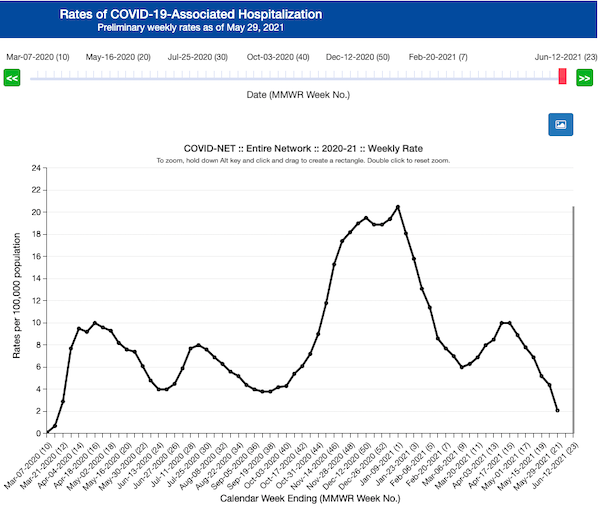 Continued good news.
Deaths (Our World in Data):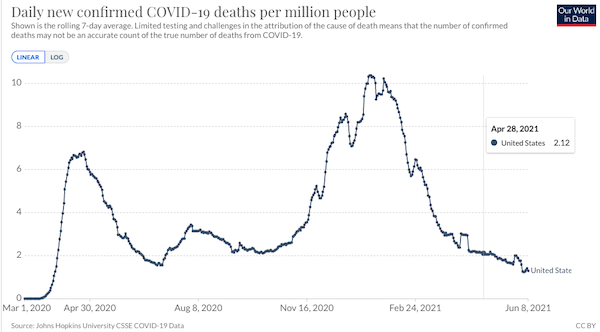 Continued good news
Covid cases worldwide: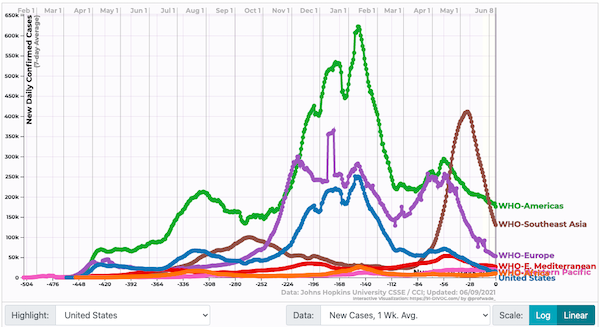 Politics
"But what is government itself, but the greatest of all reflections on human nature?" –James Madison, Federalist 51
"They had one weapon left and both knew it: treachery." –Frank Herbert, Dune
"They had learned nothing, and forgotten nothing." –Charles Maurice de Talleyrand-Périgord
Capitol Seizure
https://www.jacobinmag.com/2021/01/us-capitol-riot-police-investigation
Biden Administration
Harris (1): Ow! My eyes!

@vp made an OTR visit to the back of the plane and delivered cookies decorated with the shape of her likeness as well as AF2. pic.twitter.com/TQrUR47Vgc

— Courtney Subramanian (@cmsub) June 7, 2021

If I were so inclined, as I no longer am, I could think of a number of ways to weaponize this, starting with the idea that perhaps depicting a powerful [x] Black [x] woman as a cookie isn't exactly on-brand for liberal Democrats. Granted, the cookies were a gift to Harris from a small, Black-owned business and she then had them distributed to the press, but I have to ask: Which staffer thought this was a good idea? Did Symone Sanders think so?

Harris (2): "Harris invites every female senator to dinner next week" [The Hill]. "Vice President Harris has invited every female senator to dinner at her residence at the Naval Observatory next week, a White House official confirmed on Tuesday. The dinner will pick up on a tradition that was started by former Sens. Barbara Mikulski (D-Md.) and Kay Bailey Hutchison (R-Texas). The dinners were hosted monthly and even moved to the White House on an occasion in 2013 when then-President Obama hosted the event. However, the dinners have dropped off in recent years. Mikulski retired in 2017 after five terms in the Senate….. The dinner will be a rare bipartisan event in Washington at a time of partisan tensions. The group of 24 female senators is made up of 16 Democrats and eight Republicans."

Harris (3):

"Do not comx. Do not comx." https://t.co/FbIg2V99x0

— Alice 🌿🚜💋 (@AliceFromQueens) June 8, 2021

Well, so much for the Latinx vote in 2022! Speaking of which–

"Biden DOJ will defend excluding Puerto Ricans from disability payments" [The Hill]. "President Biden on Monday announced that the Department of Justice (DOJ) will continue to defend a law that excludes Puerto Ricans from the Supplemental Security Income (SSI) program, while calling on Congress to extend eligibility to the U.S. territory's residents. Biden said the Justice Department will be adhering to its practice of defending the constitutionality of federal law in the legal challenge against a provision in the Social Security Act that excludes Puerto Rico residents from the program, which provides income for low-income citizens with disabilities. 'This provision is inconsistent with my Administration's policies and values,' Biden said in a statement. 'However, the Department of Justice has a longstanding practice of defending the constitutionality of federal statutes, regardless of policy preferences. This practice is critical to the Department's mission of preserving the rule of law. Consistent with this important practice, the Department is defending the constitutionality of the Social Security Act provision in this case."

"Biden's Justice Department moves to defend Trump in defamation suit from accuser E. Jean Carroll" [NBC]. "The Justice Department argued in a brief filed Monday in the 2nd U.S. Circuit Court of Appeals in New York City that it should represent Trump, as nearly everything he said and did as president was a matter of government action. 'Speaking to the public and the press on matters of public concern is undoubtedly part of an elected official's job,' the brief states. 'Courts have thus consistently and repeatedly held that allegedly defamatory statements made in that context are within the scope of elected officials' employment — including when the statements were prompted by press inquiries about the official's private life.' The Justice Department lawyers wrote that Trump was 'crude and disrespectful' in questioning Carroll's credibility and that comments attacking her appearance, impugning her motives and implying that she had made false accusations 'were without question unnecessary and inappropriate.' But, they said, they 'all pertained to the denial of wrongdoing.'"
Election Legitimacy
""Experts Call It A 'Clown Show' But Arizona 'Audit' Is A Disinformation Blueprint" [NPR]. "Vote counters used conveyer wheels to tally ballots, often having to grab the wheel to stop it from moving too quickly past them. Other volunteers did data entry into a spreadsheet with no quality-control checks in place to make sure they entered it correctly. Observers from the Arizona Secretary of State's office have documented a series of 'problematic practices, changing policies, and security threats that have plagued this exercise from the start.' In short, it has been an unreliable mess. And Morrell says she's sure whatever count the 'auditors' come up with won't match the official tally. But by calling it an audit, the process gains credibility in the eyes of people who don't know better, says Francesca Tripodi, an information studies professor at the University of North Carolina. The title itself is a misinformation tactic."
Democrats en deshabille
"New Democratic focus groups find many voters aren't sure what the party stands for" [NBC]. "New focus groups conducted by a prominent Democratic pollster warn that many voters "have trouble describing a clear positive vision of what the Democratic Party stands for.' The study of swing voters and liberal "surge" voters in competitive districts, led by Celinda Lake of Lake Research Partners and requested by the Congressional Progressive Caucus PAC, indicated that the party needs to achieve more legislative victories or it could lose key voters in the midterm elections next year. 'Voters are not hearing enough about what Democrats have accomplished, what they are accomplish, and how they are standing up for voters' values and priorities,' read a Lake Research strategy memo by Celinda Lake, David Mermin and Emily Garner, summing up their findings. 'Without [former President Donald] Trump on the ballot as a clear villain or stronger definition as a party, Democrats are at risk of losing some of these new voters in 2022,' the memo continued… The Lake Research study said there was substantial overlap between swing voters, who oscillate between parties, and Democratic surge voters, who need some extra motivation to turn out. In particular, the memo found they are drawn to a message of 'equity' — both economic and racial."
Republican Funhouse
"The Evangelical Politician Who Doesn't Recognize His Faith—Or His Party" [The Atlantic]. "[Former Tennessee governor Bill] Haslam is disturbed by some aspects of the national Republican Party's recent direction—particularly the way politicians and activists have frequently used religion as a cudgel. In his new book, Faithful Presence, he laments what he describes as a tendency among Christians to conflate politics with faith. He is one of many religious conservatives who feel unsure how to describe themselves these days. While he firmly holds evangelical theological beliefs, he told me, he doesn't feel like he fits the political image of evangelicalism at all. Haslam is willing to challenge his fellow Christians to be more Christ-like in the way they do politics, encouraging them to turn off Fox News and be more charitable toward their political opponents, but he's squishy about naming and blaming fellow Christian political leaders for the example they've set. "There's been damage to the Church by the identification with this political cause," he said—the "cause" being Trumpism. But, he added, he's not interested in criticizing "current political personalities." Perhaps Haslam has another campaign in him, after all." • "Squishy."
Obama Legacy
The dude can't be serious:

Former President Obama says he expected more in the GOP to stand up to Trump and his falsehoods about the election: "I didn't expect that there would be so few people who would say, 'Well, I don't mind losing my office because this is too important. America is too important'" pic.twitter.com/8y1pm43XLj

— CNN (@CNN) June 8, 2021

Assuming Obama's not playing the fabulist, this says a lot more about Obama as a strategic thinker than it does about the Republicans. It's been awhile, but I remember Obama's faction rewriting the preamble to the Democrat platform at the 2008 convention along the lines of "a great nation deserves two great parties," or some such. 2021 – 2008 = 13 years on, and it's still West Wing brainworms. Maybe if a fever never breaks, it's not a fever?
Realignment and Legitimacy
"Amid Calls for Reform, Maine's Criminal Defense System Reaches a 'Breaking Point'" [Pro Publica]. "As courts reopen across Maine, defense lawyers are navigating a criminal docket unlike any they have experienced. Some lawyers are carrying loads of well over 100 cases and are being scheduled for more court appearances, sometimes in two courts at the same time. And shortages of defense lawyers accepting new cases have the system at a "breaking point," Howaniec said. A nearly complete stop to criminal trials last year contributed to a pileup of 26,600 felony and misdemeanor cases statewide as of May 2021 — an increase of more than 56% from just before the pandemic began, at the end of January 2020. The pandemic stressed an already strained public defense system…. Late last year, Maine Gov. Janet Mills called for reform of [Maine Commission on Indigent Legal Services (MCILS)] after an investigation by The Maine Monitor and ProPublica found that executive director John Pelletier, who later resigned, regularly contracted attorneys with criminal convictions or histories of professional misconduct to represent the state's poor. But Mills has not called for an increase in the commission's budget, citing a lack of accountability and fiscal shortfalls on the state level. Even as the commission has implemented sweeping changes to how it does business and as state revenue forecasts have improved, Mills has not budged.

And speaking of Joe Manchin:

I see a lot of people commenting on how Joe Manchin needs to be primaried.

He was.@paulajean2020 ran. The DNC rallied behind the incumbent.

Every time Dems argue there's nothing they can do, remember this was their choice and a reflection on their judgement.

— Democrats' Can't Do Attitude (The Manchin Remix) (@ljmontello) June 7, 2021

The memory of goldfish….
* * *
Readers, feel free to contact me at lambert [UNDERSCORE] strether [DOT] corrente [AT] yahoo [DOT] com, with (a) links, and even better (b) sources I should curate regularly, (c) how to send me a check if you are allergic to PayPal, and (d) to find out how to send me images of plants. Vegetables are fine! Fungi and coral are deemed to be honorary plants! If you want your handle to appear as a credit, please place it at the start of your mail in parentheses: (thus). Otherwise, I will anonymize by using your initials. See the previous Water Cooler (with plant) here. Today's plant (cjmxc):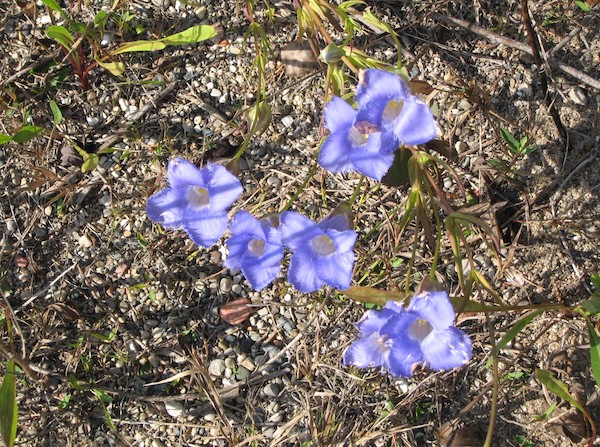 And today's animal companion: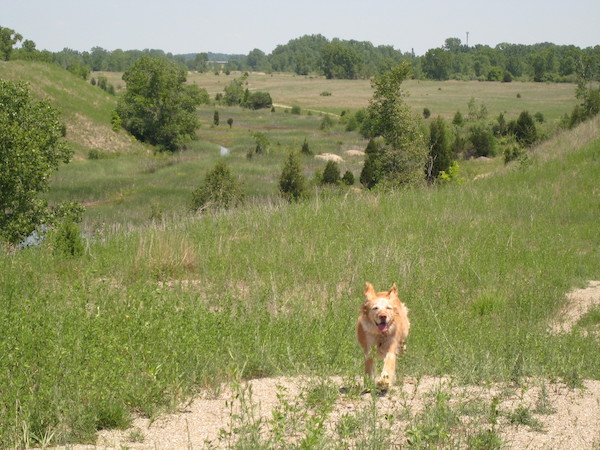 cjmxc writes:
In addition to my recent infatuation with the evening primrose, there is another photo/flower that fits the theme – nature's beauty and toughness in reclamation despite man's destruction. The primrose overcame my building a garage and paving the ground.

The Fringed Gentian overcame – in fact, judging by the search hits, seems to thrive on – significantly more disturbed ground. In this case an area that had been a large gravel/sand mining pit 'given' the State in exchange for a similar site across the road. (That was mined and then developed with luxury homes. No comment). I had hiked this 'outback' section for several years with BC my 4-legged friend when the gentian suddenly appeared in fall of 2008 or 2009. That it appears at the end of summer and into the fall brings a special joy. I also stumbled on this poem by William Cullen Bryant (below) celebrating its beauty and it's determination. Being well into autumn myself, the appeal of the both the gentian and the primrose is not surprising.

The photo of Buttercup is presented – because – she always deserves a photo. And because it shows the sweep of this unique piece of land in a geographical area in which the only large open spaces not densely covered with trees (which are fine), houses or crops, are air fields, golf courses and cemeteries.

Unfortunately, the flower will have to try again as this area has been re-leased to a mining operation for 15 yrs during which time it may or may not mine and/or allegedly reclaim mined portions with a 'native short-grass prairie'. I'm glad Buttercup no longer needs it. Screw cement. It hasn't even gotten into 'fixing our damn roads' as far as I know.

And, I think there is reason to bet that someone and their dog will see the gentian again when the operation runs out or goes bust. Or, at least, the gentian will return when man's folly has finally removed him from life's equation.
* * *
Readers: Water Cooler is a standalone entity not covered by the recently concluded and — thank you! — successful annual NC fundraiser. So if you see a link you especially like, or an item you wouldn't see anywhere else, please do not hesitate to express your appreciation in tangible form. Remember, a tip jar is for tipping! Regular positive feedback both makes me feel good and lets me know I'm on the right track with coverage. When I get no donations for five or ten days I get worried. More tangibly, a constant trickle of donations helps me with expenses, and I factor in that trickle when setting fundraising goals:
Here is the screen that will appear, which I have helpfully annotated.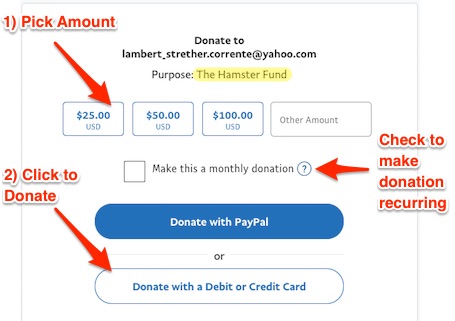 If you hate PayPal, you can email me at lambert [UNDERSCORE] strether [DOT] corrente [AT] yahoo [DOT] com, and I will give you directions on how to send a check. Thank you!2:00PM Water Cooler 6/8/2021