By Lambert Strether of Corrente.
Bird Song of the Day
12 minutes (!): "Dawn song from a male, often faint as he flew all around his territory. Best portion in the tenth minute." Includes barking dogs, what I think is an owl, human remarks.
* * *
#COVID19
At reader request, I've added this daily chart from 91-DIVOC. The data is the Johns Hopkins CSSE data. Here is the site.
I feel I'm engaging in a macabre form of tape-watching. I've been thinking of new charts to monitor to alert us to the next outbreak, assuming there is one, but for now, the data from the South means I'll stick to the status quo.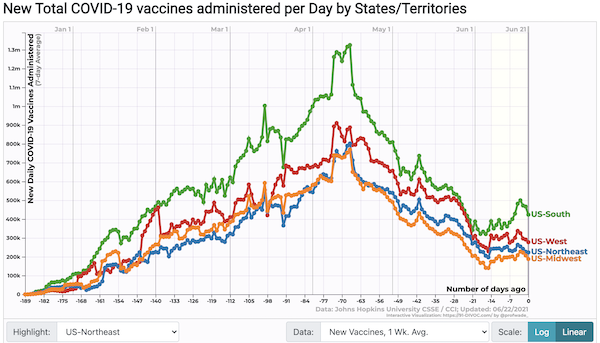 Now all falling together.
Case count by United States regions: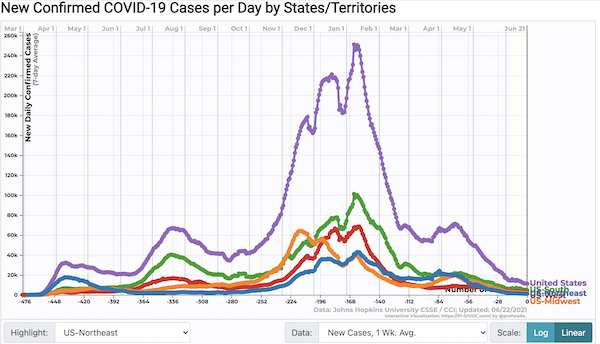 Decline has resumed.
Here are the case counts for the last four weeks in the South (as defined by the US Census: Alabama, Arkansas, Delaware, Florida, Georgia, Kentucky, Louisiana, Maryland, Mississippi, North Carolina, Oklahoma, South Carolina, Tennessee, Texas, Virginia, West Virginia, and the District of Columbia):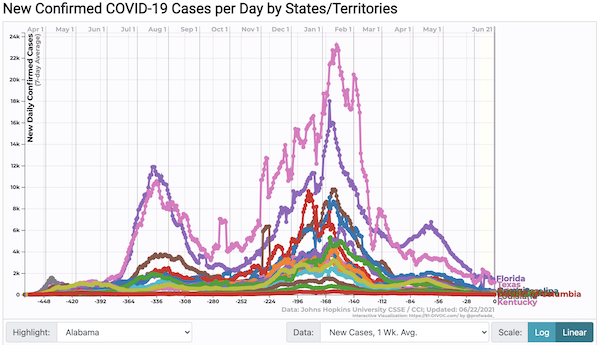 Texas has unfizzled, but Florida, capital of Latin America, leads.
Big states (New York, Florida, Texas, California):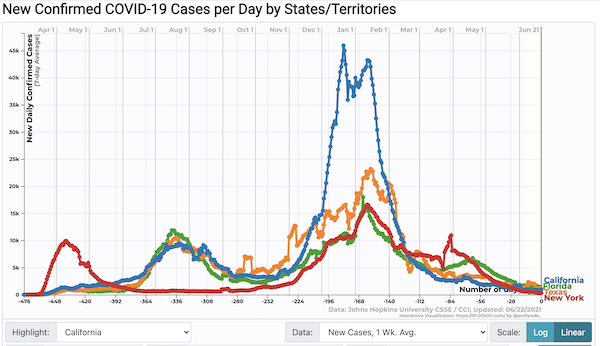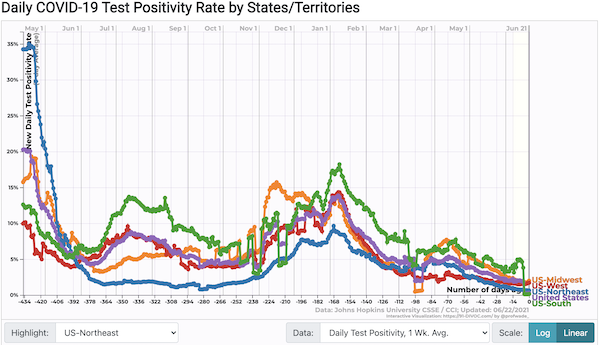 South still fallen off its cliff.
Hospitalization (CDC):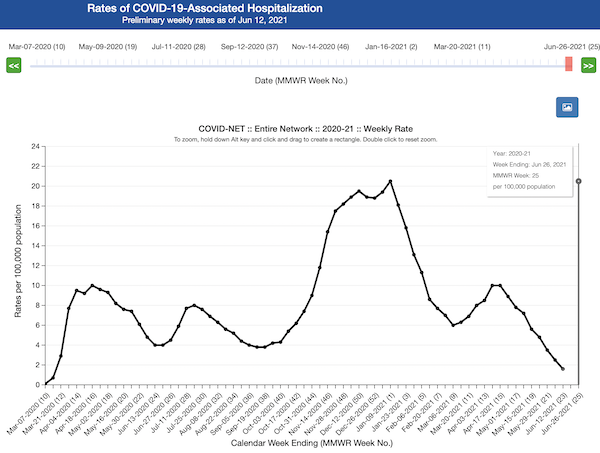 Continued good news.
Deaths (Our World in Data):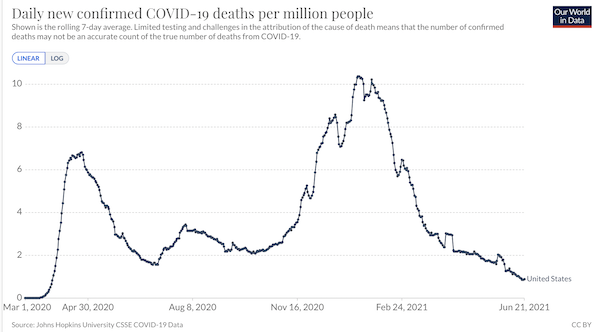 Continued good news.
Covid cases worldwide: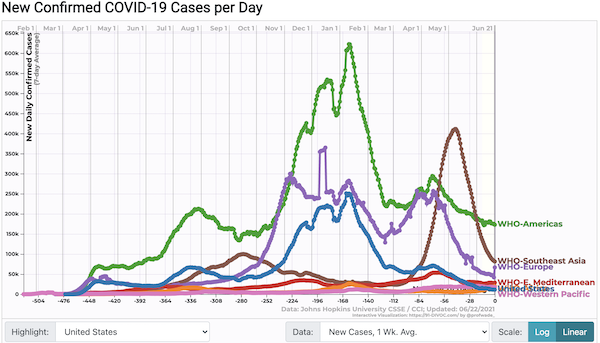 It looks to me like al the regions have had three peaks, although of different heights and at different times. Except Southeast Asia, which has had two. Hmm…
* * *
Politics
"But what is government itself, but the greatest of all reflections on human nature?" –James Madison, Federalist 51
"They had one weapon left and both knew it: treachery." –Frank Herbert, Dune
"They had learned nothing, and forgotten nothing." –Charles Maurice de Talleyrand-Périgord
Capitol Seizure
"Proud Boys and Oath Keepers, Forceful on Jan. 6, Privately Are in Turmoil" [Wall Street Journall]. "The far-right group the Oath Keepers is splintering after board members accused the founder of spending its money on hair dye, steaks and guns. The leader of the Proud Boys, choked off from the financial system, is printing "Black Lives Matter" T-shirts to make money…. Members of the Proud Boys and Oath Keepers appeared well-organized at the Capitol, some coordinating with walkie-talkies and wearing military-style outfits. Behind the facade of power is a yearslong cash crunch exacerbated by internal discord and isolation from financial firms and social media. Fallout from Jan. 6 made it all worse." • And then, of course, there are the agents provocateurs. One assumes.
Biden Administration
"Progressives count their foreign policy wins with Omar flap in rear view" [Politico]. "Ilhan Omar started out in Congress as a somewhat lonely critic of decades of U.S. policy in the Middle East. Now, six months into her second term, the Minnesota Democrat has new and diverse allies…. That friendlier posture toward Omar indicates that her party's shift on America's role in the Middle East was more than just a short-term fixture of the recent 11-day conflict between Israel and Palestinian militants in Gaza."

"California to Pay off all Past Due Rent Accrued During COVID, Giving Renters Clean Slate" [Newsweek]. • Well, so much for the recall.
Realignment and Legitimacy
"What happened to Glenn Greenwald? Trump happened – and put the left's priorities to the test" [Jonathon Cook]. Key paragraphs:

The problem with characterising Trump as a supremely evil figure is that all sorts of authoritarian political conclusions flow from that characterisation – precisely the political conclusions we have seen parts of the left adopting. Robinson may not expressly share these conclusions but, unlike Greenwald and Taibbi, he has largely ignored or downplayed the threat they present.

If Trump poses a unique danger to democracy, then to avoid any recurrence:

We are obligated to rally uncritically, or at least very much less critically, behind whoever was selected to be his opponent. Following Trump's defeat, we are dutybound to restrain our criticisms of the winner, Joe Biden, however poor his performance, in case it opens the door to Trump, or someone like Trump, standing for the presidency in four years' time.
We must curb free speech and limit the free-for-all of social media in case it contributed to the original surge of support for Trump, or created the more febrile political environment in which Trump flourished.
We must eradicate all signs of populism, whether on the right or the left, because we cannot be sure that in a battle of populisms the left will defeat the right, or that leftwing populism cannot be easily flipped into rightwing populism.
And most importantly, we must learn to distrust "the masses" – those who elected Trump – because they have demonstrated that they are too easily swayed by emotion, prejudice and charisma. Instead, we must think in more traditional liberal terms, of rule by technocrats and "experts" who can be trusted to run our societies largely in secret but provide a stability that should keep any Trumps out of power.

Greenwald and Taibbi have been focusing precisely on this kind of political fallout from the Trump presidency. And it looks suspiciously like this, as much as anything else, is what is antagonising Robinson and others.

"How QAnon captured the American church"' [QAnon]. "The recent Public Religion Research Institute (PRRI) survey was the latest in a series of polls to find widespread support for the core tenets of QAnon among American evangelicals. A quarter of white and Hispanic evangelical Protestants agreed with Q's central claim of a paedophilic cabal. Asked whether 'there is a storm coming soon that will sweep away the elites in power and restore the rightful leaders', 26% of white evangelical Protestants and 29% of Hispanic Protestants agreed there was."

A pot coming to the boil:

As passengers return to air travel in big numbers, the FAA has reported an uptick in unruly and dangerous behaviors by travelers #WSJWhatsNow pic.twitter.com/re9juuTCqR

— The Wall Street Journal (@WSJ) June 22, 2021
Stats Watch
Manufacturing: "United States Richmond Fed Manufacturing Index" [Trading Economics]. "The Manufacturing Activity Index in the US fifth district including the District of Columbia, Maryland, North Carolina, South Carolina, Virginia, and most of West Virginia rose to 22 in June of 2021 from 18 in May. It was the highest reading since October 2020…"
* * *
Insurance: "Entitled To Profit: In Texas, Title Insurance Is a "Total Scam"" [Texas Observer]. "Title insurance 'has an origin in usefulness,' says Jessie Lunsford, a longtime Austin real estate developer. Real estate law is complex, and a property's chain of title can have defects that are difficult, if not impossible, to discover. In addition to muddled boundaries, unrecorded easements and liens, and other problems with decades-old paperwork, little of which is digitized, it's possible for the long-lost heirs or ex-spouses of past owners to reappear and assert an ownership interest in a piece property. In theory, title insurance protects against these risks. In practice, such claims are vanishingly rare. The exact number per year is not available, but the title insurance industry's loss ratio of 1.2 percent is far lower than other insurers usually incur. It's tough to find a developer, attorney, agent, or broker who has been involved in a title dispute, or even heard of one. 'Lord knows I've never filed a claim,' said Lunsford, who has purchased some 30 properties in his career. Given the high price, he says, "It's a total scam.'"
Tech: "Facebook's VR ads test loses first game after backlash" [BBC]. "The first game developer signed up to test Facebook's plan to put adverts into Oculus VR games has reversed course after a backlash from players. It comes days after Facebook announced it would place adverts inside players' headsets, starting with shooter game Blaston. It was the only named title listed to take part. But its maker, Resolution Games, has now said its game "isn't the best fit" for in-game advertising. After an outcry from gamers, the company issued a statement to media outlets from chief executive Tommy Palm, saying it had seen the feedback. 'Some good points have been made, and we realise that Blaston isn't the best fit for this type of advertising test. Therefore, we no longer plan to implement the test in Blaston,' he said." • That's a damn shame.
Tech: "The Soft Corruption of Big Tech's Antitrust Defense" [Big Technology]. "When New York State Senator Michael Gianaris called a hearing last September to discuss his new Big Tech antitrust bill, Amazon, Apple, Facebook, Google, and Microsoft all declined to appear. But as he sorted the schedule, the Progressive Policy Institute, a 'radically pragmatic' think tank, asked to send a representative. Alec Stapp, that representative, mounted a robust defense of Big Tech in prepared remarks at the session. But when Giannaris started asking about PPI's funding, he clammed up. 'In my role in research,' Stapp said. 'I'm not privy to the full donor list or who gives how much money.' Left unsaid was that Apple, Facebook, and Google are all PPI donors, a fact that still frustrates Gianaris. 'If Big Tech wants to defend itself,' he told me, 'It should have the courage to do so.' That courage seems to be slipping away as support for antitrust action against Big Tech builds. These companies are instead paying third parties like PPI to make their case for them, and the organizations reliably advance their arguments, do so with spotty disclosure, shield them from criticism, and add credibility to their defense. It's money well spent for the tech giants. All the while, the third parties tell us — and themselves — they aren't bought. Stapp's PPI is relatively unknown, but it's not alone. The Brookings Institution, an esteemed think tank, takes money from Apple, Amazon, Facebook, and Google. Yet it implausibly insists the money doesn't influence its positions."
* * *
Today's Fear & Greed Index: 32 Fear (previous close: 30 Fear) [CNN]. One week ago: 54 (Neutral). (0 is Extreme Fear; 100 is Extreme Greed). Last updated Jun 21 at 12:18pm. No longer stuck in neutral!
Rapture Index: Closes unchanged [Rapture Ready]. Record High, October 10, 2016: 189. Current: 187(Remember that bringing on the rapture is a good thing, so high is better.)
Department of Feline Felicity
Heathcliff, for real?
Good @DowntonAbbey spot by @zzcinders_scott pic.twitter.com/vayQ87k56q

— Alastair Bruce (@AlastairBruce_) June 22, 2021
Groves of Academe
"Rejecting Test Surveillance in Higher Education" (PDF) [Lindsey Barret, SSRN]. The Abstract: "The rise of remote proctoring software during the COVID-19 pandemic illustrates the dangers of surveillance-enabled pedagogy built on the belief that students can't be trusted. These services, which deploy a range of identification protocols, computer and internet access limitations, and human or automated observation of students as they take tests remotely, are marketed as necessary to prevent cheating. But the success of these services in their stated goal is ill- supported at best and discredited at worst, particularly given their highly over- inclusive criteria for "suspicious" behavior. Meanwhile, the harms they inflict on students are clear: severe anxiety among test-takers, concerning data collection and use practices, and discriminatory flagging of students of color and students with disabilities have provoked widespread outcry from students, professors, privacy advocates, policymakers, and sometimes universities themselves. To make matters worse, the privacy and civil rights laws most relevant to the use of these services are generally inadequate to protect students from the harms they inflict. Colleges and universities routinely face difficult decisions that require reconciling conflicting interests, but whether to use remote proctoring software isn't one of them. Remote proctoring software is not pedagogically beneficial, institutionally necessary, or remotely unavoidable, and its use further entrenches inequities in higher education that schools should be devoted to rooting out. Colleges and universities should abandon remote proctoring software, and apply the lessons from this failed experiment to their other existing or potential future uses of surveillance technologies and automated decision-making systems that threaten students' privacy, access to important life opportunities, and intellectual freedom."
Black Injustice Tipping Point
A thread on the Emancipation Proclamation and geopolitics:
The Emancipation Proclamation is a crucial document, not least of all because it ensured the Union could win the American Civil War.

[A #JuneTeenth2021 Thread] pic.twitter.com/9IvQeLZaek

— Paul Poast (@ProfPaulPoast) June 19, 2021
"'Educate Yourself': Seattle Human Rights Commission Dismisses Complaint Over Requiring Whites To Pay "Reparations Fees" For Pride Event" [Jonathan Turley]. "There is a controversy in Seattle over plans for a pride event to charge people more based on their race. The Seattle Human Rights Commission is under fire this week after sending a letter dismissing a complaint over the announcement that the Taking B(l)ack Pride on June 26th would charge White entrants a "reparations" fee. The Commission told Charlette LeFevre and Philip Lipson of Capitol Hill Pride that they needed to 'educate' themselves and consider the harm that they would cause by being participants in the event. Update: While the response of the Commission caused outrage from many, Lipson and LeFevre quickly apologized for even raising the issue. Promotional material for Taking B(l)ack Pride was posted on Facebook as a 'BLACK AND BROWN QUEER TRANS CENTERED, PRIORITIZED, VALUED, EVENT.' The Facebook page adds: 'White allies and accomplices are welcome to attend but will be charged a $10 to $50 reparations fee that will be used to keep this event free of cost for BLACK AND BROWN Trans and Queer COMMUNITY.'" • I've always been suspicious of that "allies" concept. I don't see individuals having allies as problematic; but collectives that have allies tend to be sovereigns.
The 1619 Project:
One of the reasons the 16*9 Project mobilized elites is it's pure culture war anti-politics. For all the ideology and drama, what political issues does it map on to? A 15$ minimum wage? Progressive taxation? Universal healthcare? No one knows. And that's the point.

— Sam Haselby (@samhaselby) June 17, 2021
I think the 1619 Project maps to reparations, and reparations is what the PMC believes will save capitalism. Reading between the lines:
Treasury Sec. Janet Yellen: "We as a country are missing out on so many venues for growth because our capital is bottlenecked by race and region. Research has shown that decreasing barriers faced by African-Americans would produce substantial gains." pic.twitter.com/OTh8lCwFLy

— The Hill (@thehill) June 19, 2021
Notice Kamala in the background.
Guillotine Watch
"Behind elite boarding school's veneer of trust and family, sexual misconduct was 'ignored'" [Los Angeles Times]. "The school encourages informal, familial relationships among students and teachers, most of whom live on campus, dine and camp together. This, combined with rigorous academics, has long attracted the scions of some of the wealthiest families in the country, including the young Howard Hughes. But these very values that distinguished Thacher created a climate in which boundaries blurred, leaving youths susceptible to grooming by adults, unchecked harassment and alleged rapes." • Sounds a lot like Yale Law School.
Class Warfare
"Internal Amazon documents shed light on how company pressures out 6% of office workers": [Seattle Times]. "Amazon systematically attempts to channel 6% of its office employees out of the company each year, using processes embedded in proprietary software to help meet a target for turnover among low-ranked office workers, a metric Amazon calls "unregretted attrition," according to internal company documents seen by The Seattle Times. The documents underscore the extent to which Amazon's processes closely resemble the controversial management practice of stack ranking —in which employees are graded by comparison with each other rather than against a job description or performance goals — despite Amazon's insistence that it does not engage in stack ranking. The documents also highlight how much of Amazon's human resources processes are reliant on apps and algorithms, even among the company's office workforce. And they provide the most detailed picture yet of how Amazon uses performance improvement plans to funnel low-ranked employees out of the company. The company expects more than one-third of employees on performance improvement plans to fail, documents show. Amazon has previously said that its performance improvement plans aren't meant to punish employees. The policies described in the documents reviewed by The Seattle Times apply to the company's office workforce, who comprise a minority of Amazon's roughly 950,000 U.S. employees. Amazon's warehouses replace workers much more frequently, The New York Times has reported: Before the pandemic, annual turnover rates at Amazon warehouses reached 150%" • Arbeit macht frei….
"Amazon's Greatest Weapon Against Unions: Worker Turnover" [HuffPo]. "[T]he National Employment Law Project… found that the turnover rate in the local warehouse industry increases significantly when Amazon comes to town. Warehouse churn more than doubled in several California counties after Amazon facilities opened, averaging more than 100%. The Seattle Times conducted its own analysis of Amazon's workforce data last year, putting the company's turnover at 111% during the pandemic. A New York Times investigation published this week put the figure even higher, at 150%, showing that Amazon was shedding 3% of its workers every week before the pandemic began…. Under a turnover rate of 100%, every theoretical position inside the warehouse would turn over once in a year, on average. That has huge implications for organizing. …. At an Amazon warehouse, high turnover means a union would be losing cards every day as workers leave and new employees unfamiliar with the campaign replace them. Even if the union manages to win an election, high turnover could hurt its position at the bargaining table if some of the most active organizers have quit or been fired. And churn could even help the employer purge the union from the facility by convincing newer workers to decertify it."
"Rich professionals are scammers' favourite targets" [Financial Times]. "Scam artists, says Tamlyn Edmonds, a partner at specialist fraud prosecution law firm Edmonds Marshall McMahon, are increasingly targeting high-net-worth people. Clients, she adds, sometimes come to her having lost hundreds of thousands, even millions, to fraudsters…. But the real reason the rich are being targeted is because technology makes sophisticated scamming much easier. We have moved on from emails from obscure princes. A scam these days might involve a call to your mobile — but from a number that matches your bank's. Scammers issue fake company prospectuses to attract investors and clone villa-rental websites to defraud holidaymakers. They impersonate celebrities, wealthy businesspeople (recently Elon Musk) and tax officials. They also know a lot about you. Social media is just the start; in the UK they may look you up at Companies House (which gives an idea of your income) and on the Land Registry. There are dozens of information sources that can help them convince you they are the real deal. Scammers also often invest a lot of time in working their marks. "We've seen people groom targets for 10-11 months," Edmonds says." • Or…. maybe the rich are just not that smart?
News of the Wired
Maybe I should have put this up under Politics:
Elephant pic.twitter.com/glLJMcExVk

— Moose Allain Ꙭ (@MooseAllain) November 14, 2015
* * *
Readers, feel free to contact me at lambert [UNDERSCORE] strether [DOT] corrente [AT] yahoo [DOT] com, with (a) links, and even better (b) sources I should curate regularly, (c) how to send me a check if you are allergic to PayPal, and (d) to find out how to send me images of plants. Vegetables are fine! Fungi and coral are deemed to be honorary plants! If you want your handle to appear as a credit, please place it at the start of your mail in parentheses: (thus). Otherwise, I will anonymize by using your initials. See the previous Water Cooler (with plant) here. Today's plant (PM):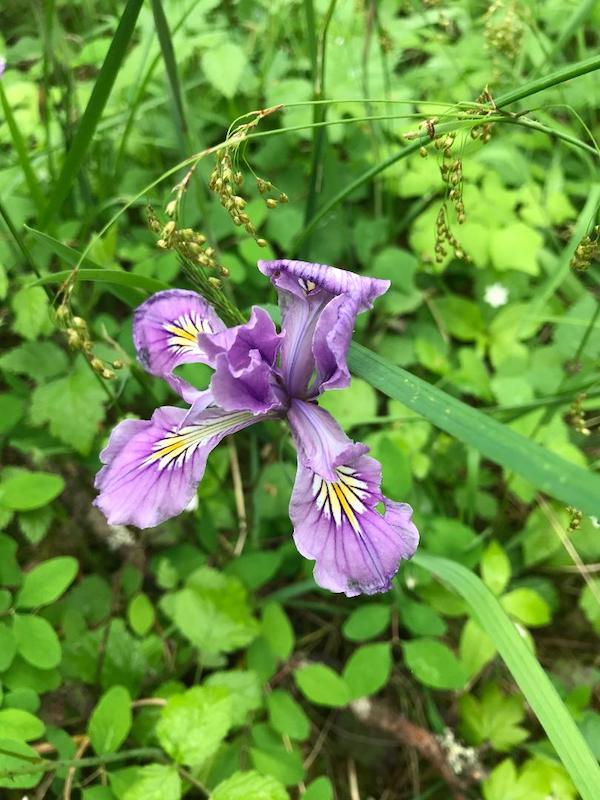 PM writes: "Wild Iris — Basket Flat, WA"
* * *
Readers: Water Cooler is a standalone entity not covered by the recently concluded and — thank you! — successful annual NC fundraiser. So if you see a link you especially like, or an item you wouldn't see anywhere else, please do not hesitate to express your appreciation in tangible form. Remember, a tip jar is for tipping! Regular positive feedback both makes me feel good and lets me know I'm on the right track with coverage. When I get no donations for five or ten days I get worried. More tangibly, a constant trickle of donations helps me with expenses, and I factor in that trickle when setting fundraising goals:
Here is the screen that will appear, which I have helpfully annotated.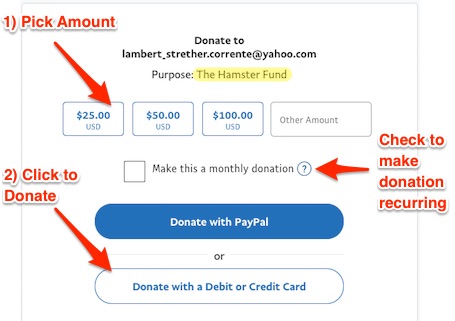 If you hate PayPal, you can email me at lambert [UNDERSCORE] strether [DOT] corrente [AT] yahoo [DOT] com, and I will give you directions on how to send a check. Thank you!2:00PM Water Cooler 6/8/2021